Europe 2016
Photo Journal of Michael Campbell: A new picture every day (almost)


Europe May - June 2016
Partly to celebrate our 25th wedding anniversary, partly to celebrate my birthday and partly because we needed a vacation and wanted to see something different we decided to go to Europe. The trip became the honeymoon we did not have when we first married. Travel was by air and rail. We were able to use our Aeroplan miles to pay for a lot of the travel and some of the hotels. I upgraded to first class where possible and we had a comfortable trip. Our itinerary was two days in Barcelona, two days in Madrid, two days in Rome, two days in Paris, a day in the south of France and finally a return to Barcelona prior to a return to Canada.
As this was our first trip to Europe we reserved most of the hotels and air travel ahead of time. I did not like the look of the USA Web booking site for the trains and attractions and I am glad we waited to book in person. Train travel is fast and it is easy to pick up tickets at just about any time prior to departure. We even missed a train and the French train authorities exchanged our tickets for a later train no charge. Travelling first class was only 20 Euros extra. Be careful with tourist trap sellers of "front of the line" packages. Usually they are not as advertised.

First stop Barcelona:

In order to get a feel for the city I would recommend the tourist double decker busses. There is a red line and a blue line. We used both. They have a tape recording with most of the attractions in various languages. You get an overview of the city and can get off and get on at any of the stops. Busses are frequent and the cost is reasonable. After the overview use the subways. They are efficient and get you around quickly and for low cost. The people are very helpful and using public transit is a great option.
My first impression is that one should keep Barcelona as a bucket list destination. It is well worth a visit. Lots of art and architecture, (most often one and the same thing). Great food. Lots of trees, bicycles and motorbikes. Lovely street restaurants with inexpensive wine. Bread in corner markets out of this world and the thinly sliced ham is so delicious. Here are some pictures:


Mari opening the door to Europe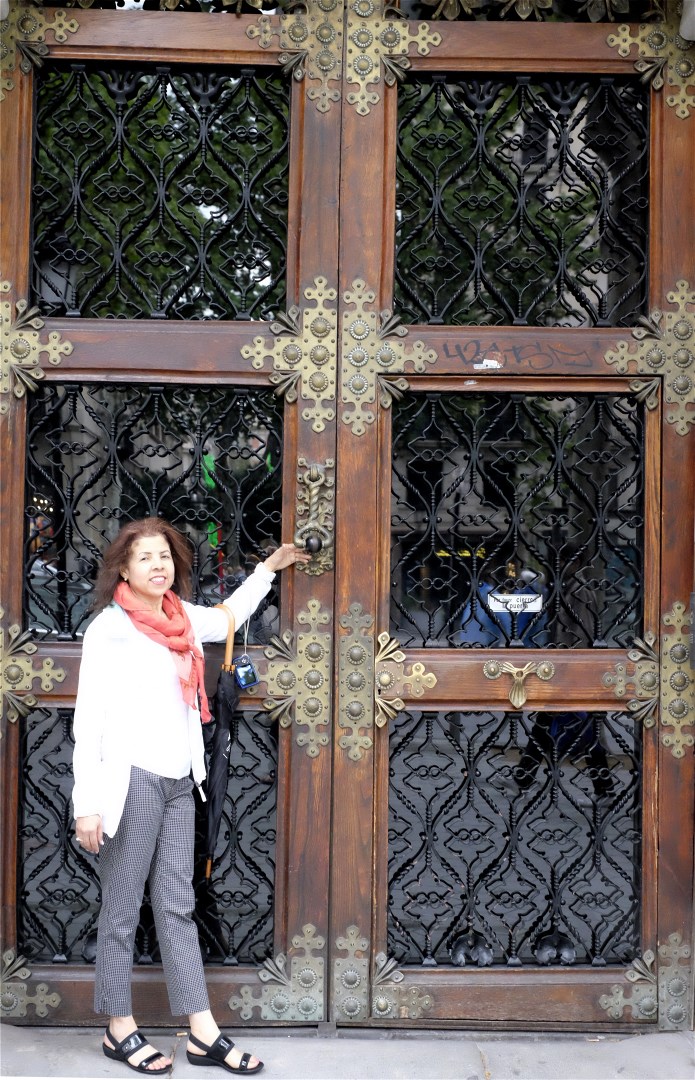 Here we go!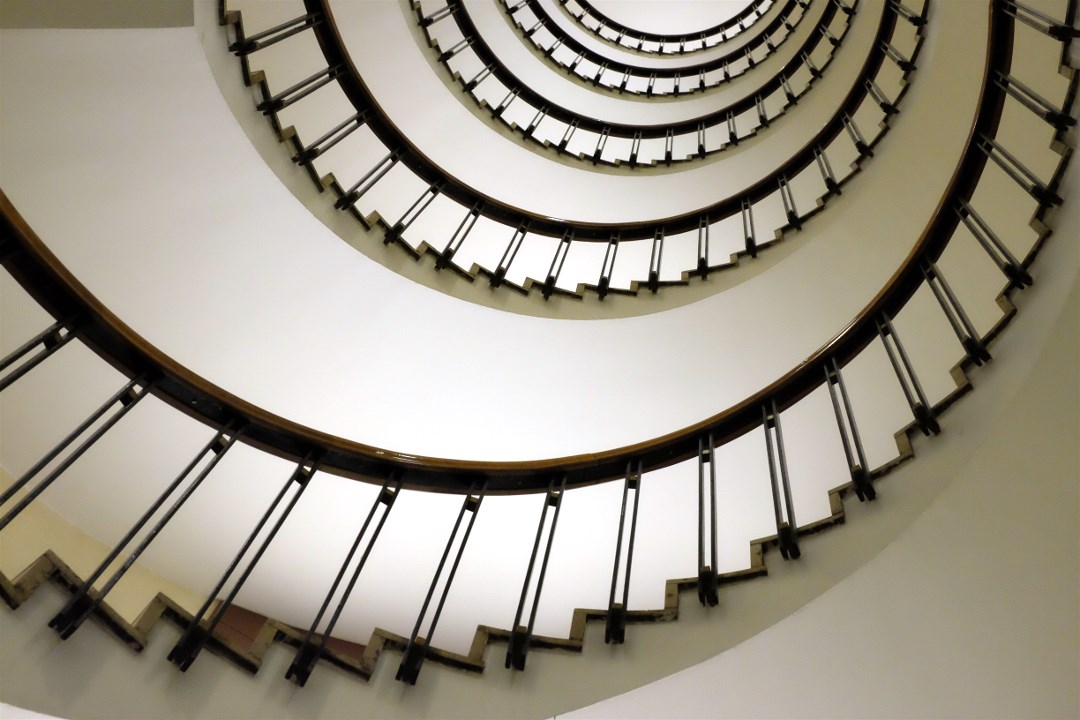 Familia Sagrada Church
Antoni Gaudi's masterpiece started almost 150 years ago, not finished yet.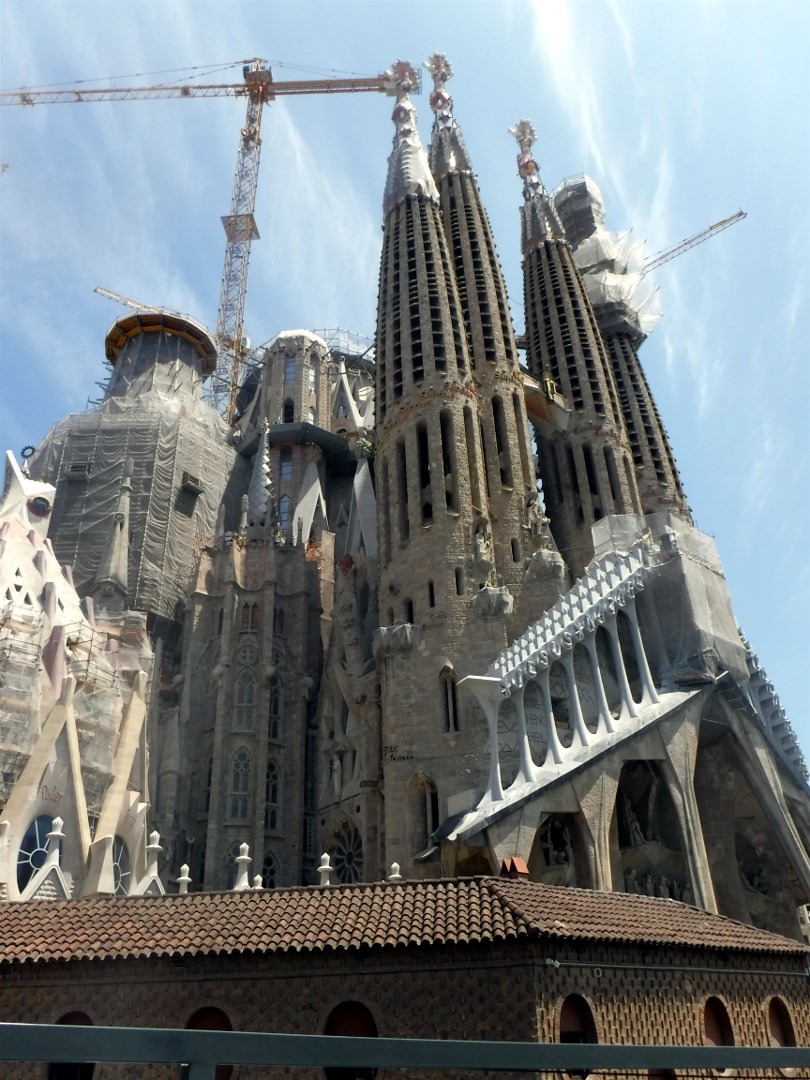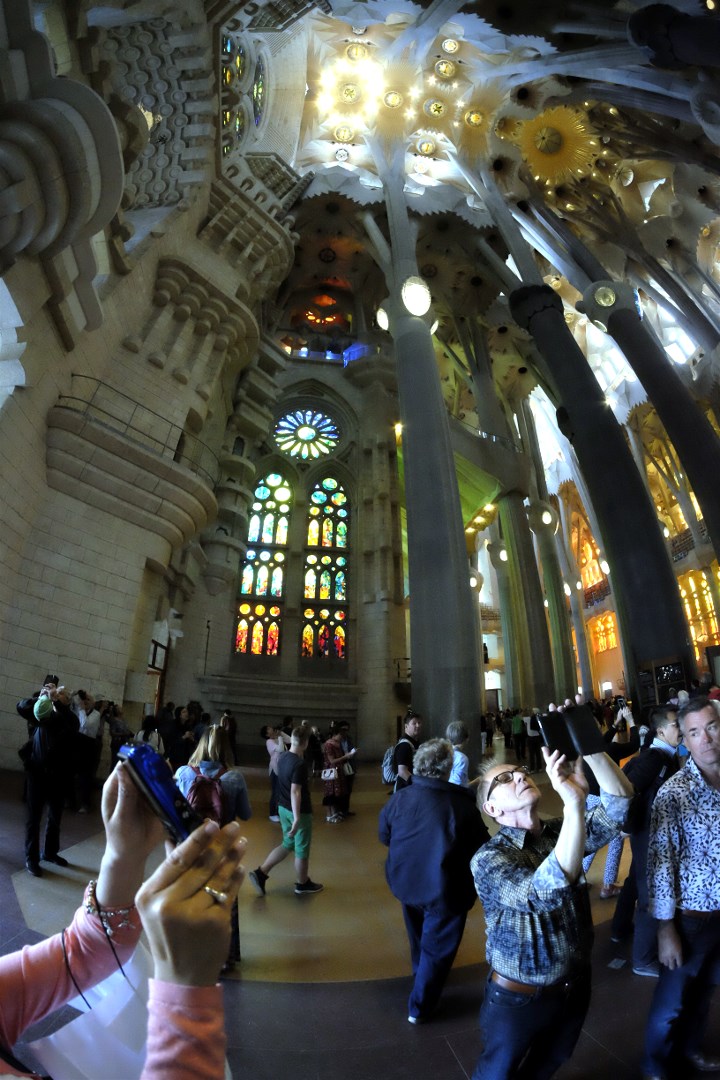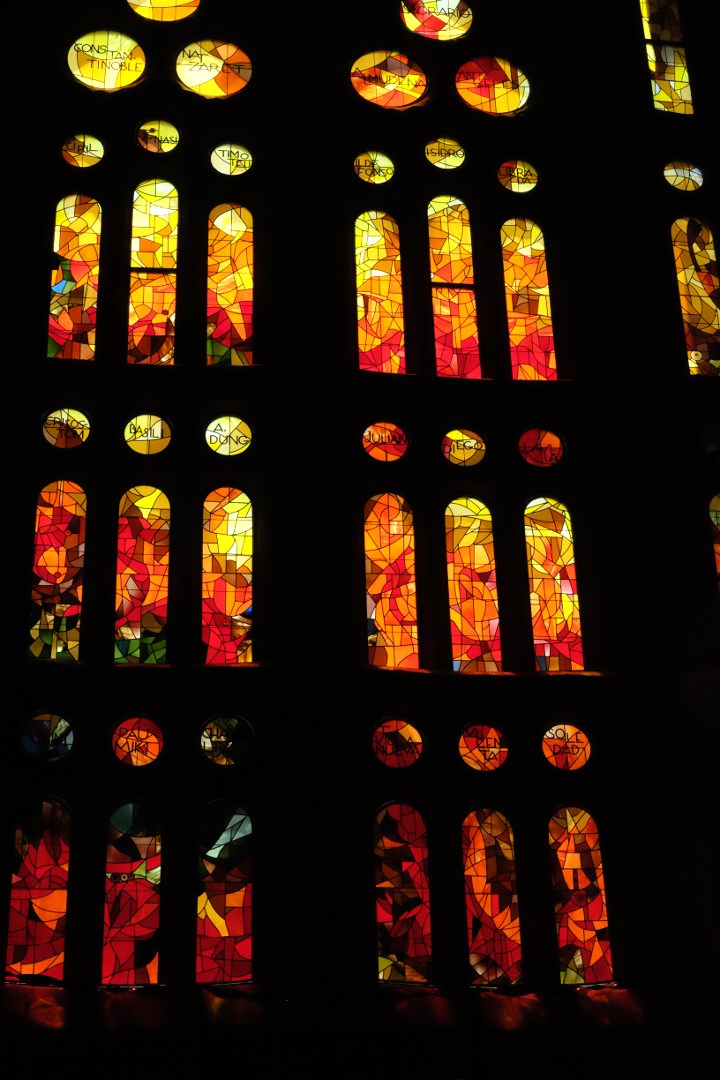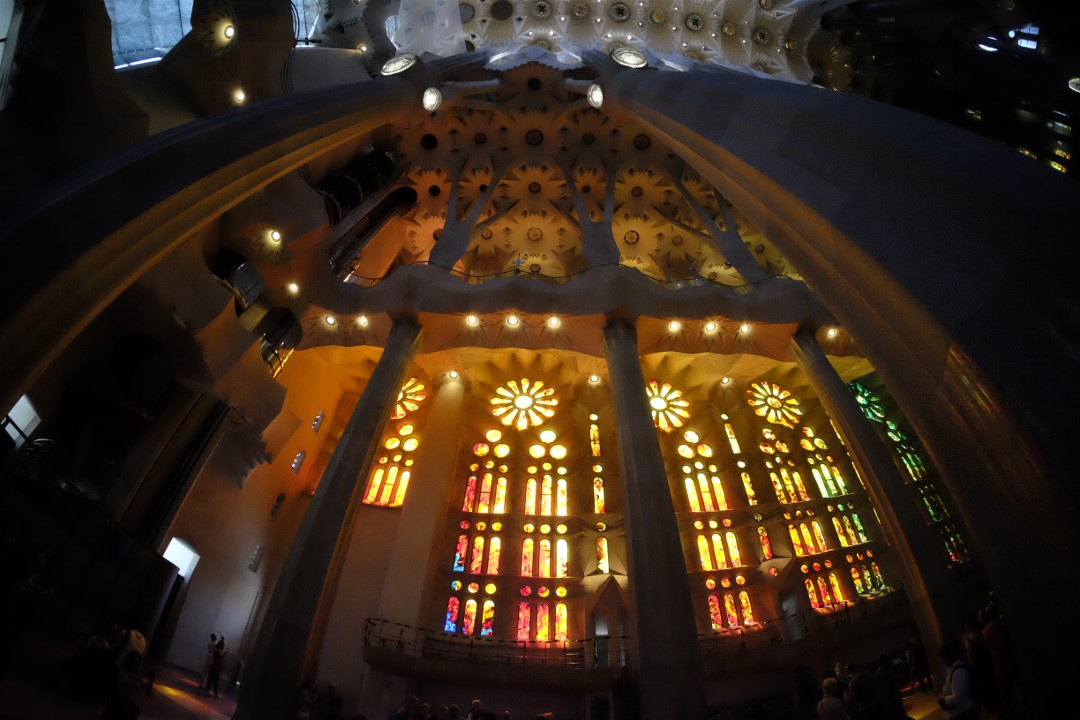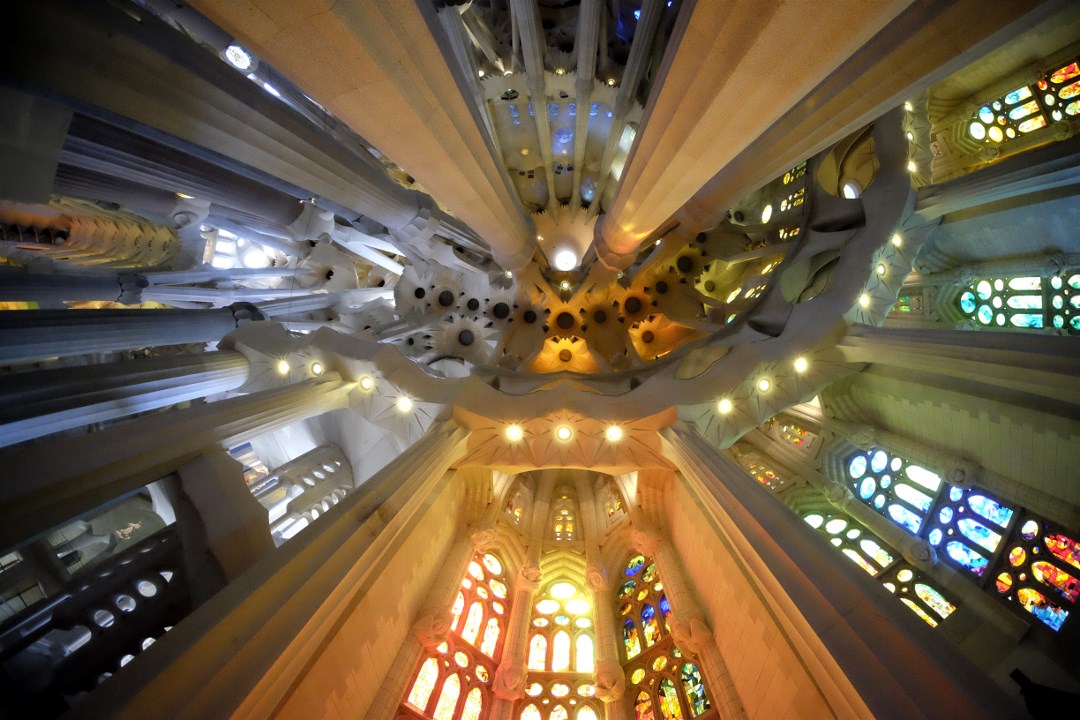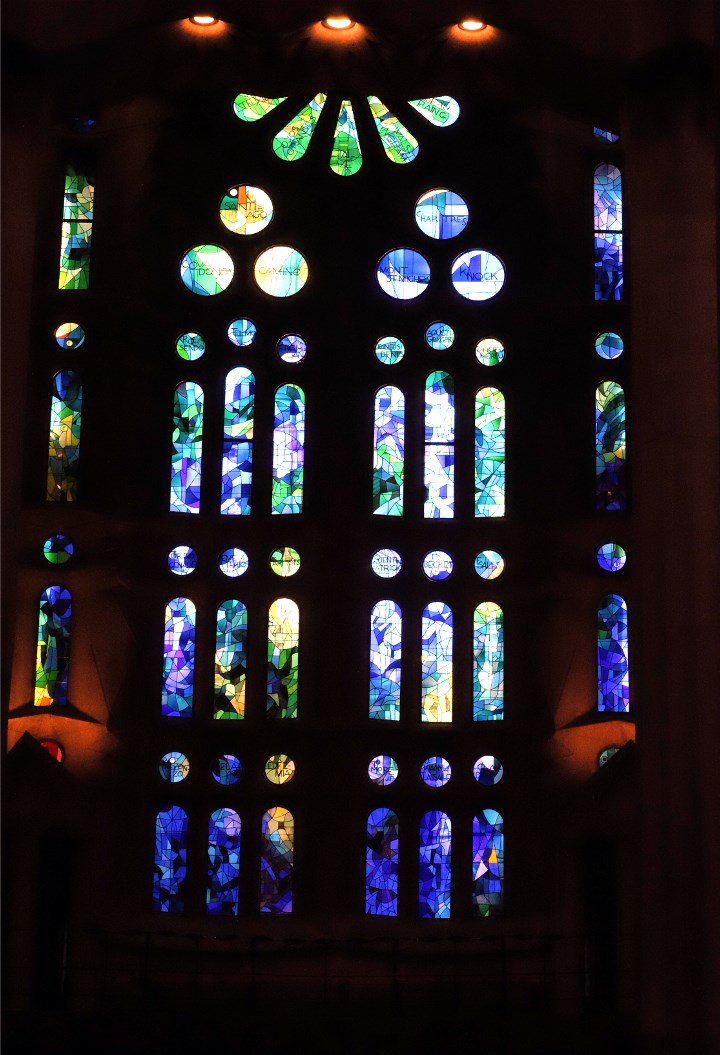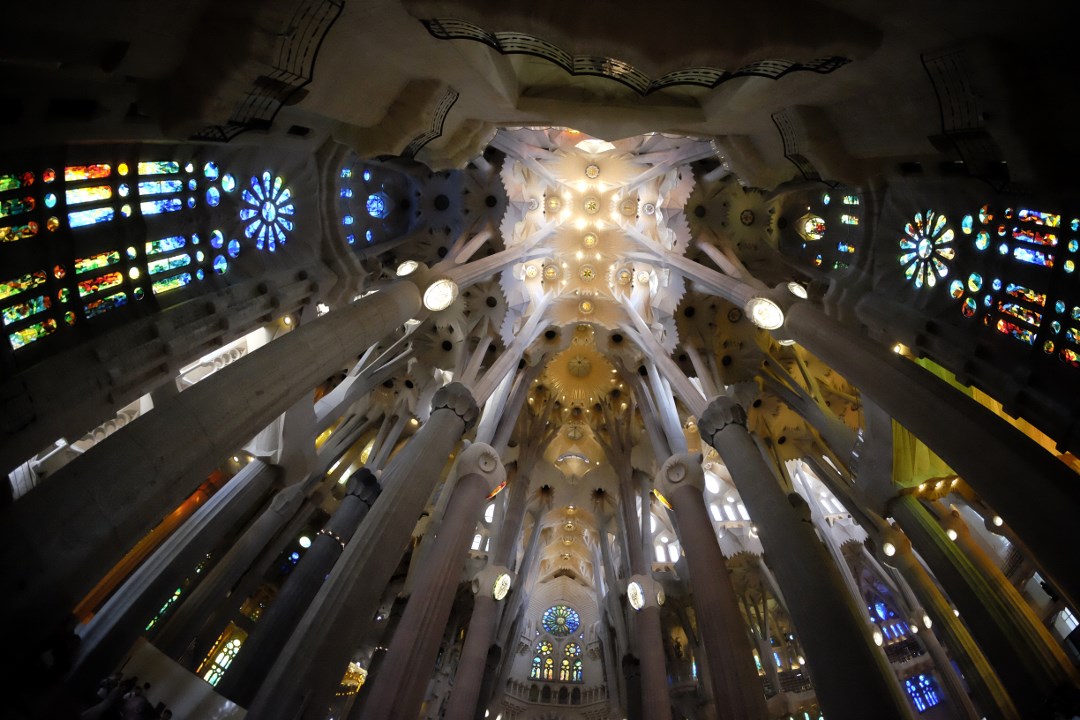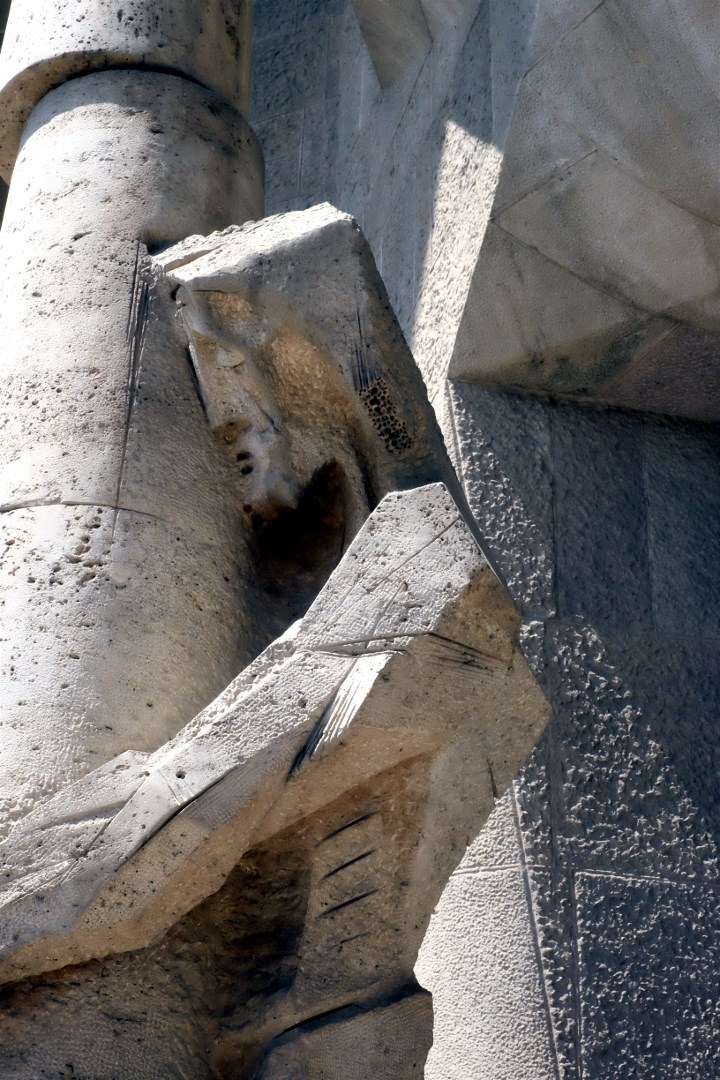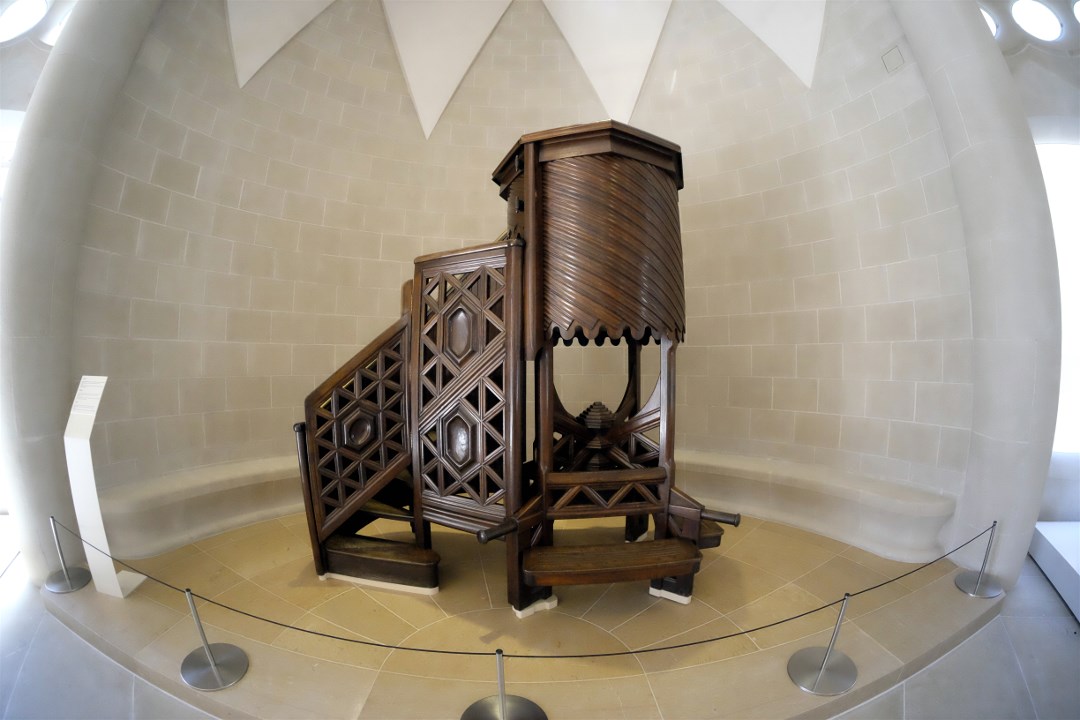 Barcelona View from the Church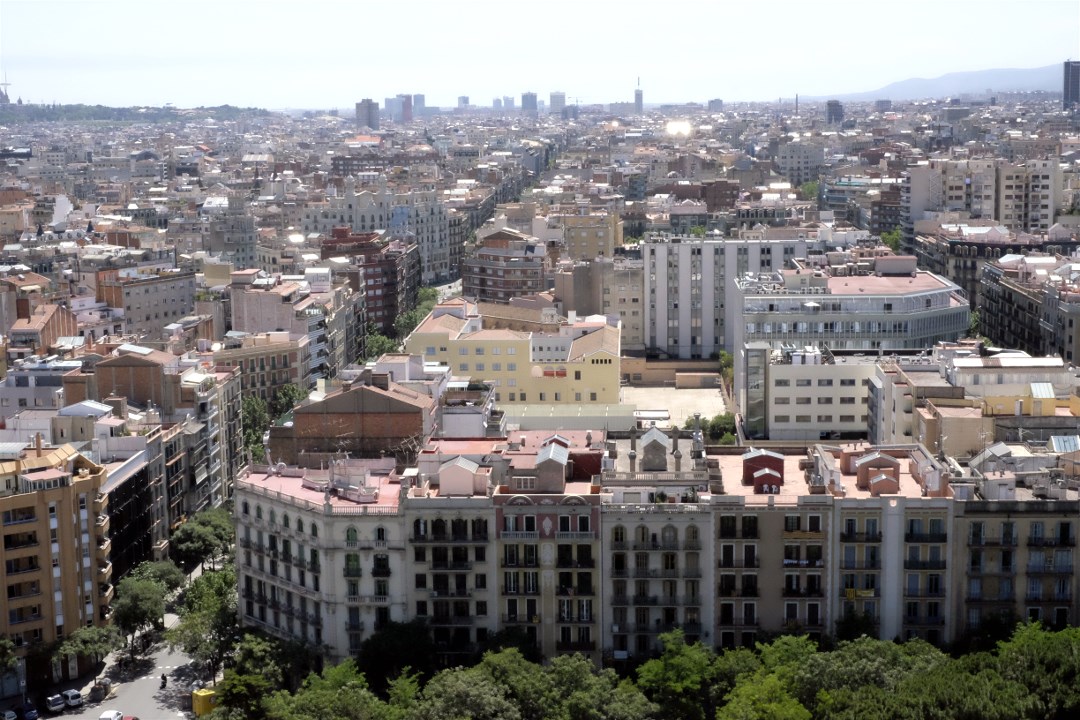 As you will see churches are big in Europe. There are lots of statues and great arched ceilings the art is fabulous.

Street scene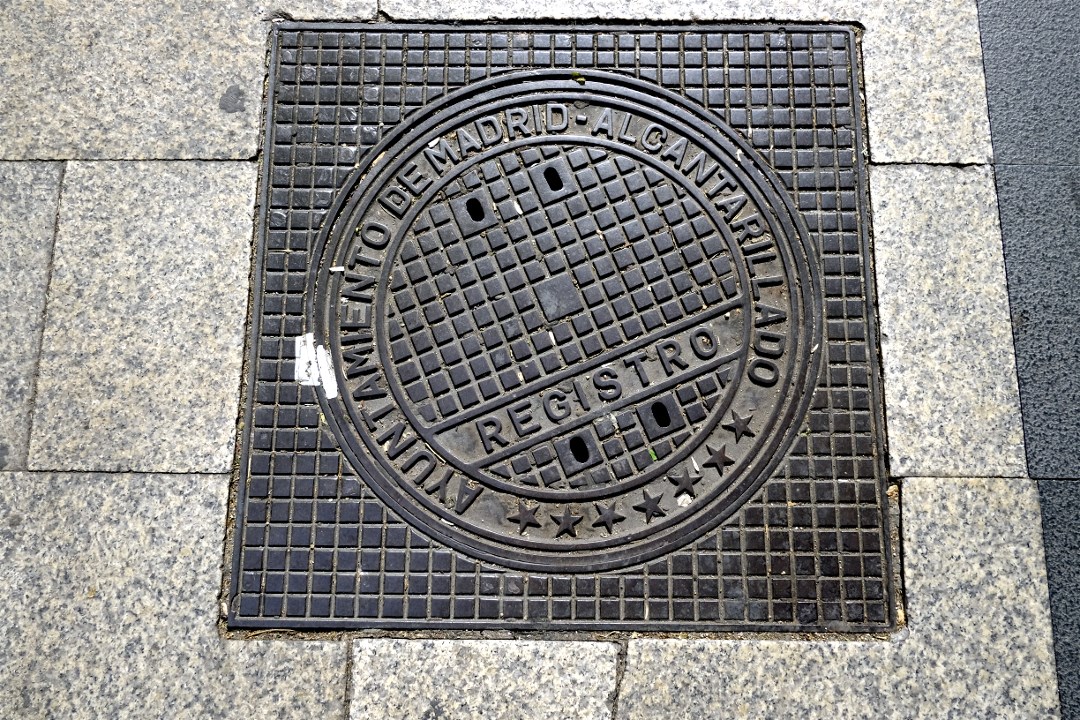 Hotel Entrance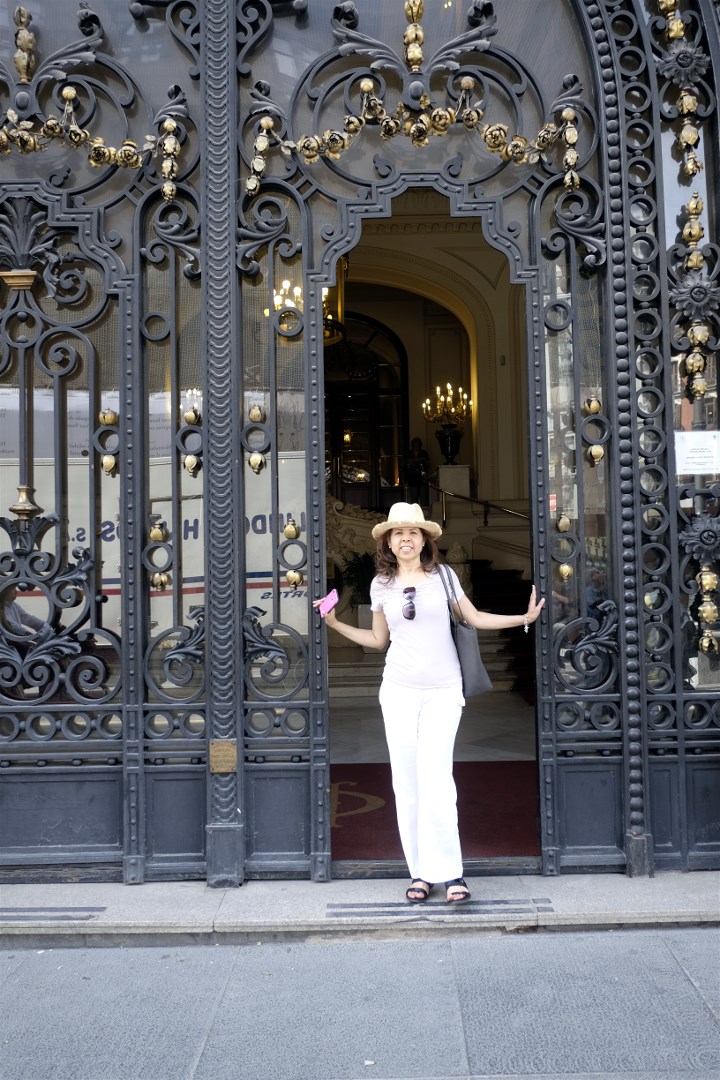 So many choices!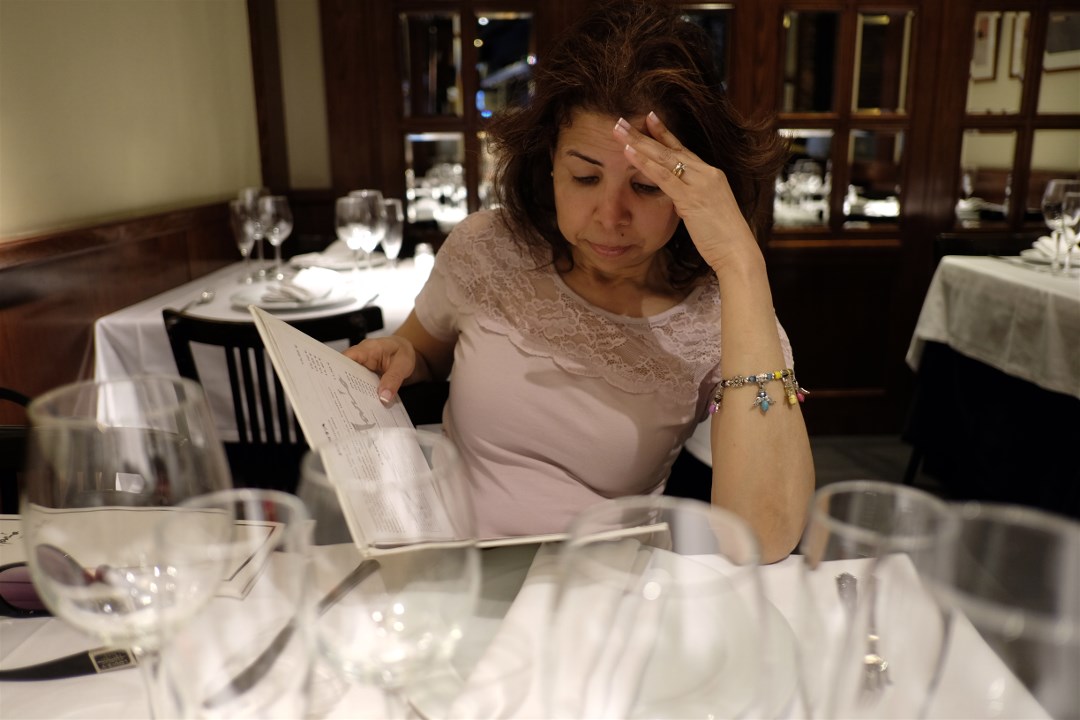 So delicious!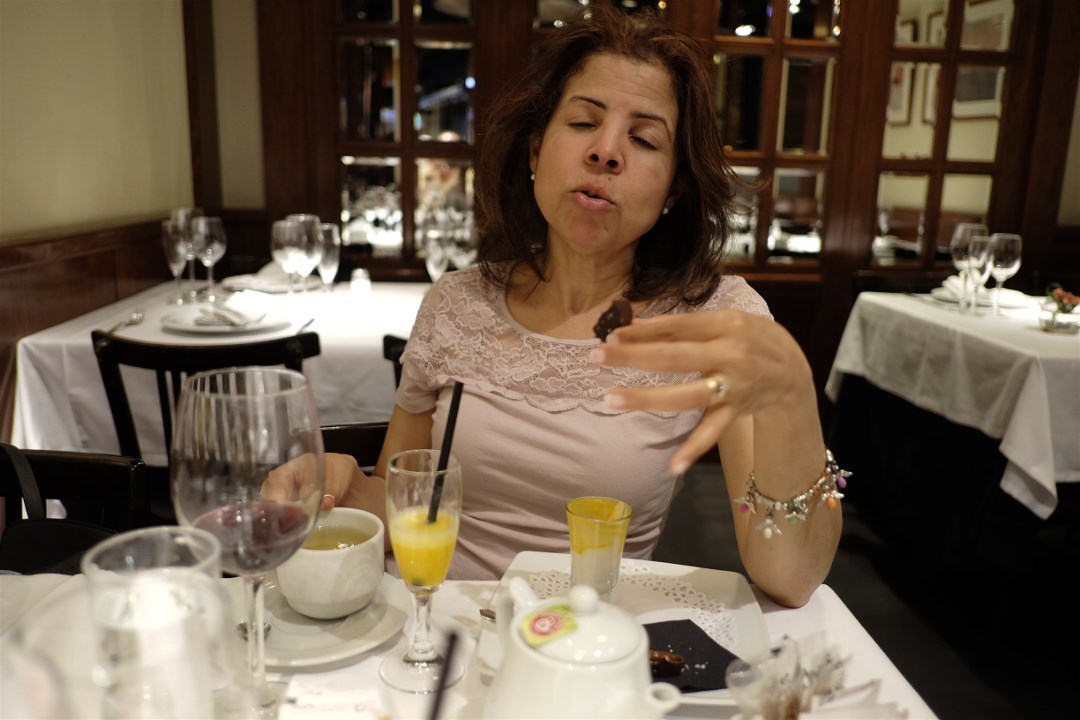 Refugees Welcome (Tourists too!)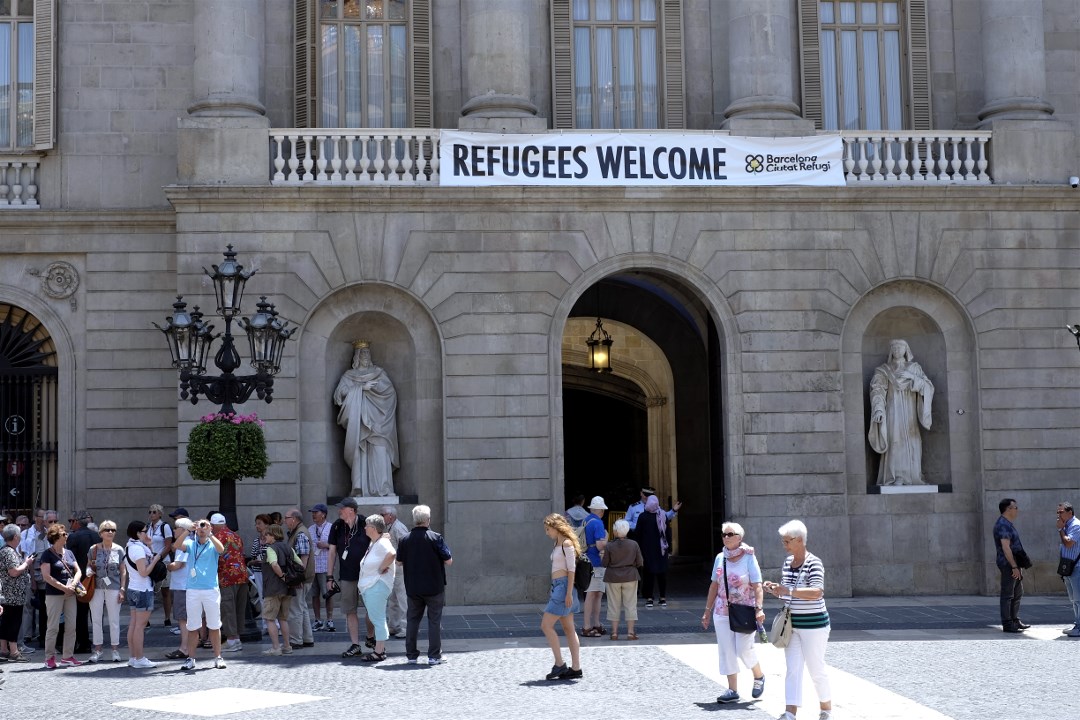 Chocolate Cafe
Thick hot chocolate with hot chorizos
Photos on the wall of all the famous people who ate there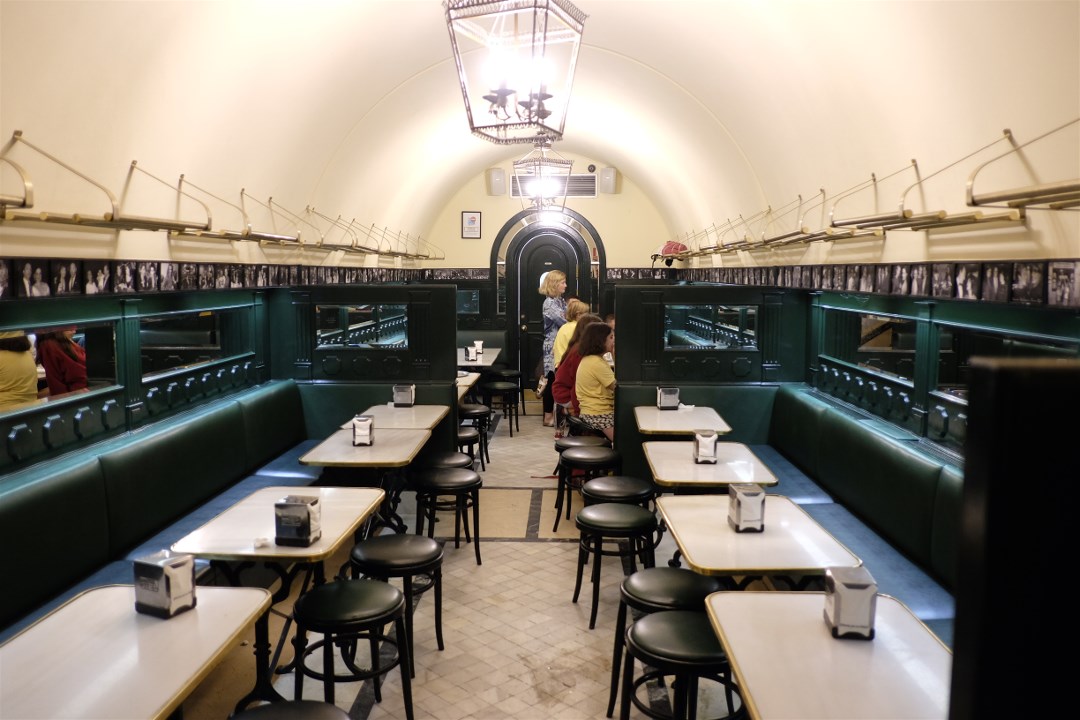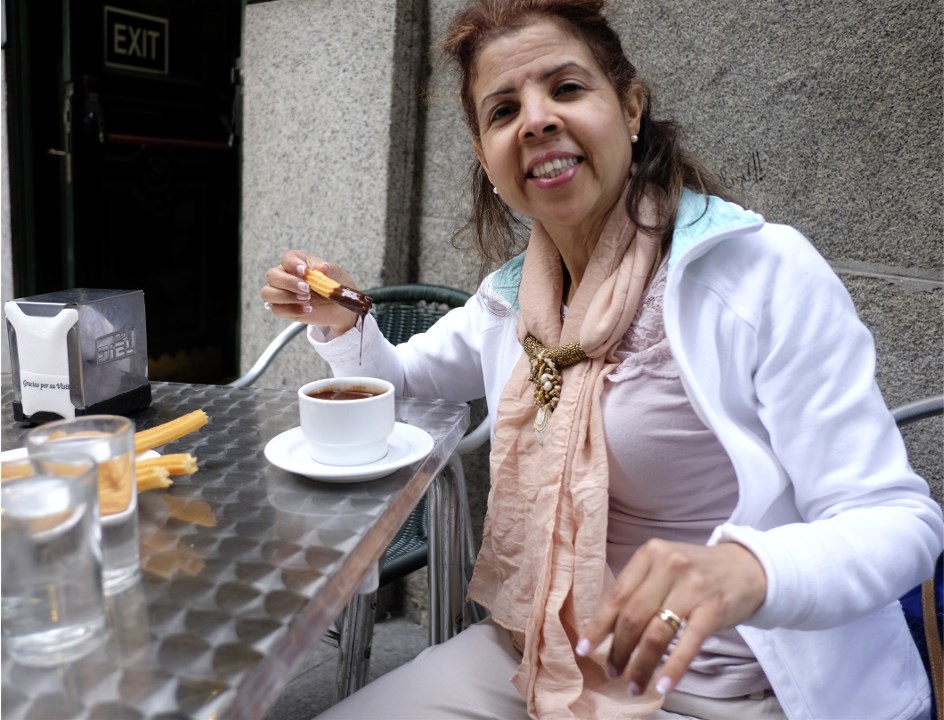 Street Scene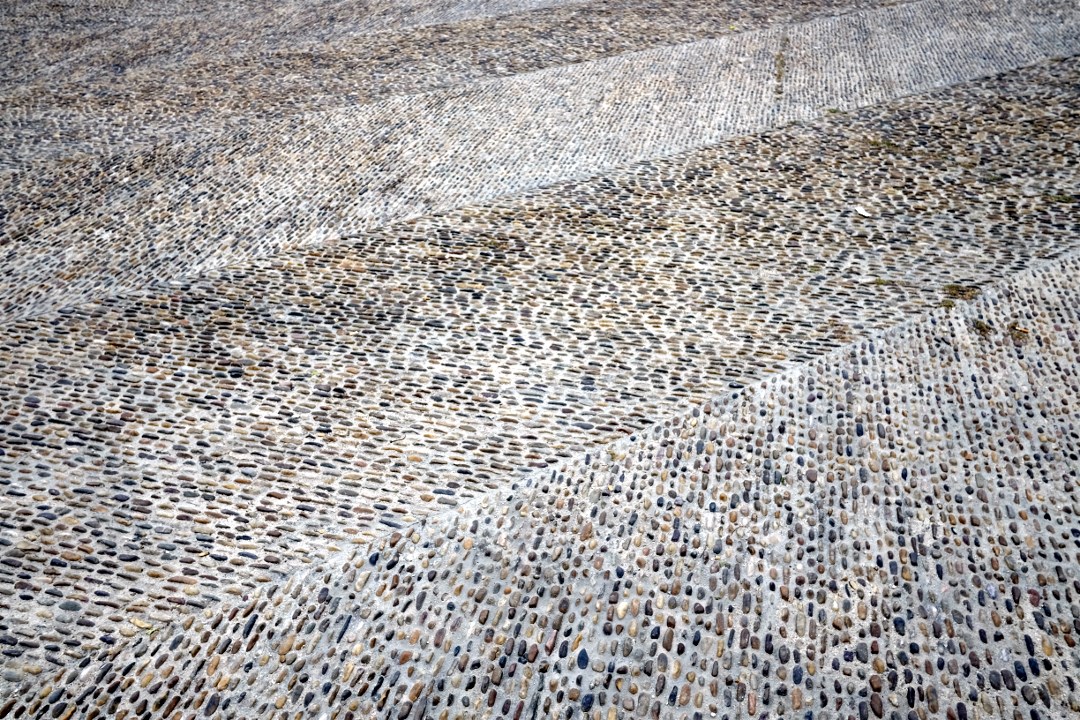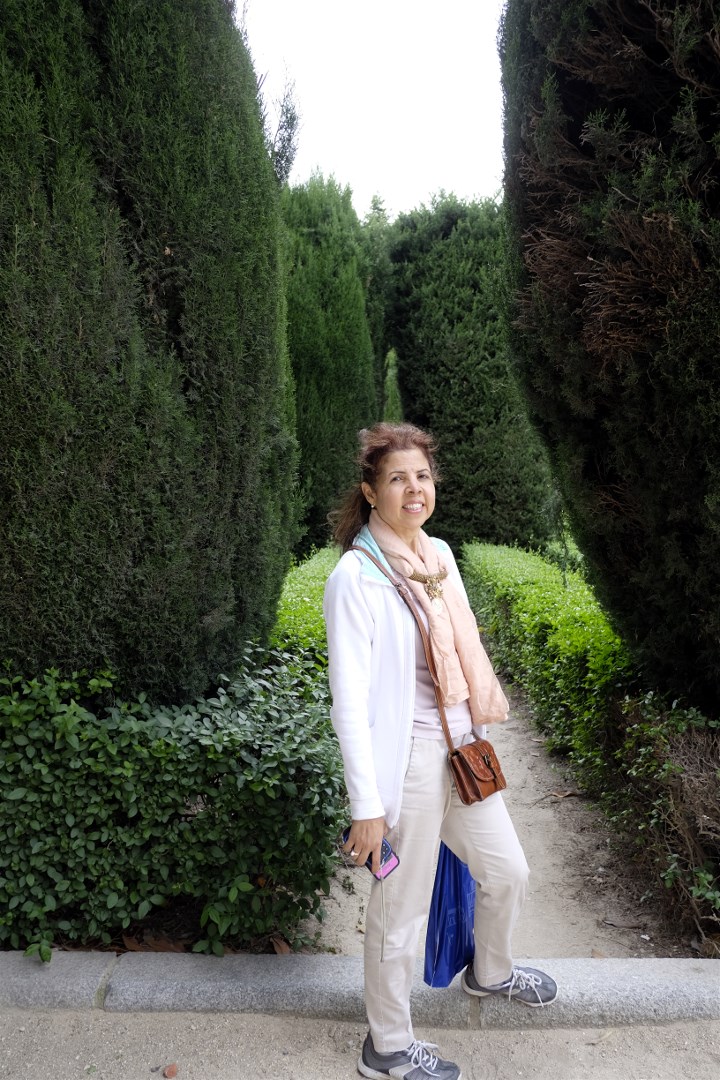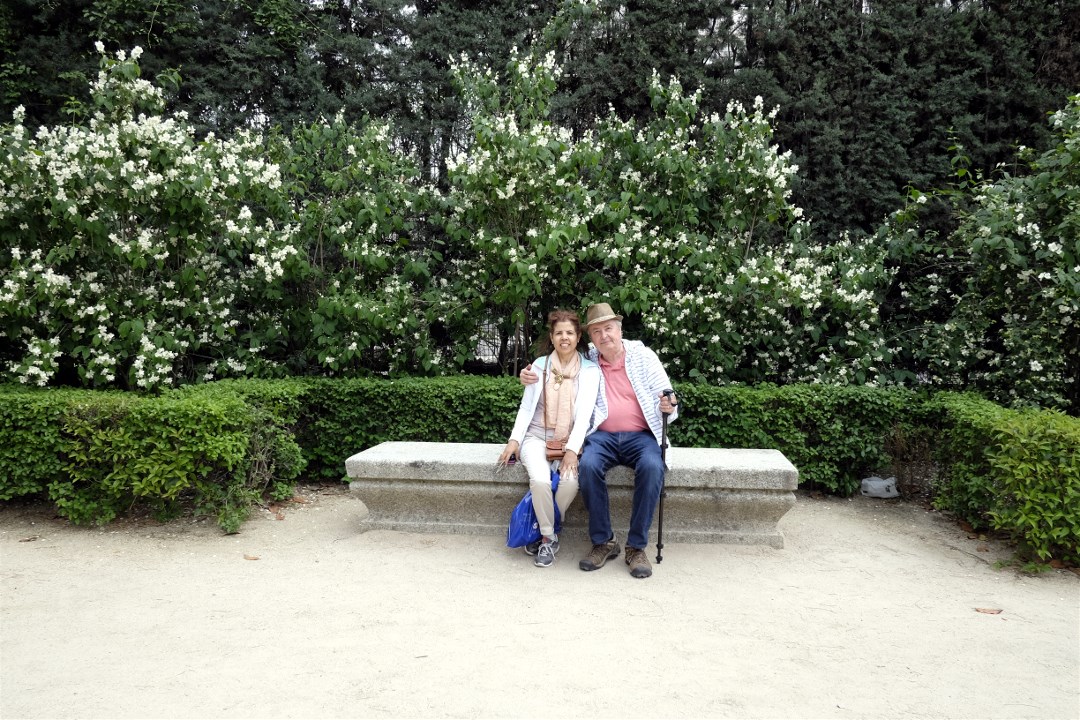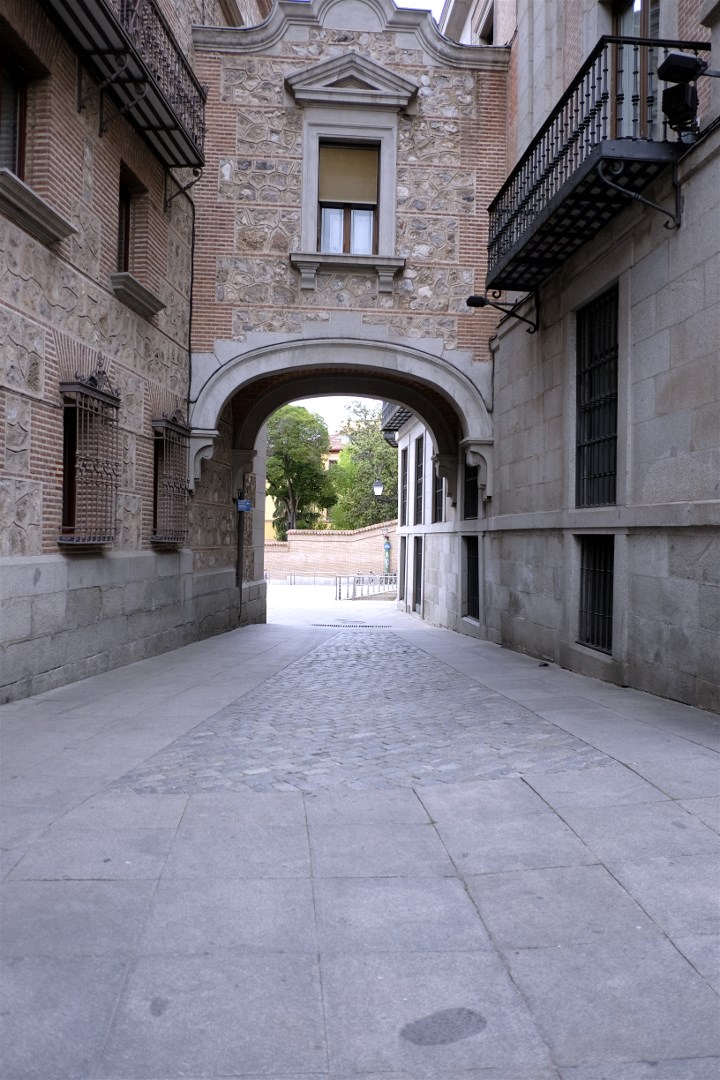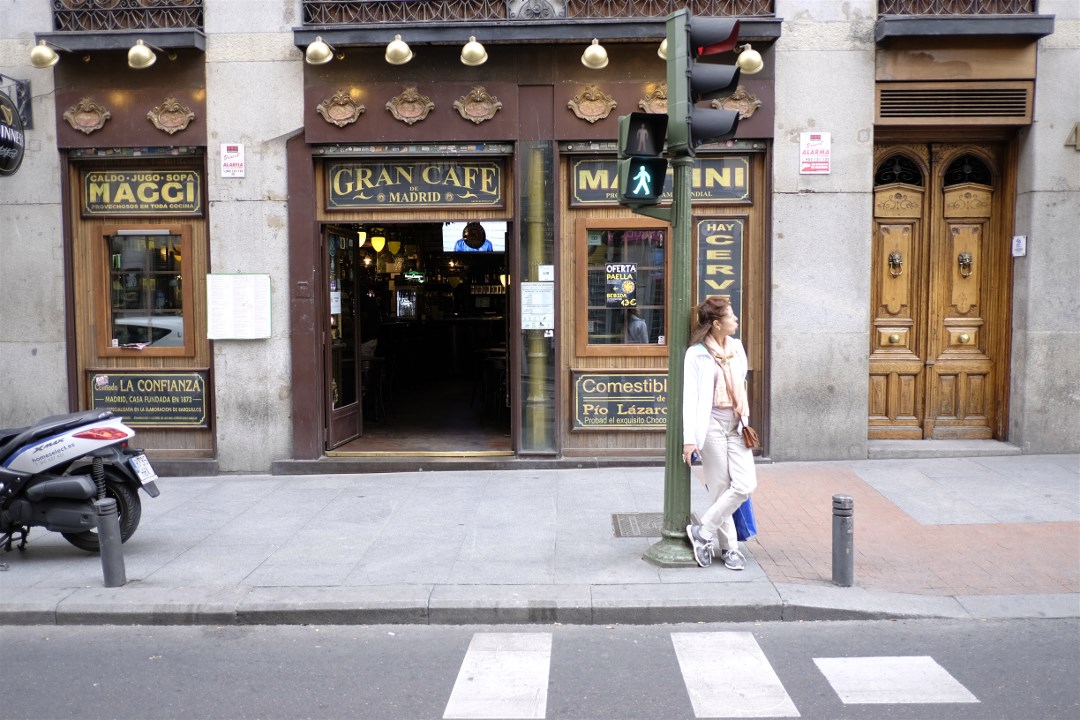 We loved the many restaurants
With displays of fresh Mediterranian fish on display in the windows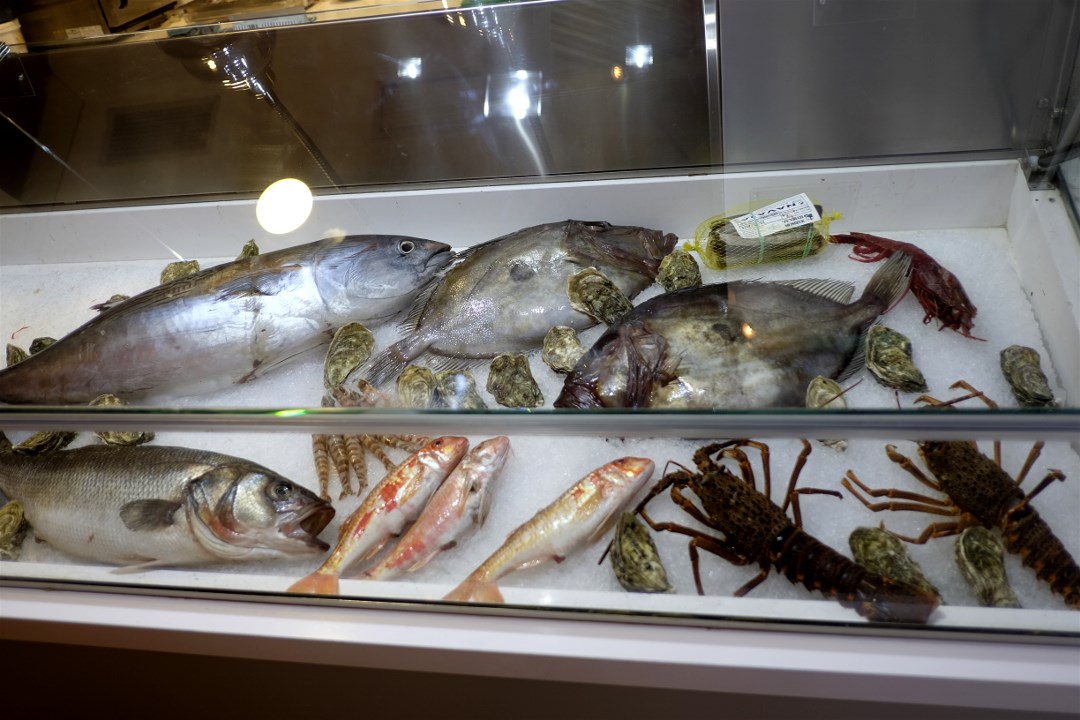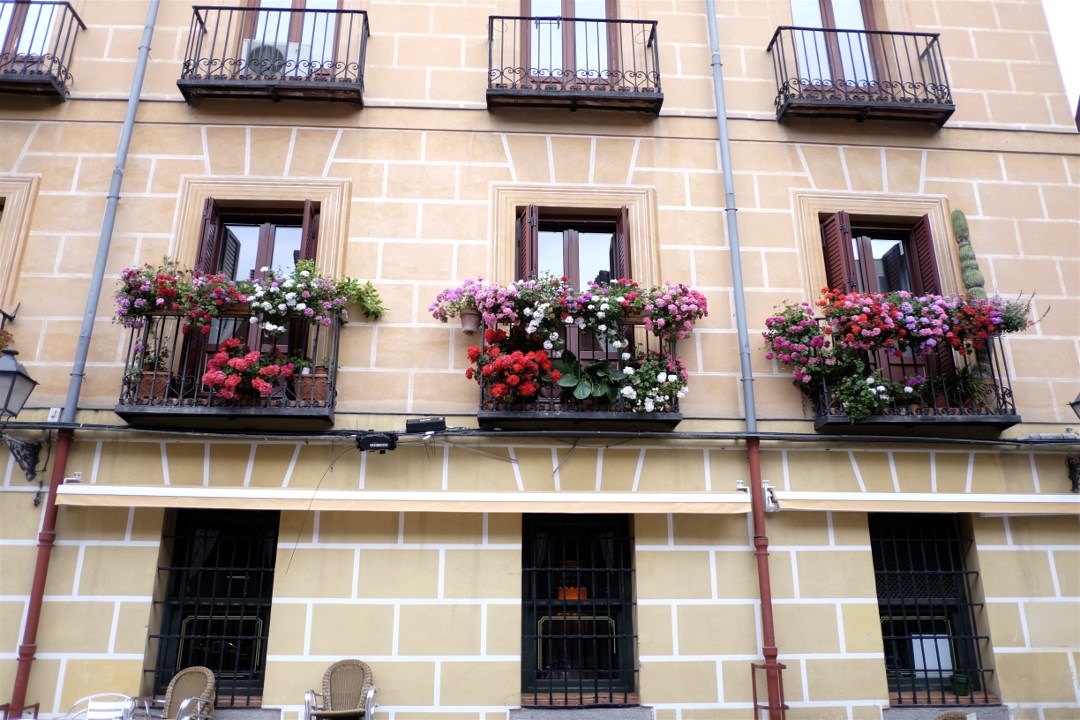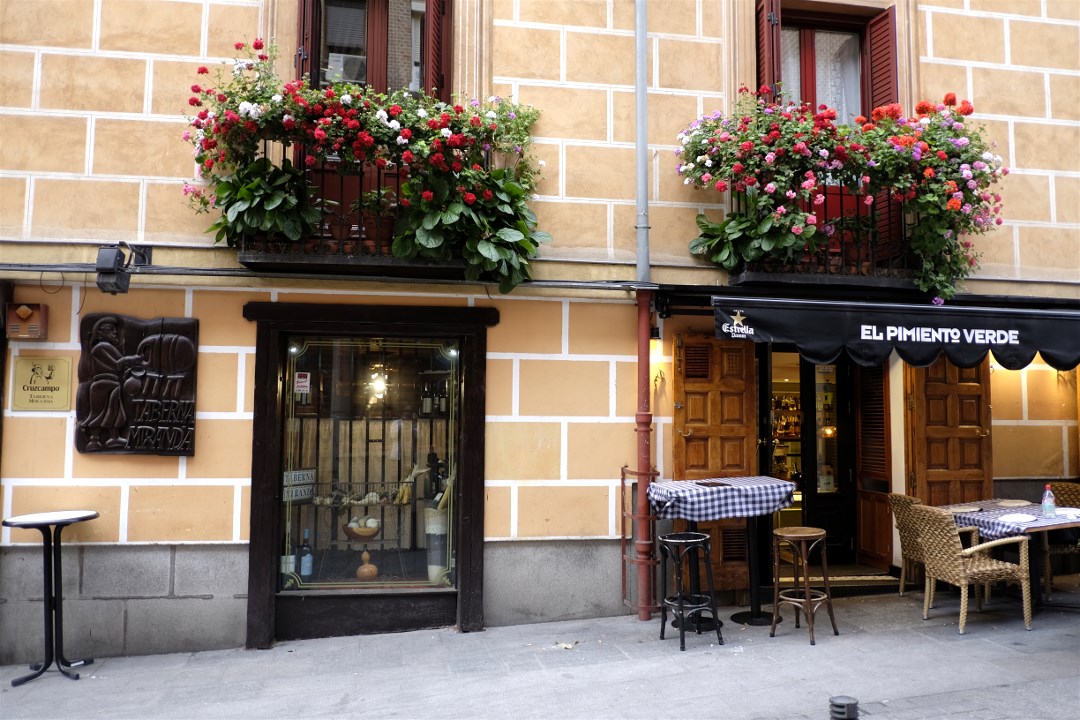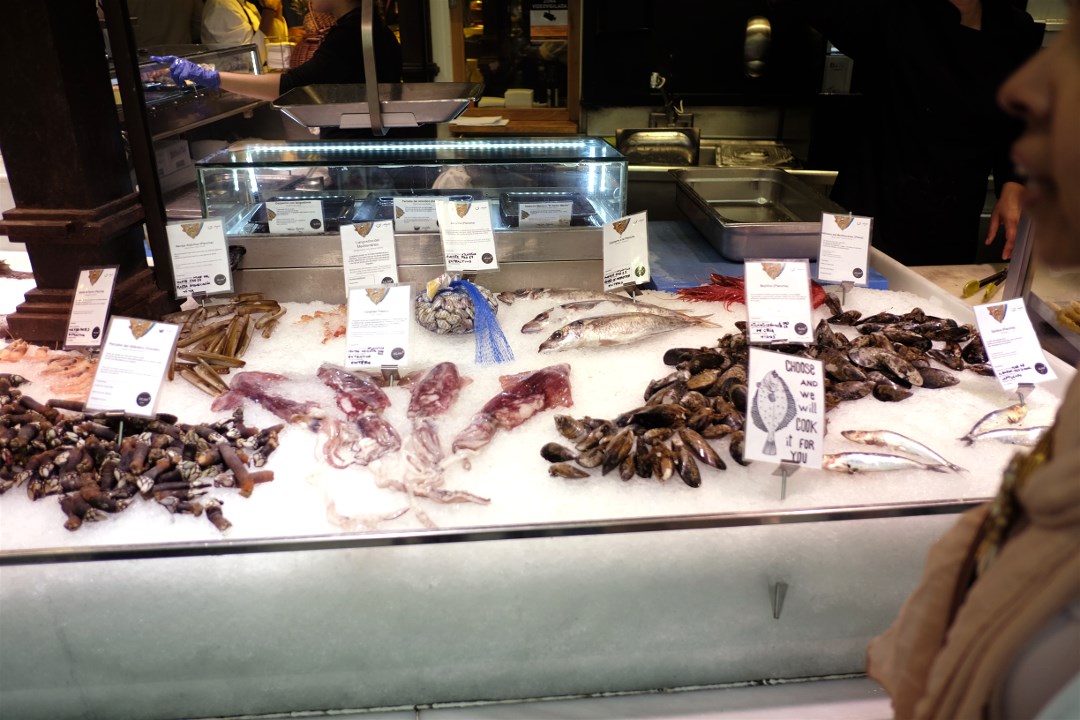 I love these markets that sell such wonderful food. It is great that you can buy a glass of wine at one place and take it over to enjoy oysters or tapas somewhere else.
It soon became obvious to us that the Euro trip was rapidly turning into a food tasting tour. Although I lost 7 pounds in two weeks it must have been from the walking because we ate a lot.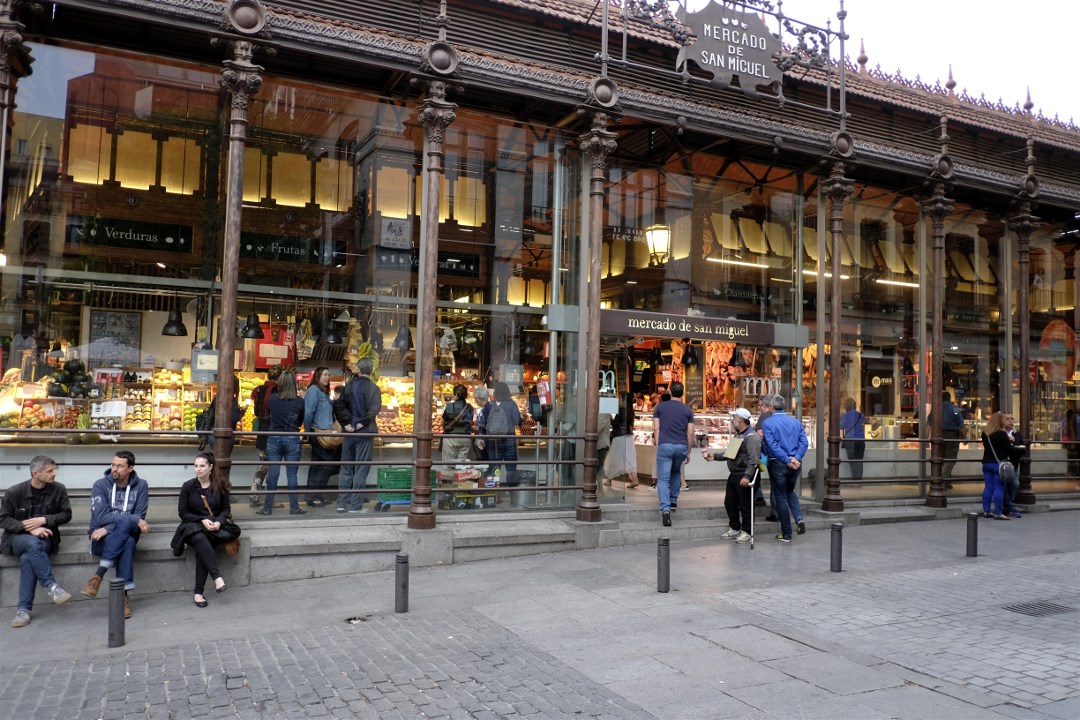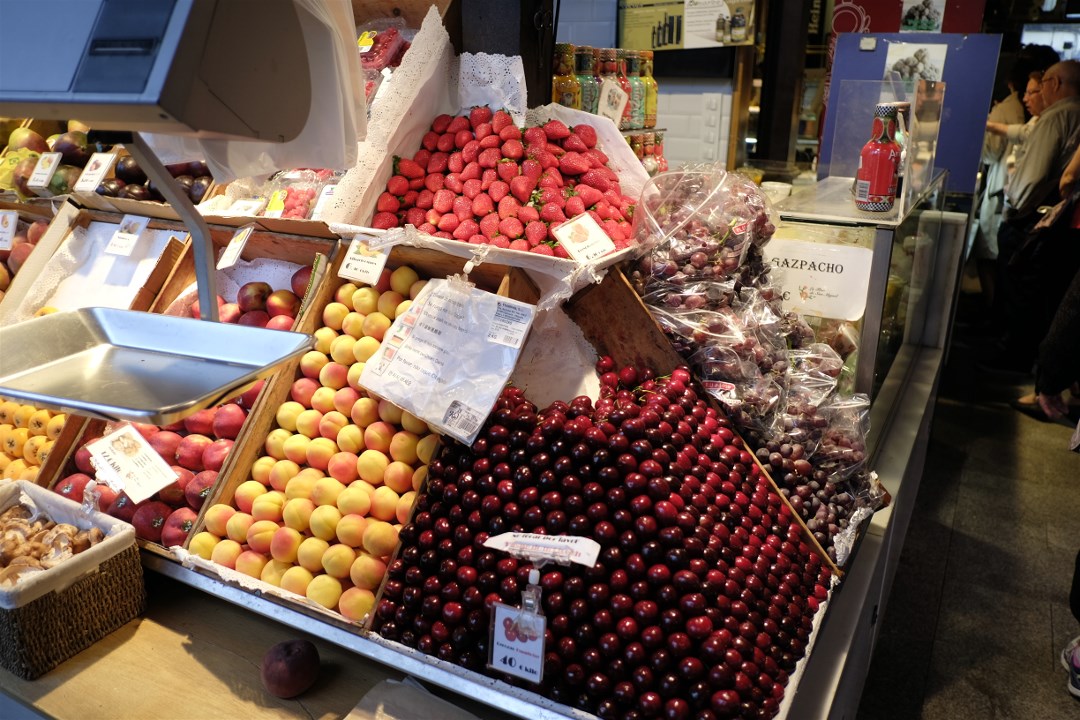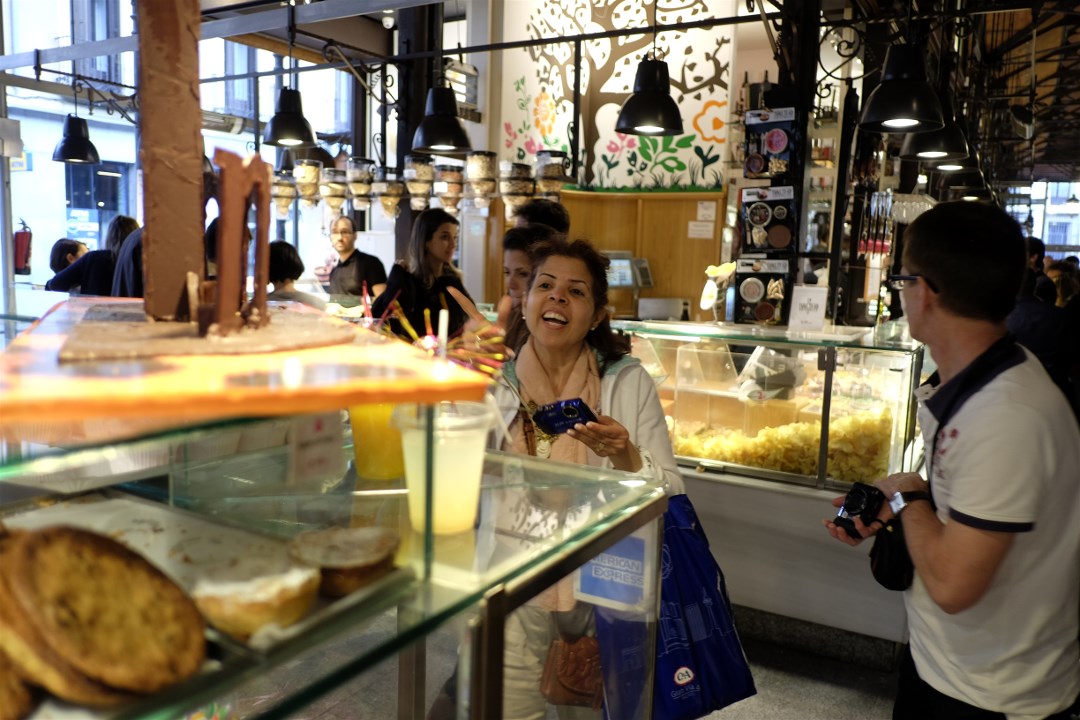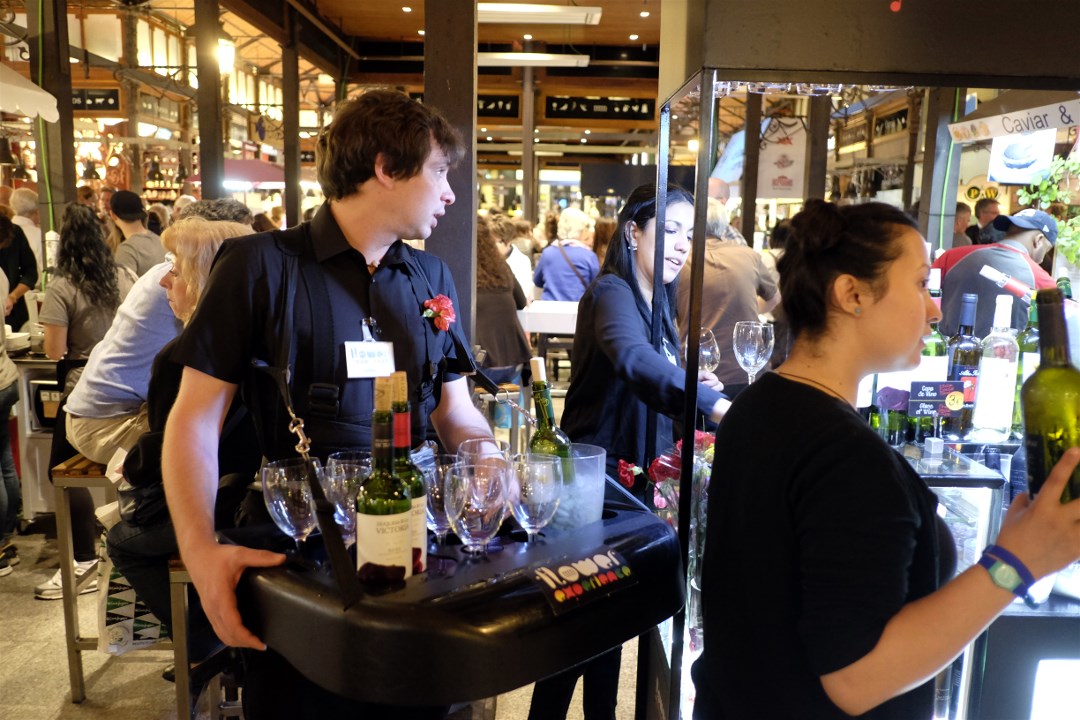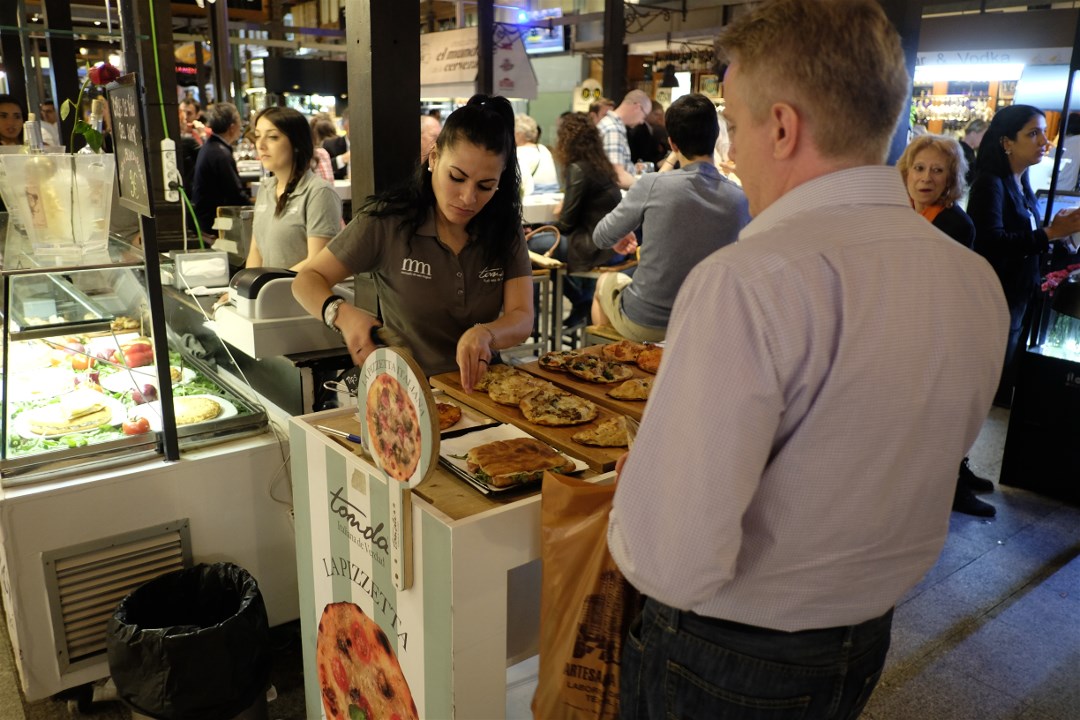 Amazing taste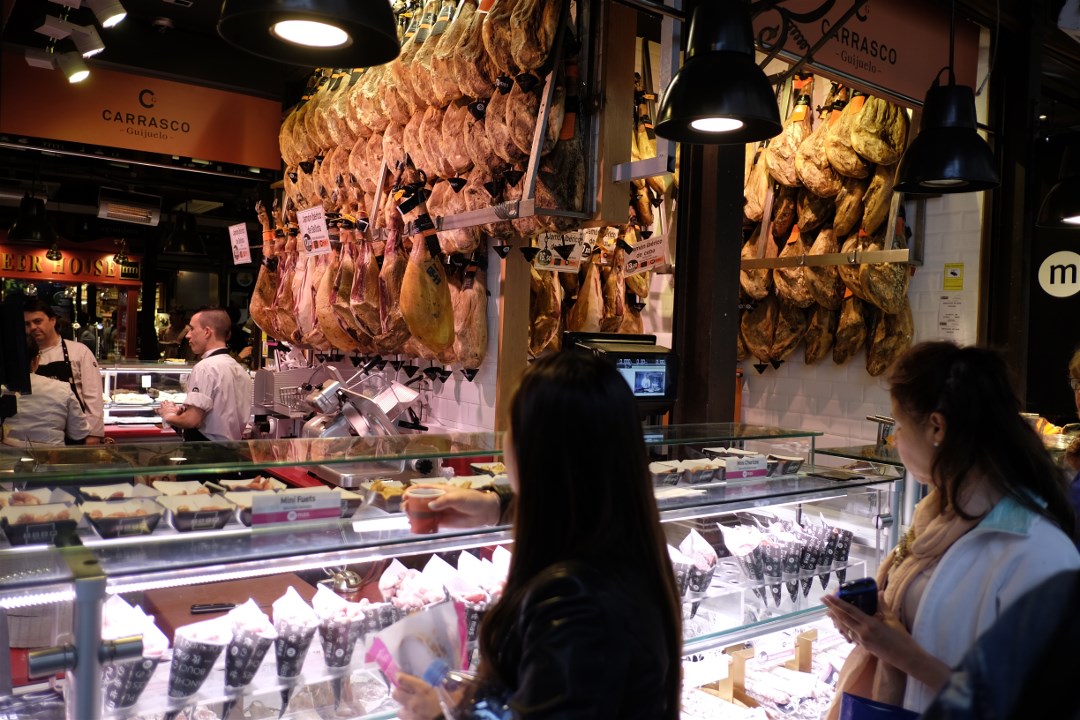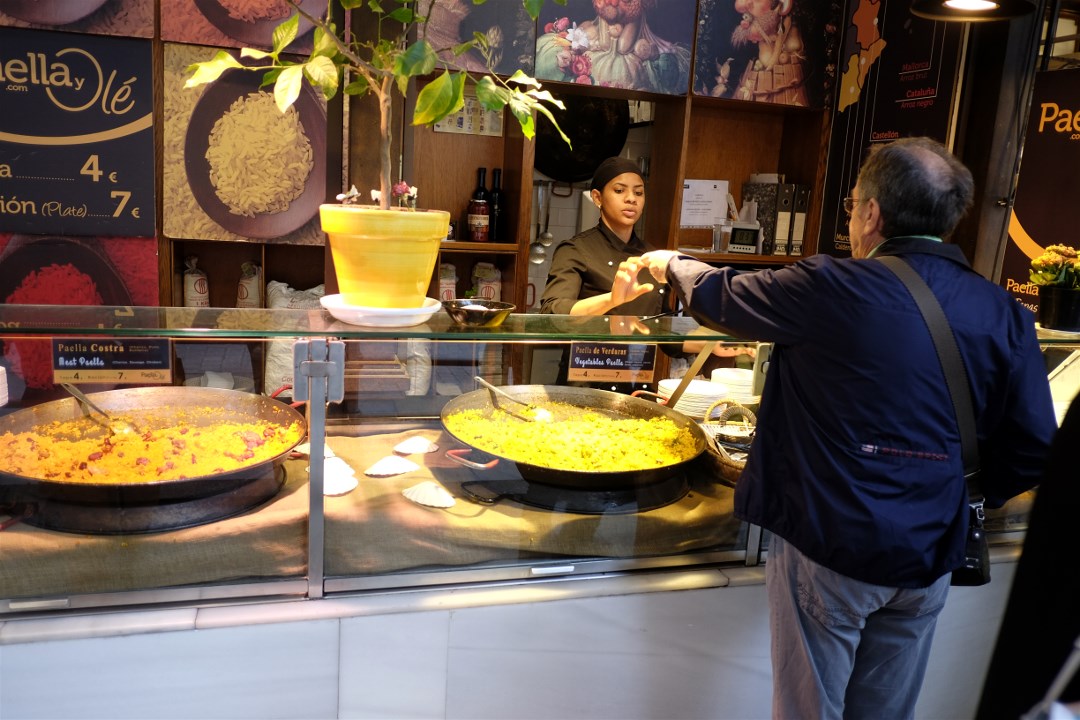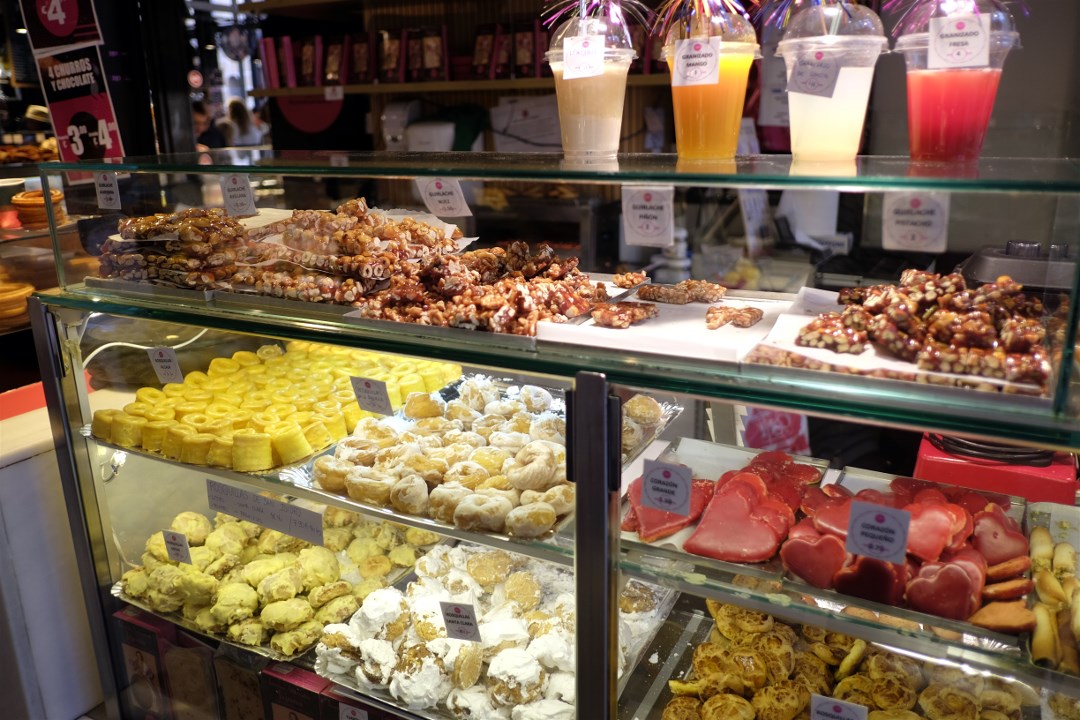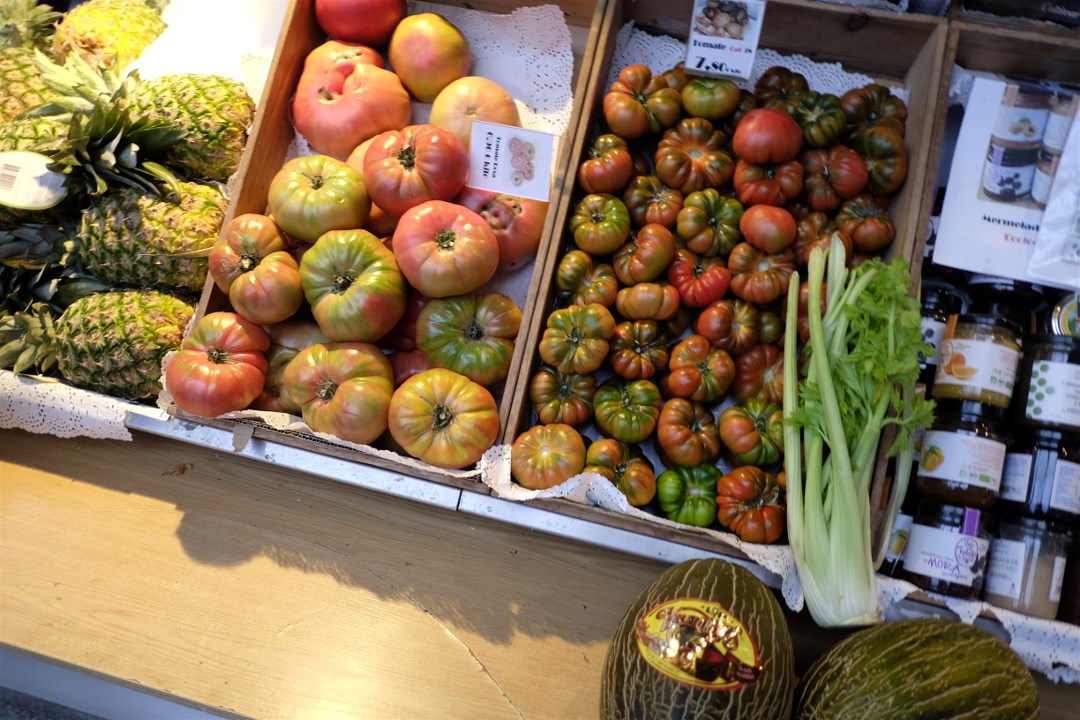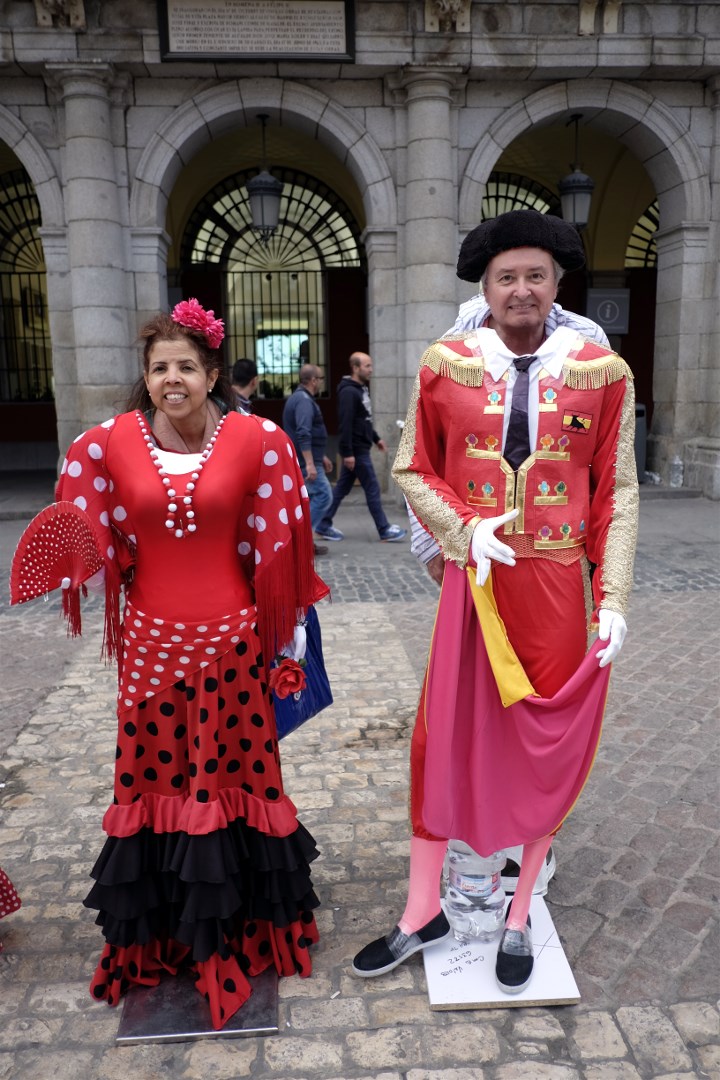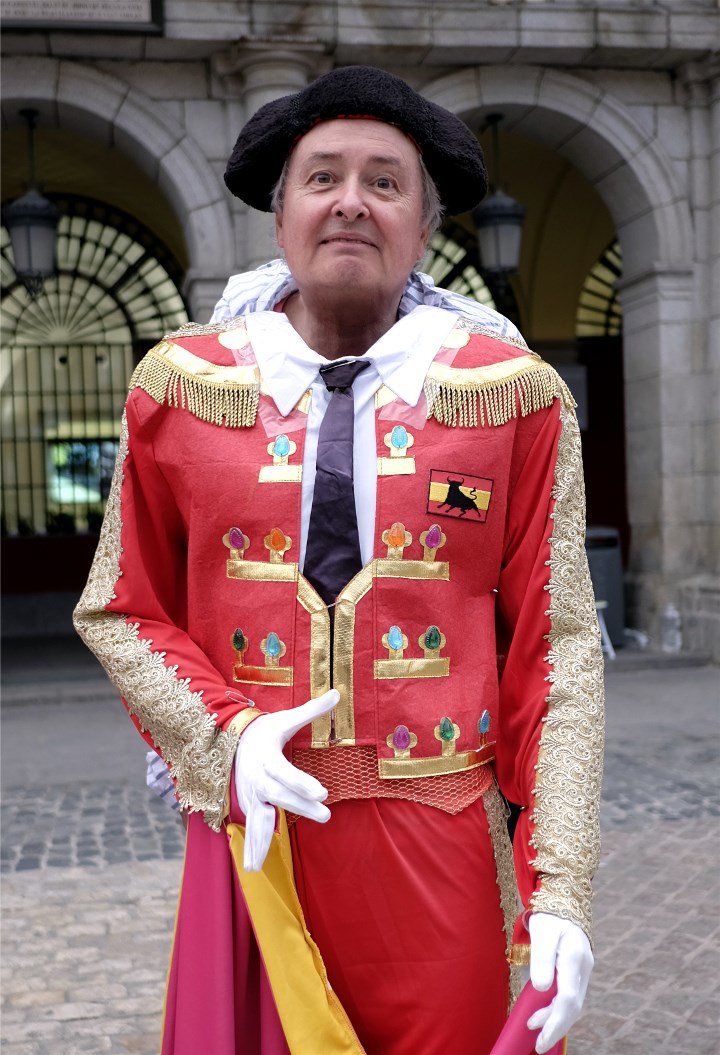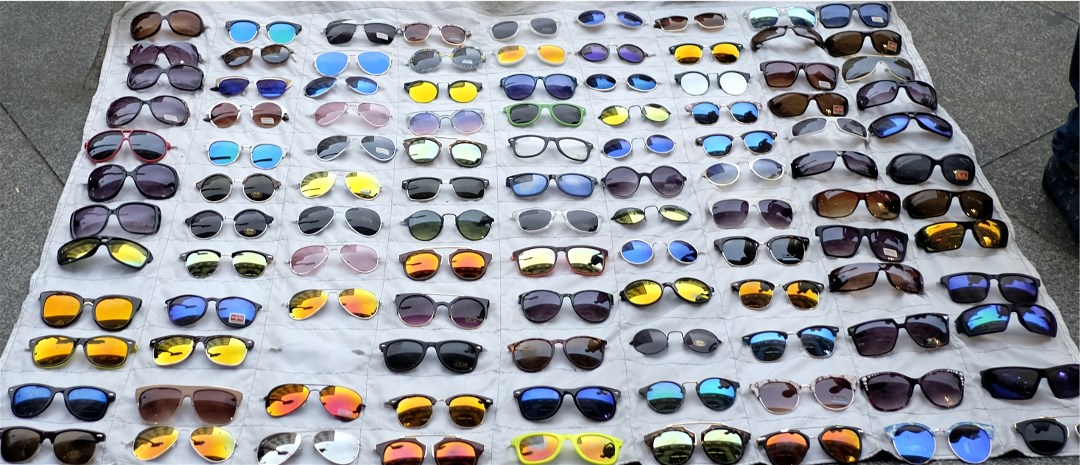 So many lovely shops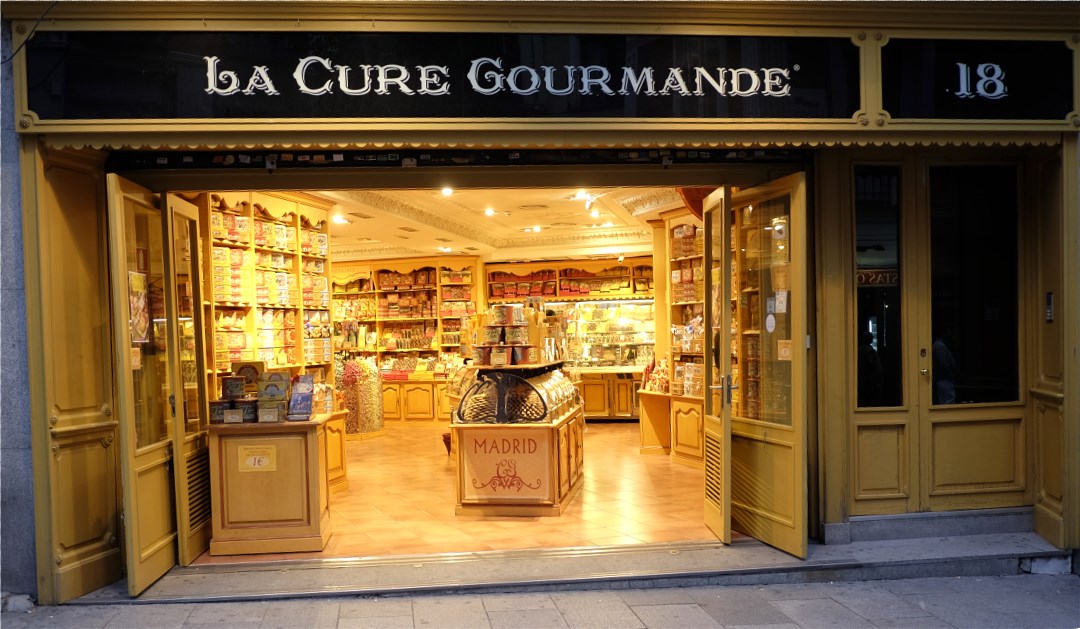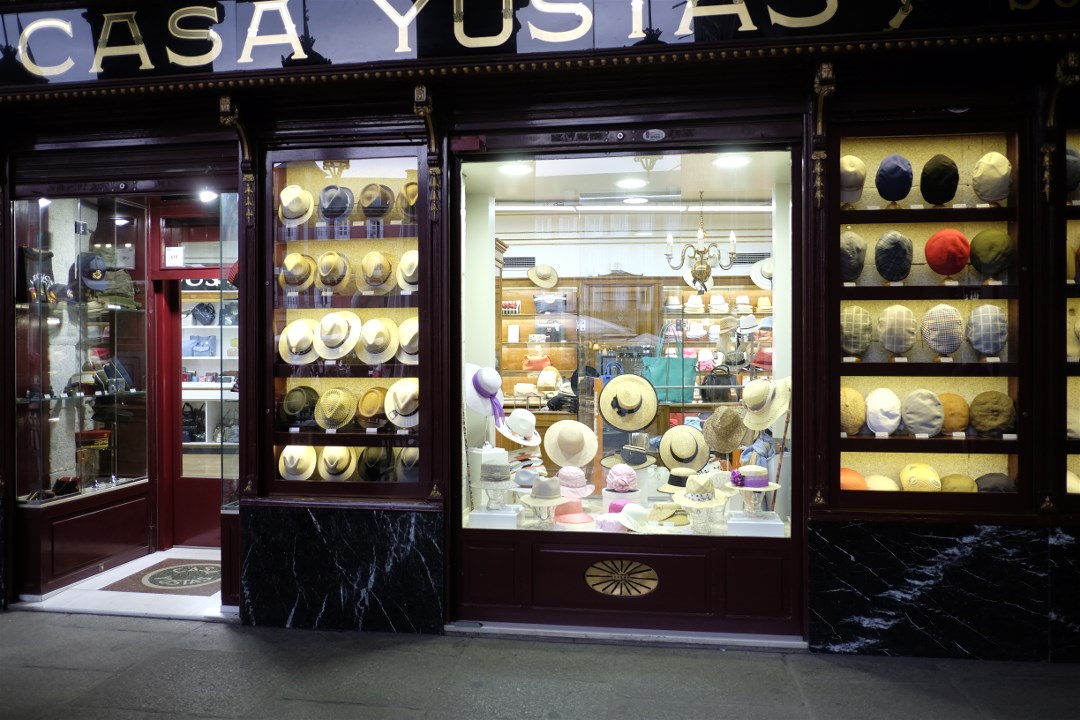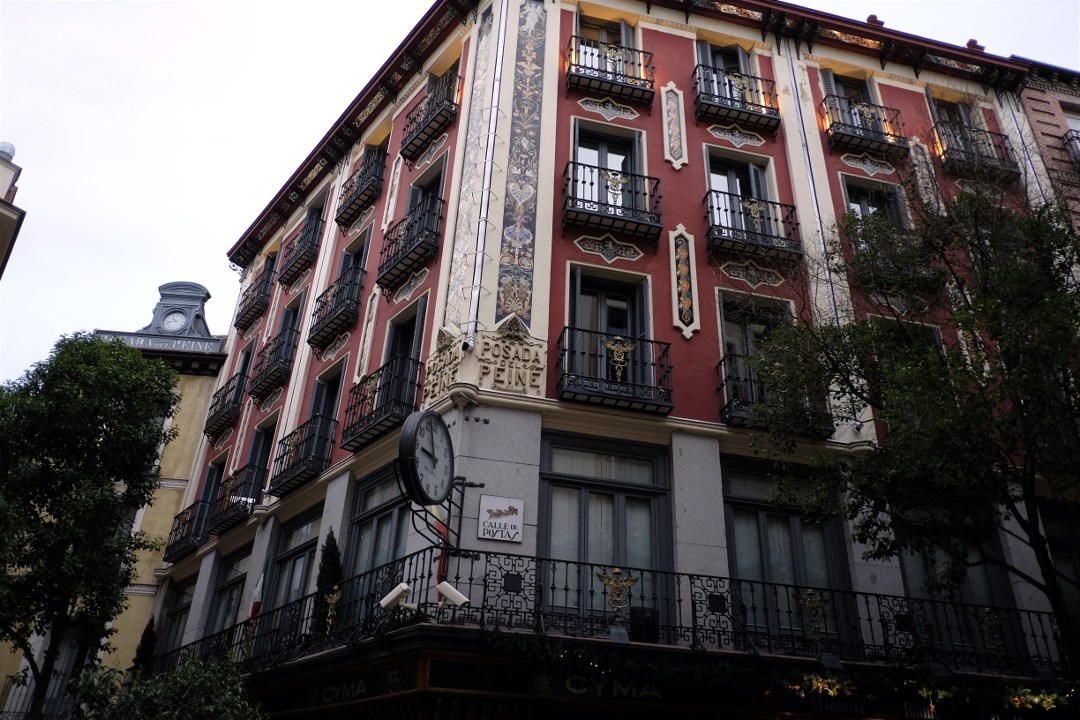 Oranges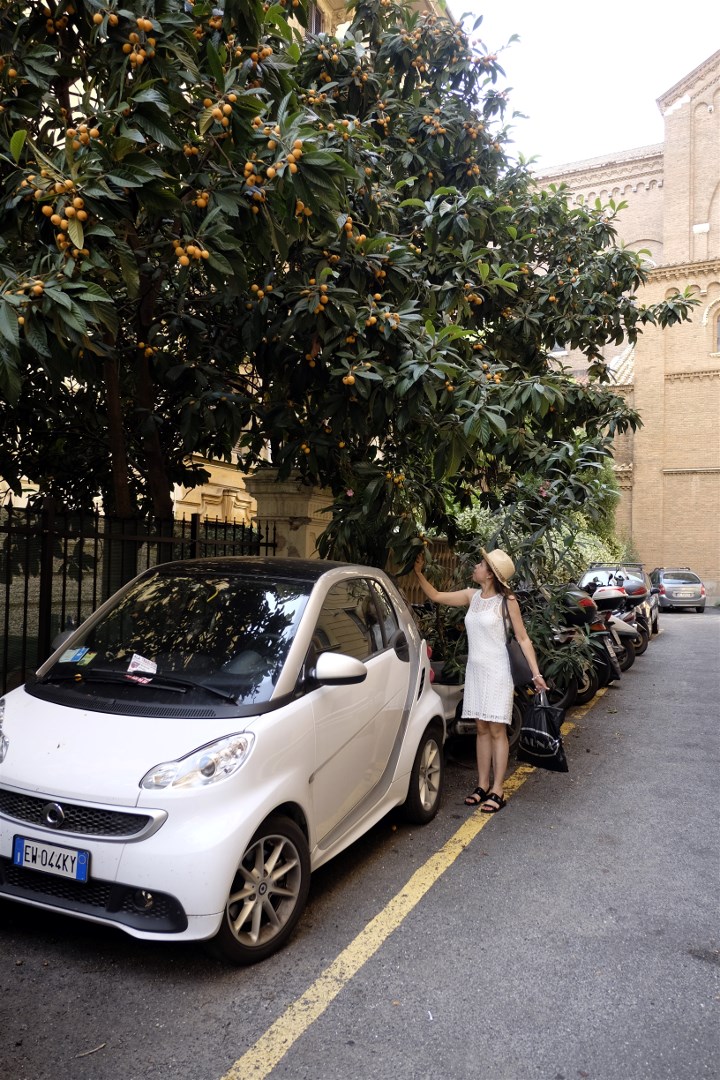 Another church. Magnificant ceiling and statues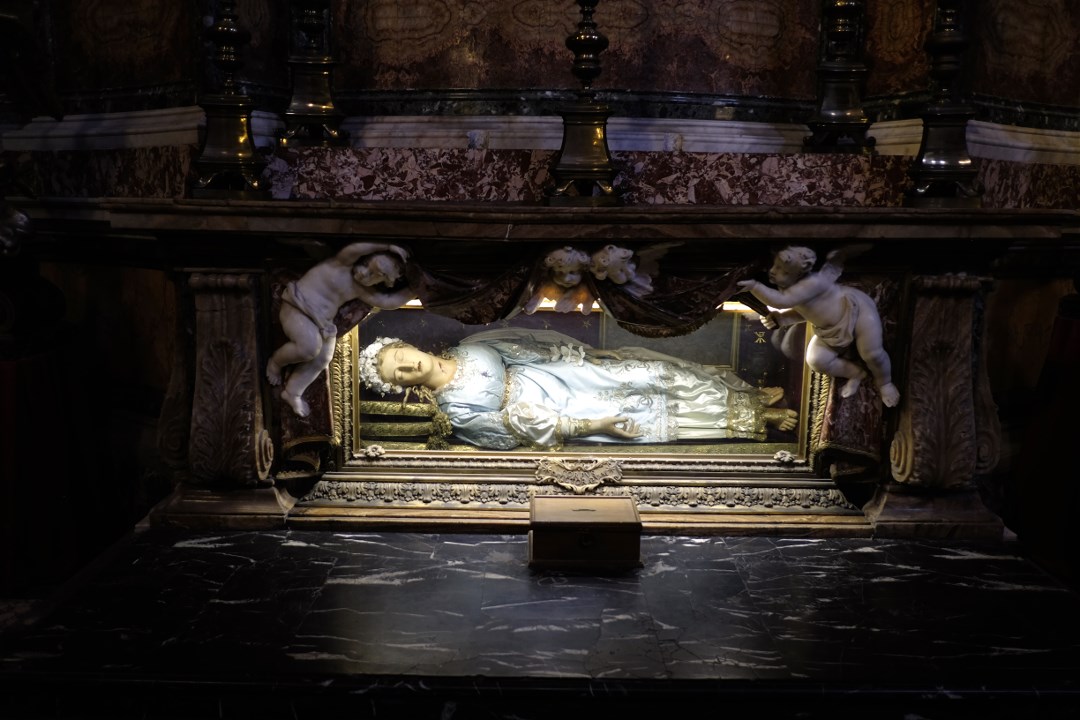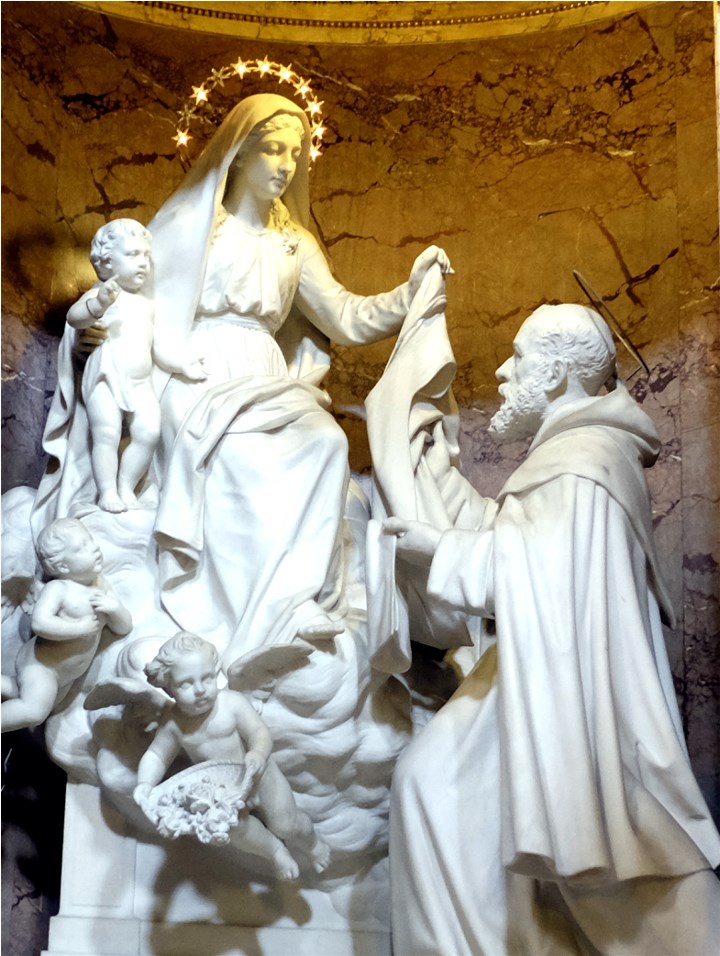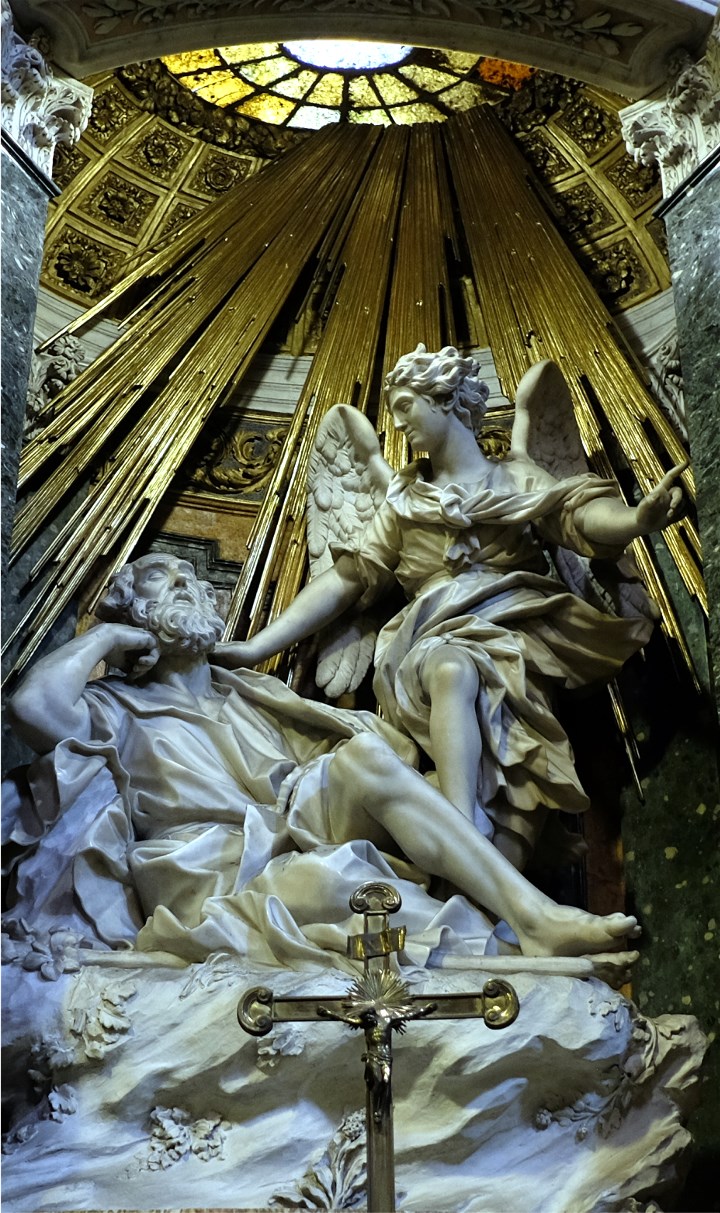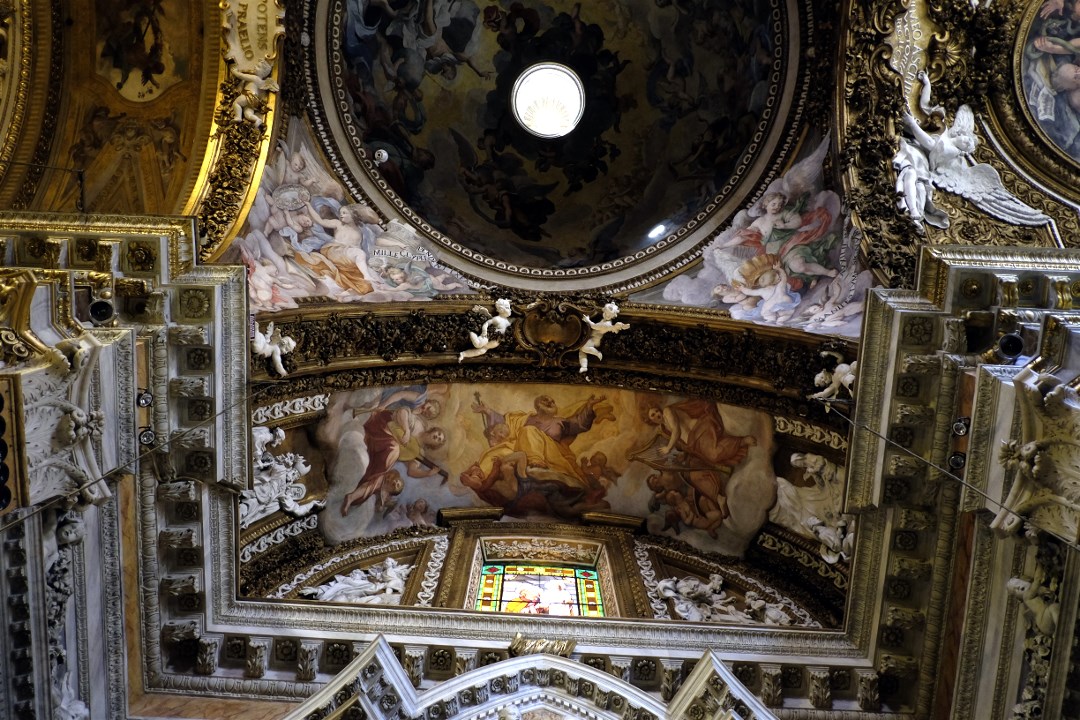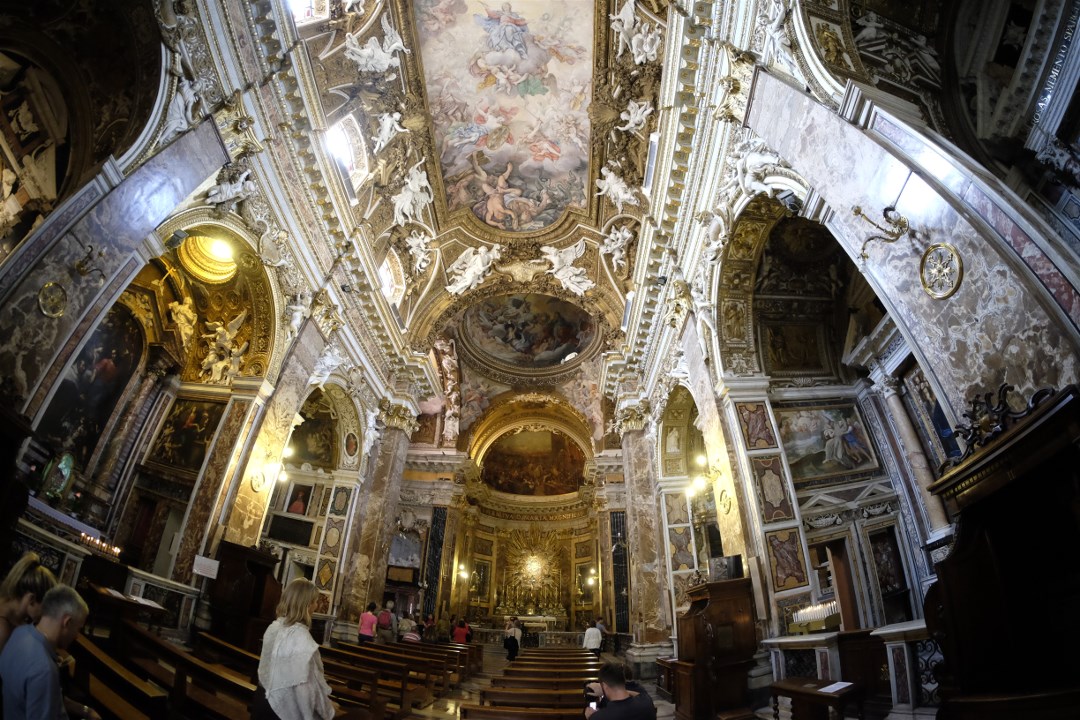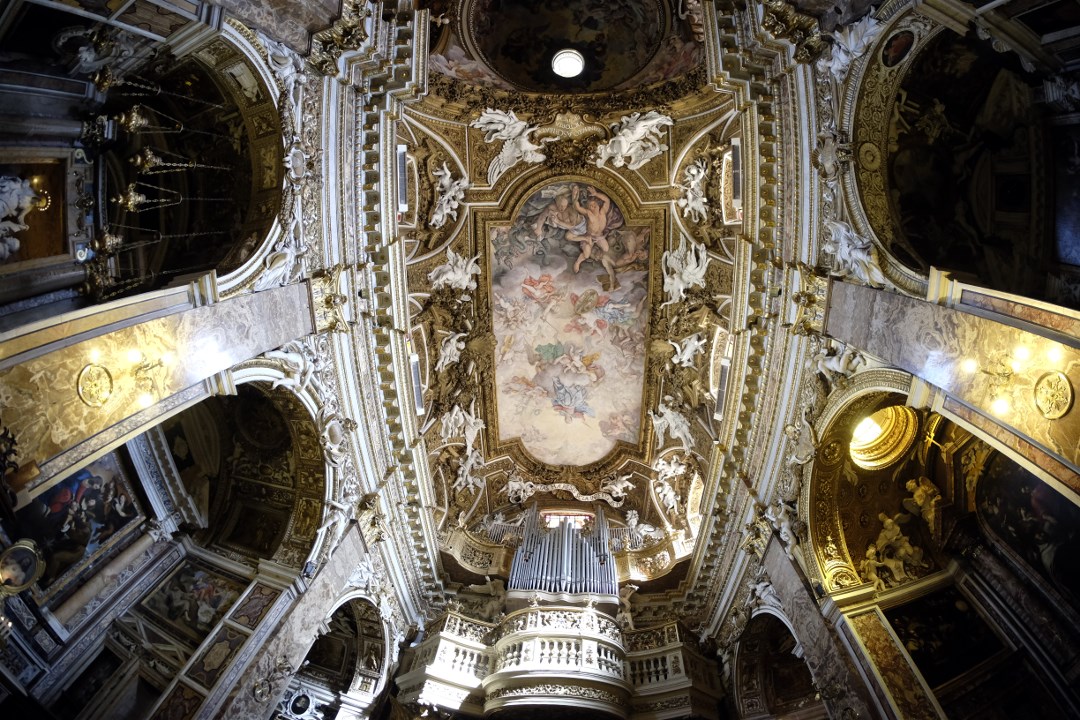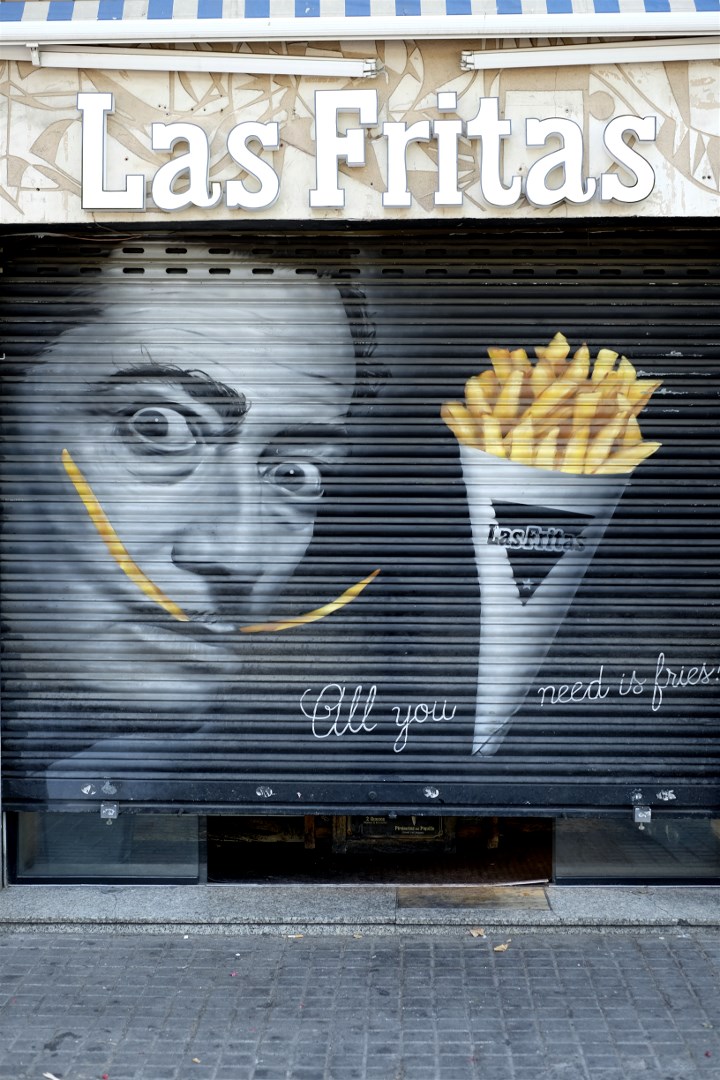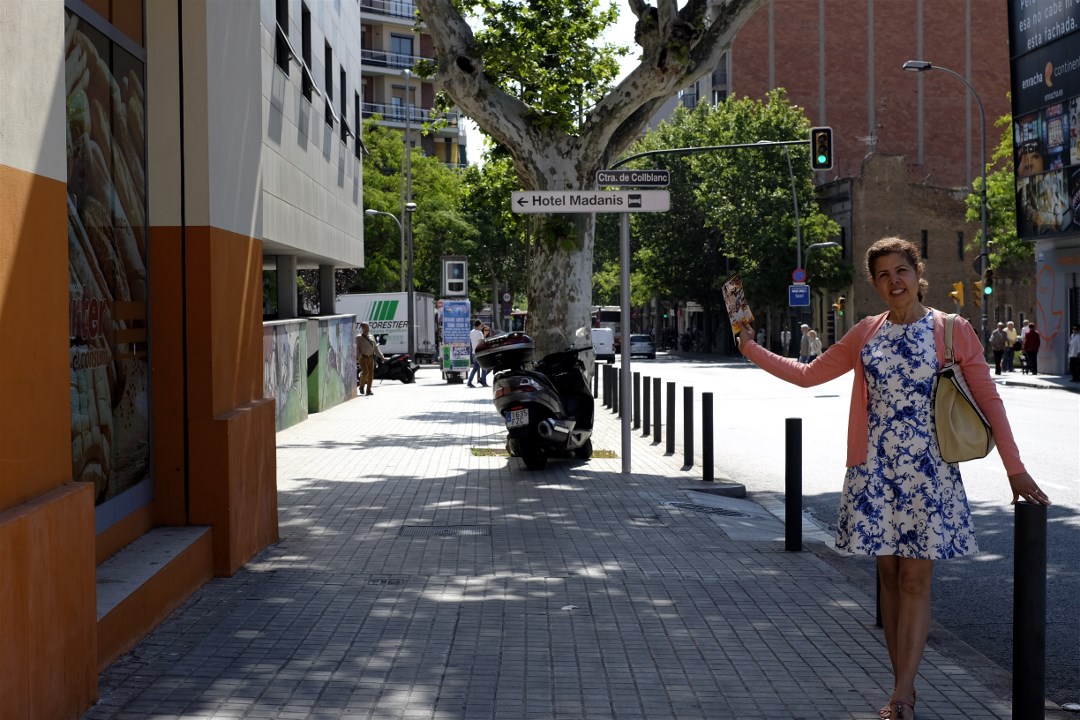 Breakfast at Hotel Madanis - Barcelona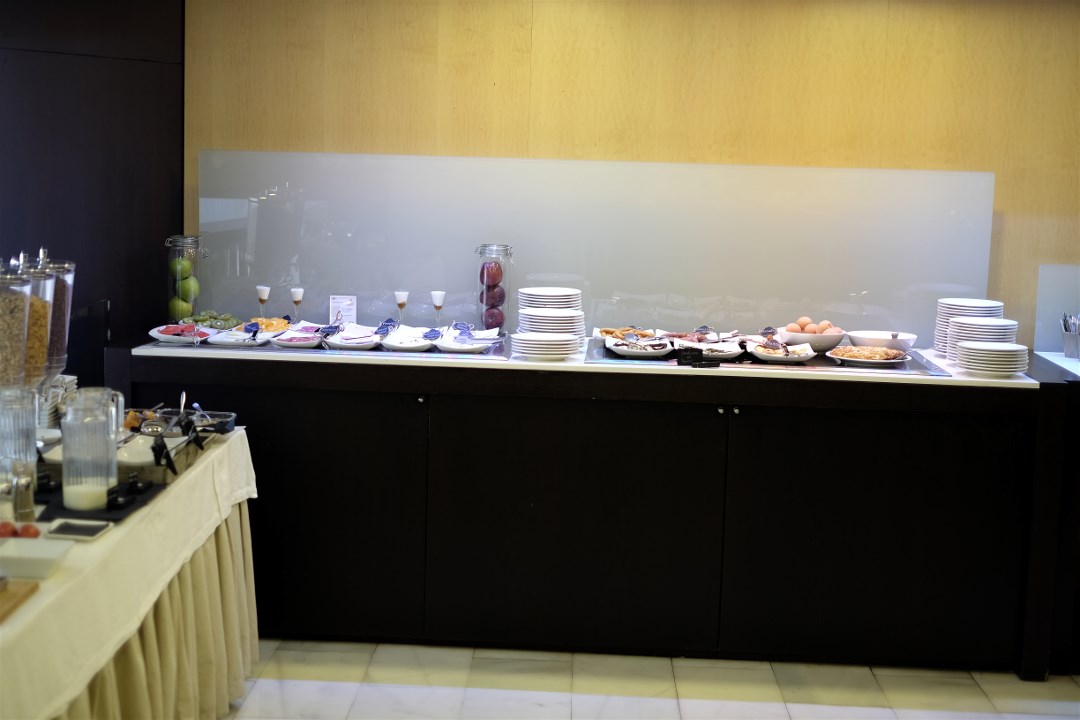 When we went the Barcelona subway system was on strike. It was a civilized strike though. The subways kept running but not as frequently. It did get crowded.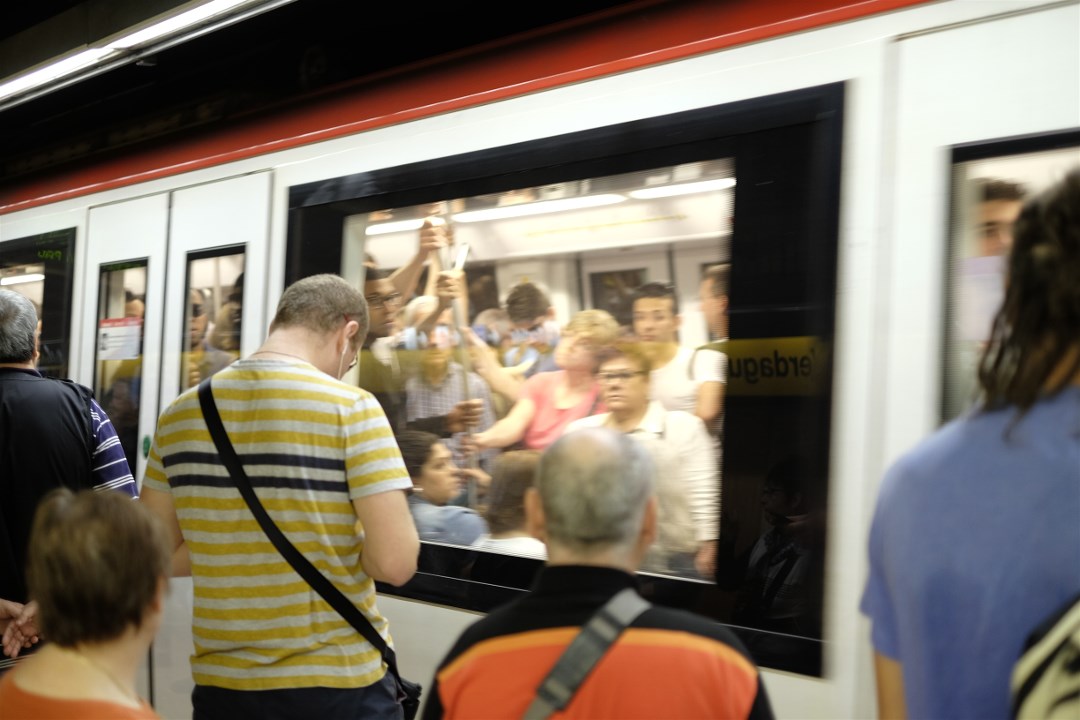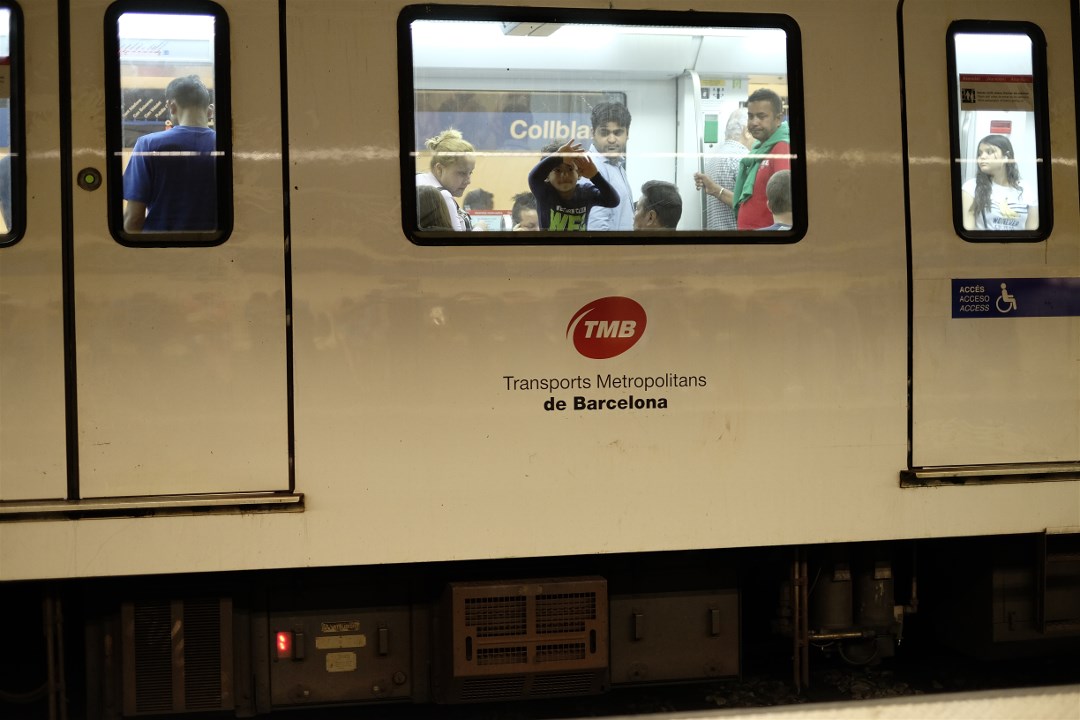 Barcelona is a coastal city and so there is a beach. We did not swim. I took no pictures of topless sunbathers. Must have been Marisol that took this snapshot...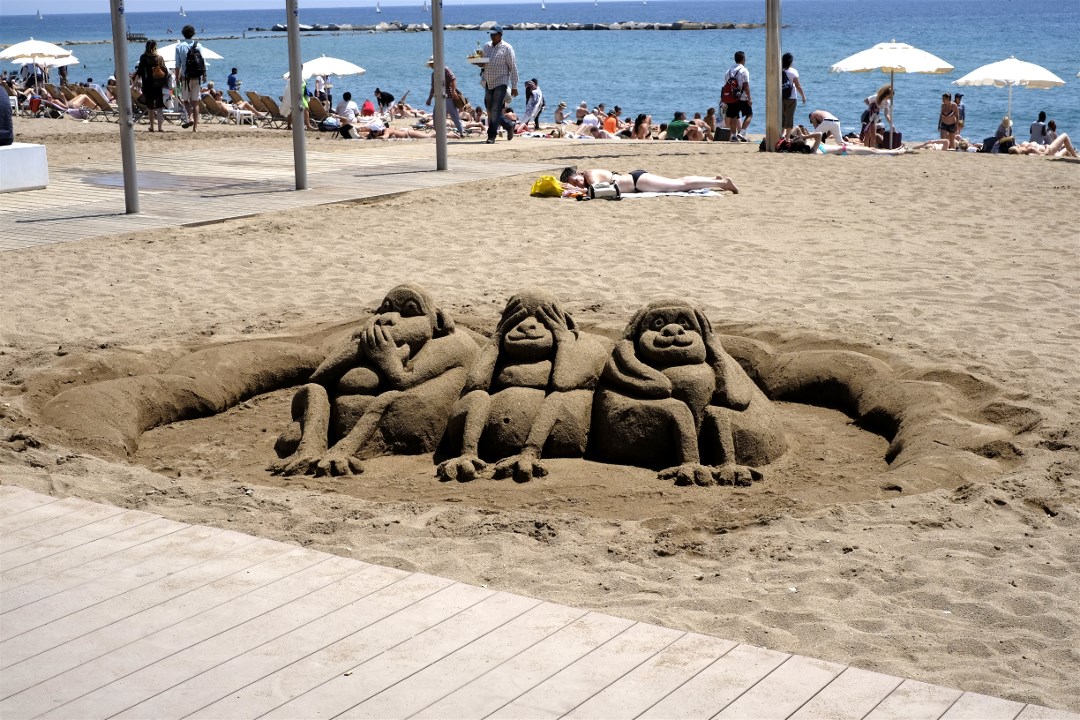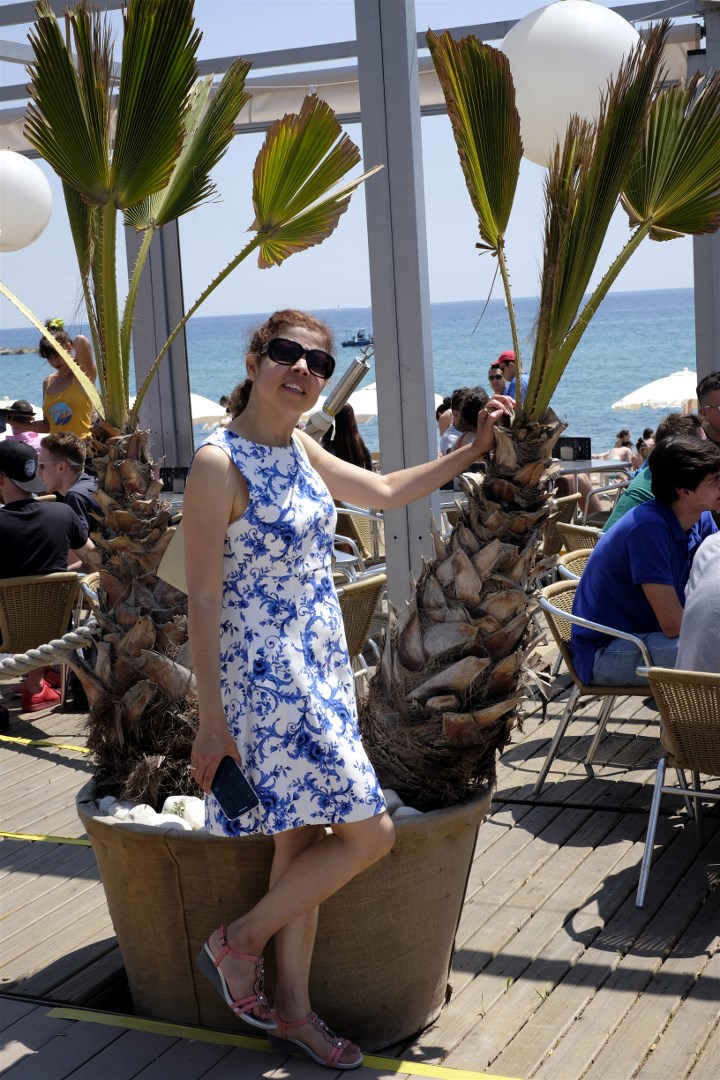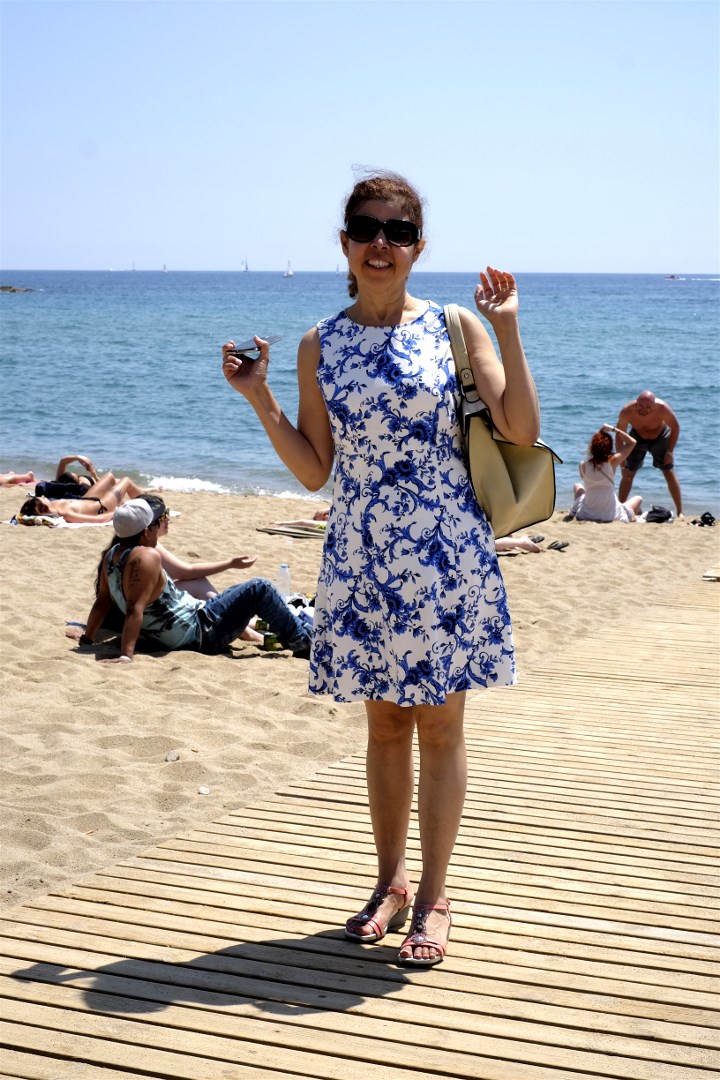 Gothic Quarter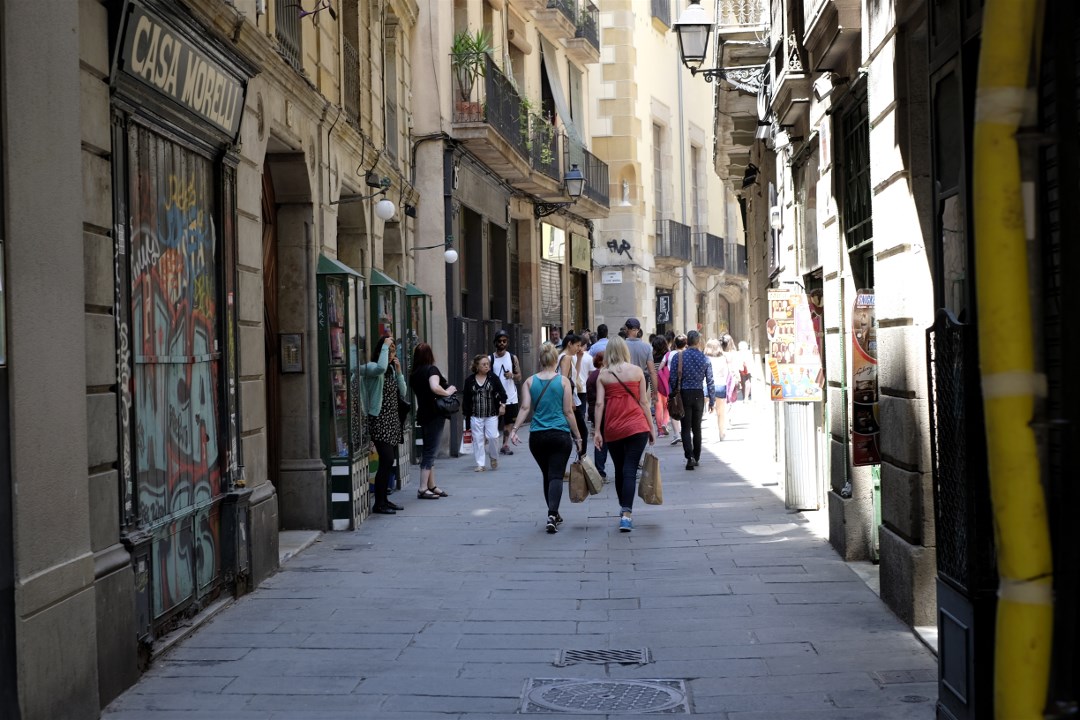 Many old interesting shops in the gothic quarter like the used bookstore where I picked up a two volume 2nd edition of Las Miserables for Javier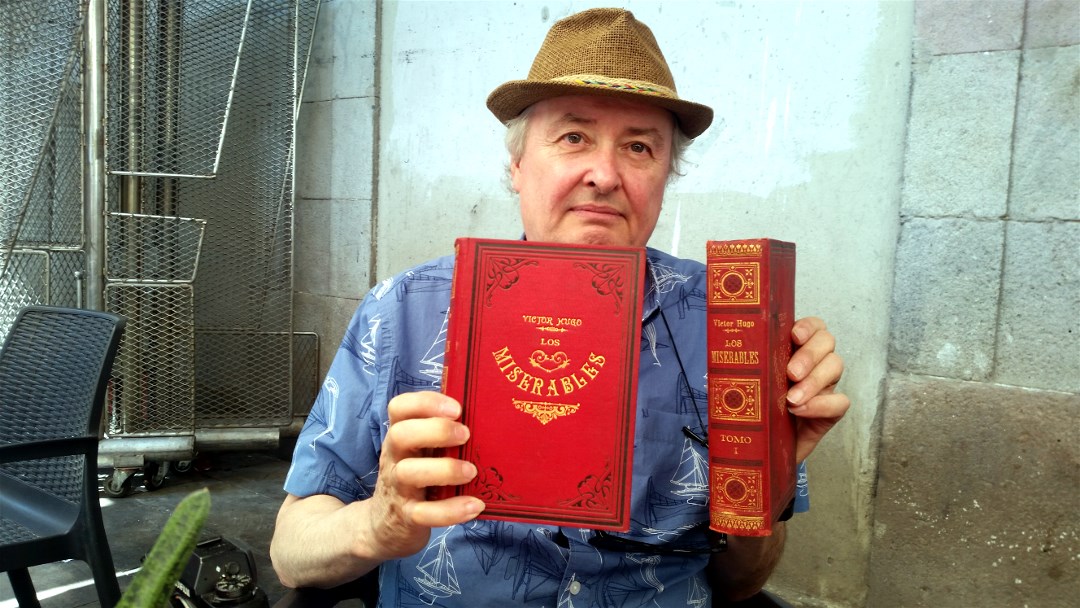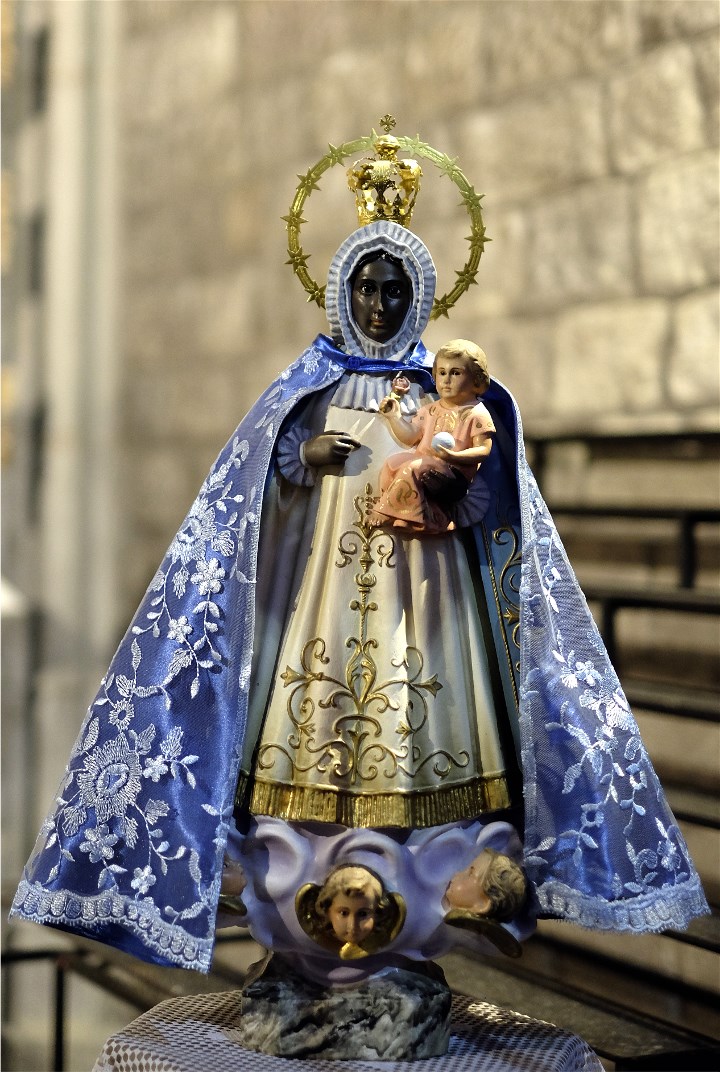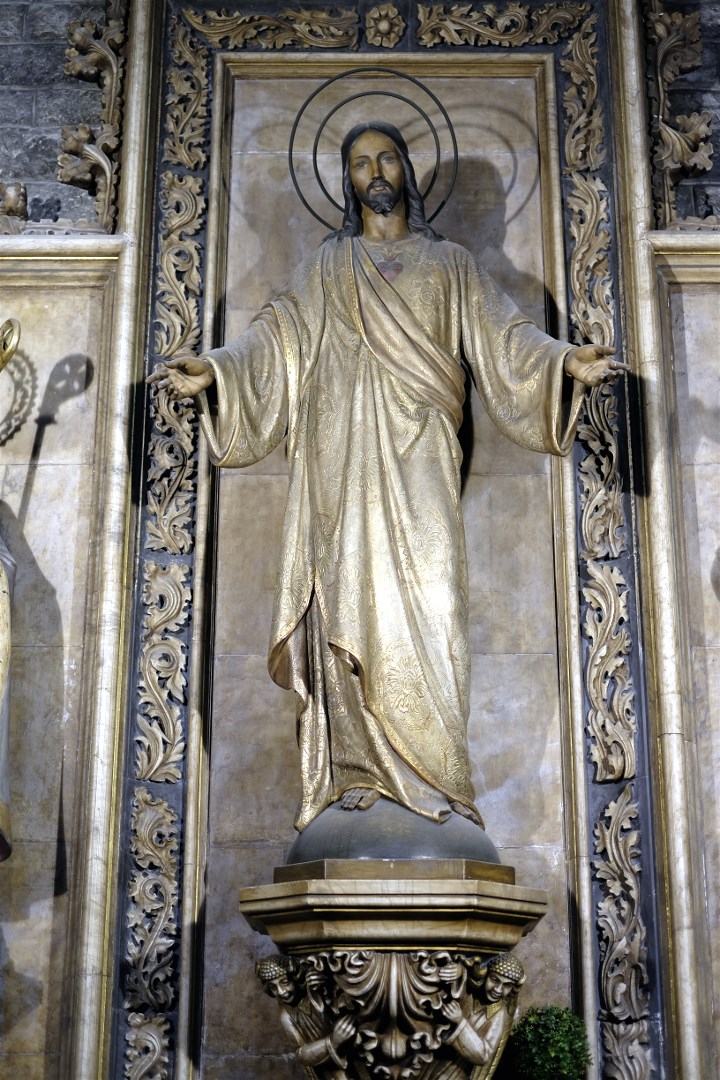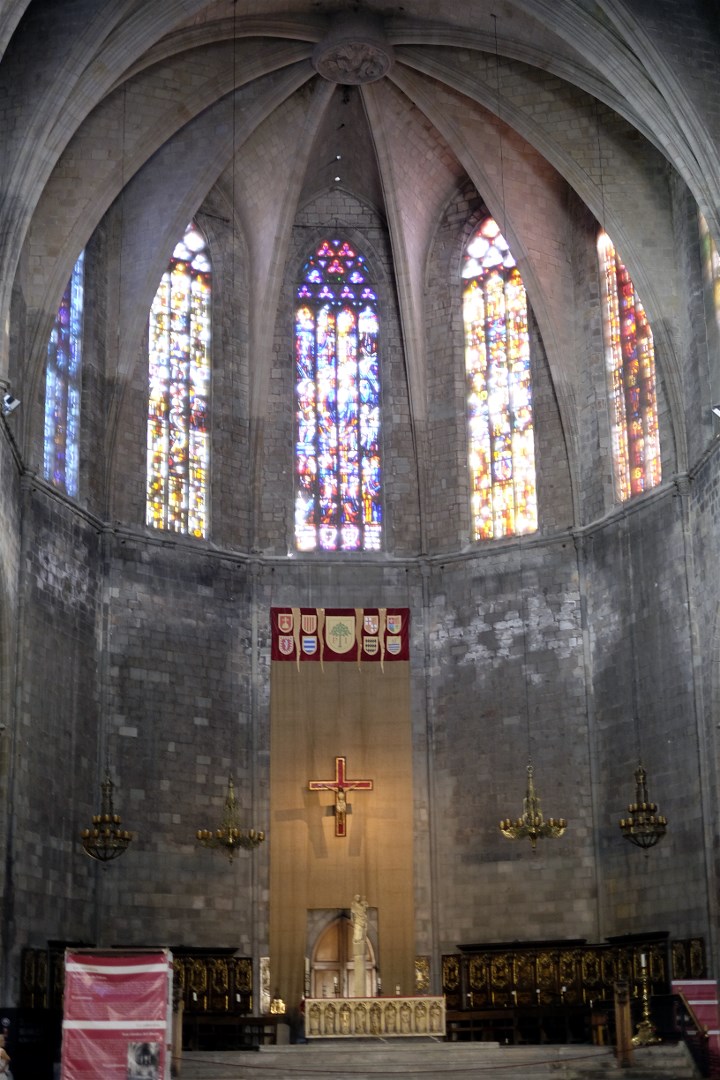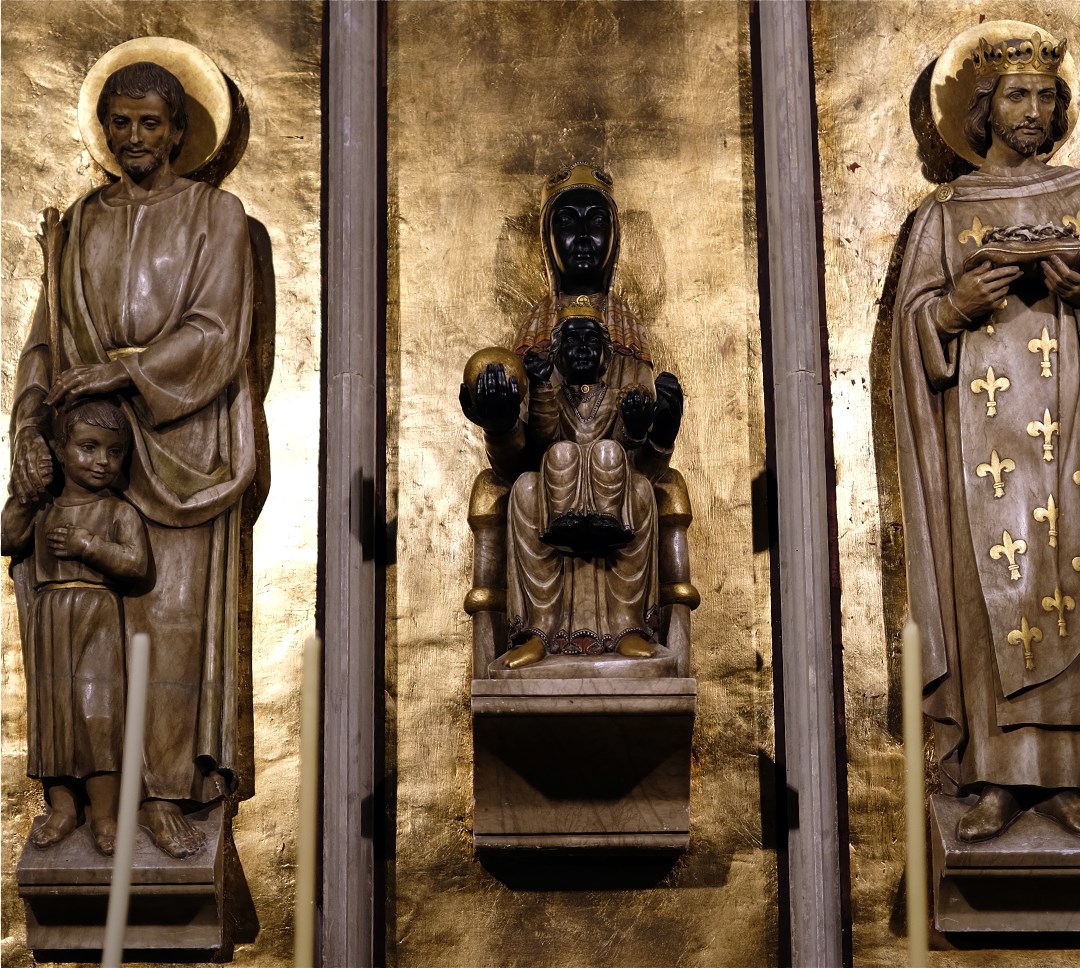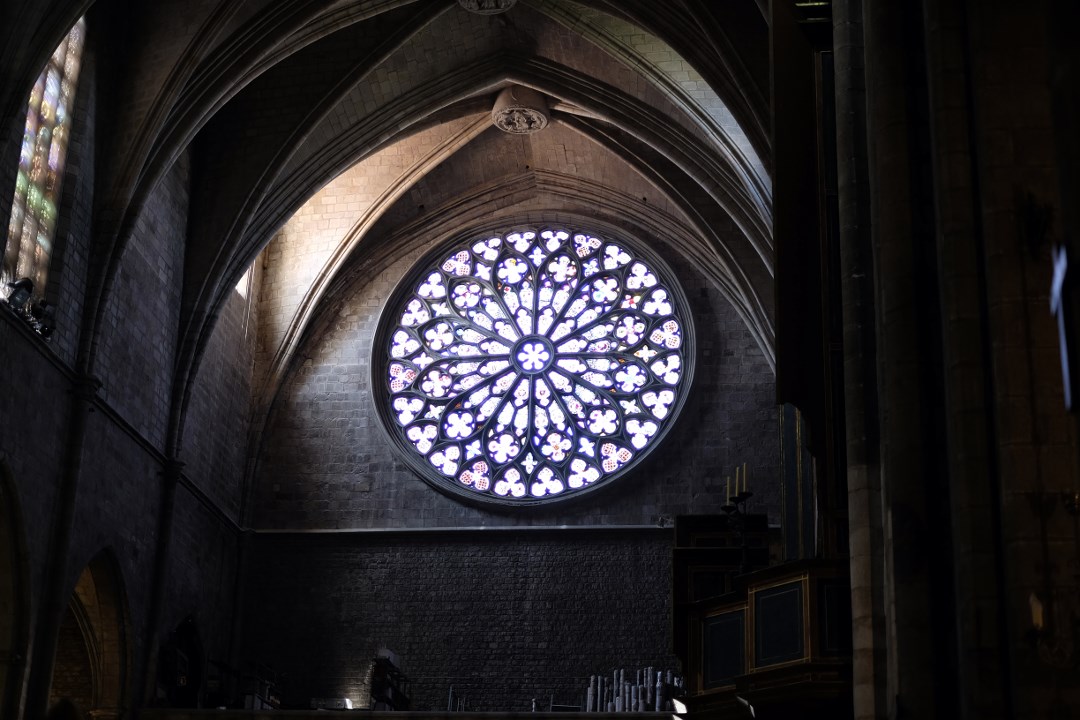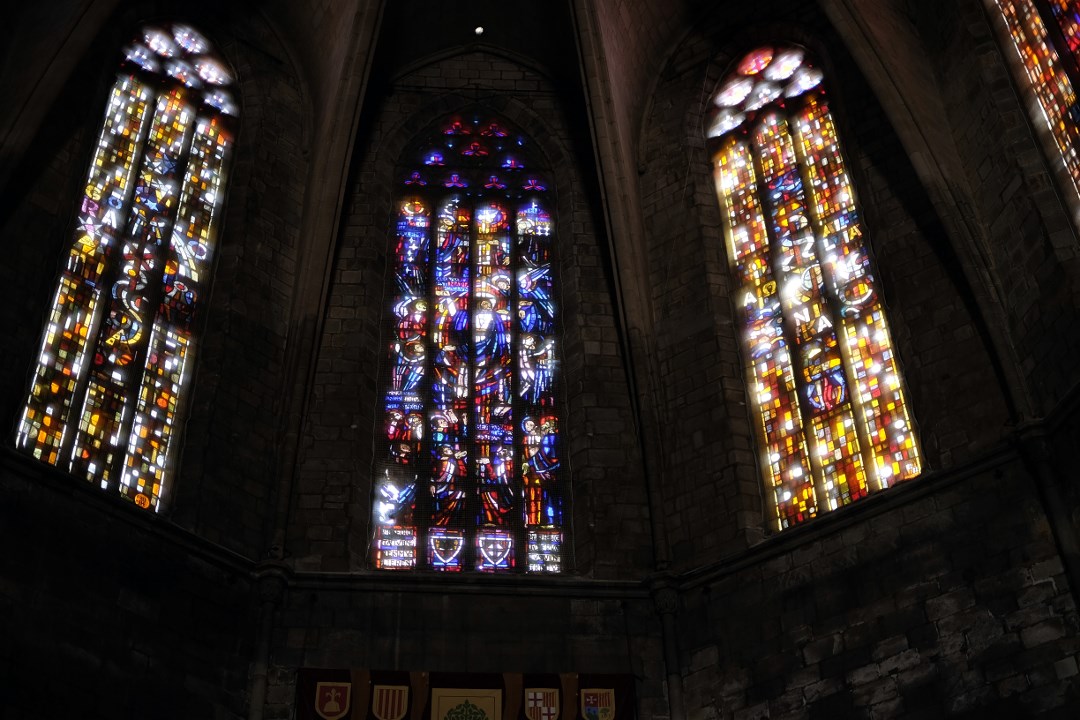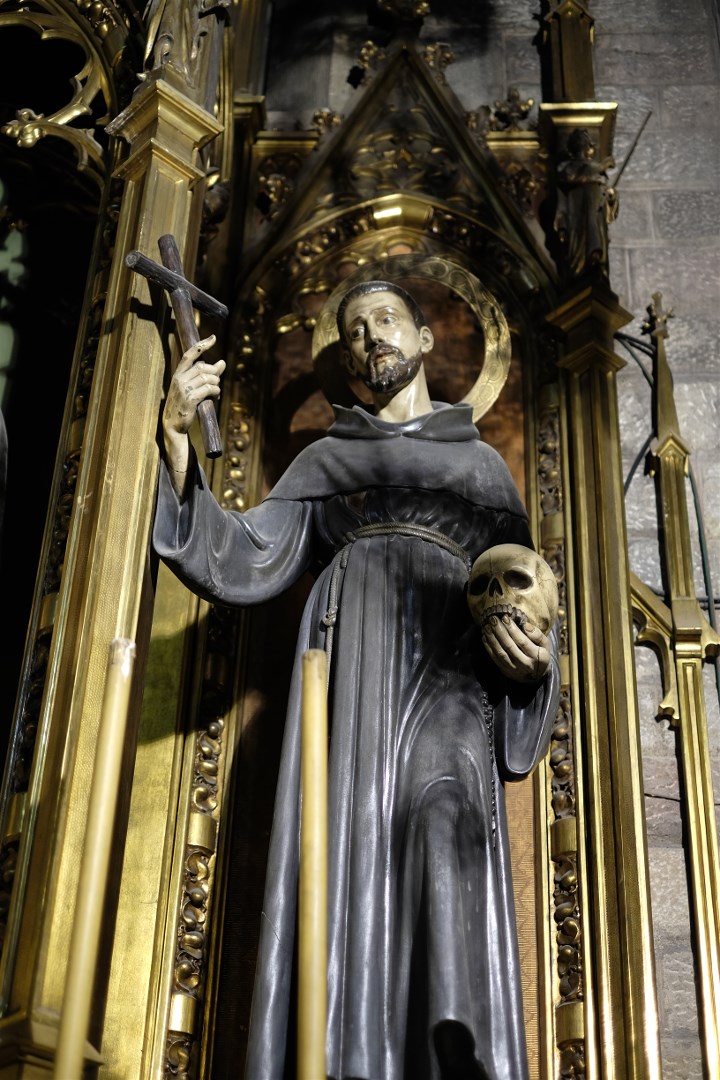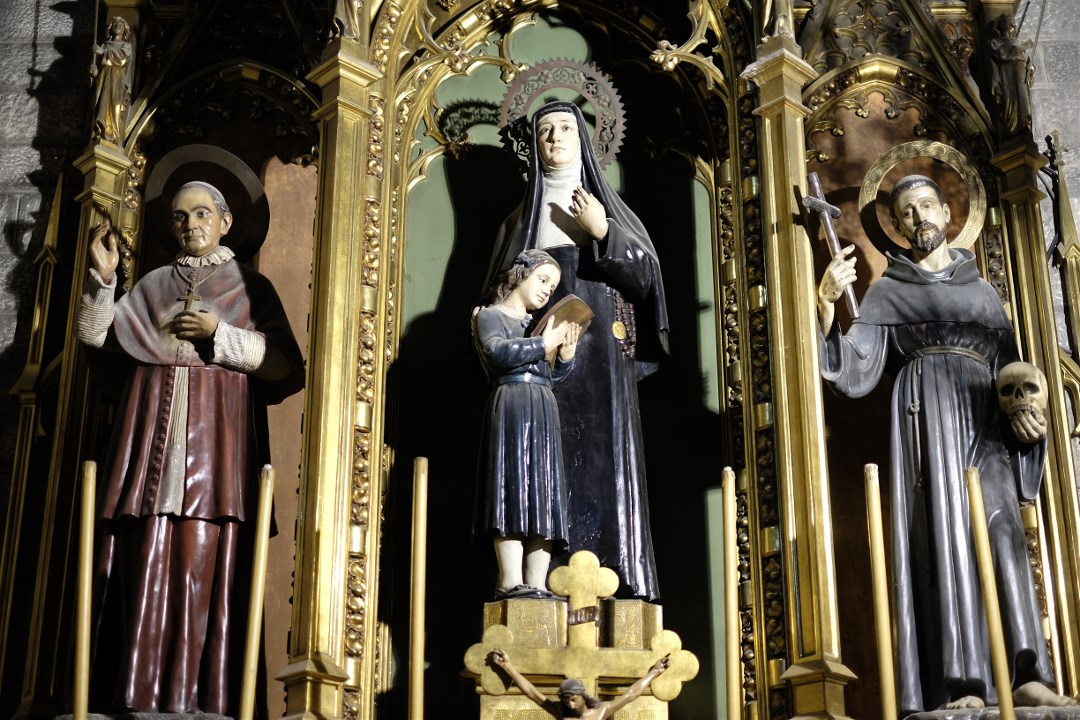 First saint (for me) with a mustache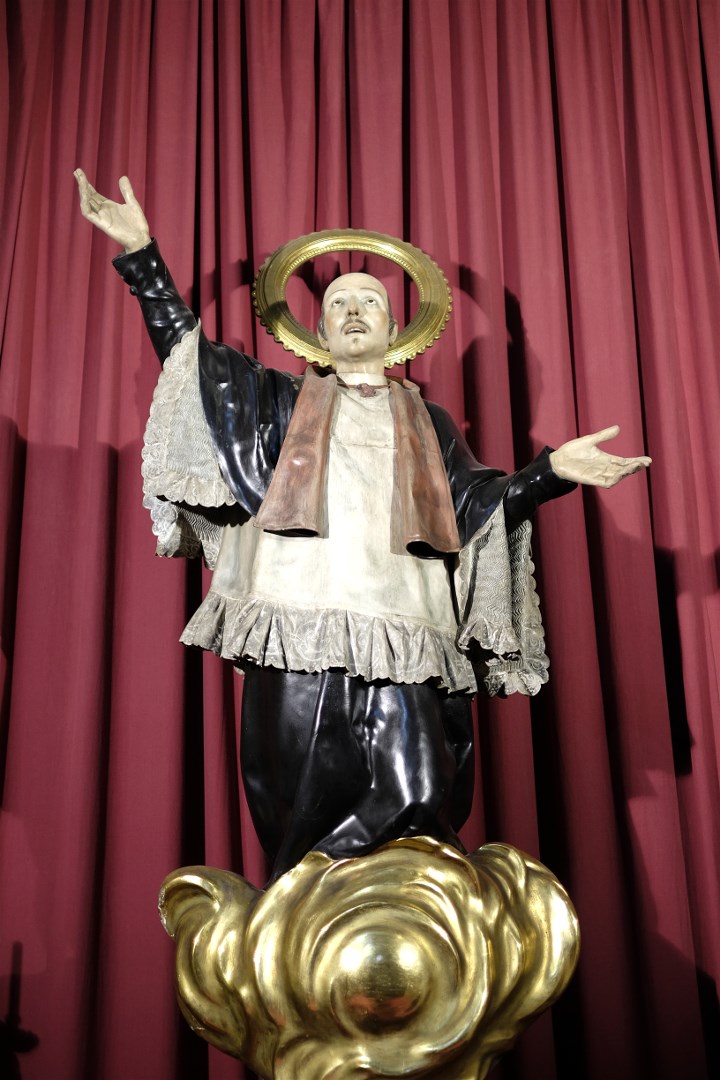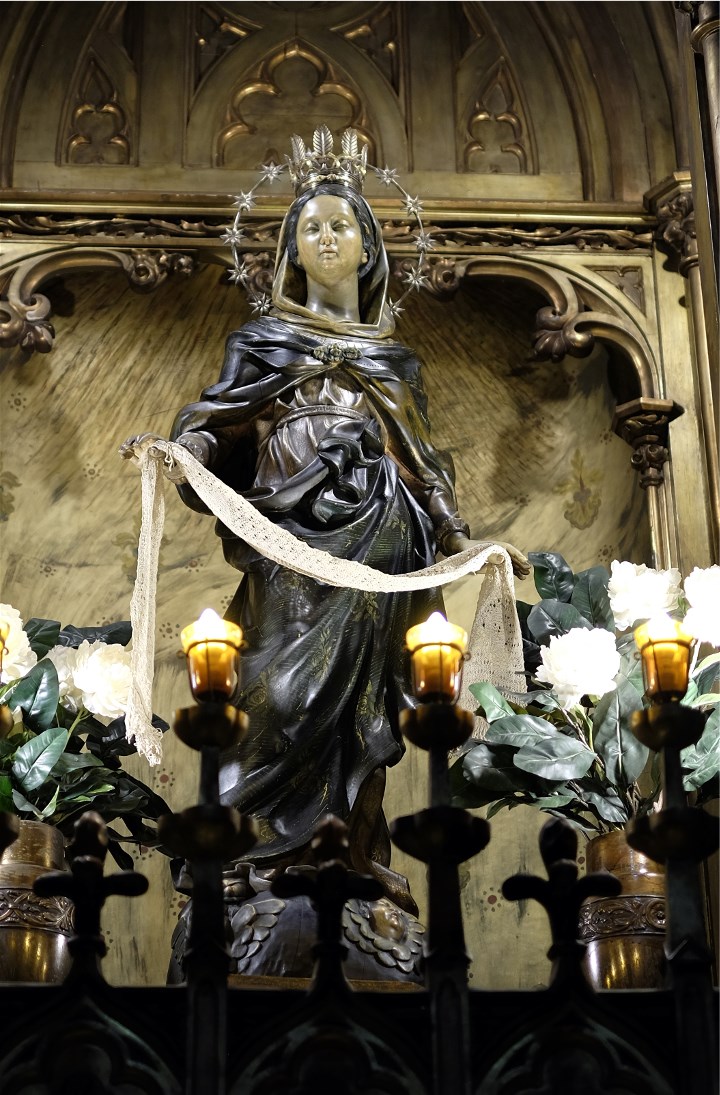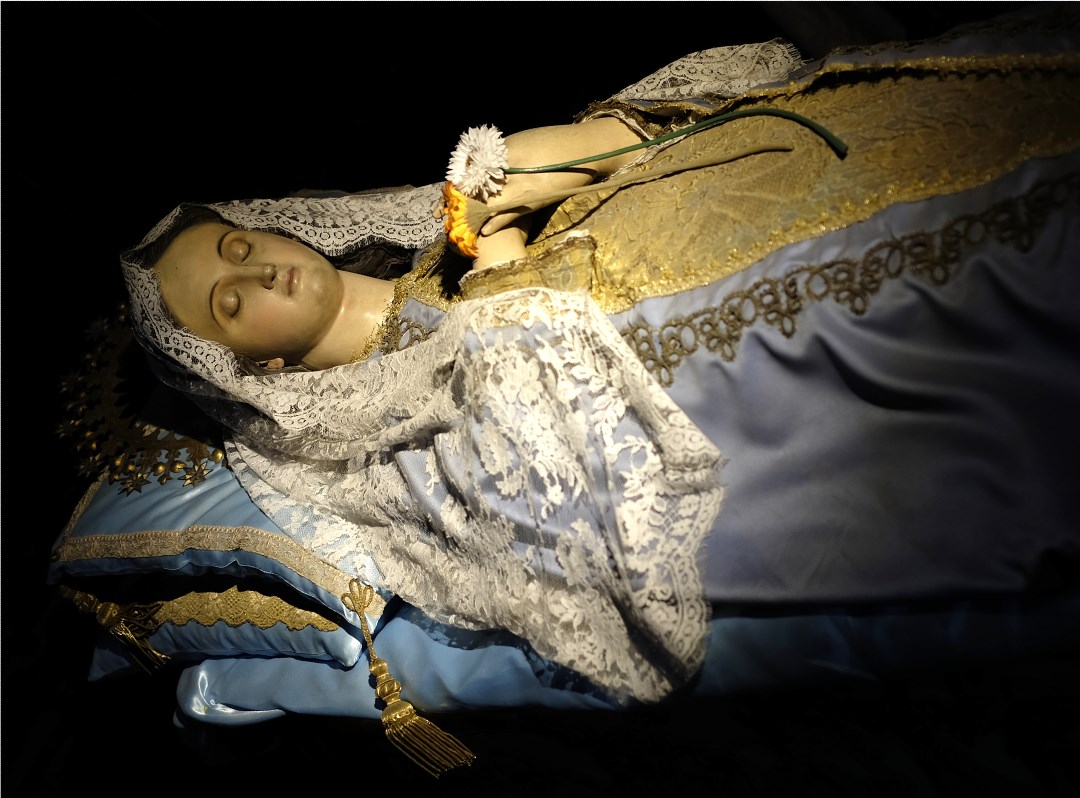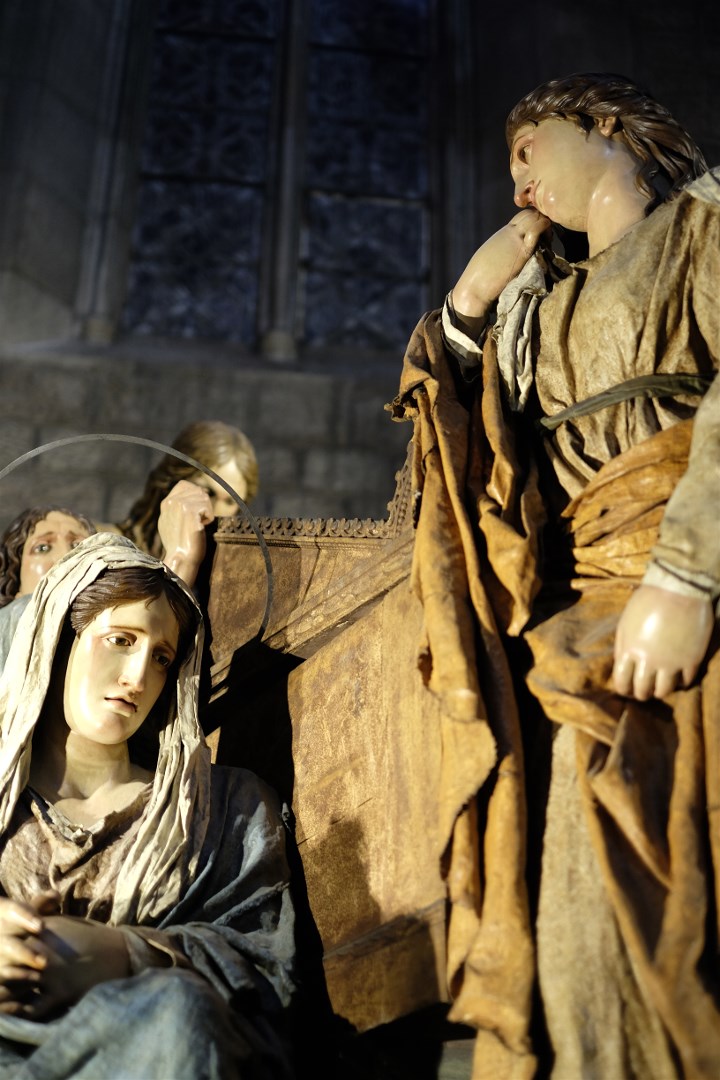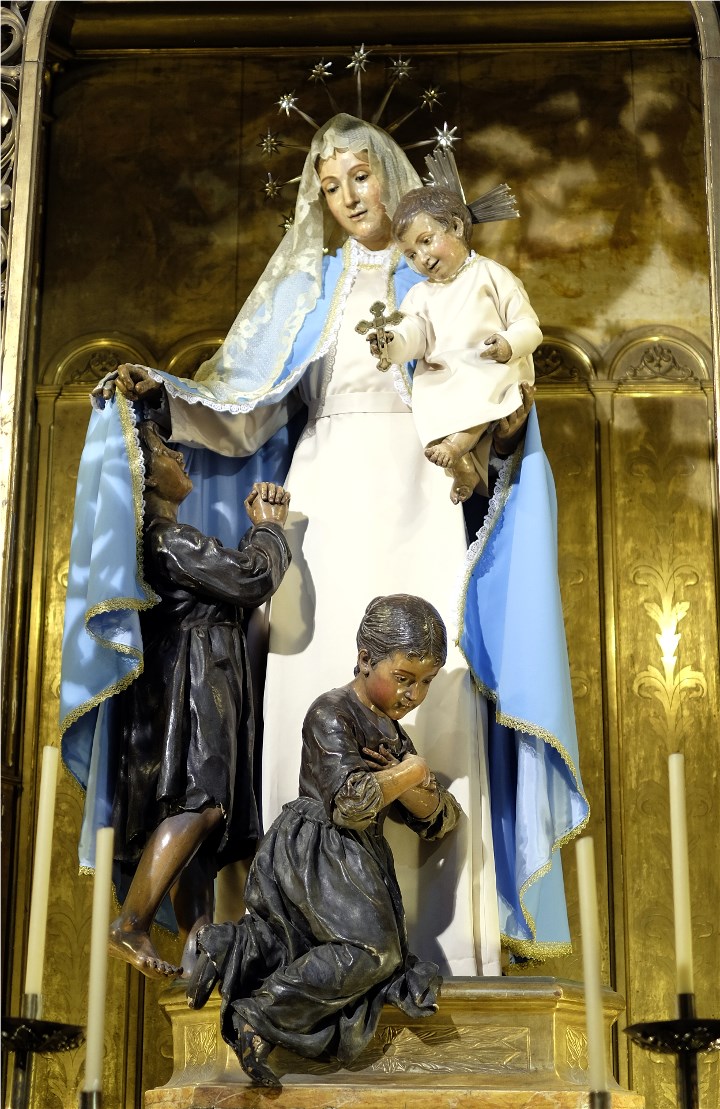 Shot from the top of the Columbus monument. Note the blue line tourist bus.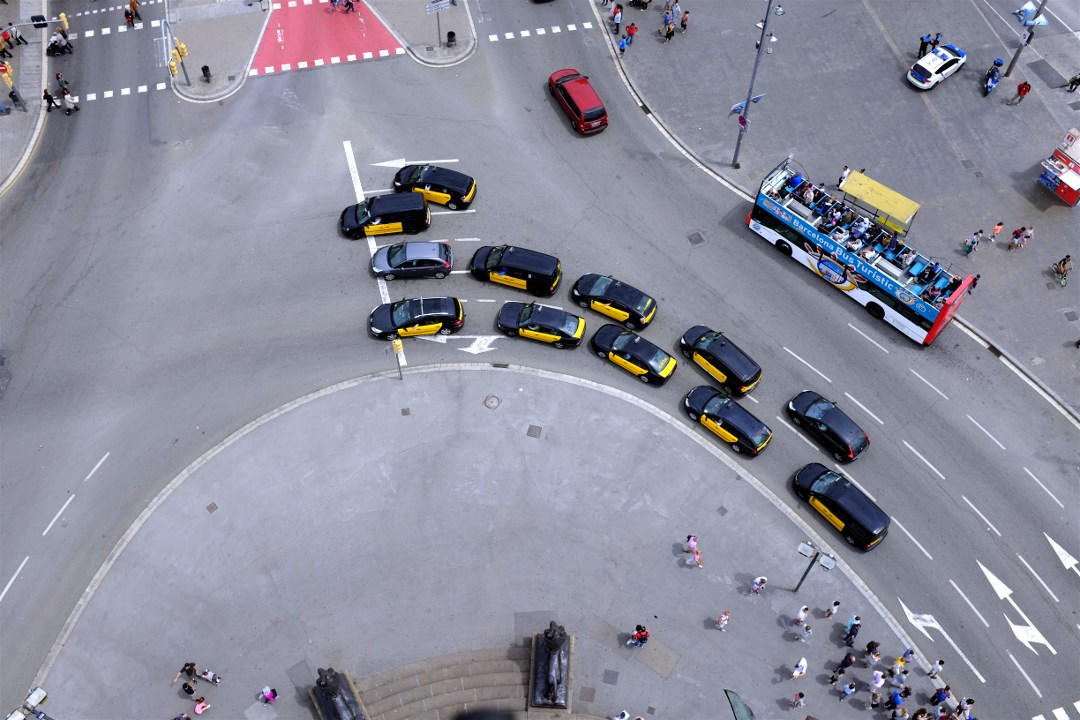 La Rambla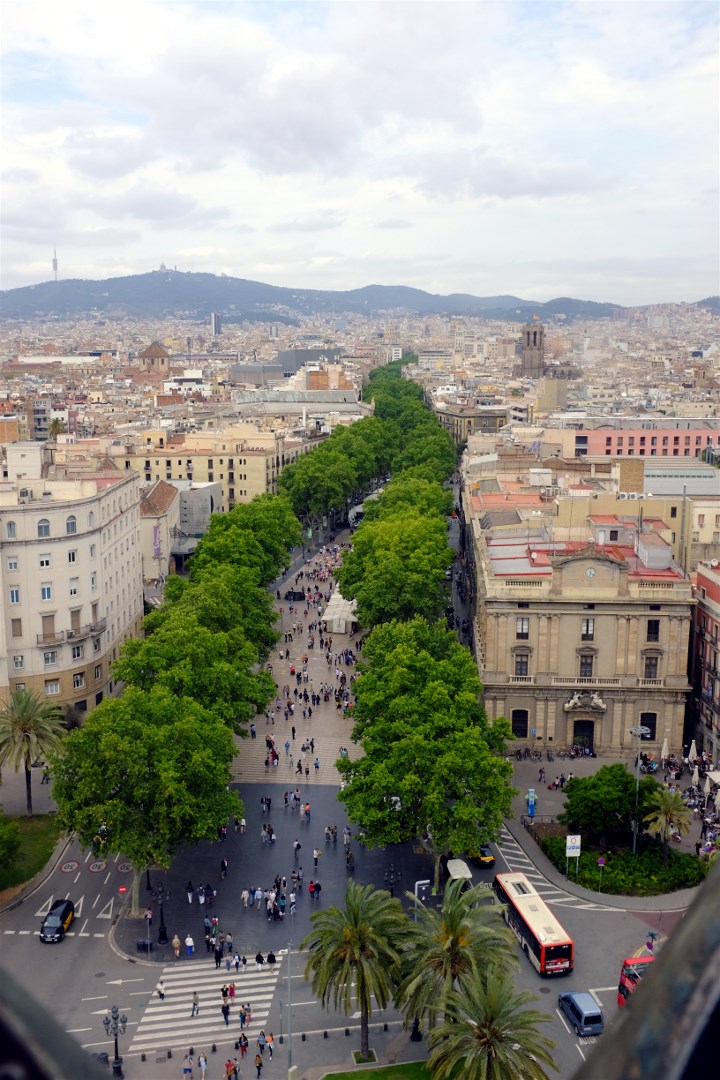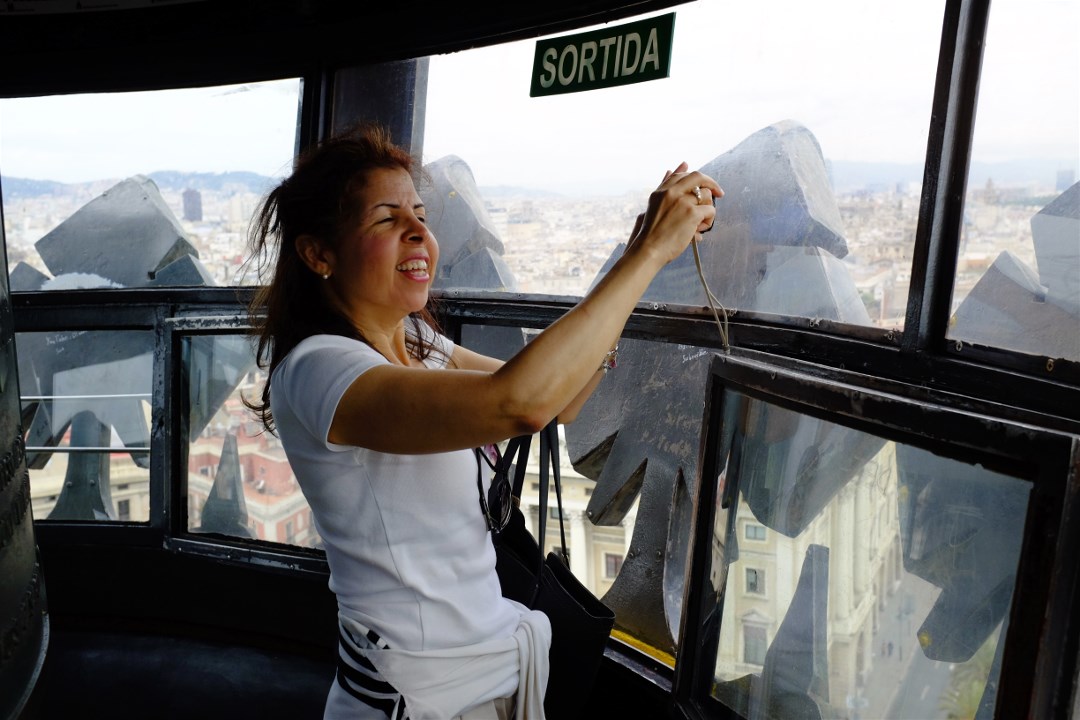 Two days went by very quickly. We headed for Madrid using the fast train. The service is great.
Trains go about 300 kph. They are very smooth and quiet. No rocking and rolling like Canadian trains. The bar service is great as well.


Countryside from the train window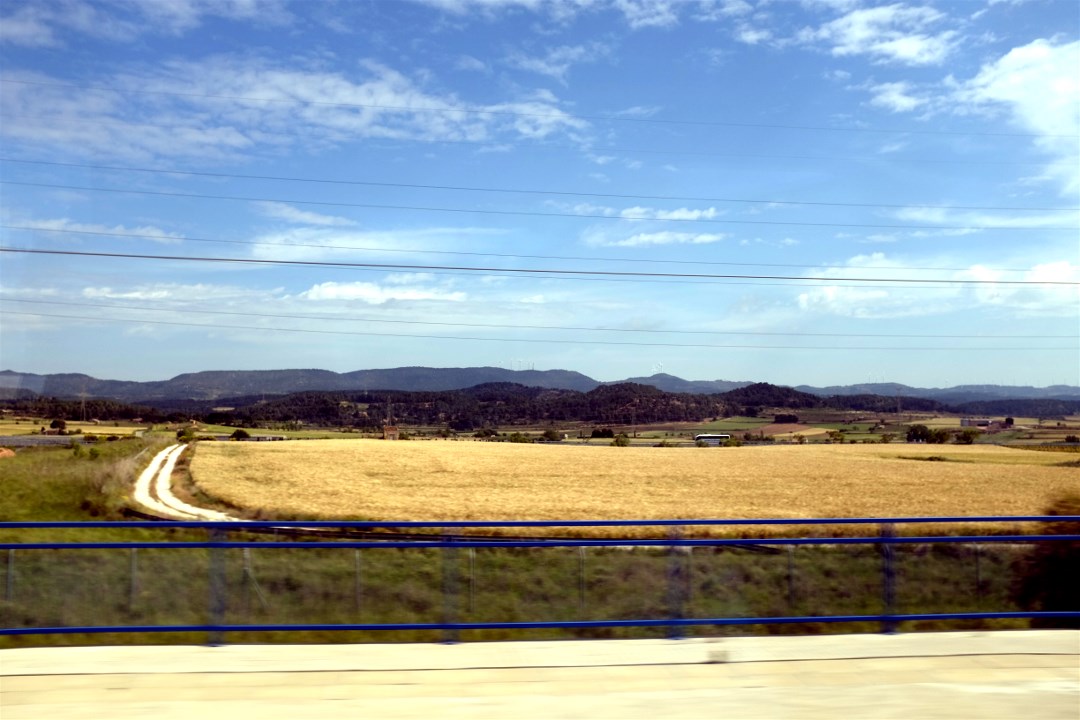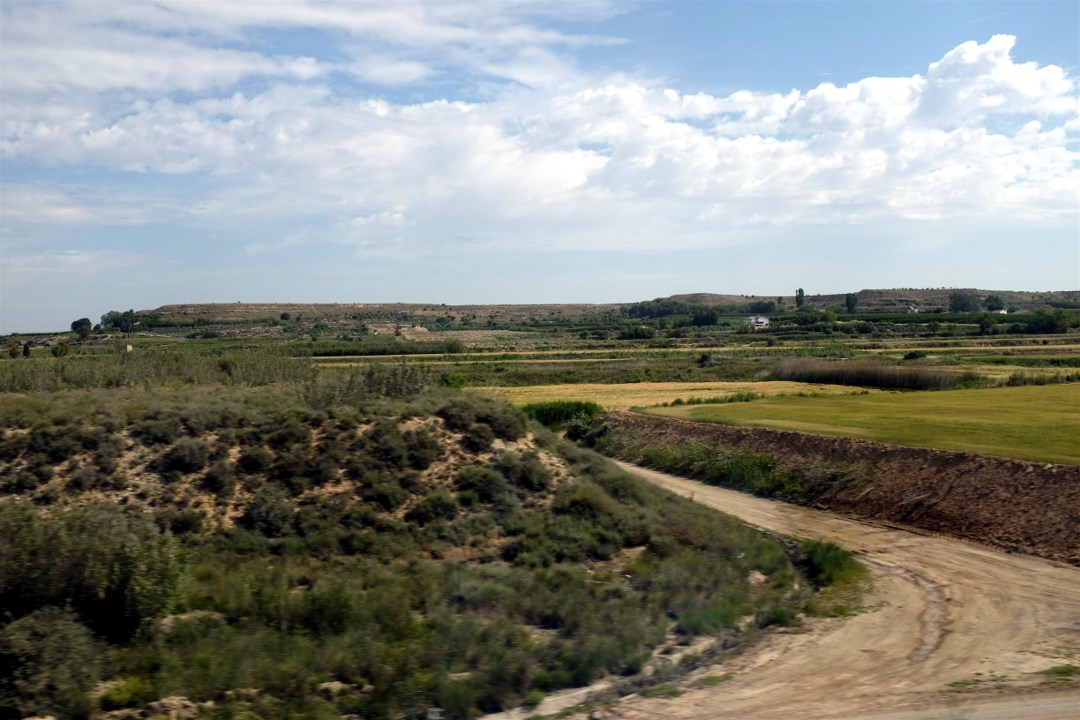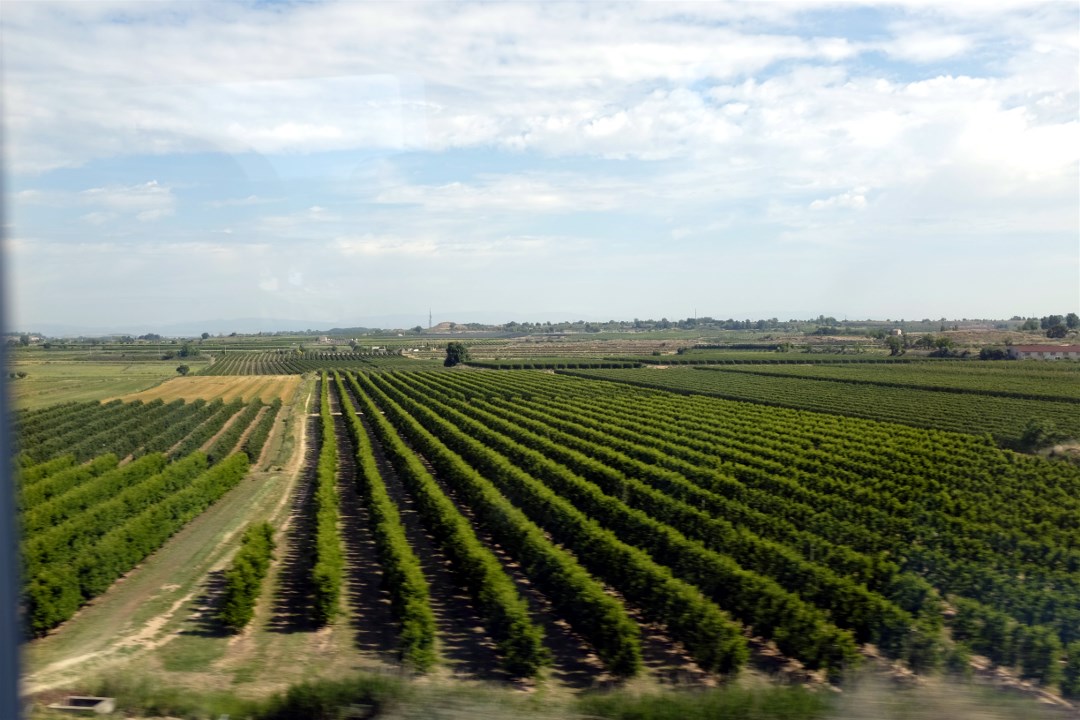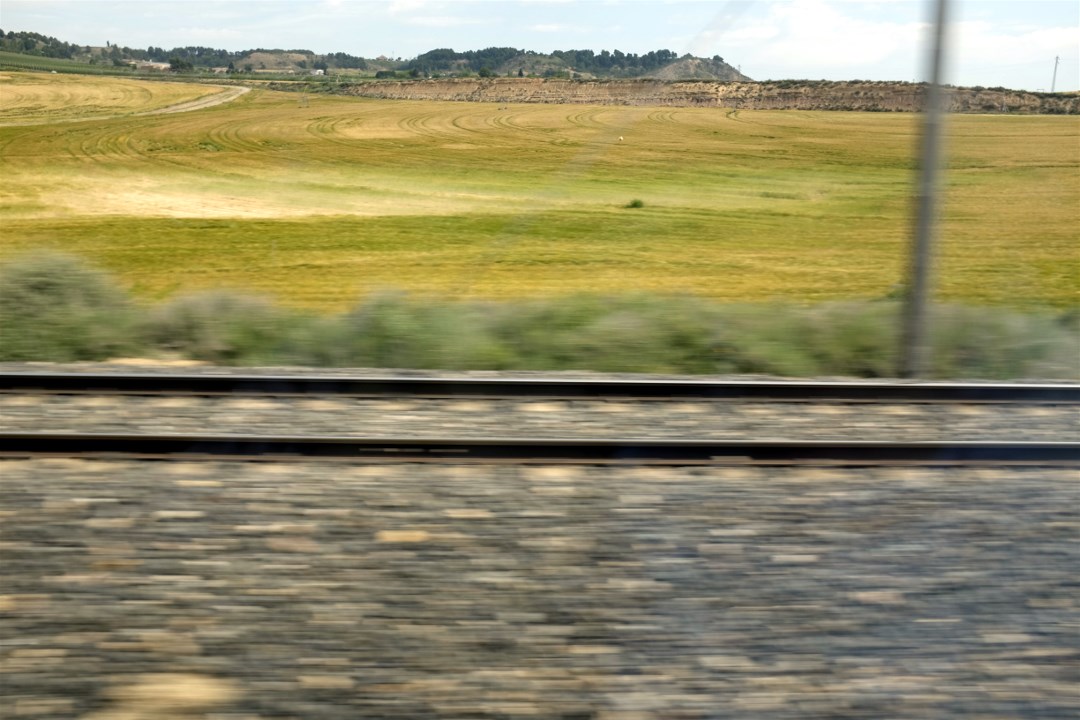 Apparently they are chemtrailing Spain as well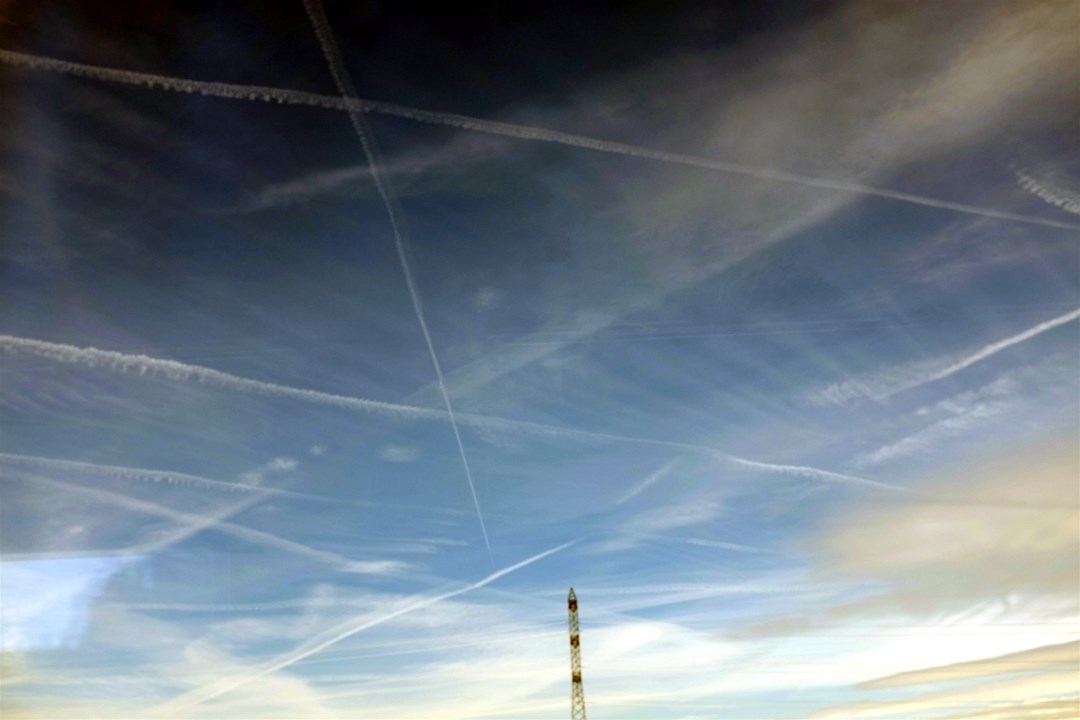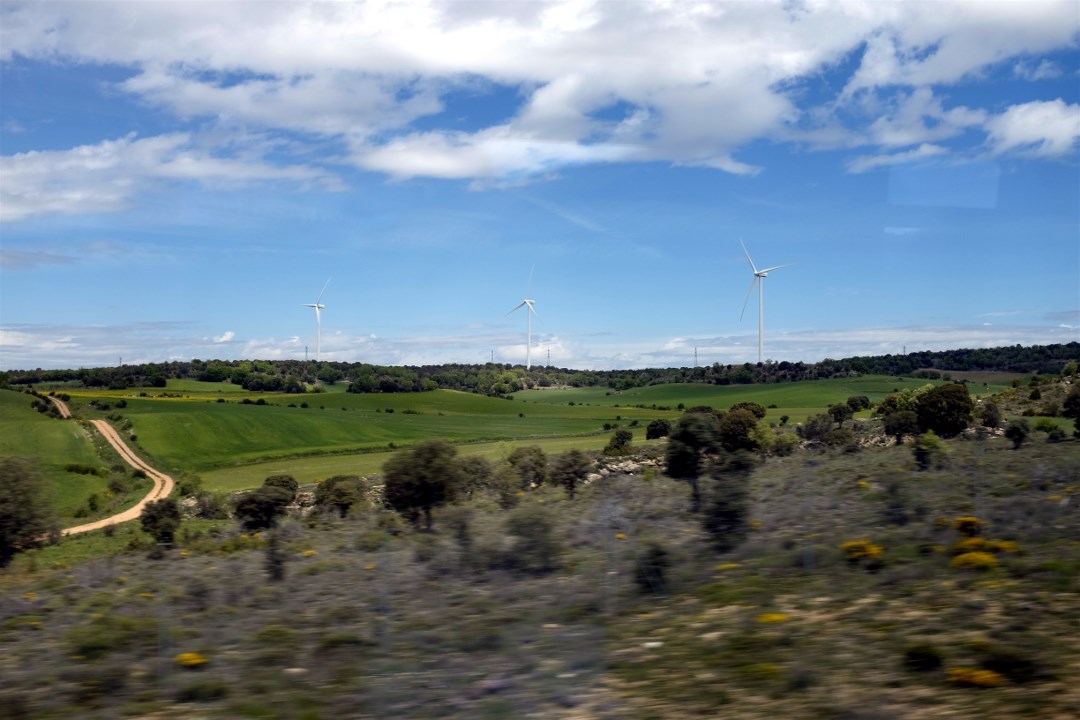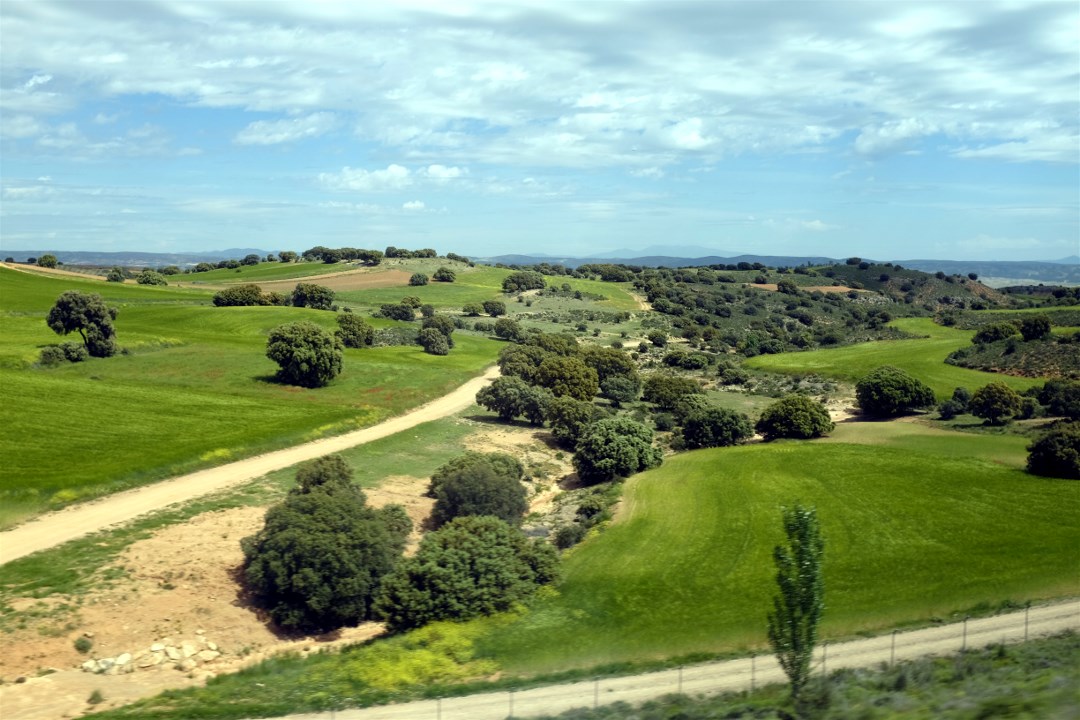 Madrid

I felt very much at home in Madrid. It was like an emotional reunion although in this life it was my first visit. The last time I felt this way was in 1962 on my first visit to NYC. I was there for a long weekend with my Mom and sister. When it was time to go I broke into tears, not the whining baby tears of a spoiled child but rather tears of grief at the sad prospect of leaving home with the knowledge of not being able to return for who knows how long. Perhaps it has influenced my immigration practice and the compassion I feel for my displaced clients and hopeful immigrants. I felt I could live in Madrid easy. If I had lots of money perhaps I would. I can see myself holed up in an attic writing a novel.
Madrid is wonderful. Old world smashing into new world. Leftist green, modern and old and everywhere cuture and art. Lots of theater like the Lion King, Cabaret, Shakespeare (A Midsummer's Nights Dream -In Spanish no less) and at least a dozen cinemas and theaters downtown. Mari was in heaven as well with so many stores with Eurofashion dresses, shoes and little shirts for like 5 Euros. Everything was beautiful.

We were both touched at a small but very good restaurant. The server was friendly and engaged us in conversation. We explained that we were celebrating our 25th anniversary and the honeymoon we never got to take when we first were married. What a meal! They gave us lots of free dessert and a litre of after dinner liquor - two kinds, a kind of yellow Sambuca and a creamy chocolate similar to Baileys. The meal started off with a shared tropical salad, fresh mescla greens, heart of palm, oranges, pineapple, shrimp. Mari had a green seafood pasta. I believe it was seaweed pasta. Amazingly good -more shrimps, clams etc. I was feeling like meat and the owner, originally from Argentina, rustled up an incredible rib eye, perfectly done, crispy and very hot on the outside with just the right combination of salt, garlic and perhaps onion. In the middle almost raw. We washed everything down with a litre of Spanish wine. There was also tea, esspresso, dulce leche with mango, after dinner chocolates with coconut and finally mango sherbet to cleanse the palet. I have not eaten this well in a long time. It set us back 68 Euros. Not crazy expensive at all considering the quality, service and ambiance.
The server bid us fairwell with hugs and cheek kisses. I passed a bookstore with important Spanish language authors on display. It was next to a nice theater and I suddenly broke into tears. Perhaps it was the wine that made me emotional but the feeling seemed deeper than that - it was an emotional attachment and recognition of home. Just like New York for me. I knew I would be sad to leave.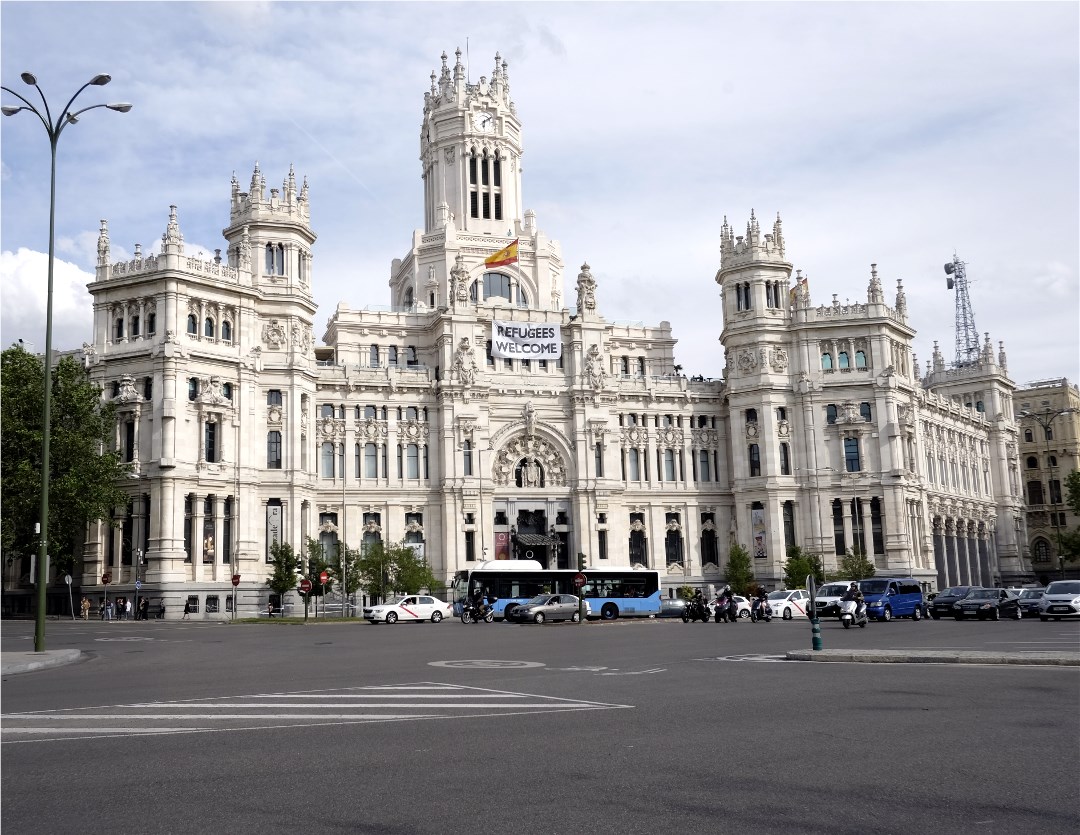 Some evening shots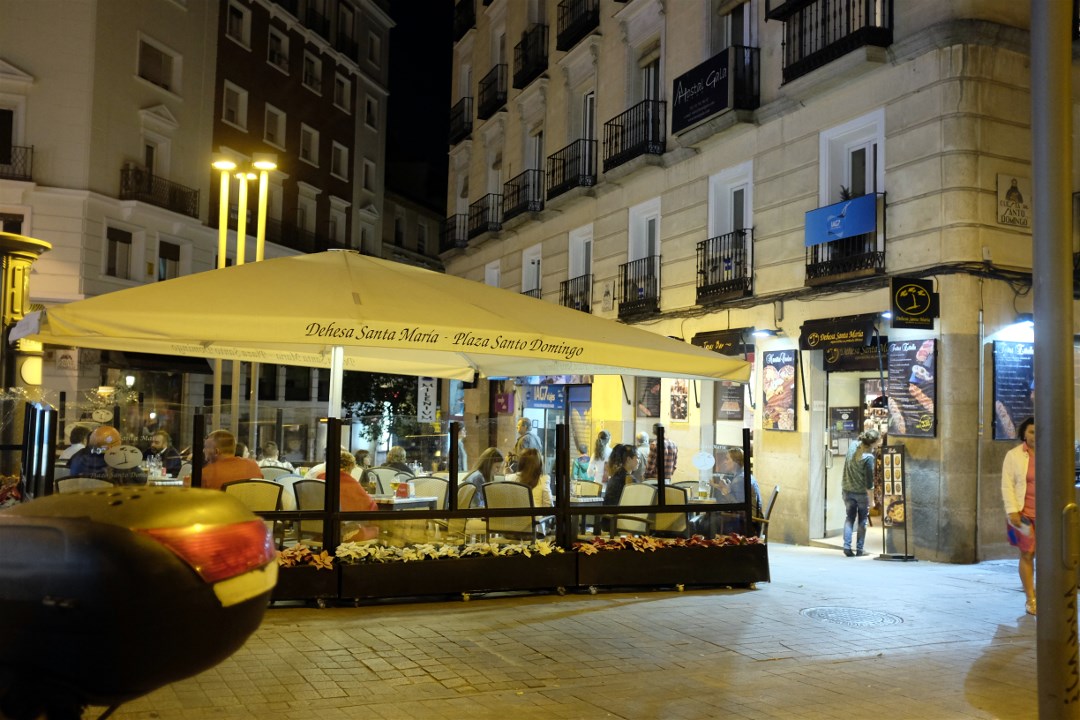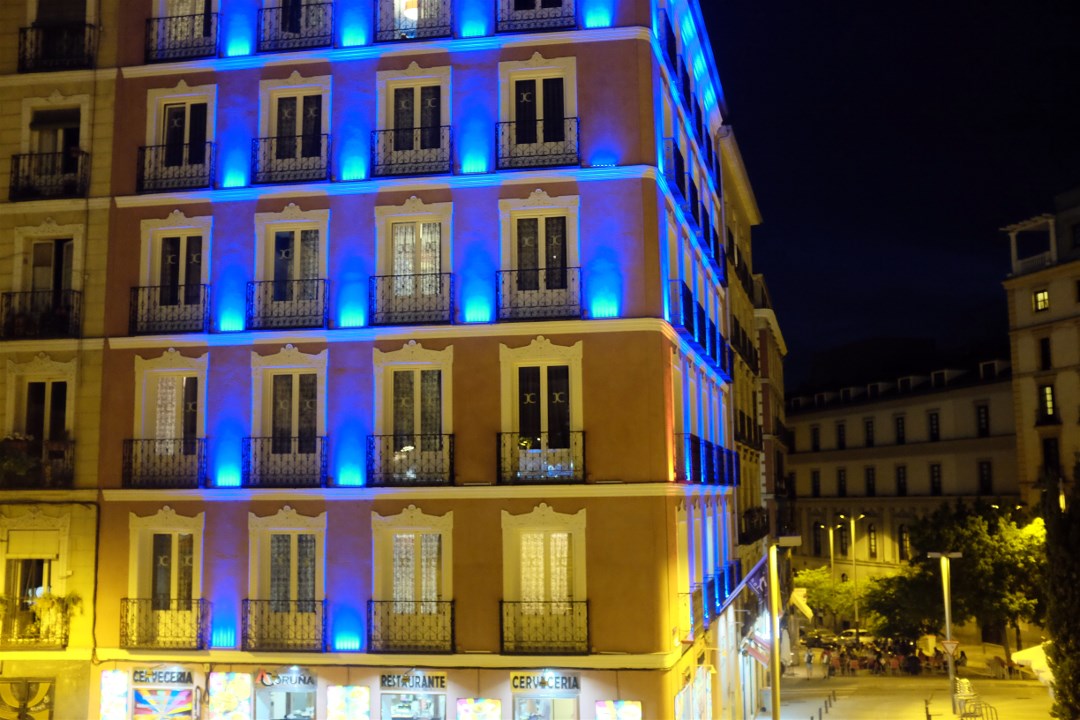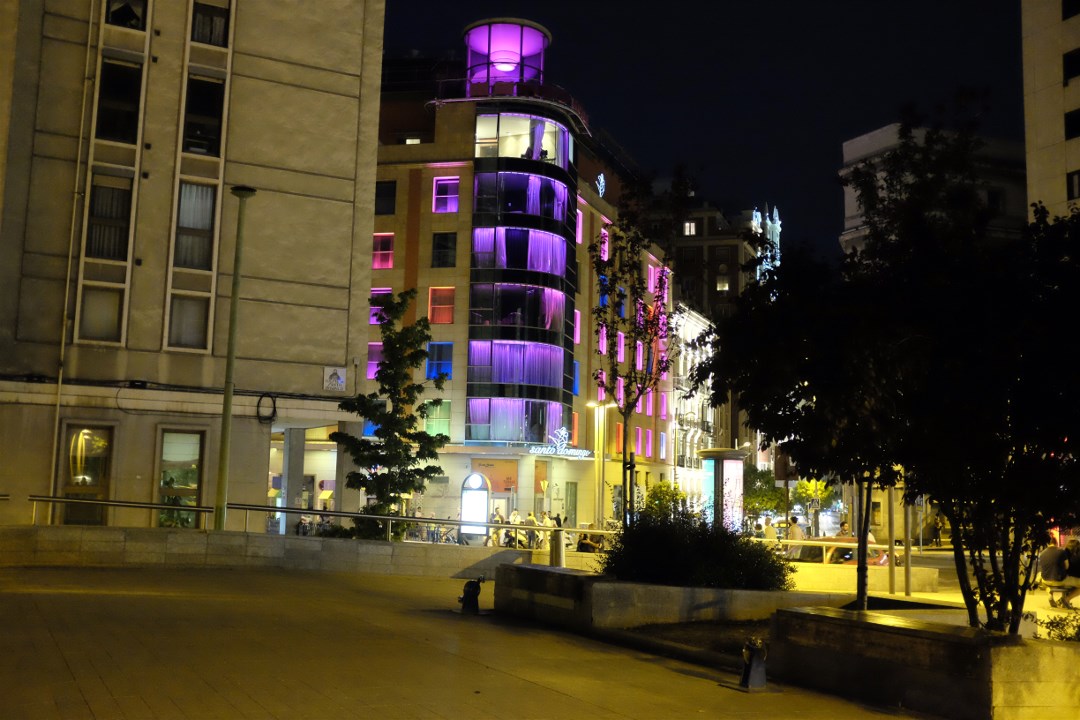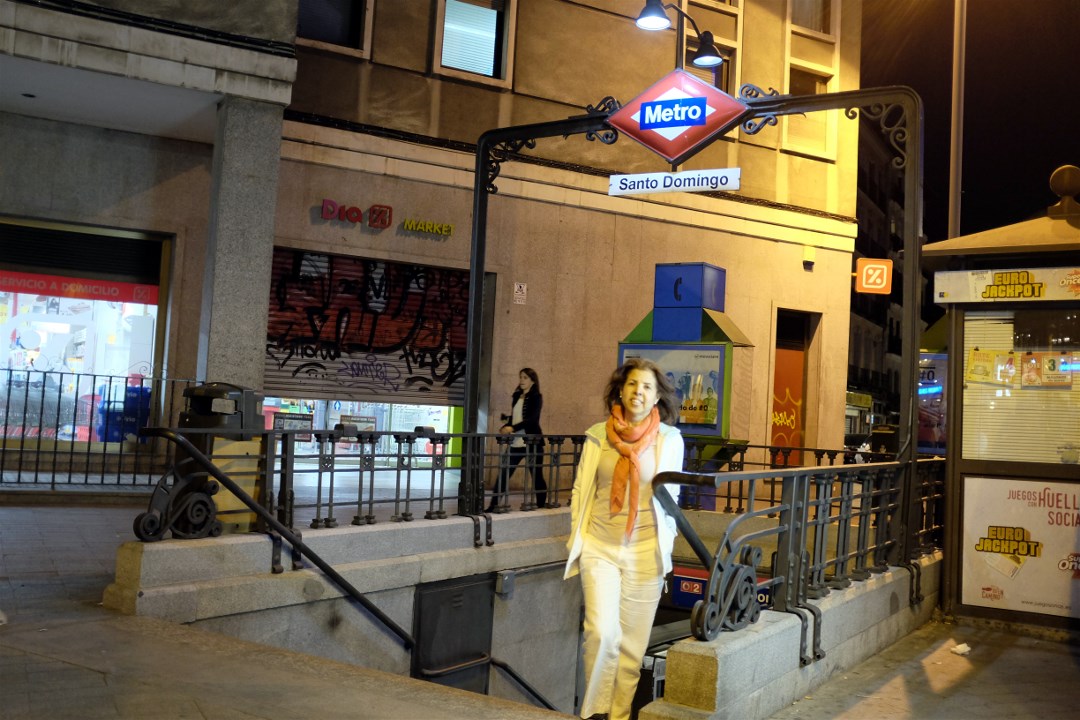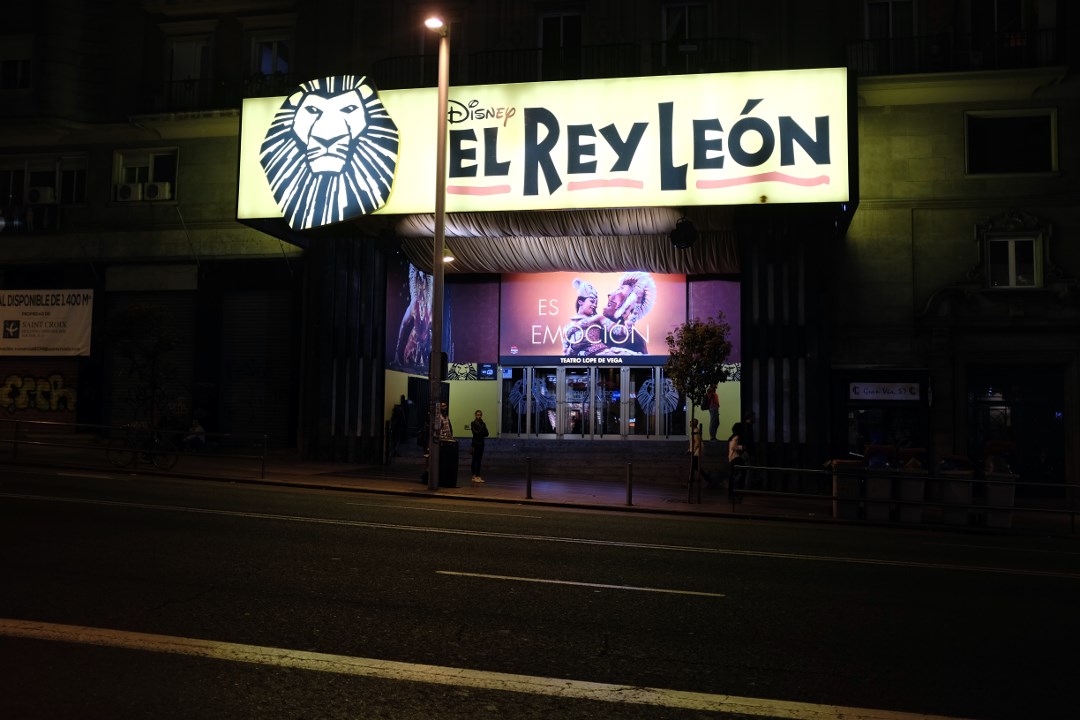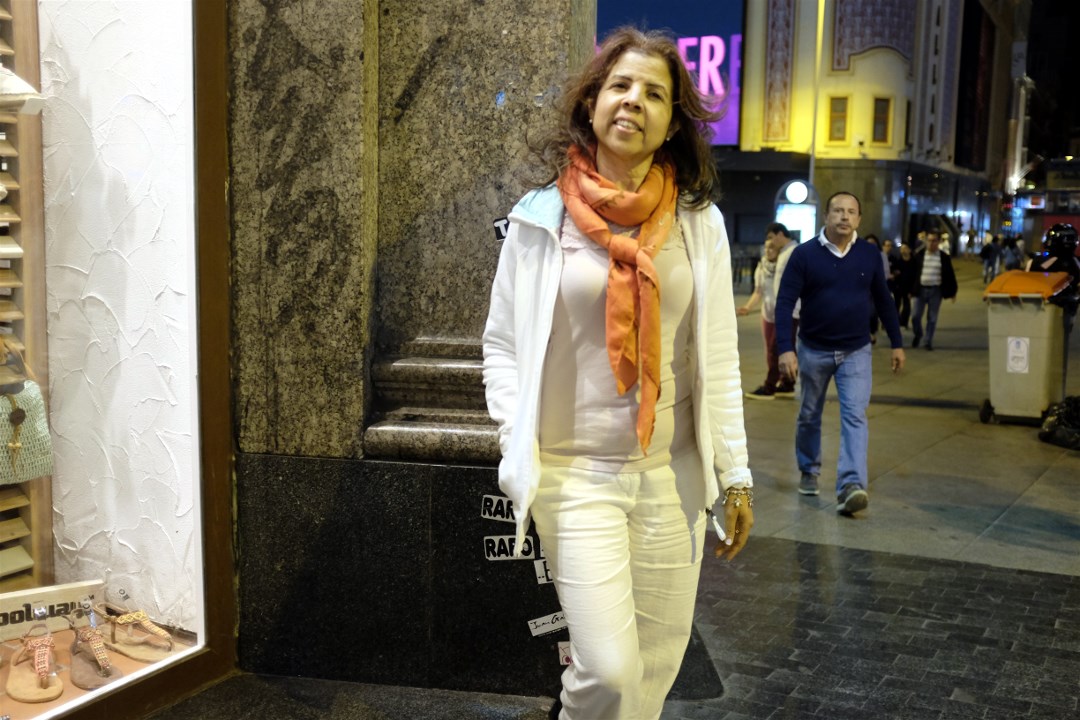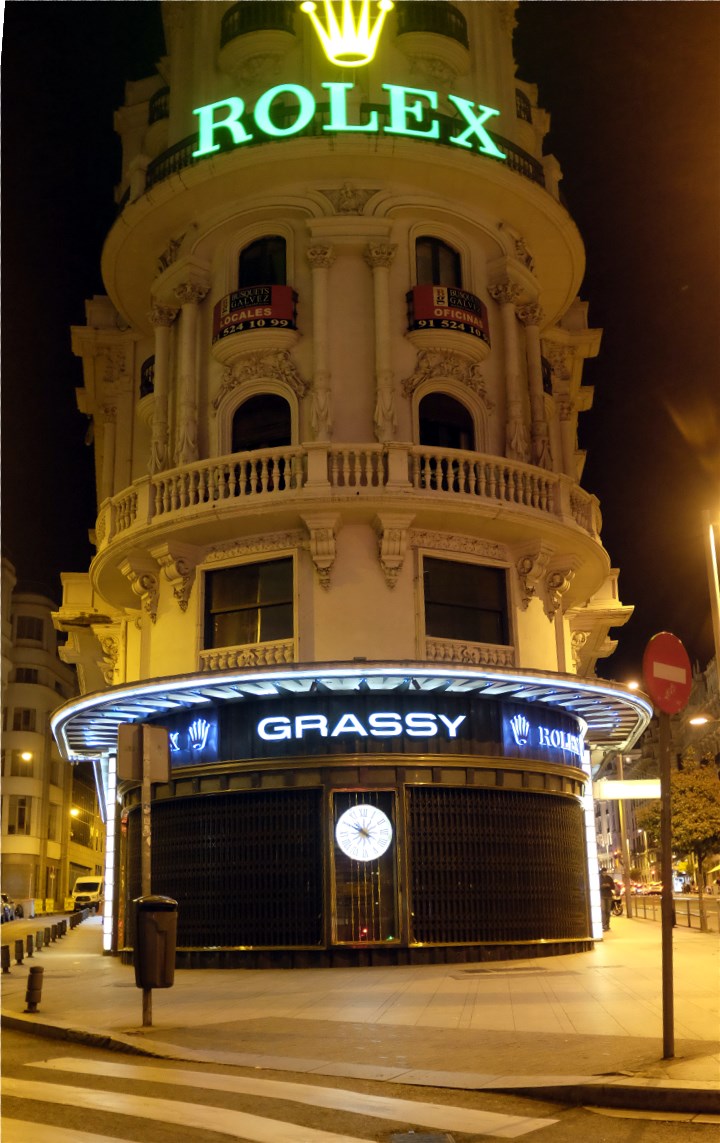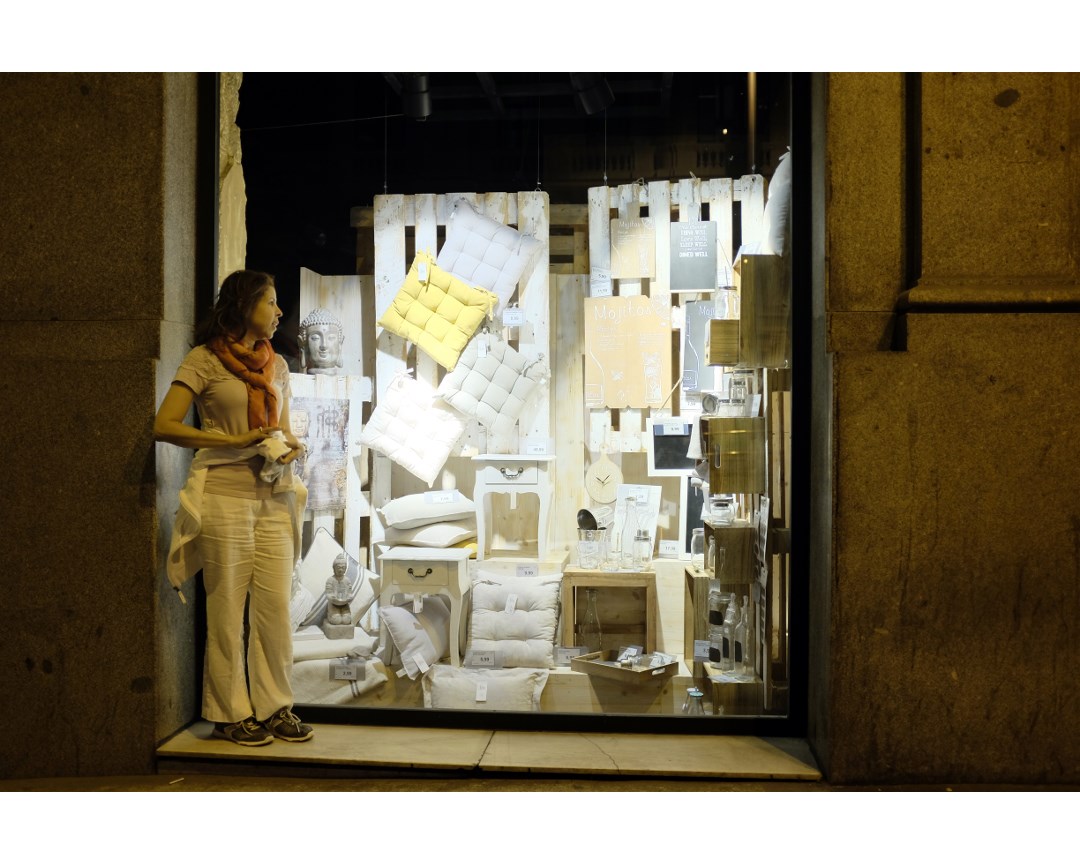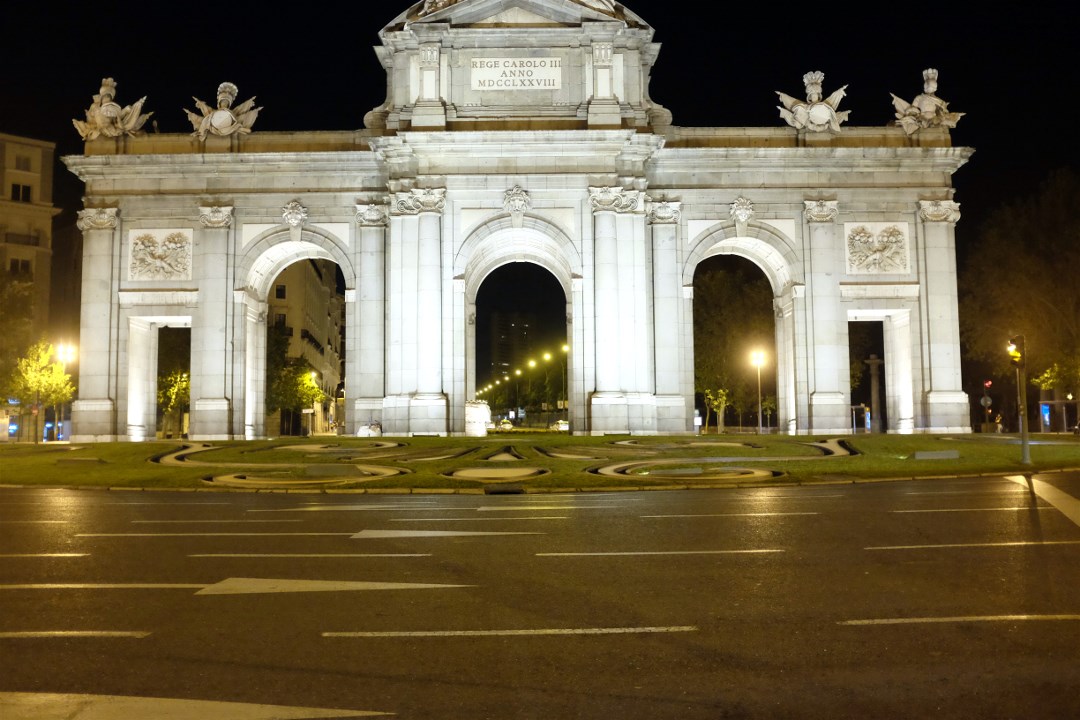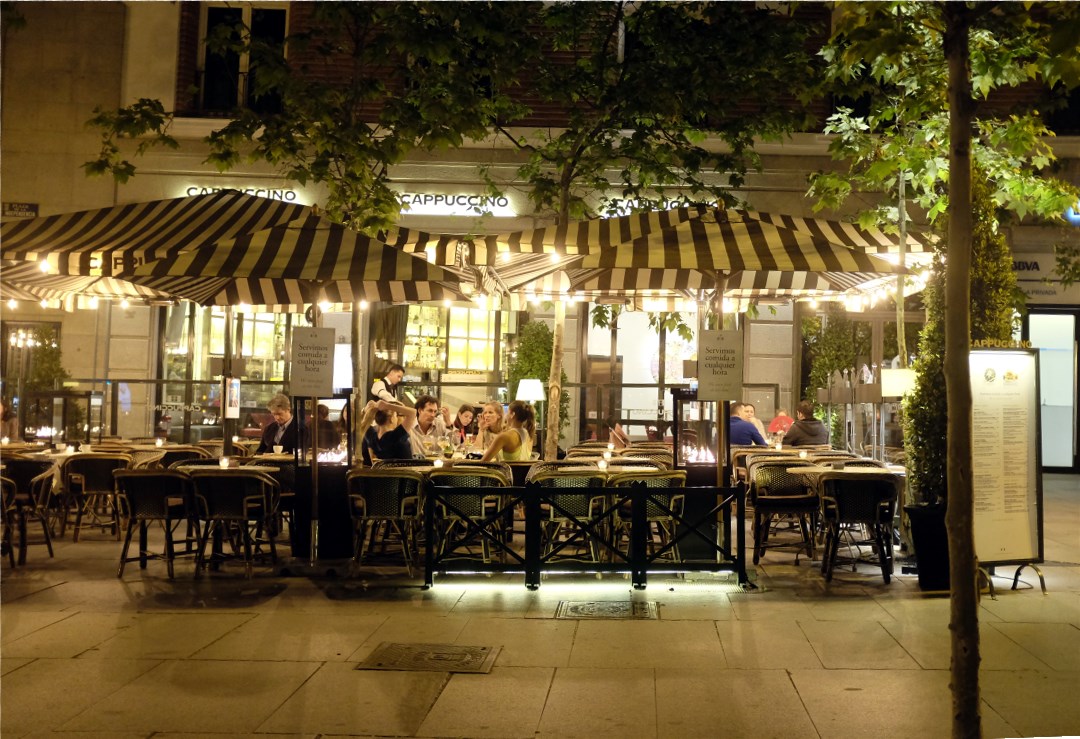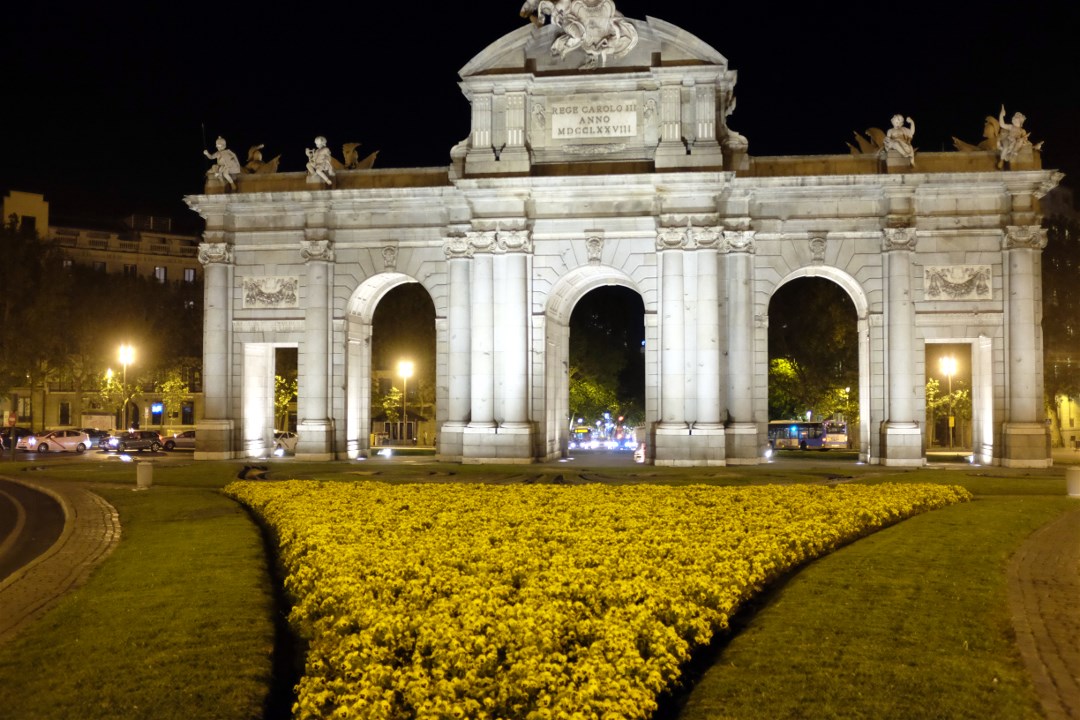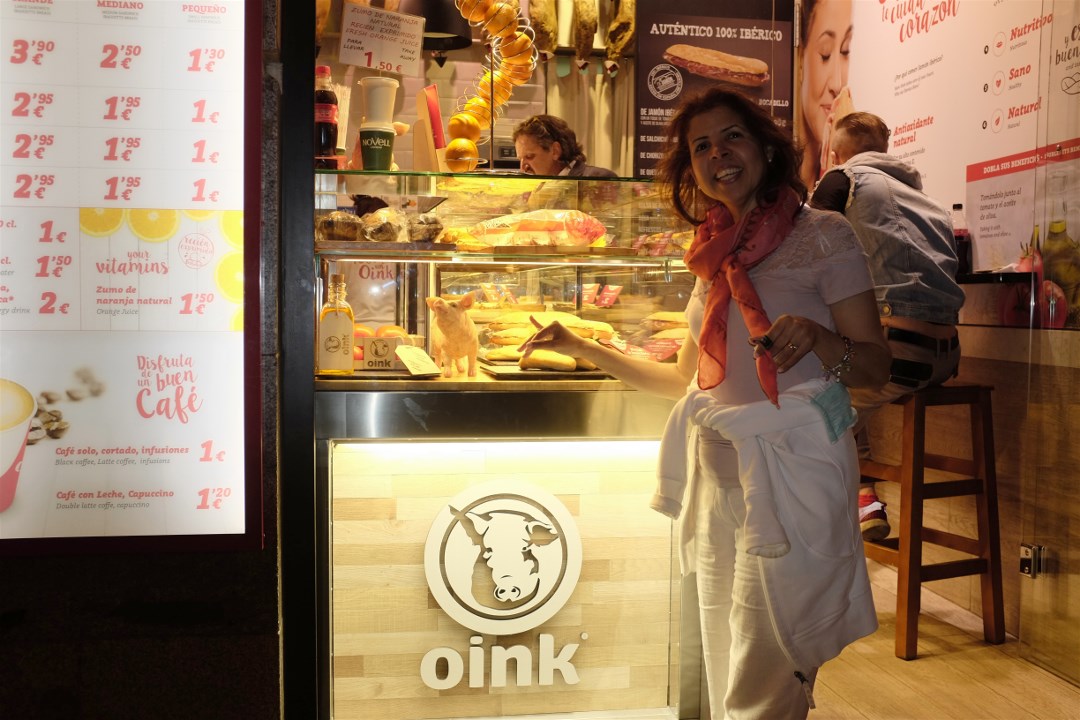 We stayed at a little hotel on the end of this street which had many small used bookstores. Apparently people still read in Spain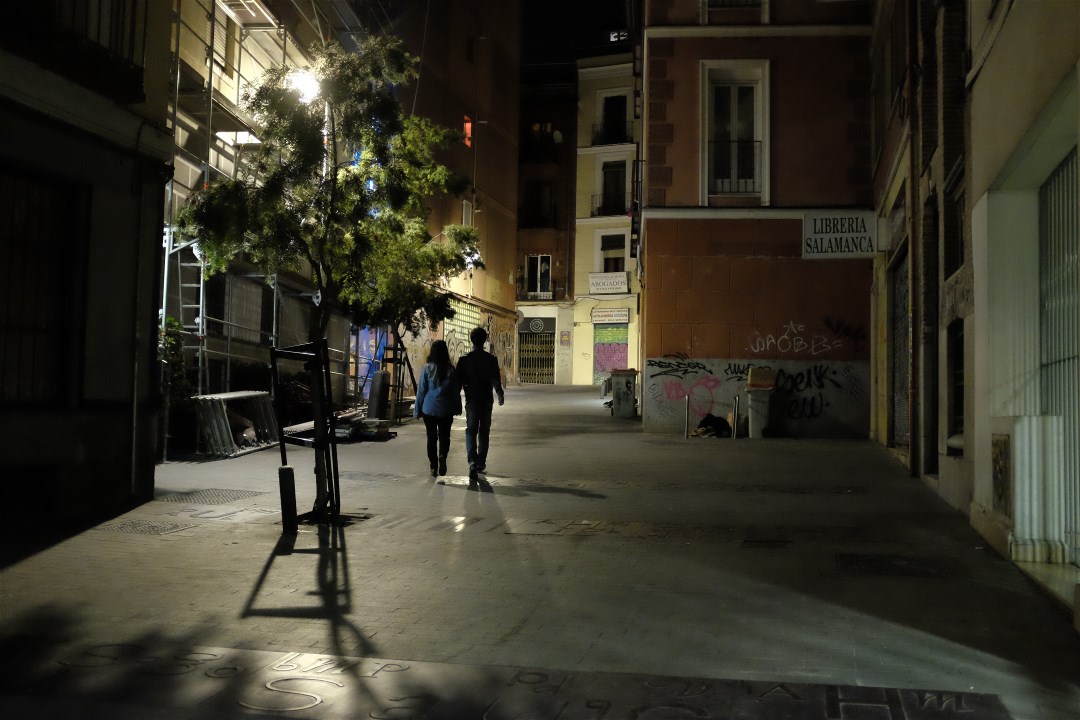 These are from Egypt.
Donated to the Spanish government for their assistance in preserving relics when the Aswan Dam was being constructed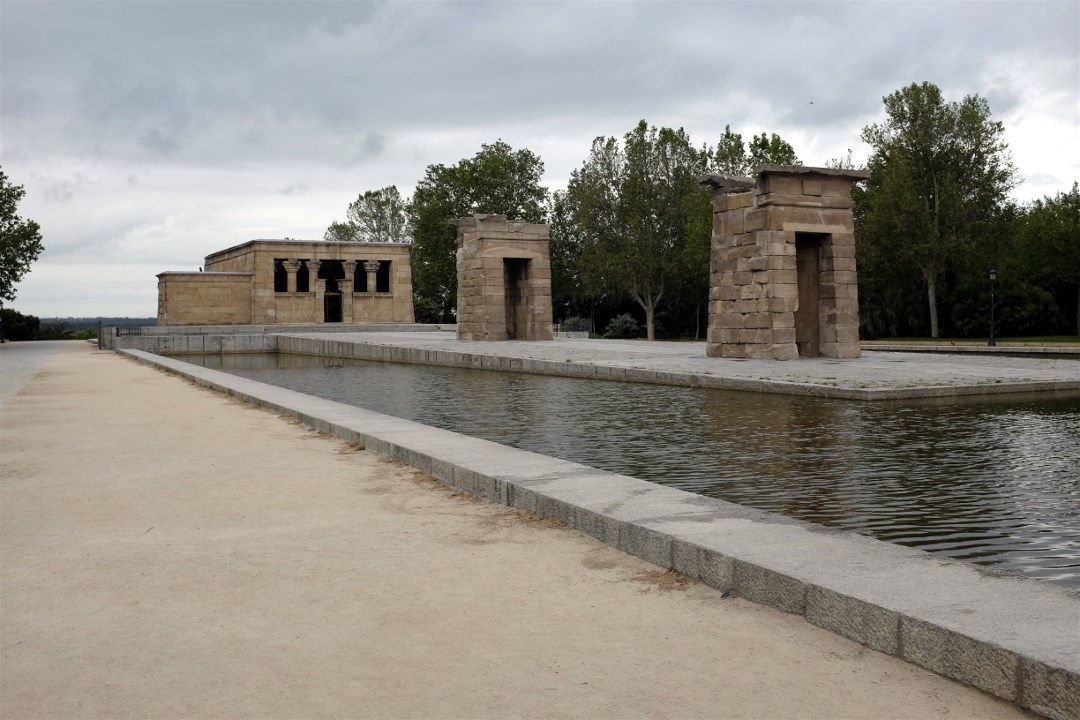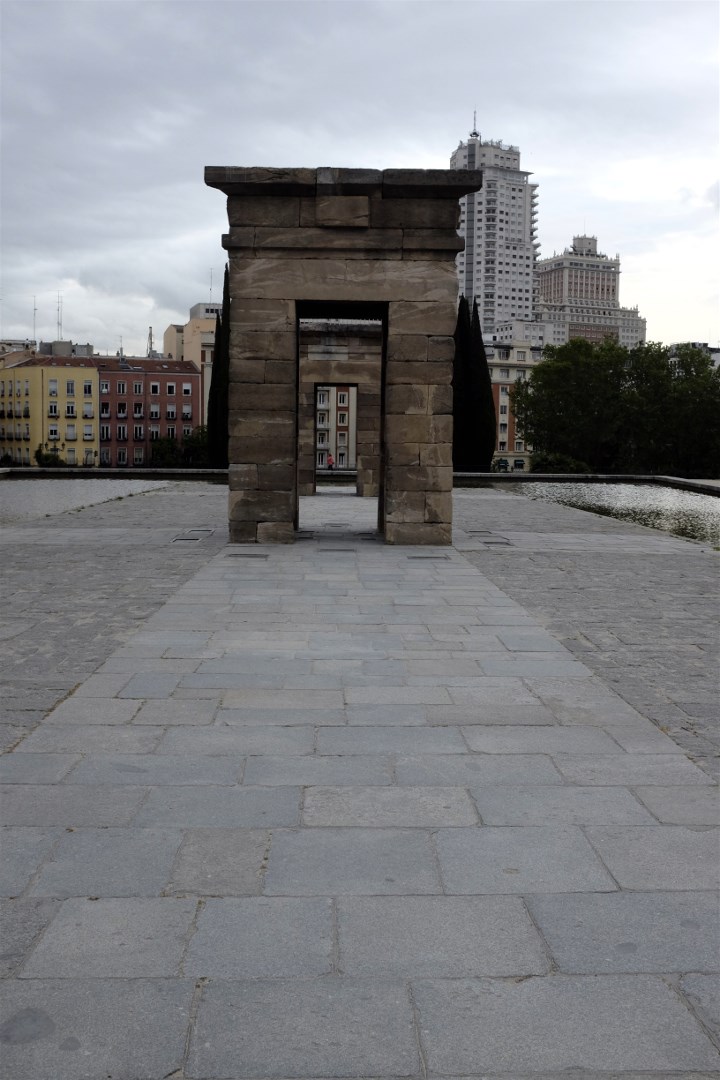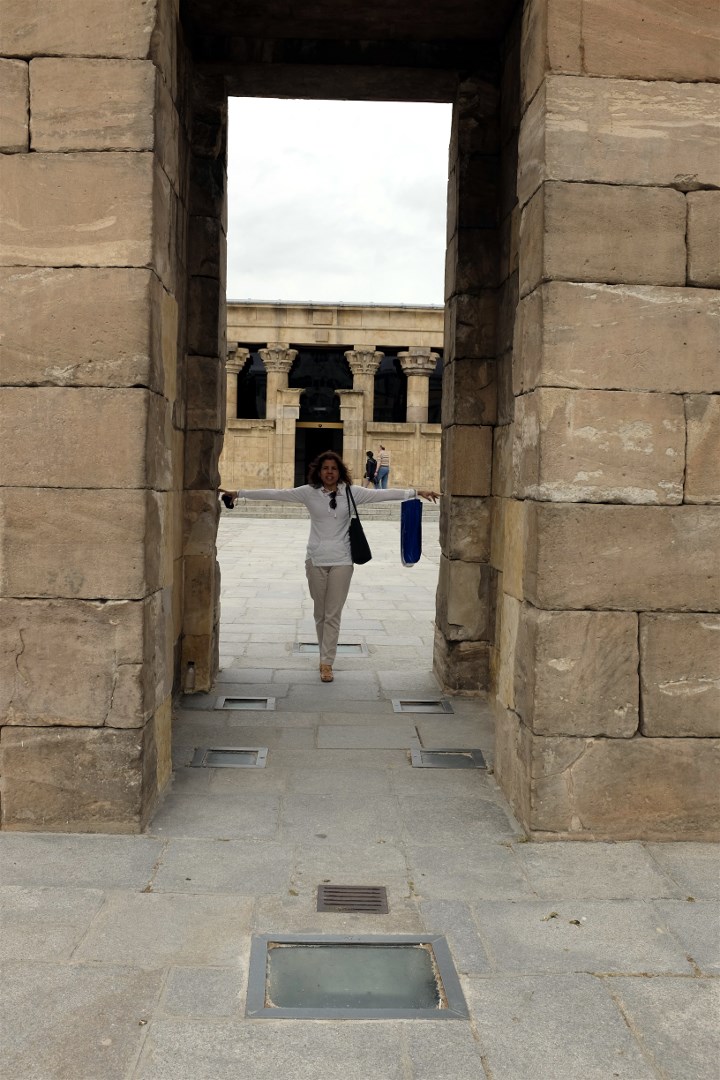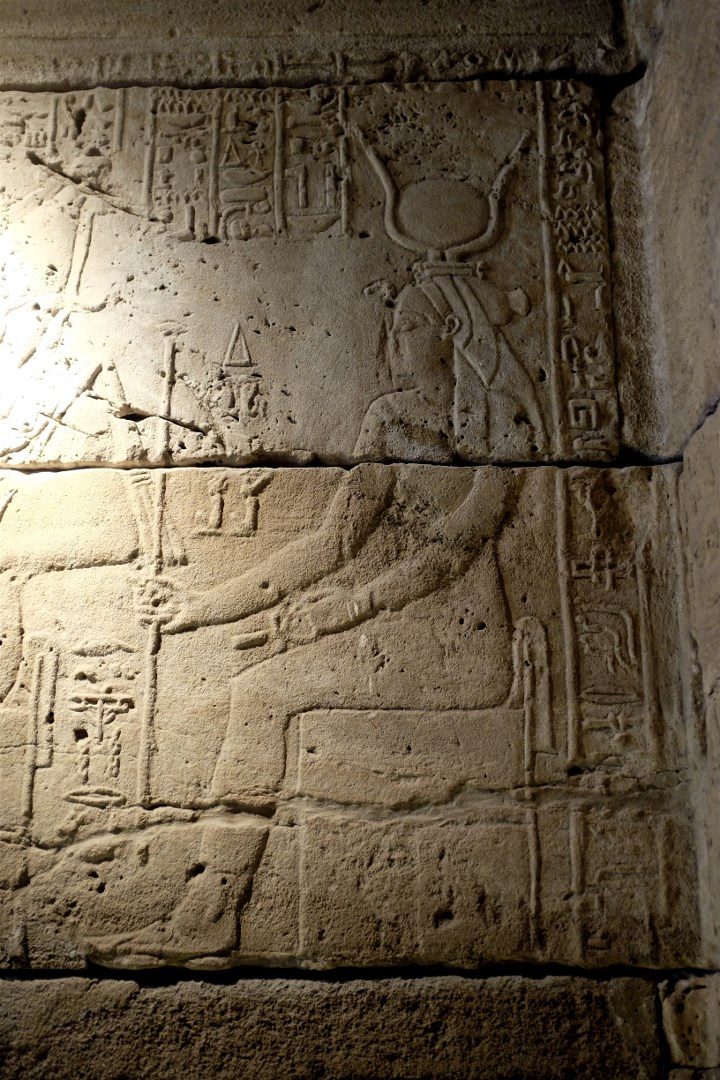 Thiessen Art Gallery
One of the largest private art collections in the world.
500 years of western art history on three floors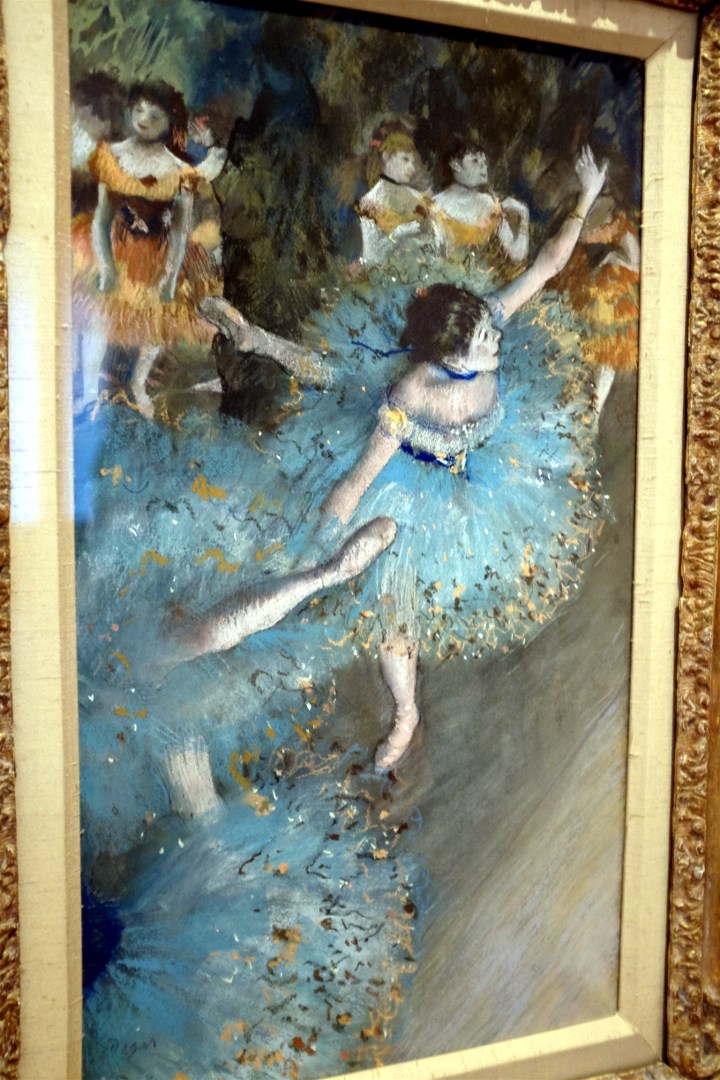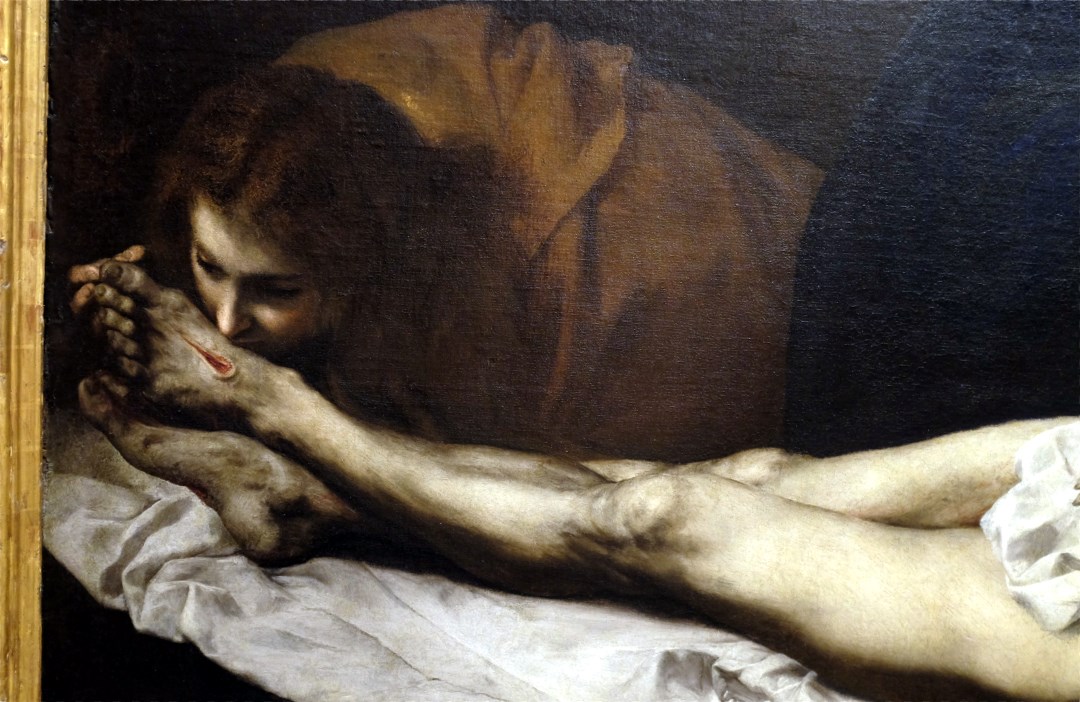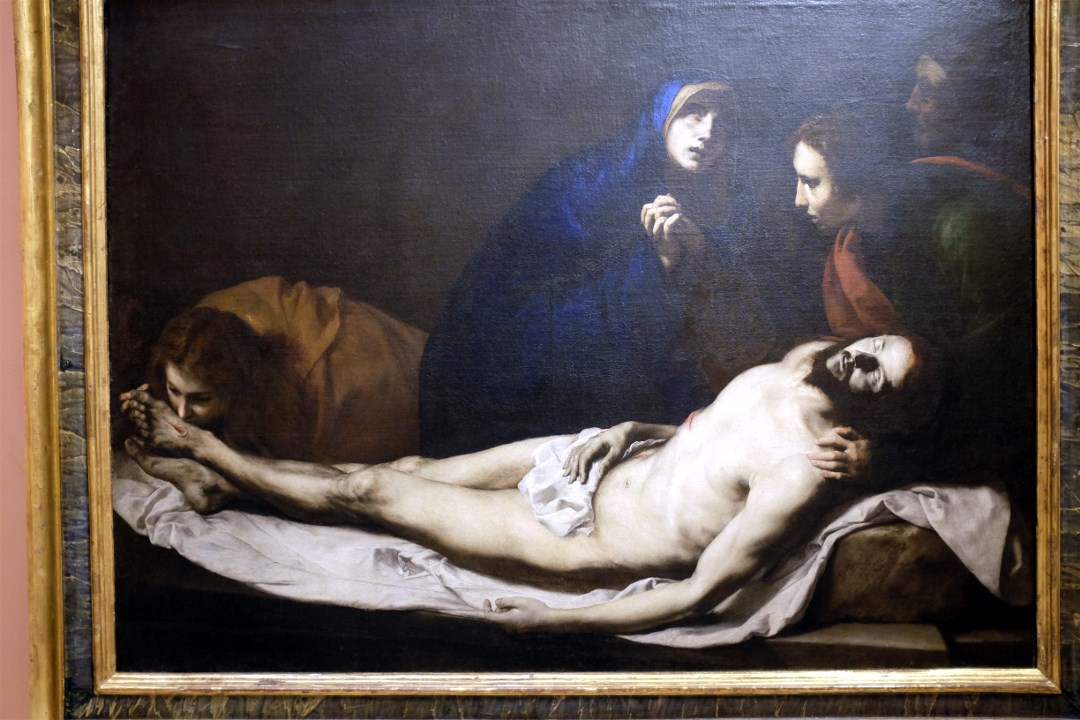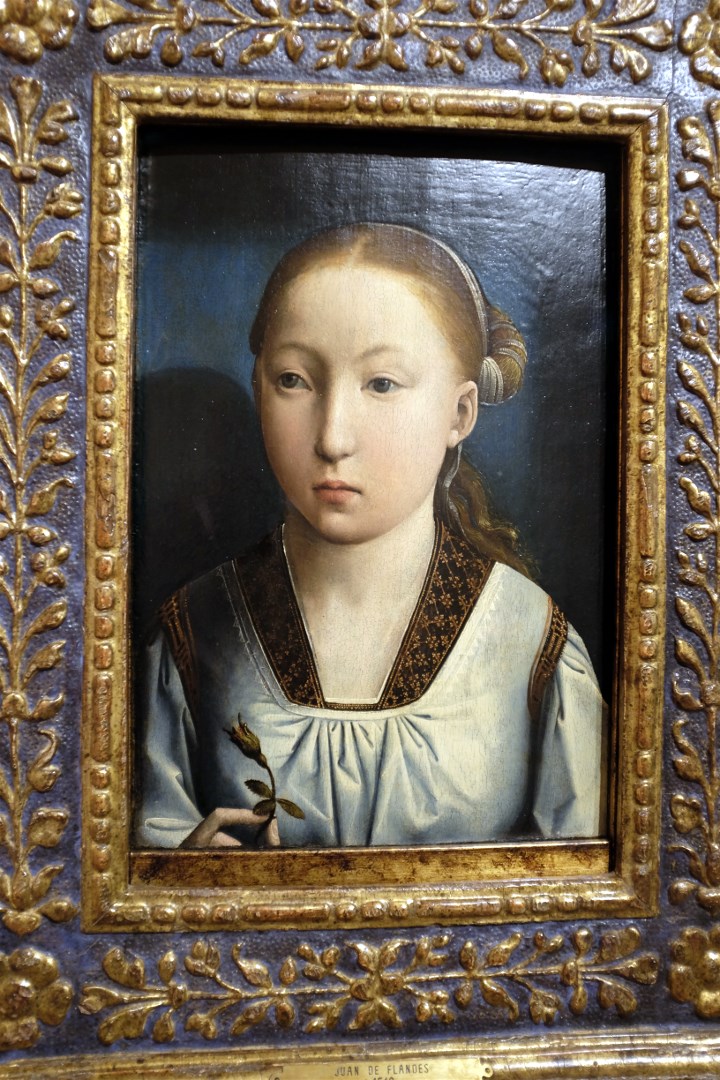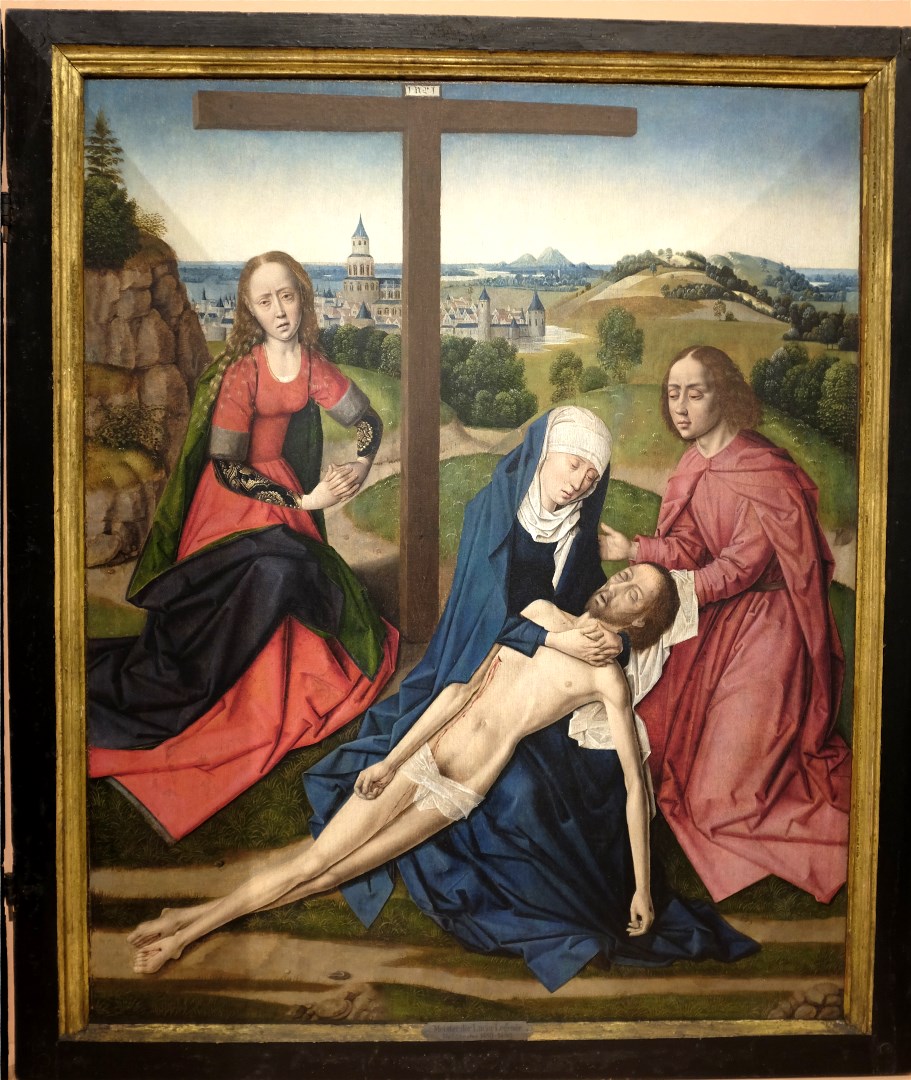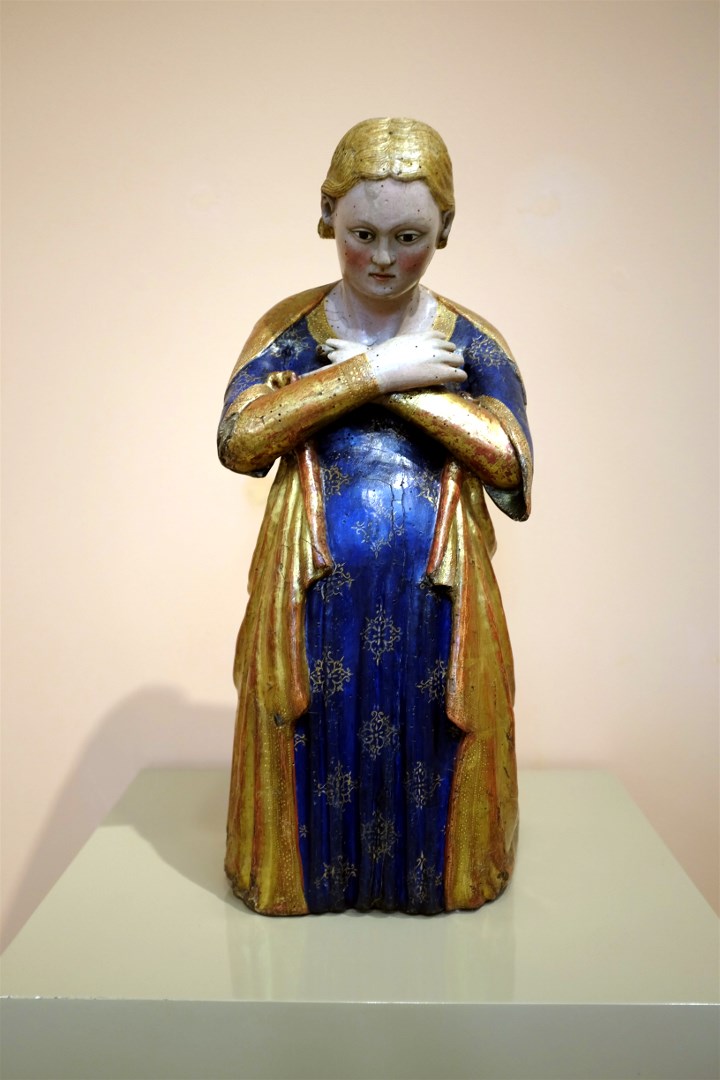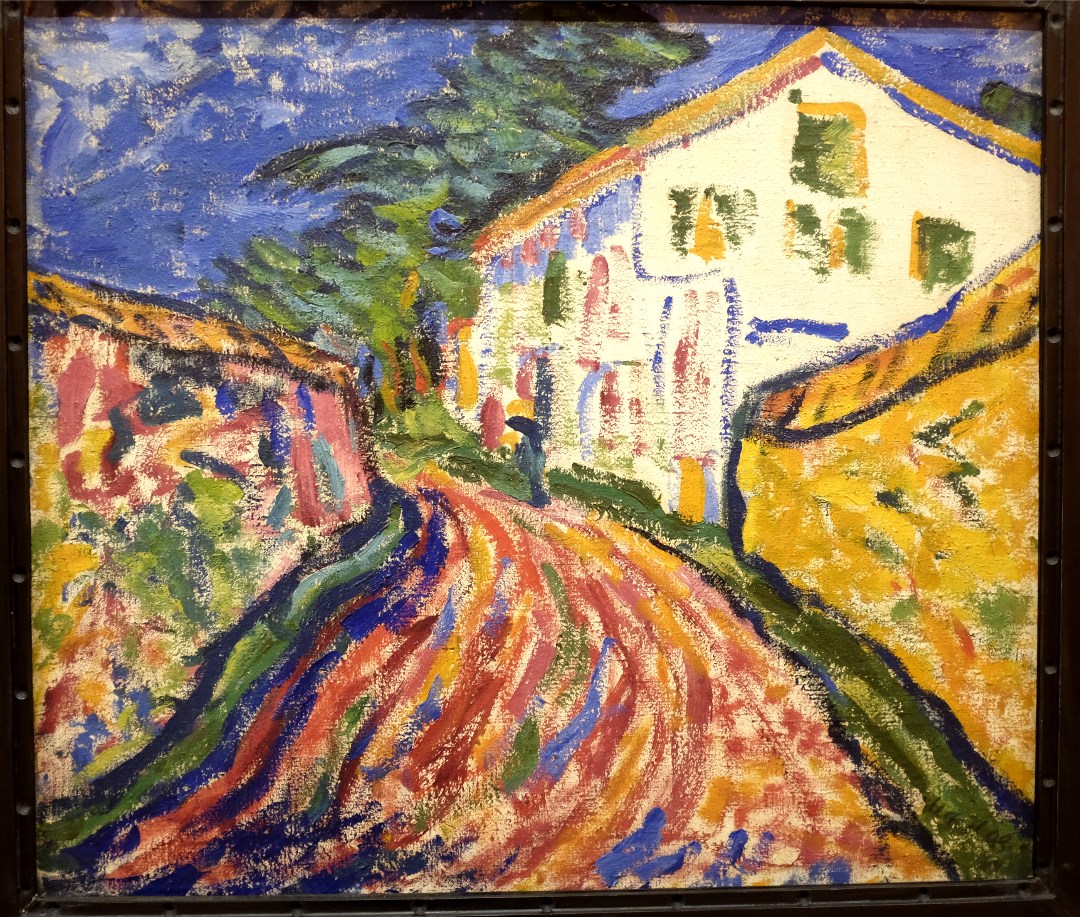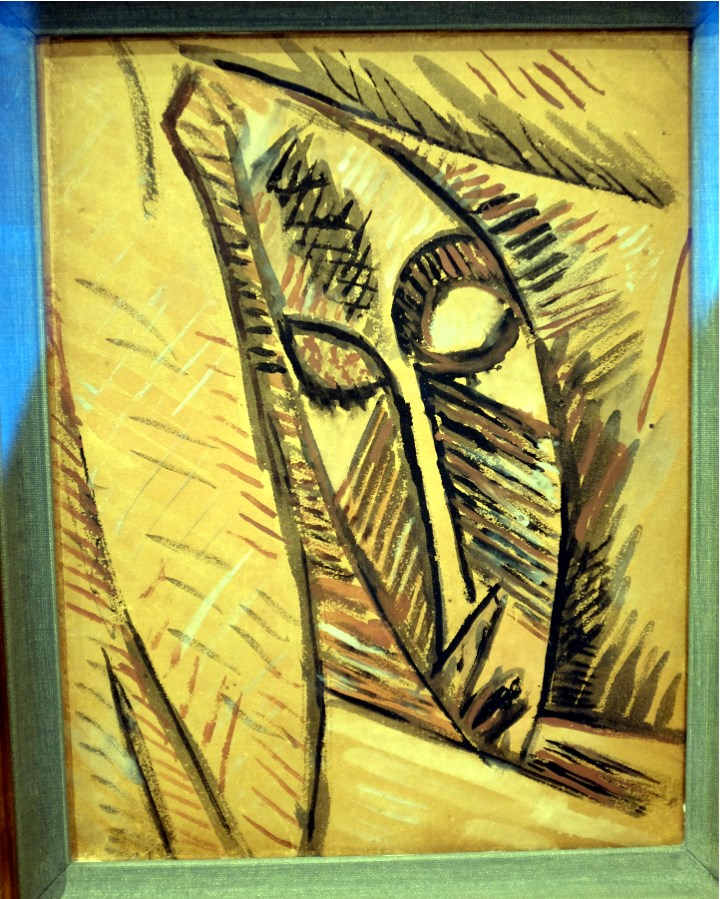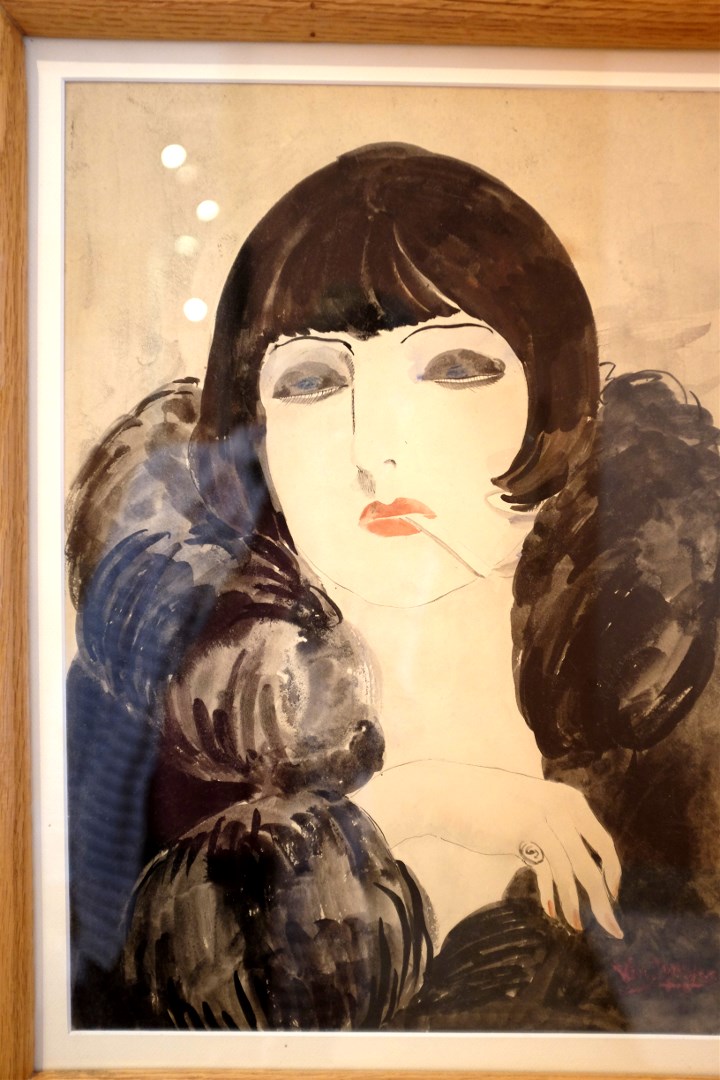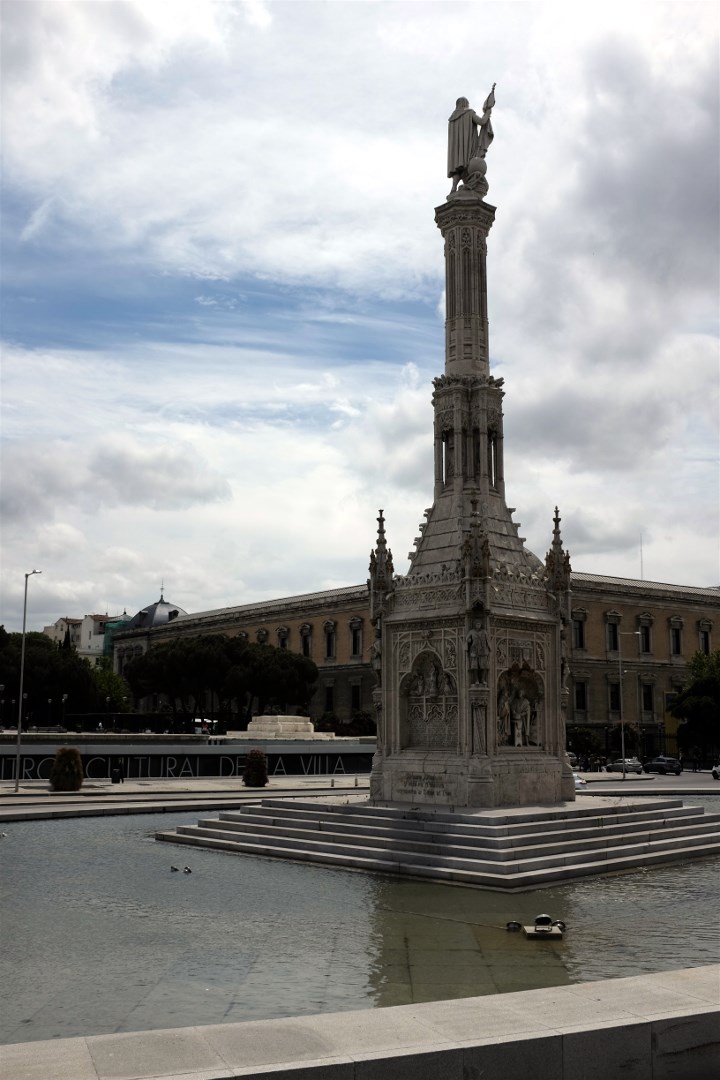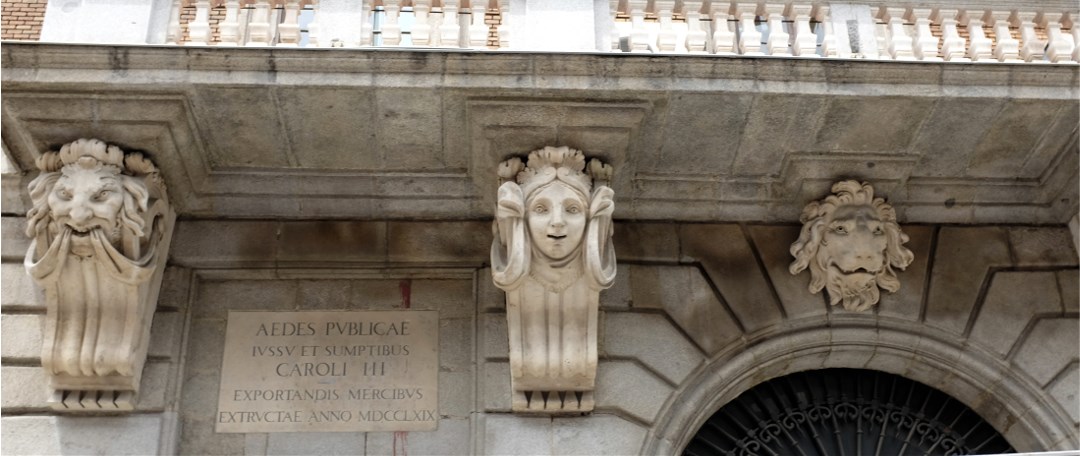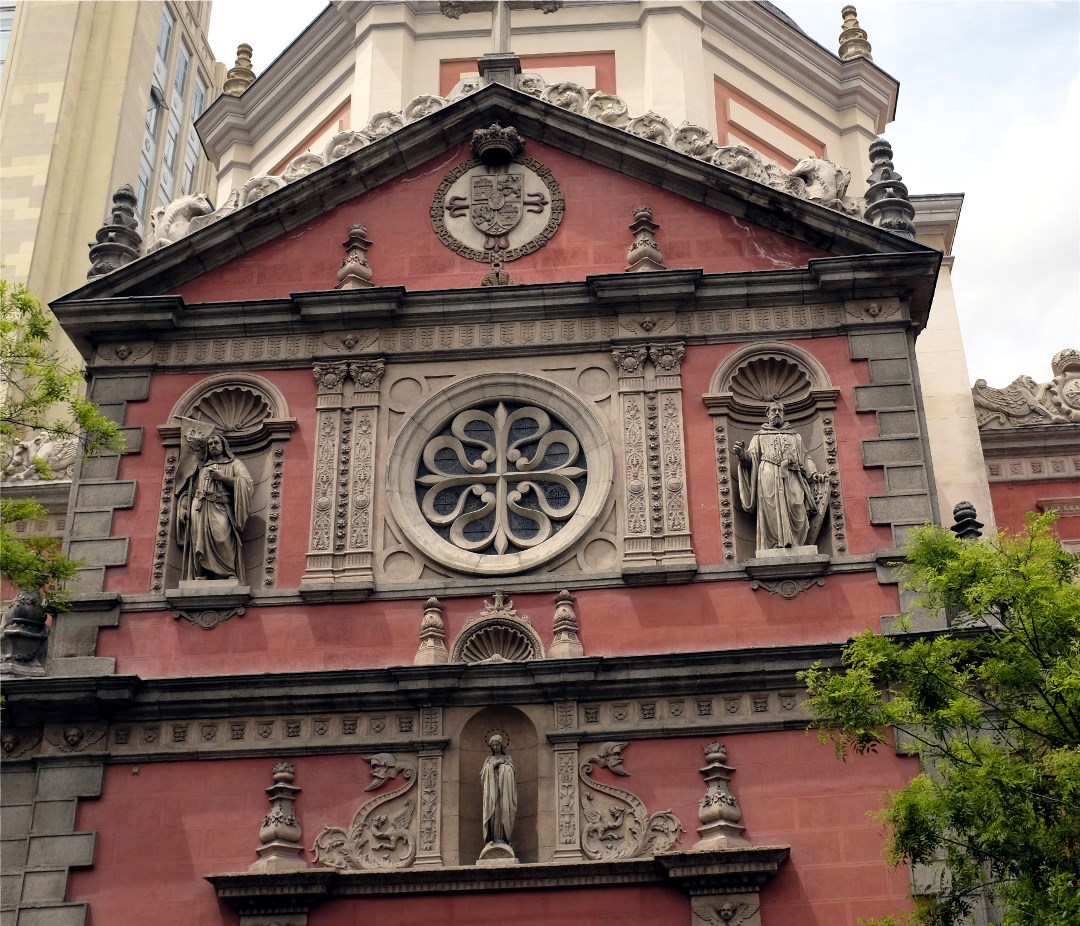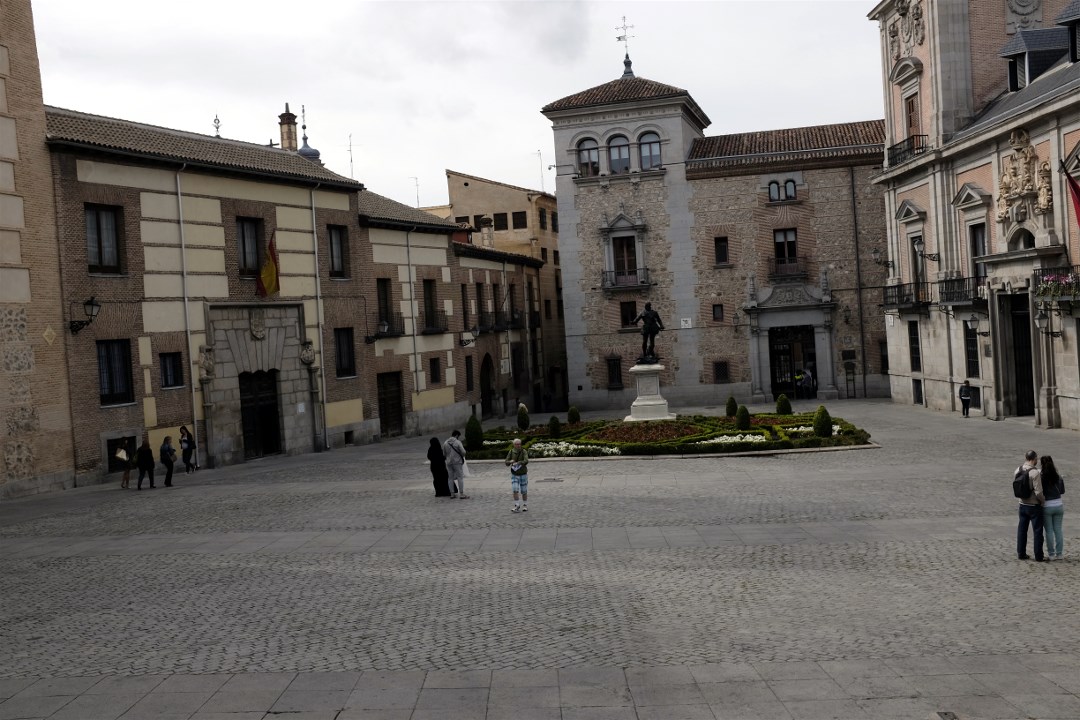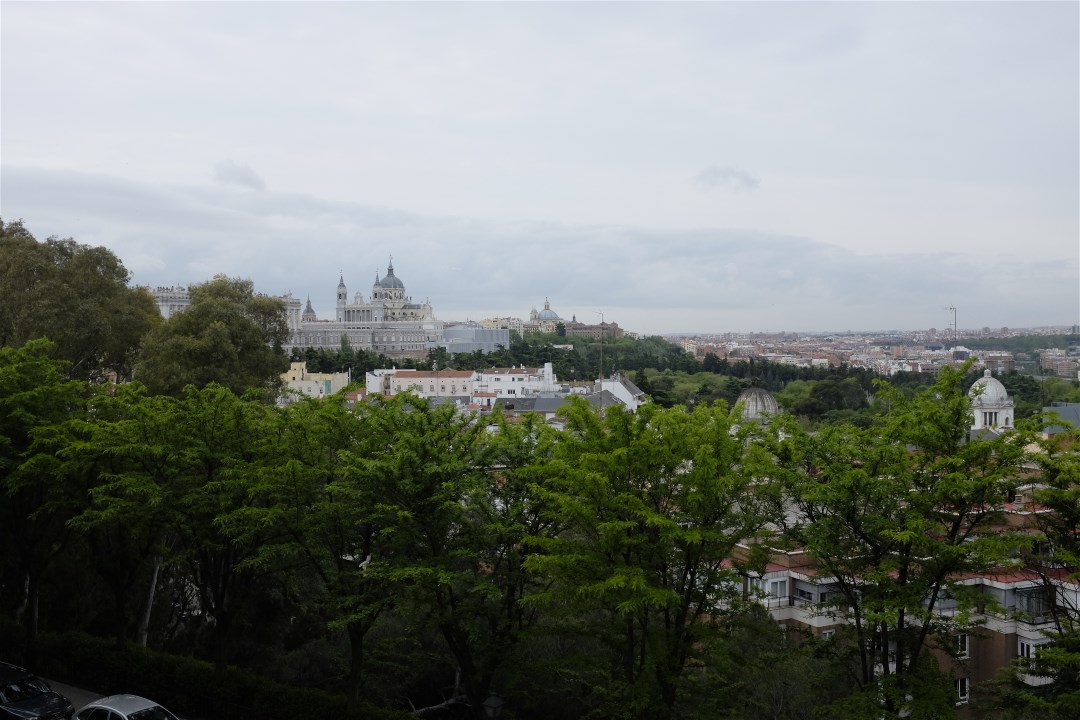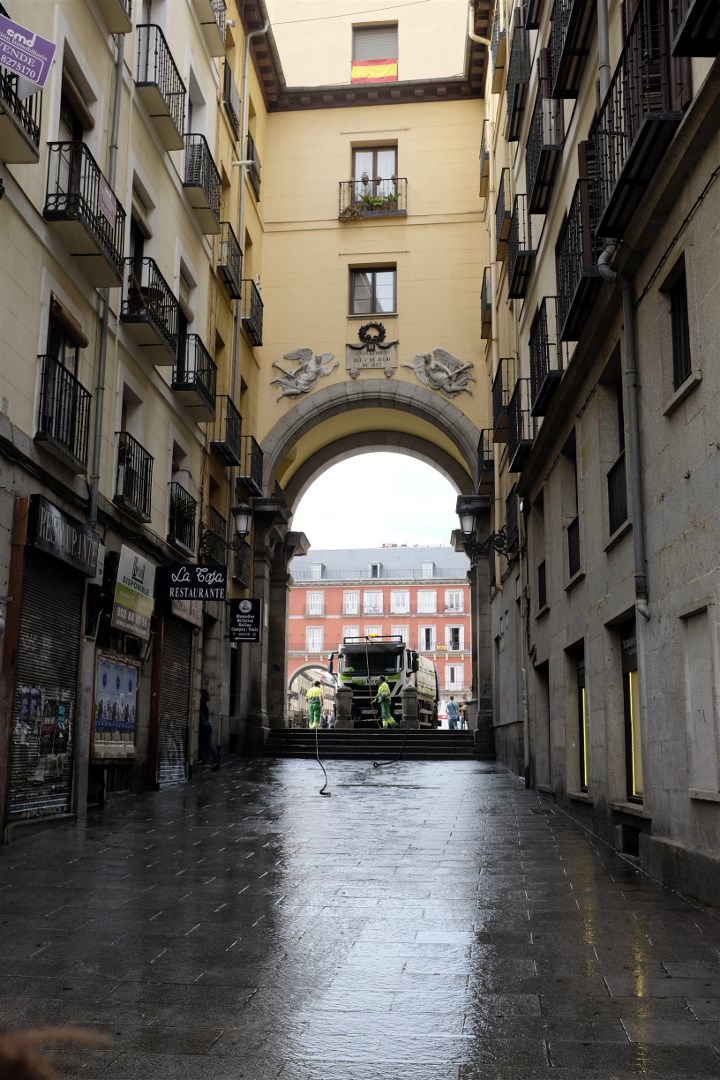 Elevators are cosy in Europe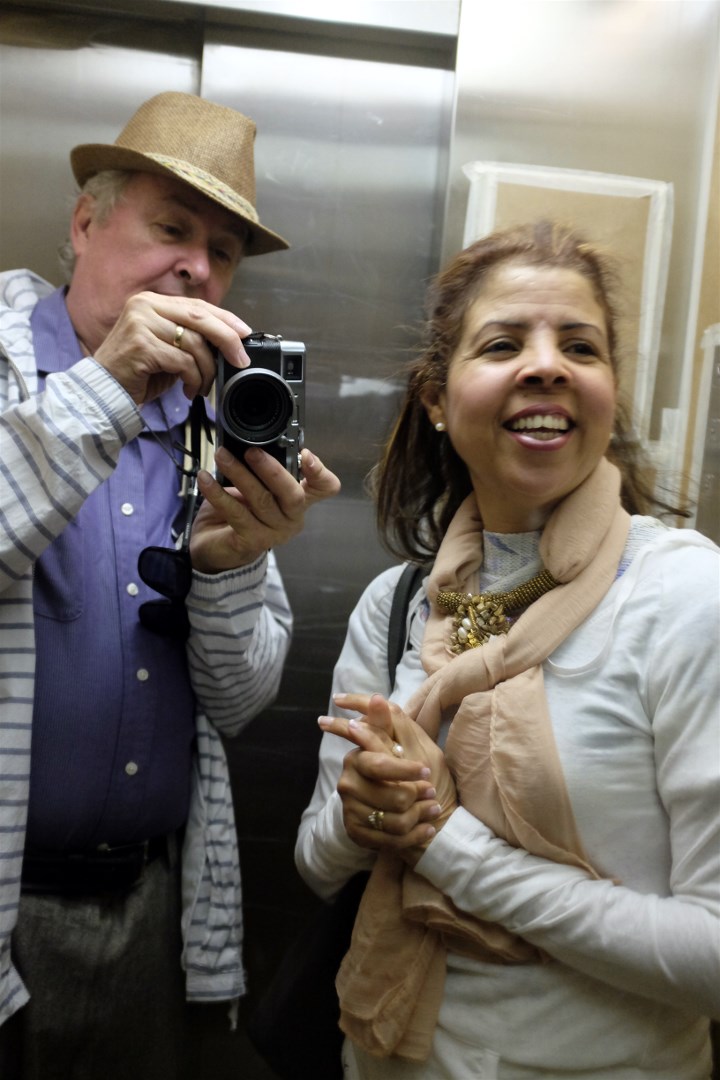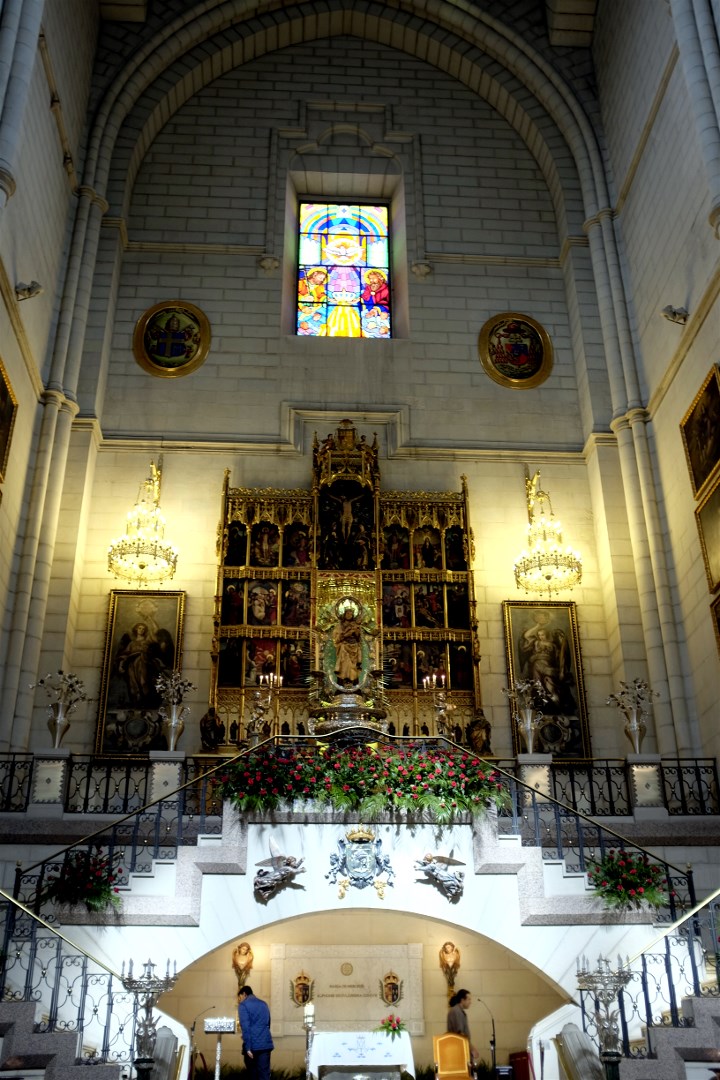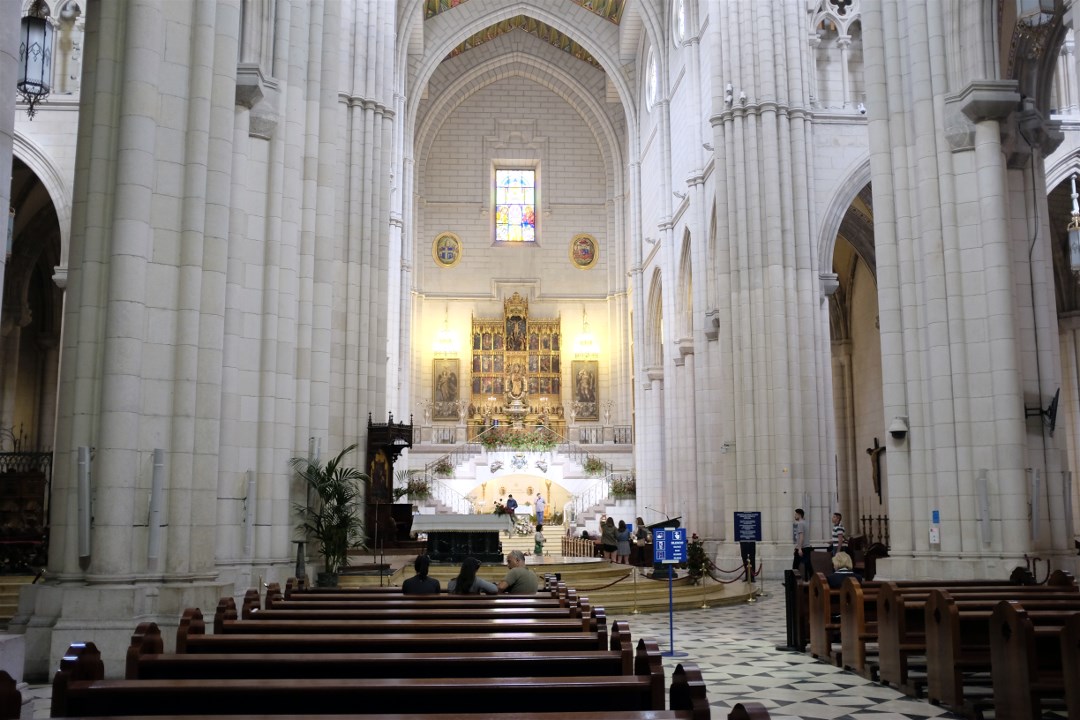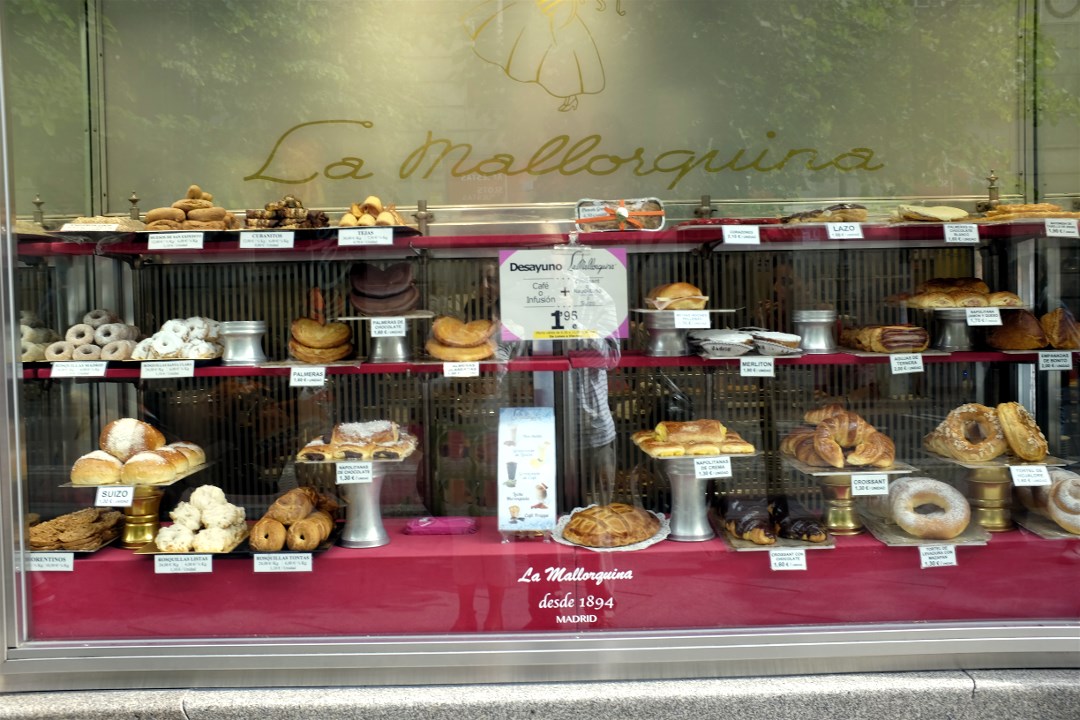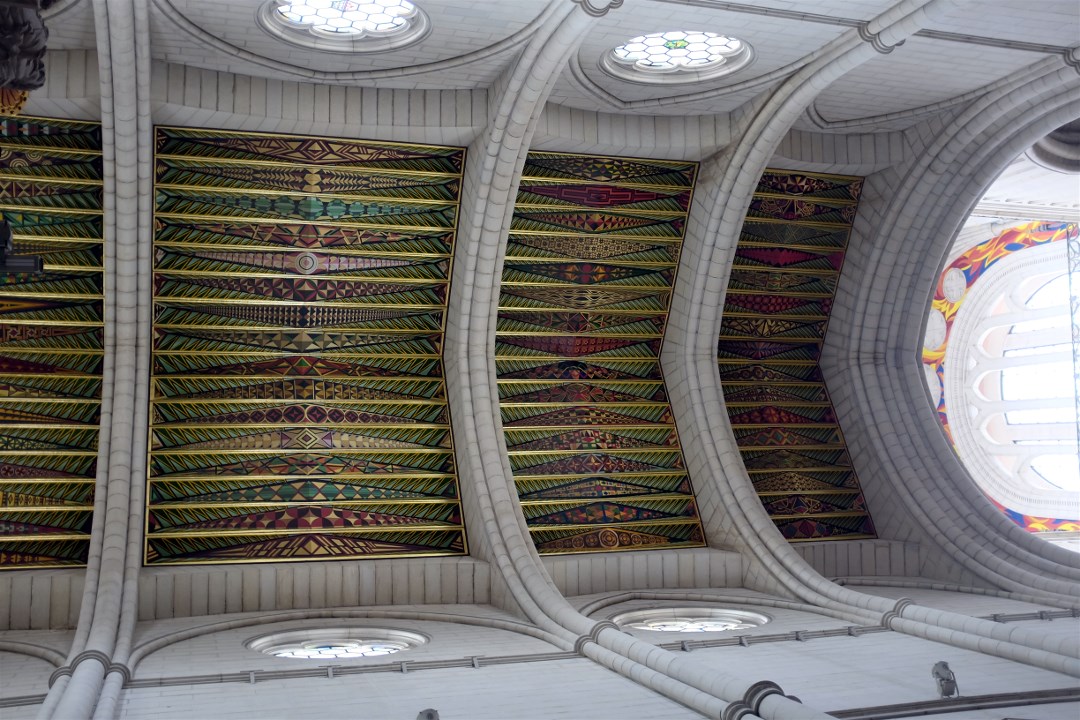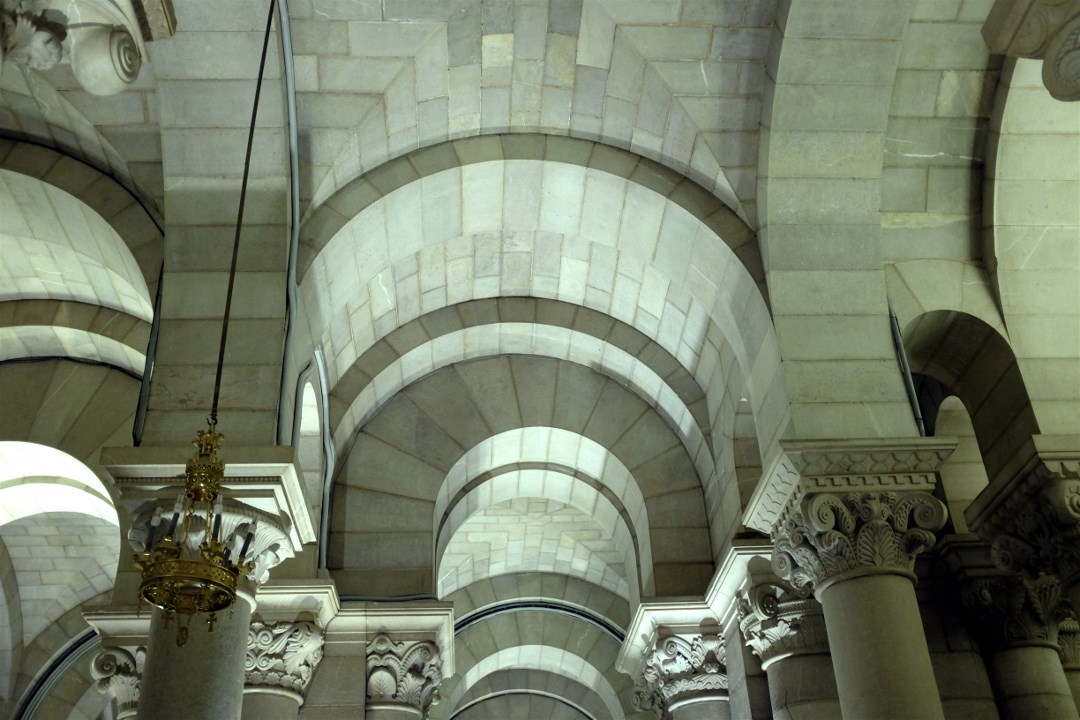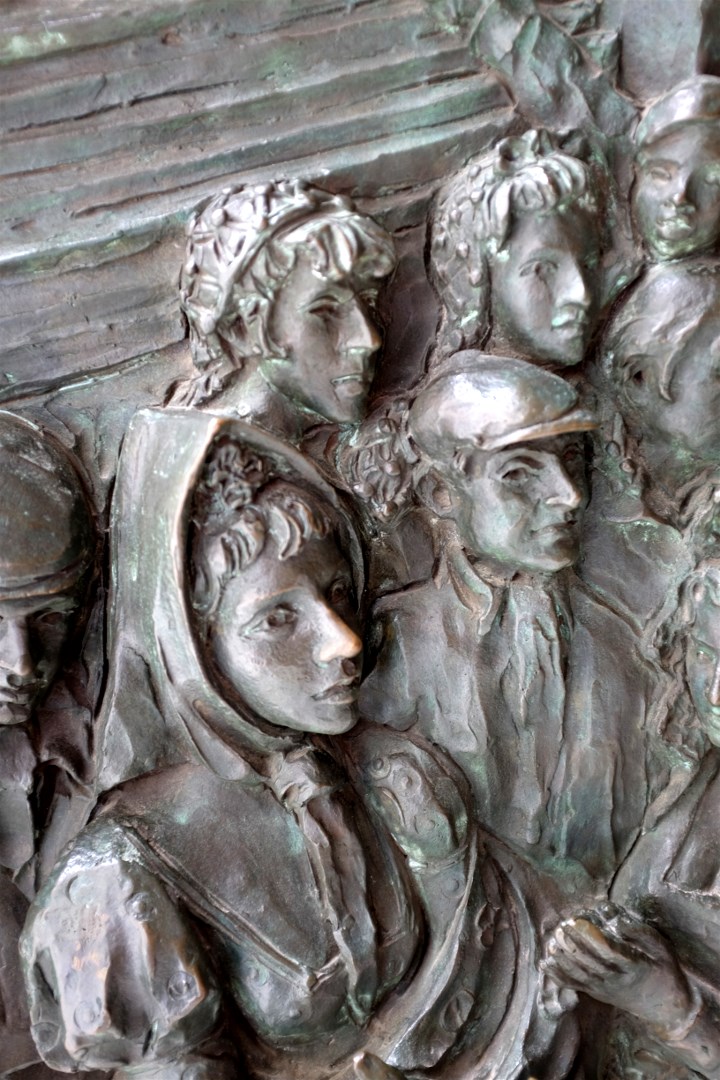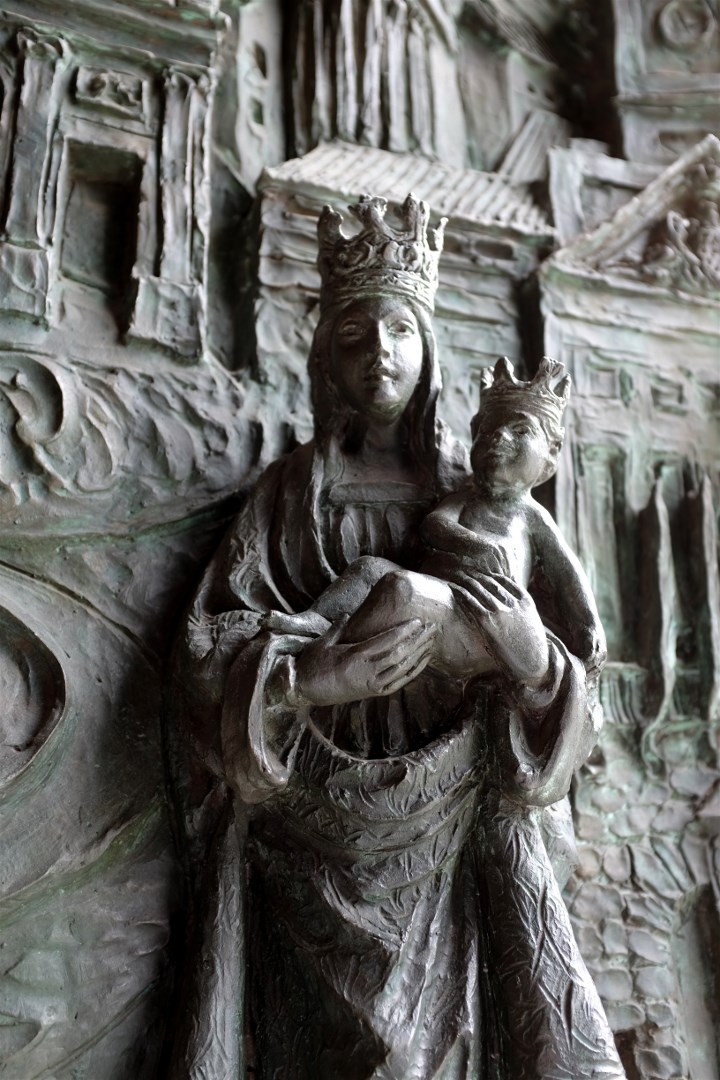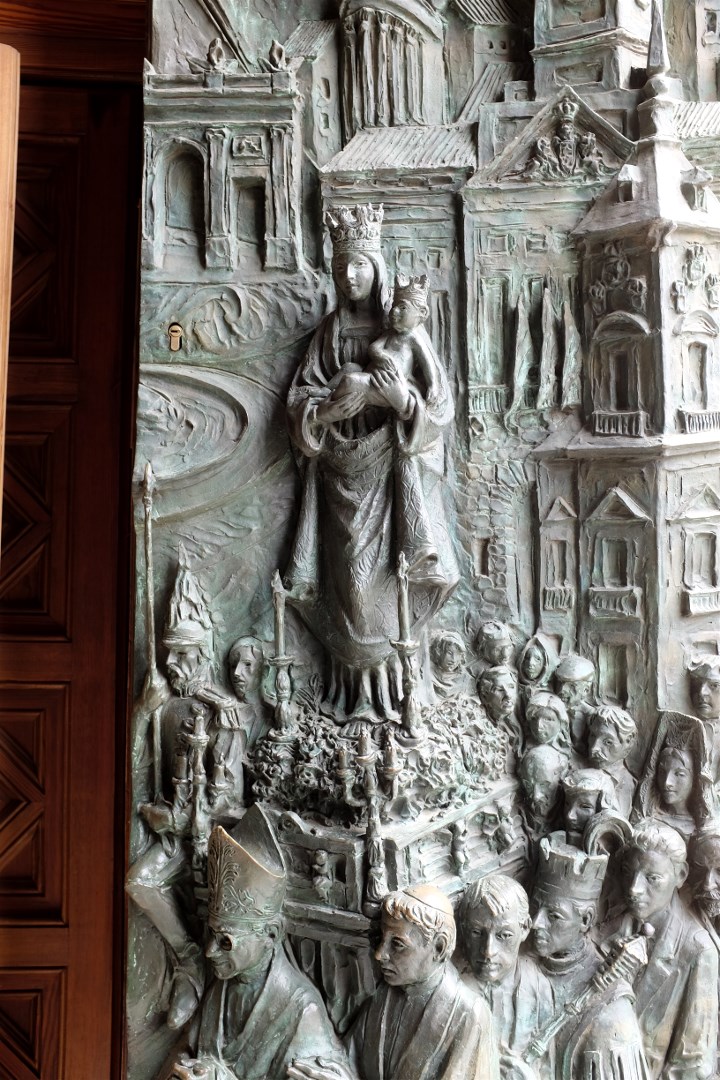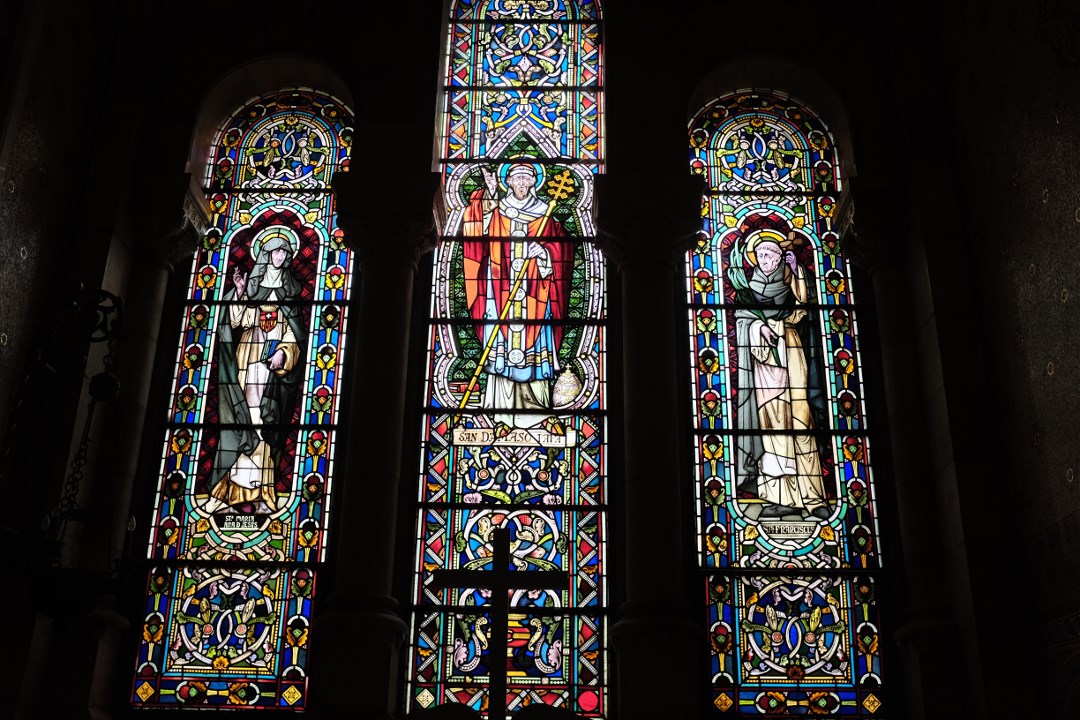 Zurich

One of the headaches with "free" air travel through reward programs is you usually have to fly somewhere out of the way and wait a number of hours in transit before going on to your ultimate destination. Our air travel to Rome was via Zurich on Swiss Airlines. We had a three and a half hour wait in the airport. Actually it was a very nice stop over. The Zurich airport is spectacular. There are many very expensive shops and great places to eat. We had a wonderful lunch in the airport bar - 55 different wines to choose from and homemade pasta which was delicious. I picked up a small box of chocolates for 70 Euros from the guys who apparently invented the stuff. Wonderful.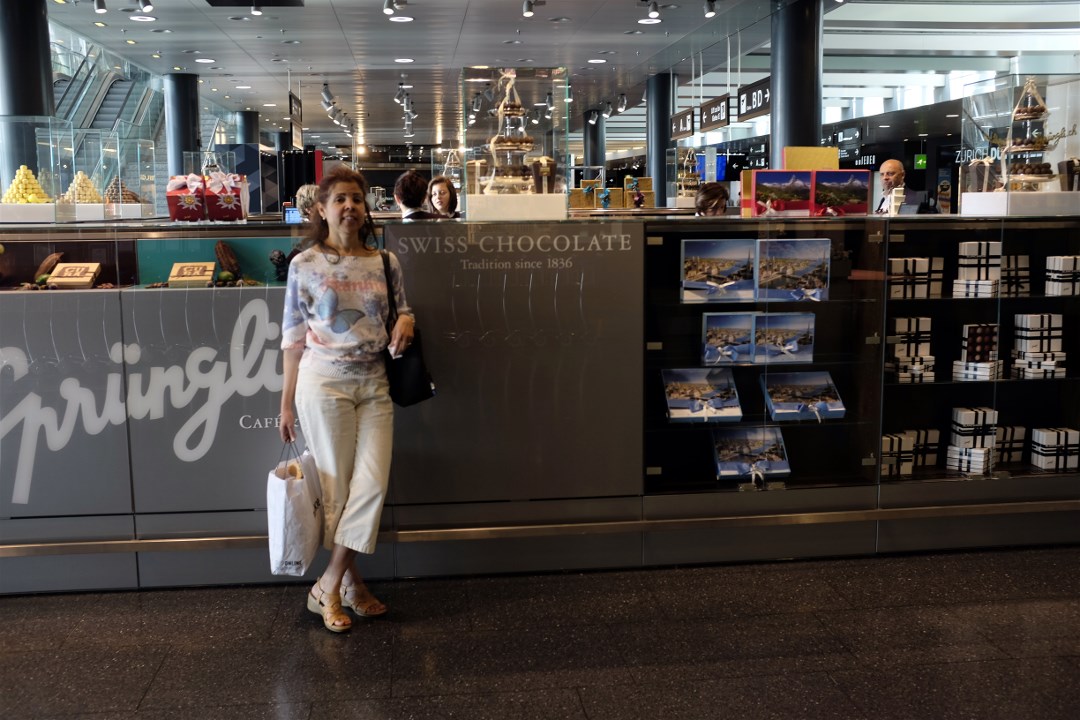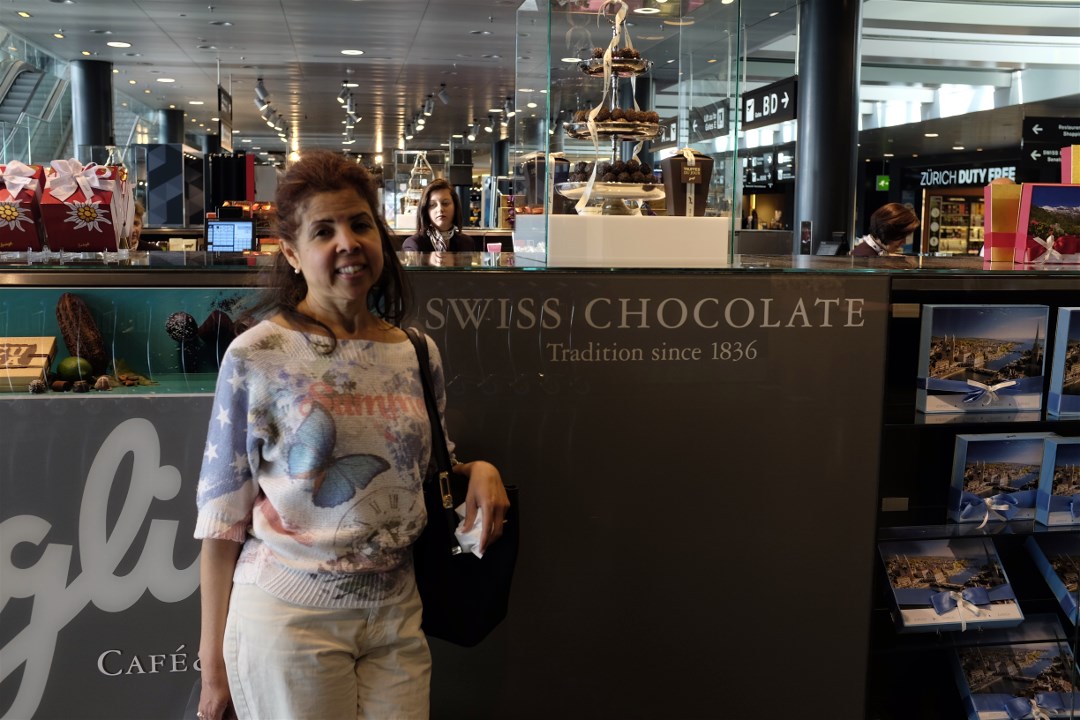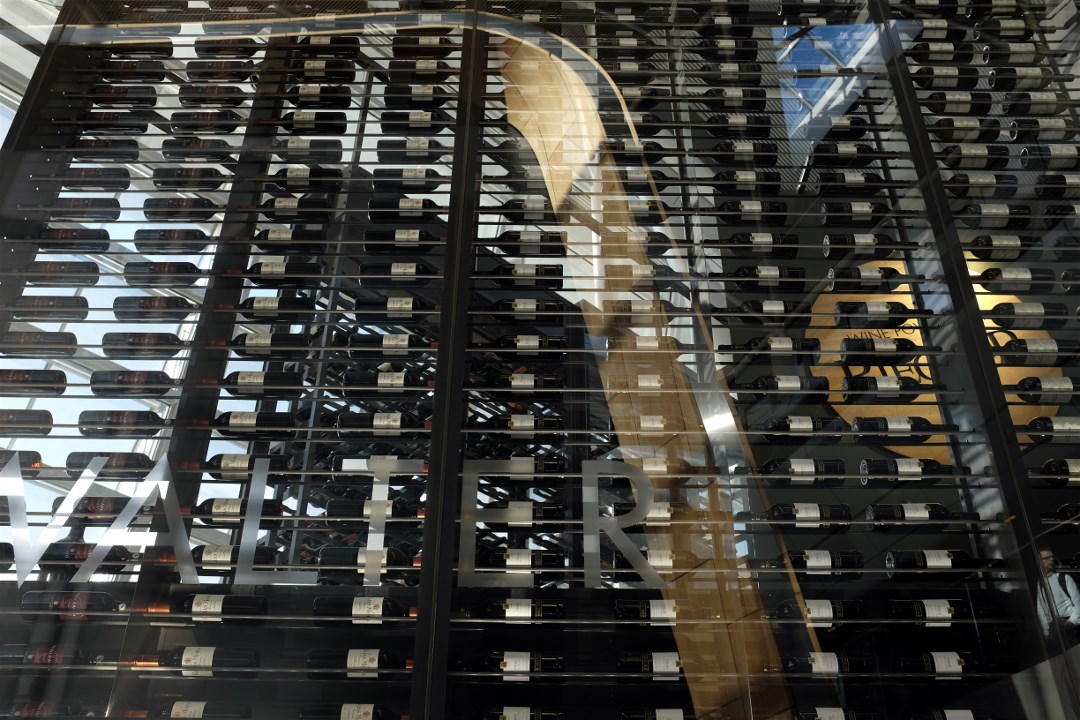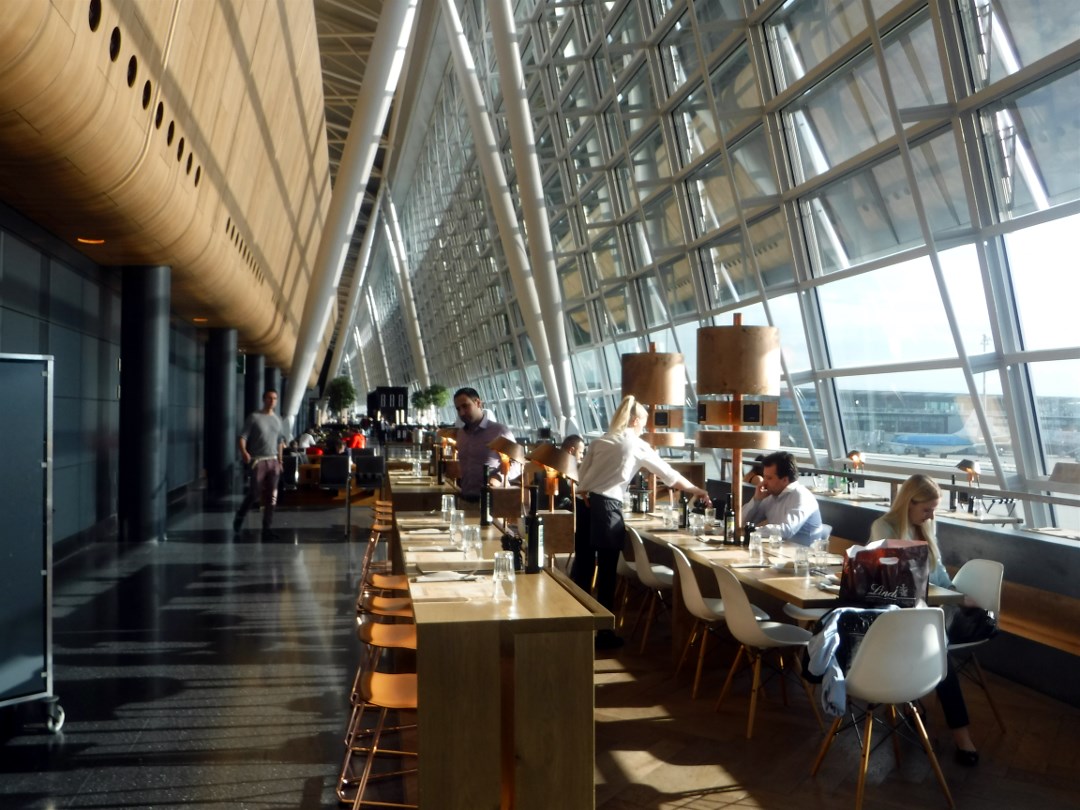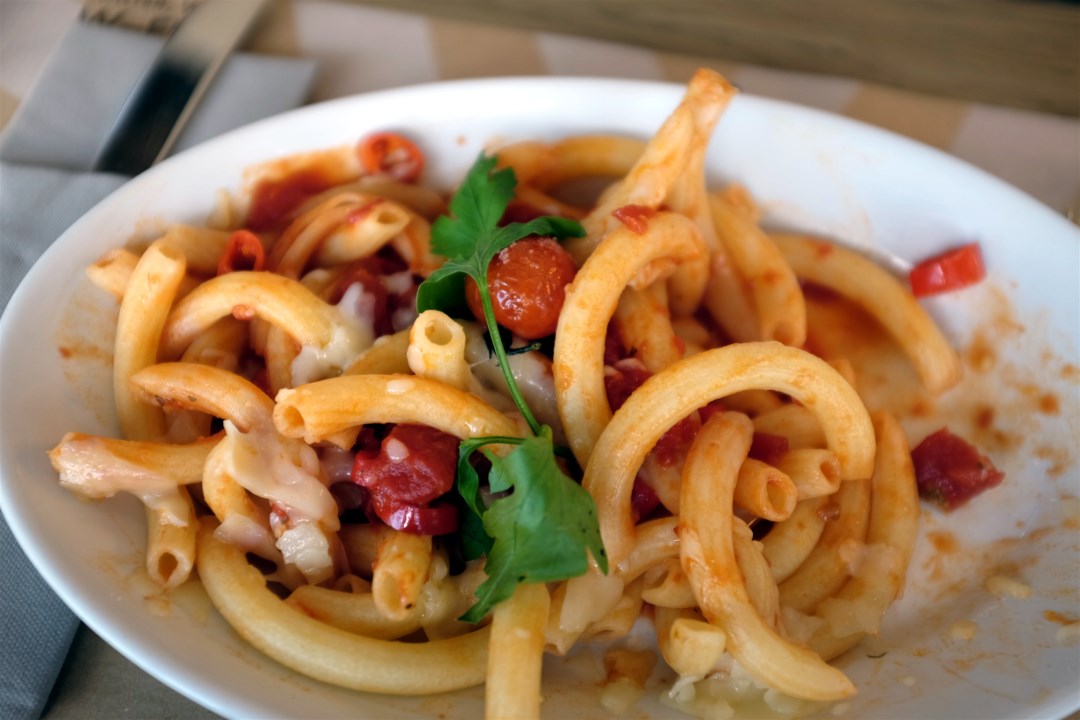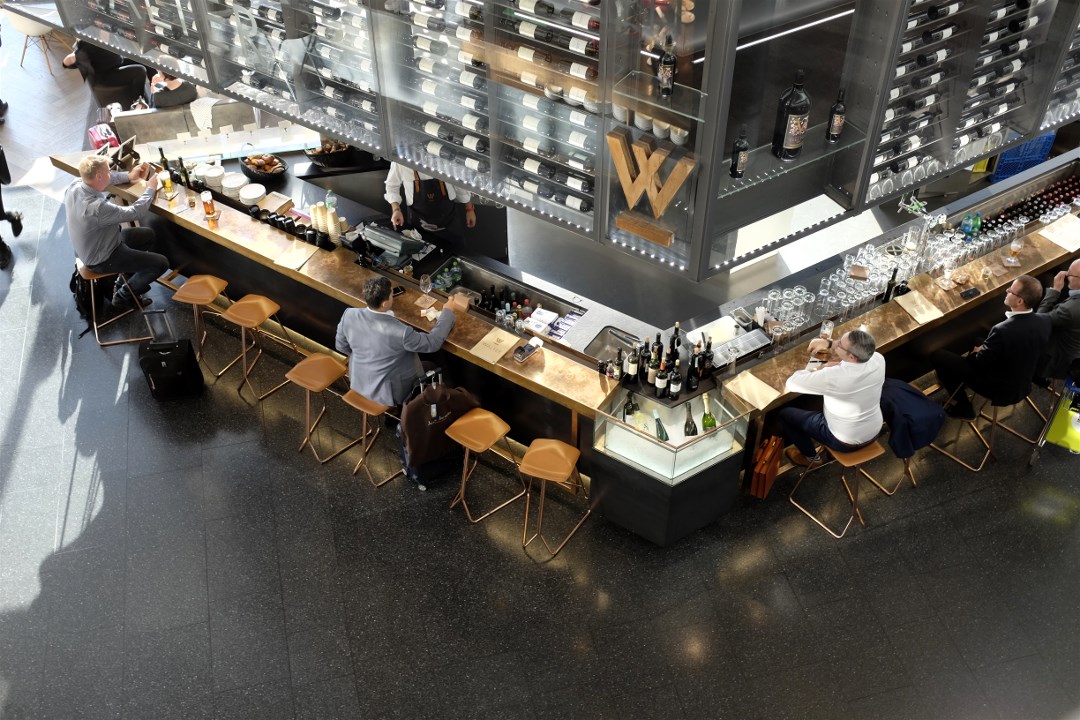 How civilized!
Smokers are welcome.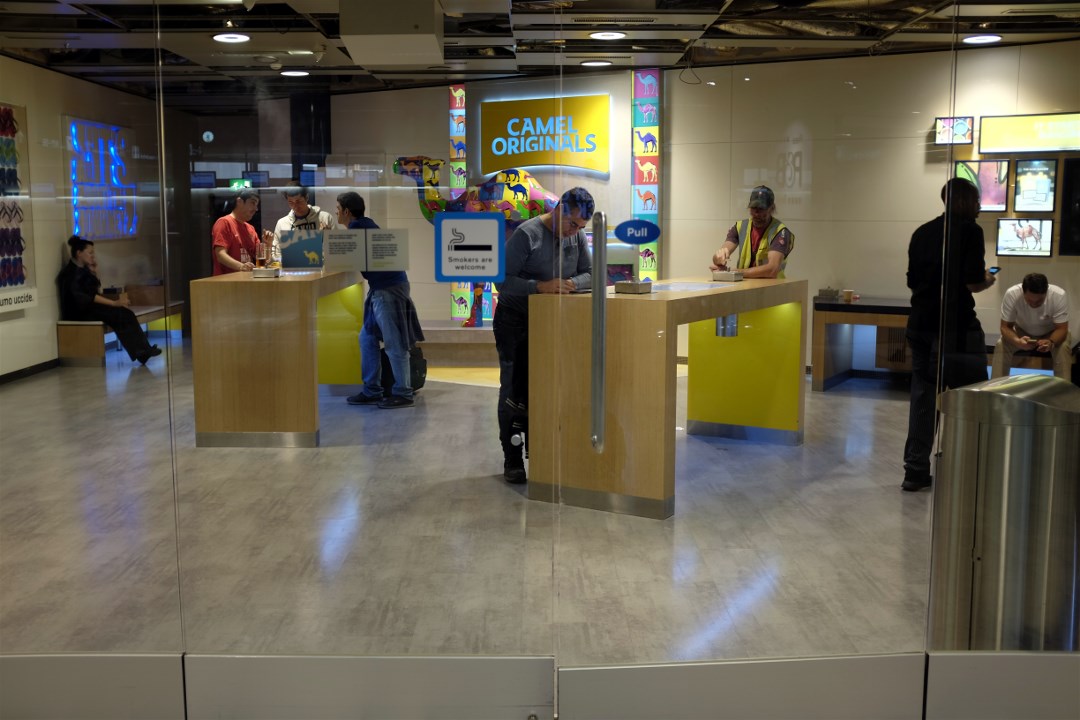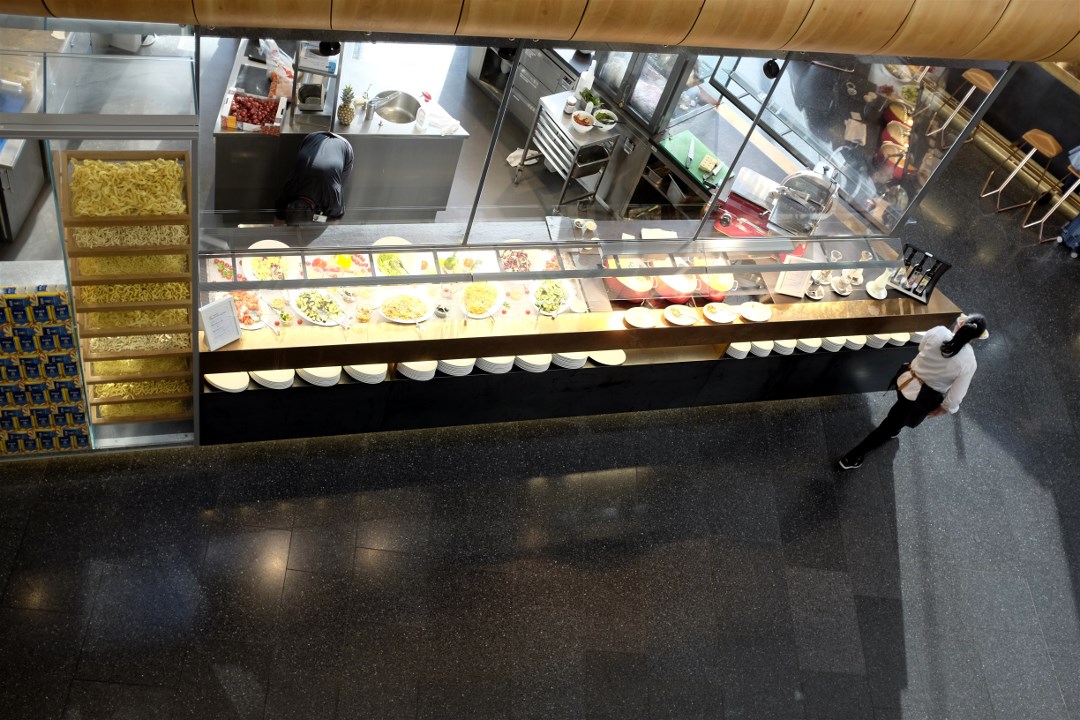 Airport waiting area
(according to the Swiss)

The closest we got to the Swiss Alps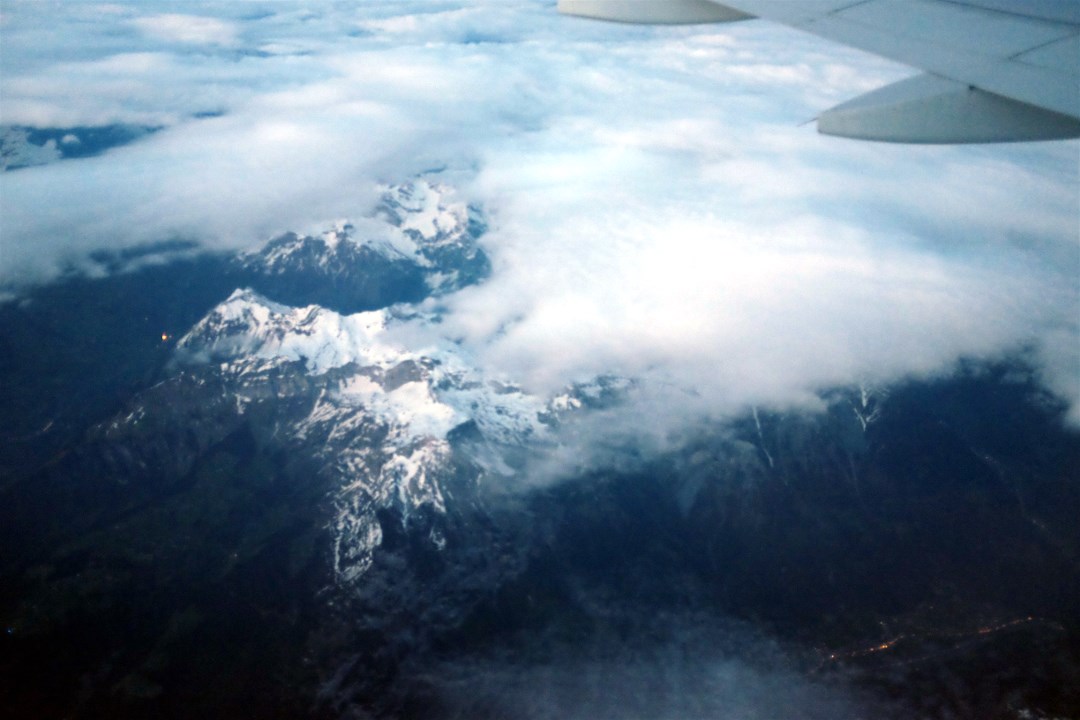 Rome
(The eternal city)

Two days is not enough of course. This place is the Disneyland of churches. Lots of muscular sculptures. We visited the Vatican, saw an opera, the colloseum ate pizza etc. We threw coins over our shoulder at the Trevi fountain so I suppose fate will bring us back some day.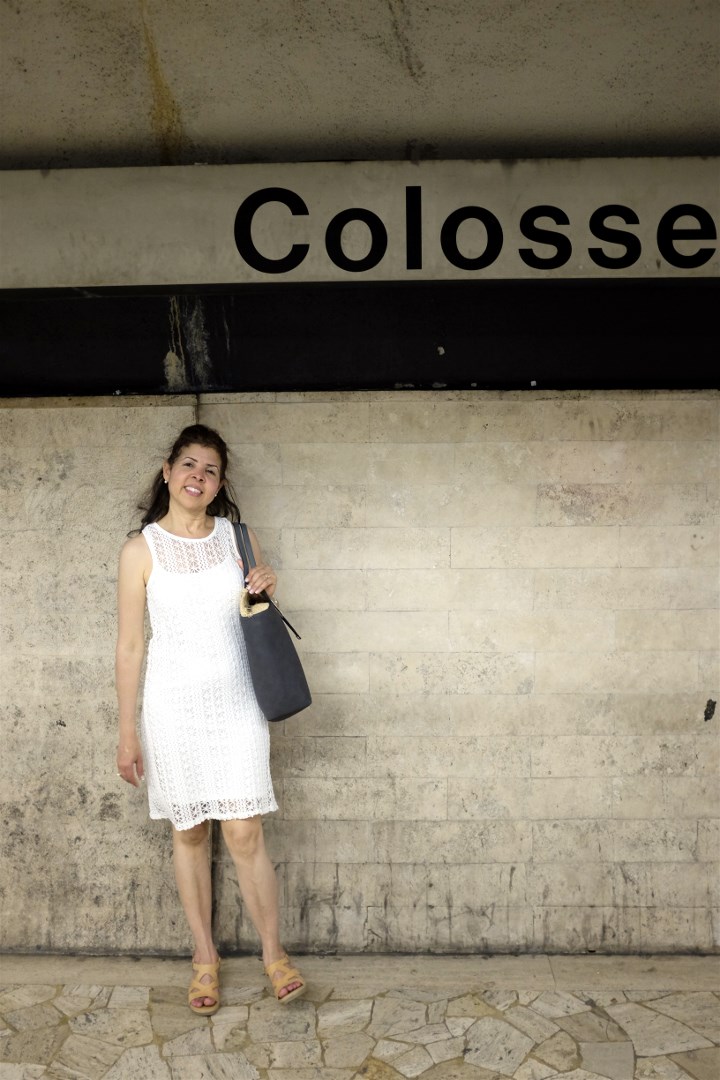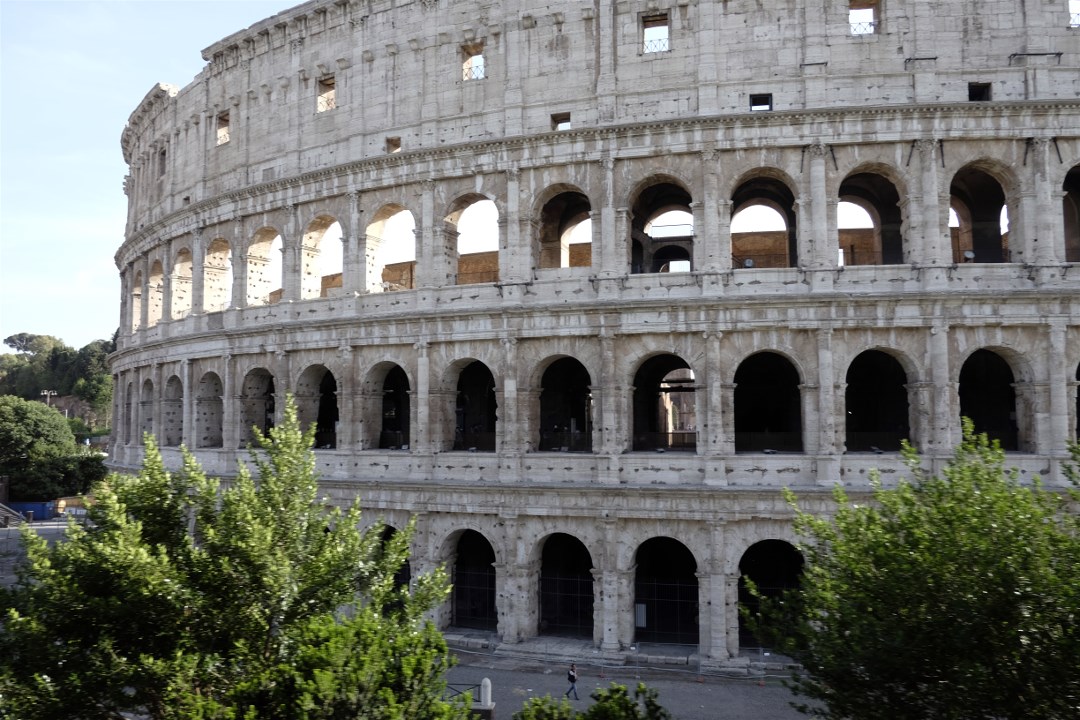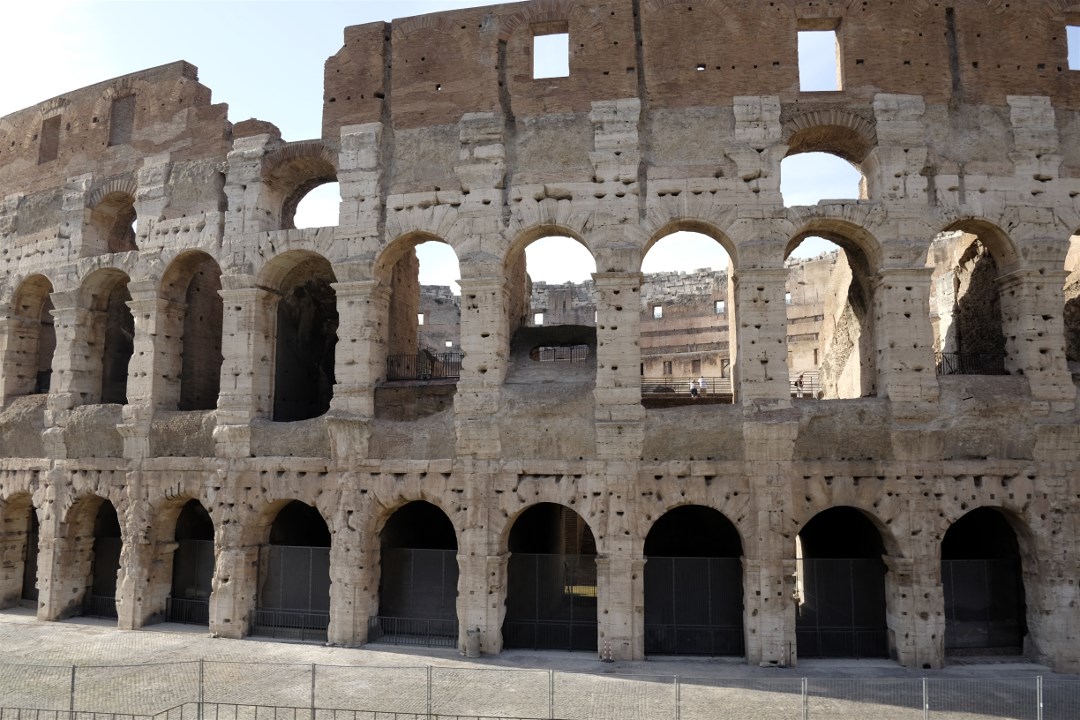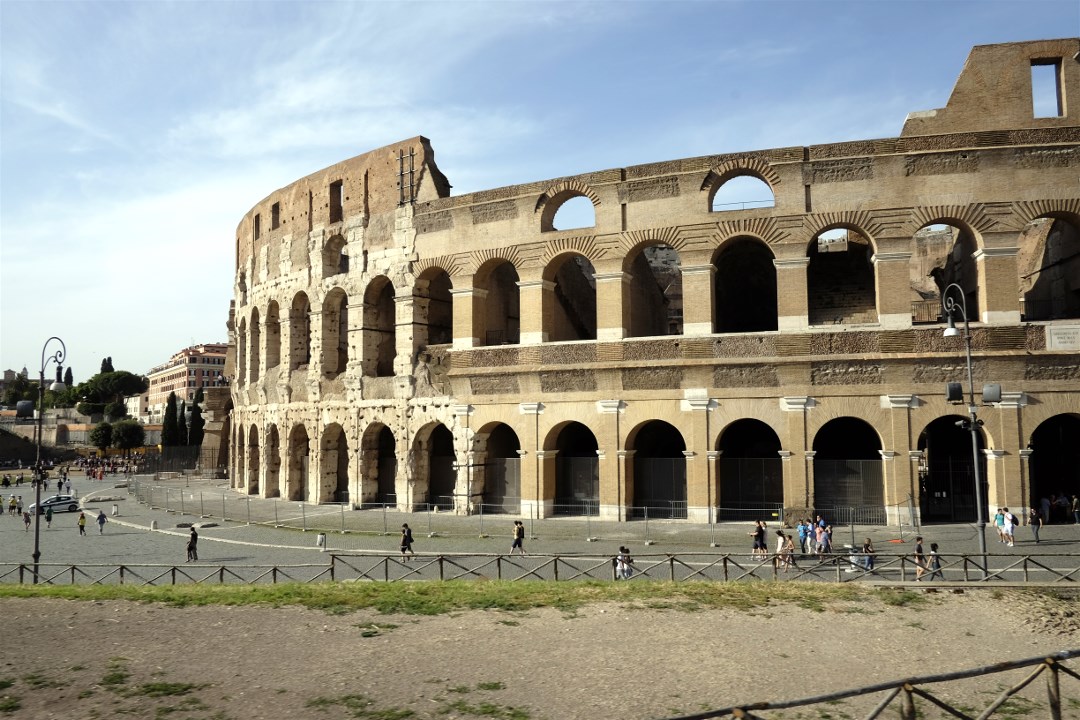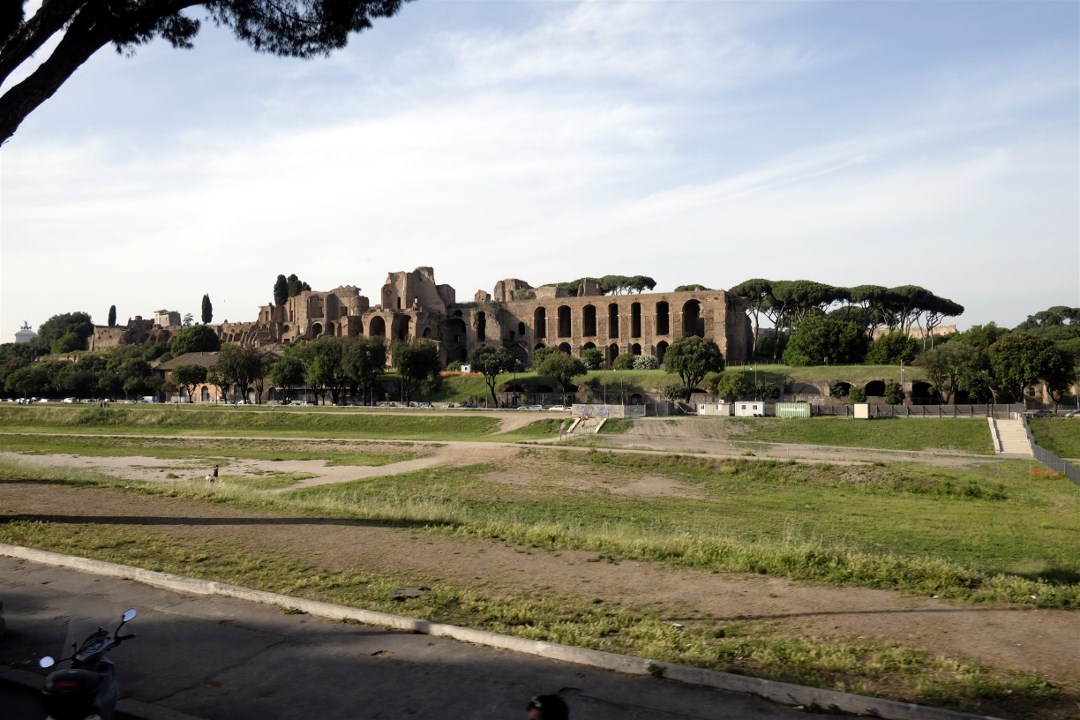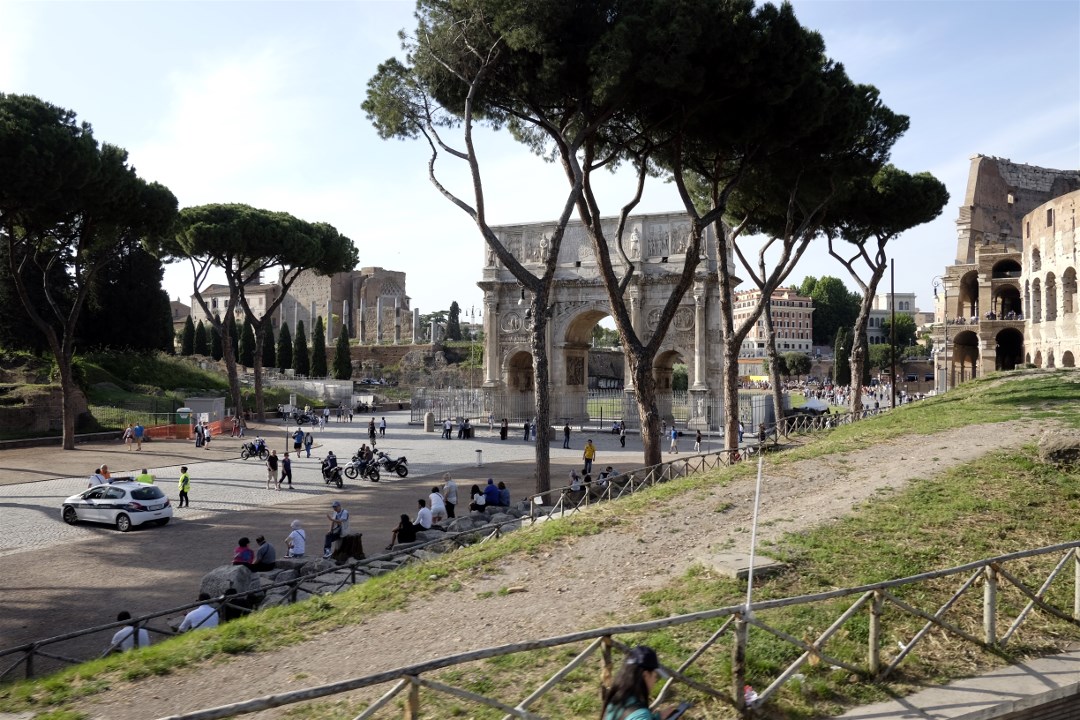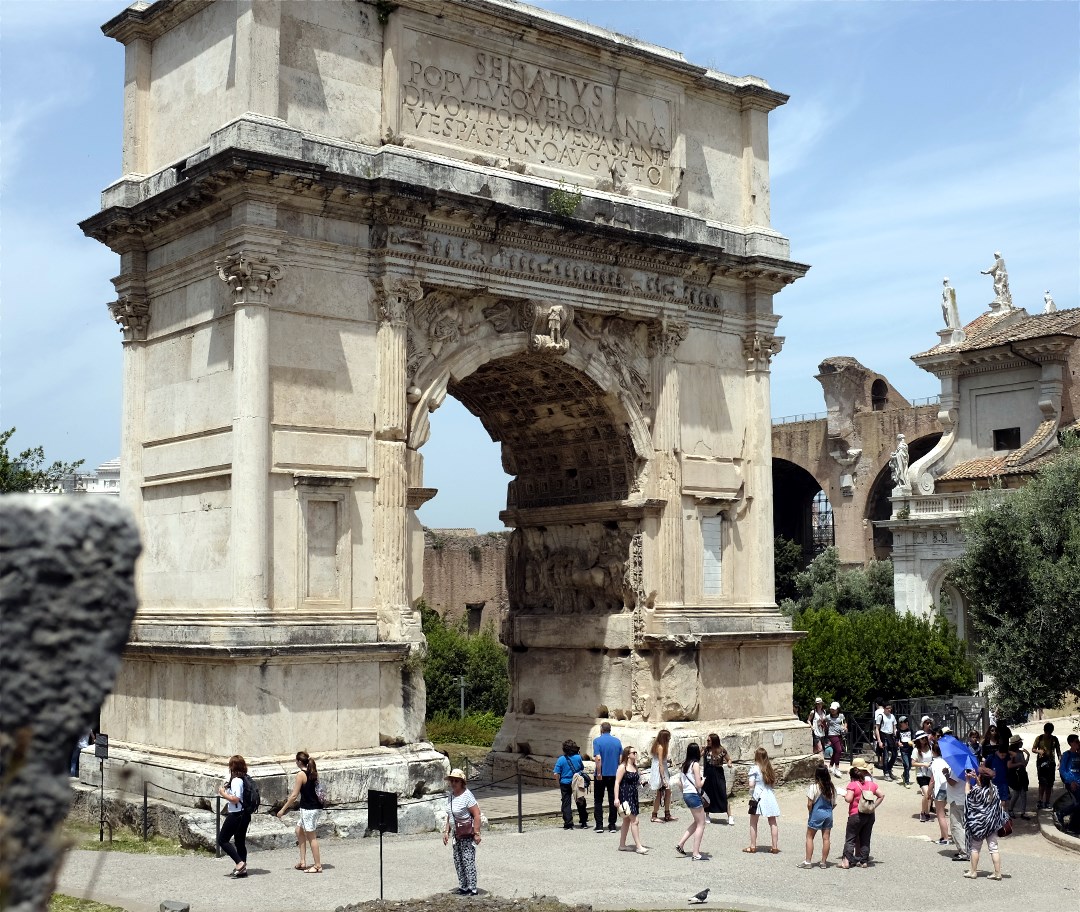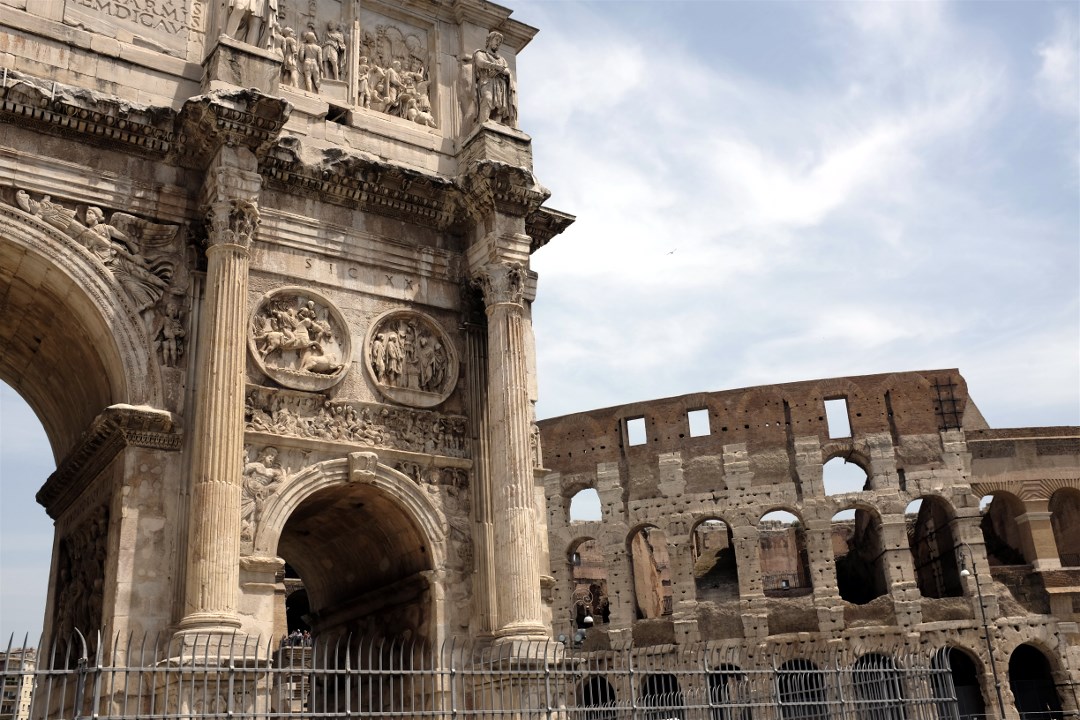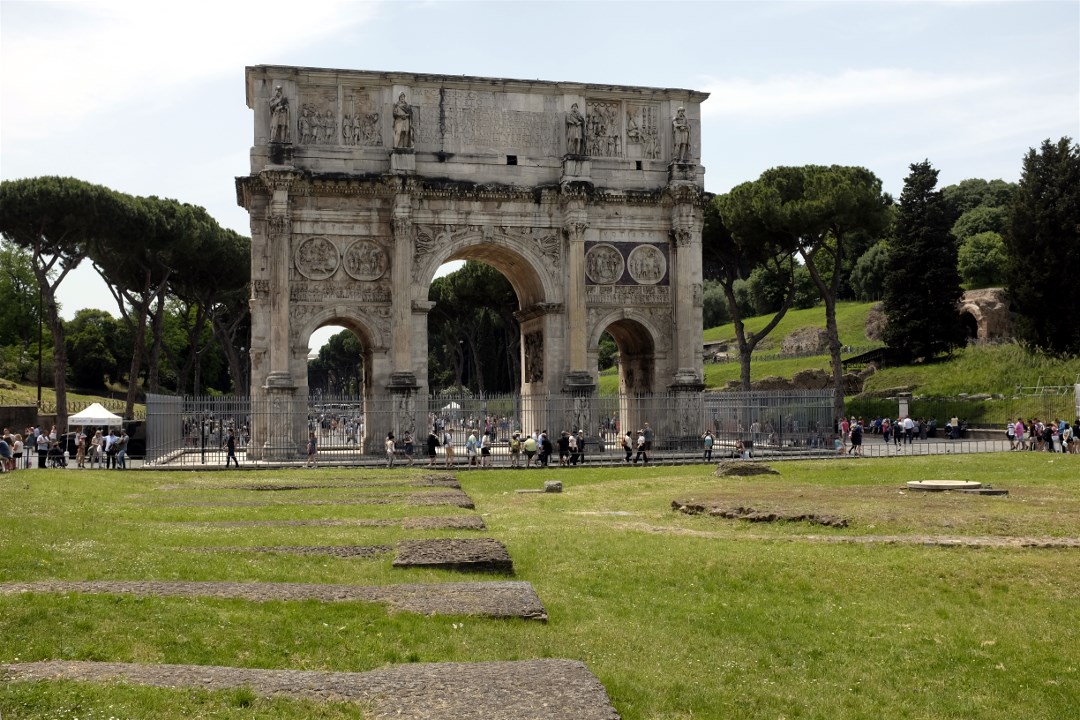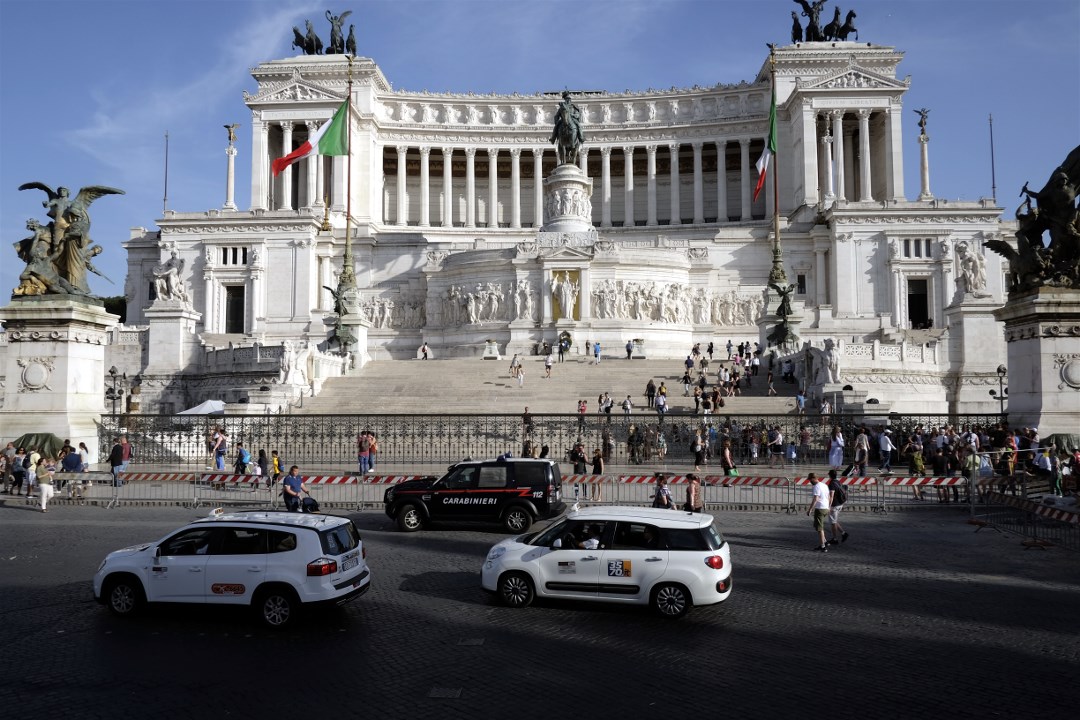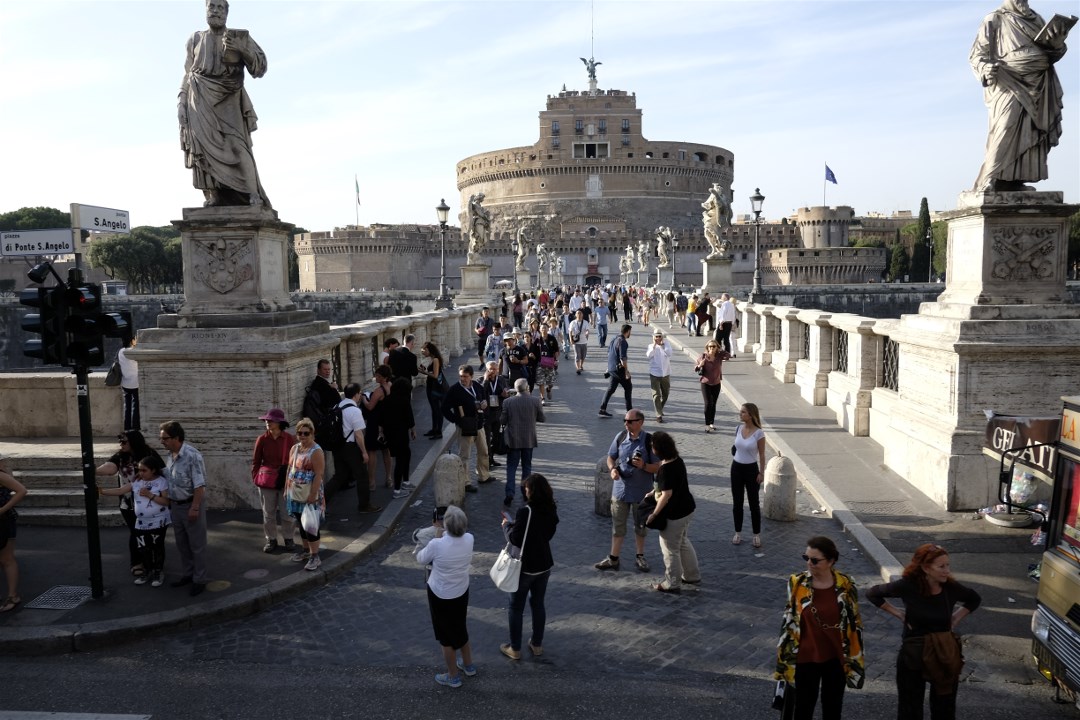 The Vatican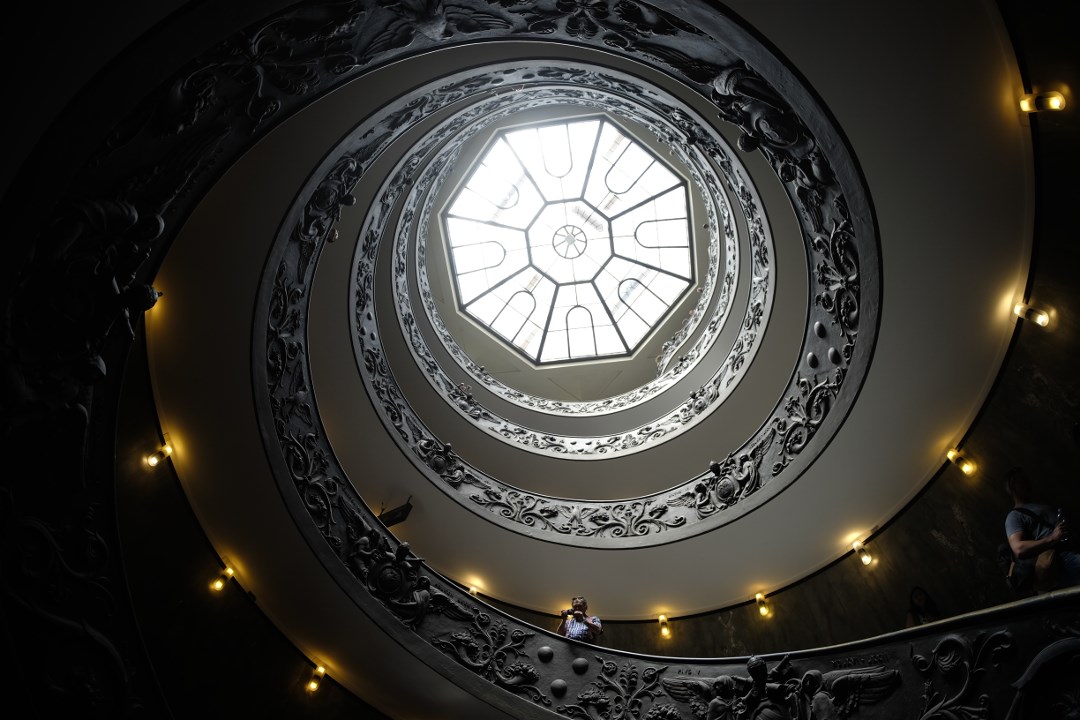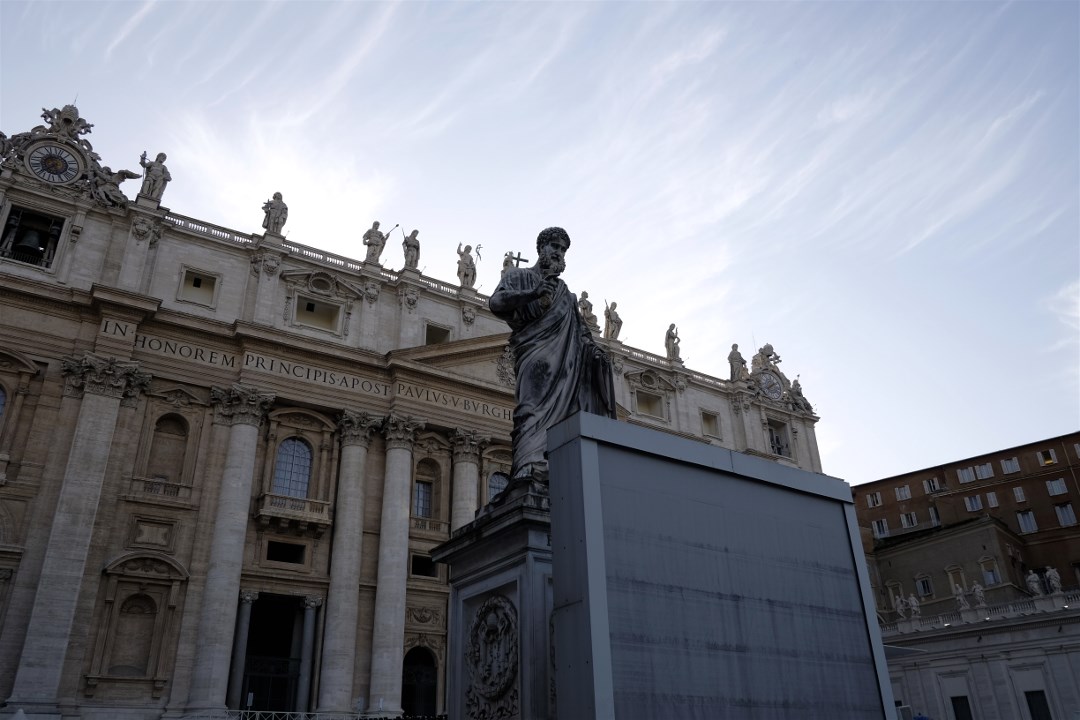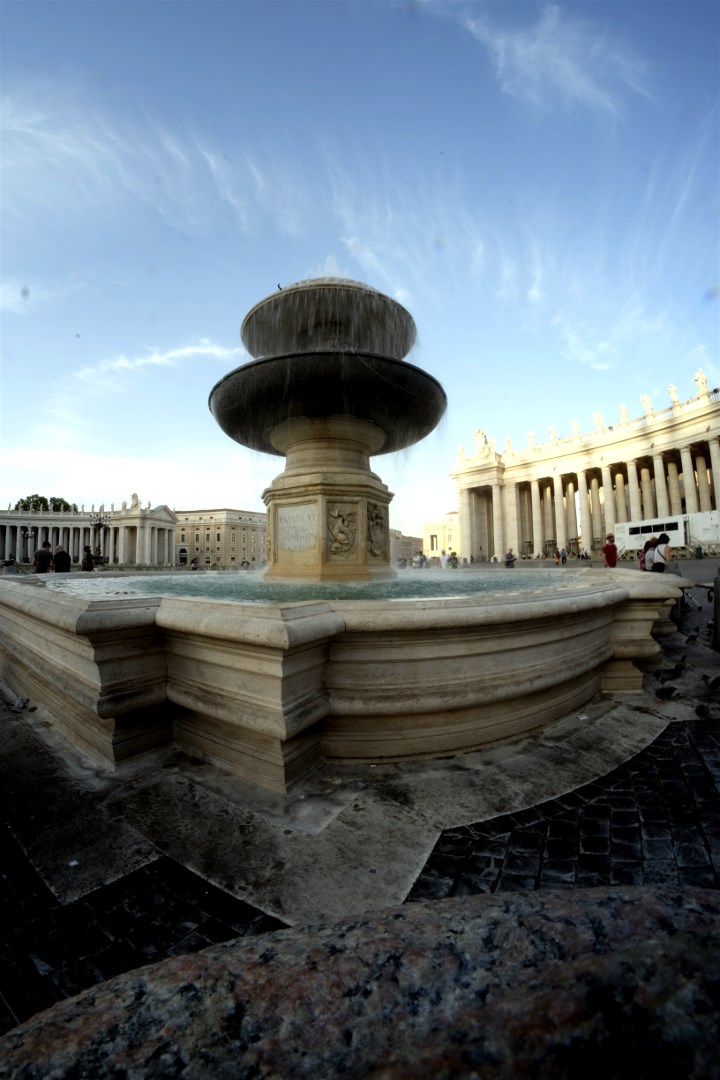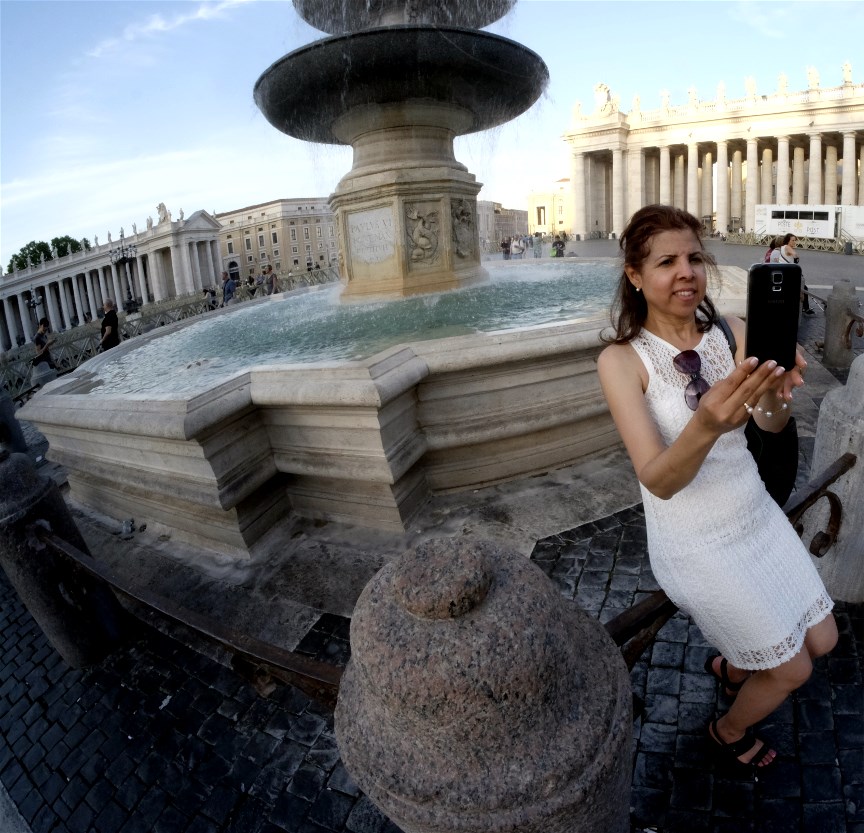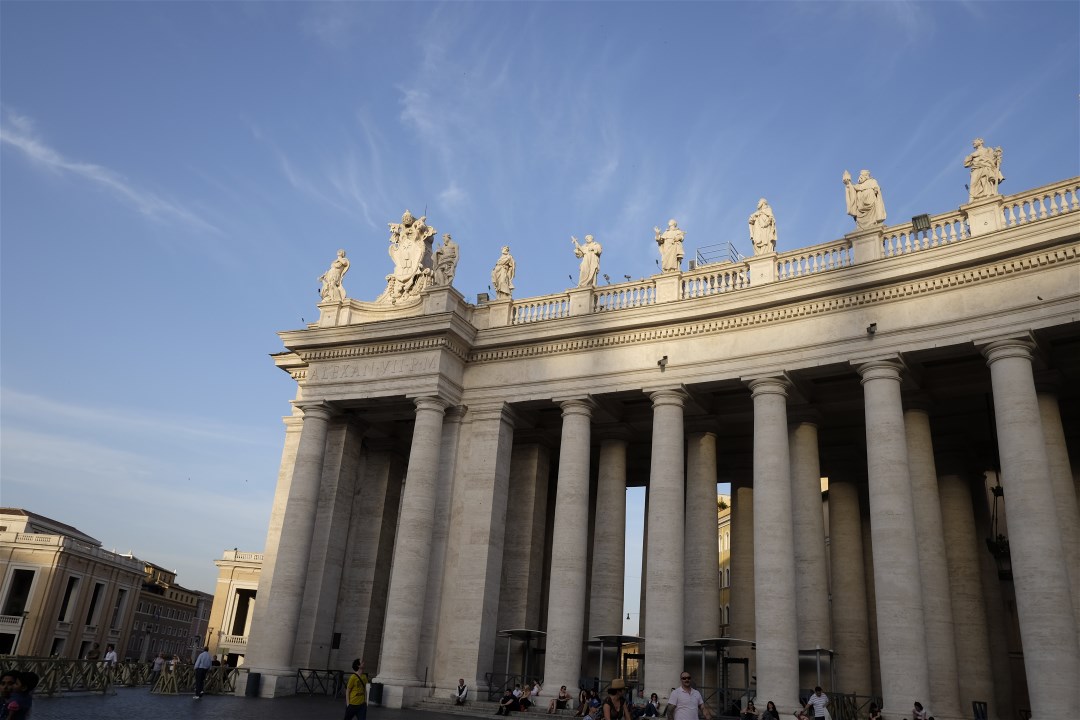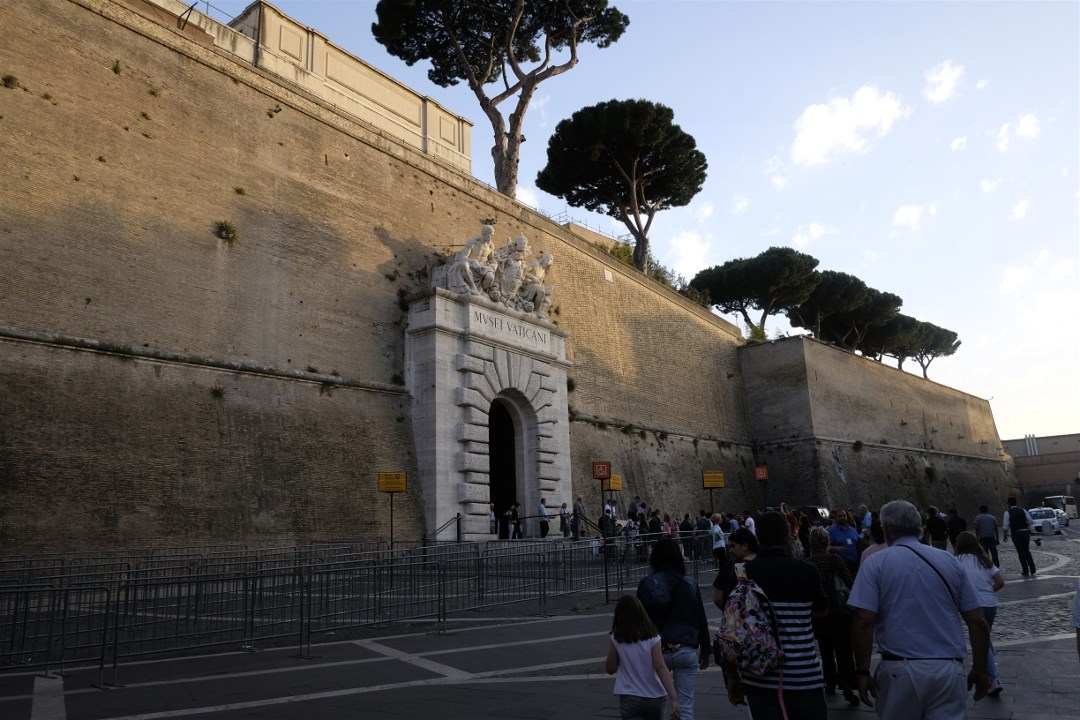 The Pieta
Sorry this one is blurry. Some numbskull tried to destroy it several years ago. Now it is behind a plexiglas barrier and cordoned off from the crowds.
I did not have a telephoto lens or tripod. This is the best hand held effort under dim light shot through plexiglas I could manage.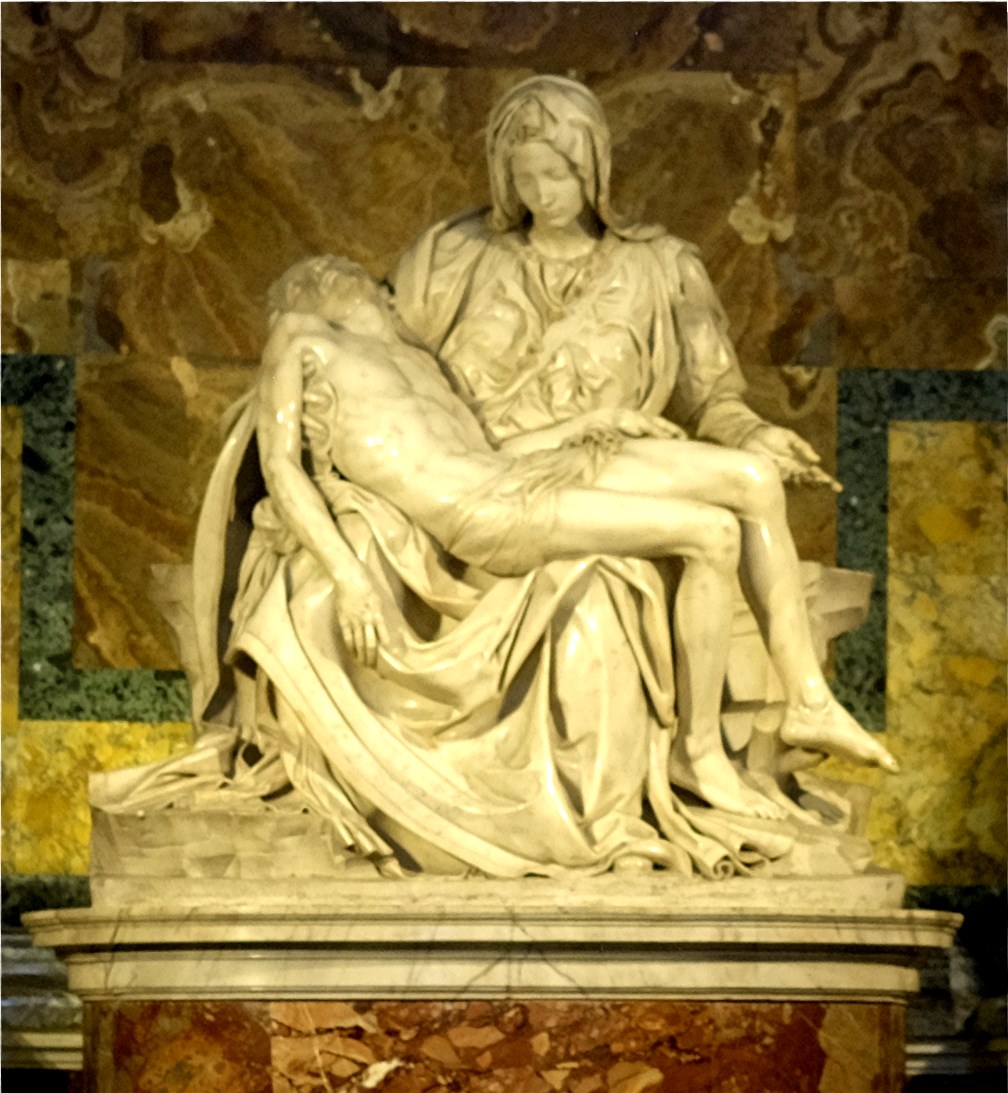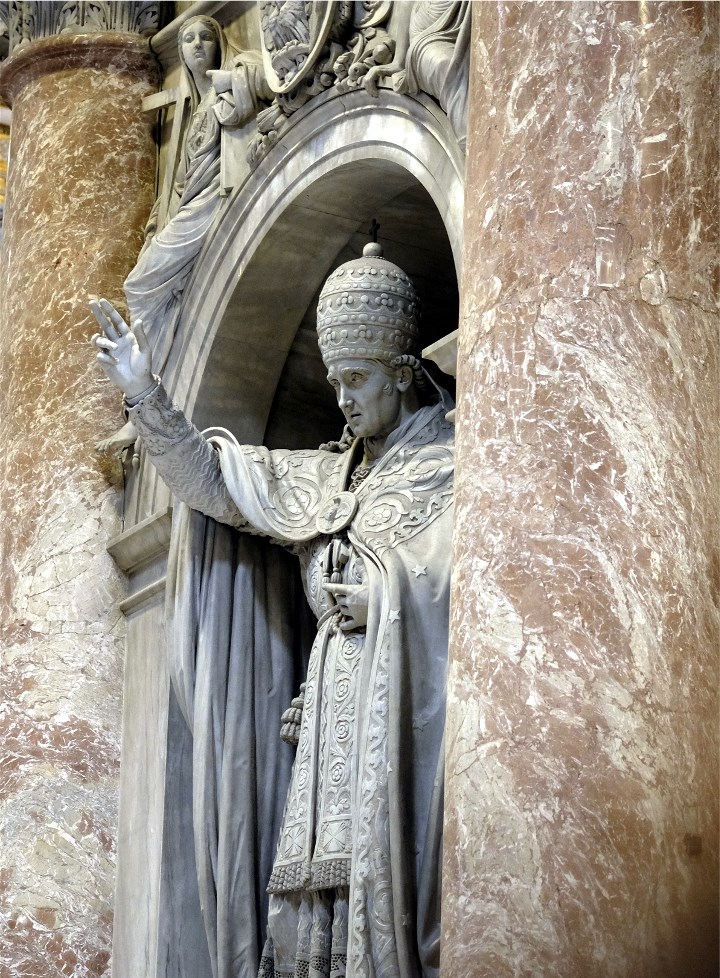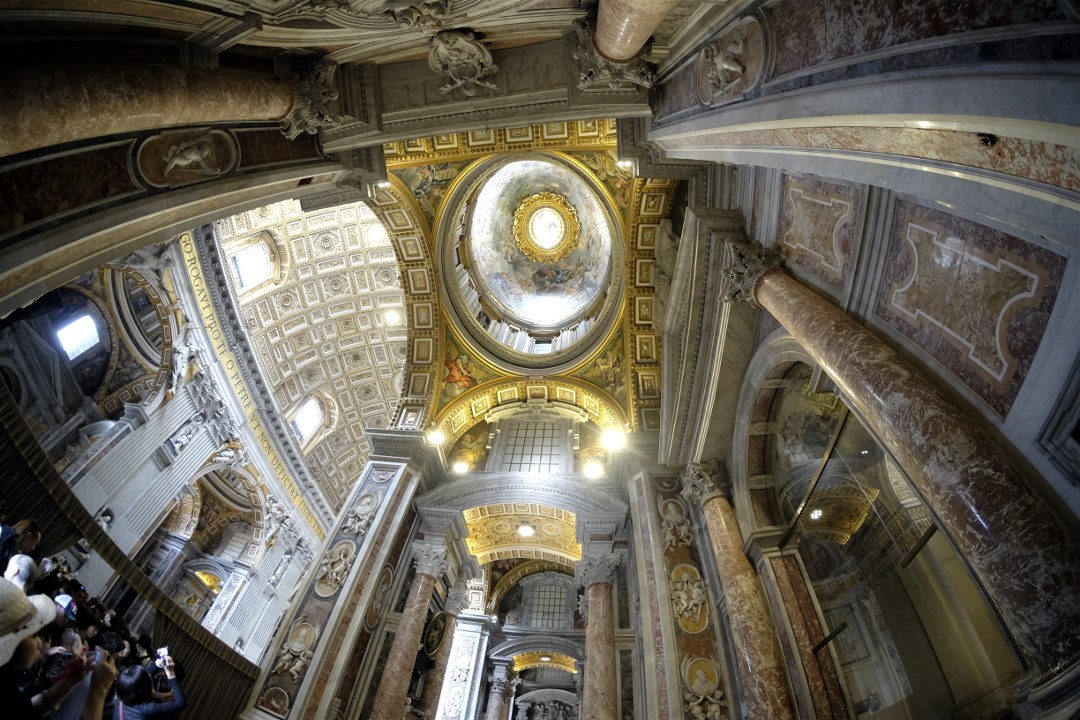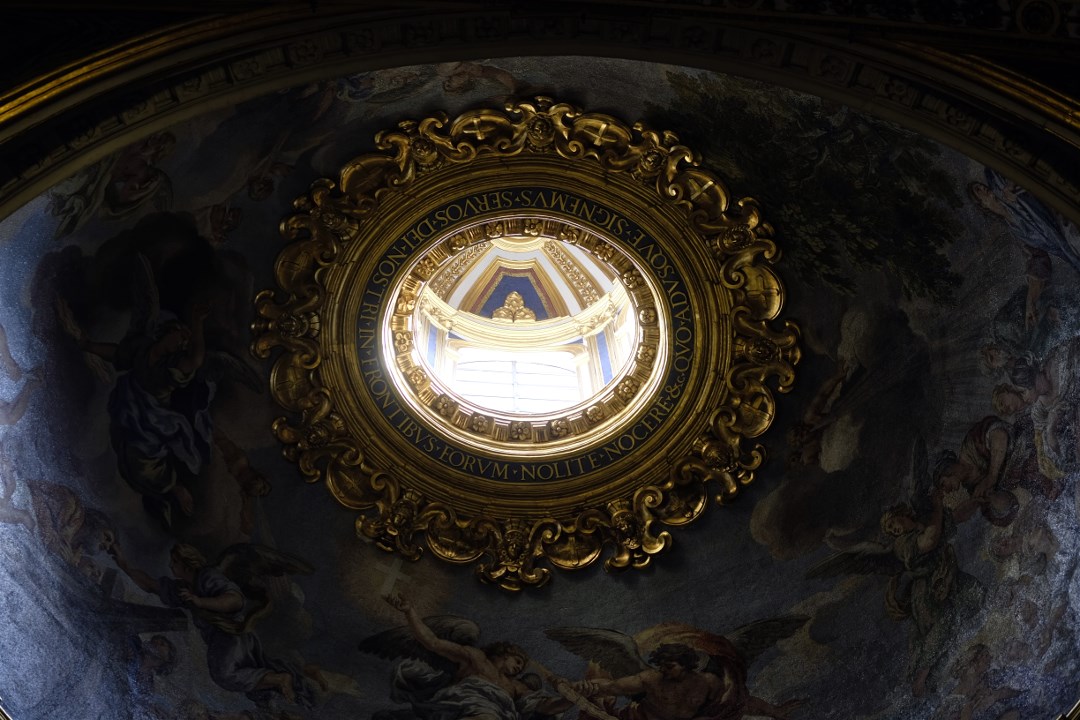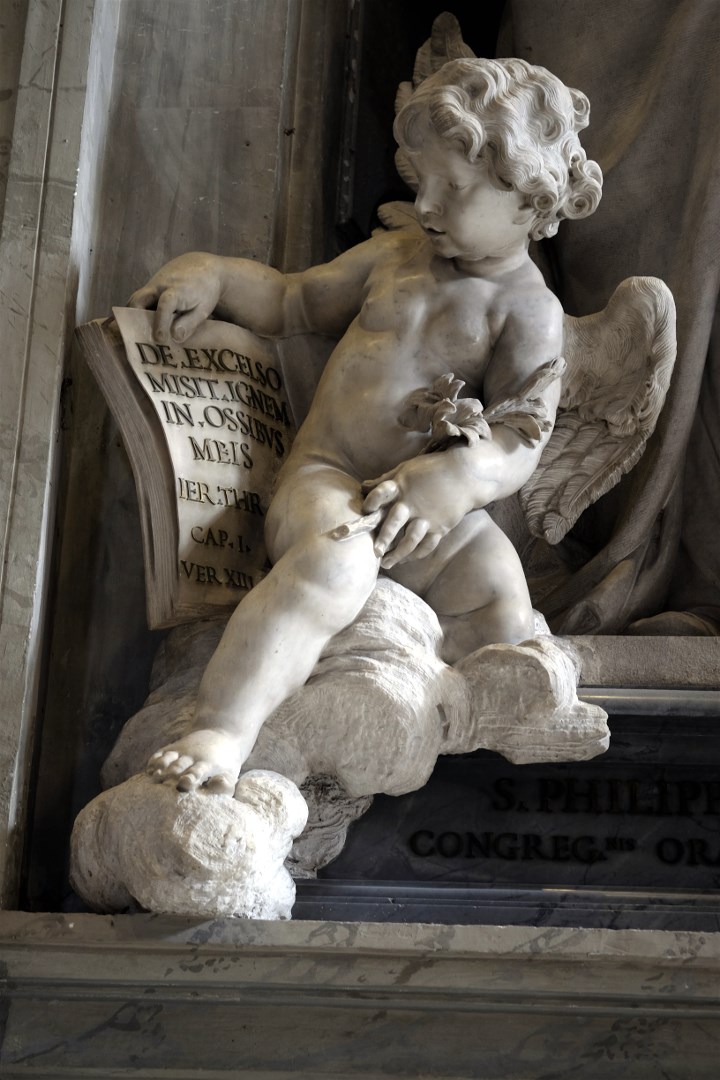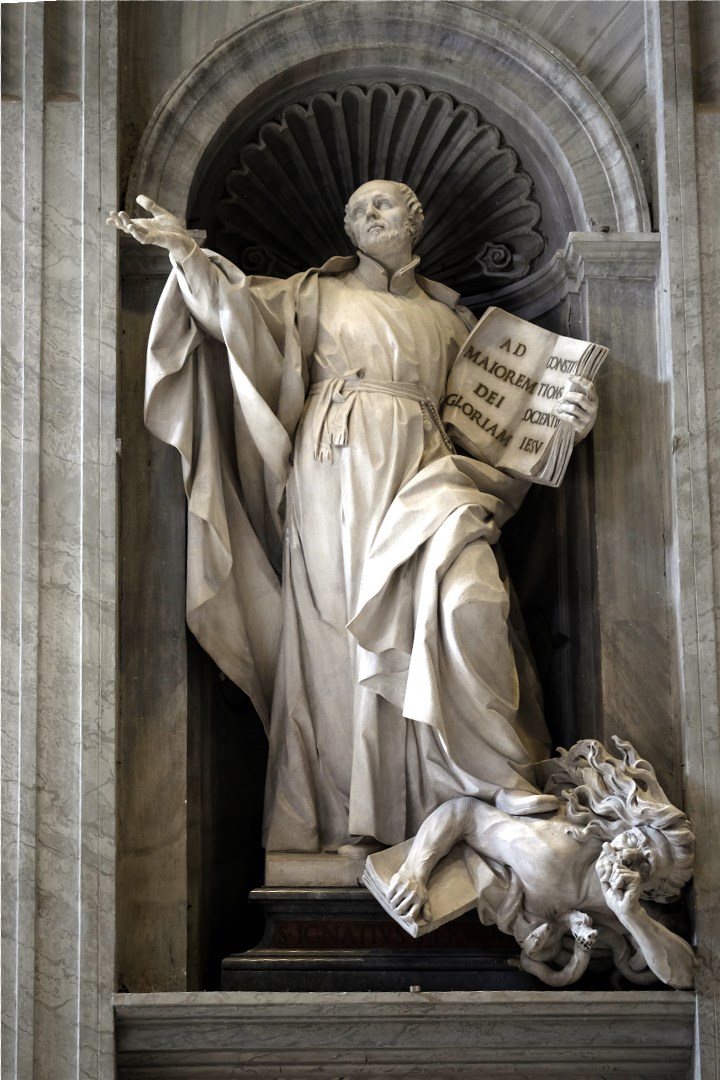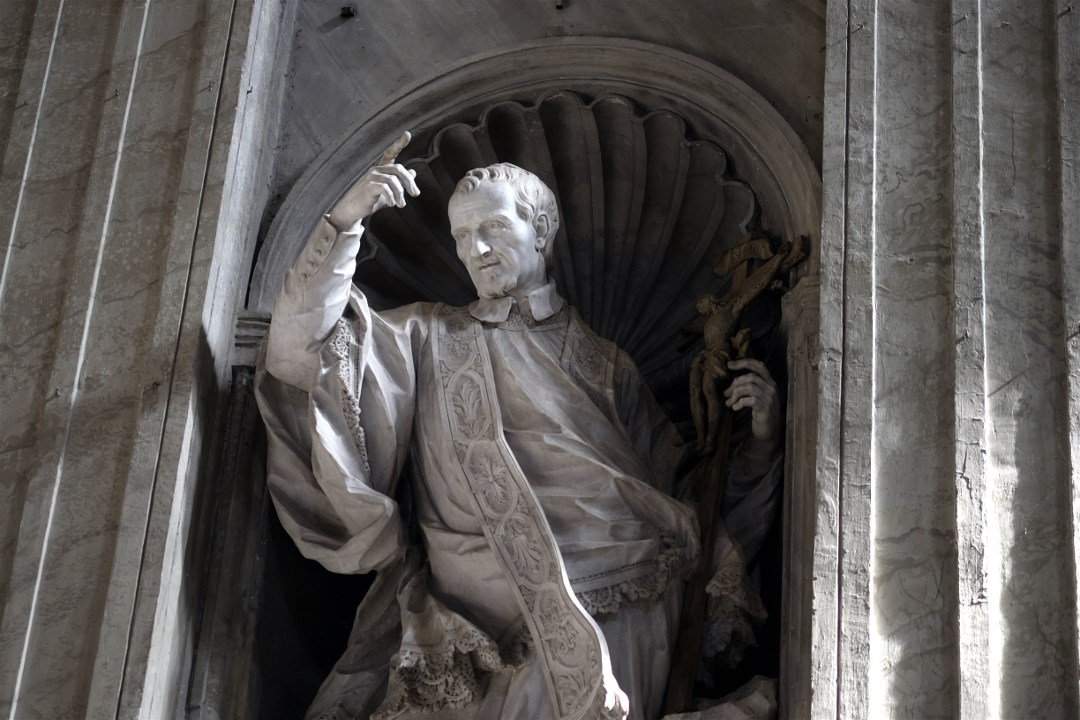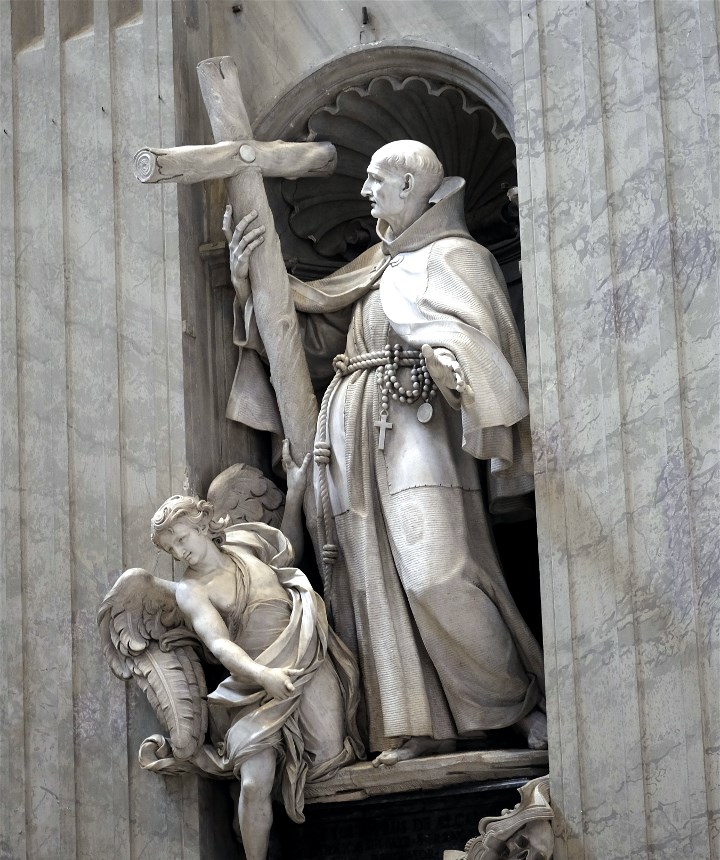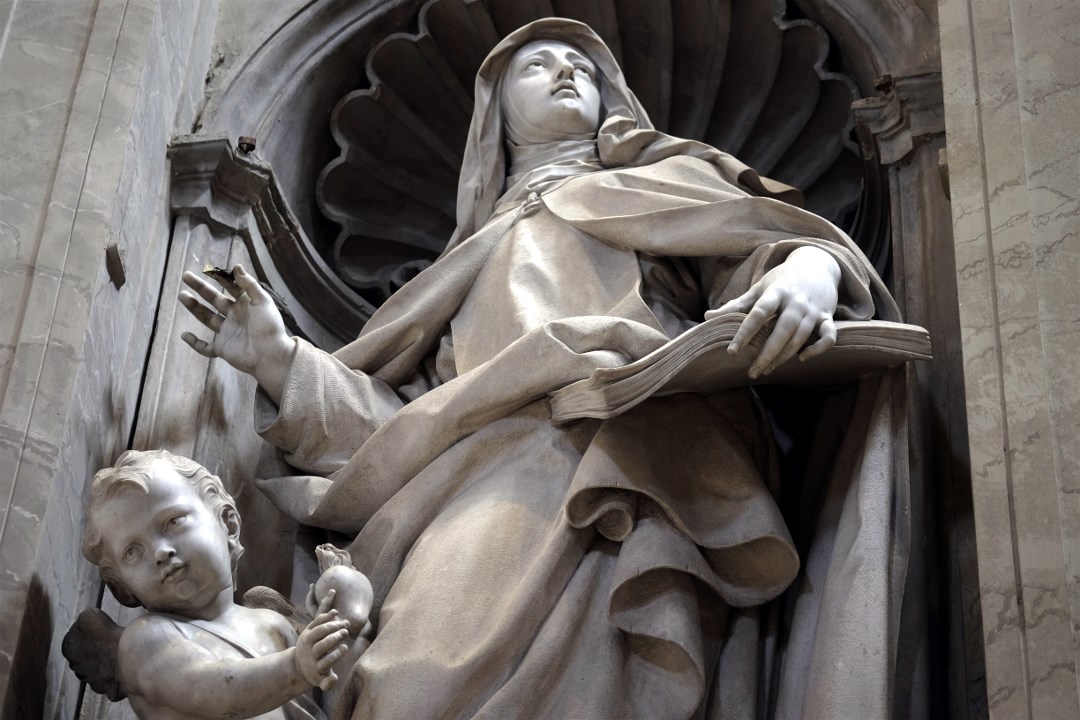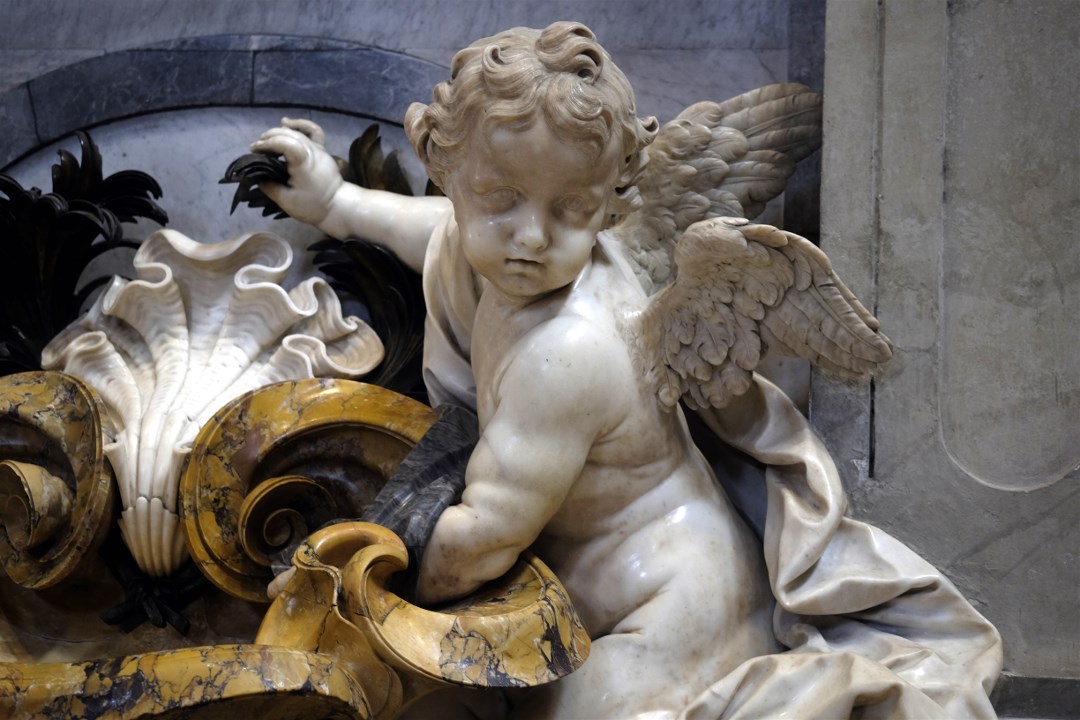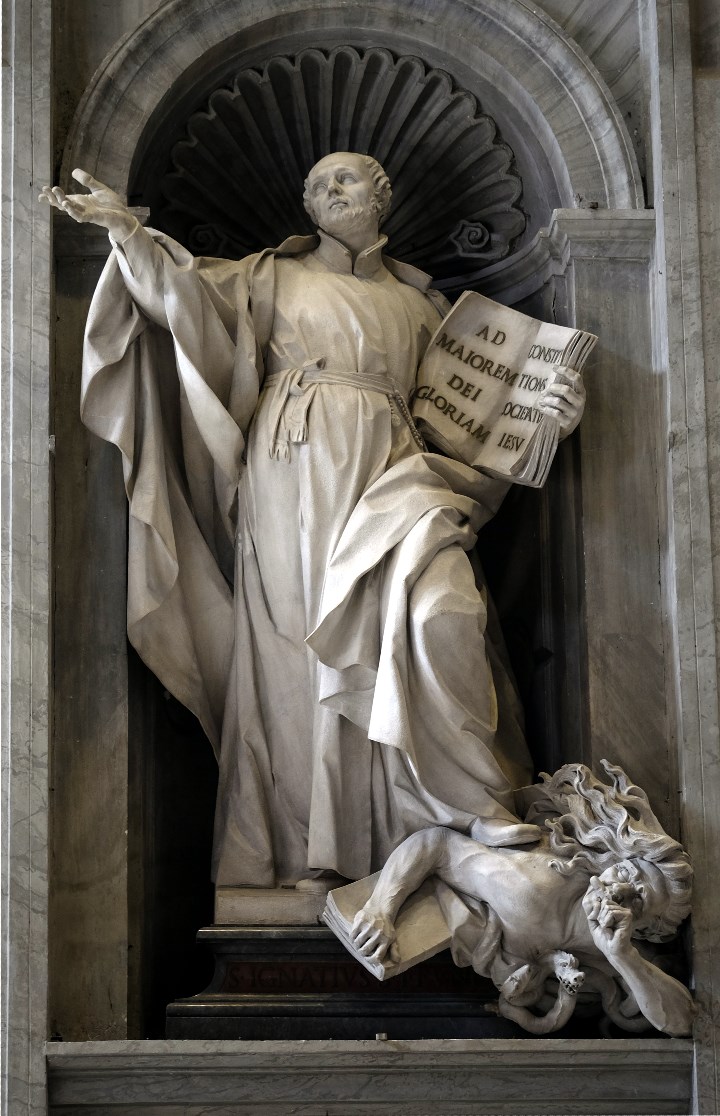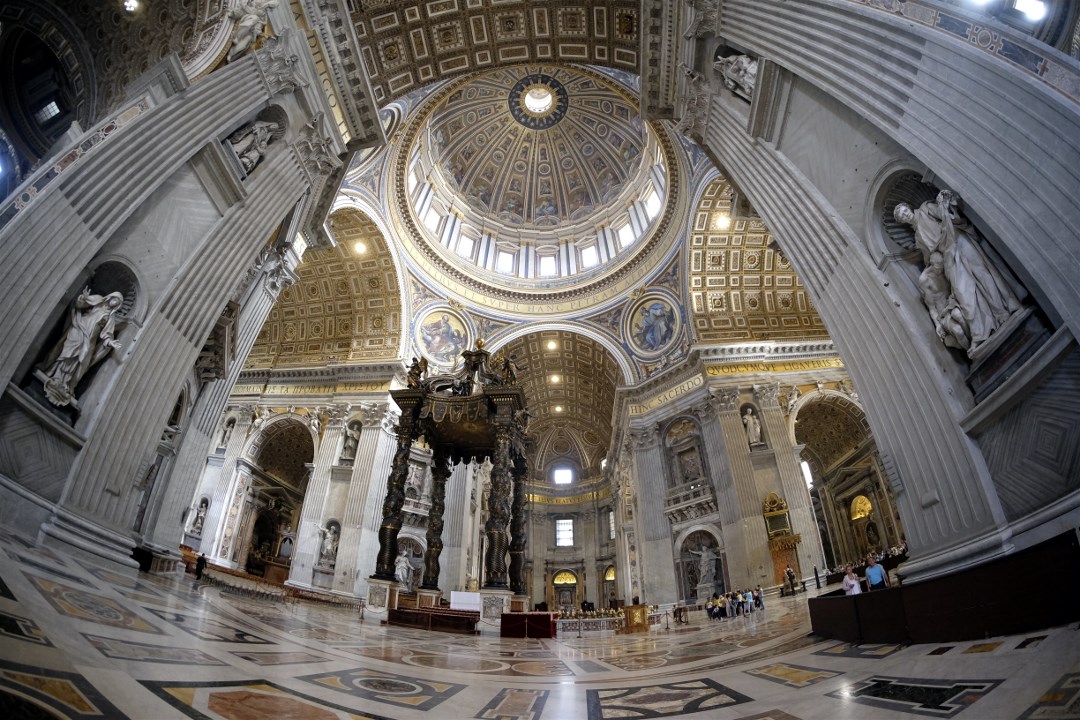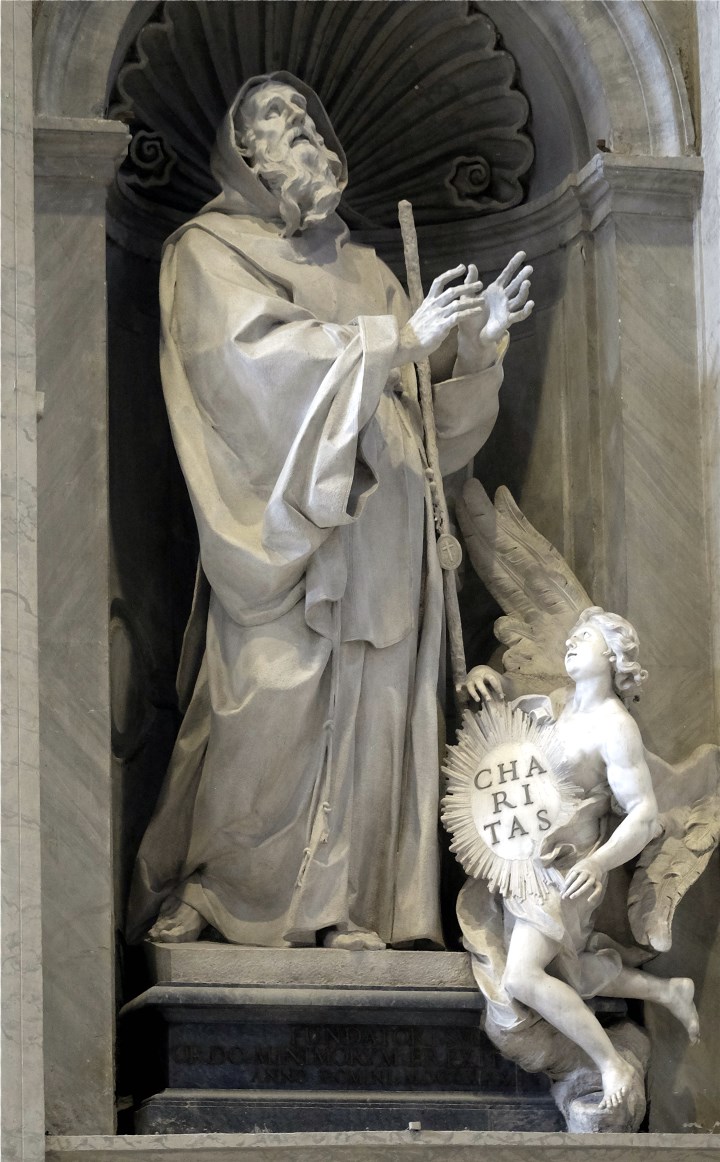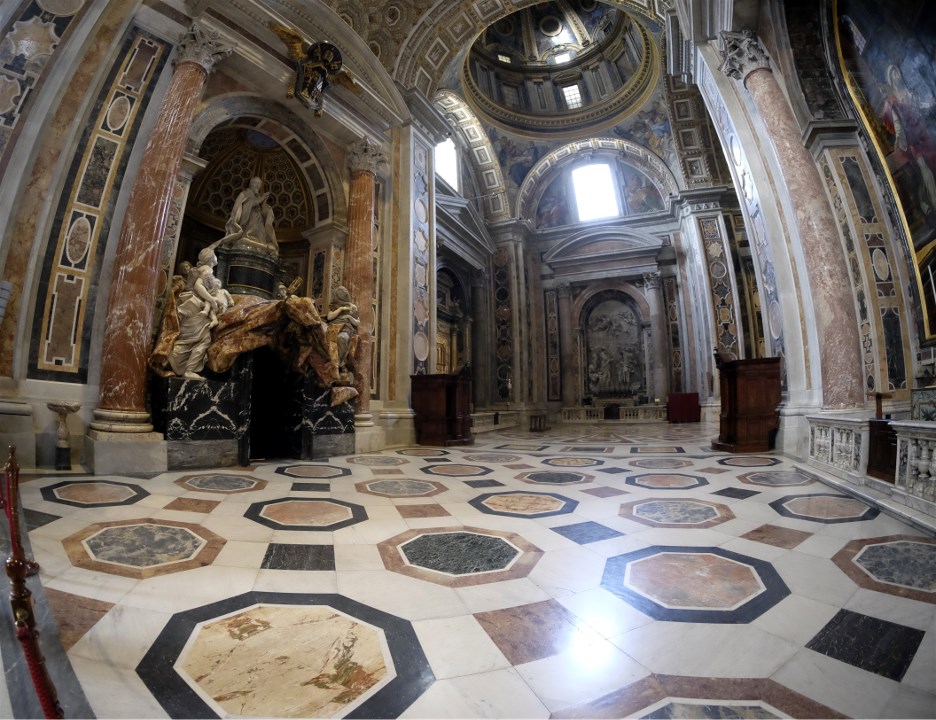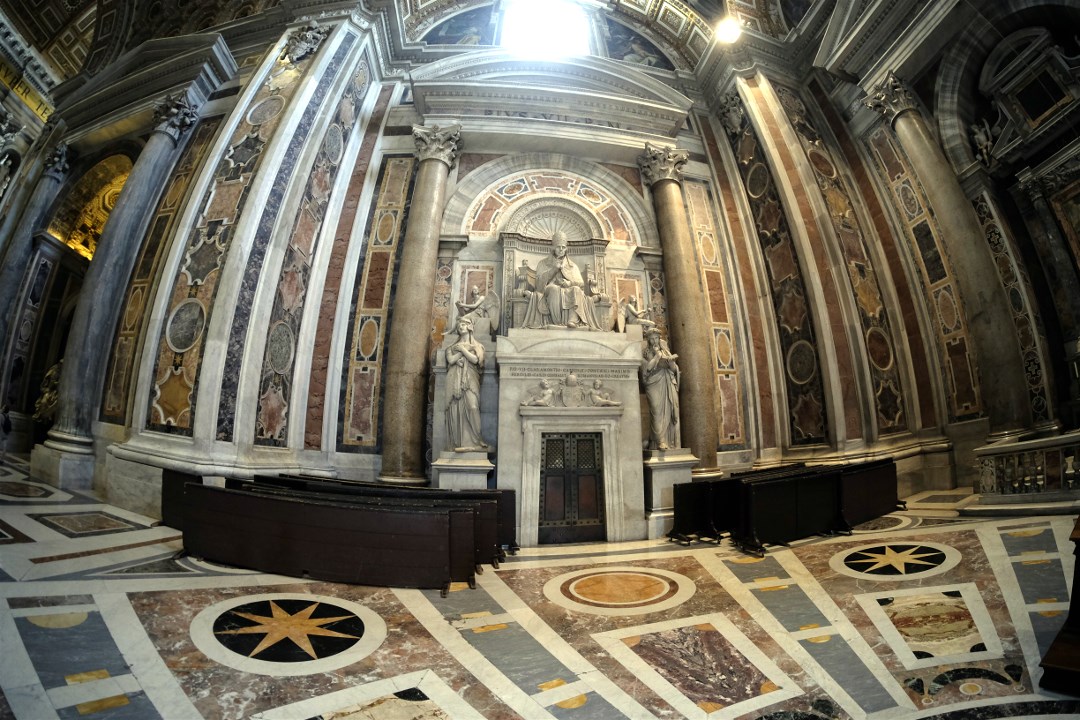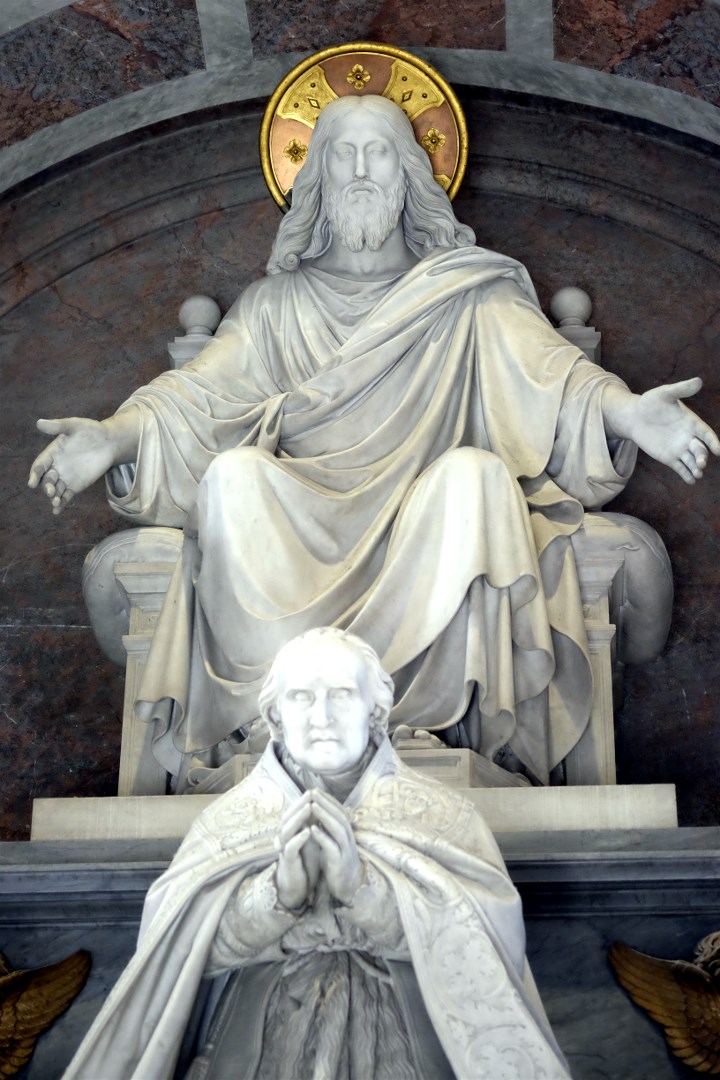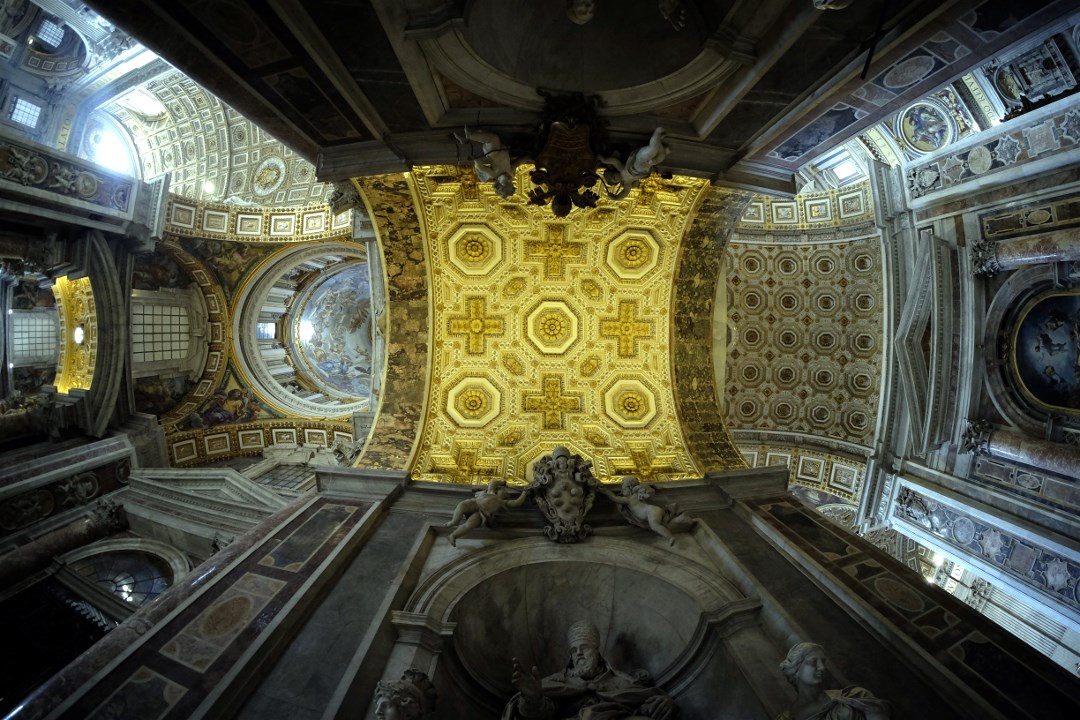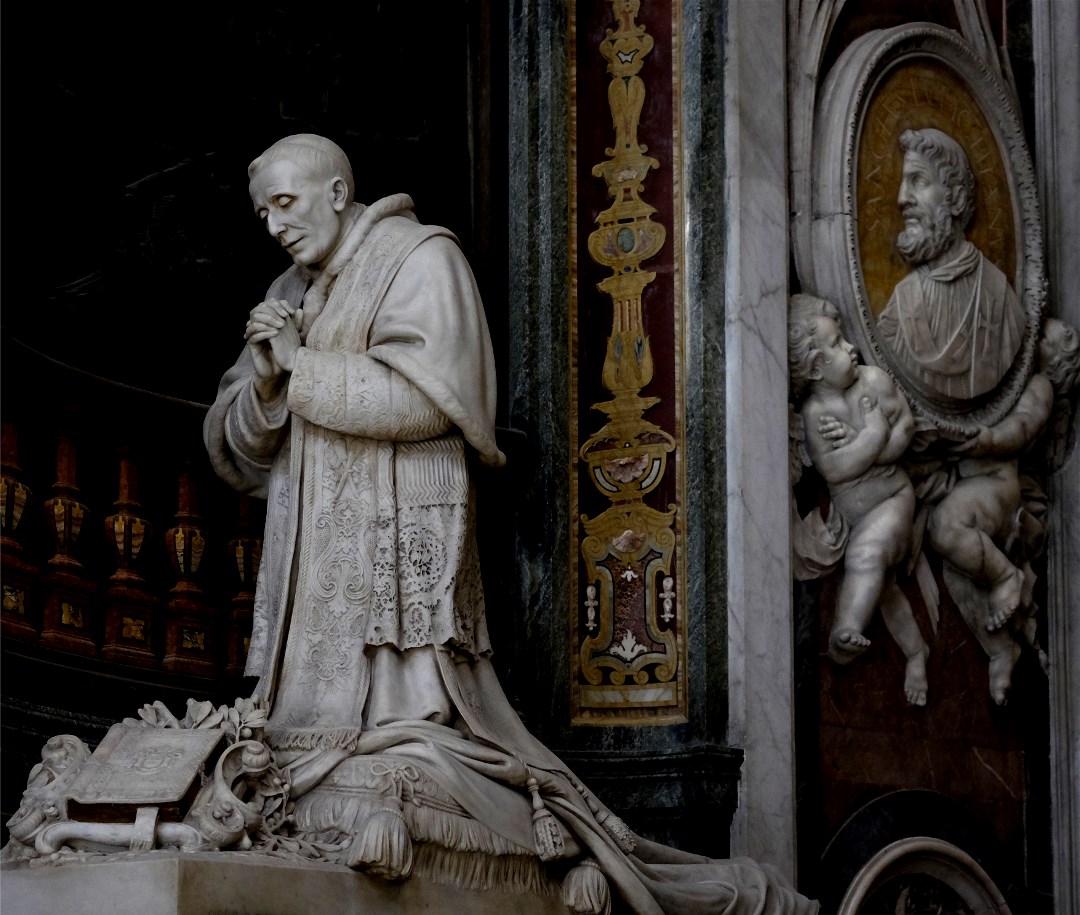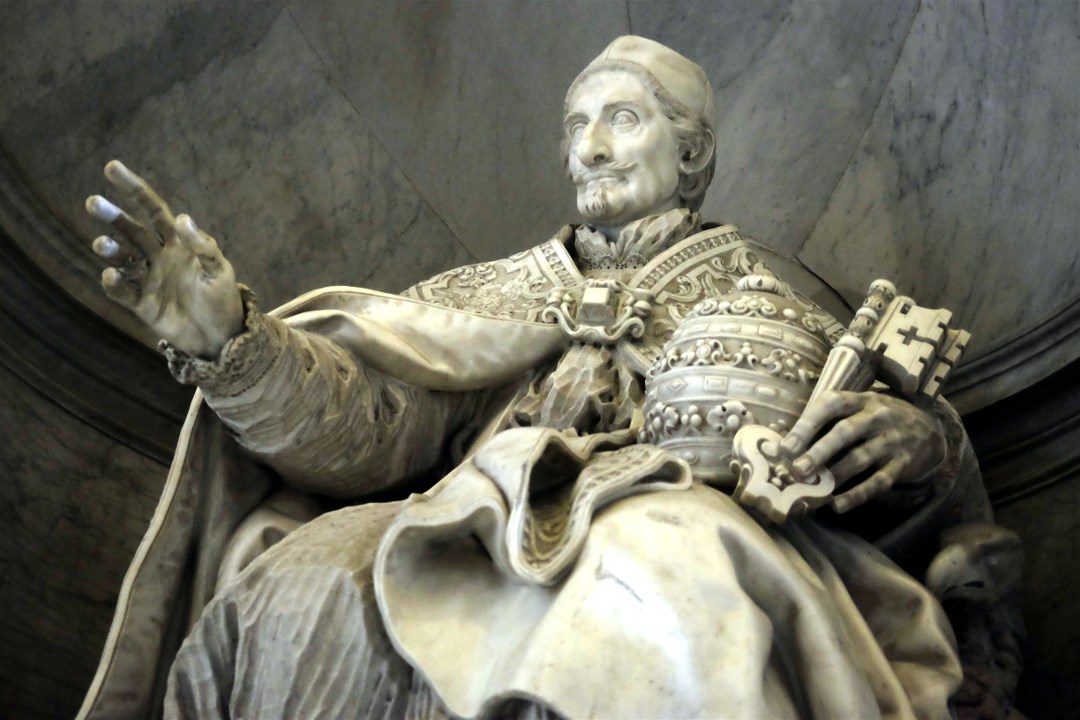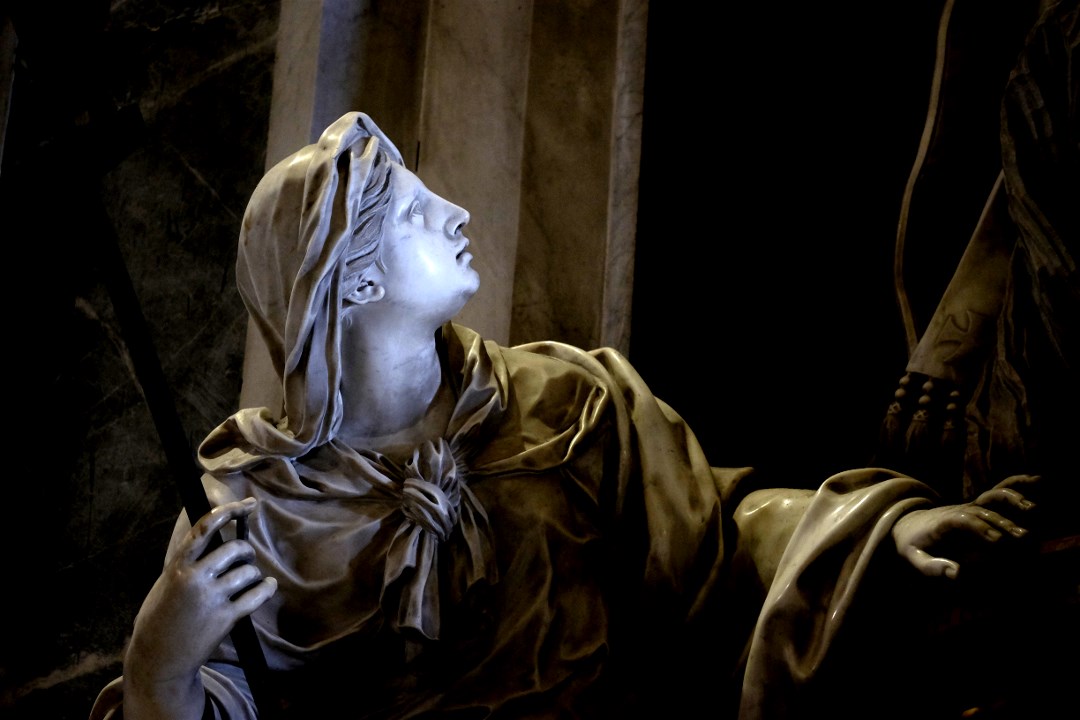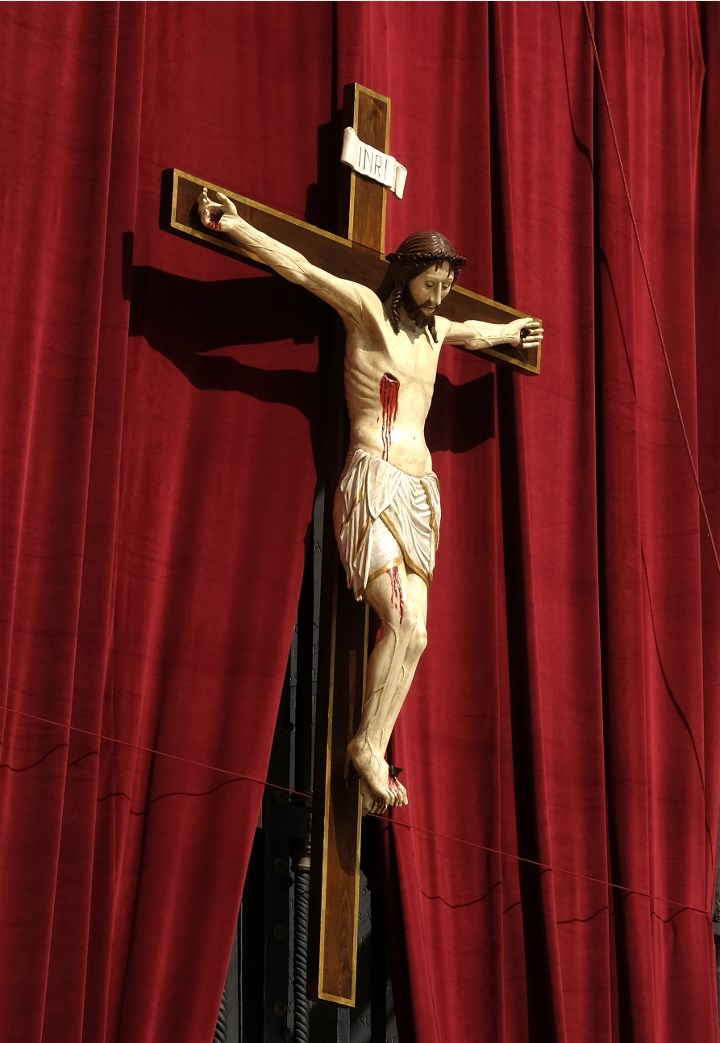 Vatican Museum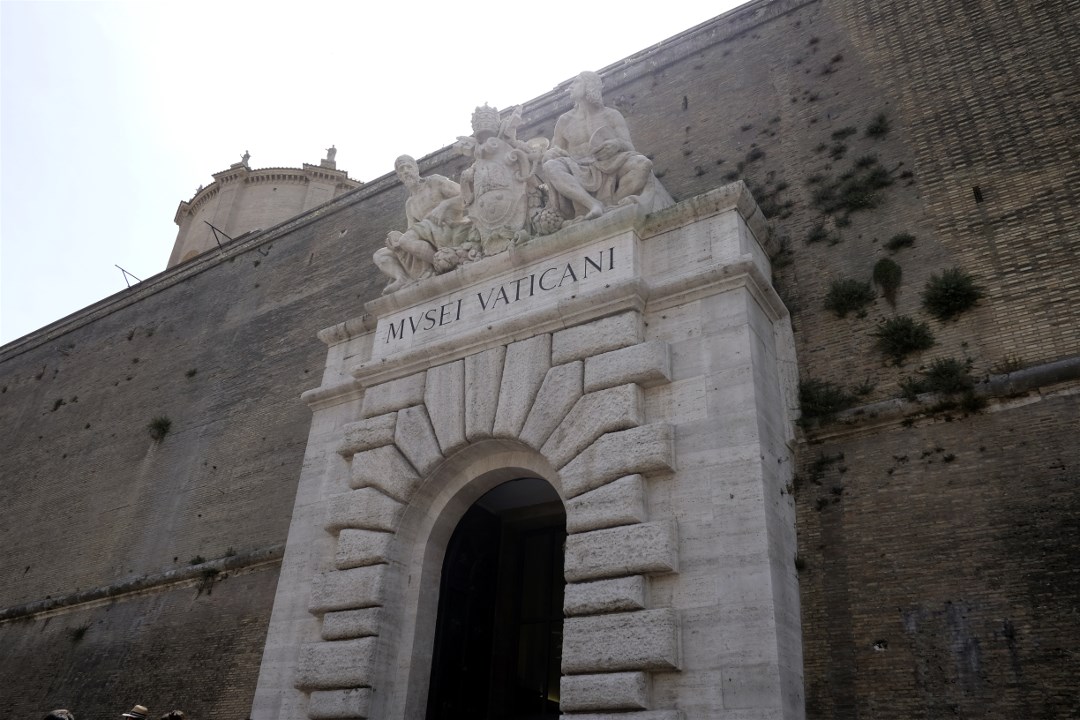 Not a place for a leisurely stroll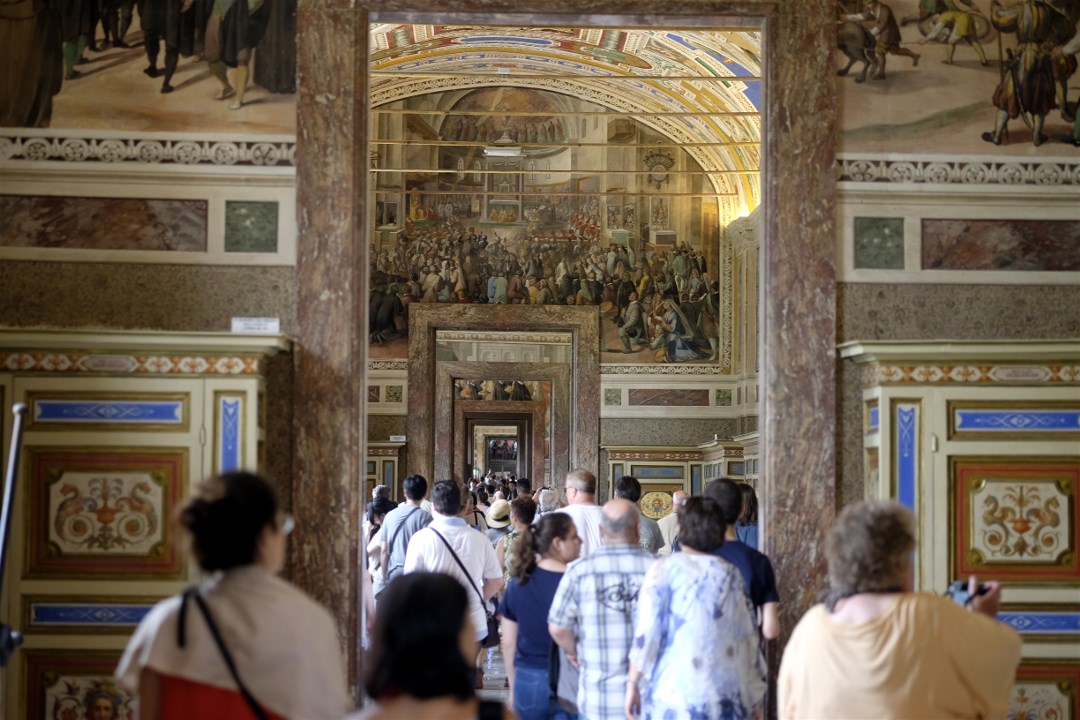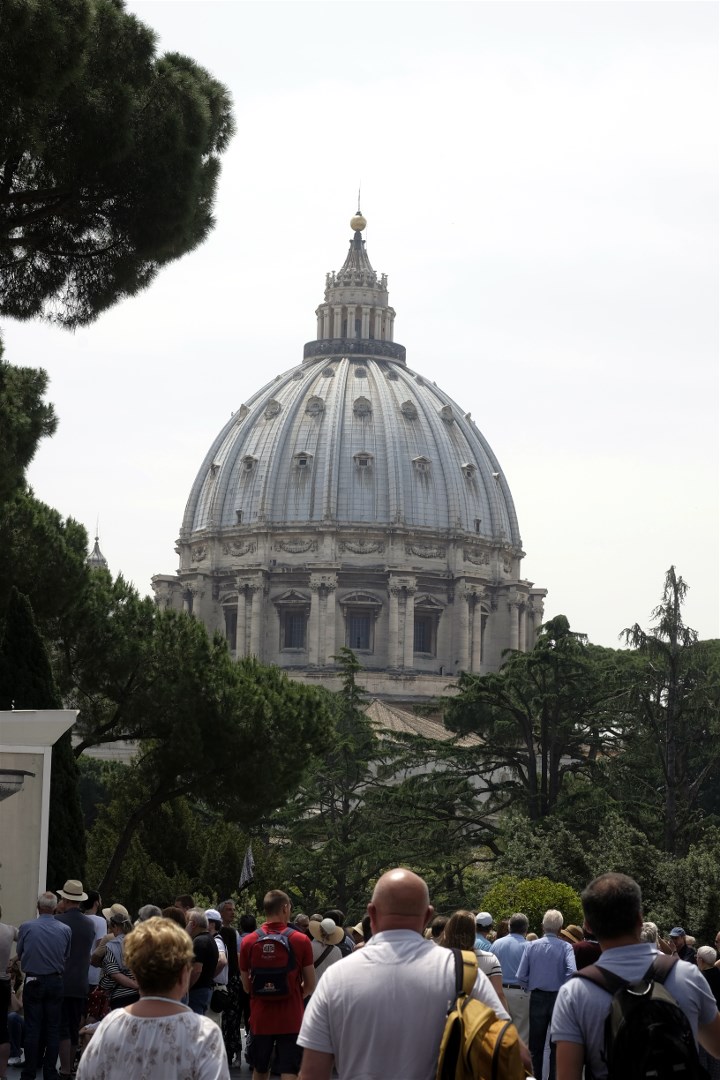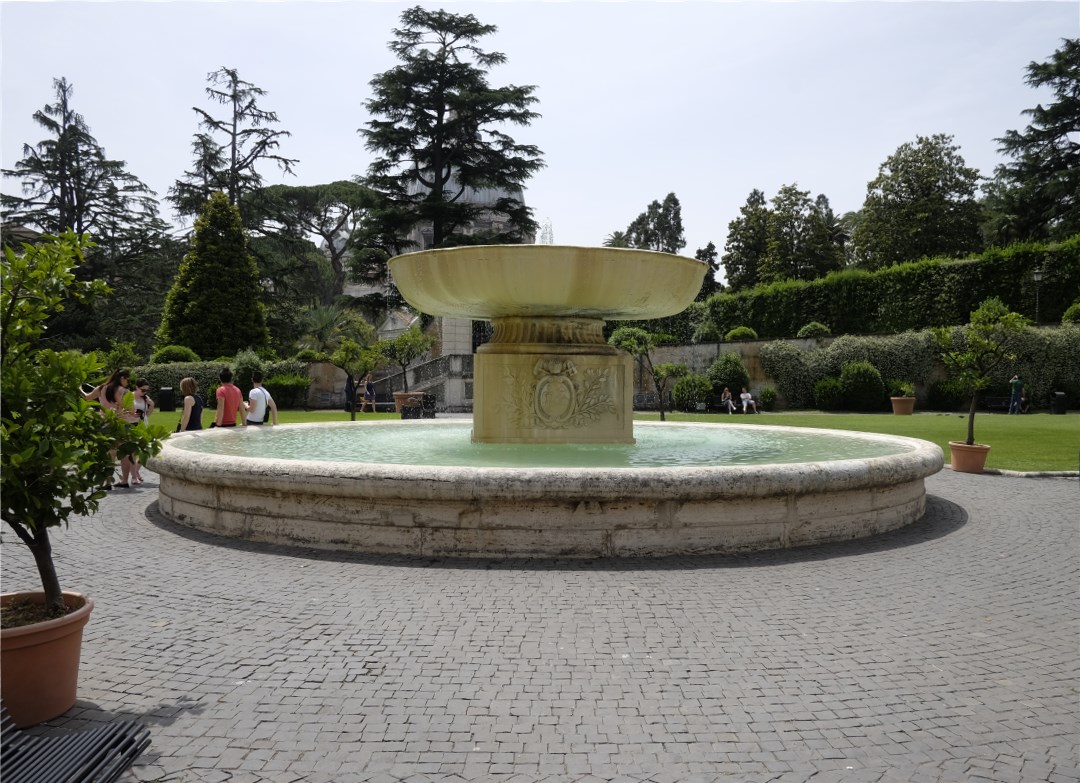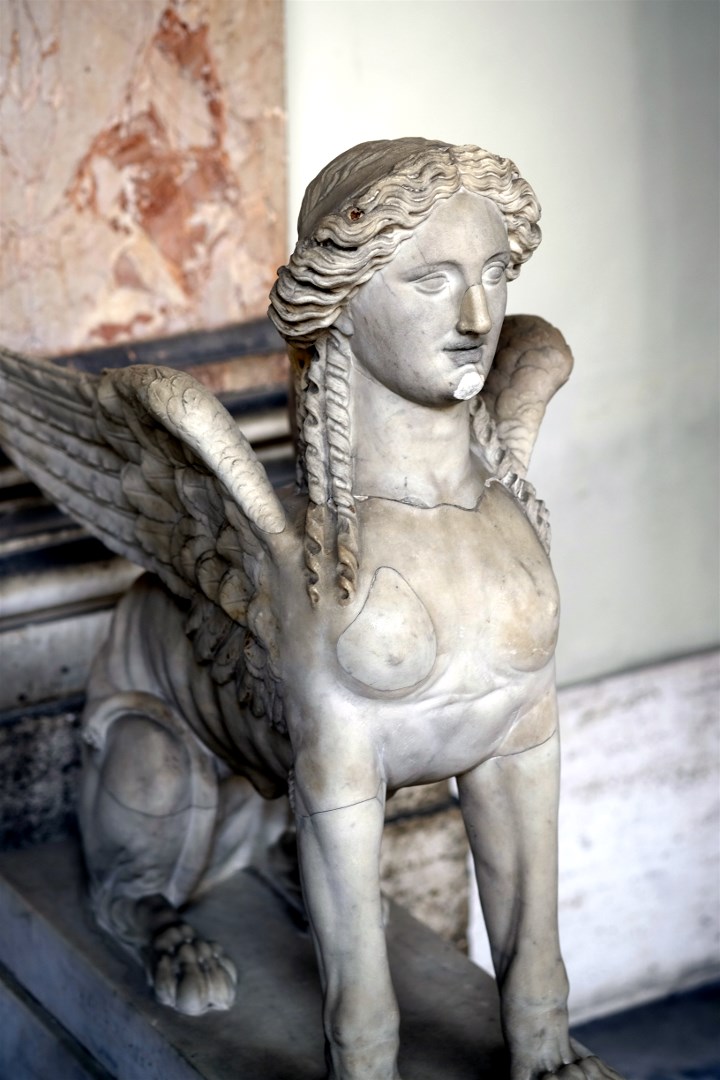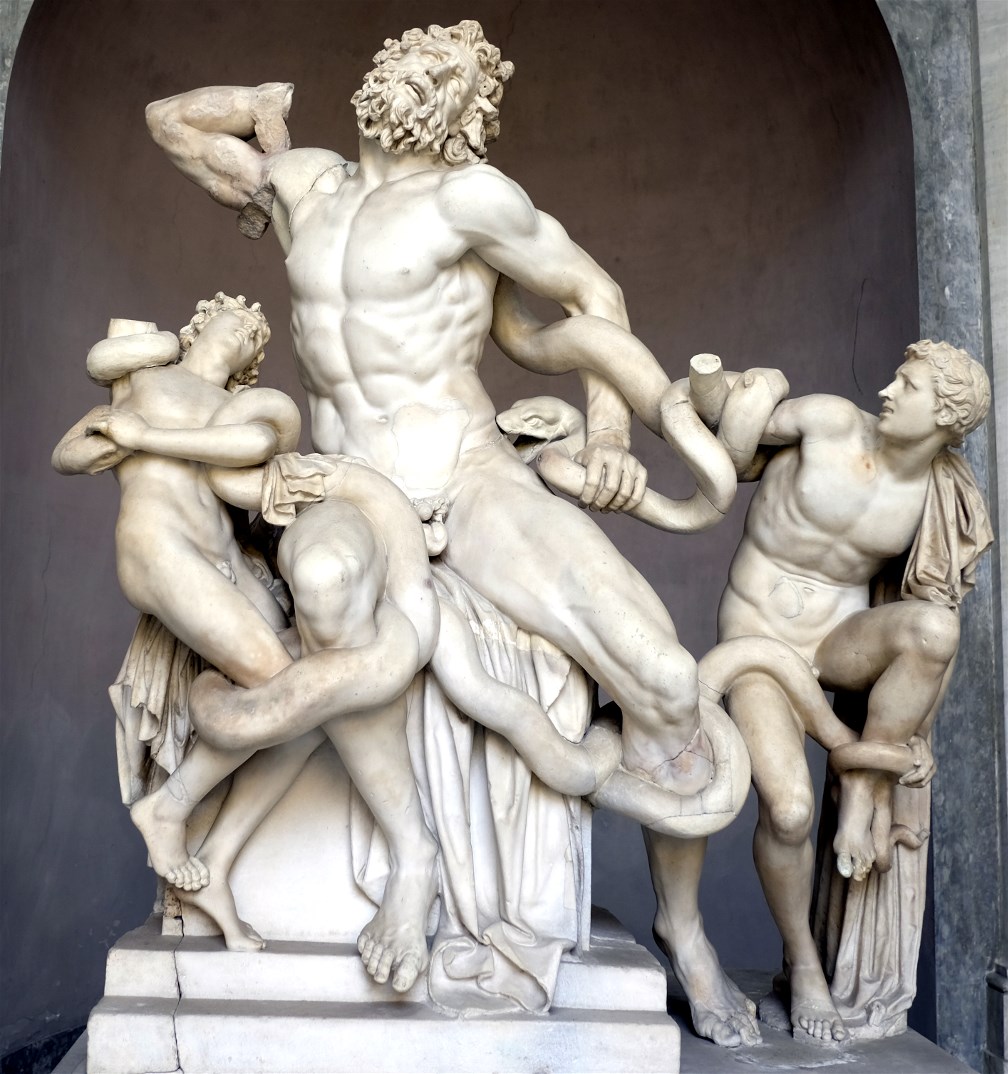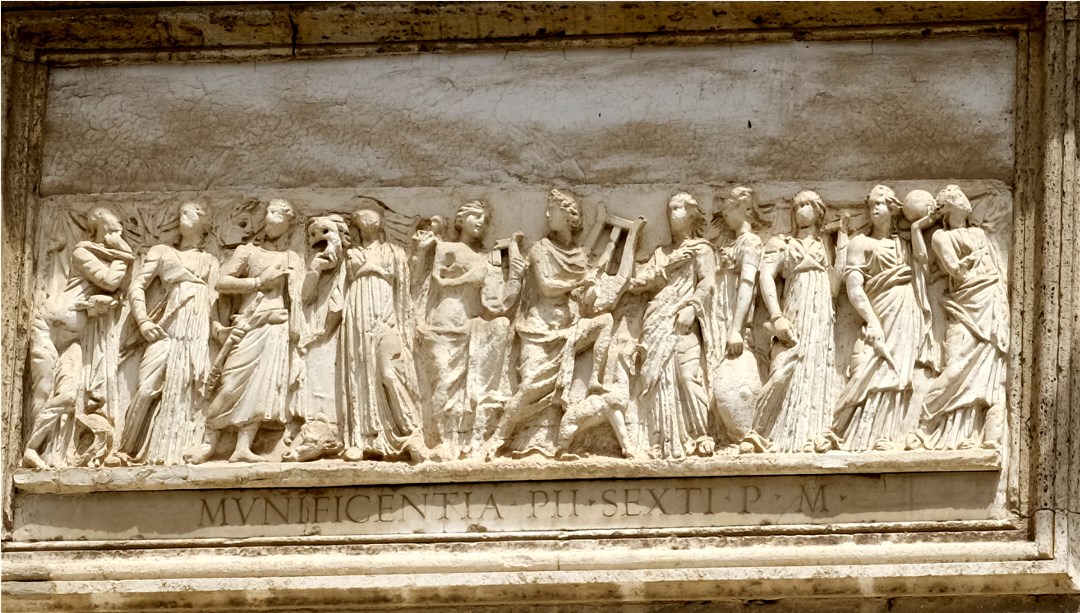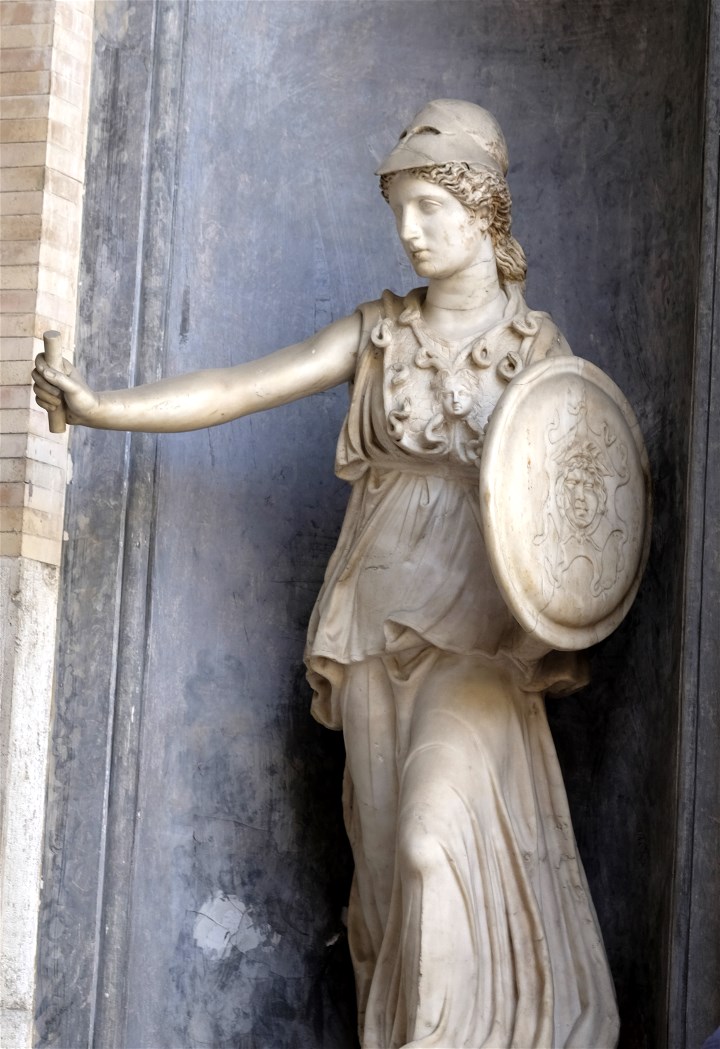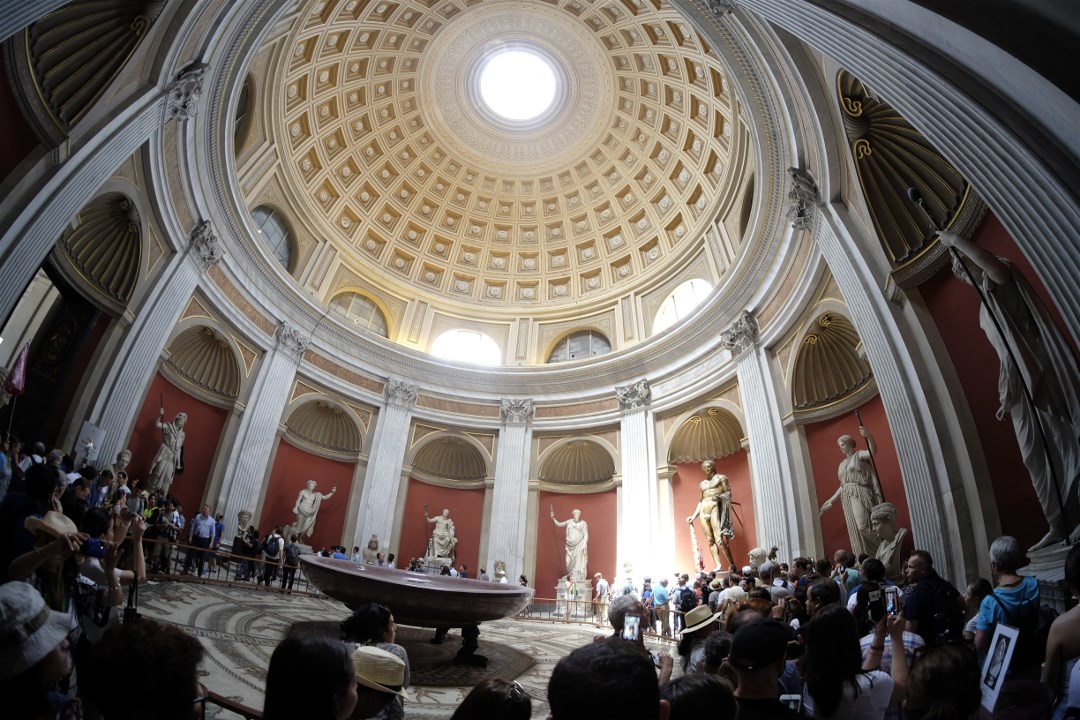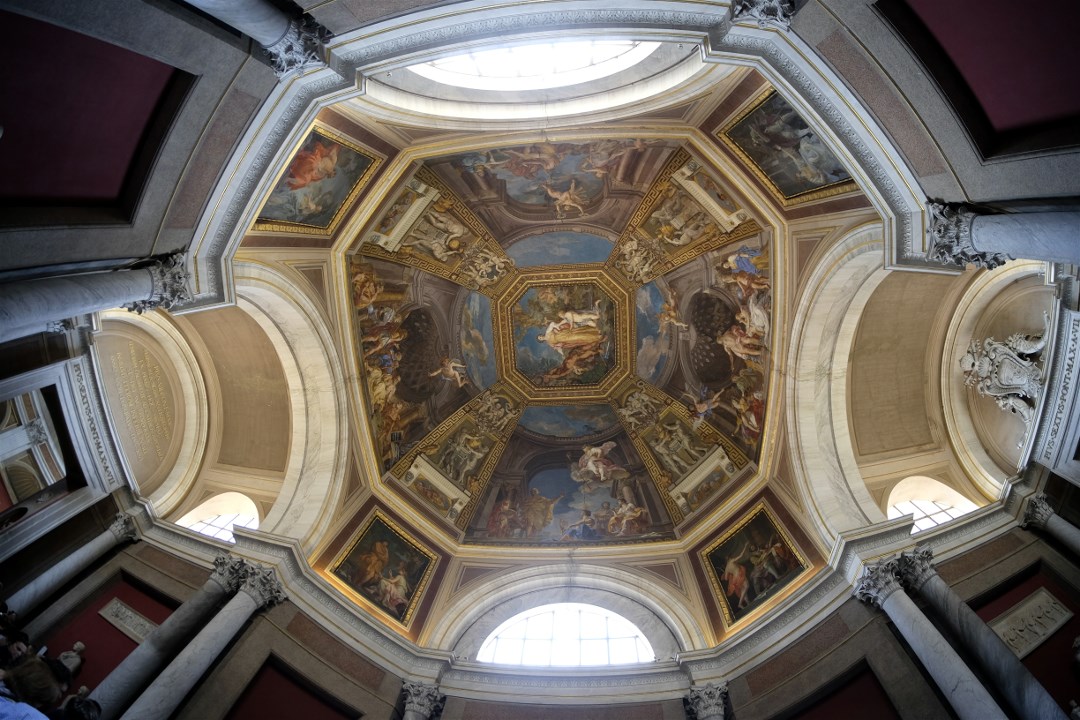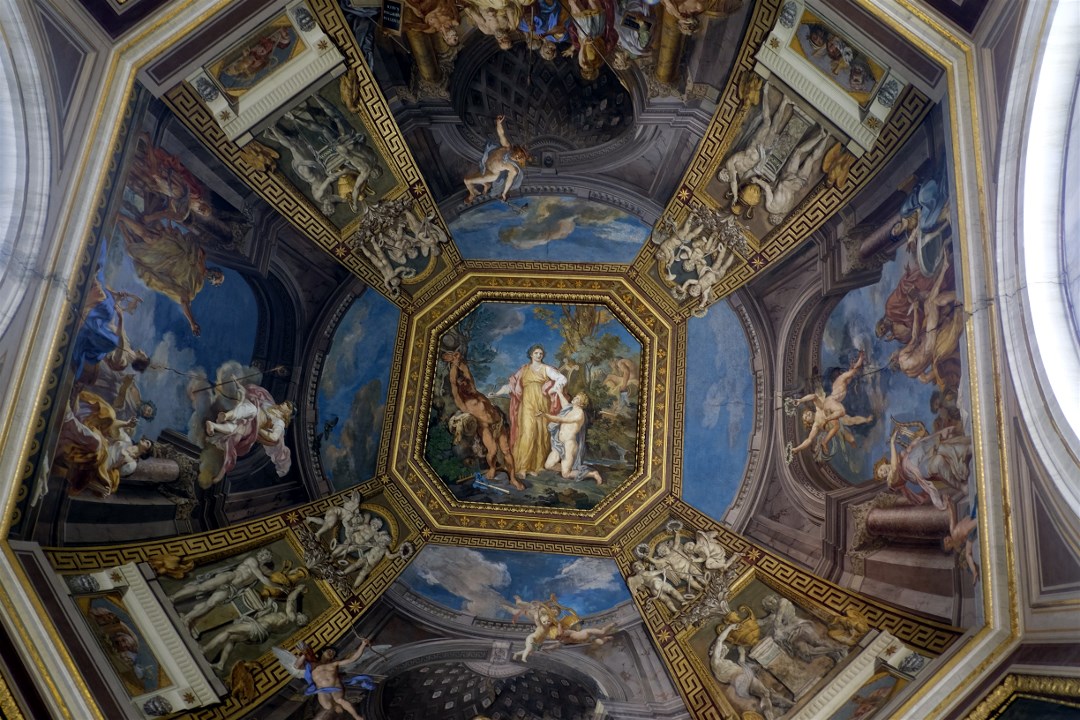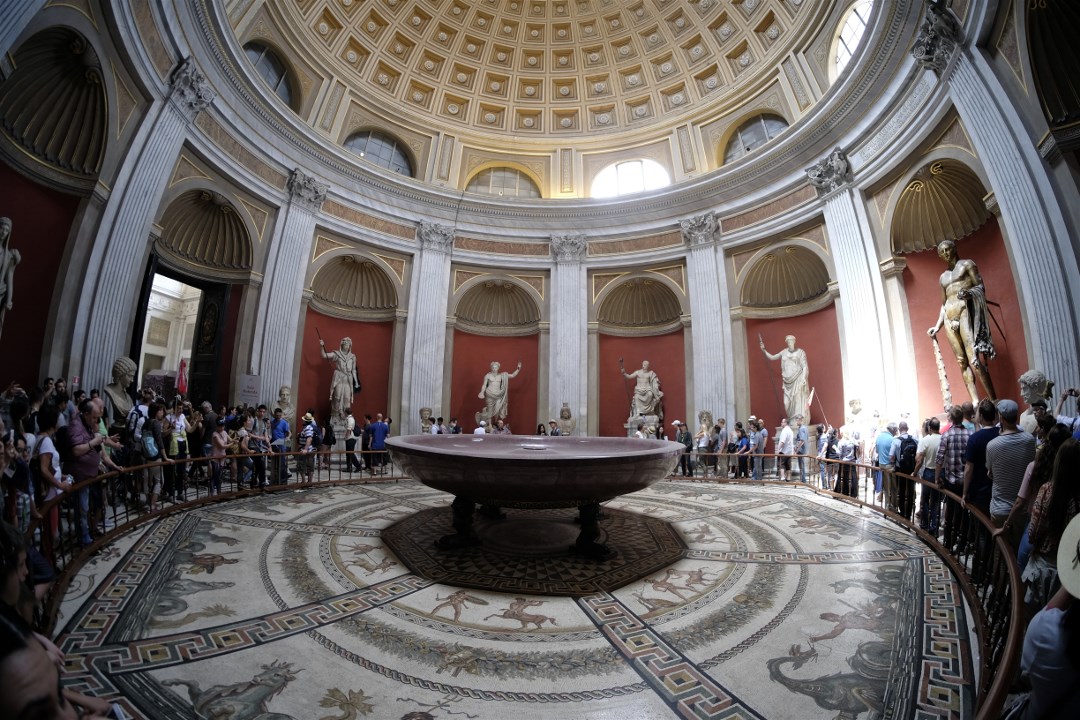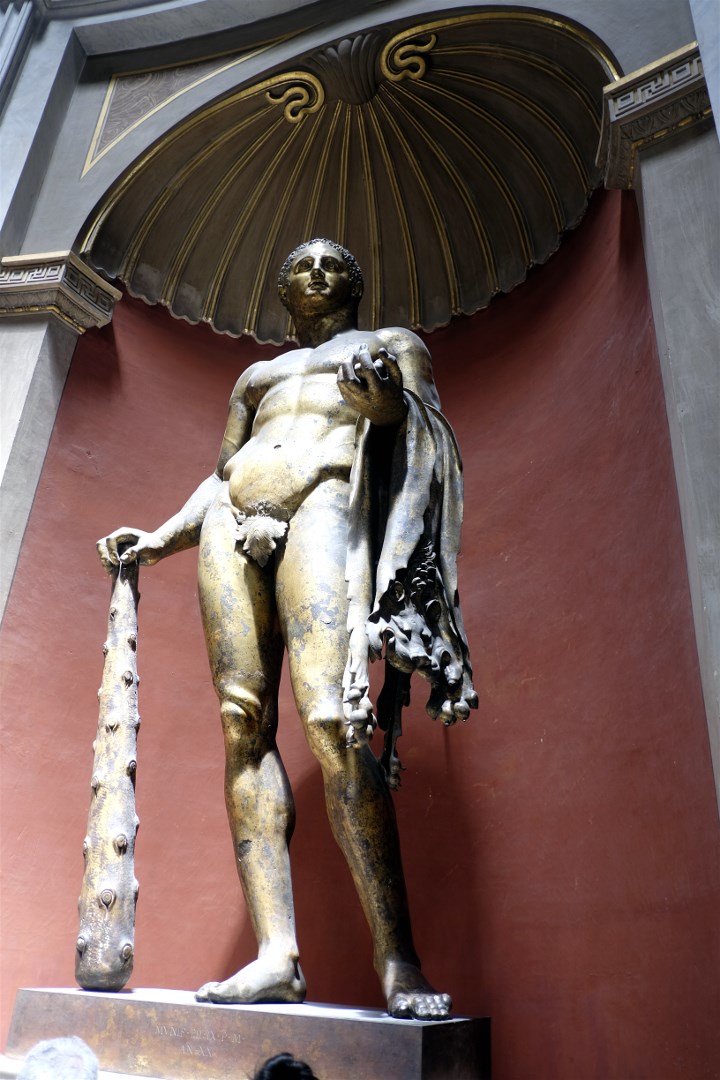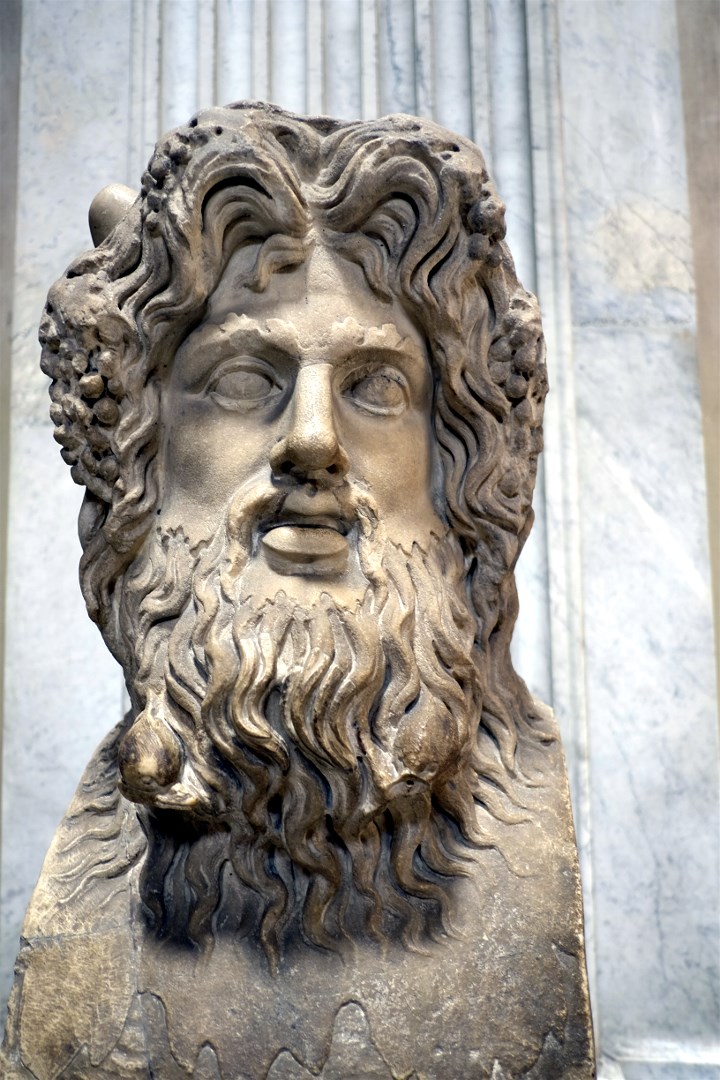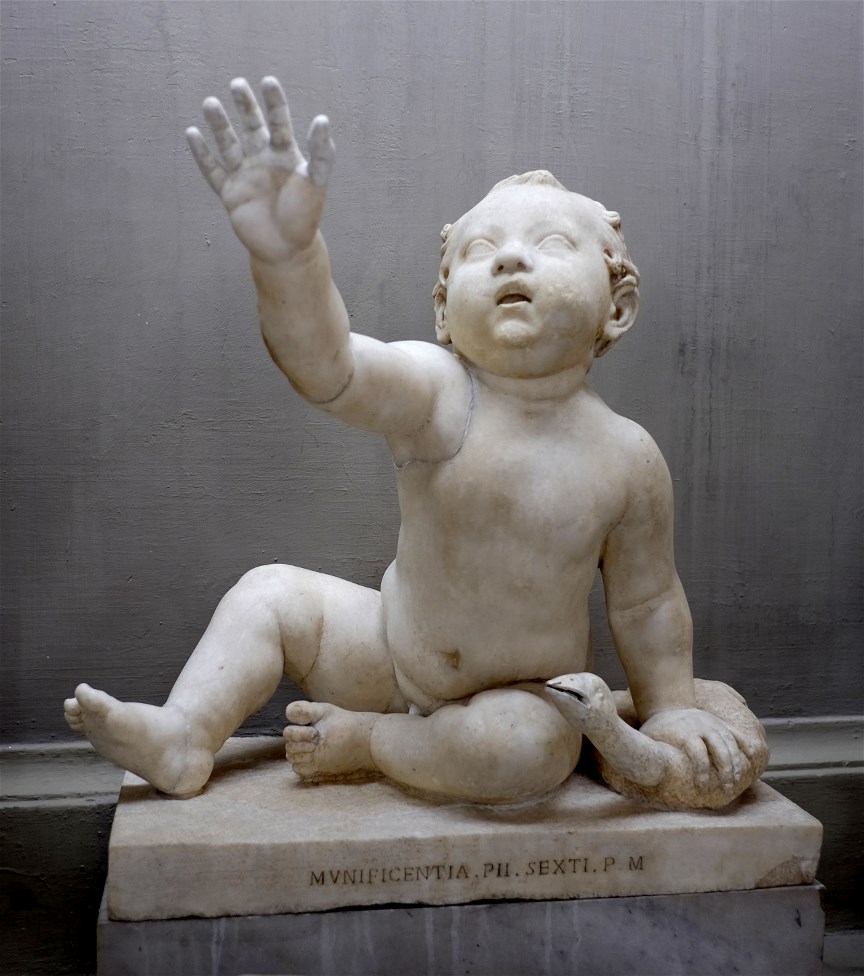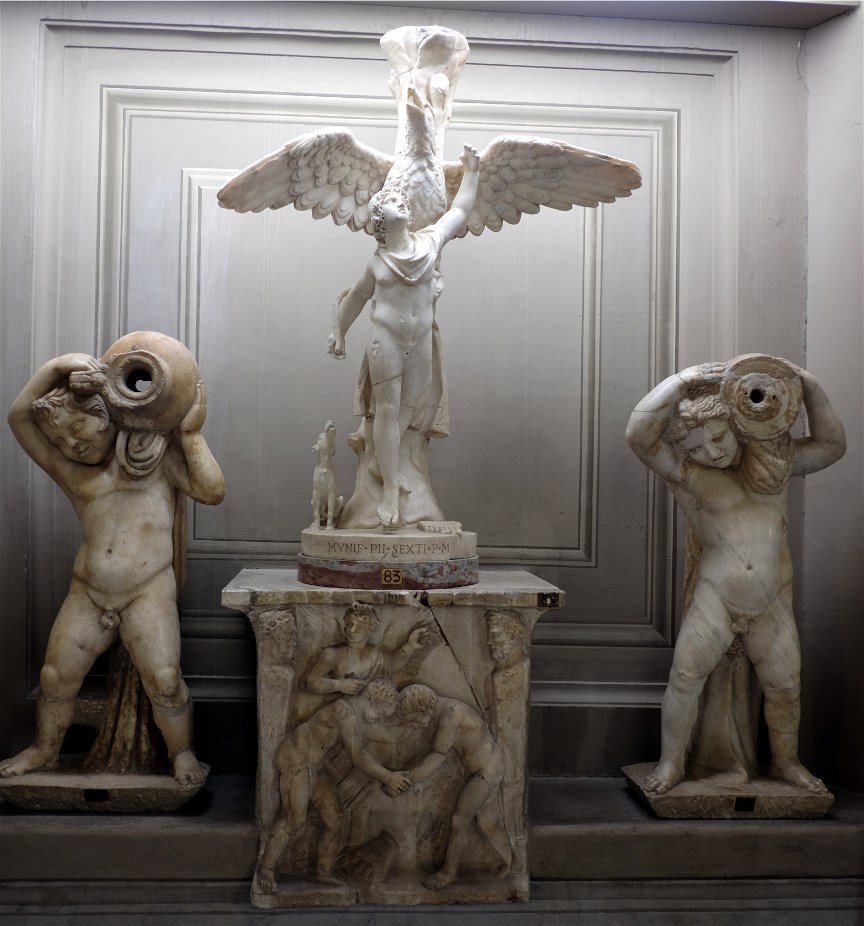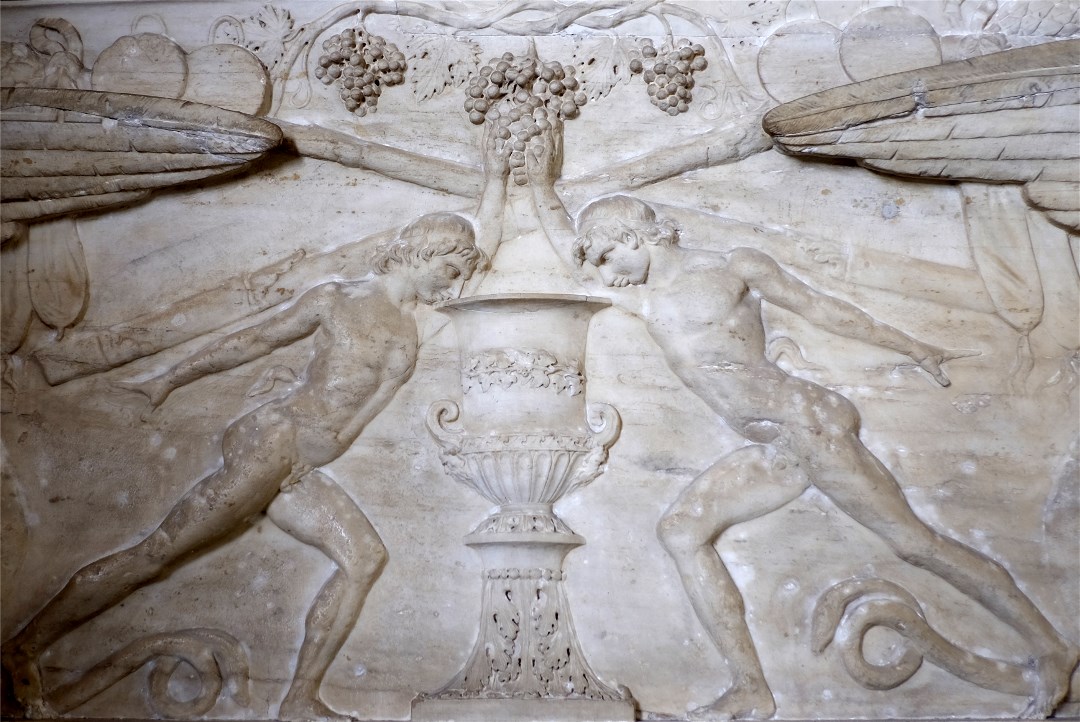 These ceilings appear to be carved but are actually paintings taking advantage of perspective to give the illusion of depth. The entire surface is flat.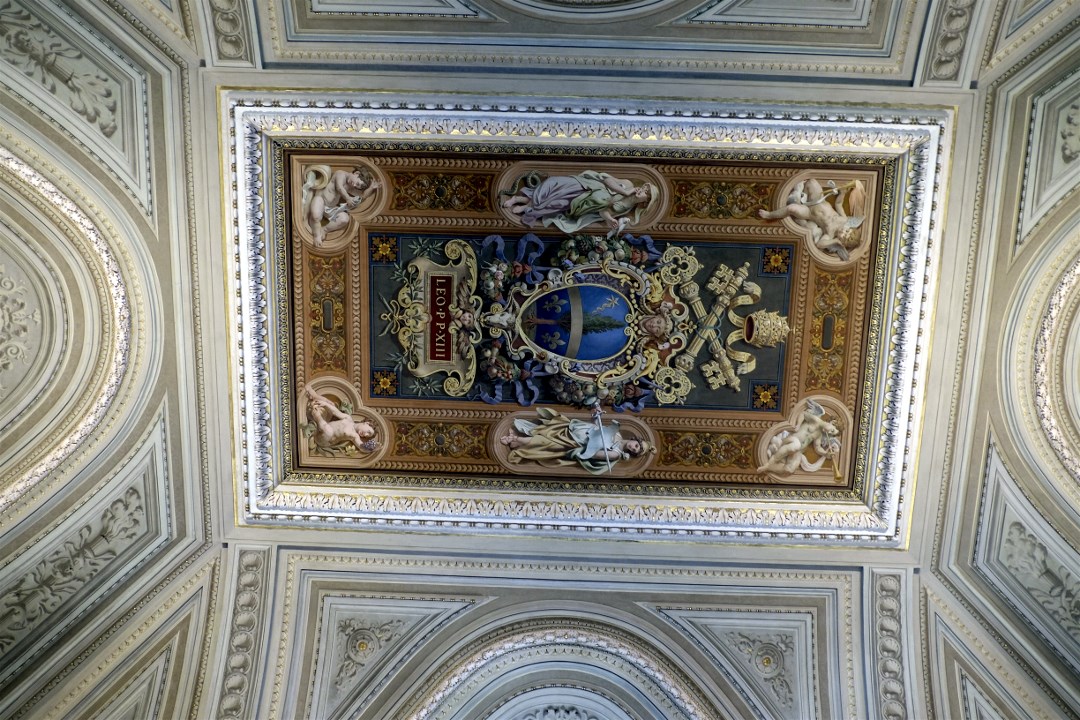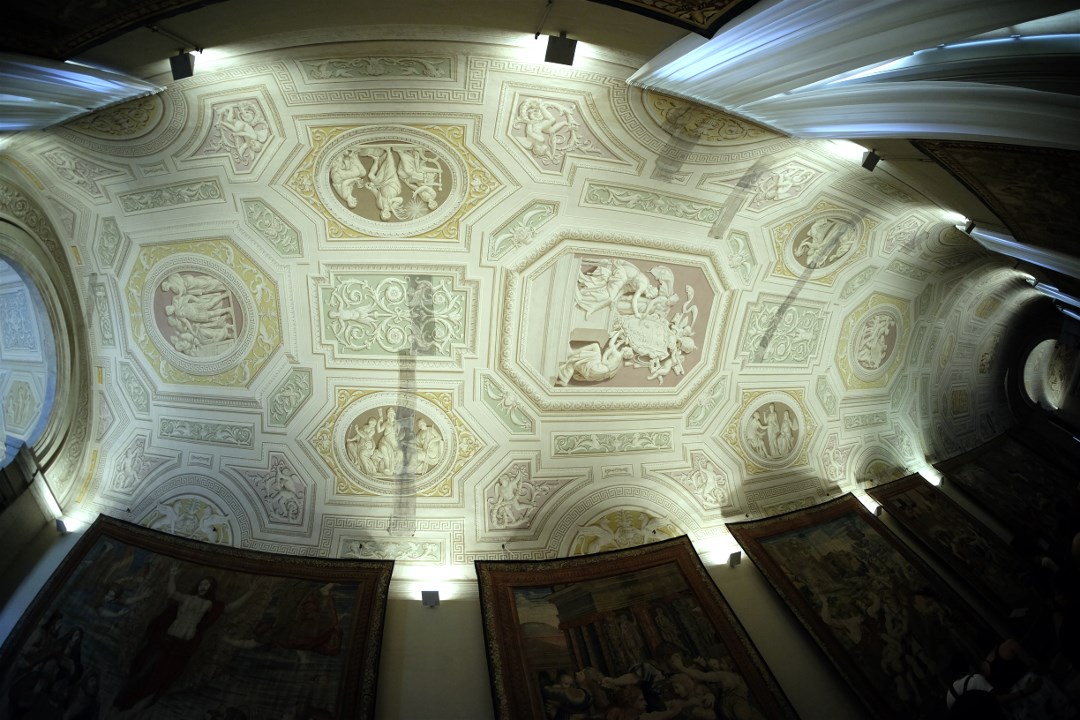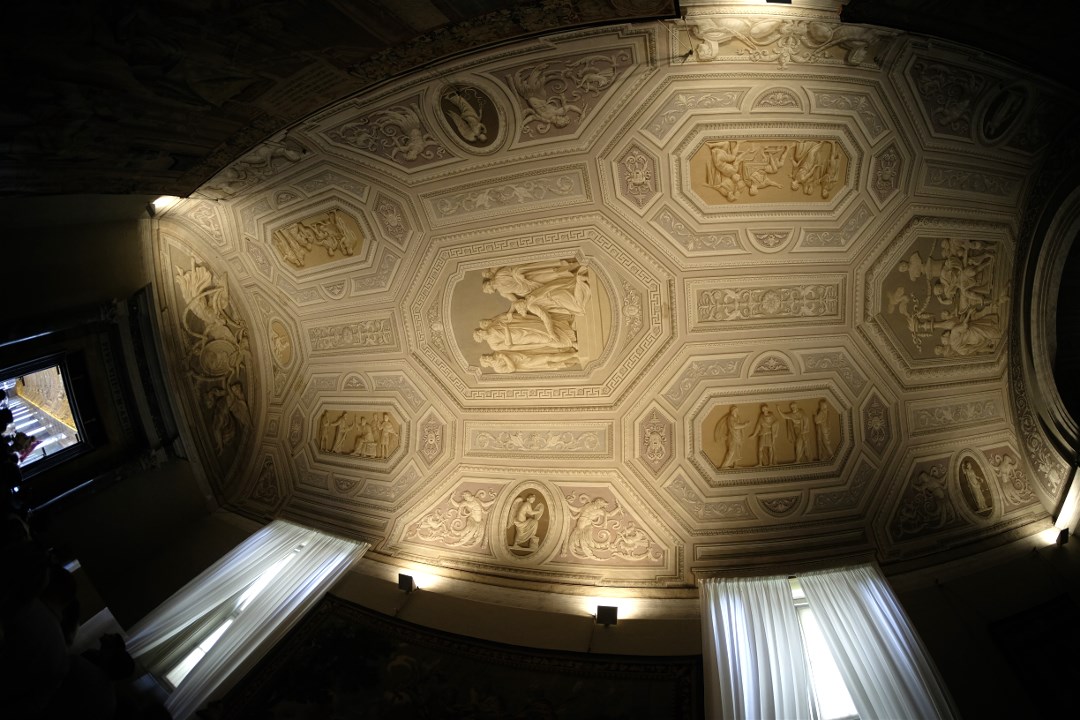 Tapestry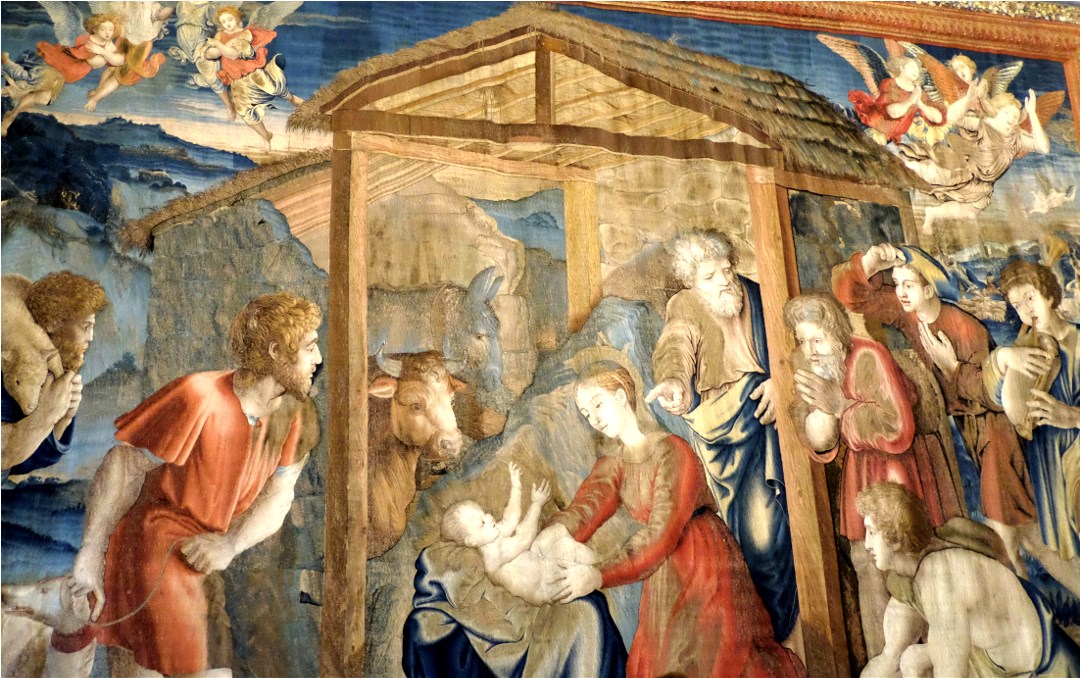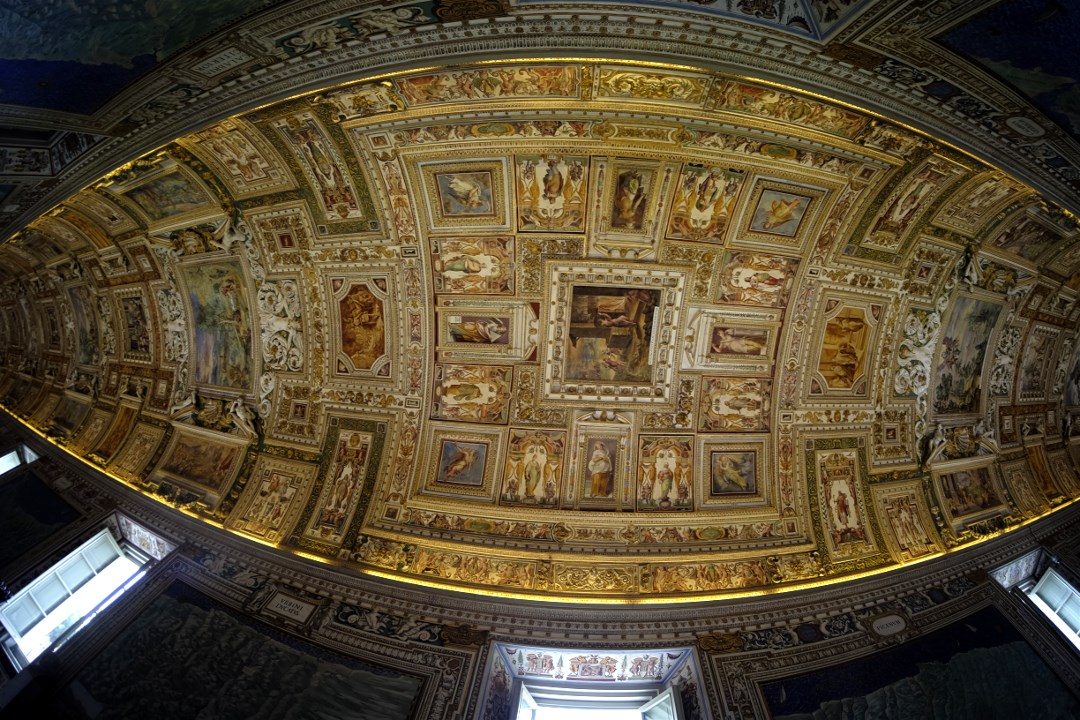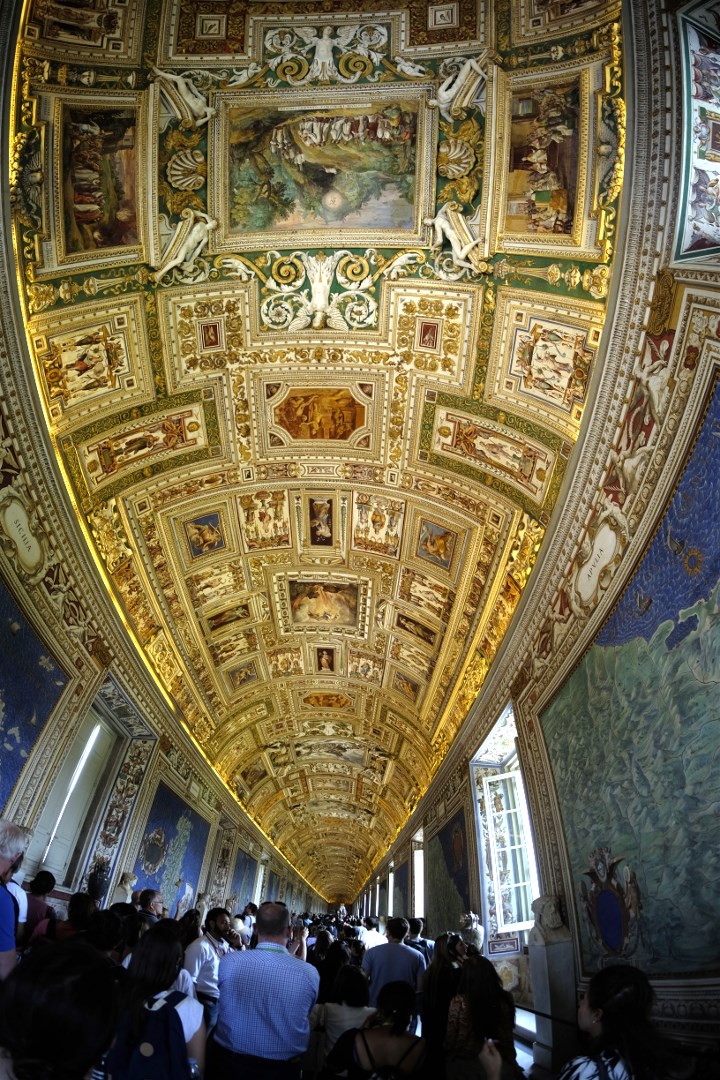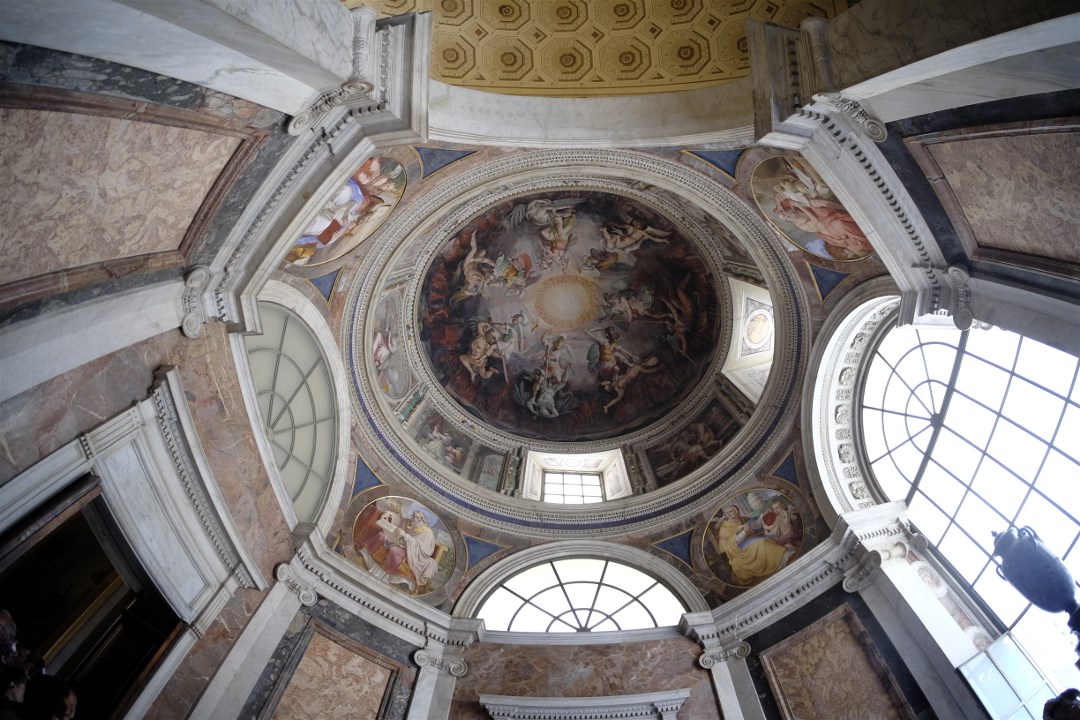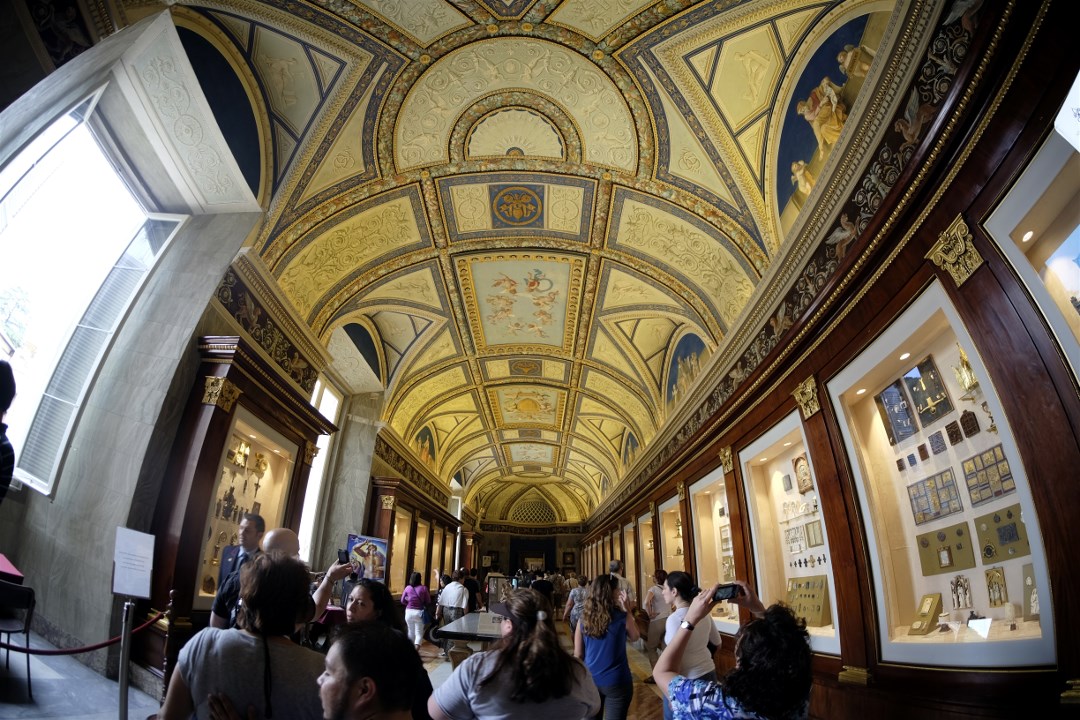 Sistine Chapel
(forbidden photography)
No pictures allowed in here I snuck these two anyway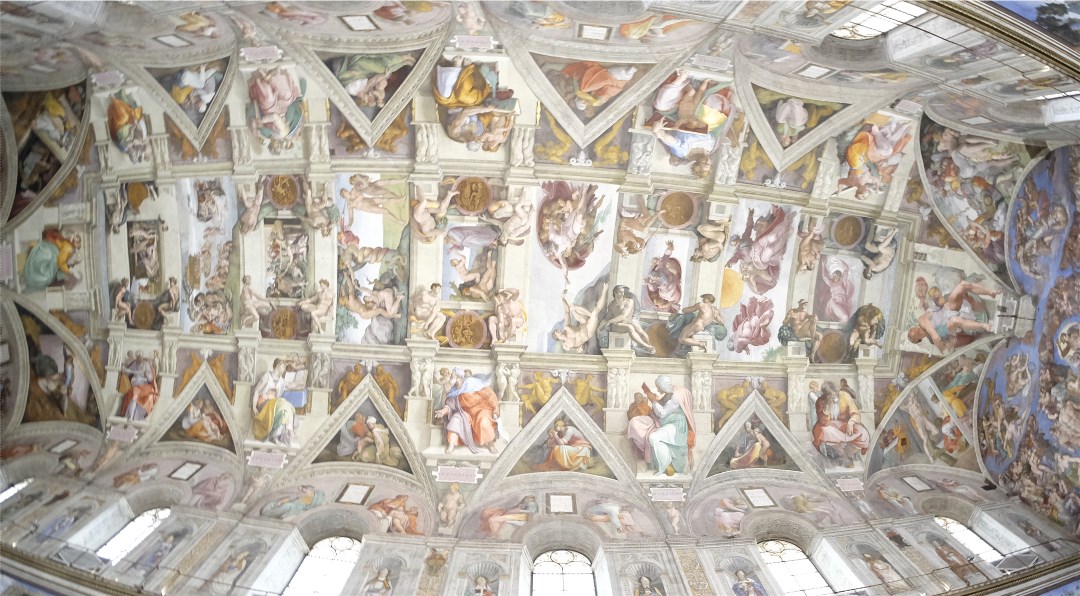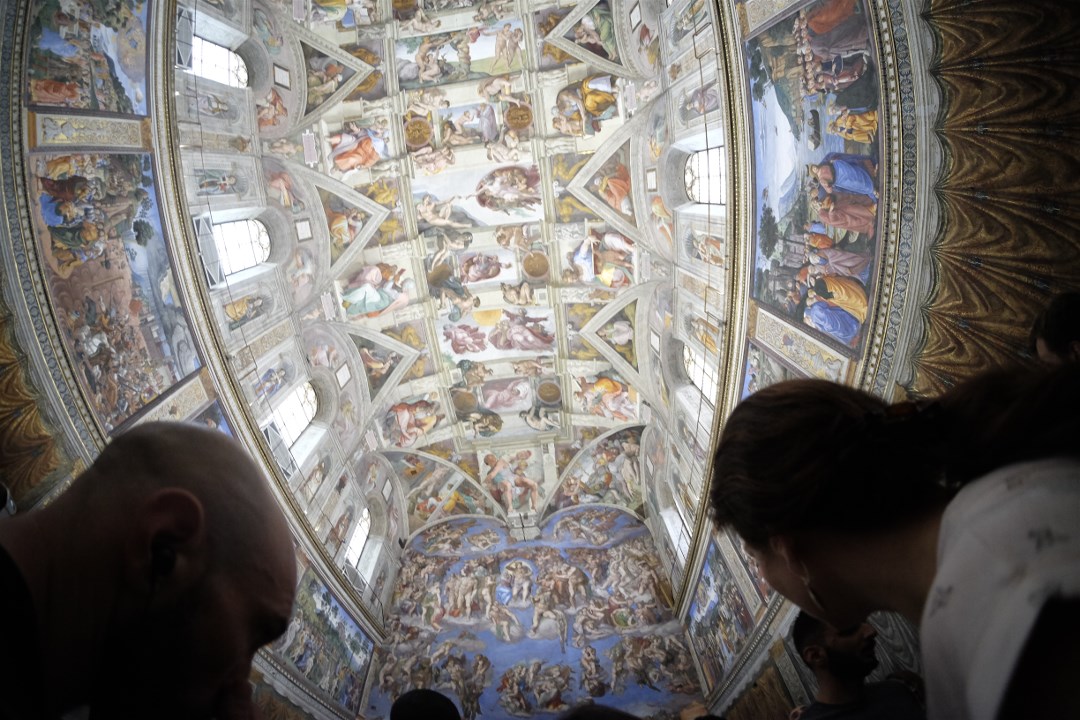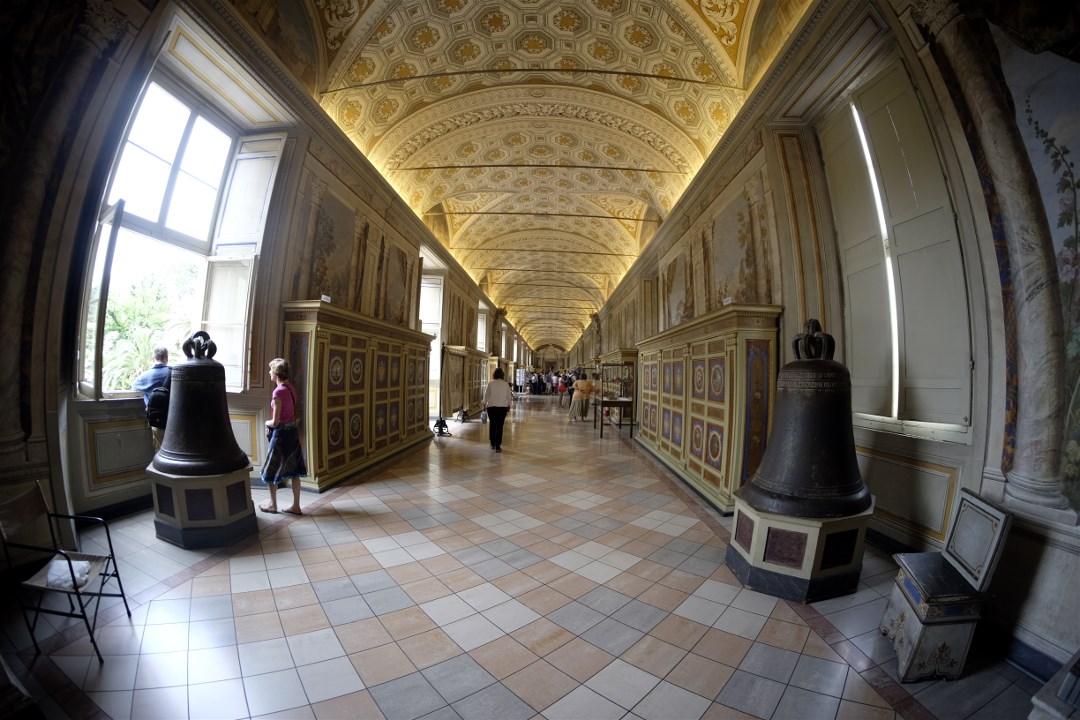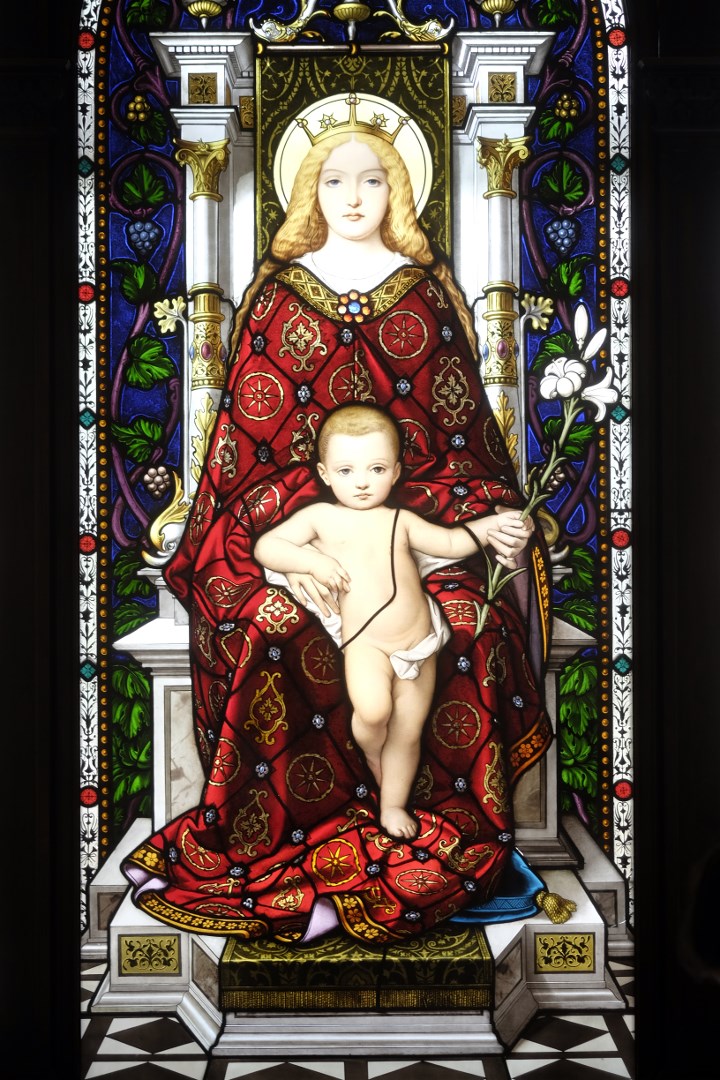 I understand that people who take illegal pictures of the Sistine Chapel are directed down this spiral. It seemed endless and it kept getting hotter and hotter. I got a funny feeling about it so went back up begged for forgiveness and said 10 hail Mary's. I think I'm OK now.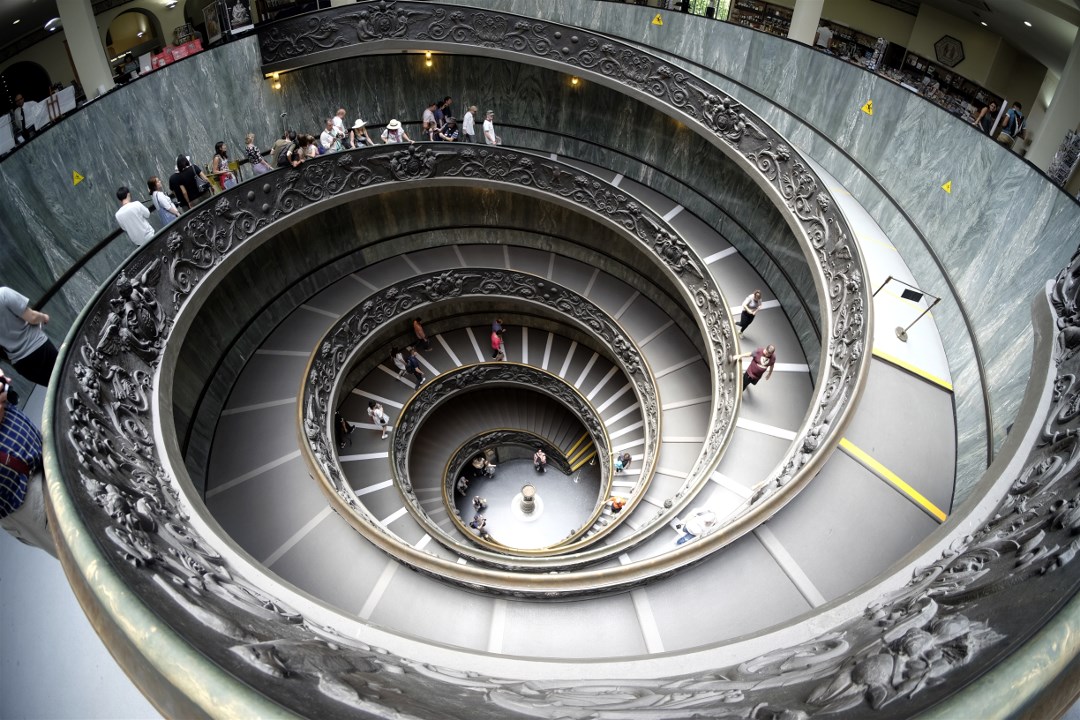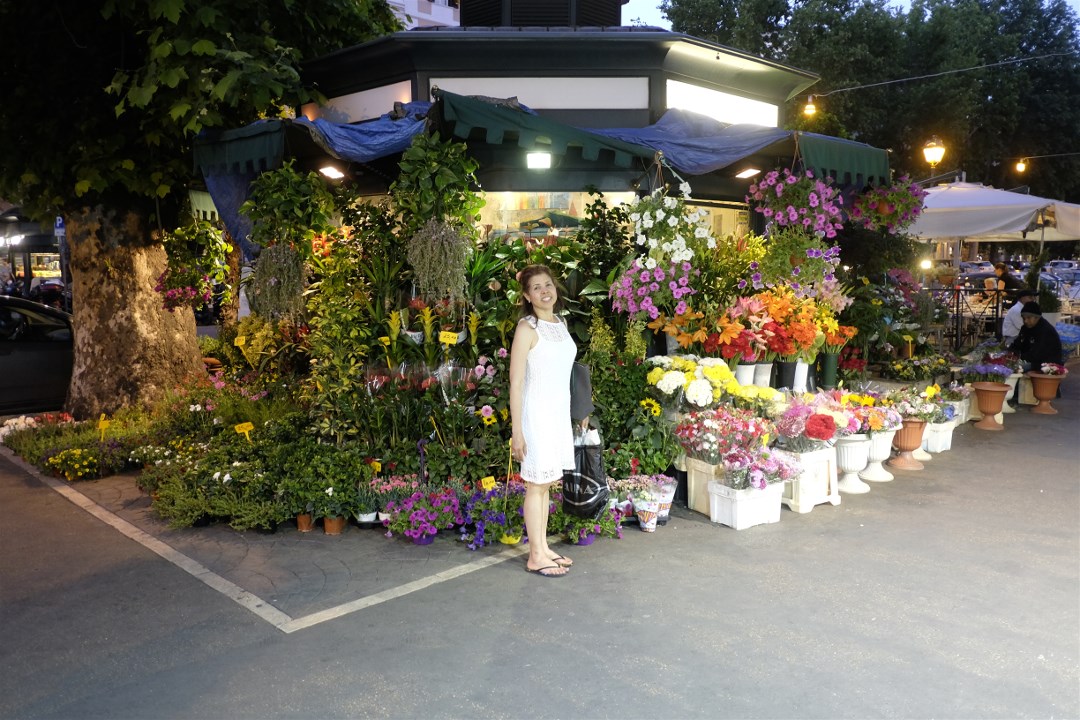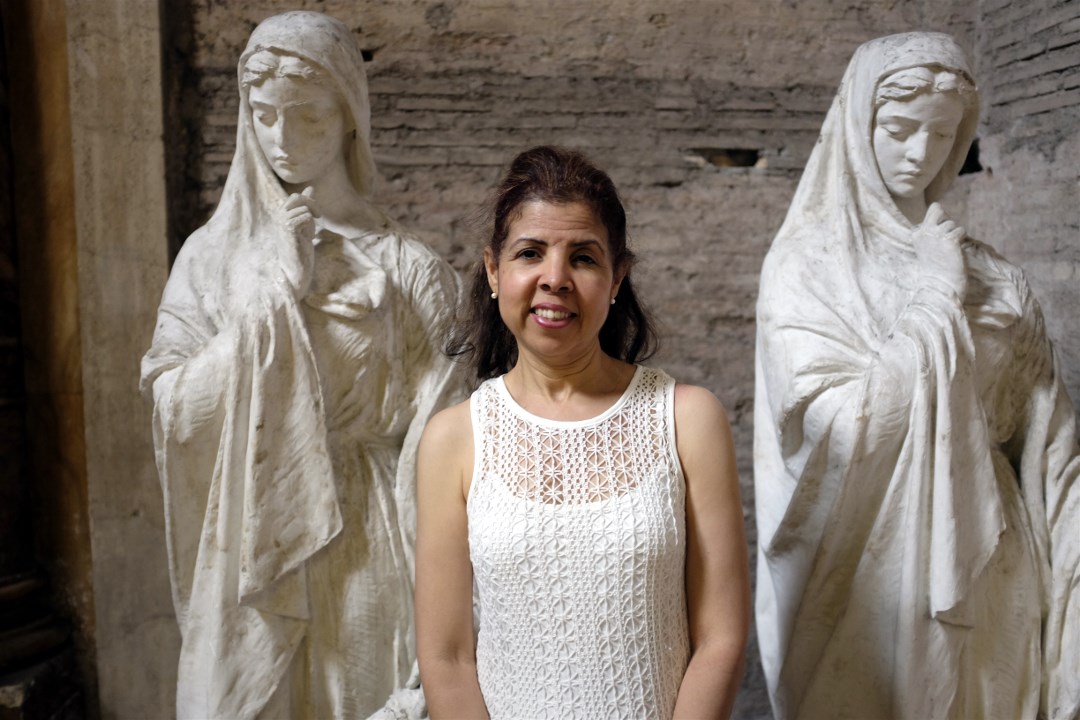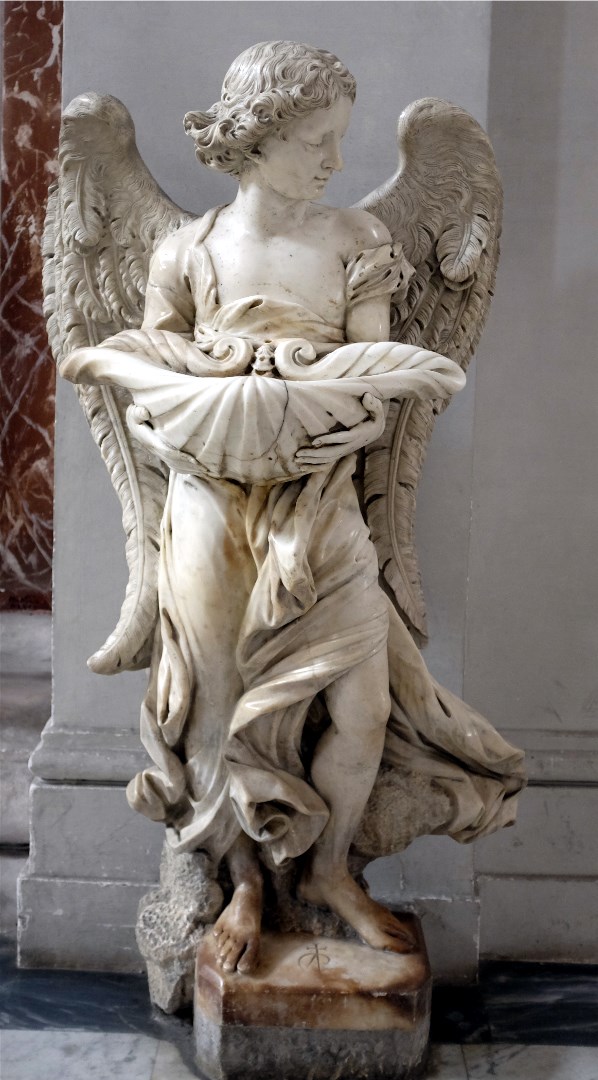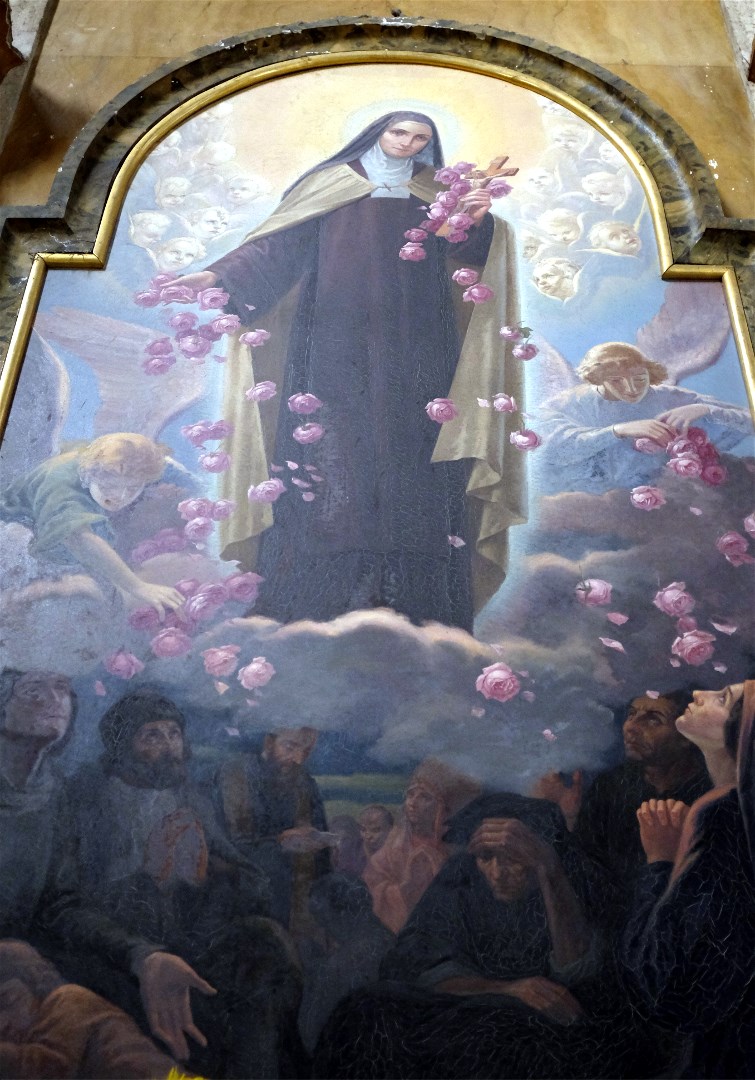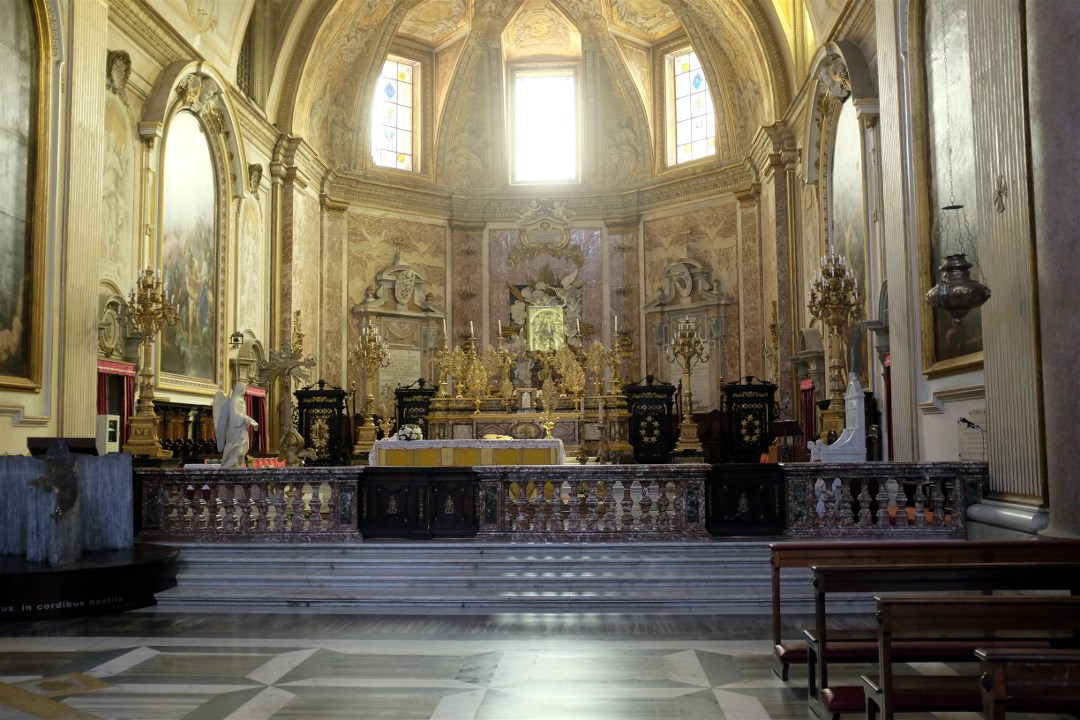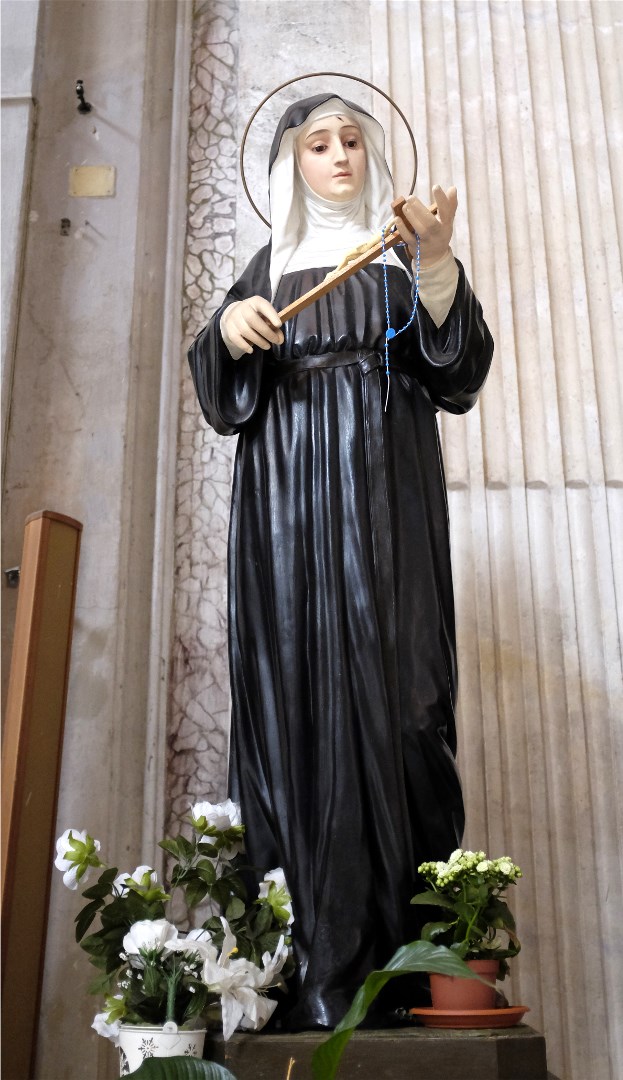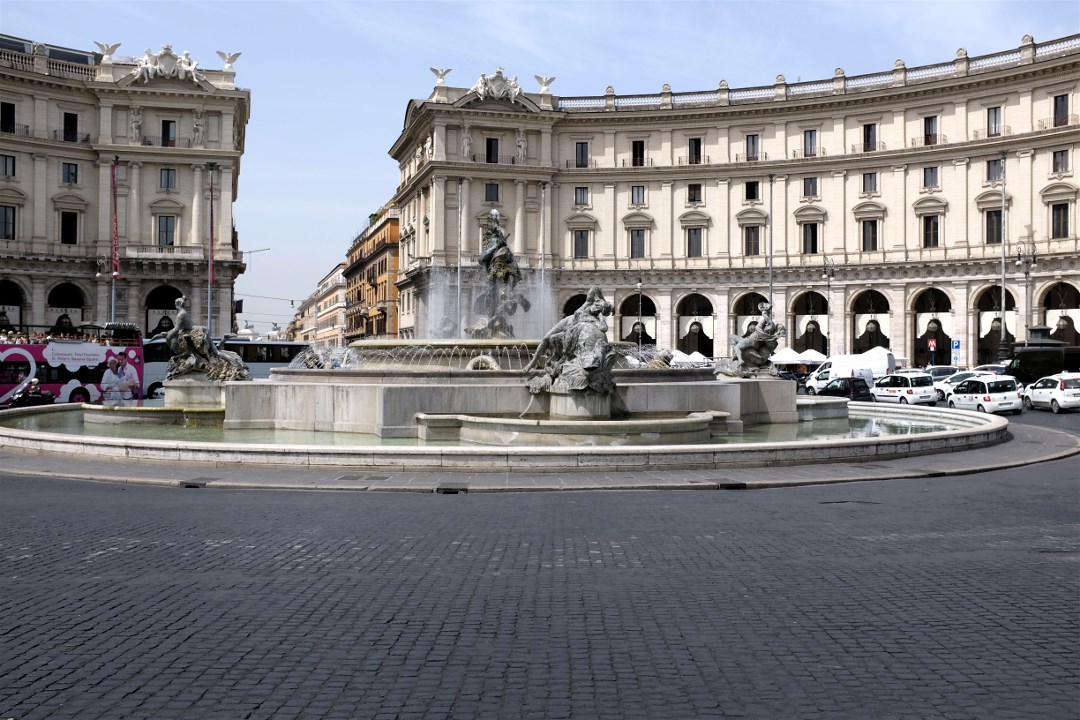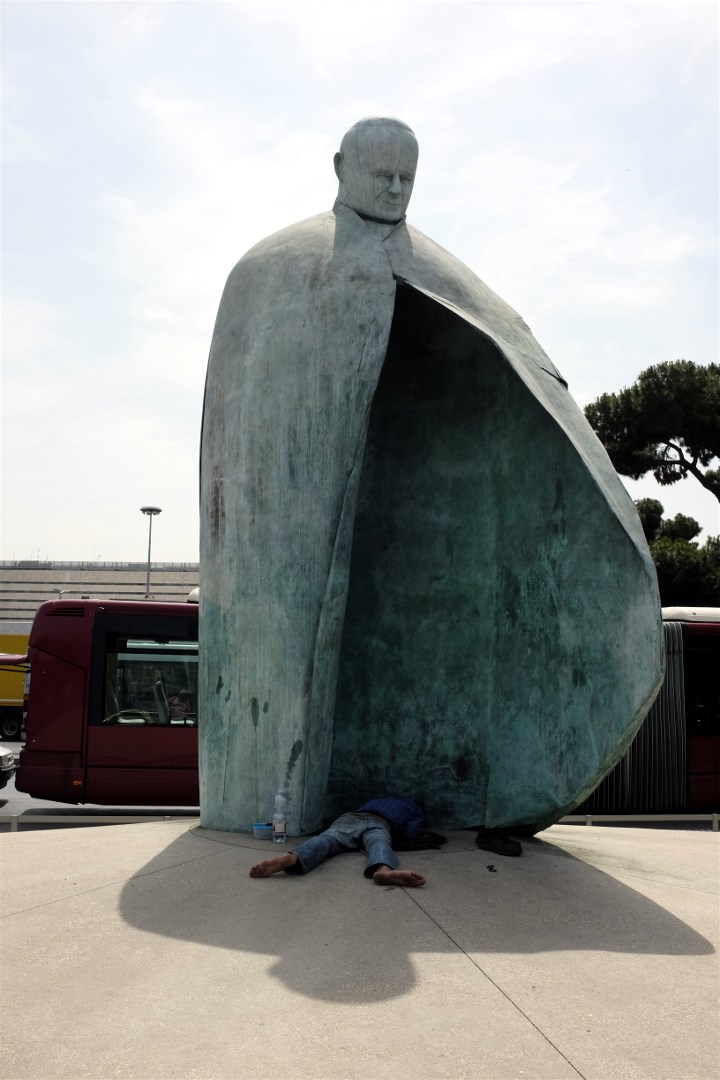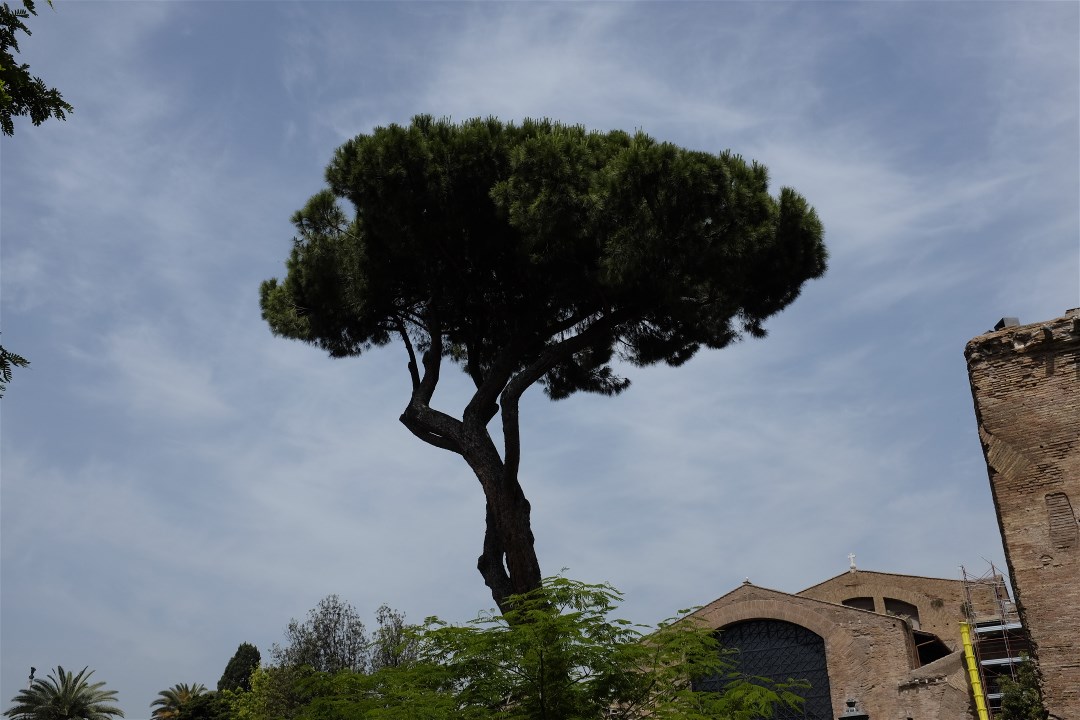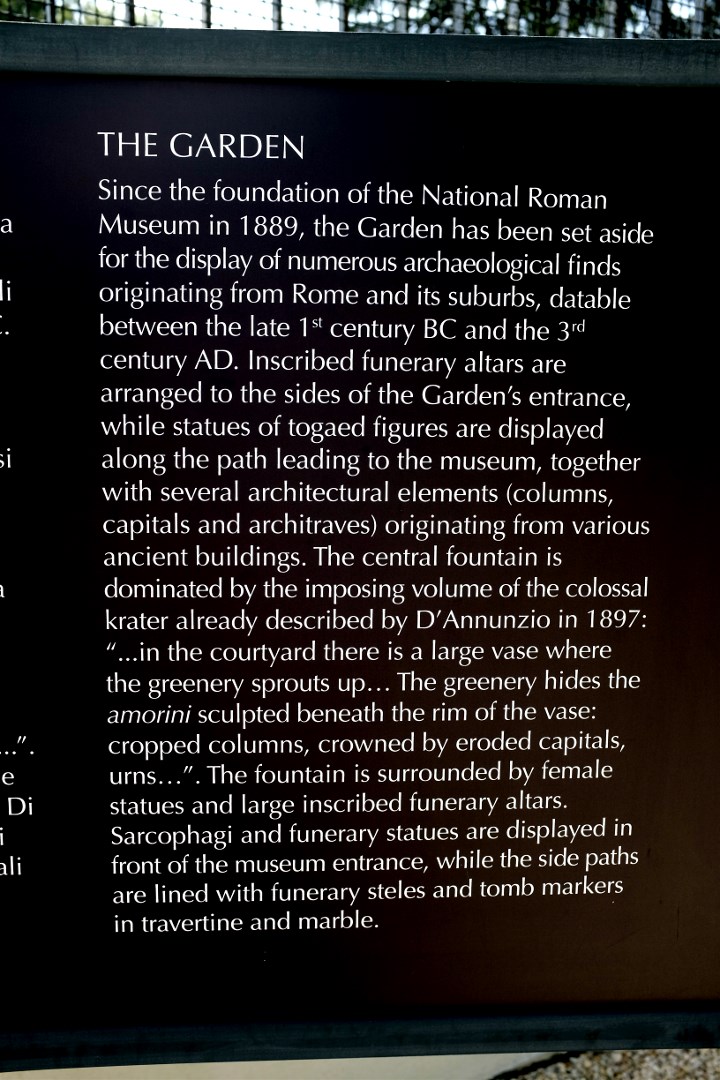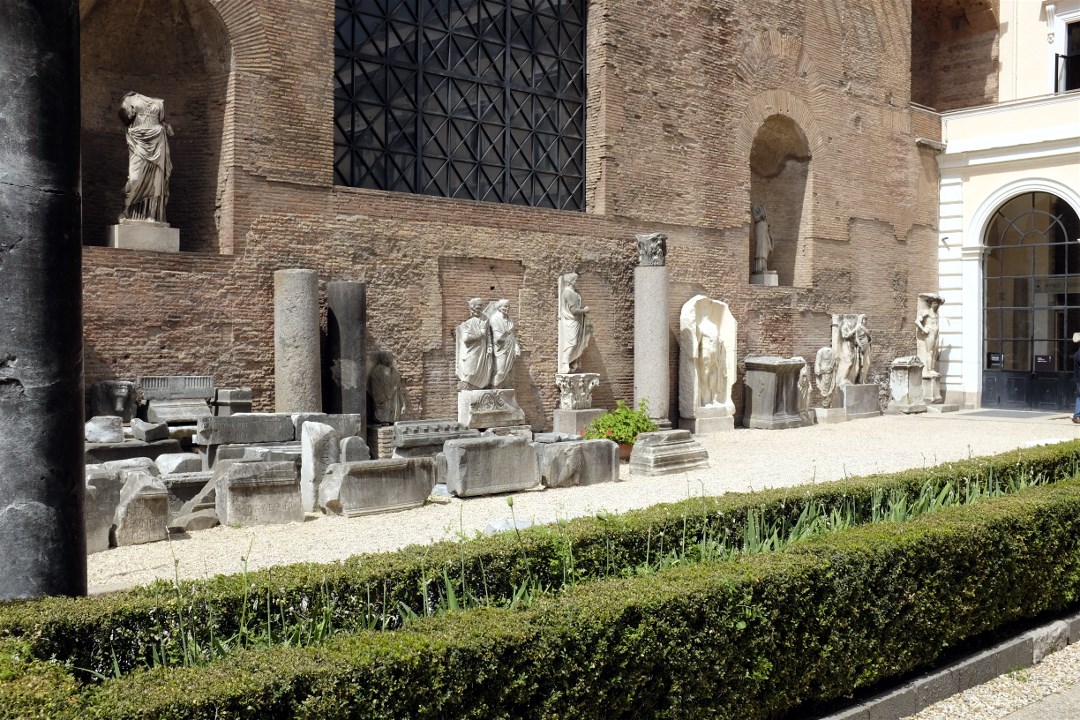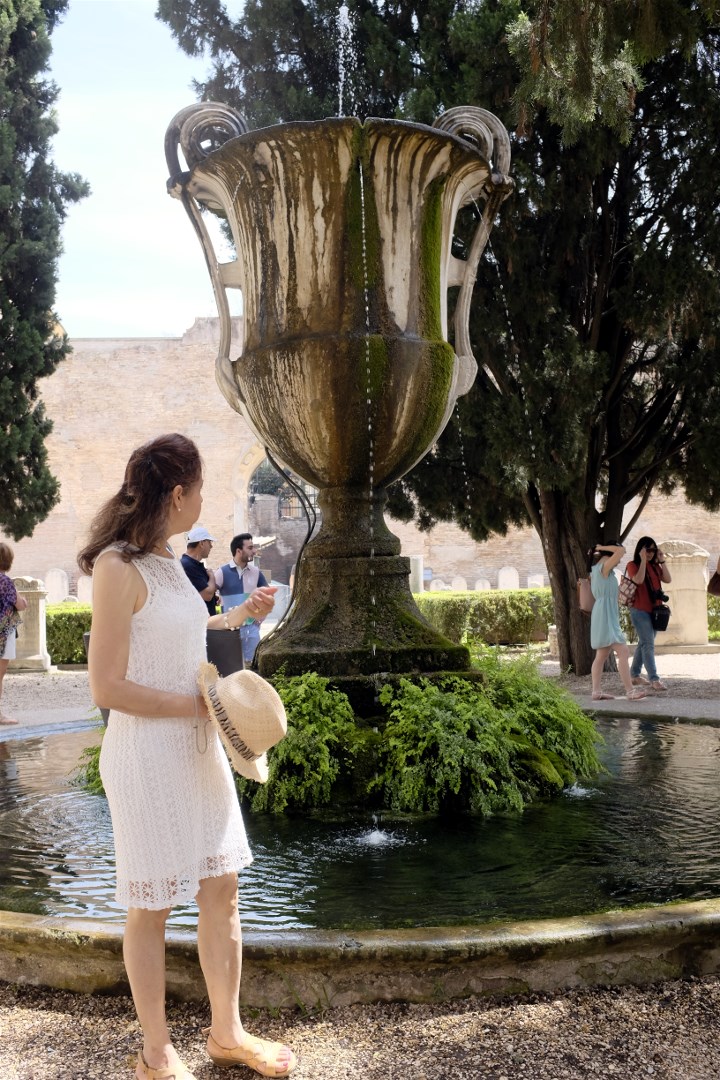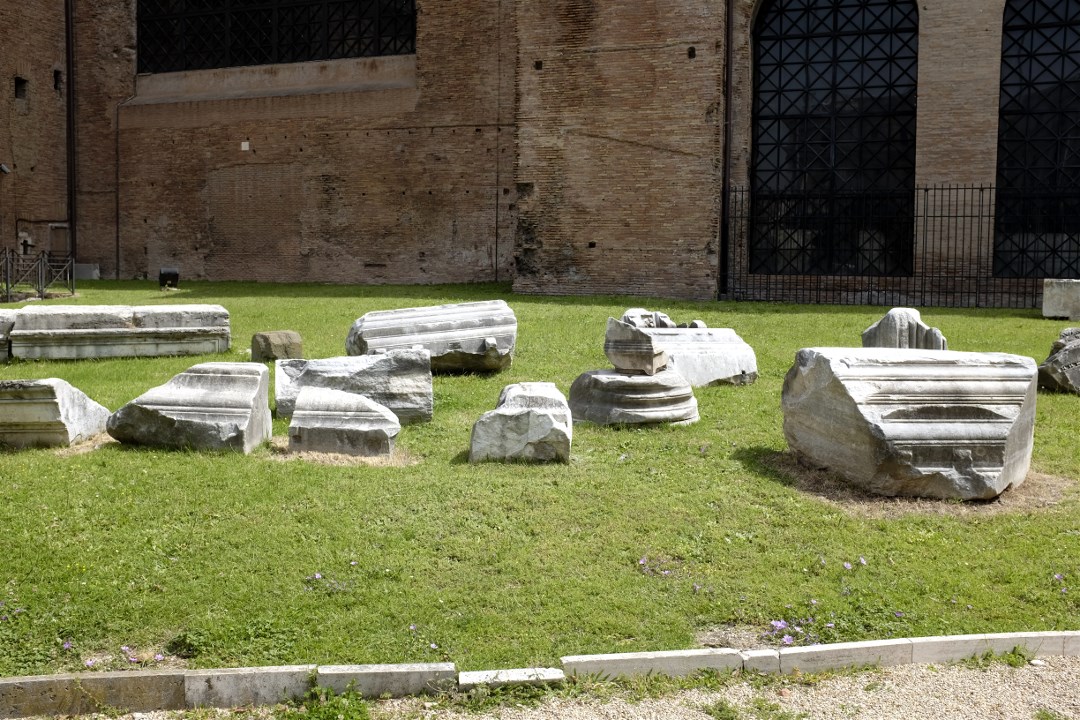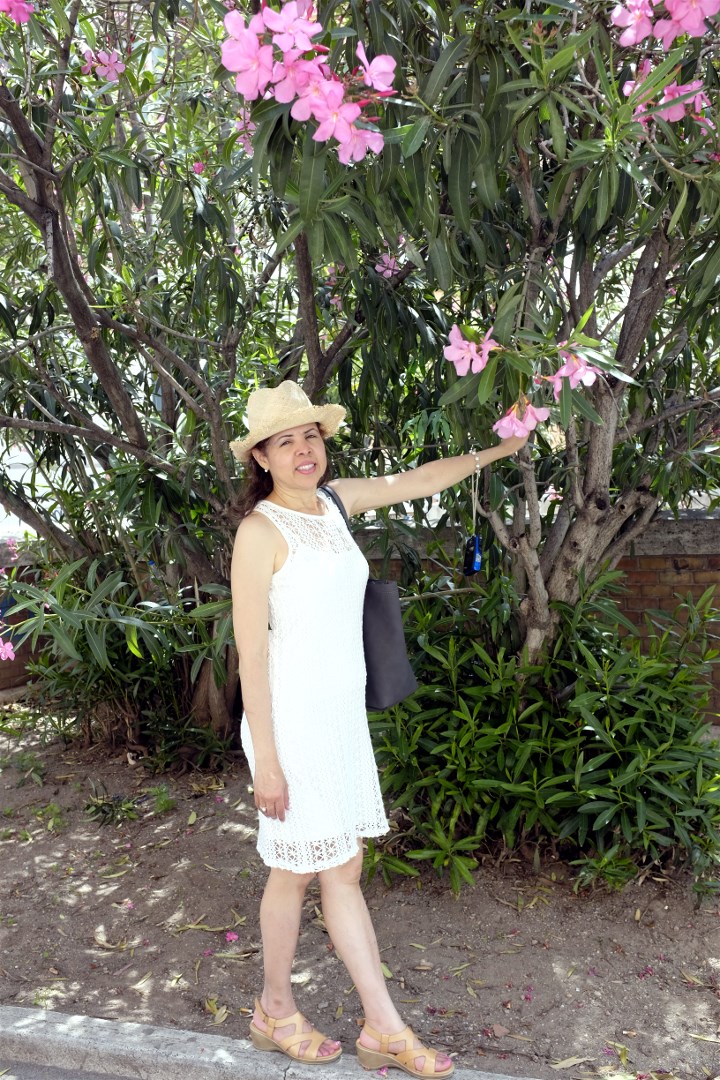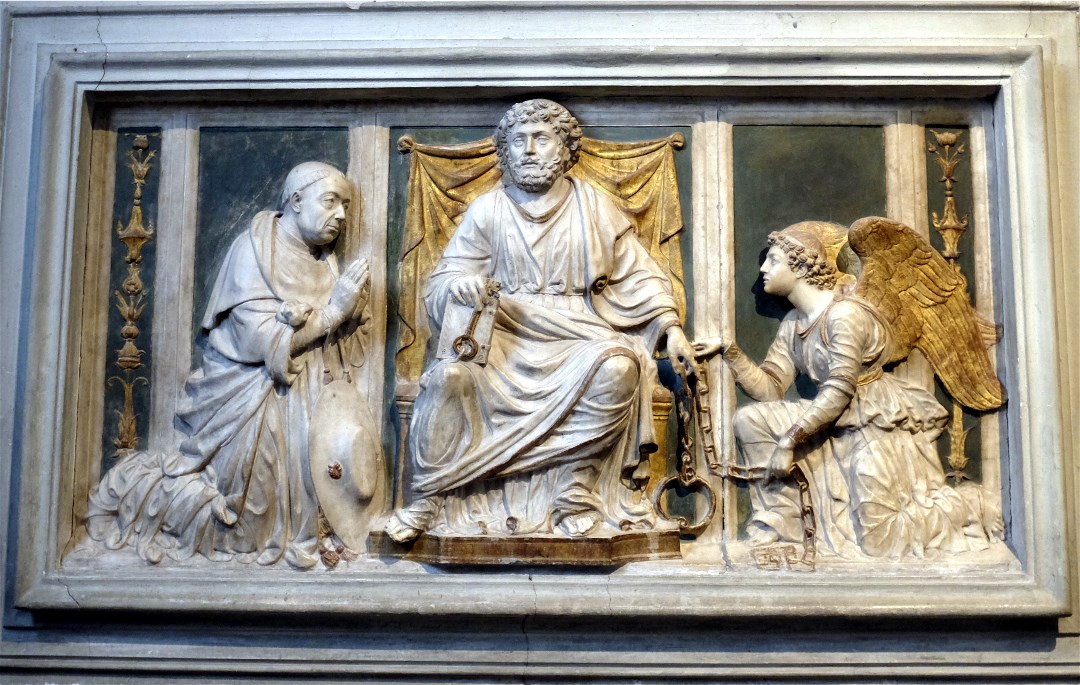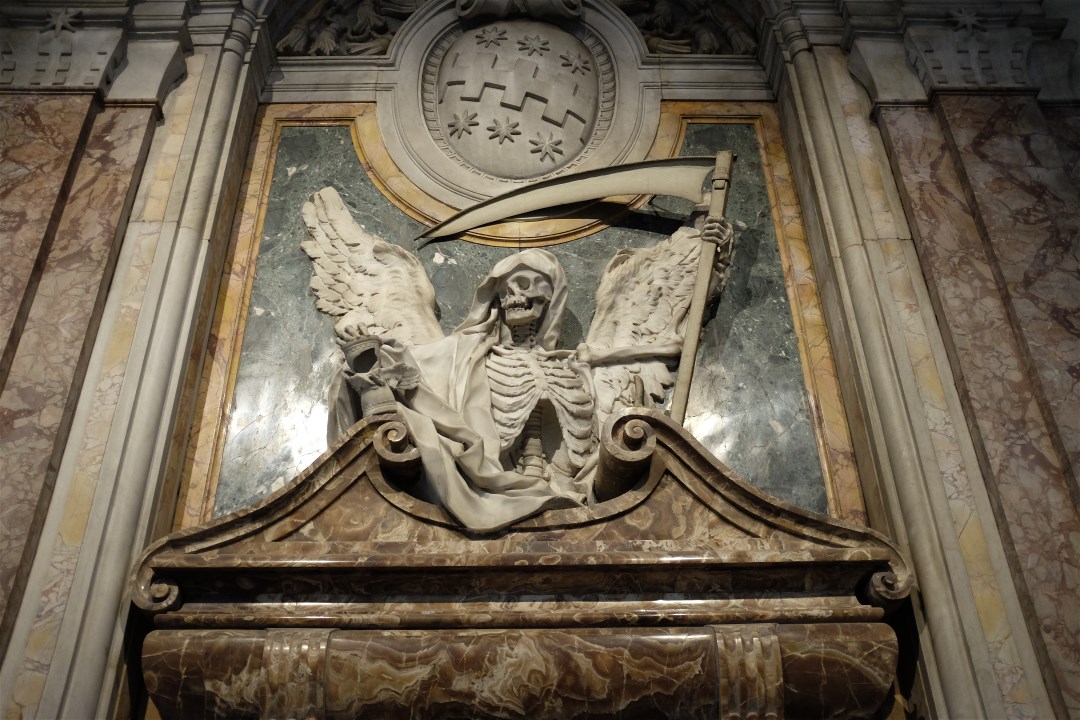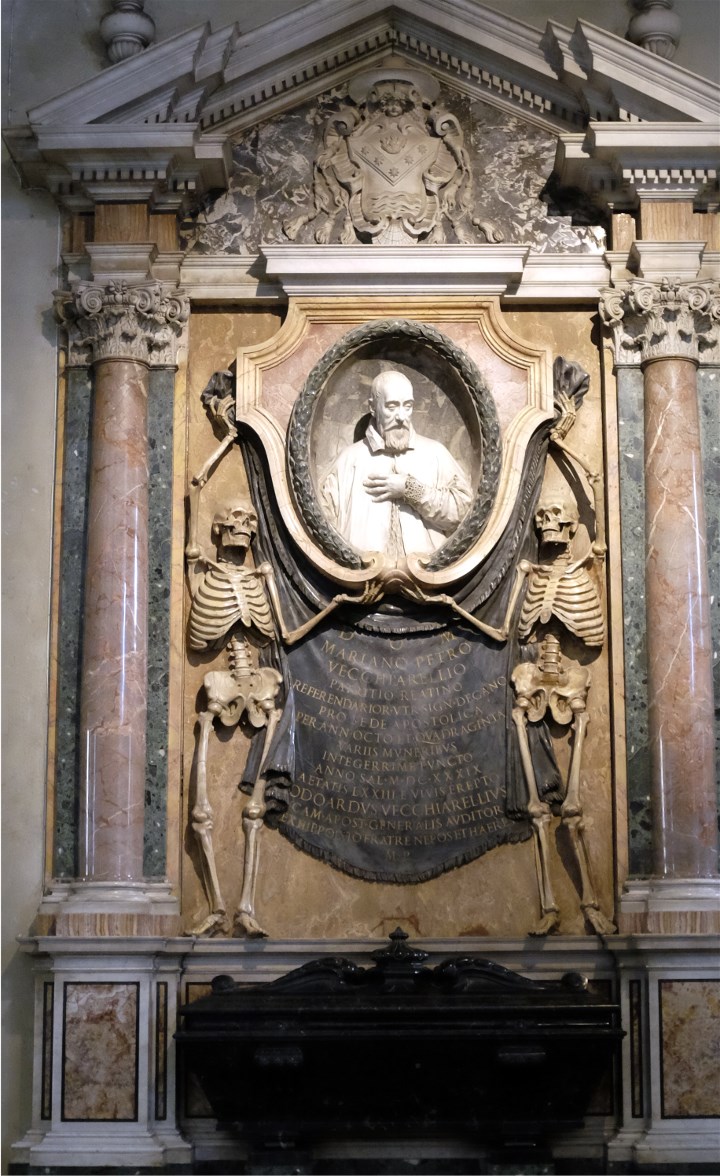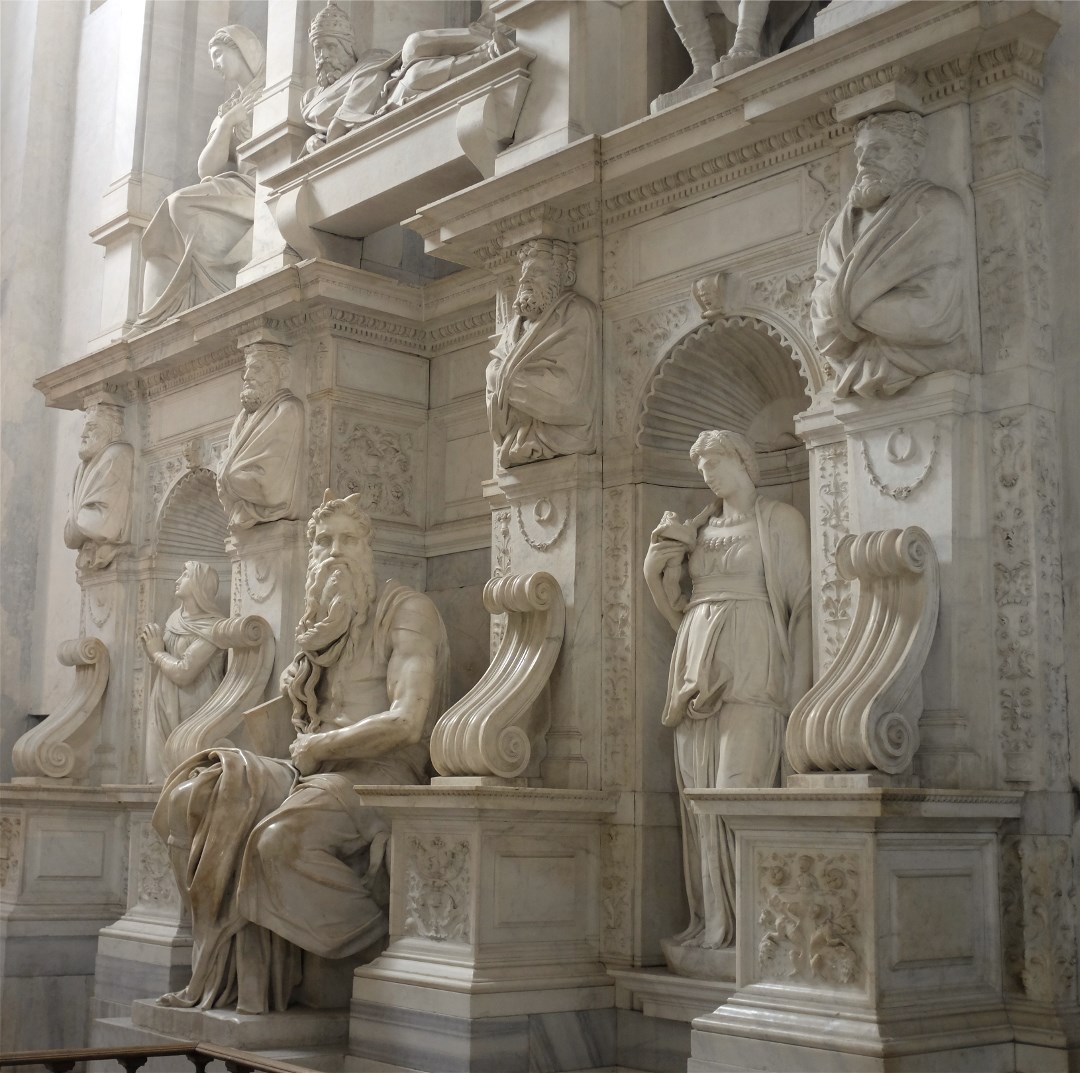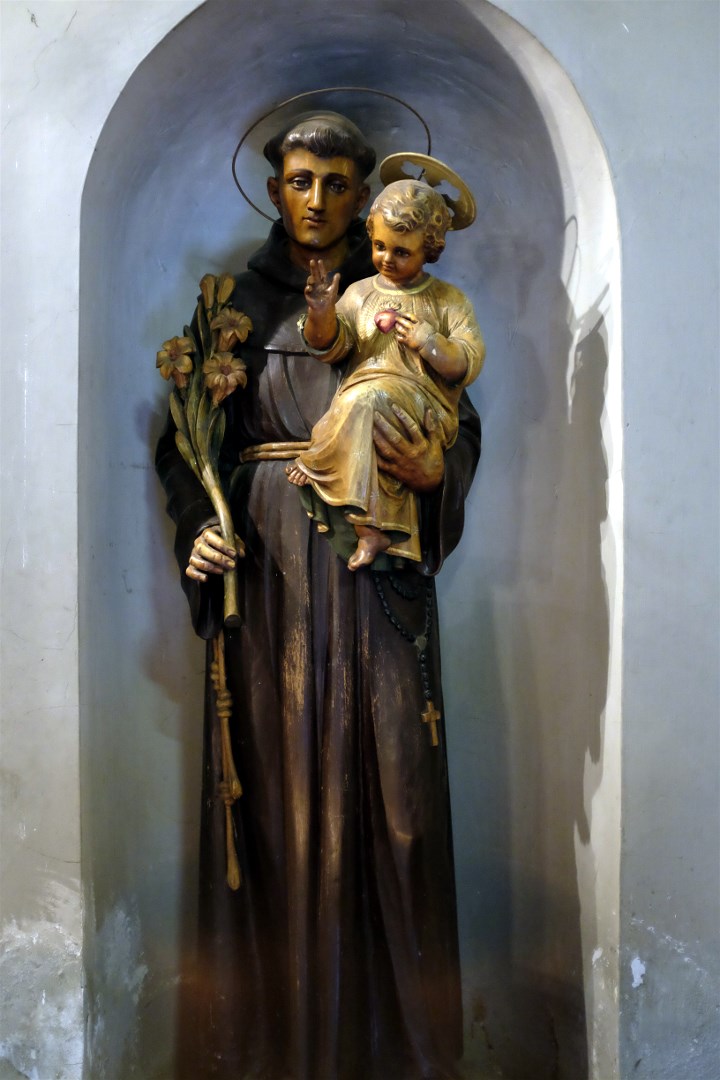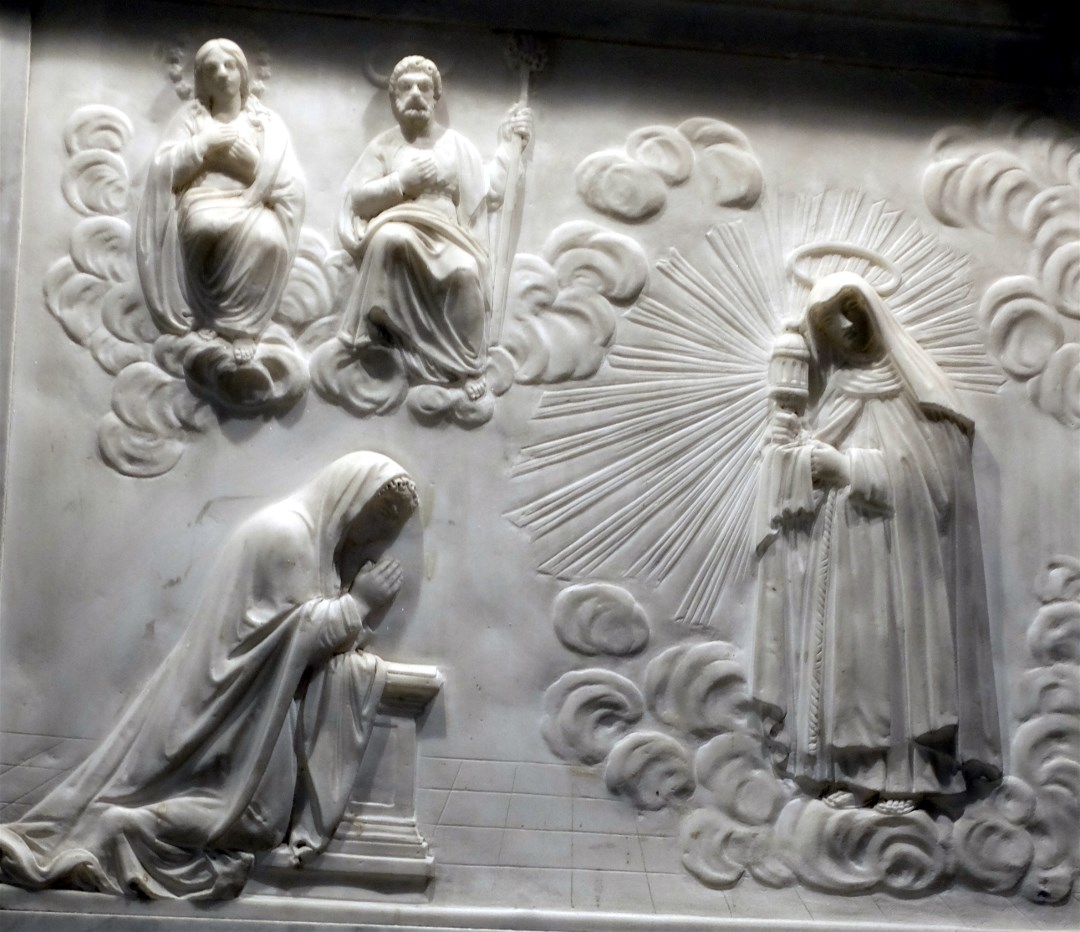 Mari still trying to reach the oranges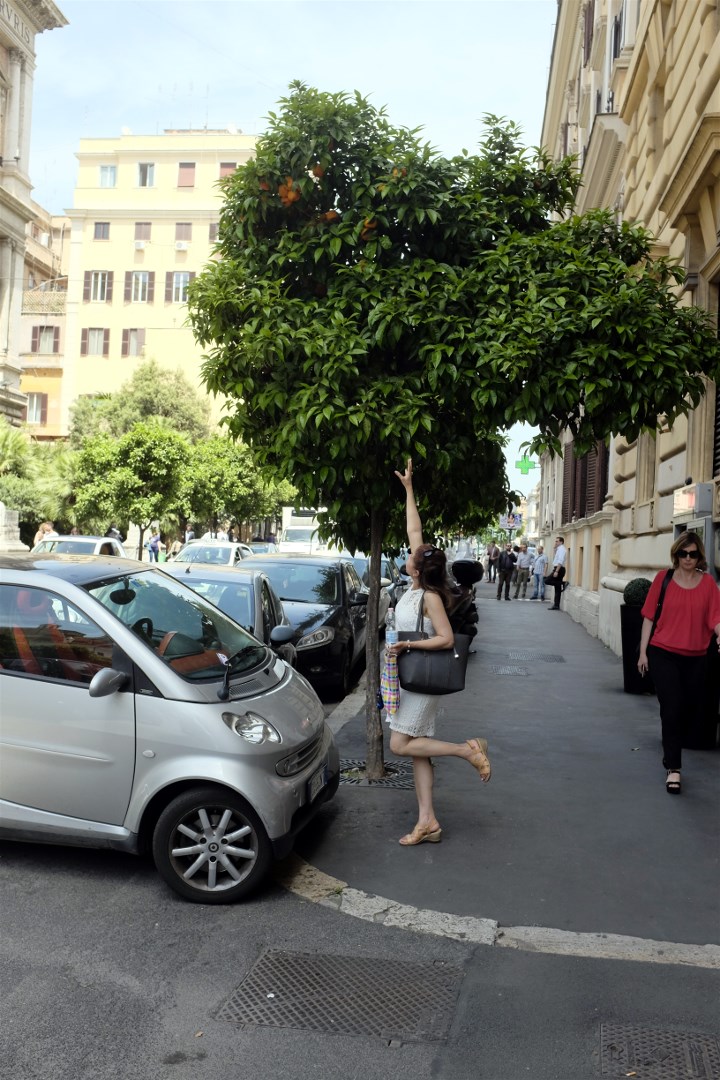 This big fountain was right around the corner from our hotel.
When we got lost we would look for this and the way home after that was easy.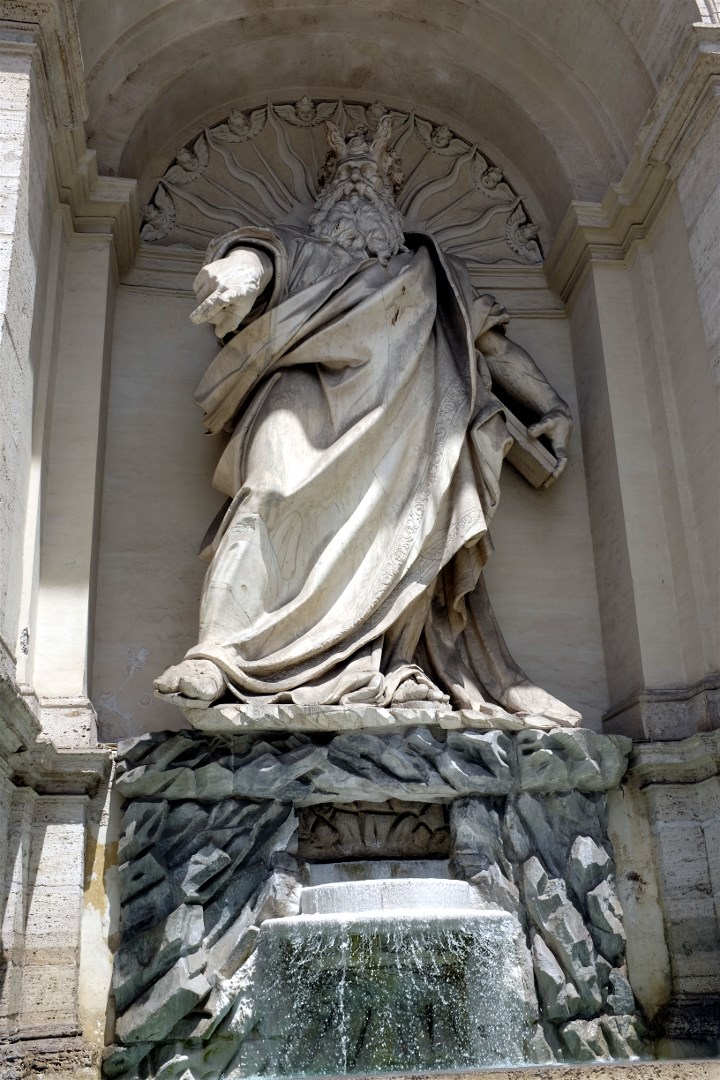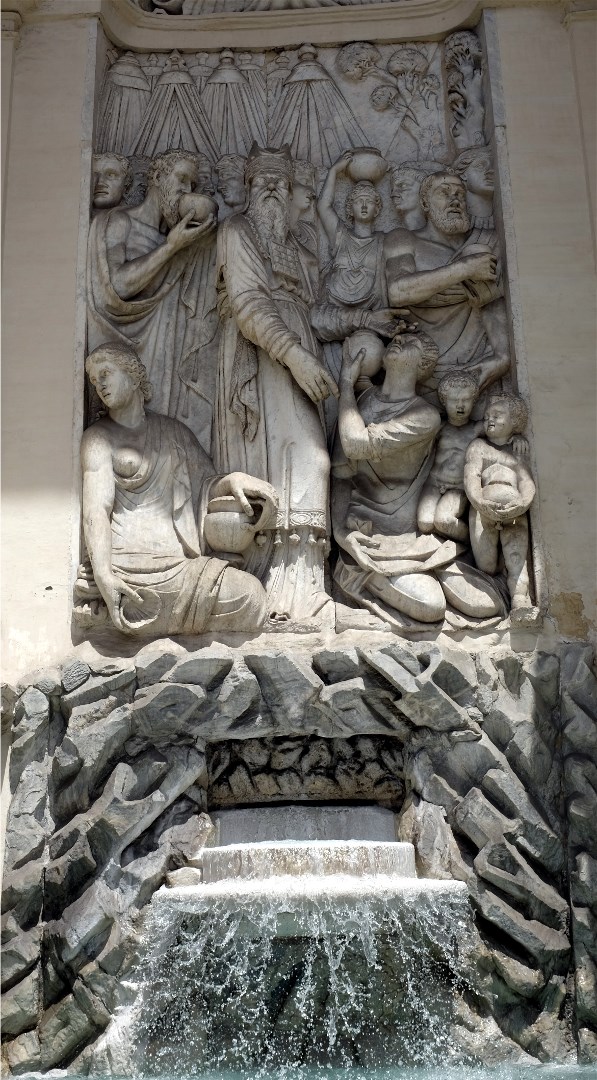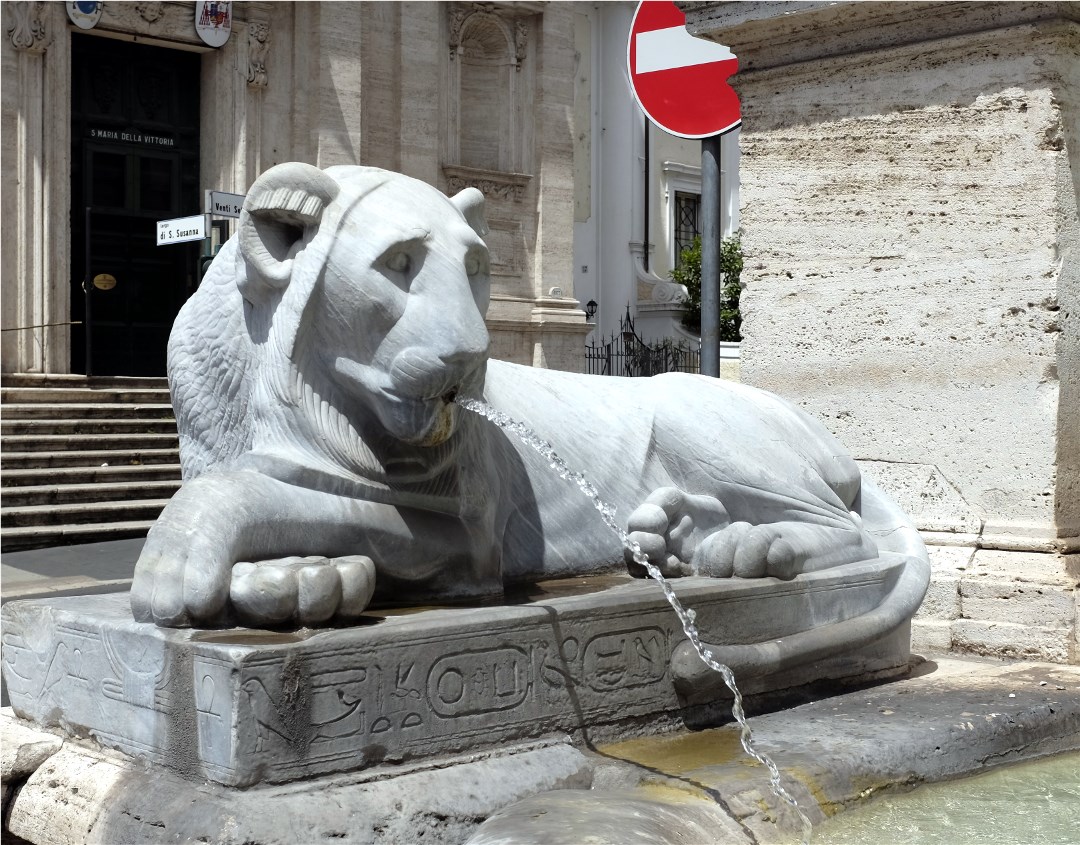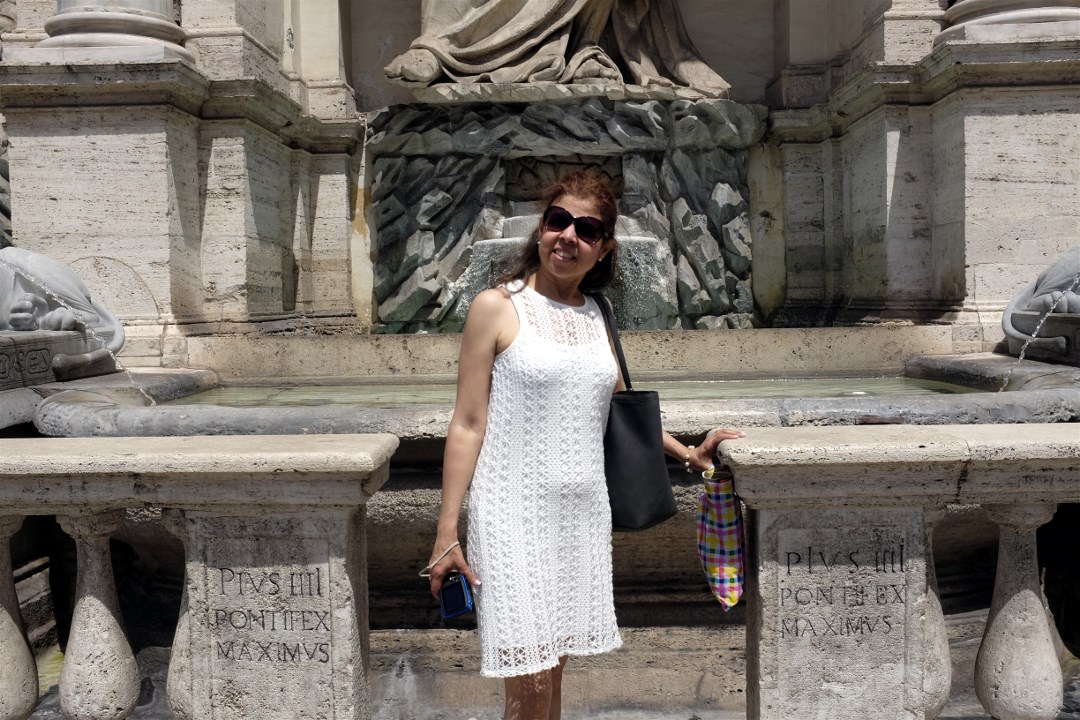 Our Hotel in Rome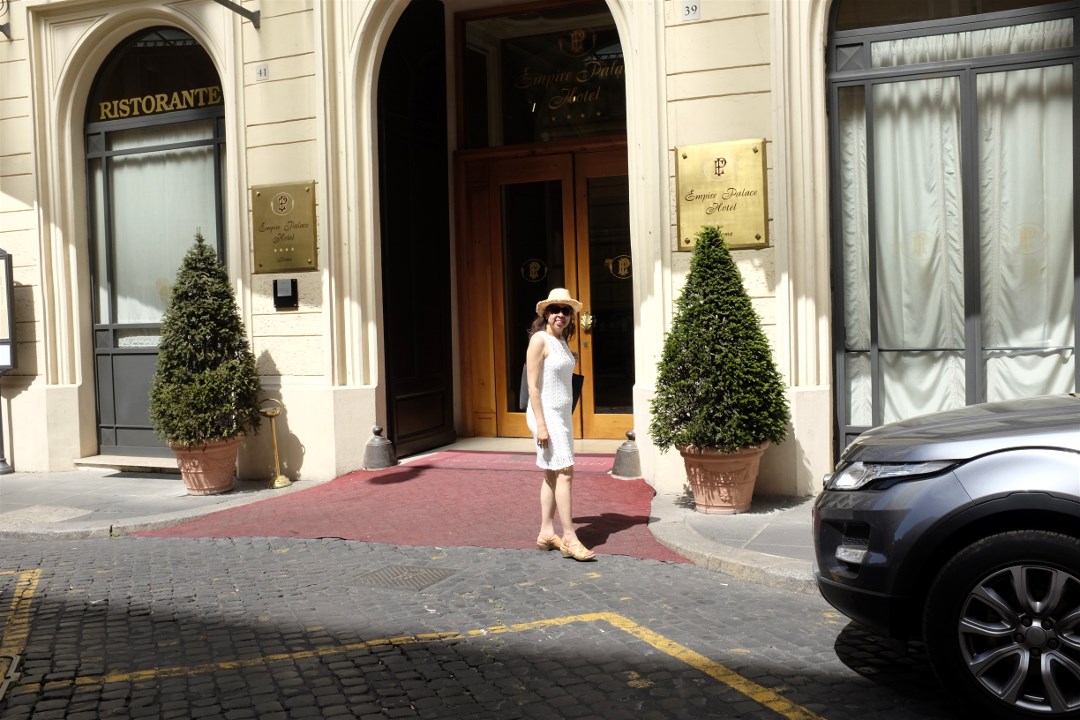 View from the bedroom our restaurant patio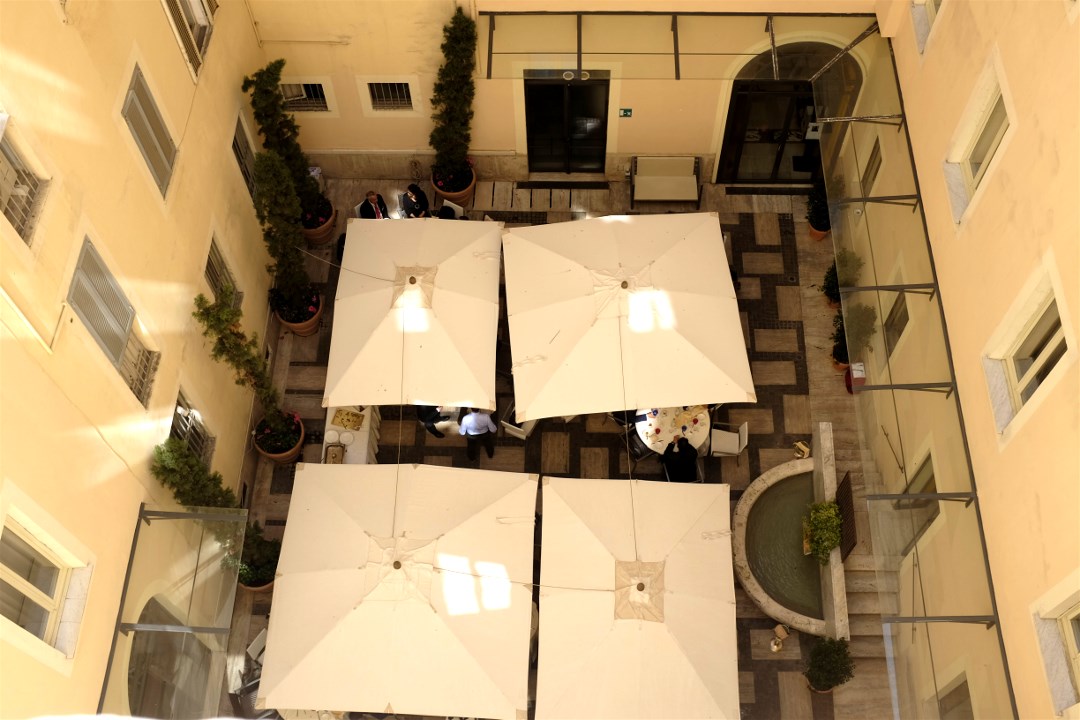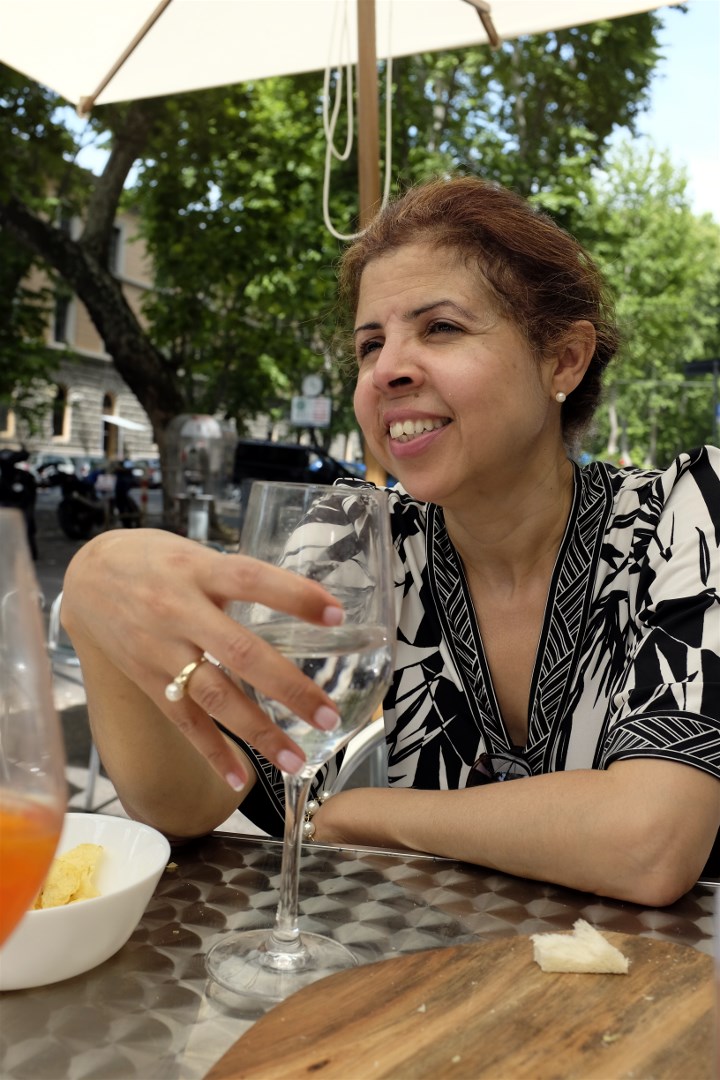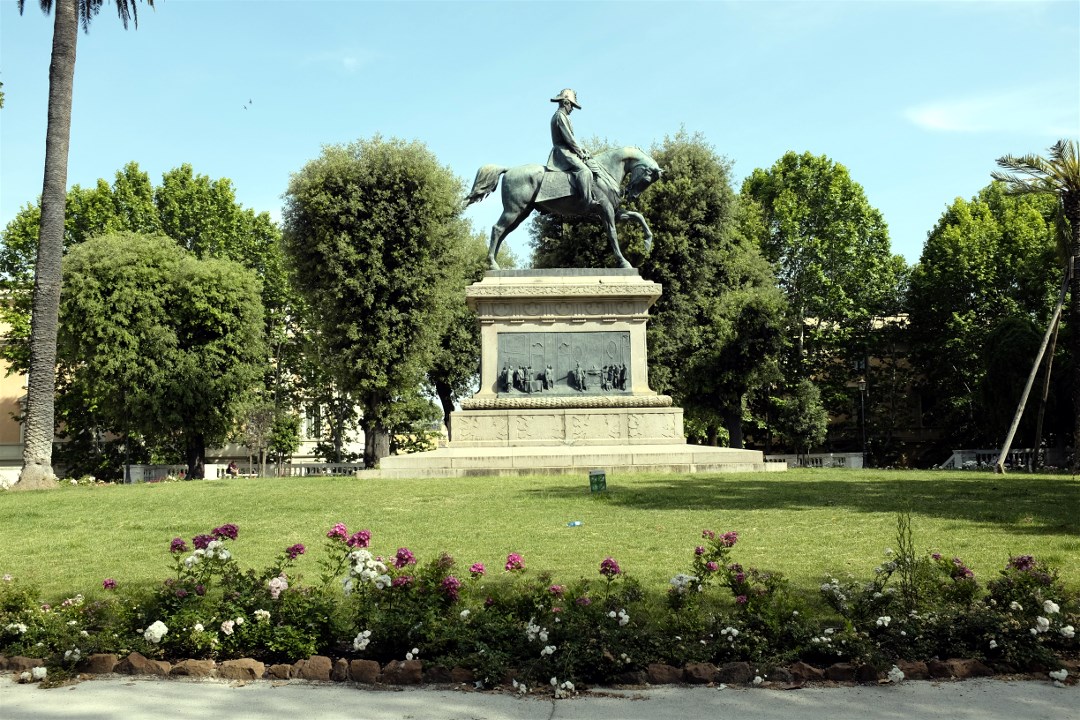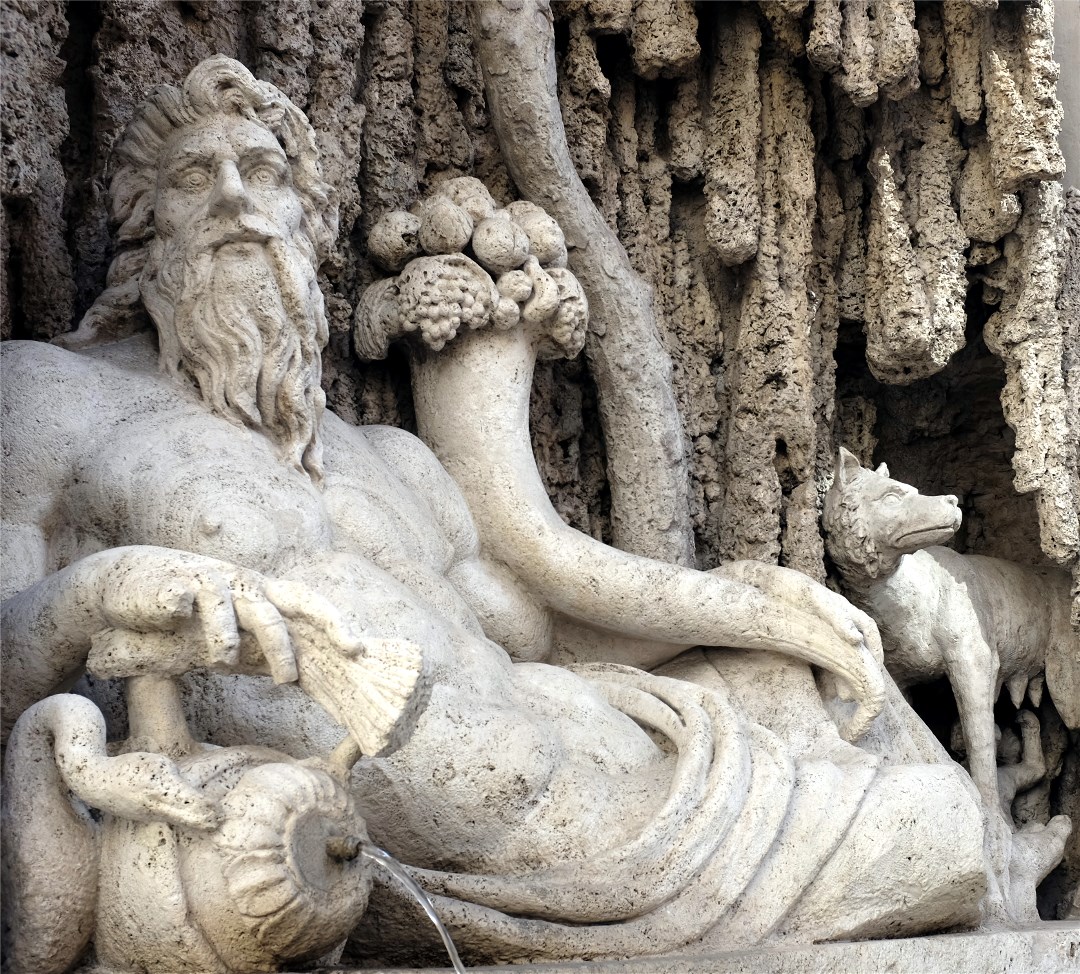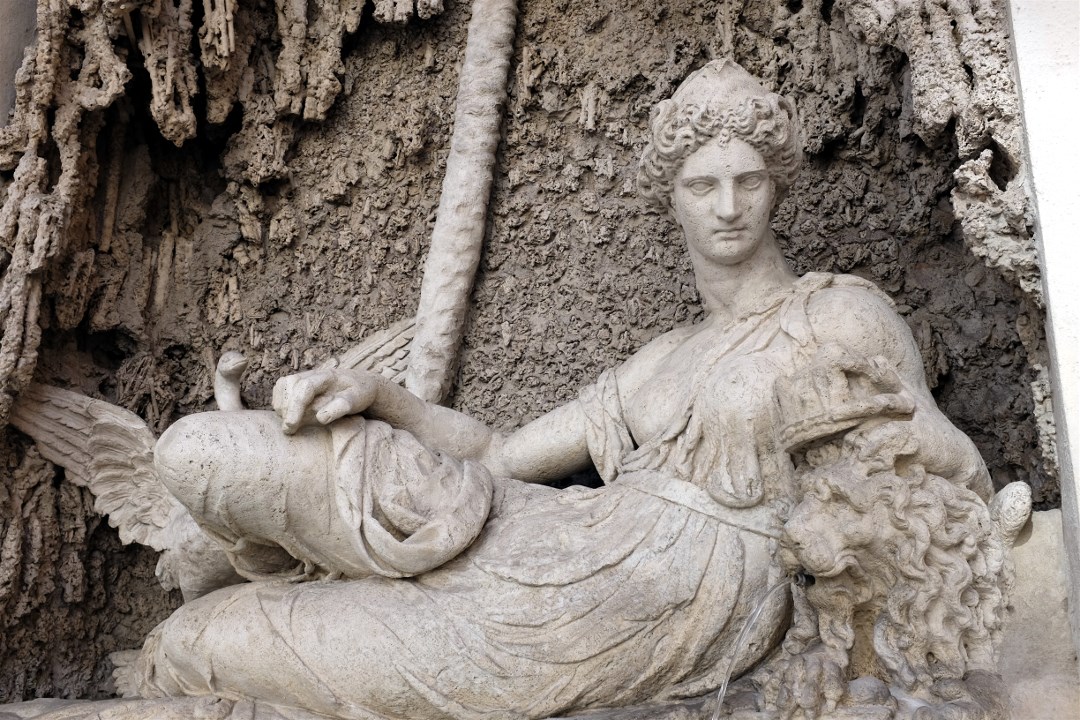 Trevi Fountain
They say if you toss a coin over your left shoulder fate will bring you back some day.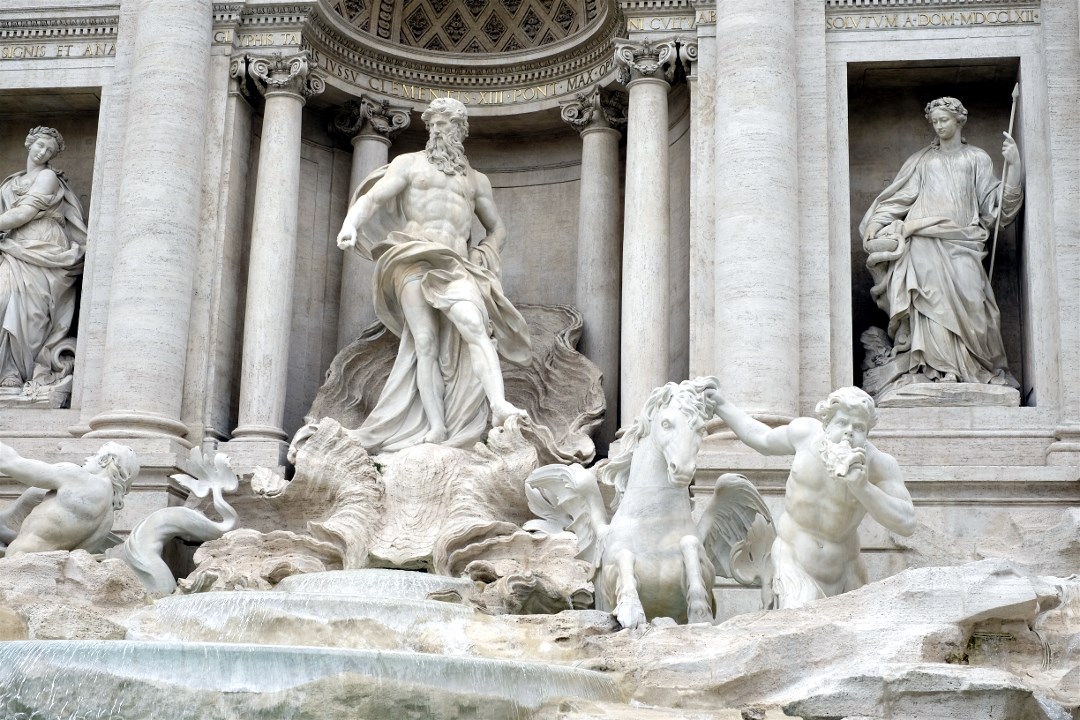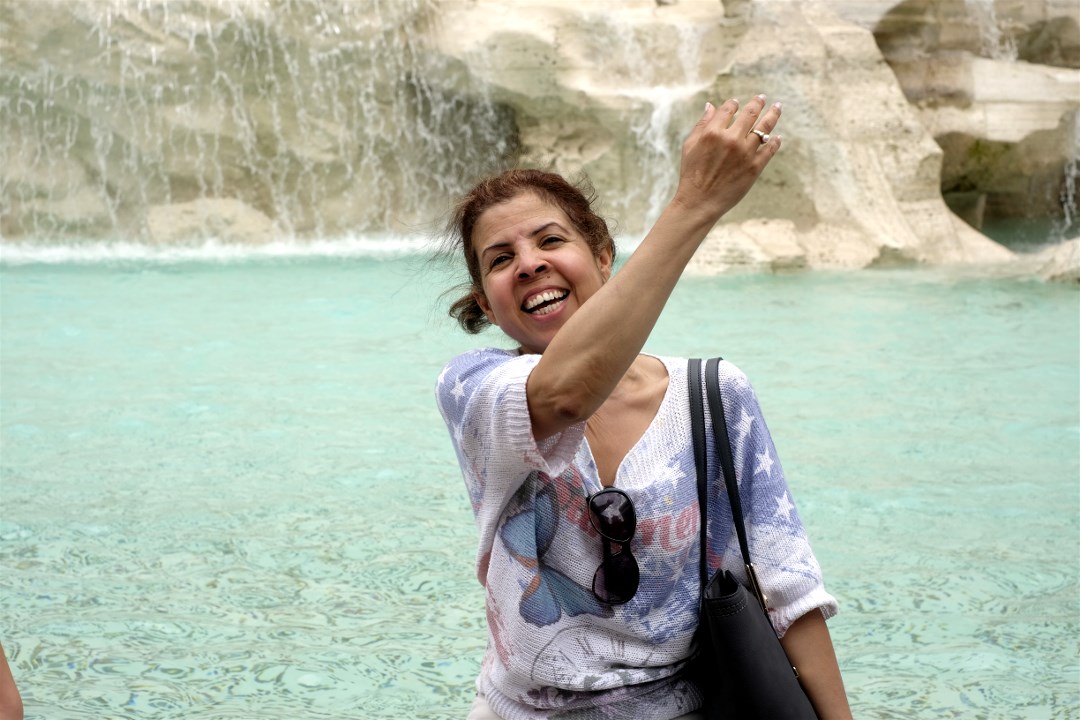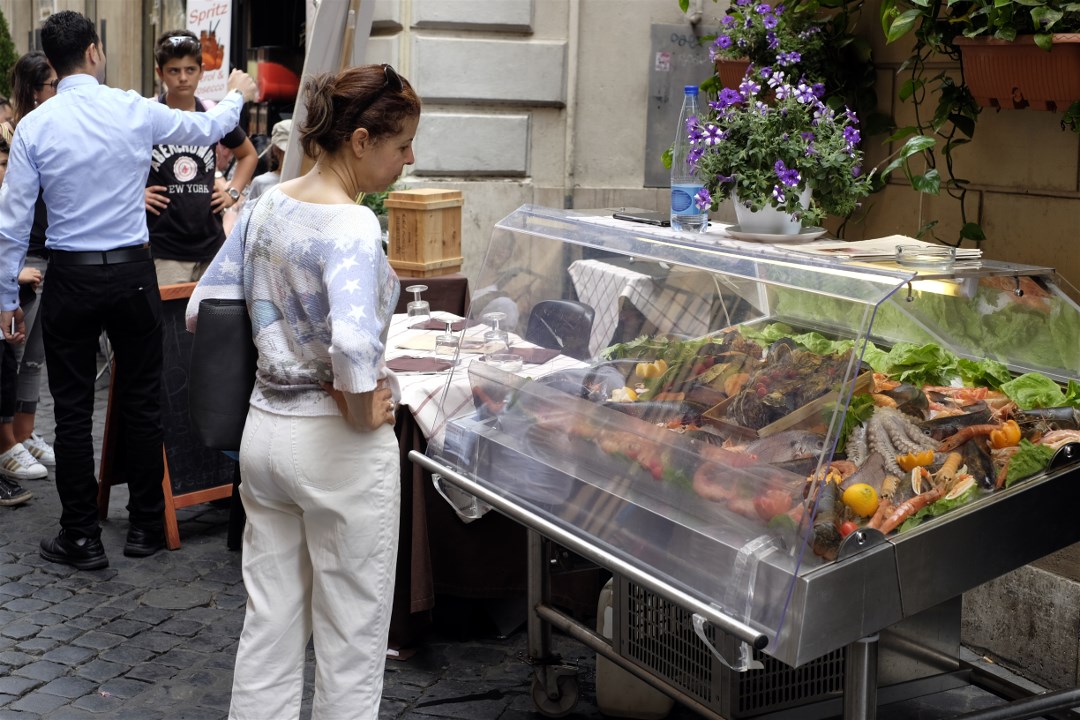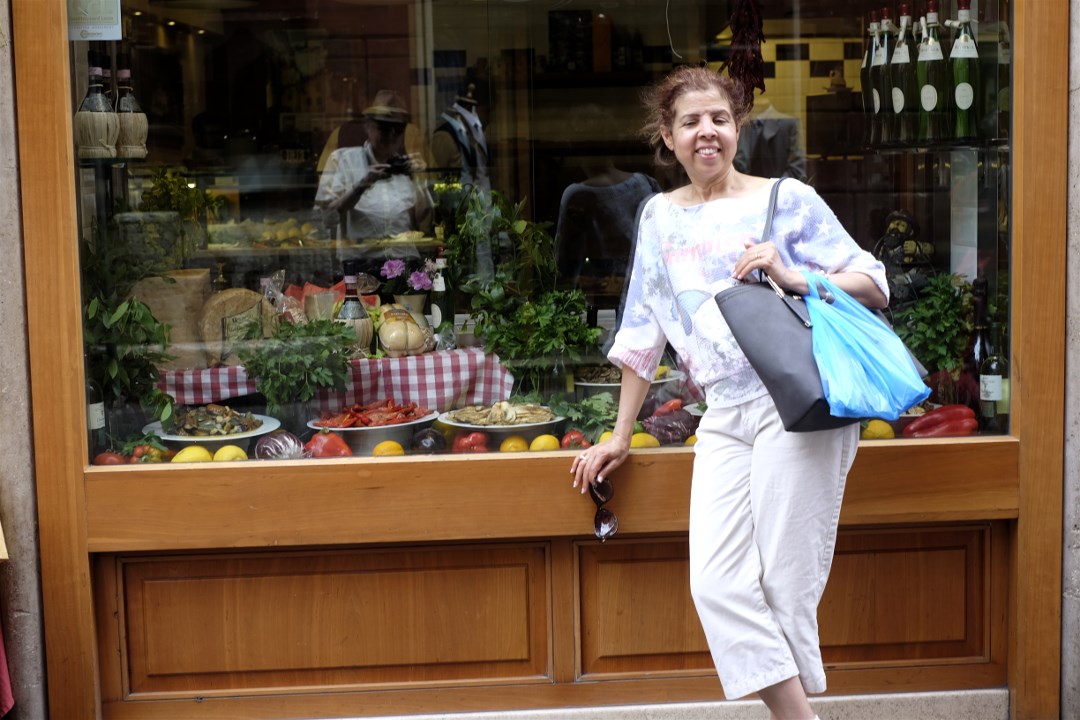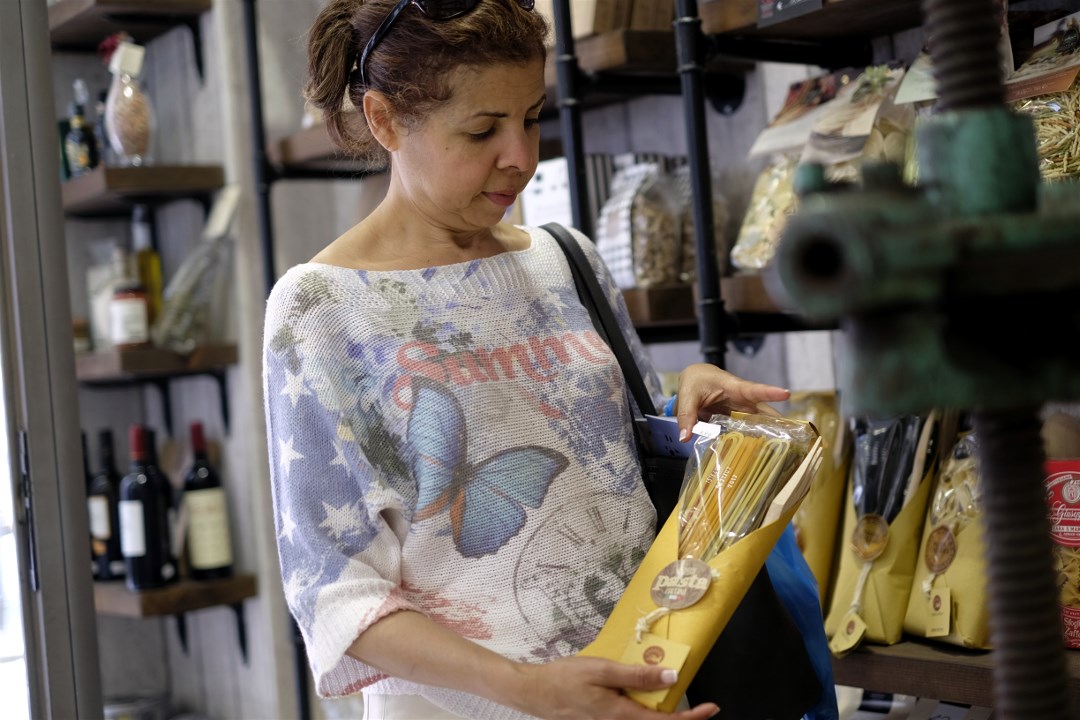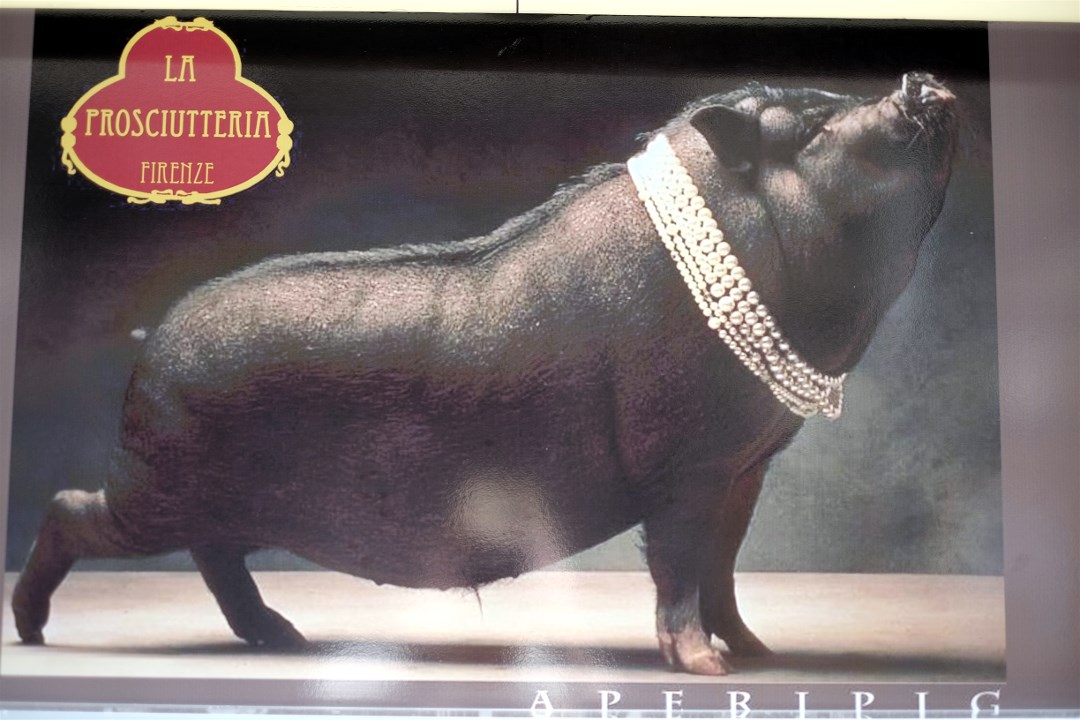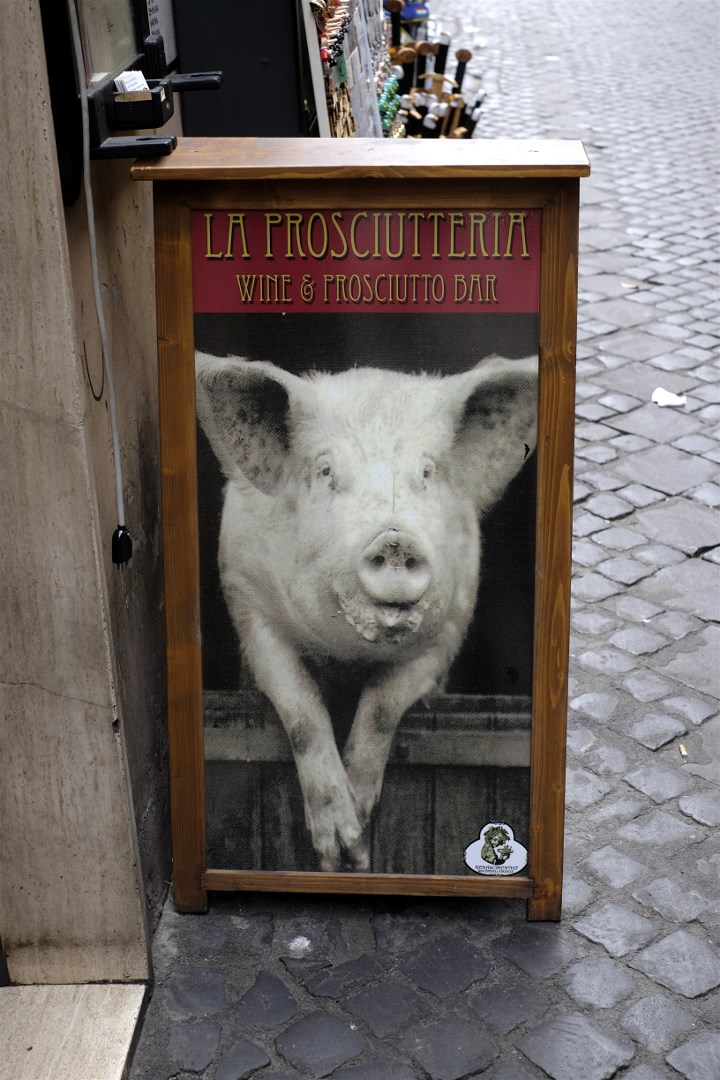 Spanish Steps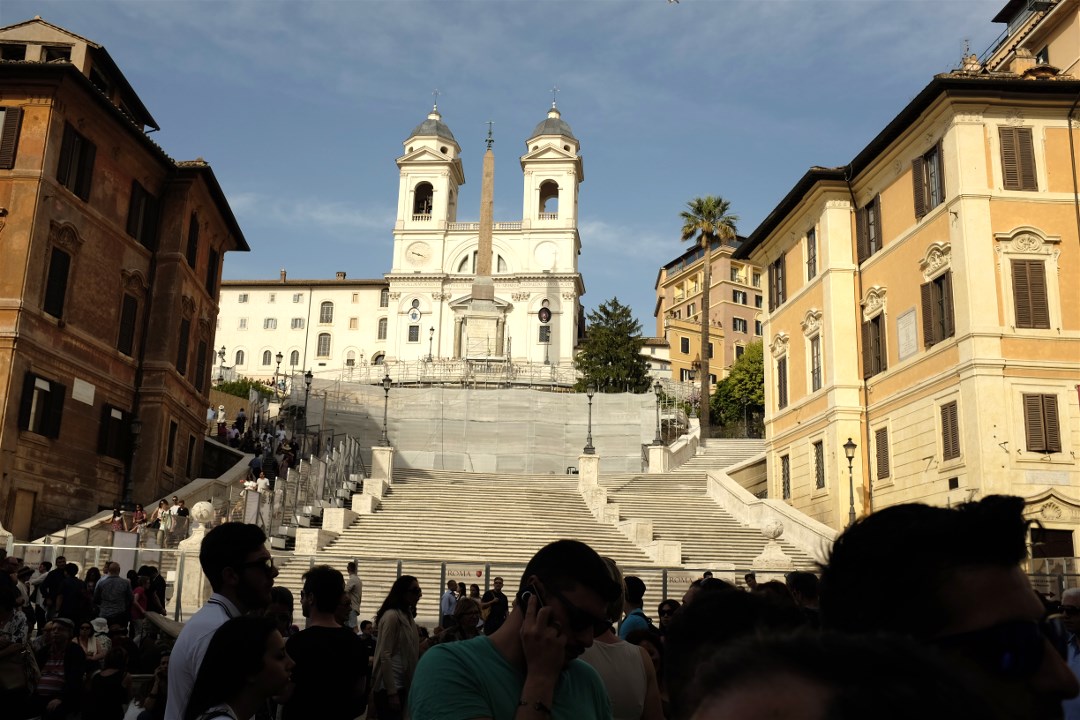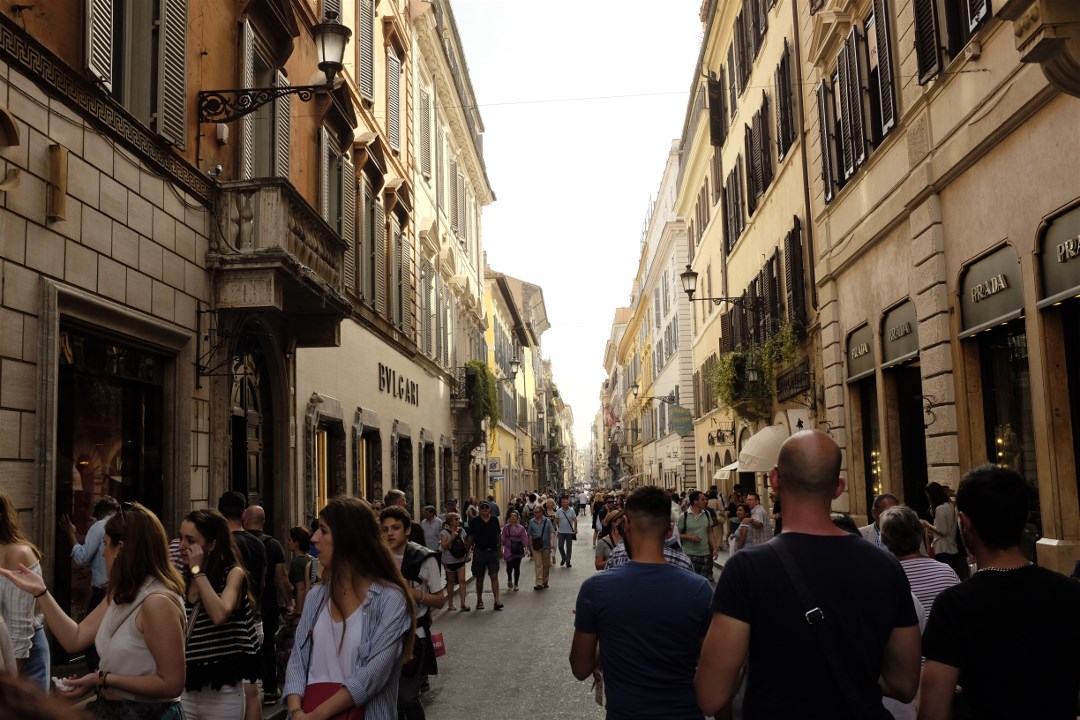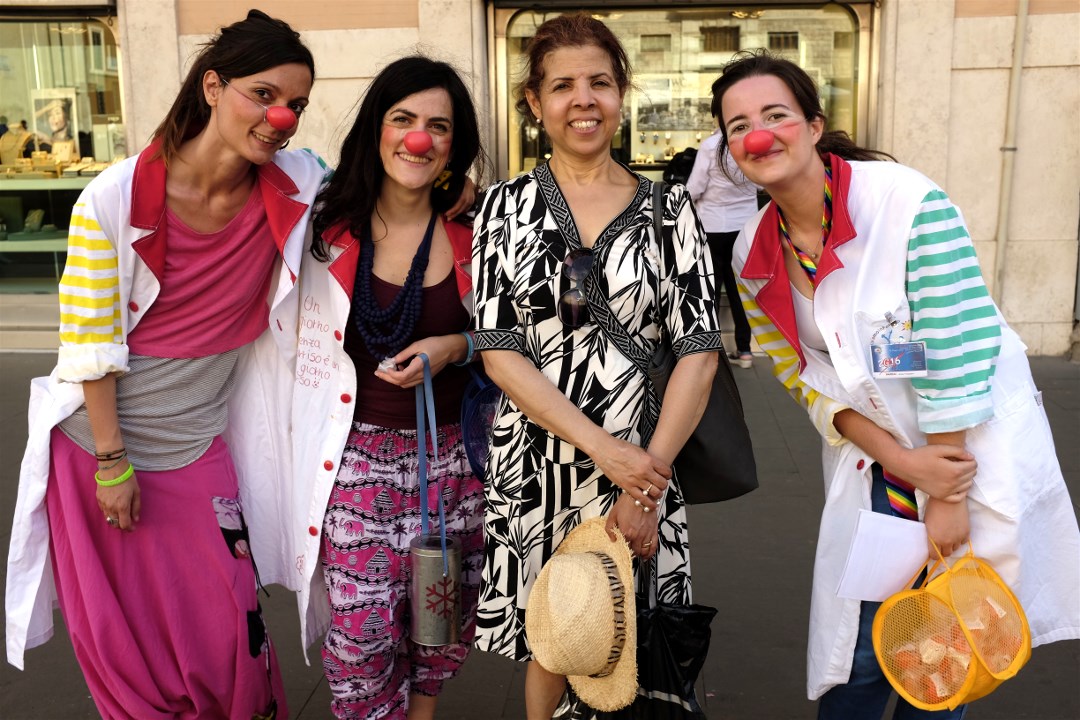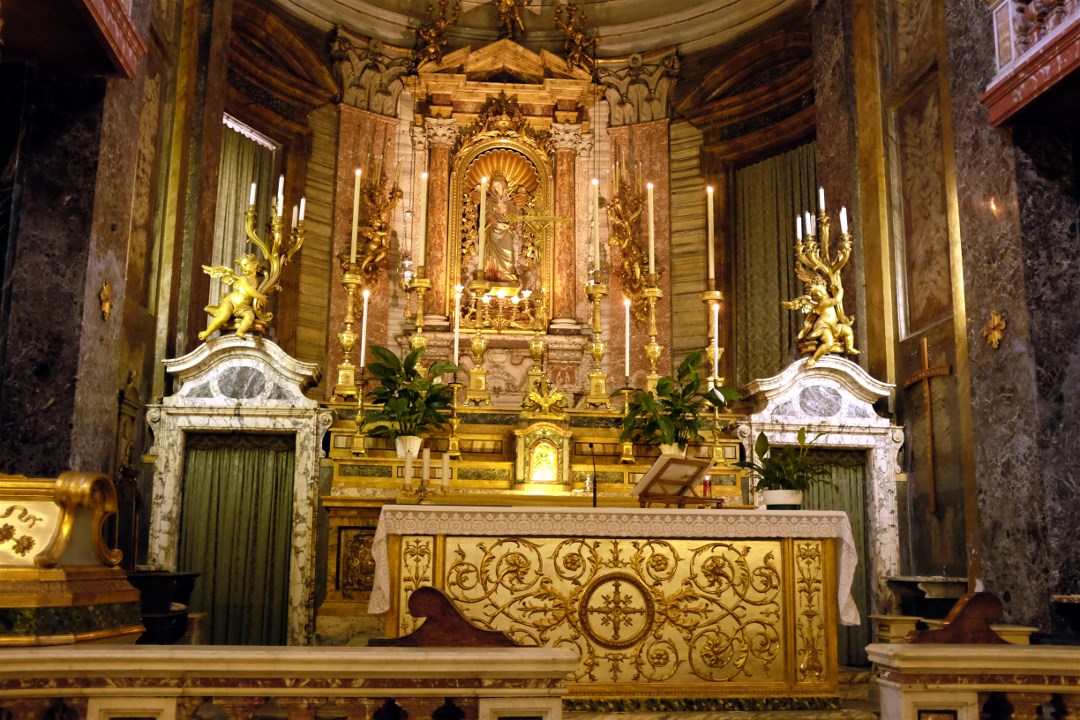 A Night at the Opera

While in Rome I suppose one should visit the Opera. We saw La Traviata. Fortunately I looked it up on Wikipedea before we went so we more or less understood what was happening. It was great. We had a little box upstairs. You arrive an hour before the show and they serve you the first course of a nice meal with a liter of very good Merlot. Every intermission (there were 3) they serve more food. What a civilized way to watch a show! We took home the menu as a souvenir. 1. Traditional Roman canapes..salt cod and potato croquettes with caper flowers and tartar sauce. 2. Sardinian Antipasto..Pane guttiau with a Fiore Sardinaian pecorino cheese fondulata and bottarga. (I don't know what that is either but it tasted good, basically high end cheese and crackers) 3. First course: Fresh pasta millefeuille from Partenopea with porcini mushrooms, aubergines, buffalo mozzarella and basil sauce....Then the lights went down and there was singing and stuff. Giuseppe Verdi is famous but like Shakespear kind of old fashioned. Plus they sang in Italian -They sang very well and the costumes were beautiful. Then there was an intermission and they brought the main course Sicilian "cartoccio" with swordfish, tomatoes, olives, capers and oregano. This was cooked in a little package you had to unwrap. Super delicious. A small portion but very satisfying. Then more singing, beautiful dresses. Then another intermission and desert, Vinsanto semifreddo with a dried fruit sauce and Tuscan cantucci biscuits...a kind of ice cream, hard but not cold. Wierd and delicious. At the end they brought me an espresso and Mari had a tea. I polished off the wine.

Dressing up for the Opera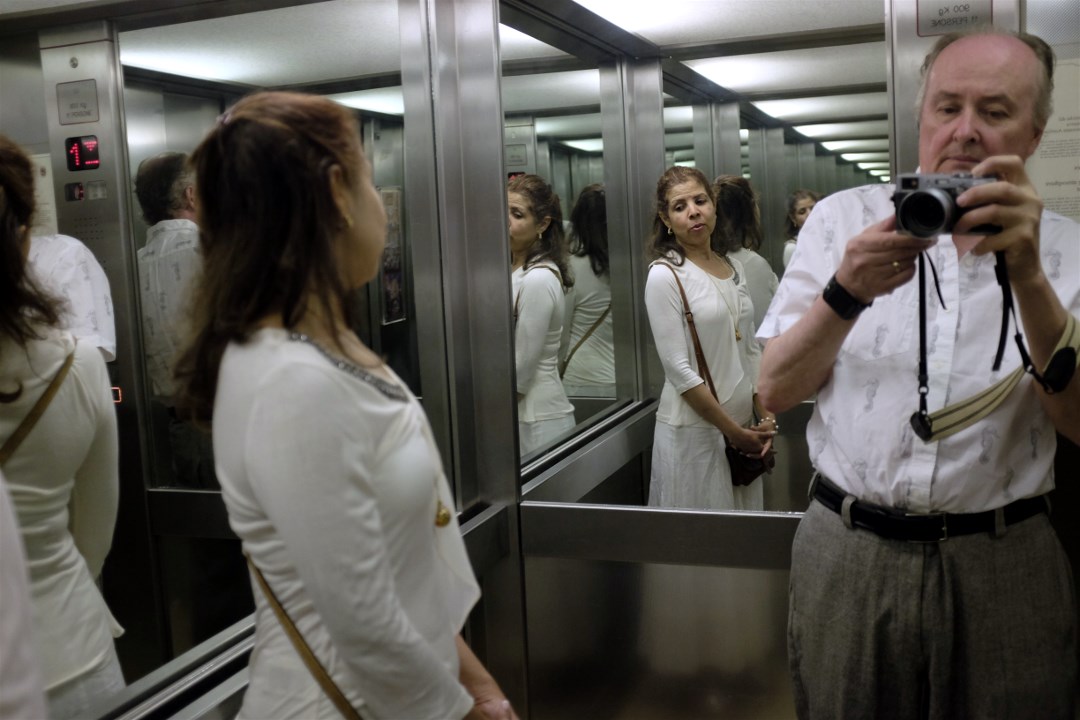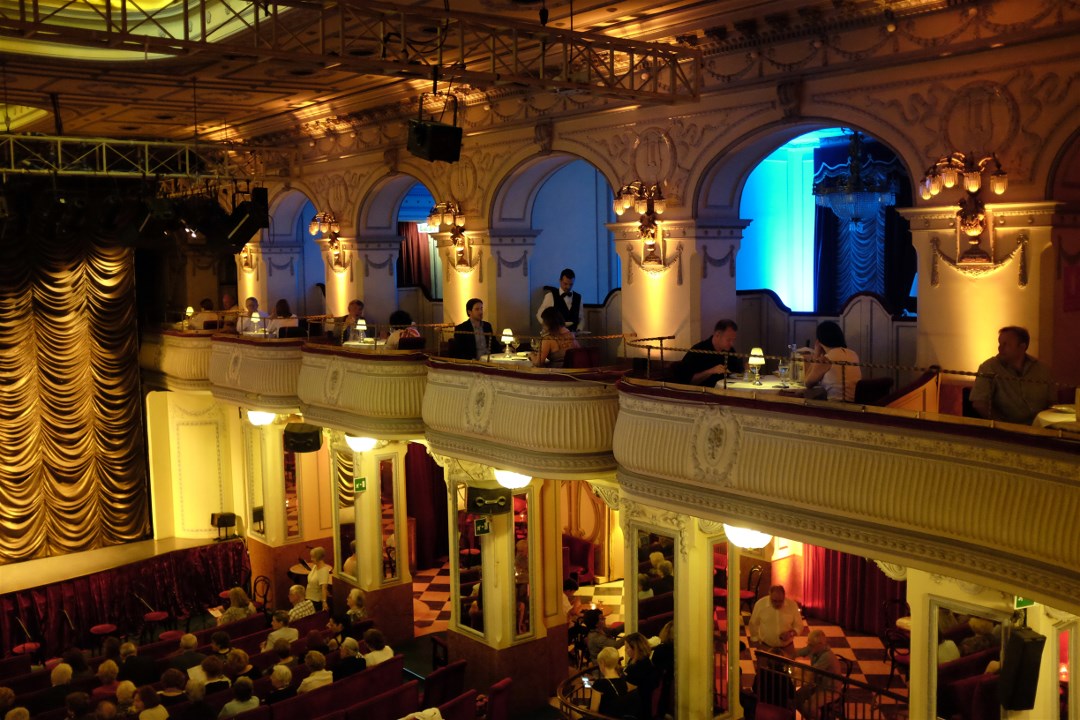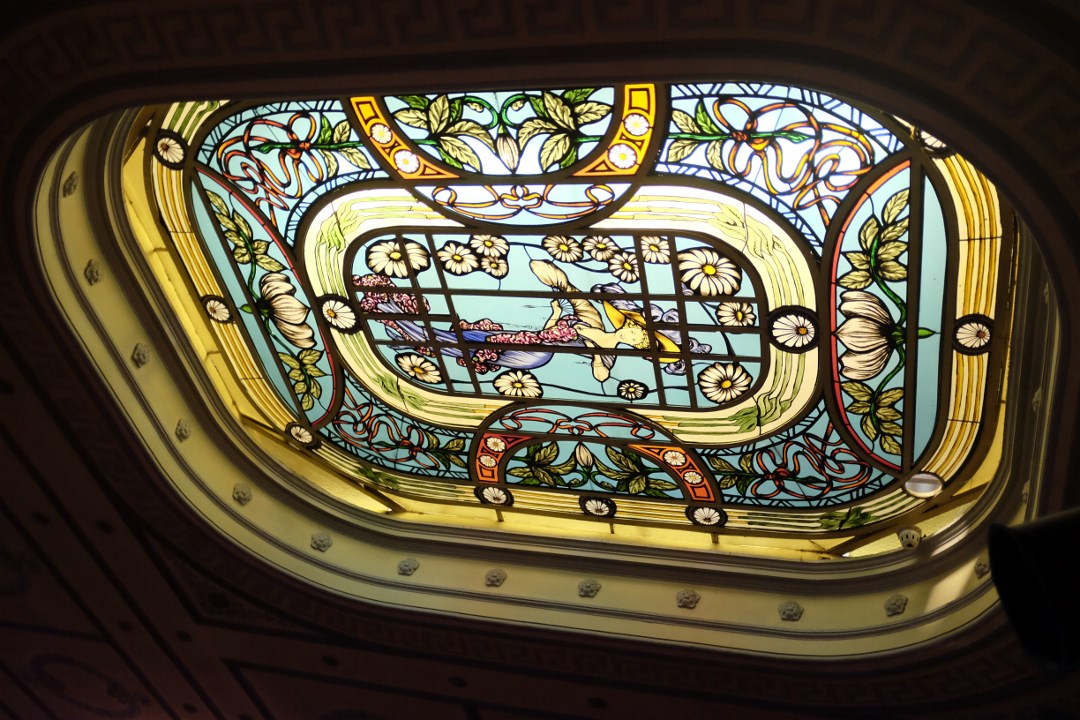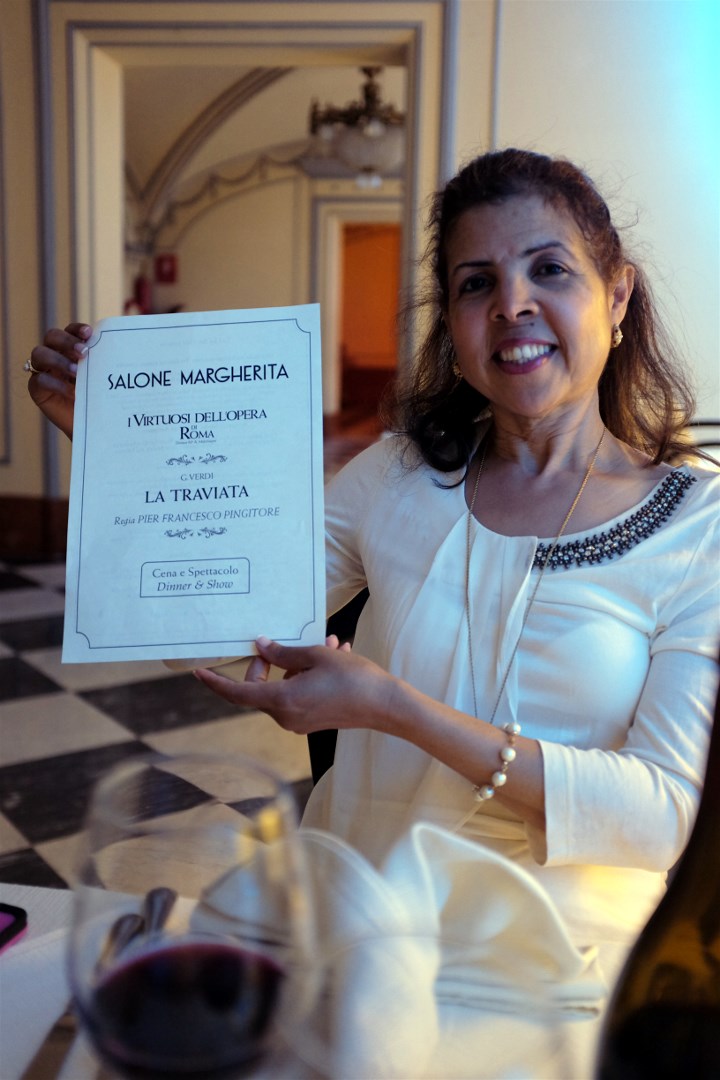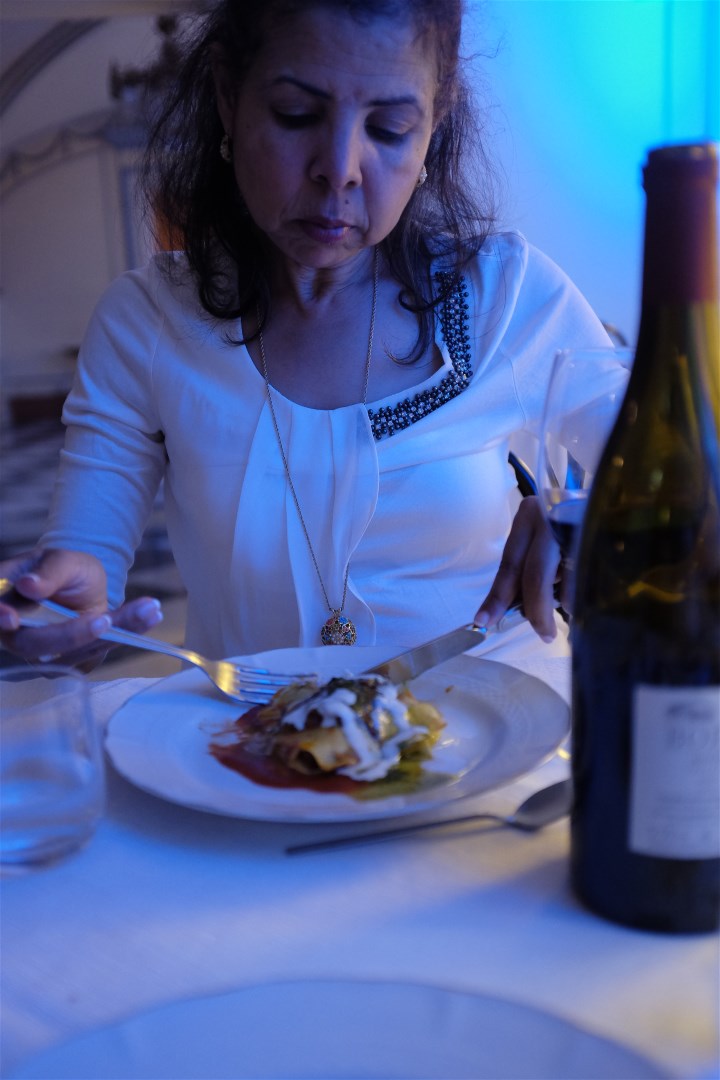 At one point in the show the lead singer comes up to the balcony and sang right beside us. Cool!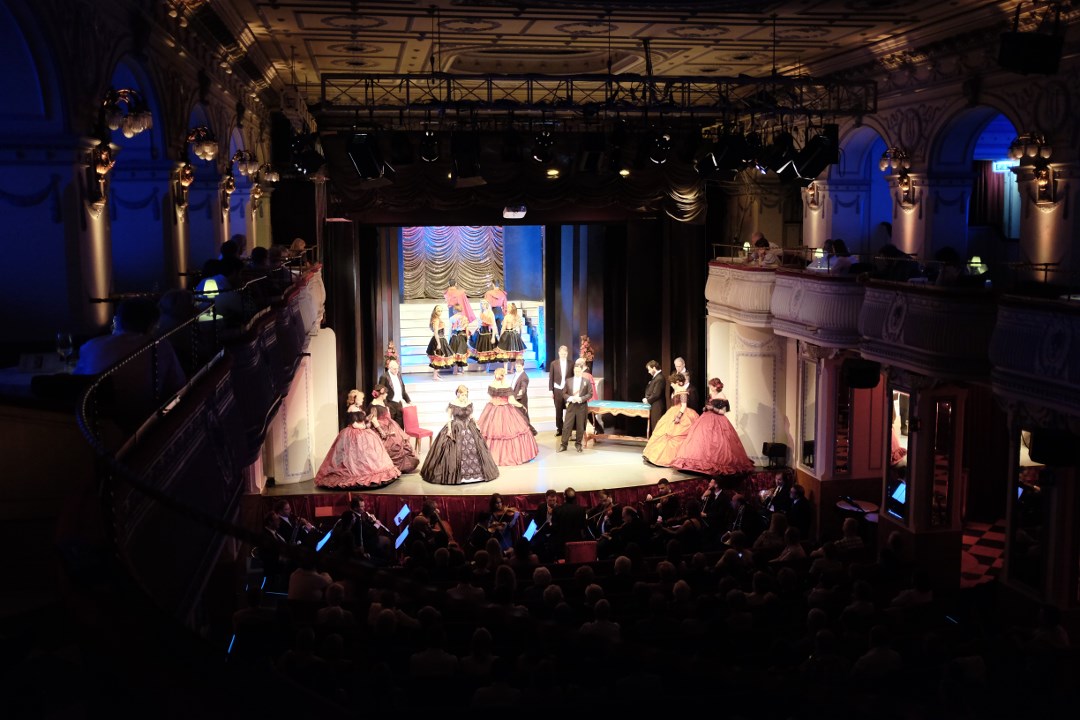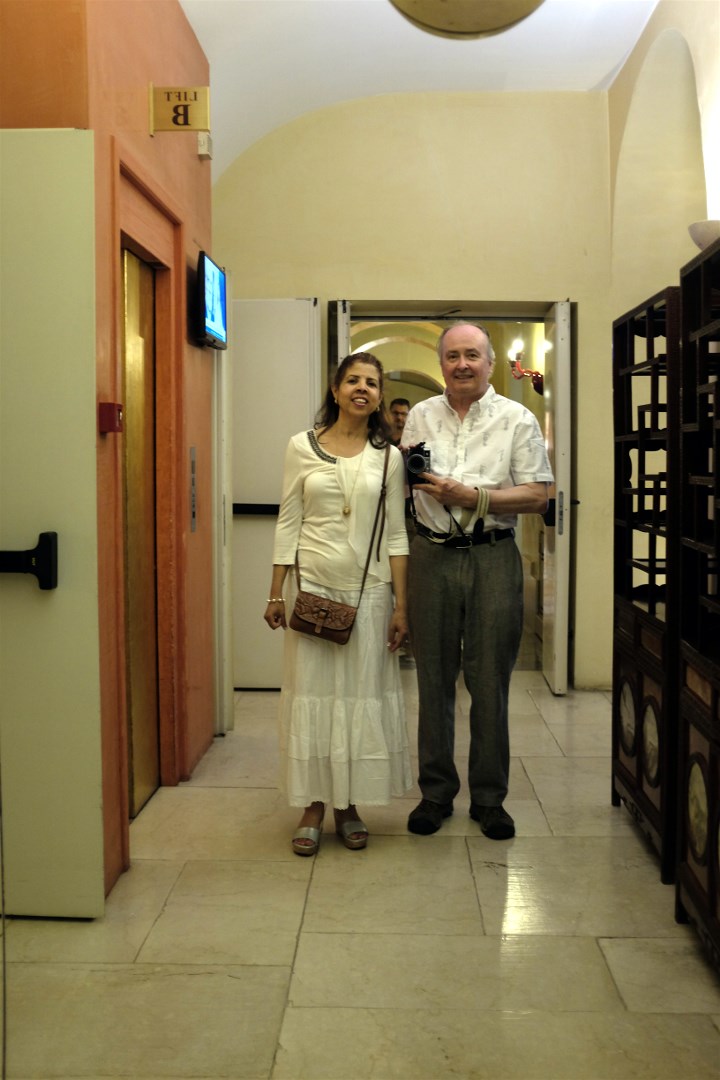 Chestnuts roasting by an open fire....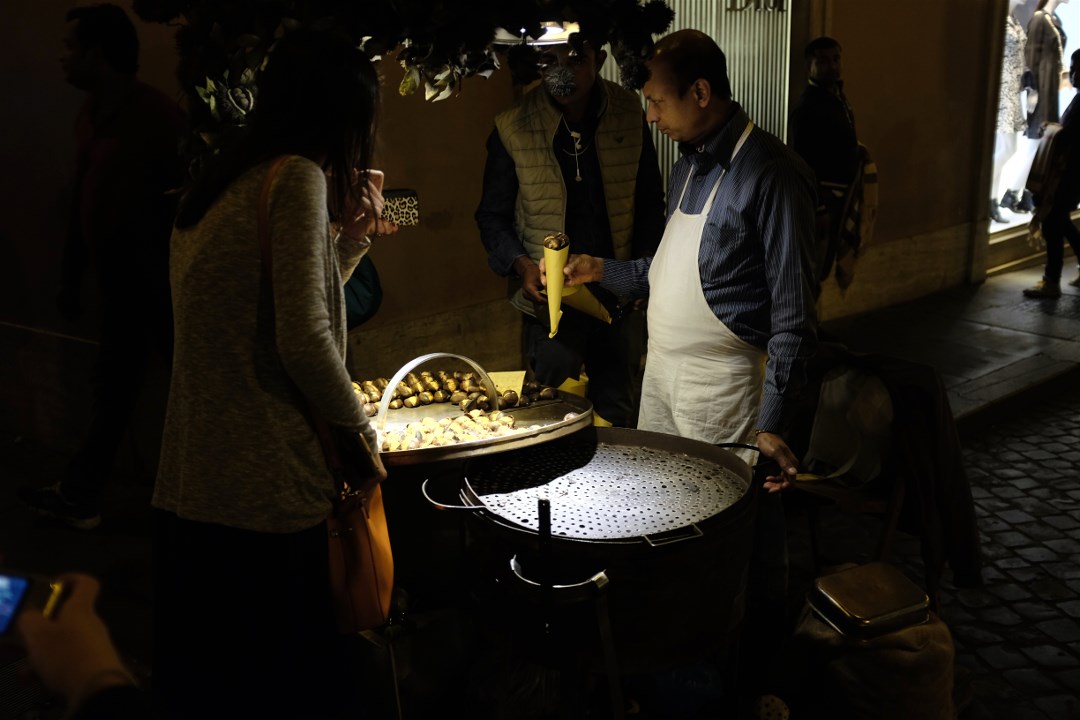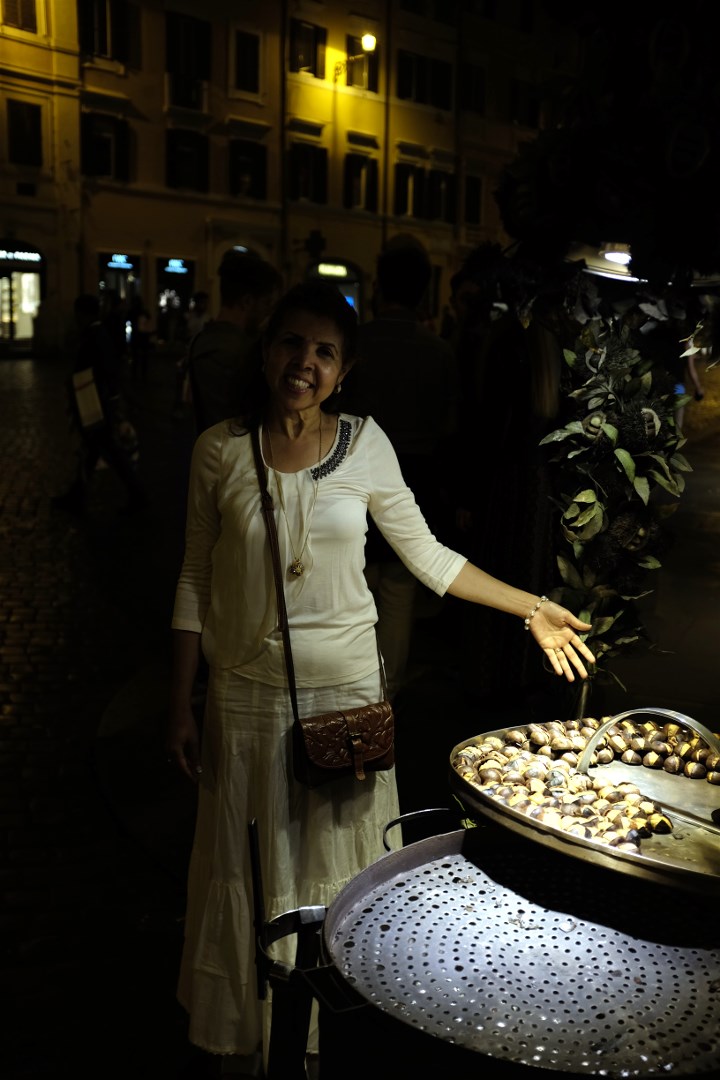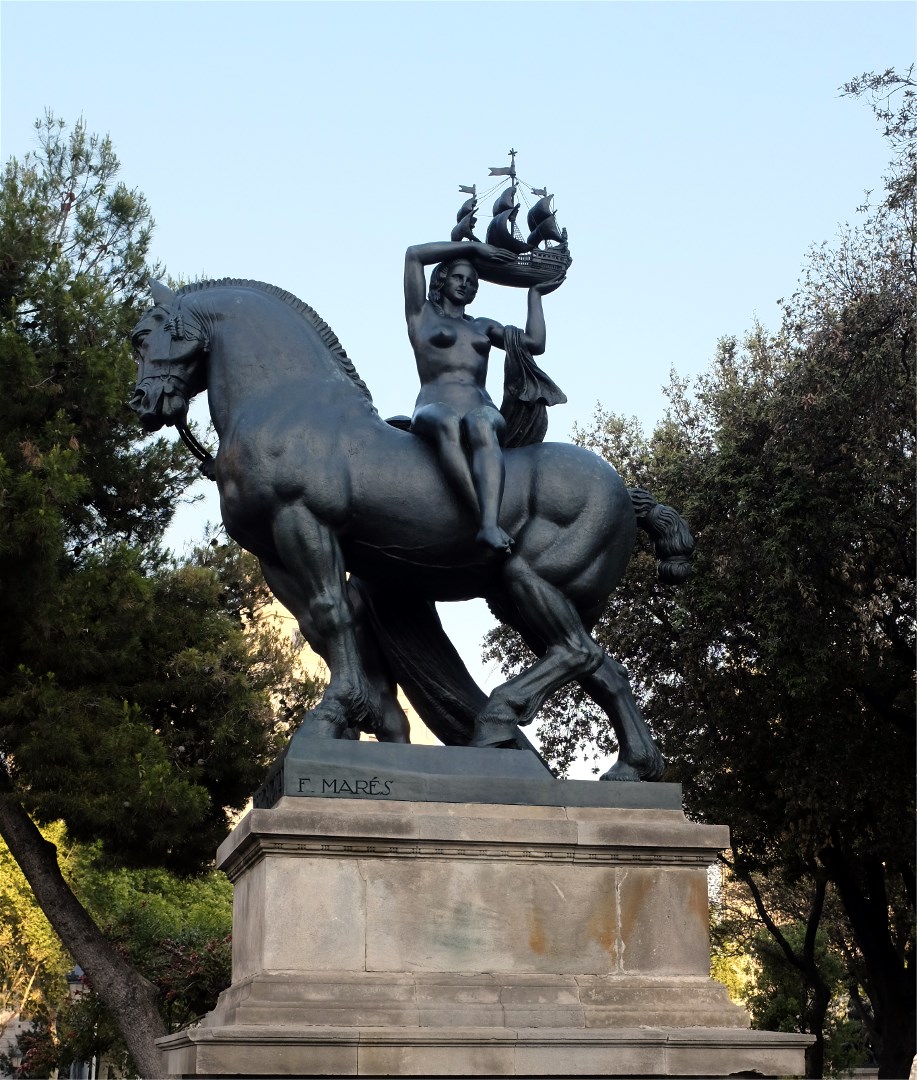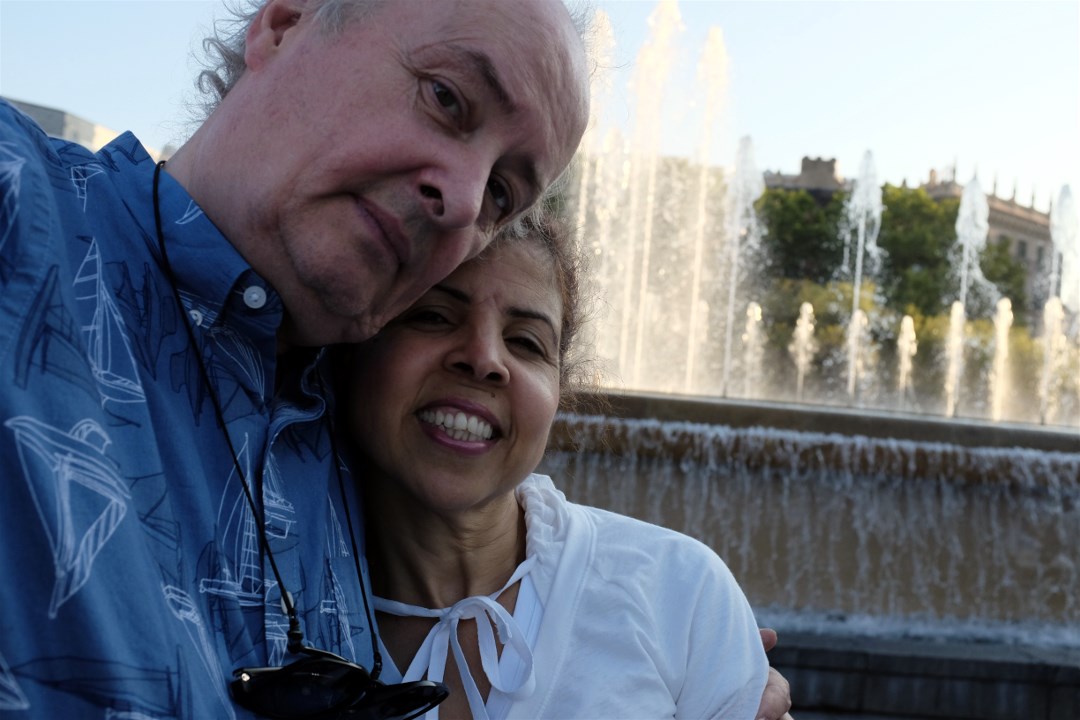 Paris


We arrived in Paris during the worst rain storm in 35 years. The Seine River burst its banks and they had to close the Louvre. We purchased disposable raincoats and continued with the trip. Rain or no rain we were there.
We spent a day trying to figure
out the Parisian subway system. It is great but complicated and frustrating and either under construction or strike. (Sort of like France).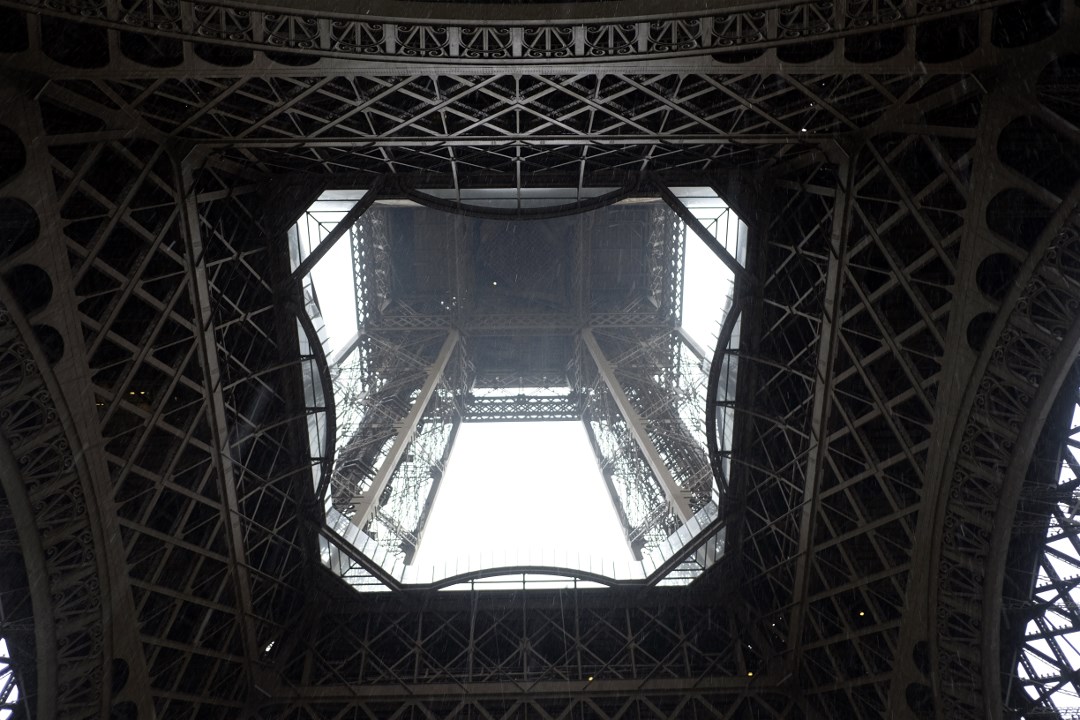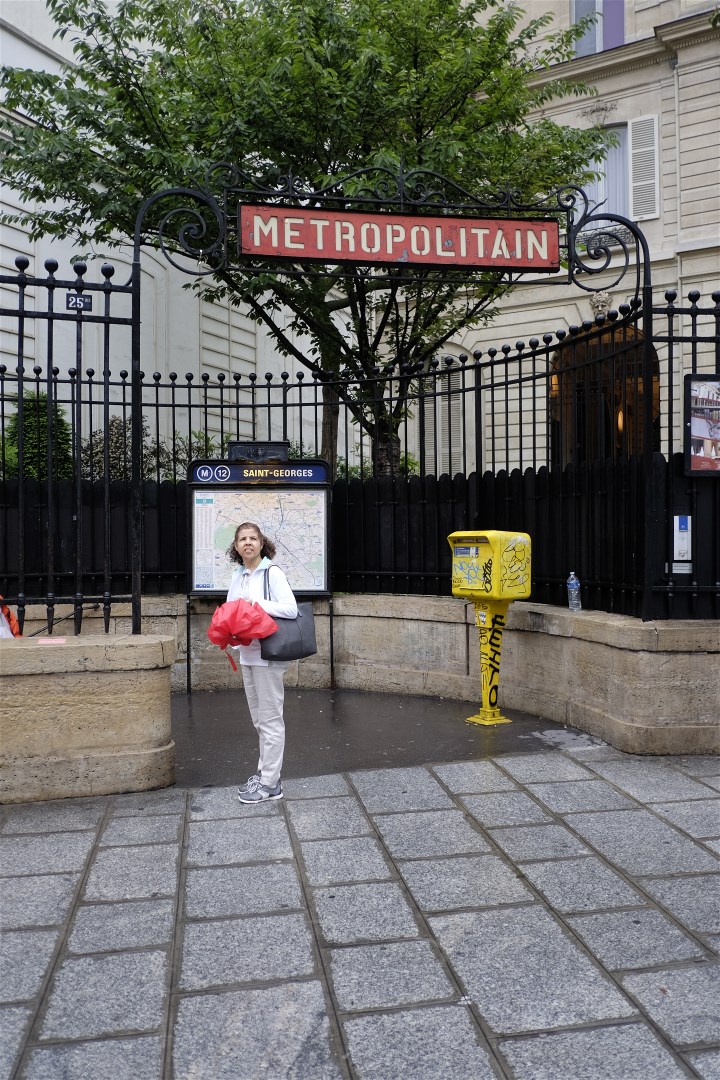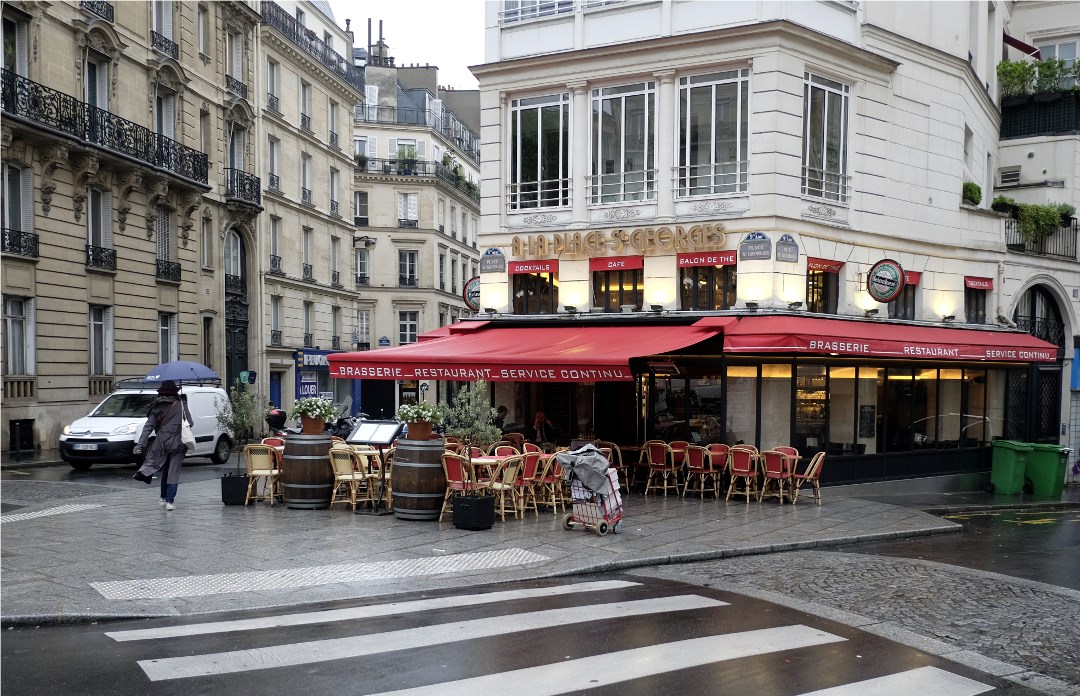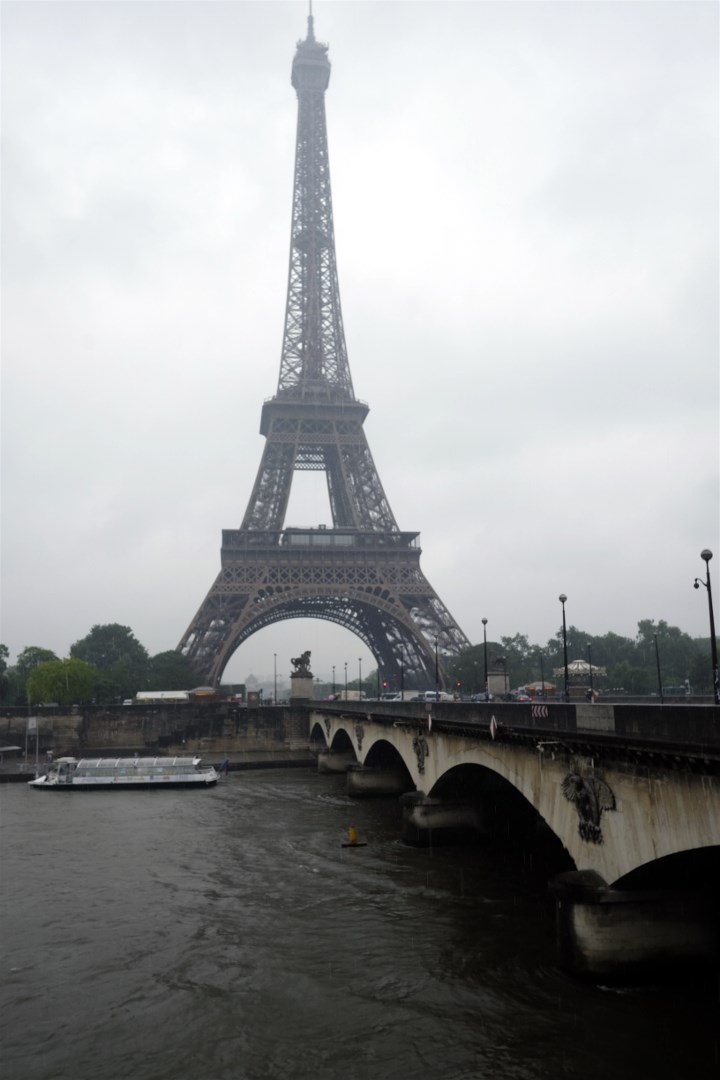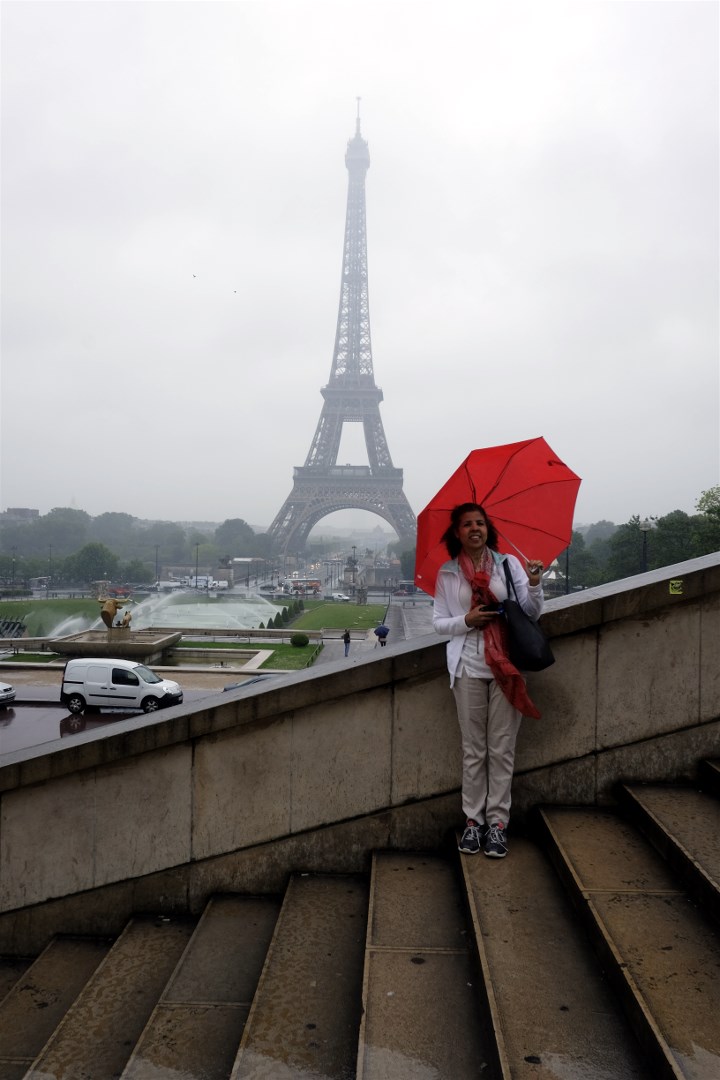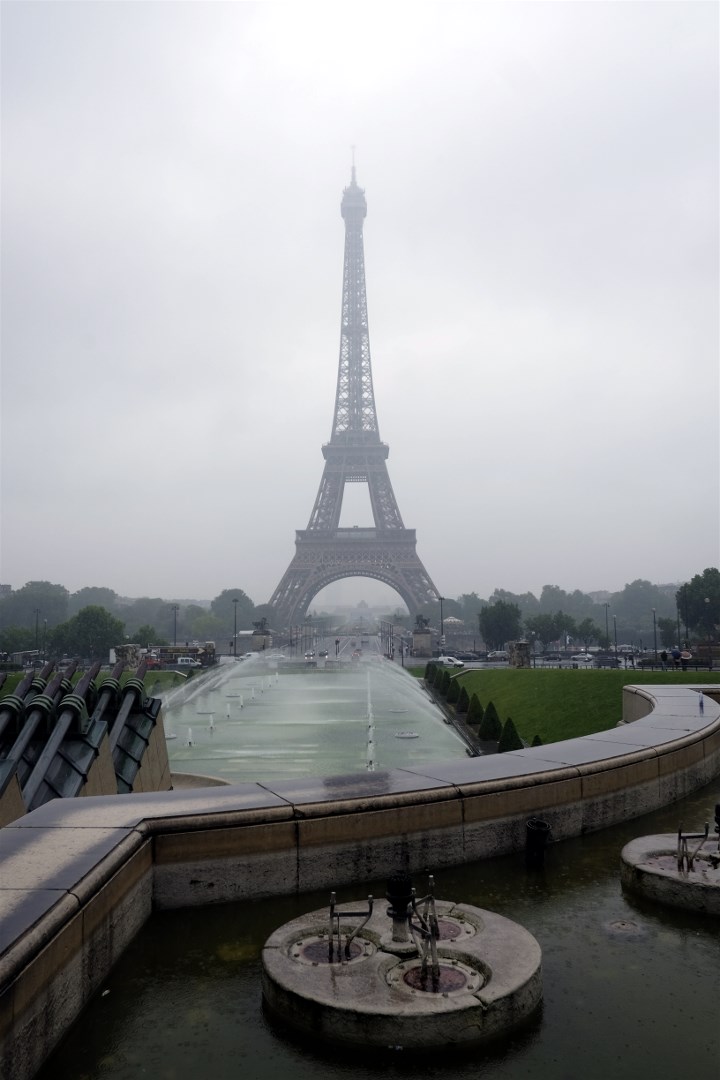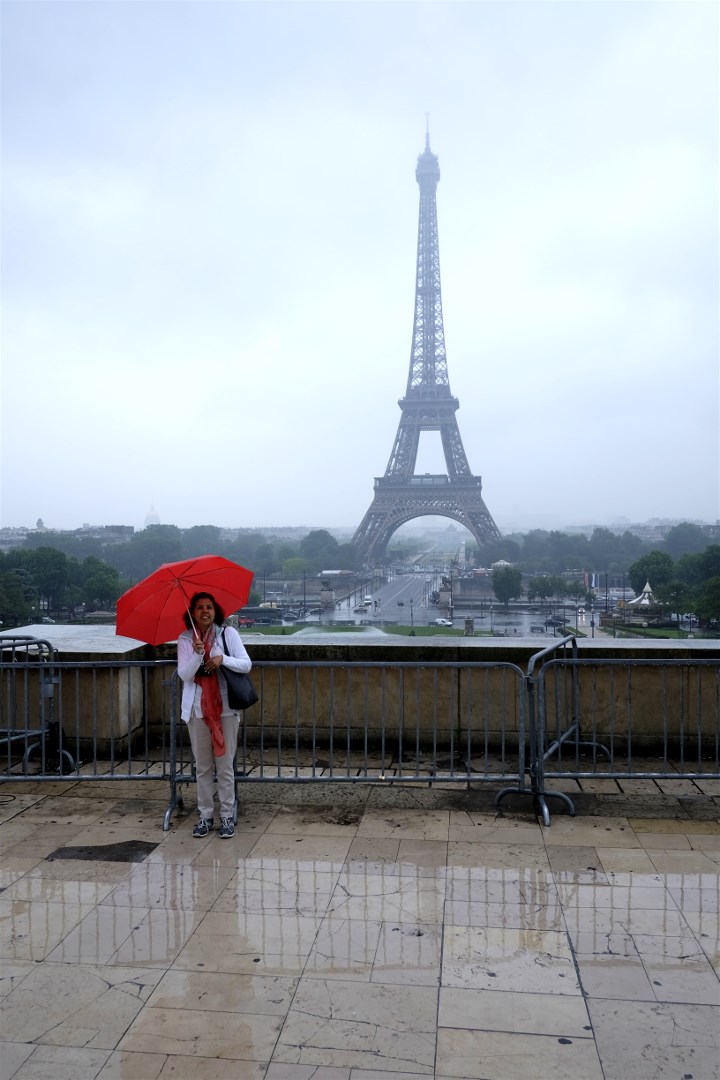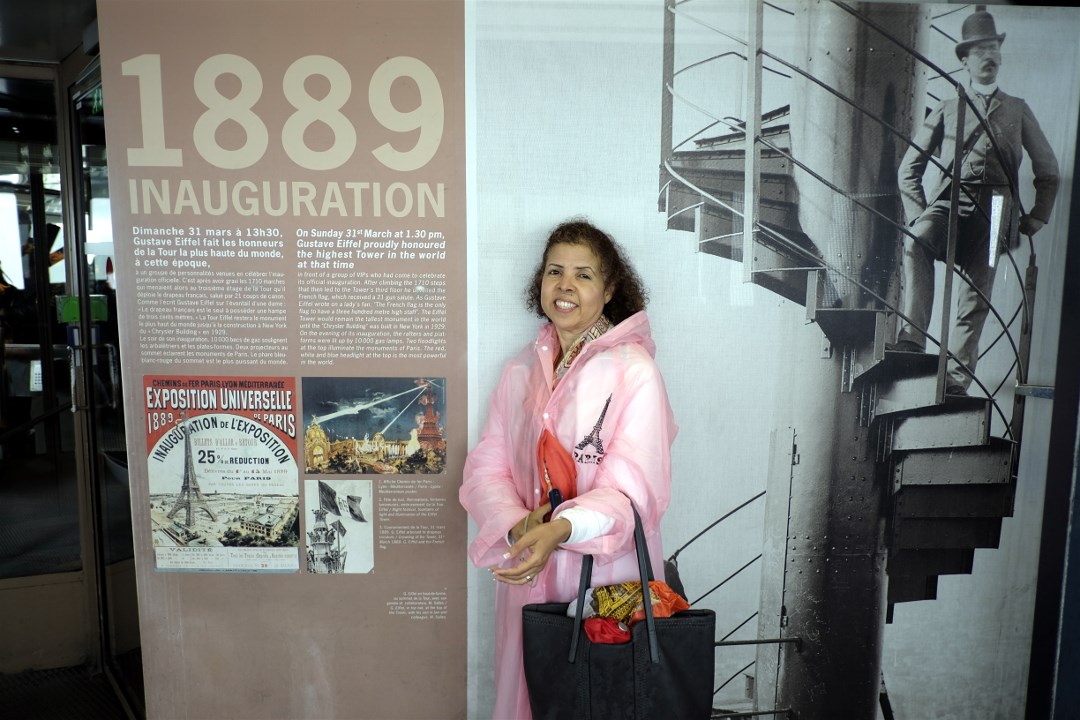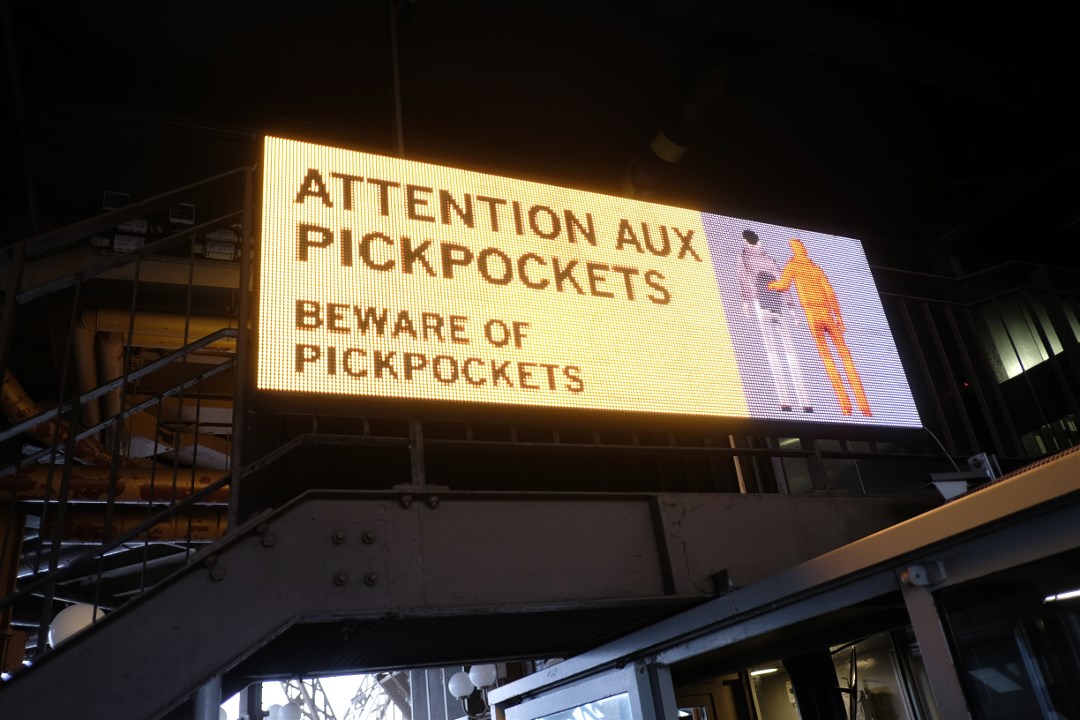 View from the top (On a rainy day)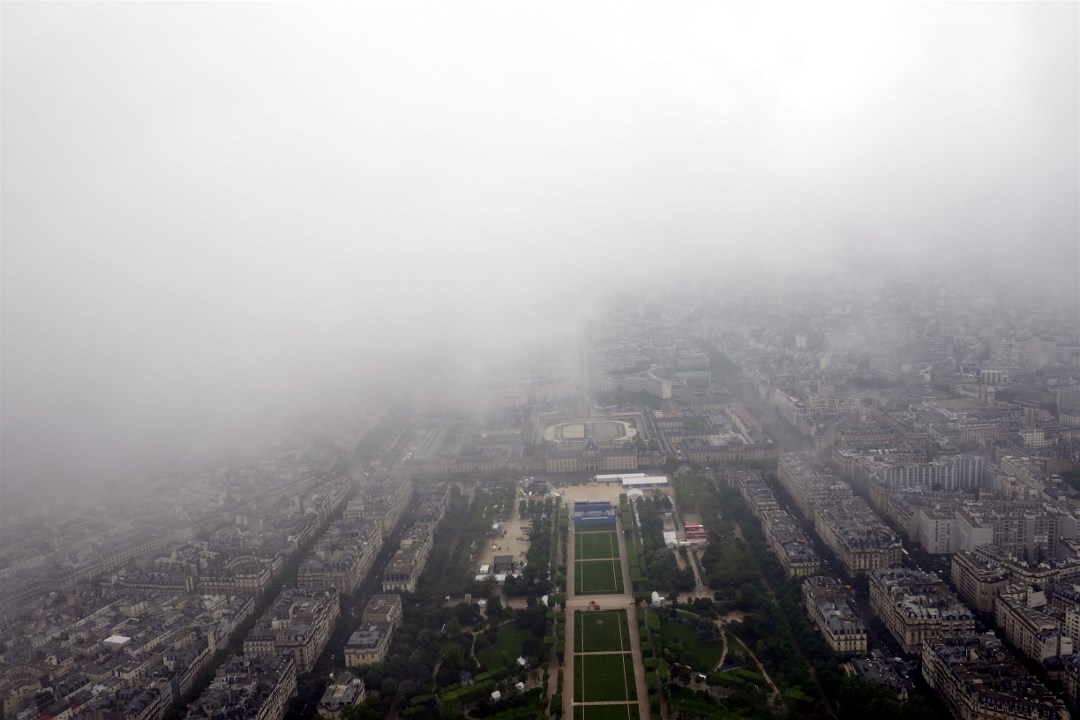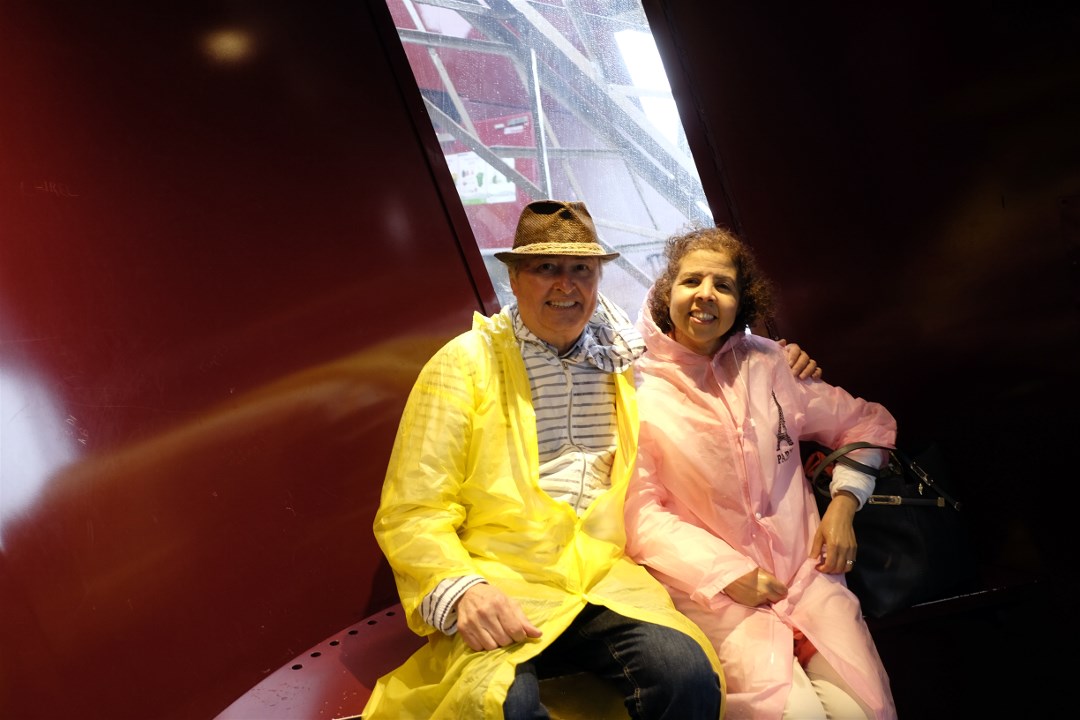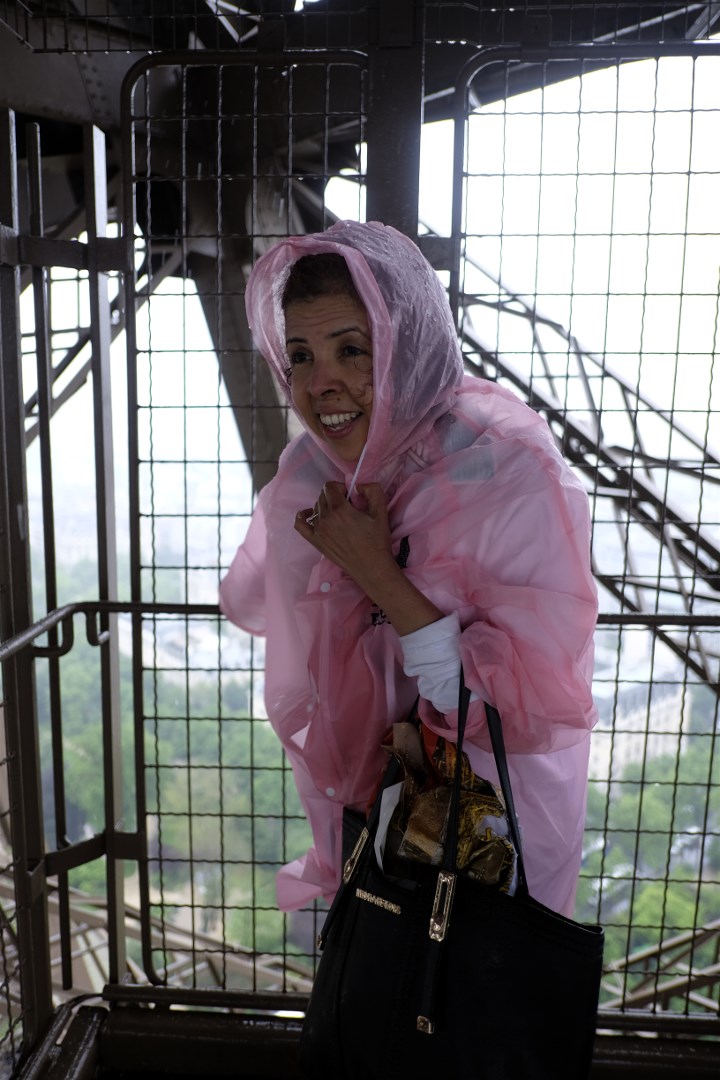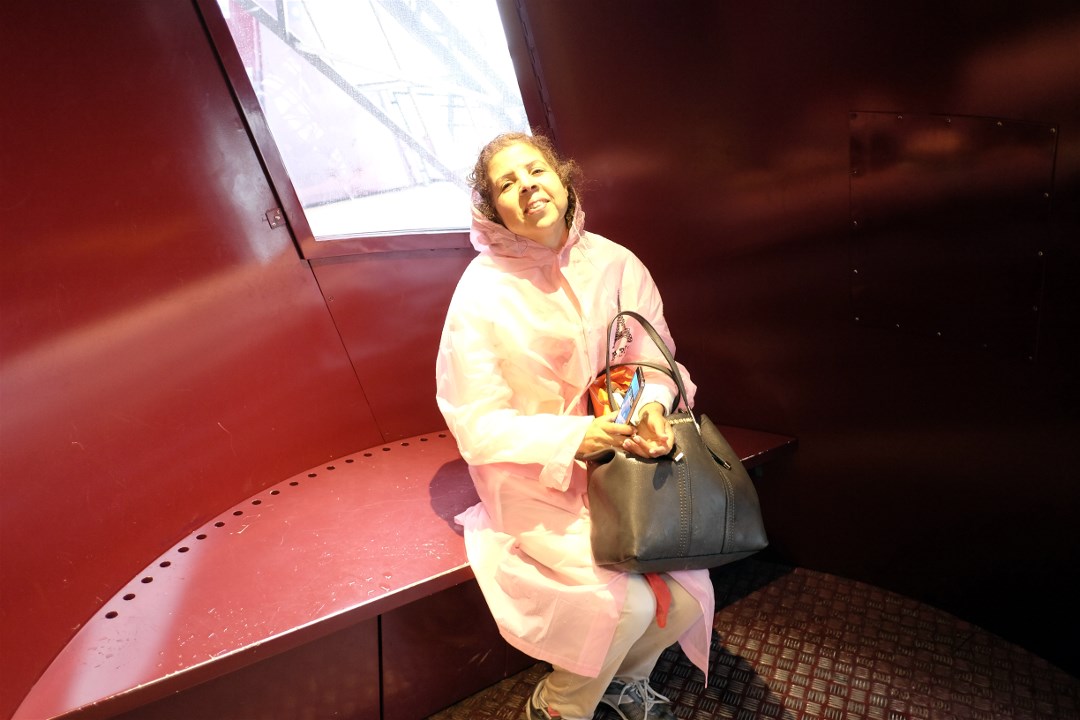 Enough with the Rain- Lets go Shopping
Printemps

Paris is famous for fashion and Printemps Department store is a place to visit. Nine floors of high end stuff. It was even great for this quick shopper to take some time and enjoy the lovely clothing and things for the home.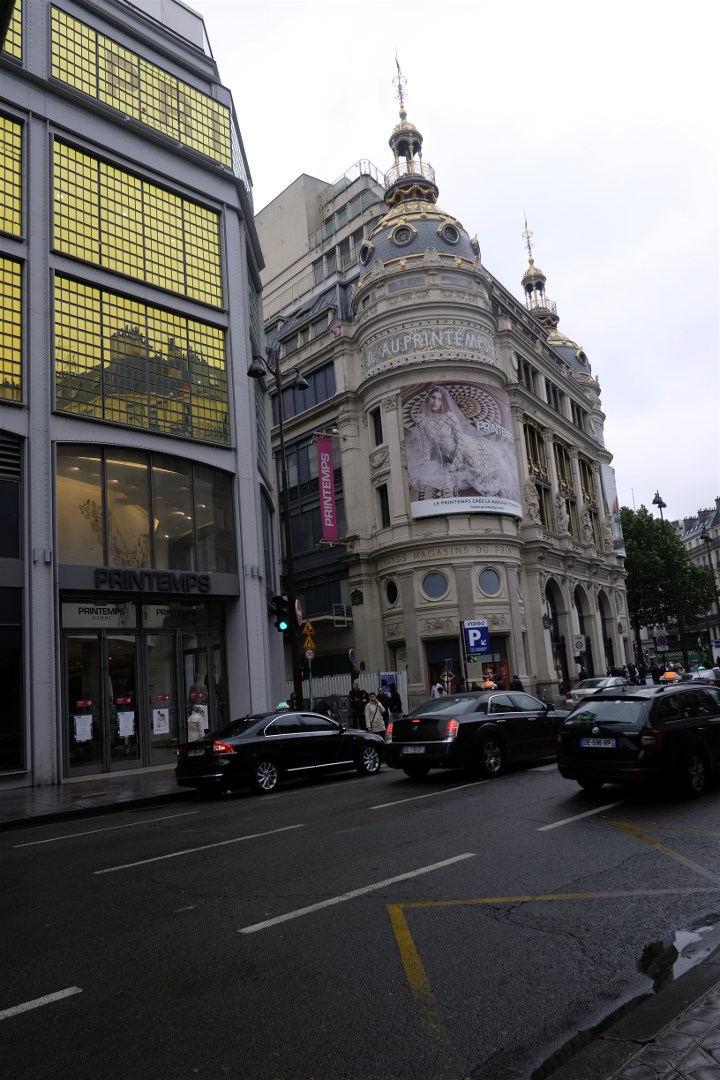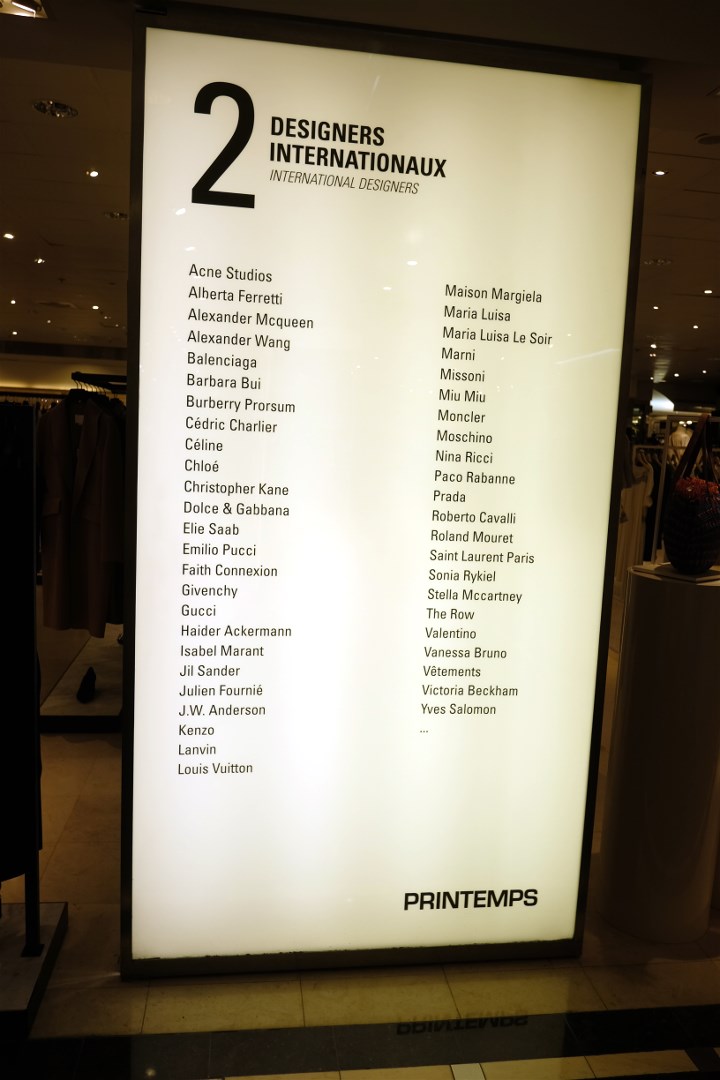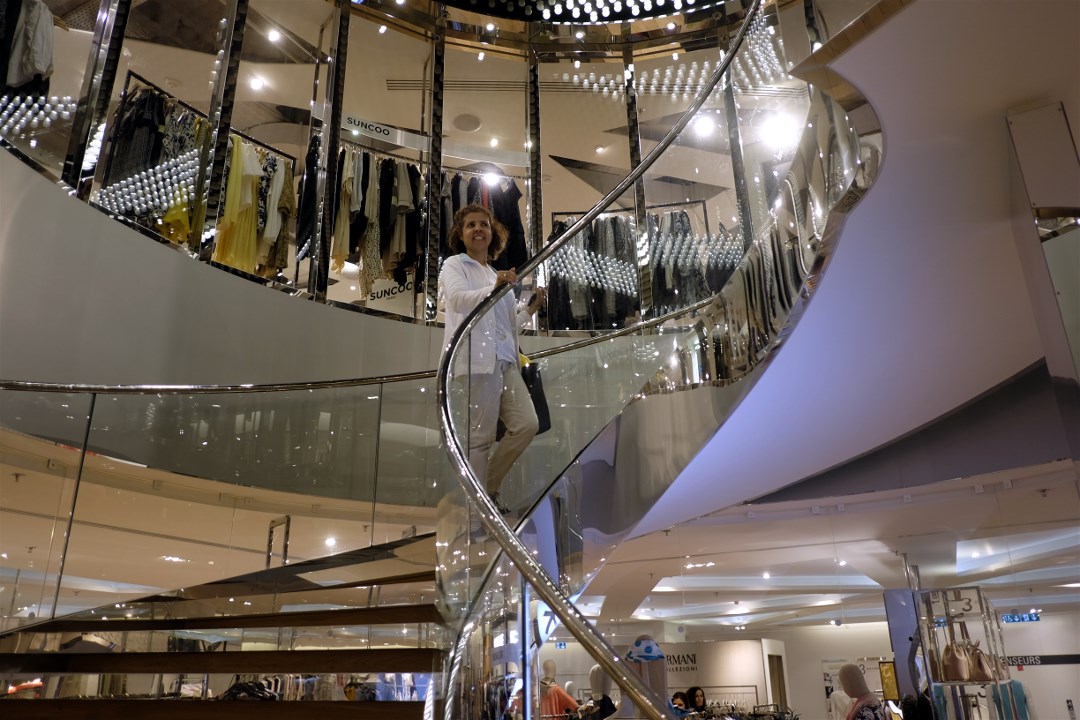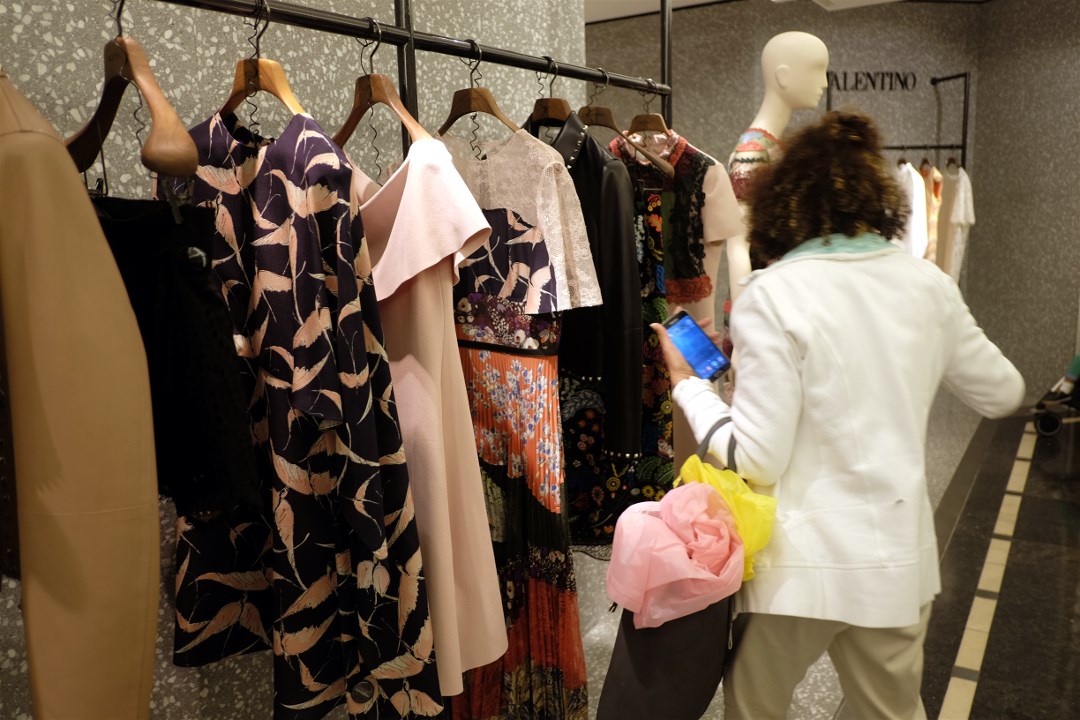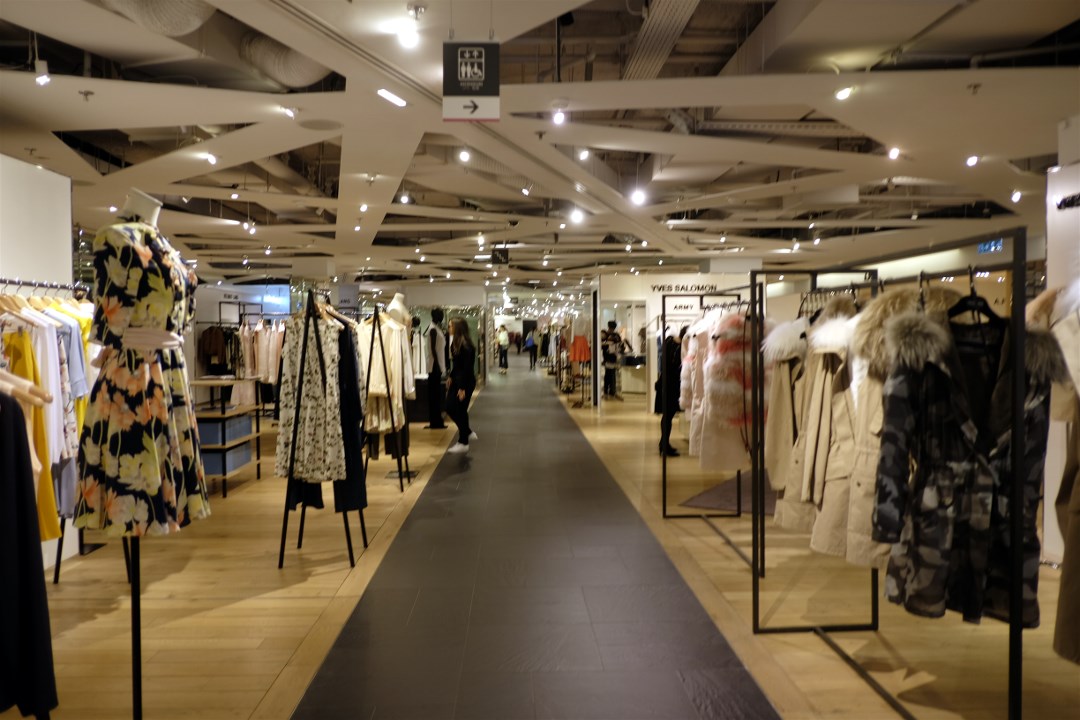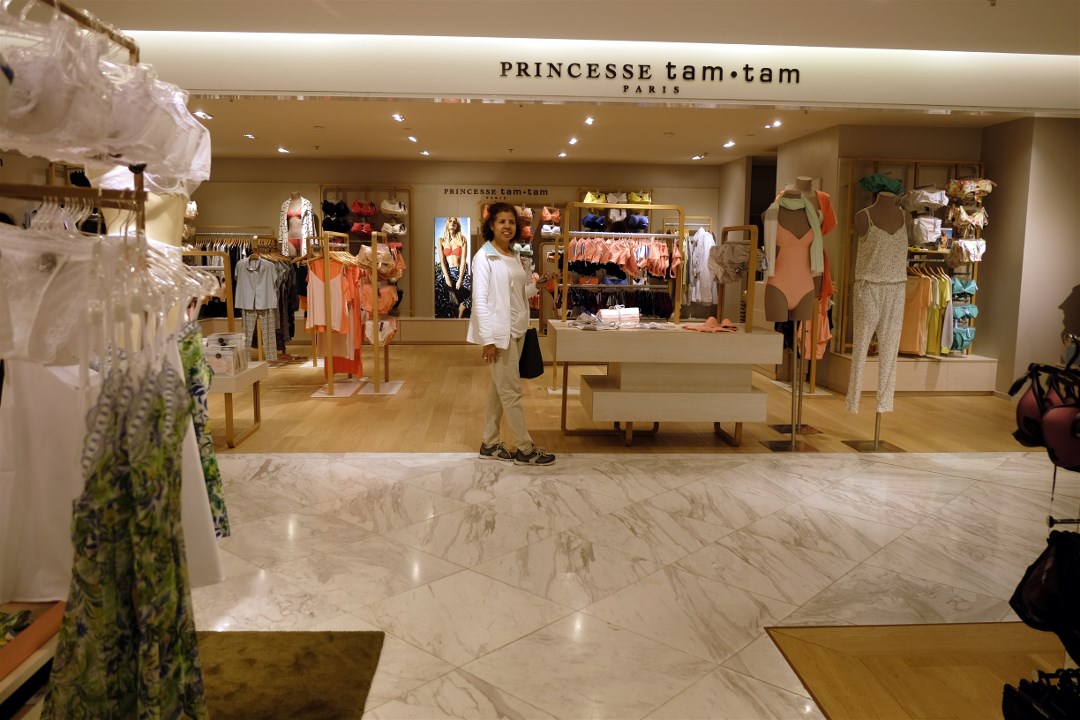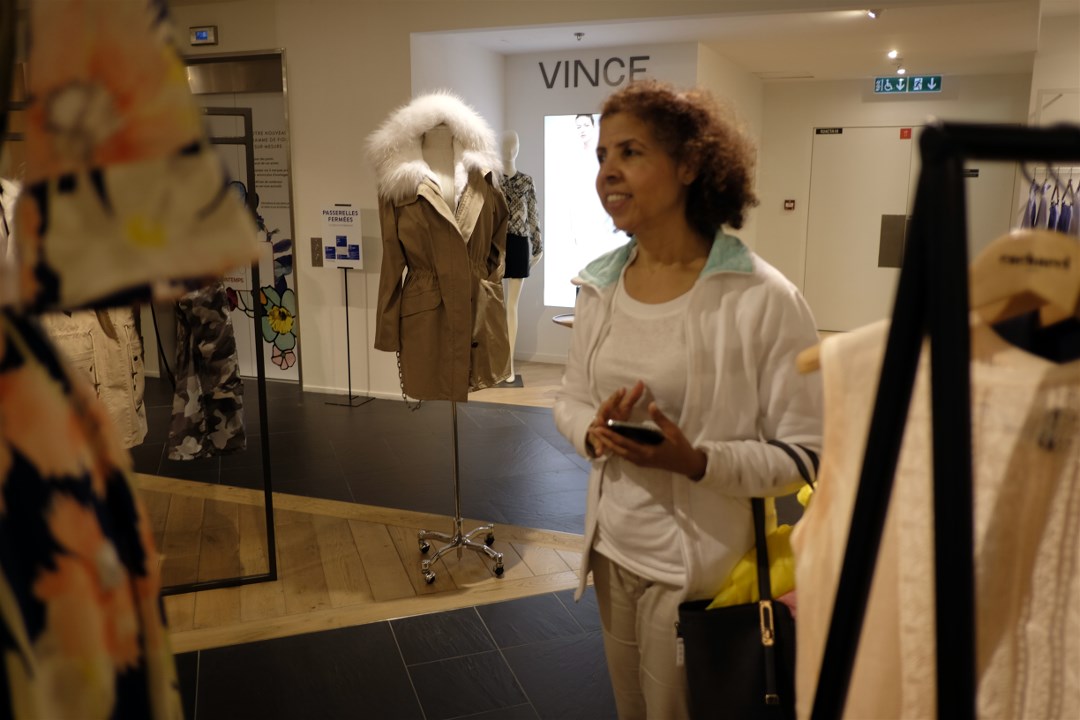 Just relaxing while the girl with the red umbrella does some shopping.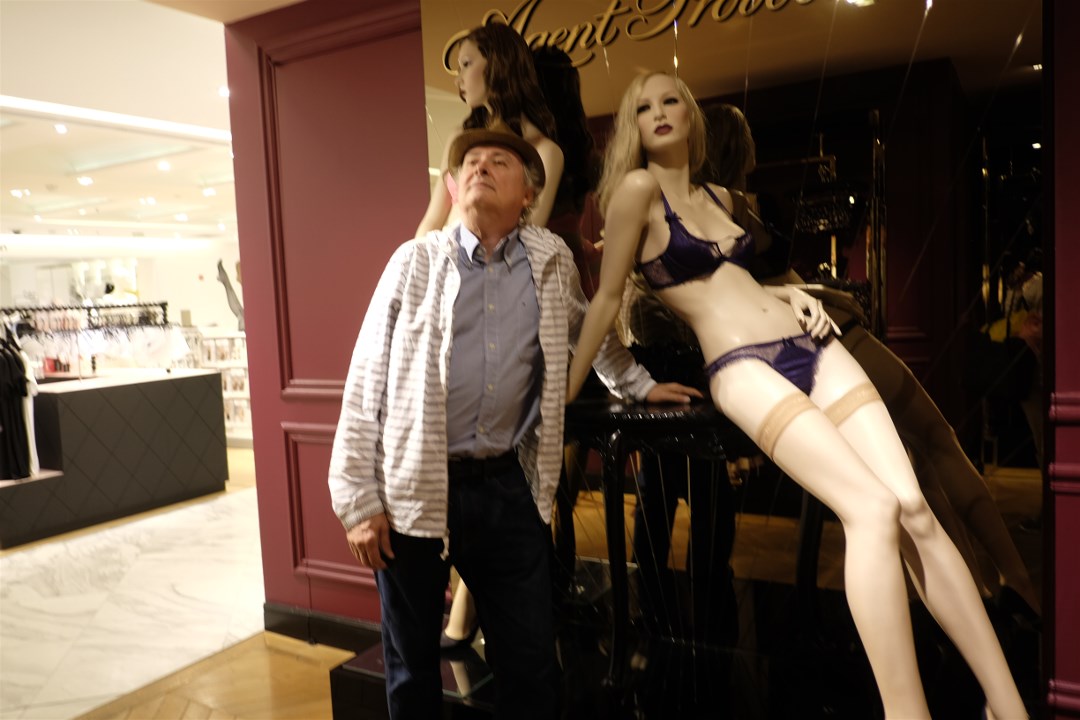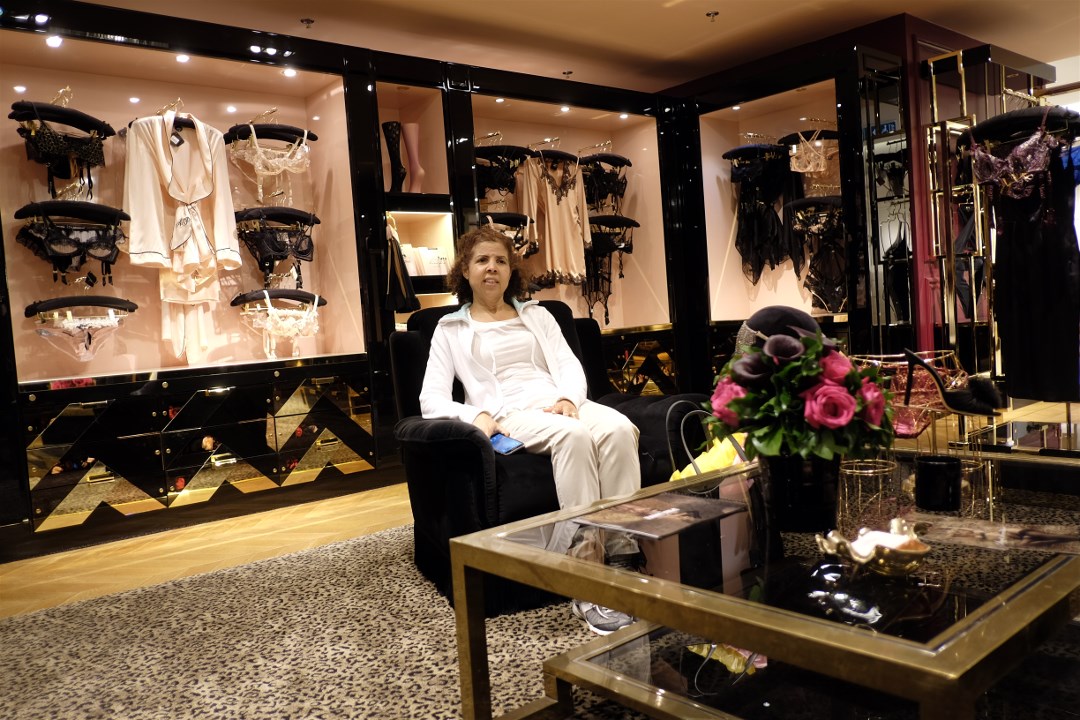 You can't go on a honeymoon without a wedding dress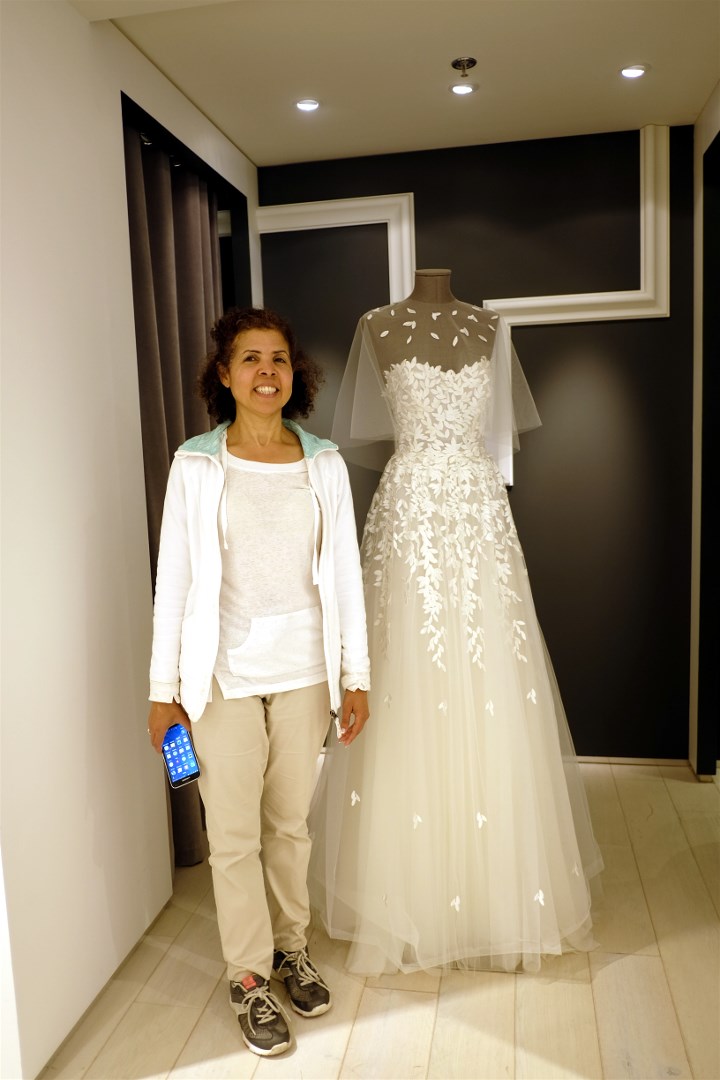 The Cafeteria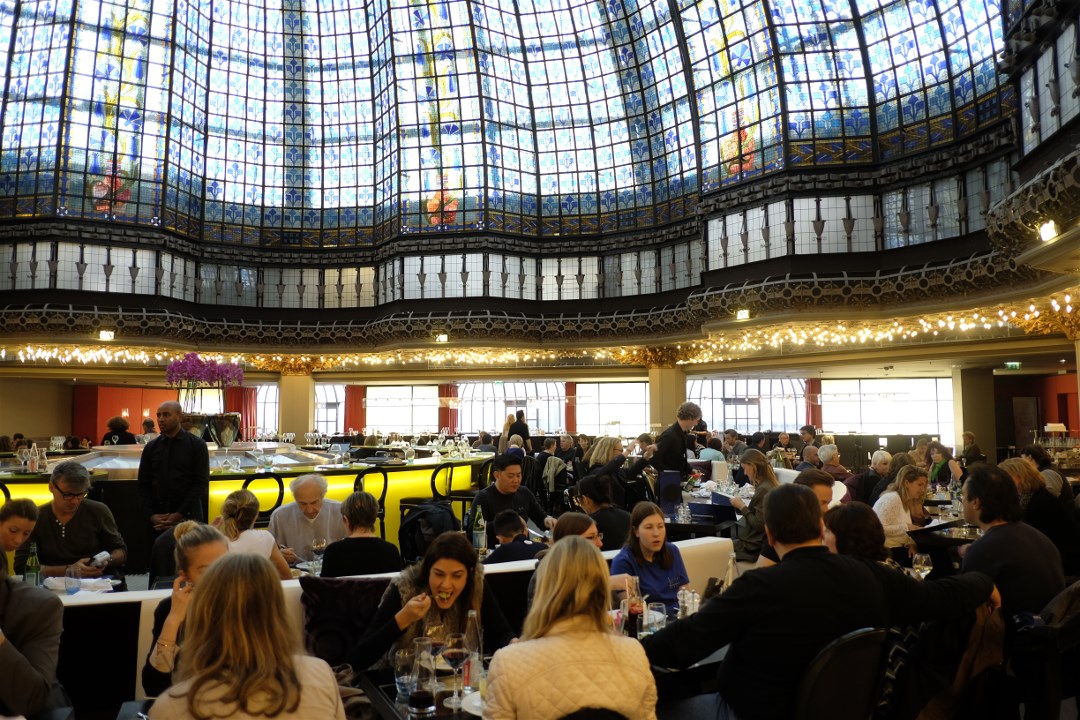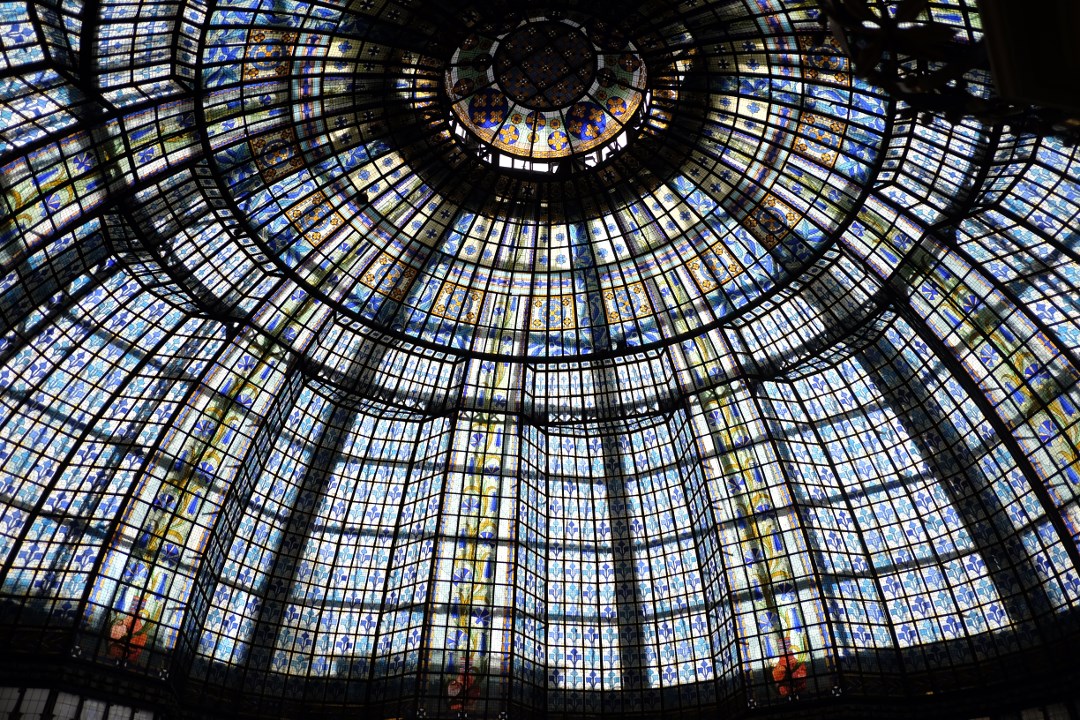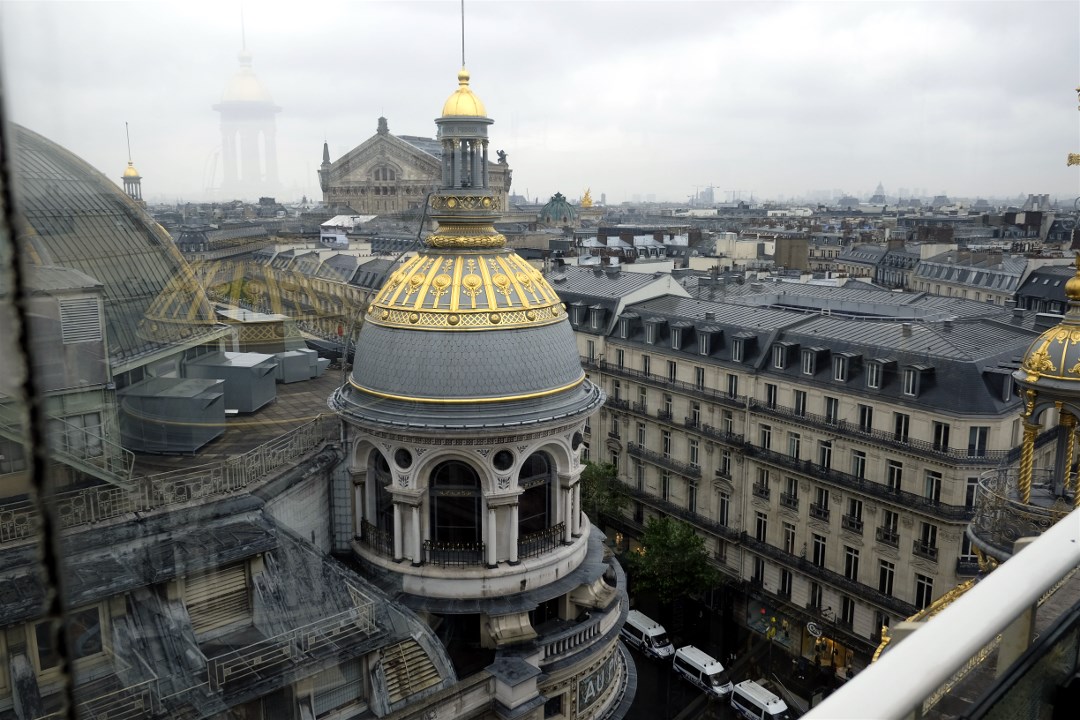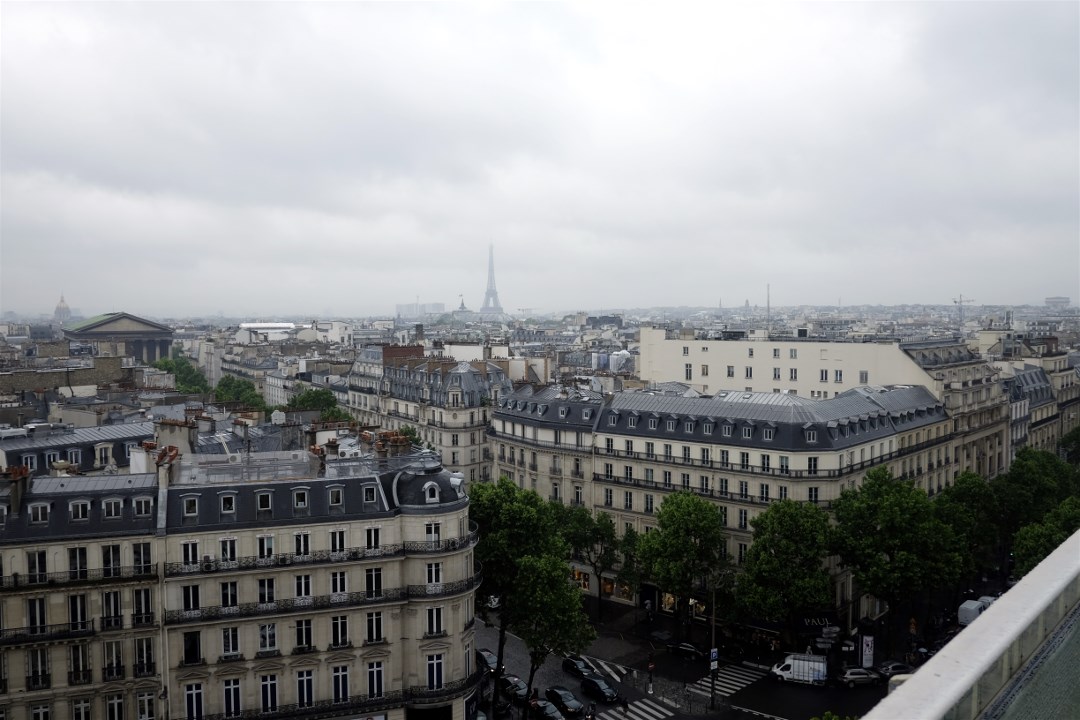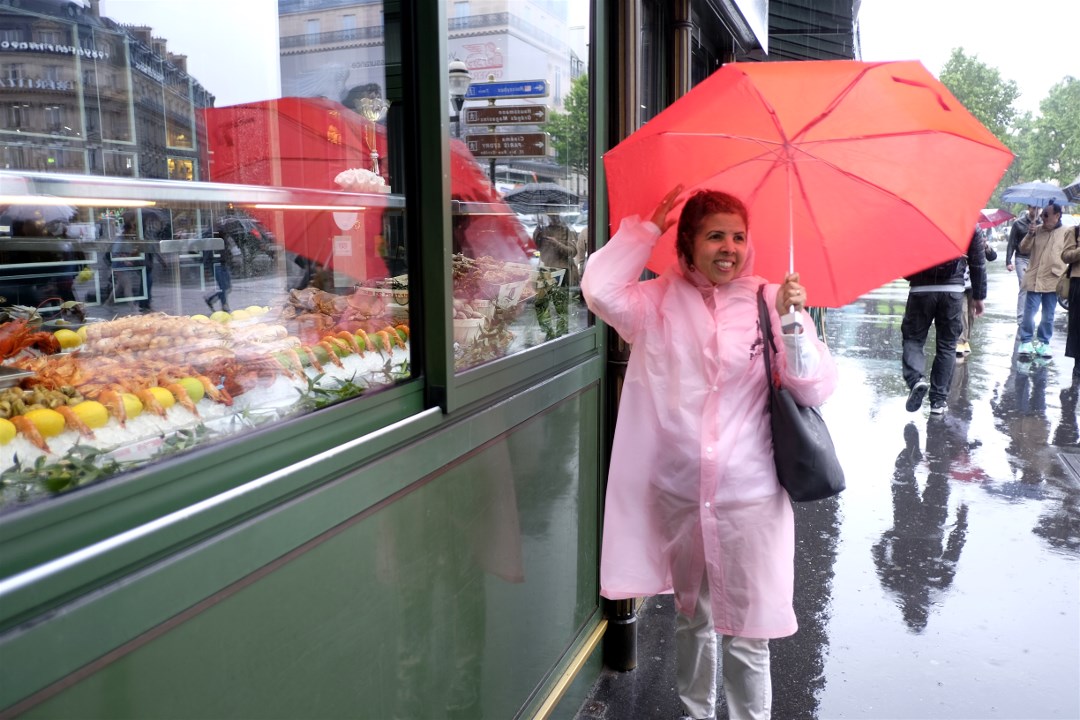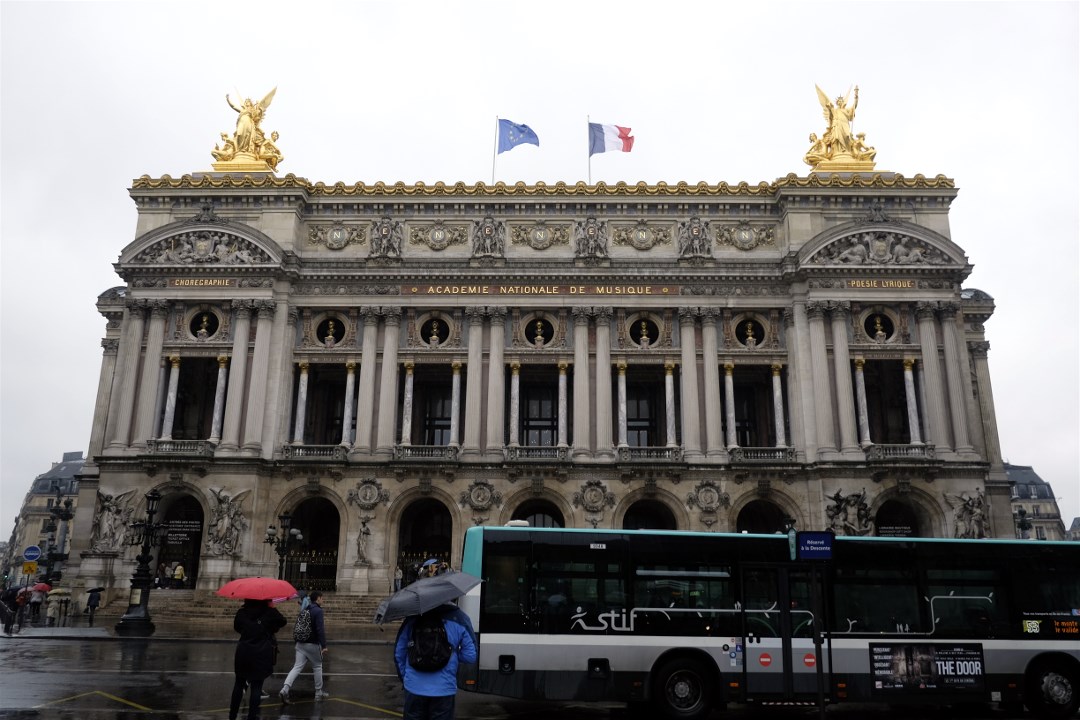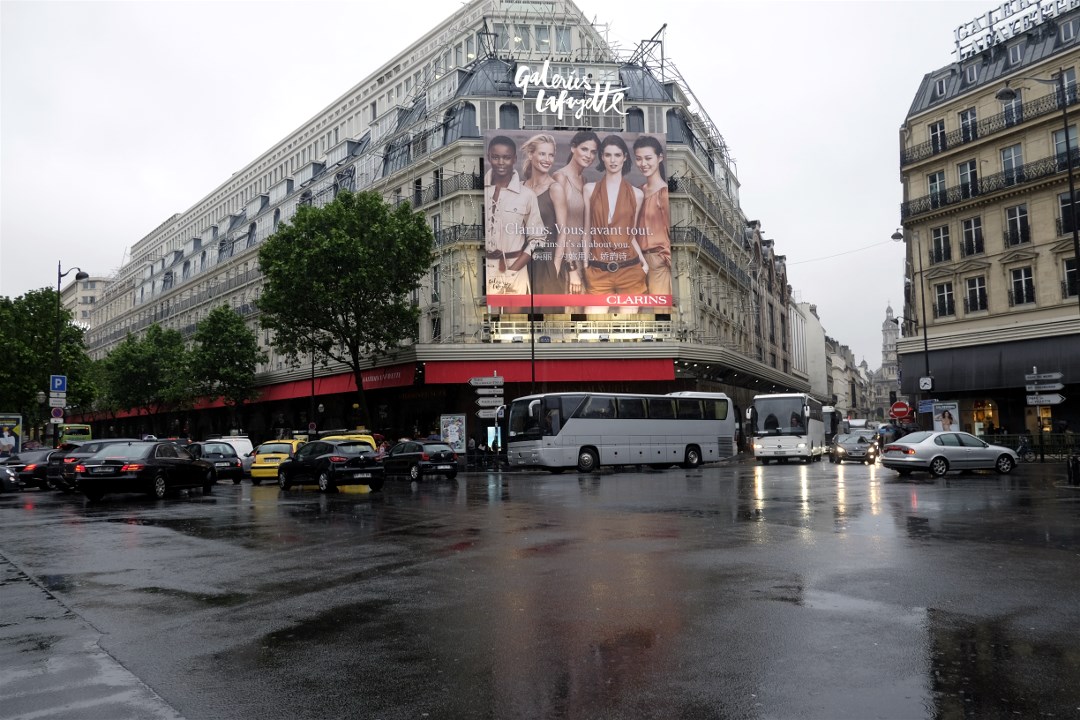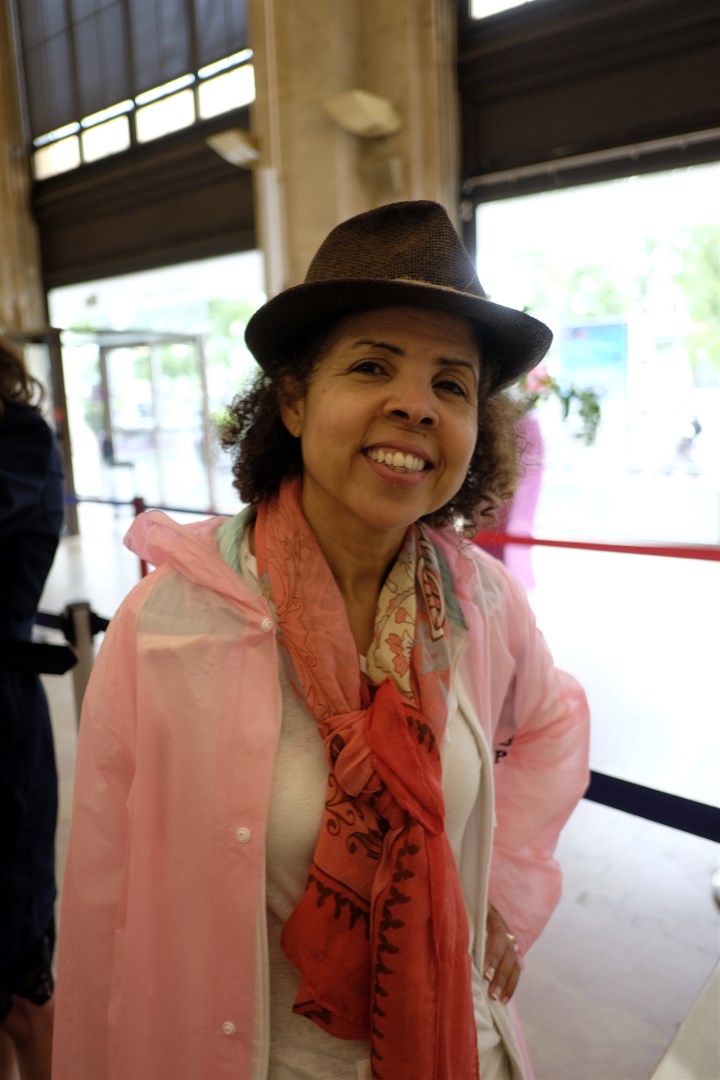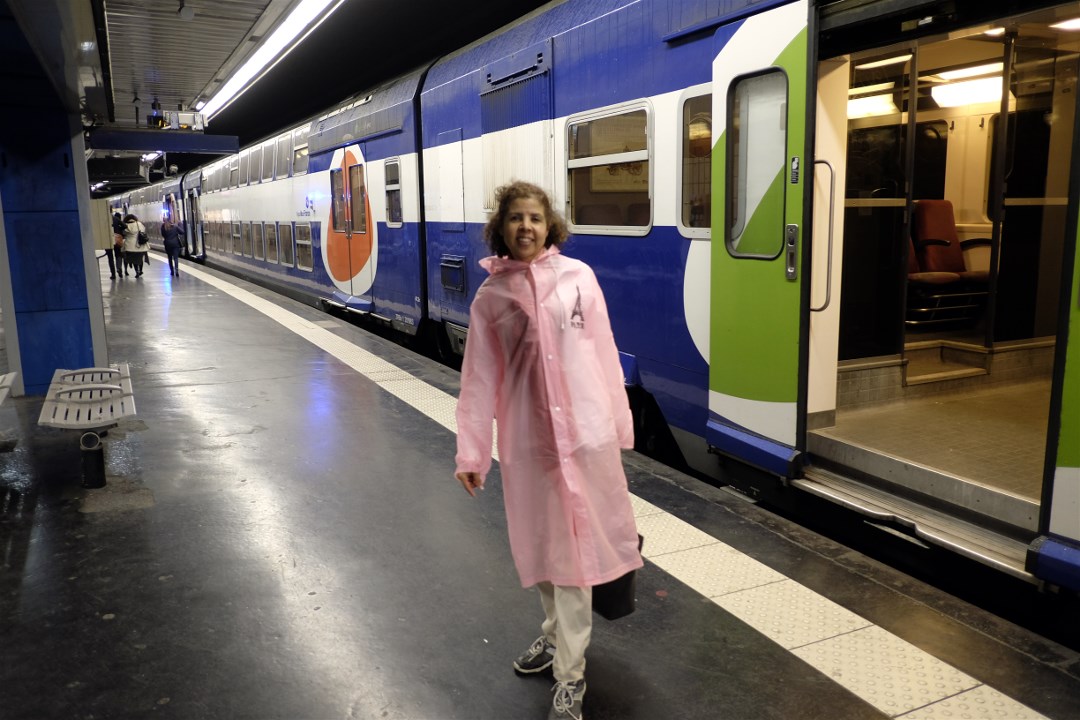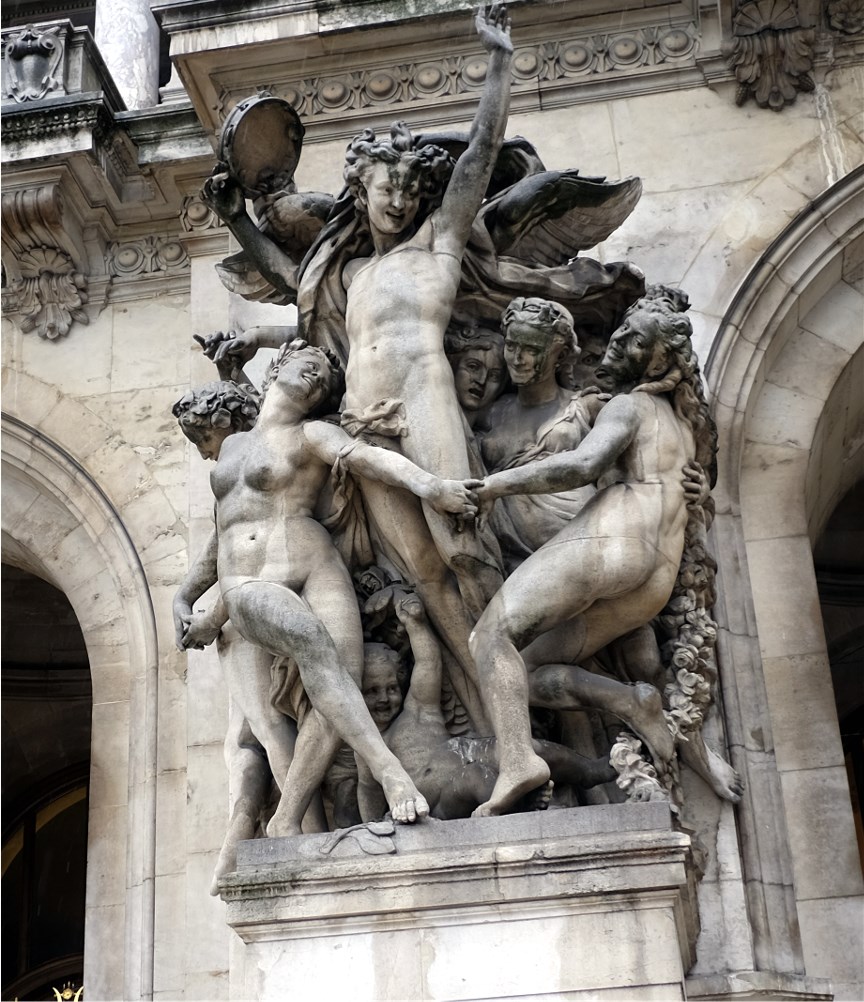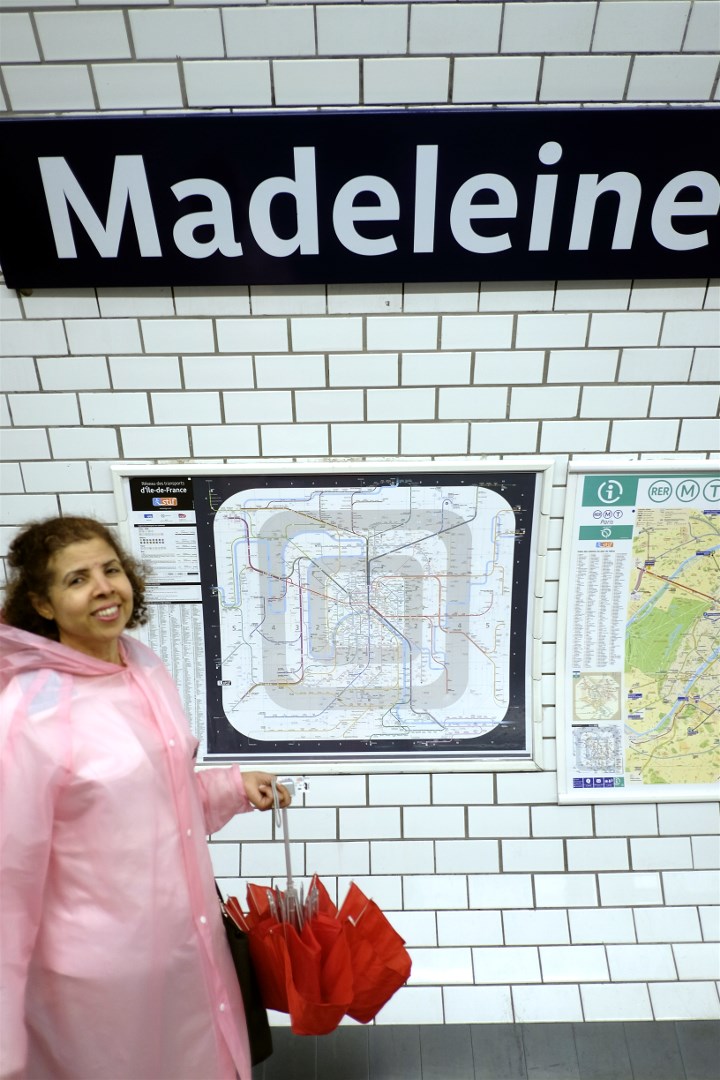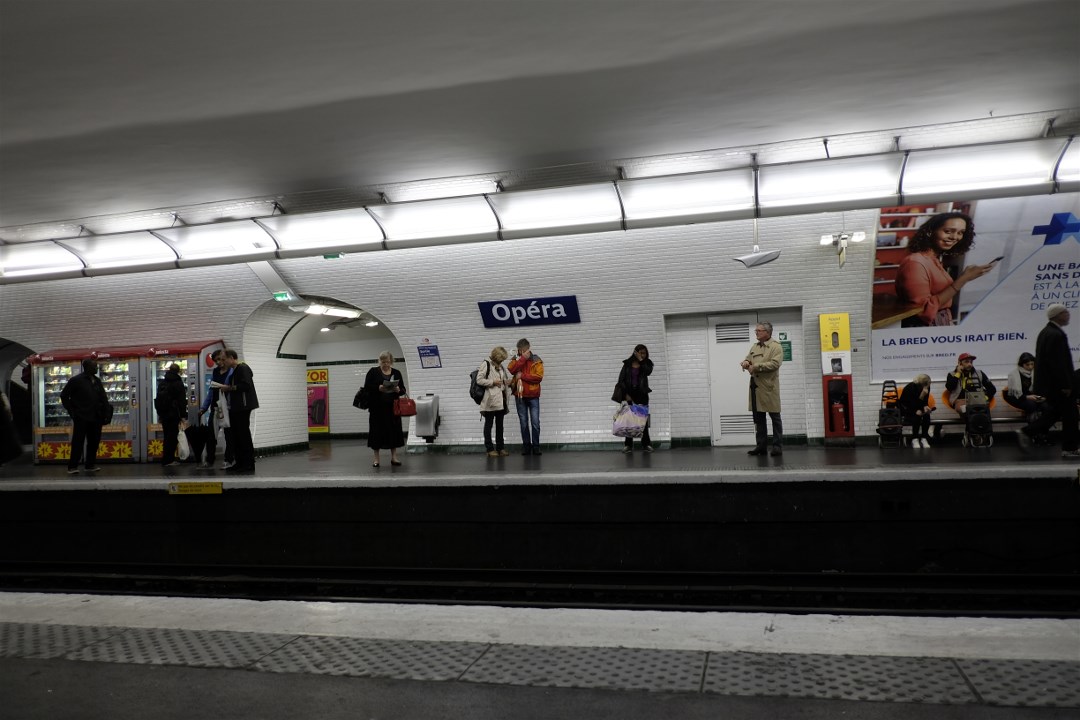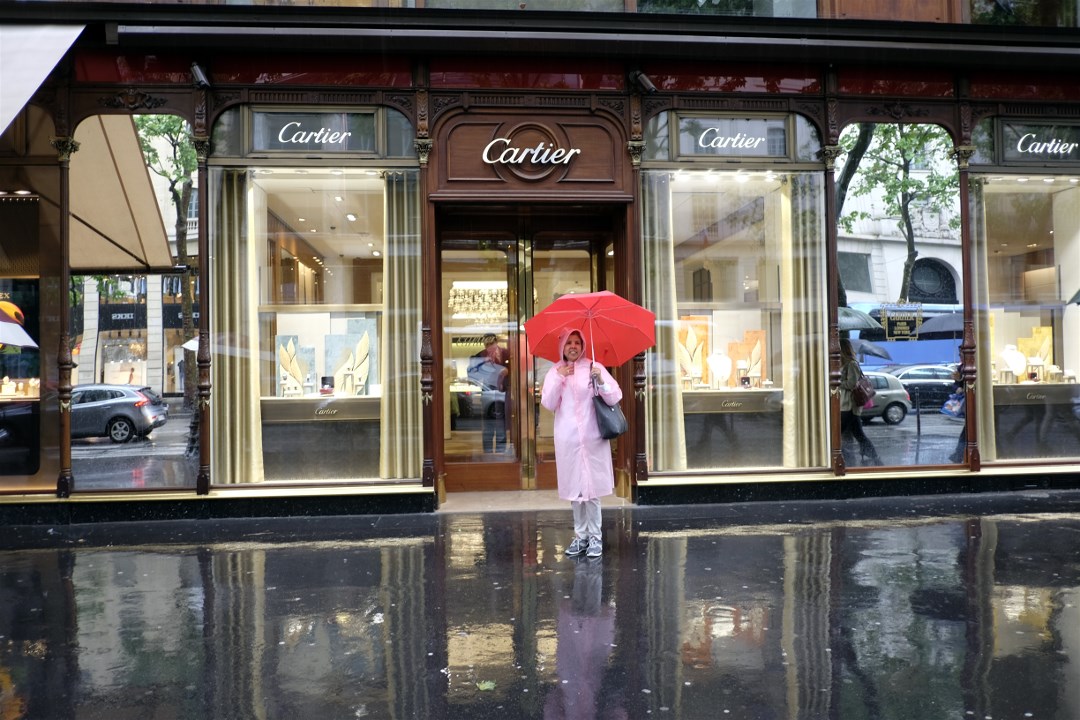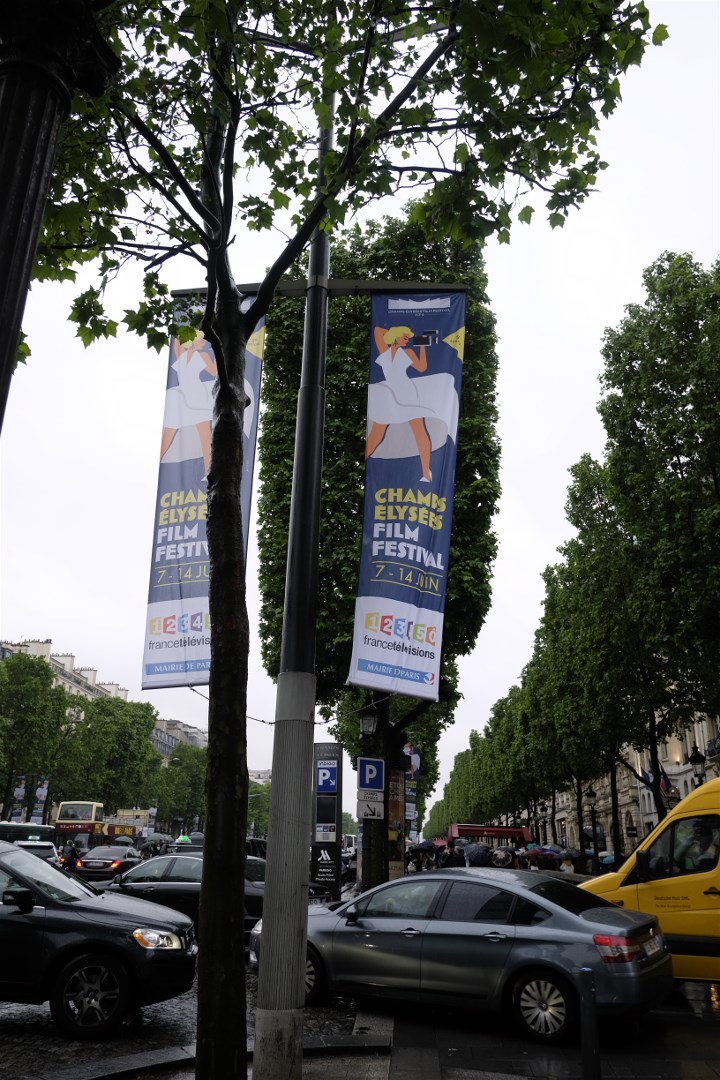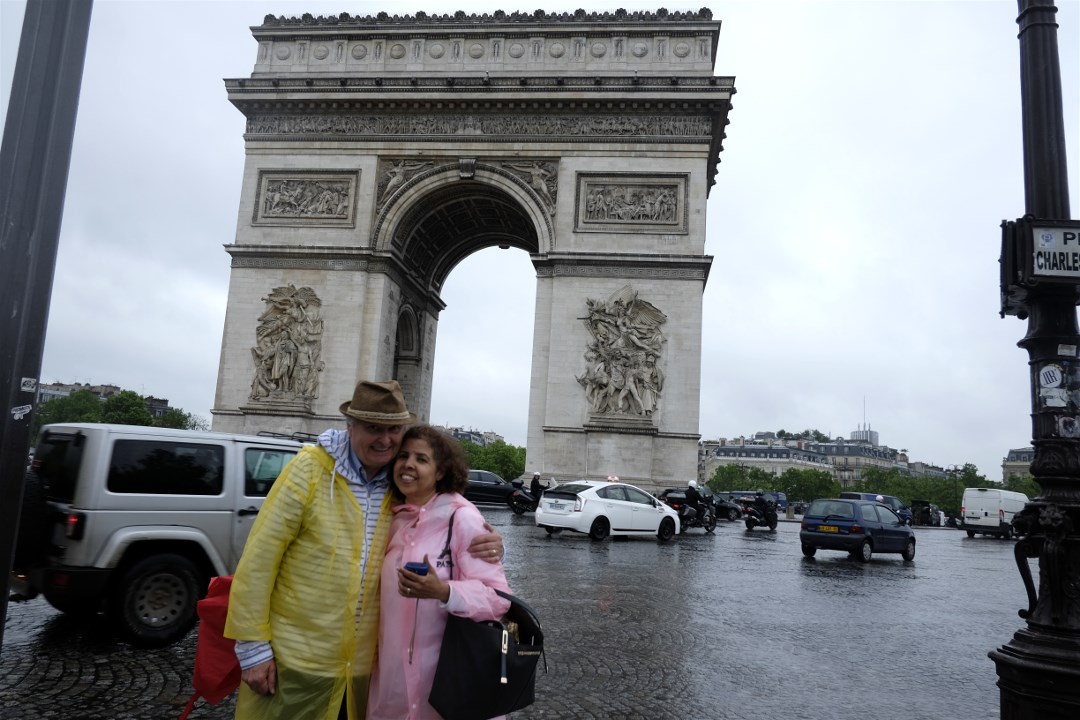 Tried some street crepes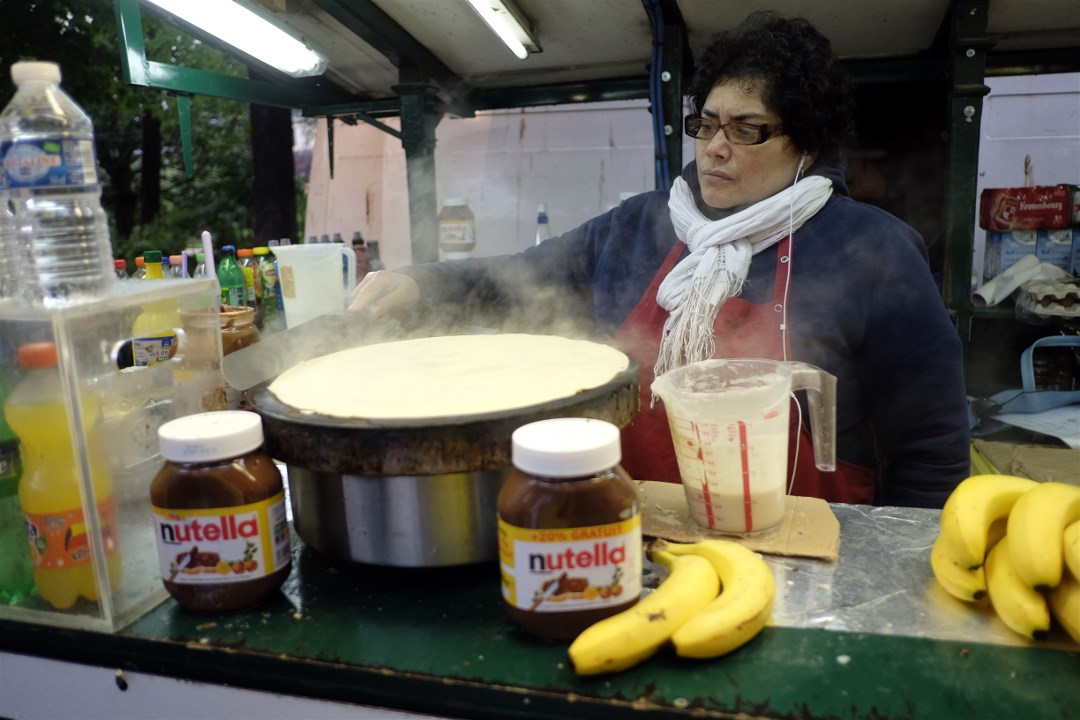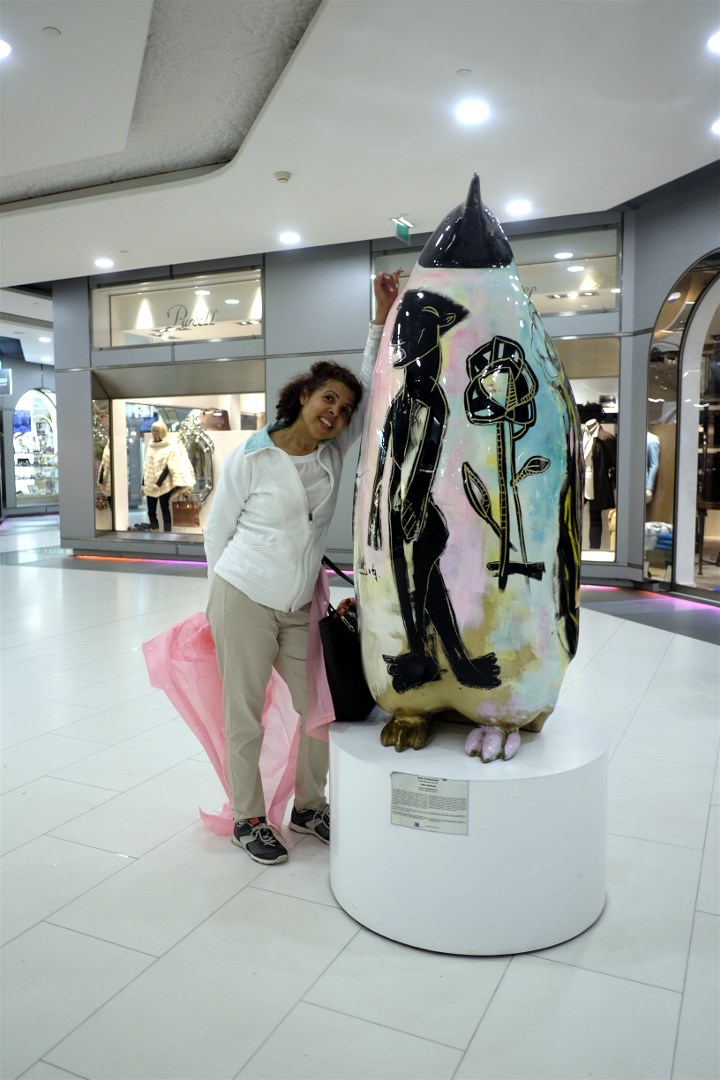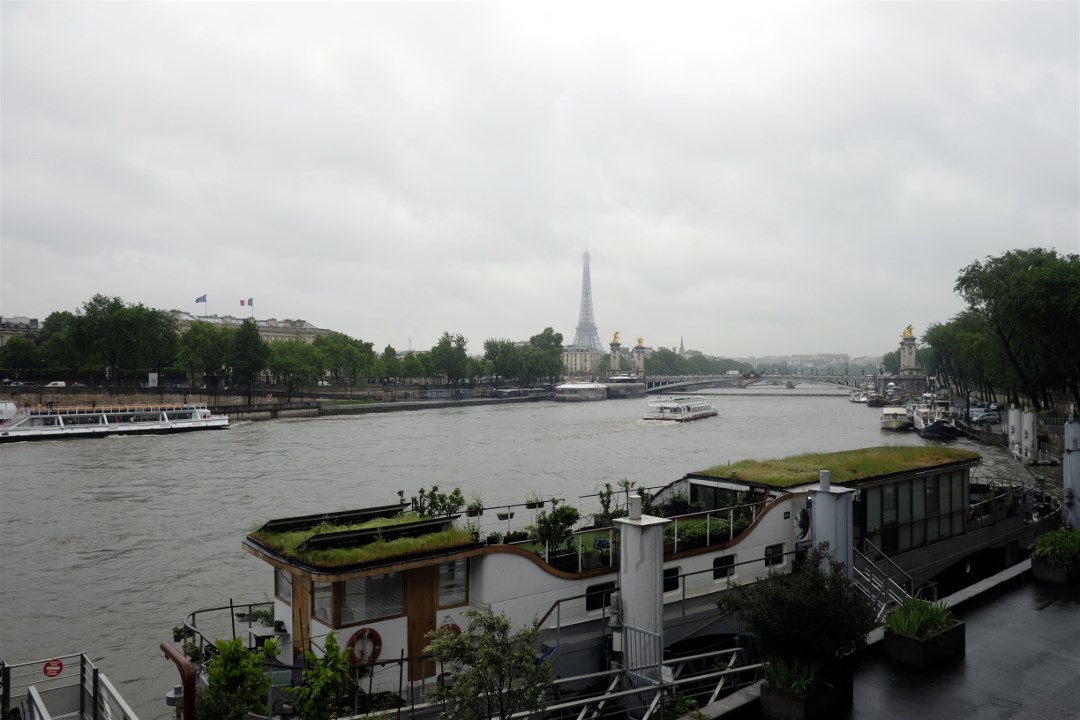 6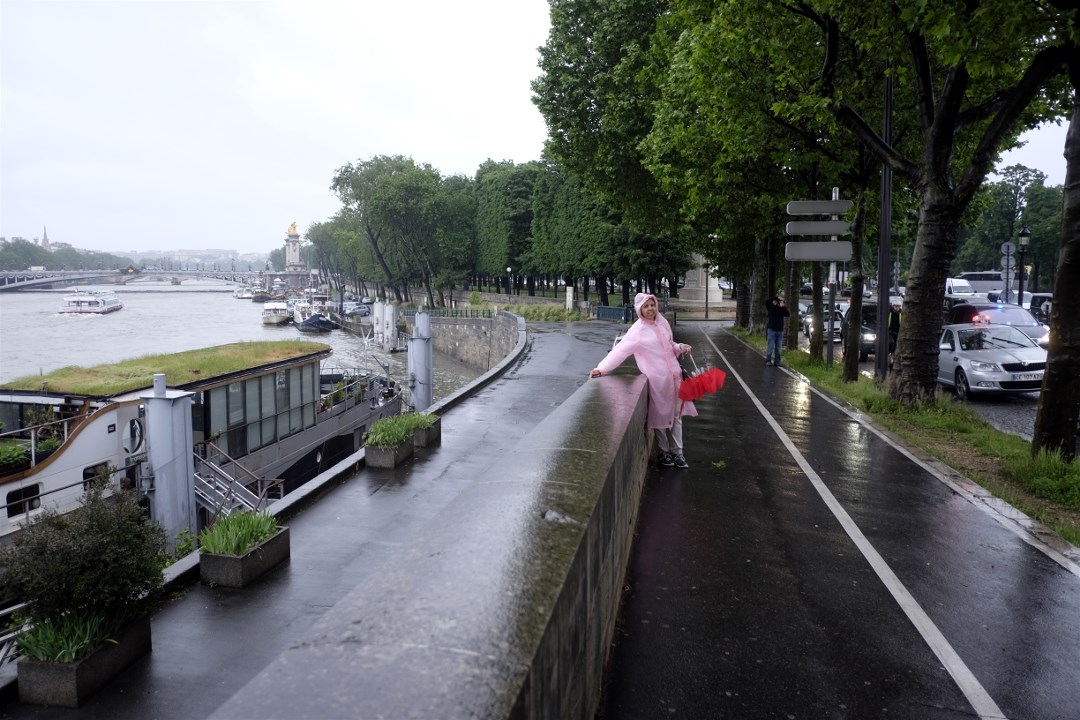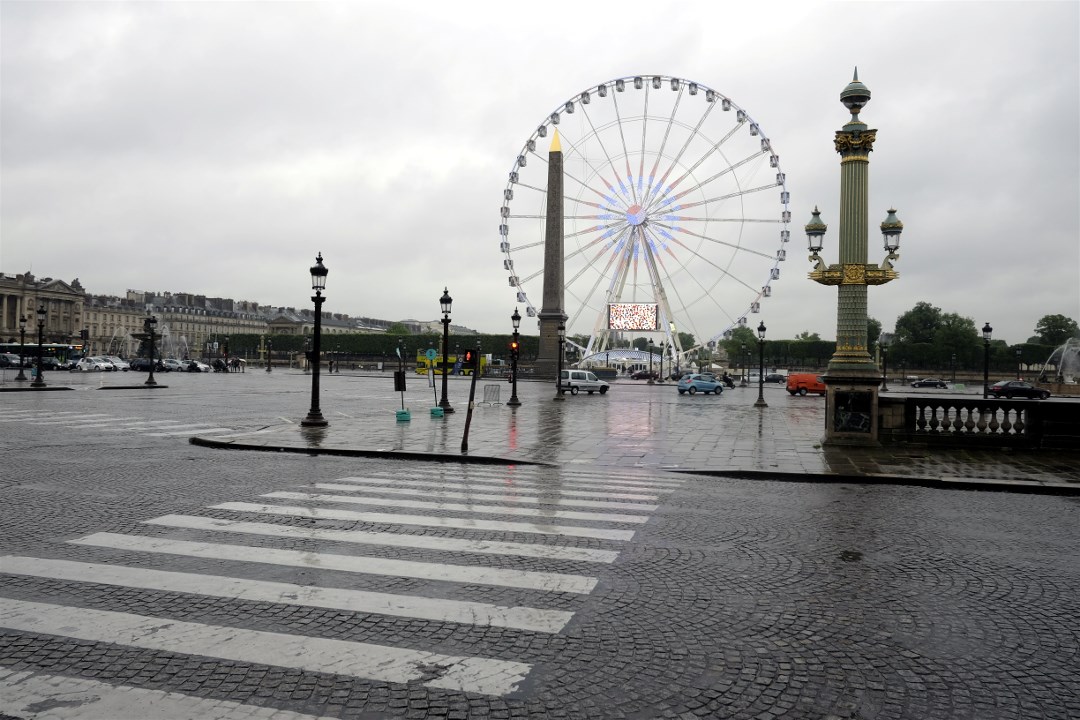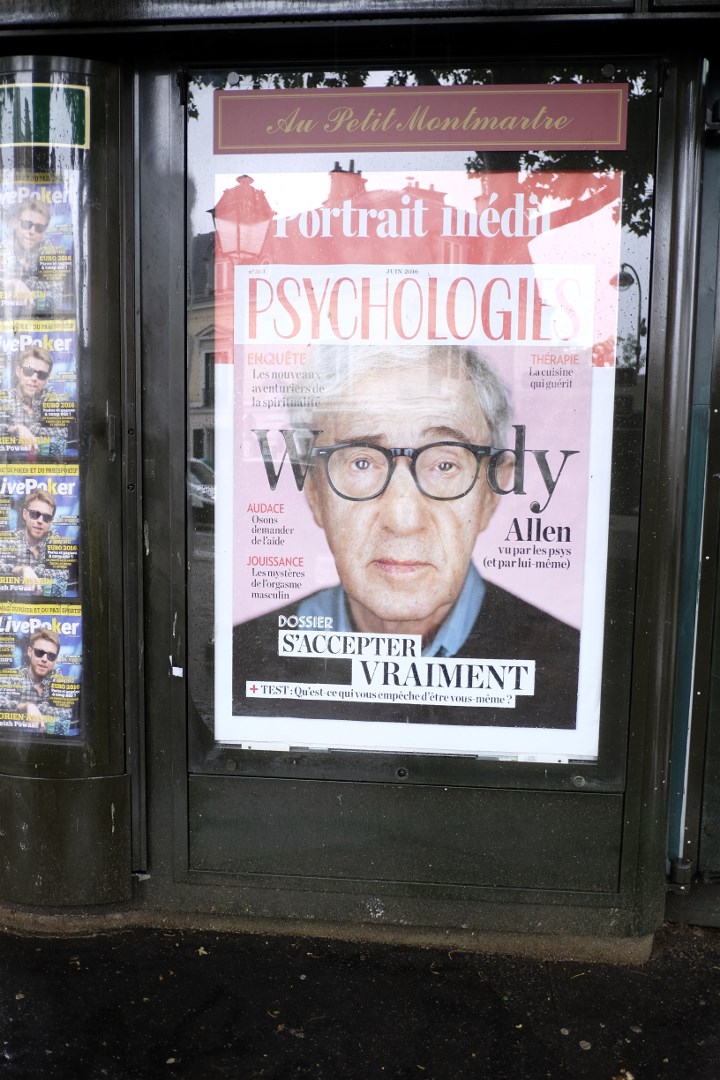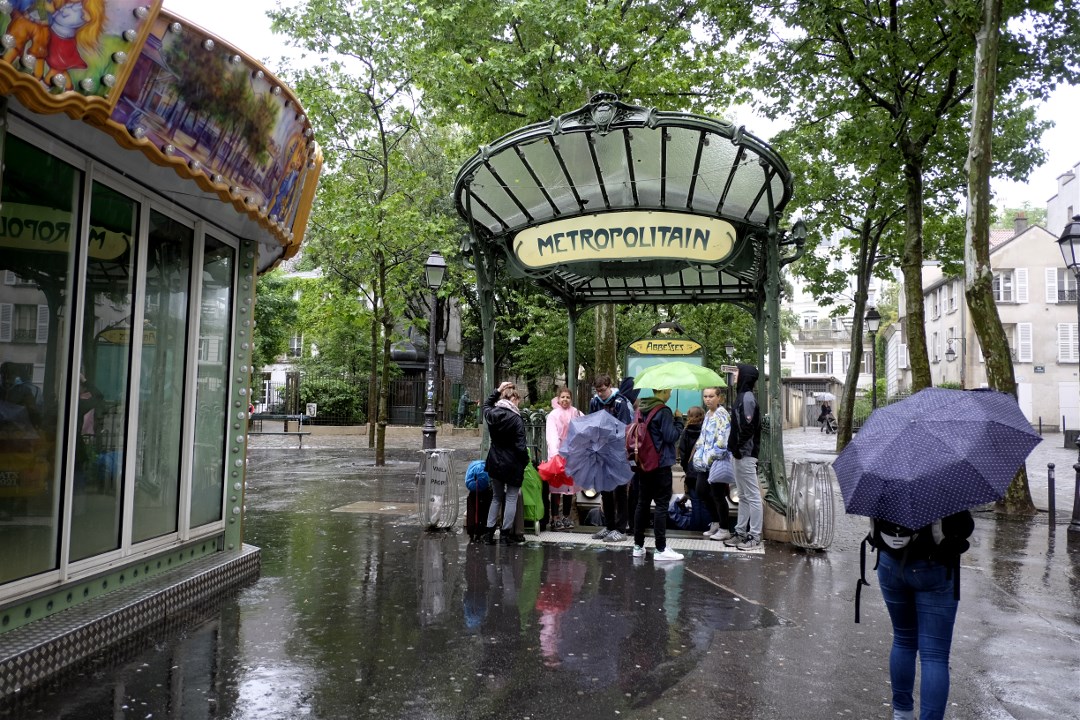 Where is the girl with the red umbrella?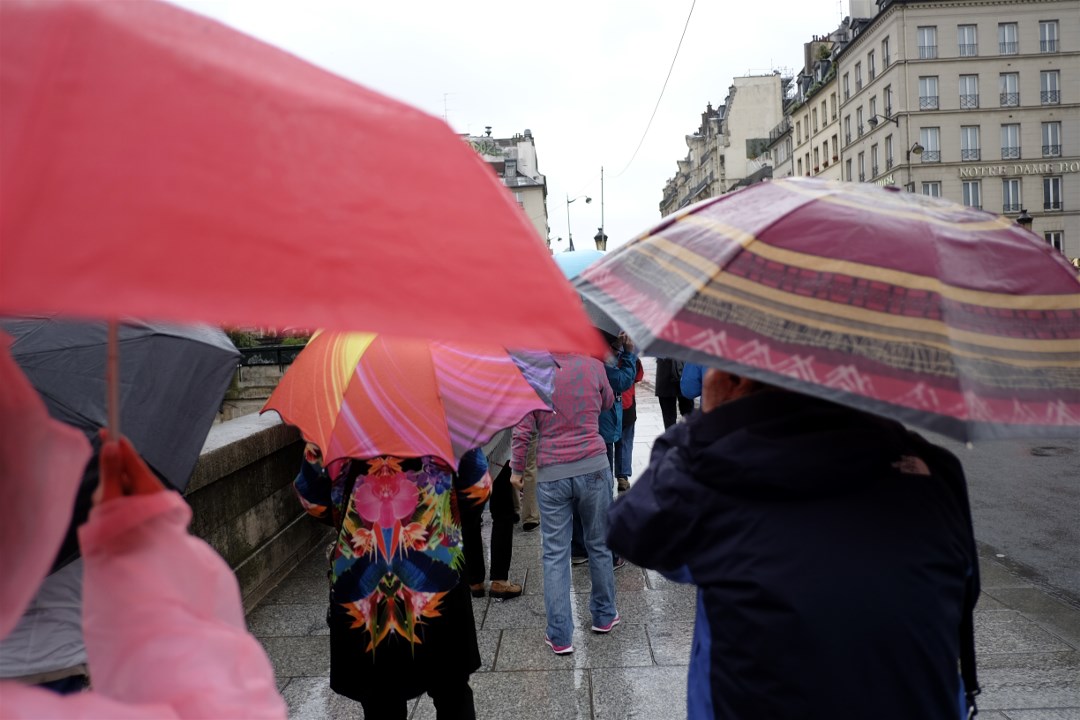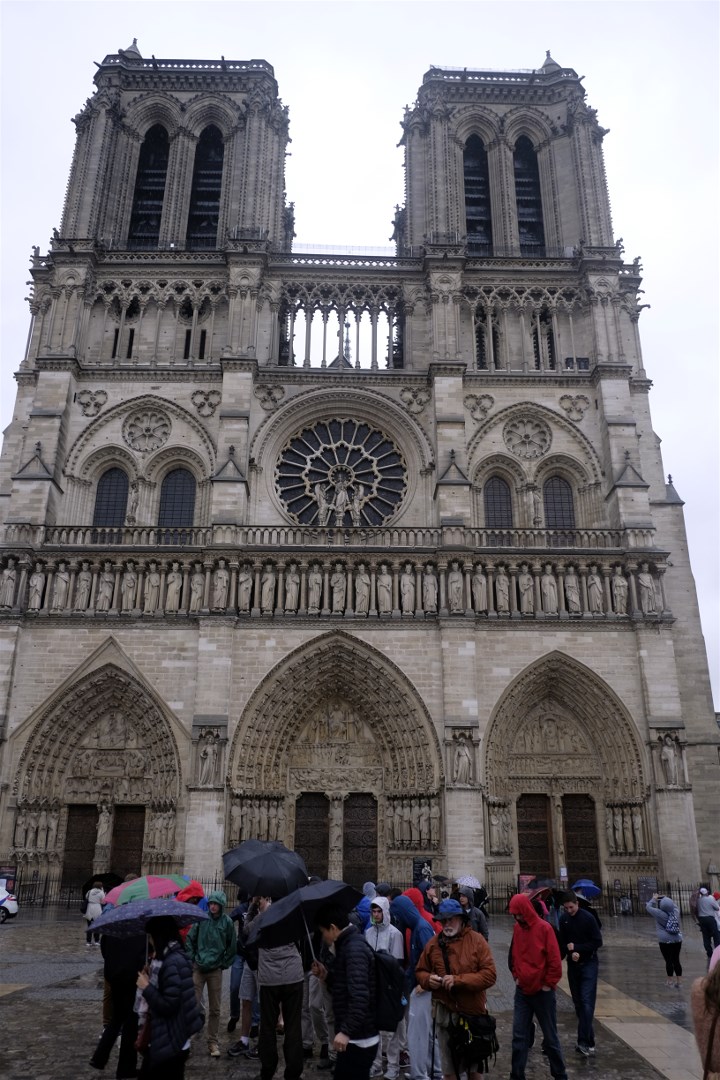 Locking up the love: Notre Dame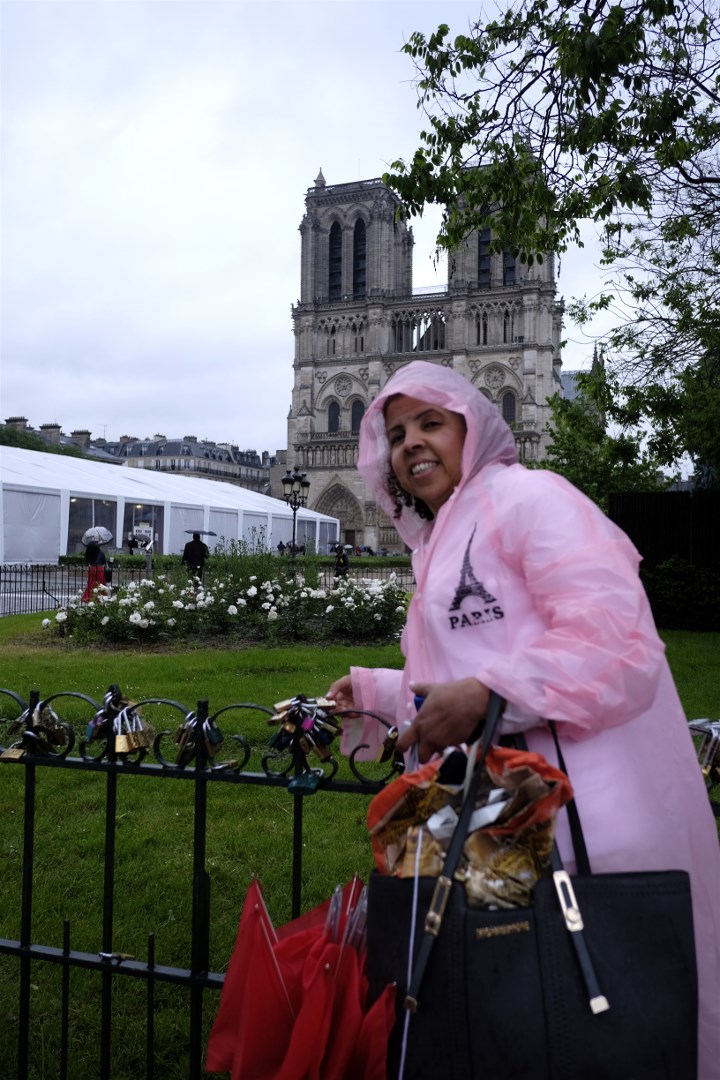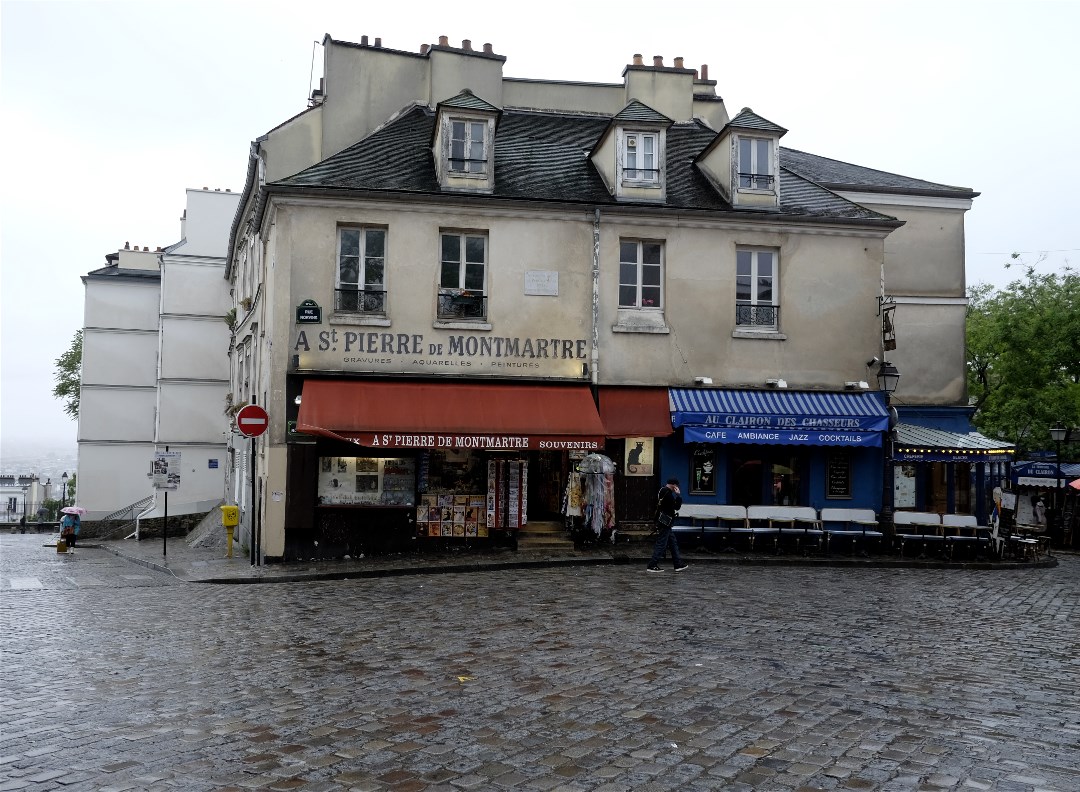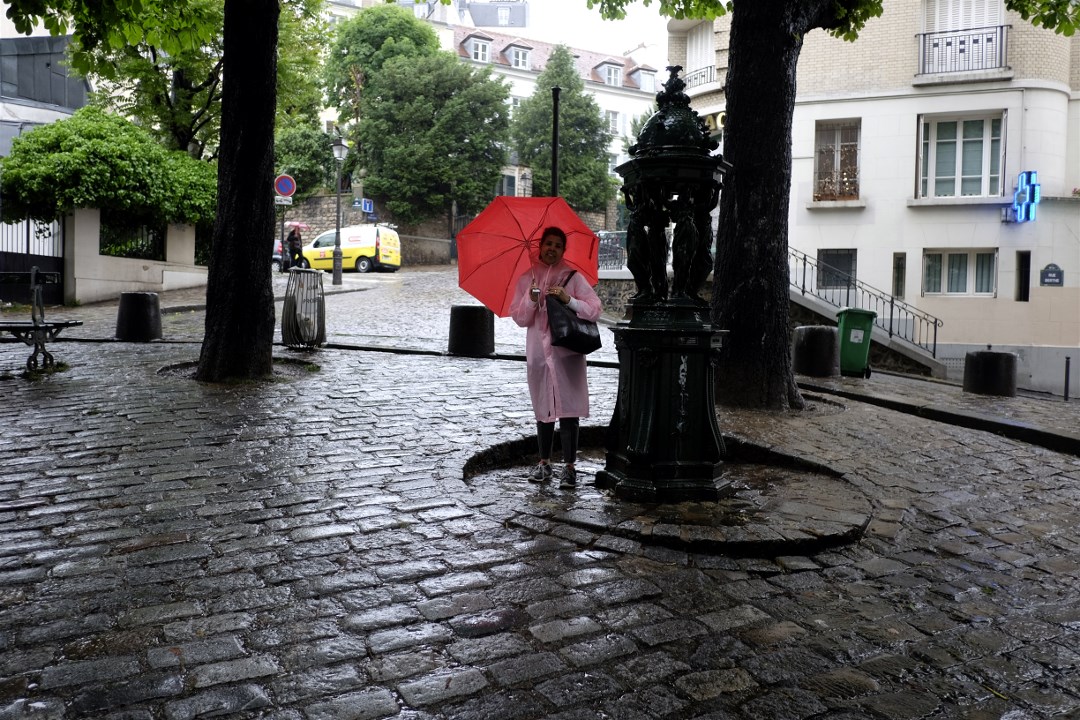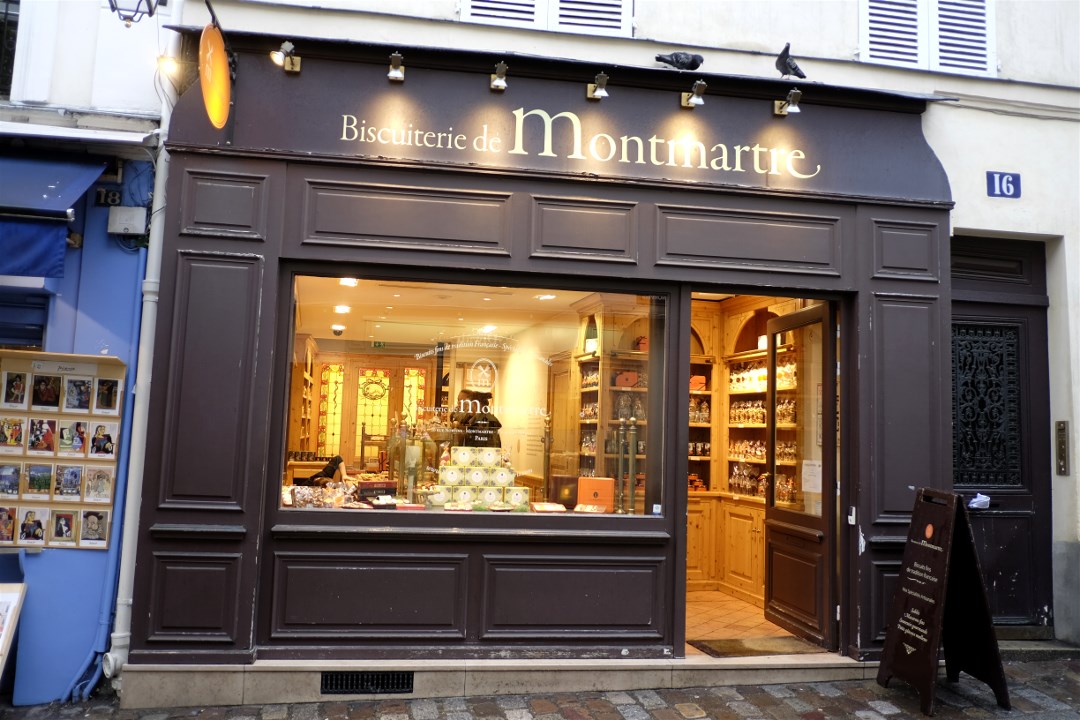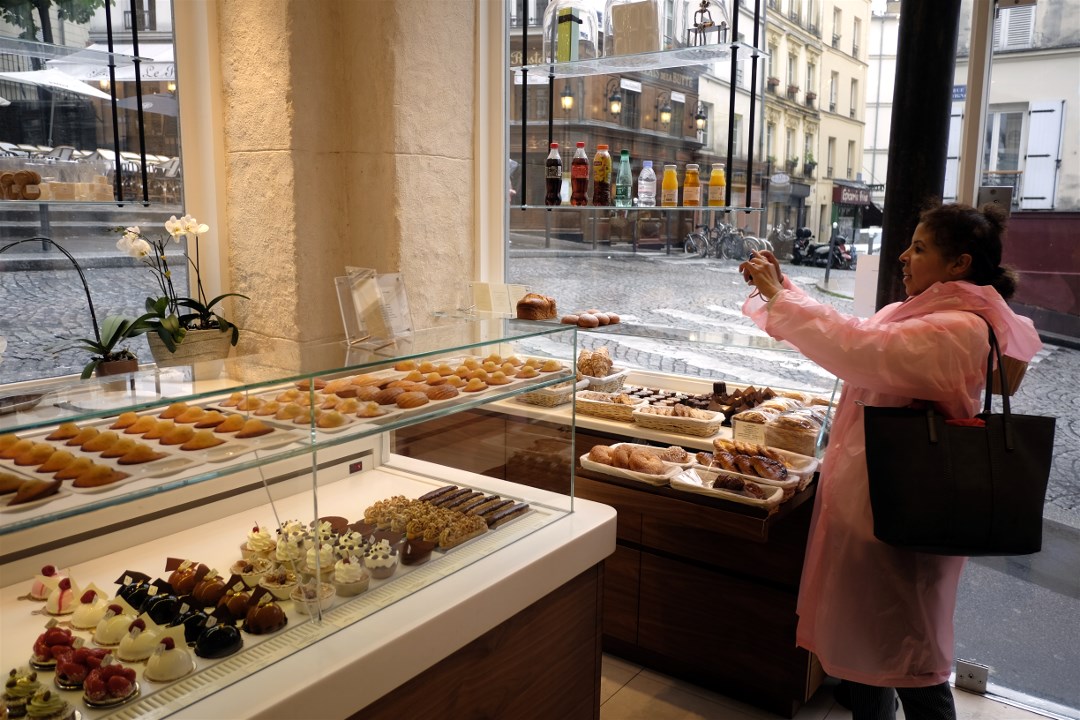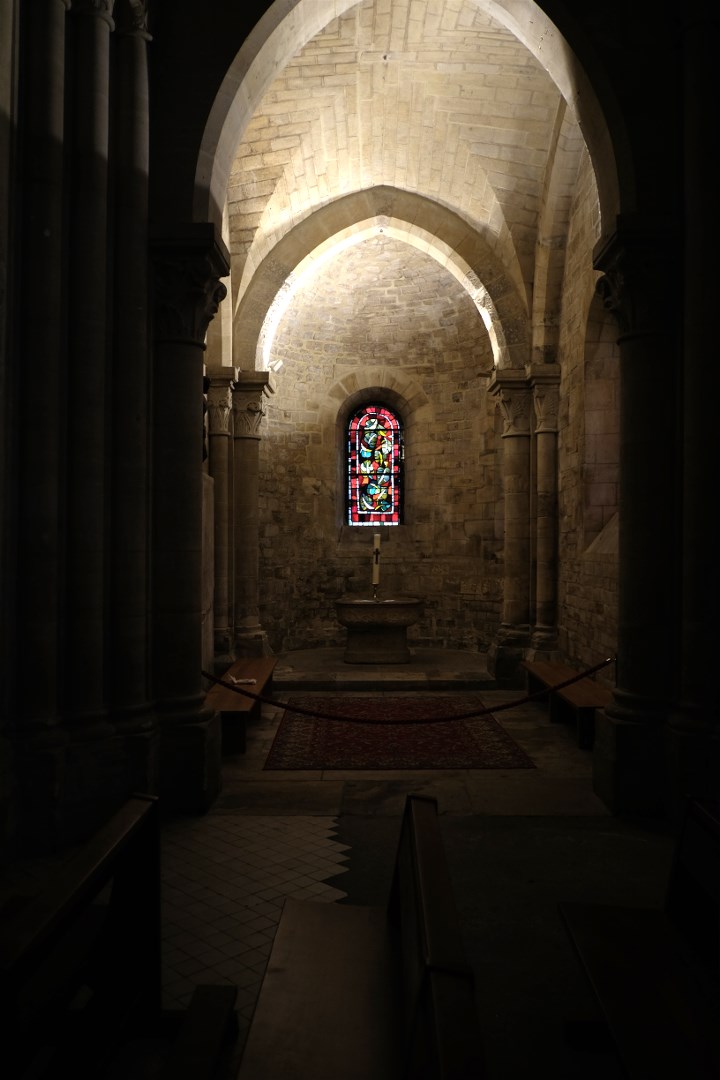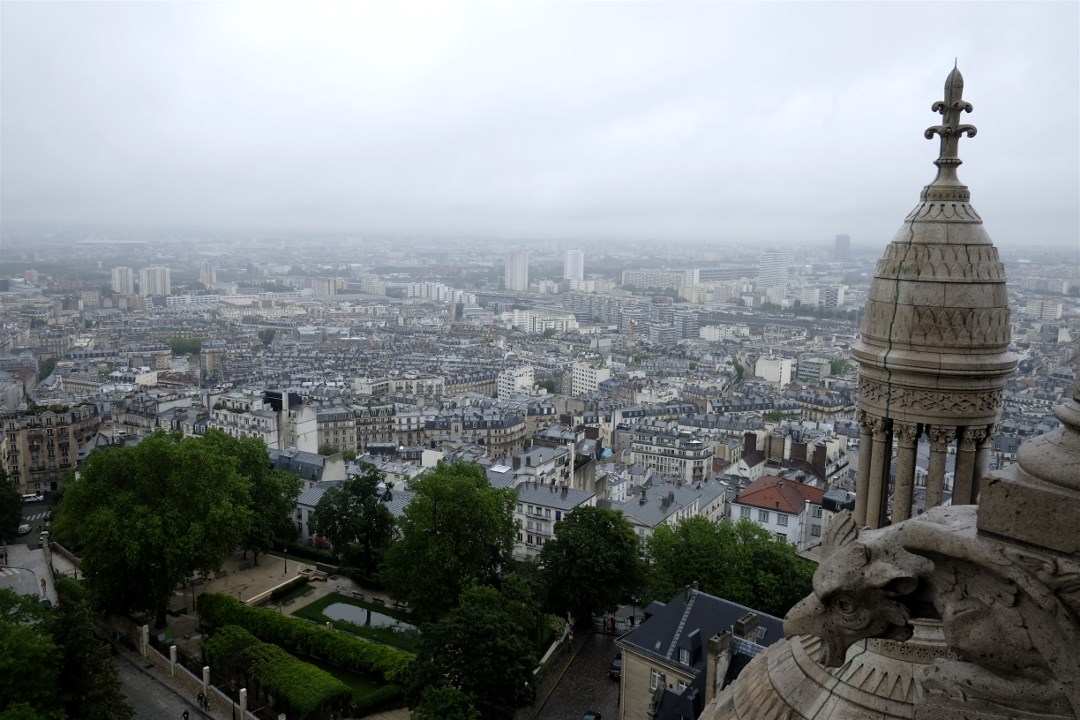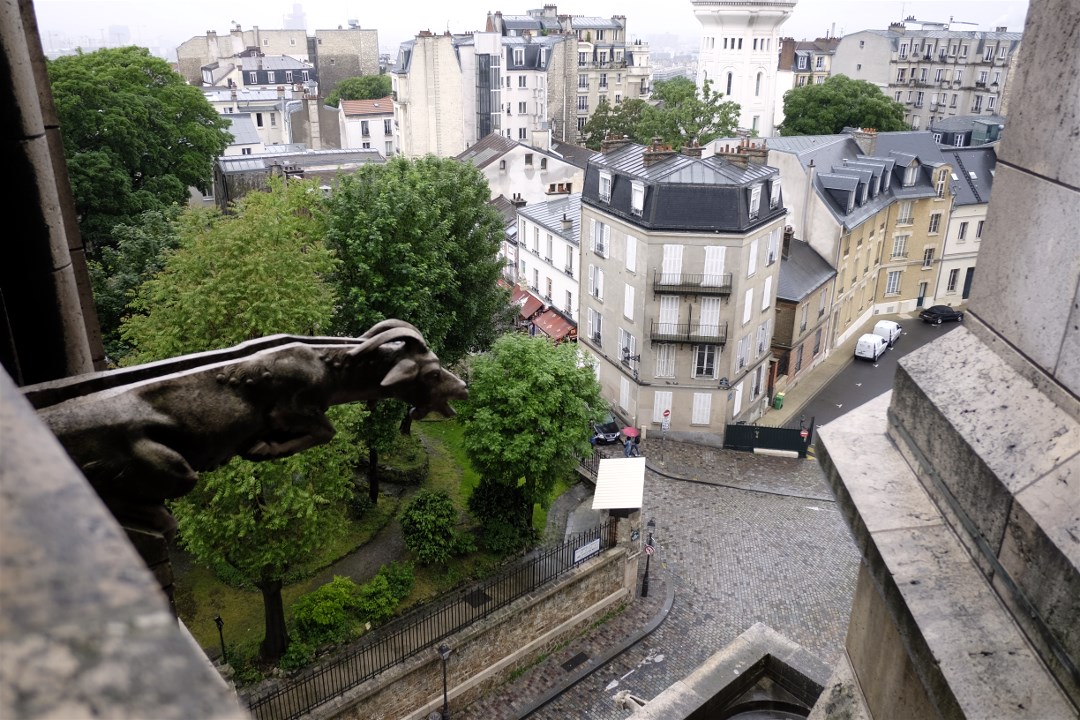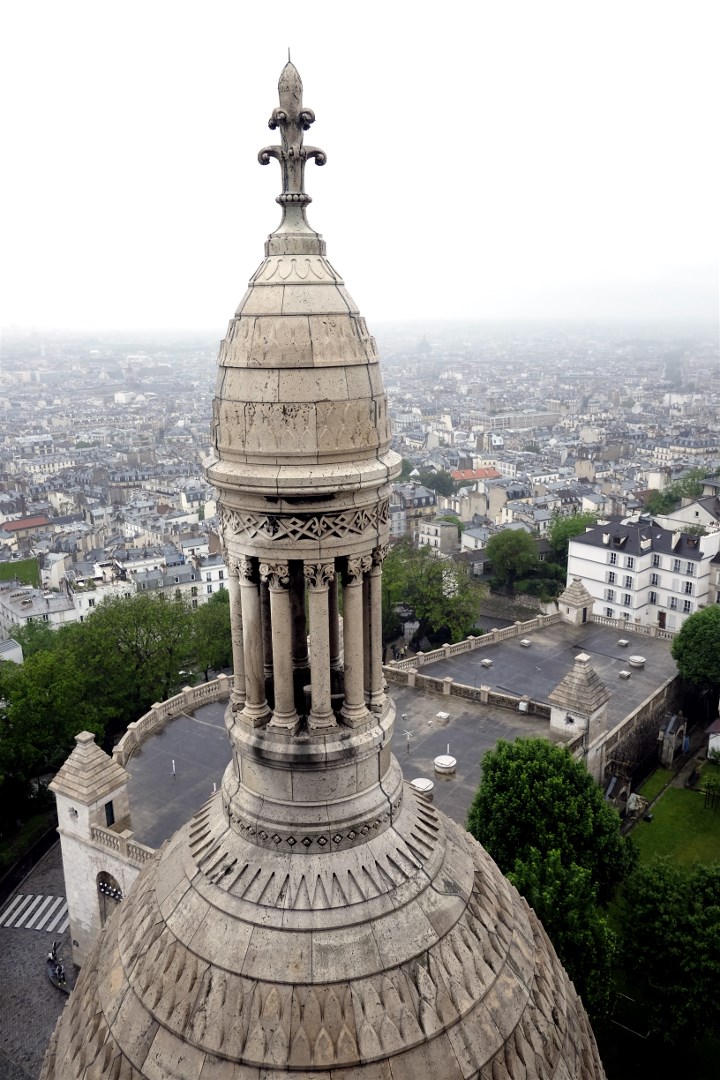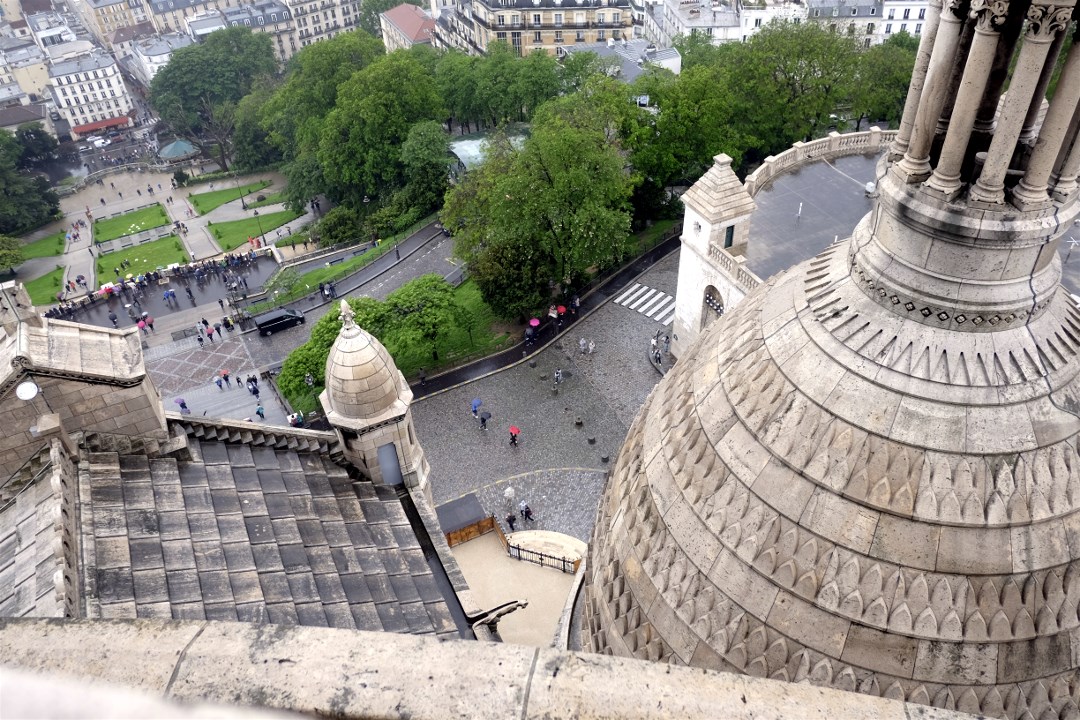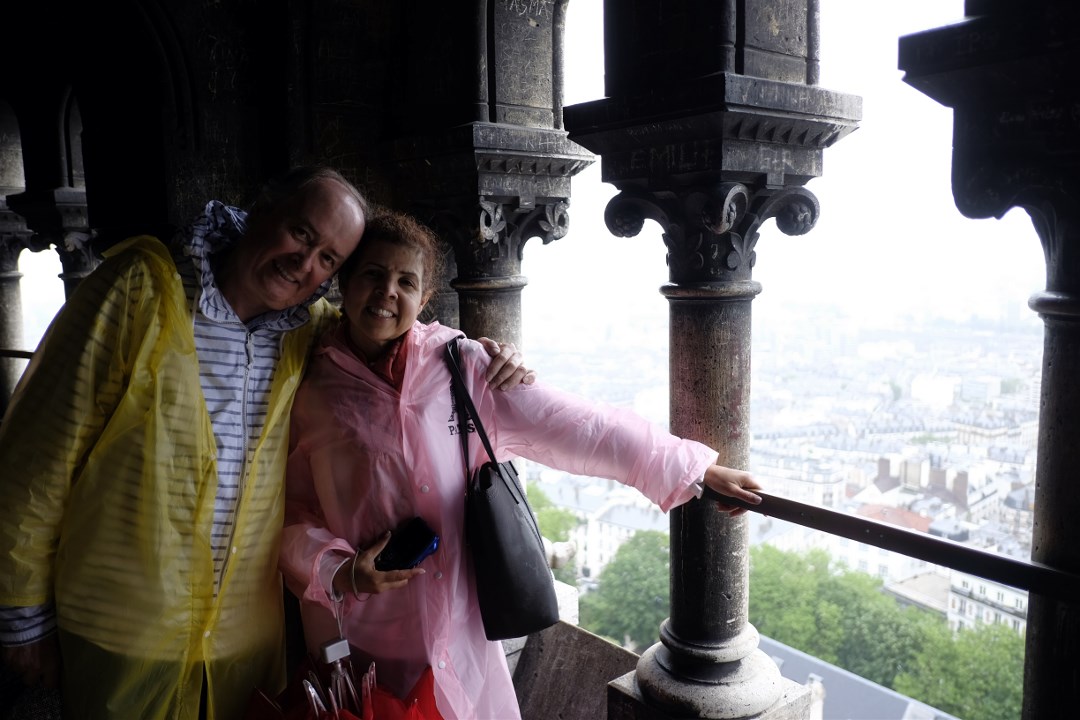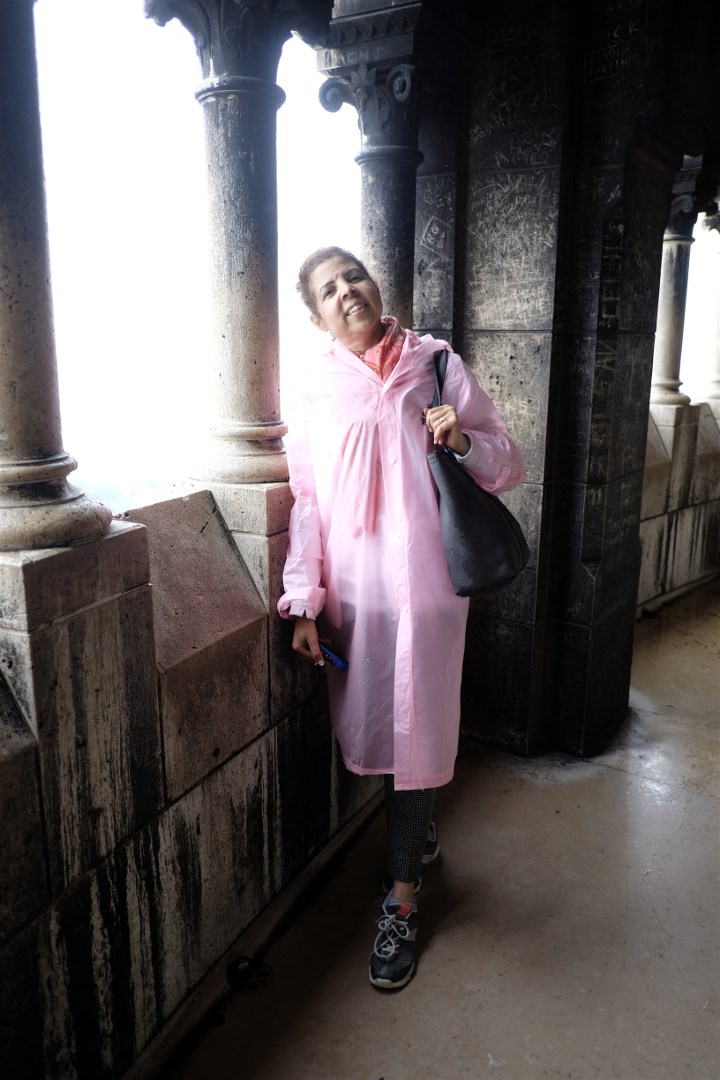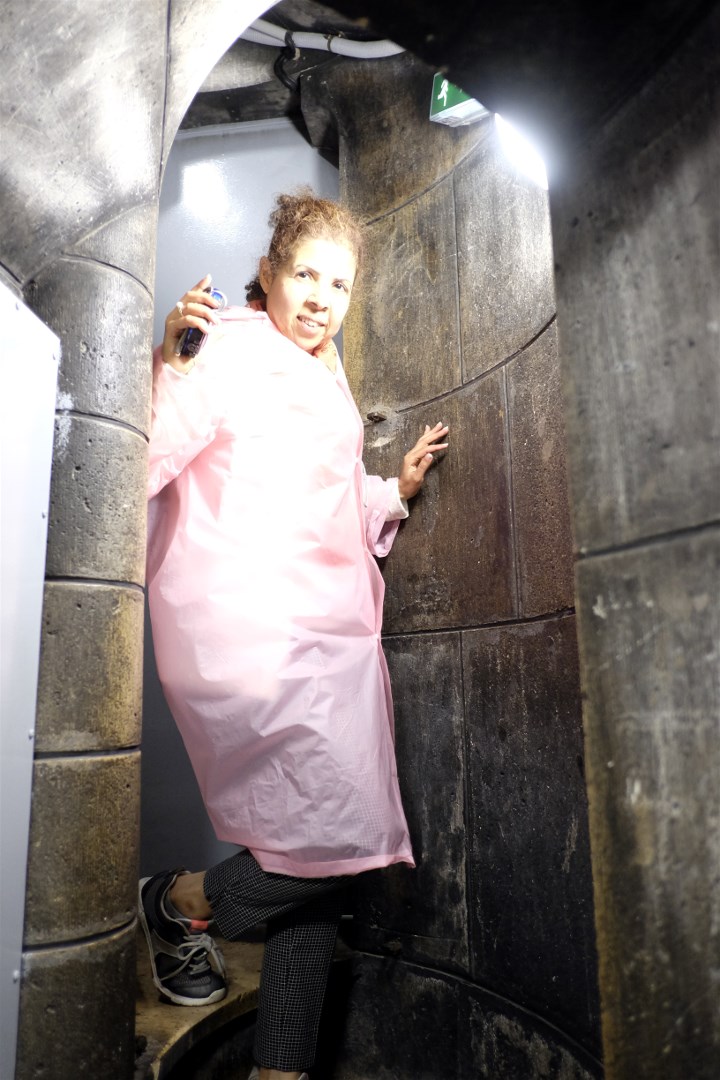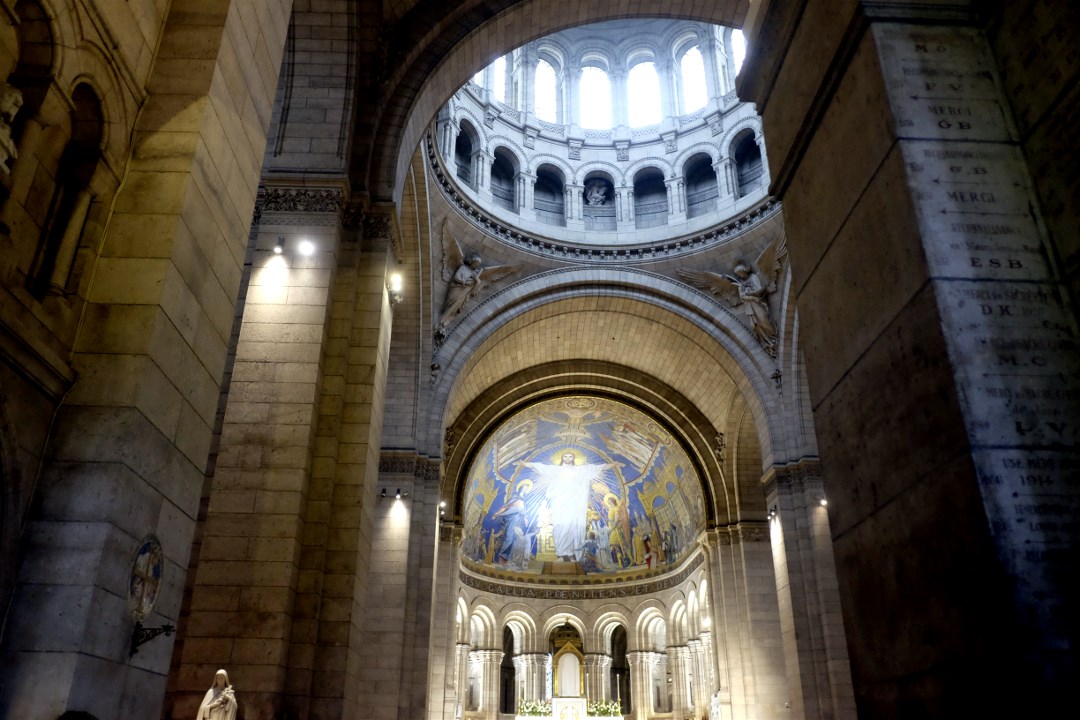 Waiting for Coronel Fabian....Actually I forgot the camera bag in the hotel lock up. We put our luggage in there after check out so we could look around some more before the train. We got side tracked at the artist's quarter and were in a rush. I absent mindedly forgot my camera bag. Mari waited in the subway with the luggage and I raced back to get it. Unfortunately we missed the train by about 2 minutes. The French train service personal were very helpful and exchanged the tickets for a trip running two hours later no problem, no extra charge. It was all good.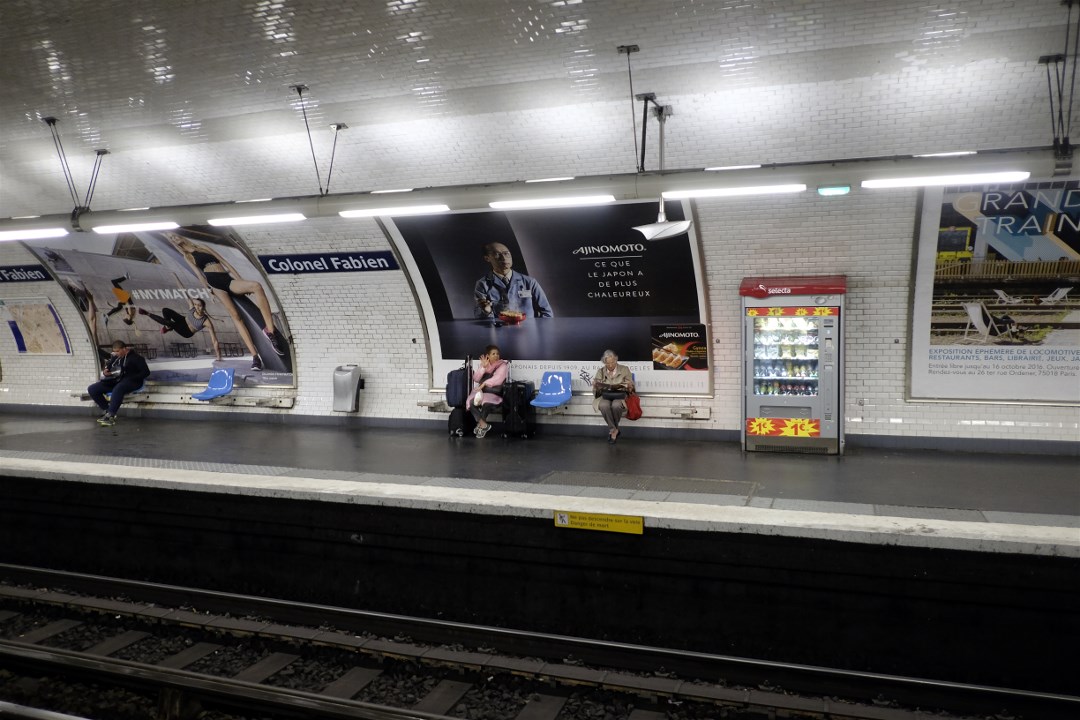 So it was raining too much in Paris. We thought that perhaps in the south of France things would be better. We went to a place called Narbonne. It was supposed to be on the coast but the coast was not in town. I think it was 10 km or more away. The hotel located across from the train station had awnings which banged against the windows in the wind. There was a lot of wind. By 9:00 at night everything was closed. There was a nice church though and a couple of shops. In France you have to pay to use the toilet. In some of the finer places they have luxurious Japanese spa toilets which cost 2.50 to 3 Euros. Here is a photo of the 1 Euro night toilet in the train station. Gives you an idea of the accomodations. We tried to find a bus to go to Barcelona but the bus station was abandoned. People in the parking lot said just show up around 4:00 pm and if there is room....no we got back on the train and were out of there by 2:00.

Night Toilet Narbonne - 1 Euro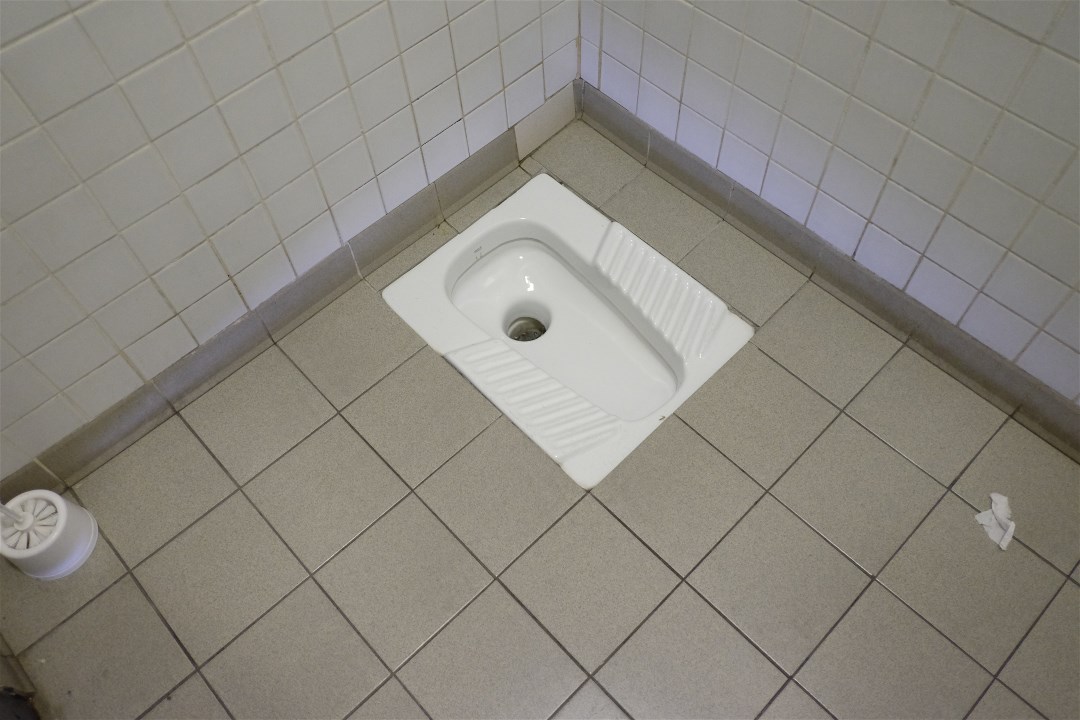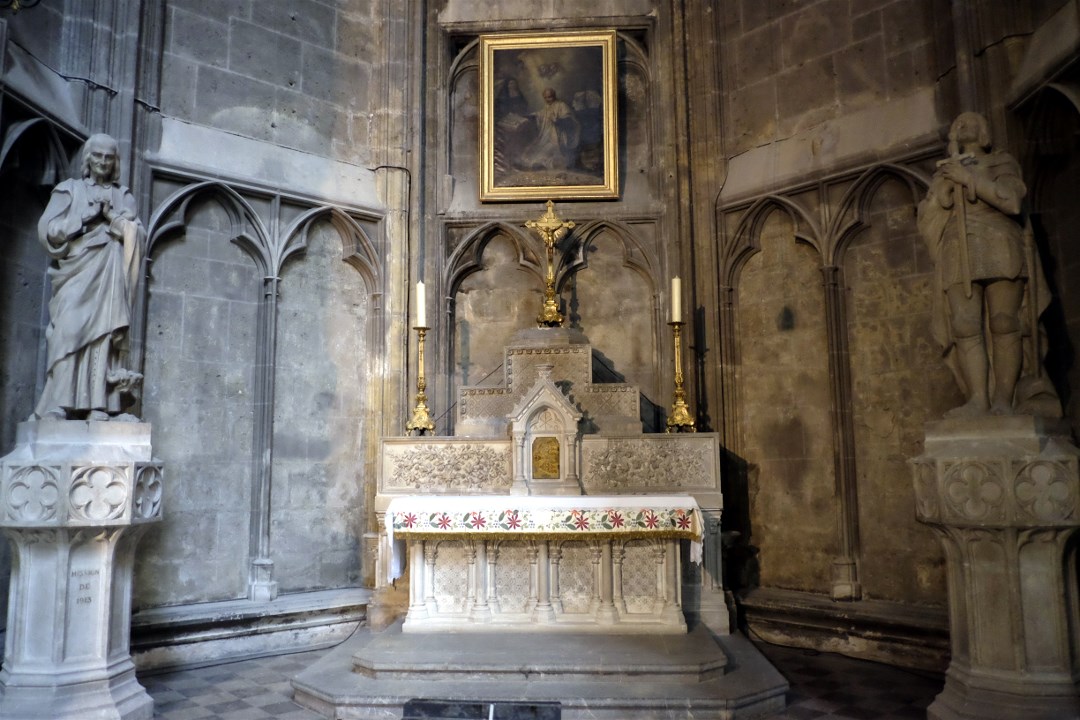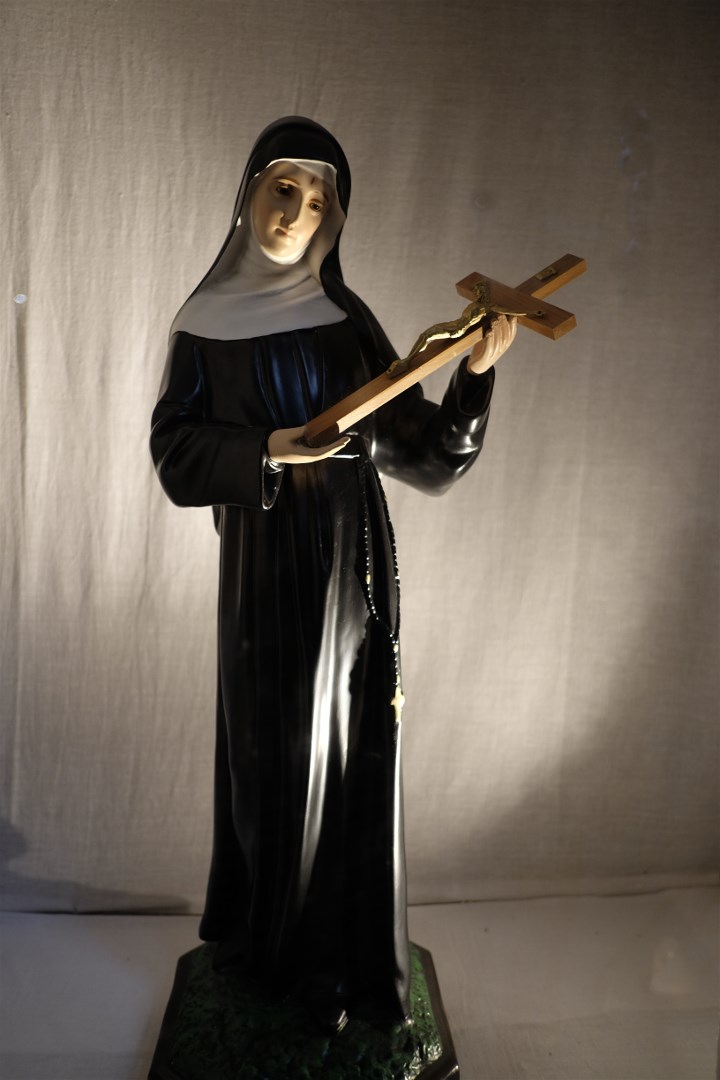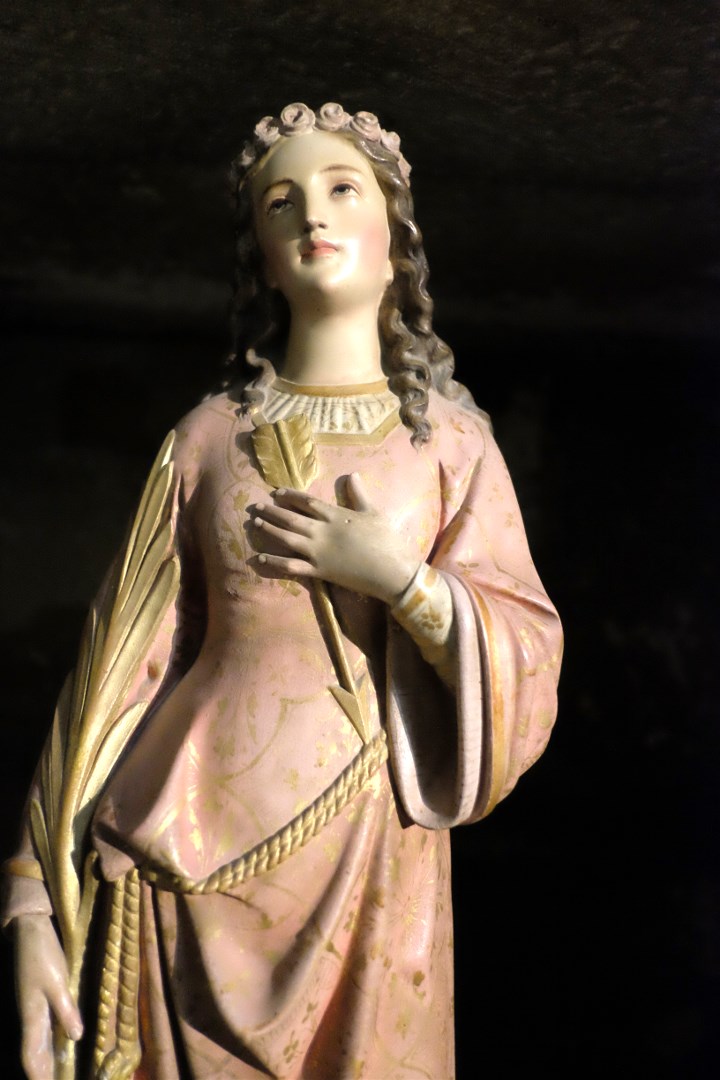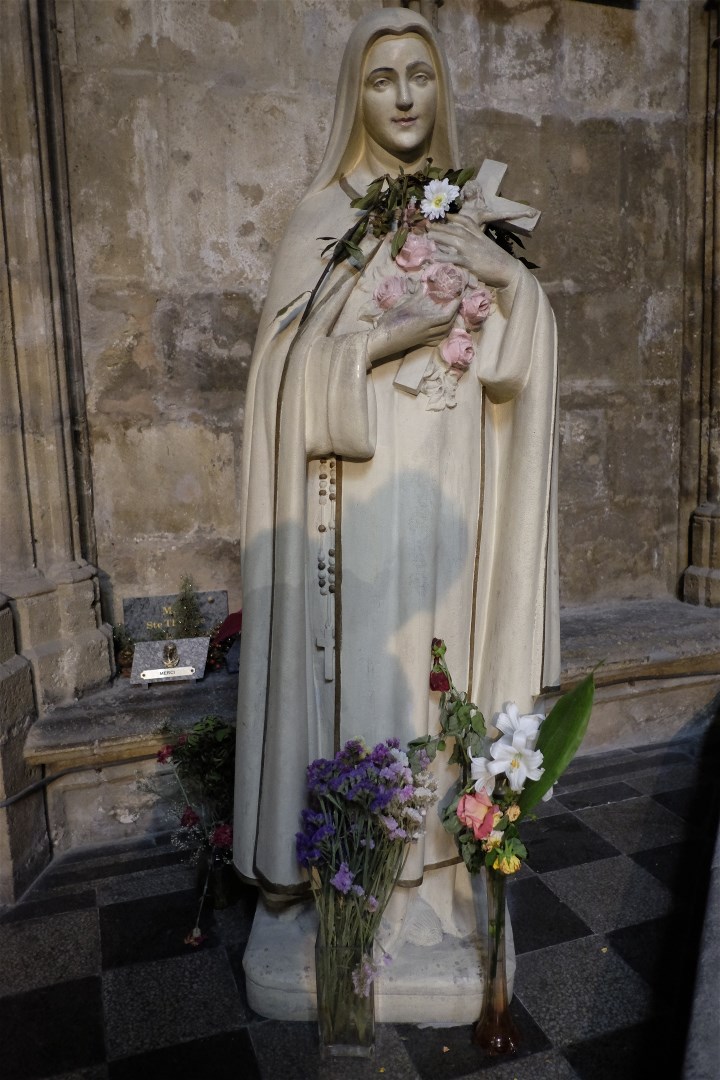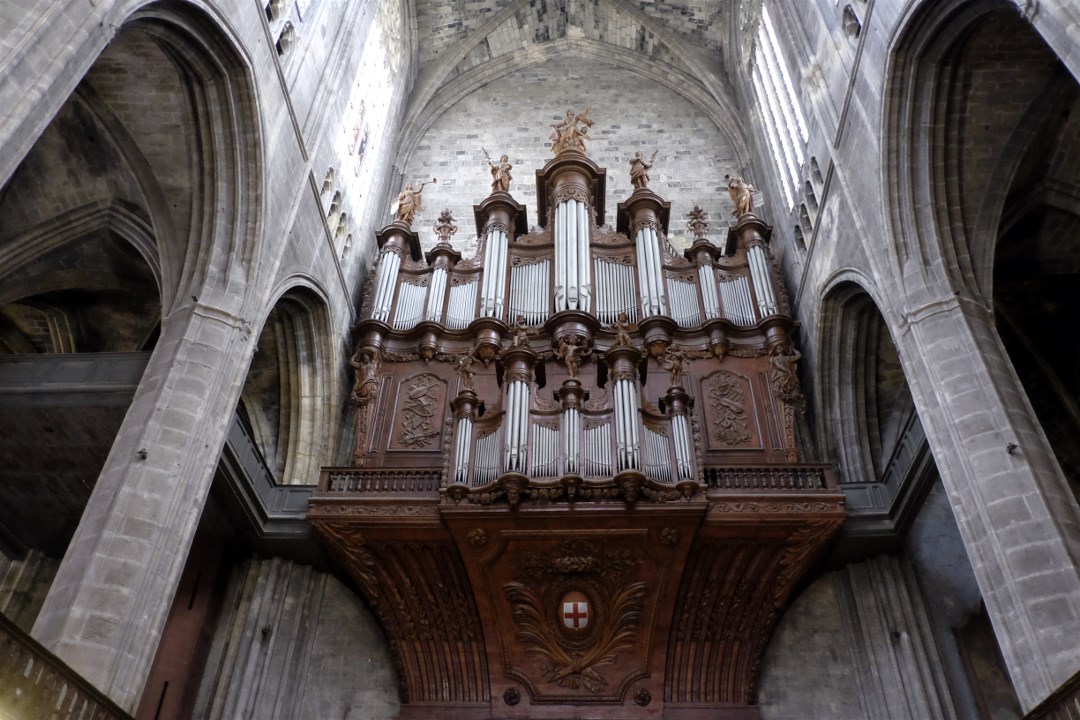 Back to Barcelona. We were supposed to spend some time in the South of France but Narbonne was a dissapointment and we were getting tired. We took the next high speed train out of there and returned to Barcelona for the remainder of the trip. A taxi driver at the train station found us good accomodation which was an apartment with cooking facilities, plates. Food in tourist restaurants can be kind of expensive but we were pleasantly surprised at the quality and prices of the food in supermarkets, one of which was just around the corner. For the next three days we ate lightly, mostly sandwiches etc prepared in our room and taken along on excursions. It cut the cost of eating about 90%.

Our hotel was around the corner from the Barcelona Football Club. We took the tour. It set up a very good emotional response for our last day. It went like this: Football (soccer for the Northamericanos) is the most popular sport in the world. Barcelona has one of the best teams in the world. People come from all over to take the tour. They are like pilgrims who are guided through the Vatican museum. Everyone seemed looking for a chance to see Messi or touch the grass on the pitch, walk through the broadcast booth, dressing rooms and most of all the museum with over a hundred years of silver cups, old boots and dusty soccer balls. There is subtle but stirring music playing everywhere, in the broadcast booth an continuous loop of Messi's first GOOOOOOOAAAALLLLL!!!!!, a TV commercial with two little old ladies sitting outside their home when a flower pot suddenly falls from an upper balcony towards them. They are miraculously saved by a football star who knocks the flower pot away with his head. All wonderfully filmed with stirring music designed for an emotional response. It was worth the tour as you left feeling somehow uplifted.

With that feeling in our hearts we headed down to the Plaza Espanya for our last evening to see the Miro park and what was done to the former bullfighting arena which was turned into a very nice shopping mall complete with a Cinema 12 showing the latest movies. We were directed by a nice family to the magic fountain which puts on a lovely display on weekends. While we waited on the steps it became apparent to me that there was a mystic energy. In the distance the Family Sagrado church lined up with the bullfighting arena, then the great obelisks, then a river from the fountain, the fountain itself and behind us up the stairs more obelisks and finally grand government buildings. There was an obvious lay line planning and phalic symbolism at work. I got a strange but not unpleasant feeling of mystic energy.

So while we waited for the show people started coming. Many people. It was like the football stadium but while at the football stadium it seemed that the people were tourists from all over the world where soccer is loved, here at the fountain it seemed to this observer there was a disproportionate percentage of ex-patriot Spaniards. There were people from Argentina, Chile, Guatemala, Mexico, my Dominicana and many others. By the time the show started I estimate thousands were there. All of the dozens of countries Spain sent her people to for the last 500 years were coming back as though called. The water show was wonderful. It was as though in that magic place Spain was calling back its children. The energy was palpable. One day I must return.


Barcelona: Art and Archetecture Mix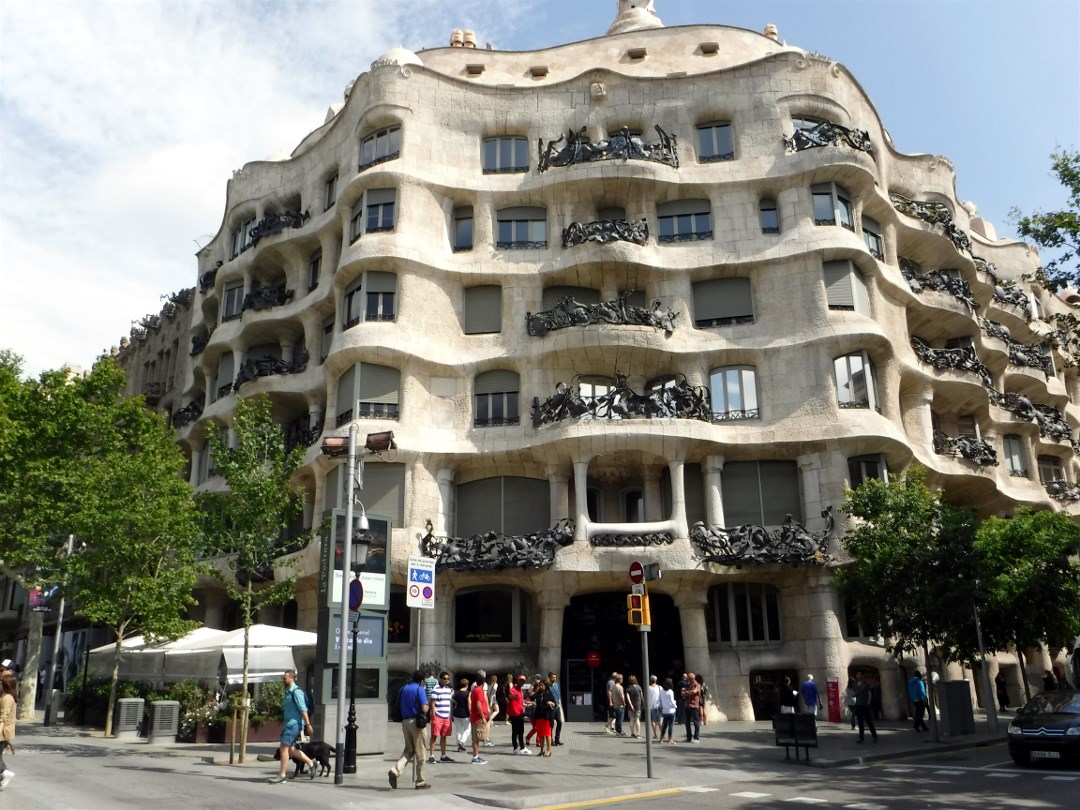 Buying food at the Market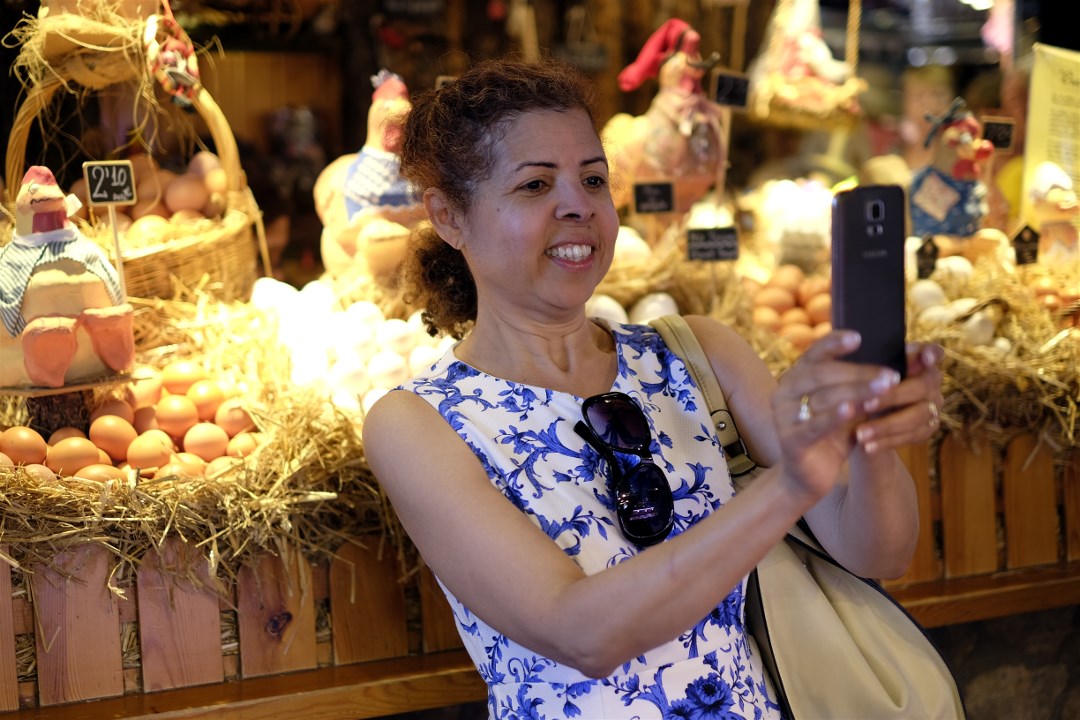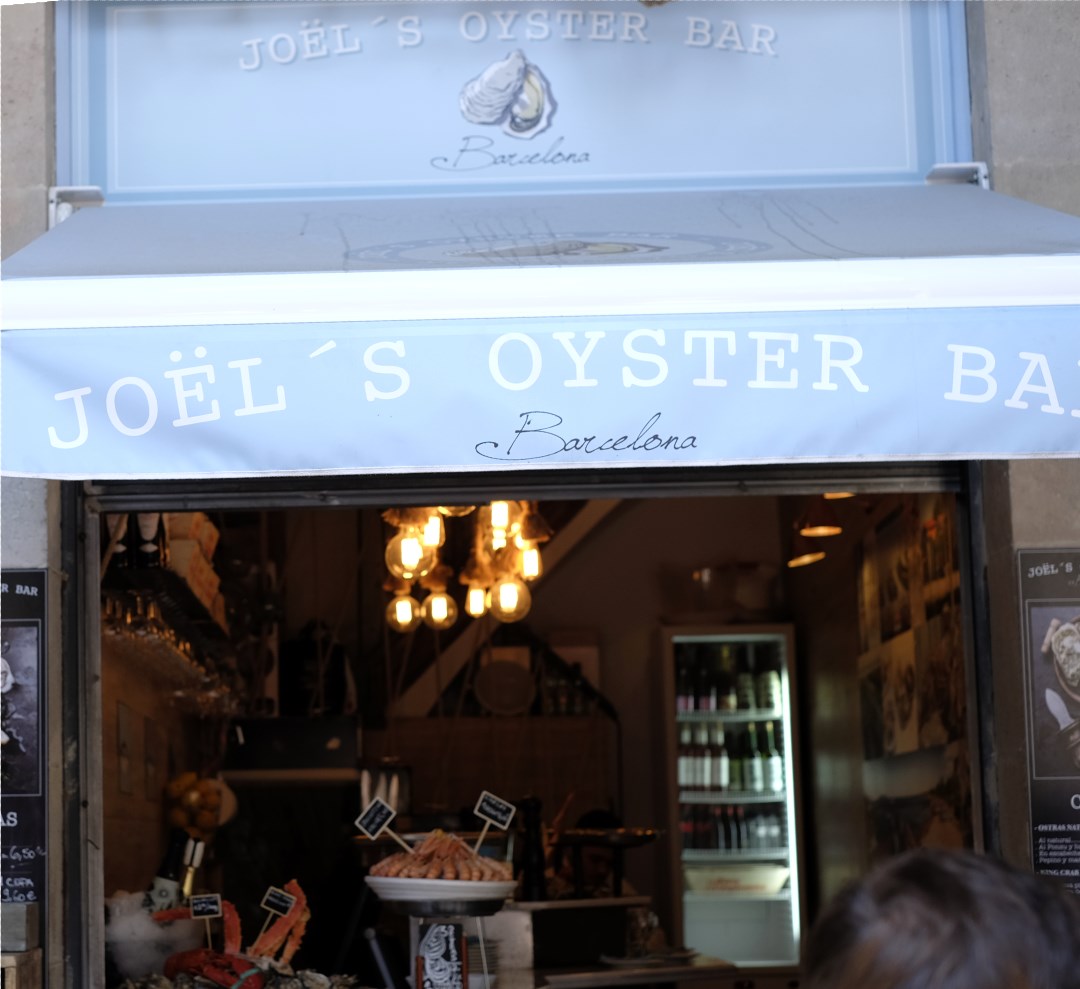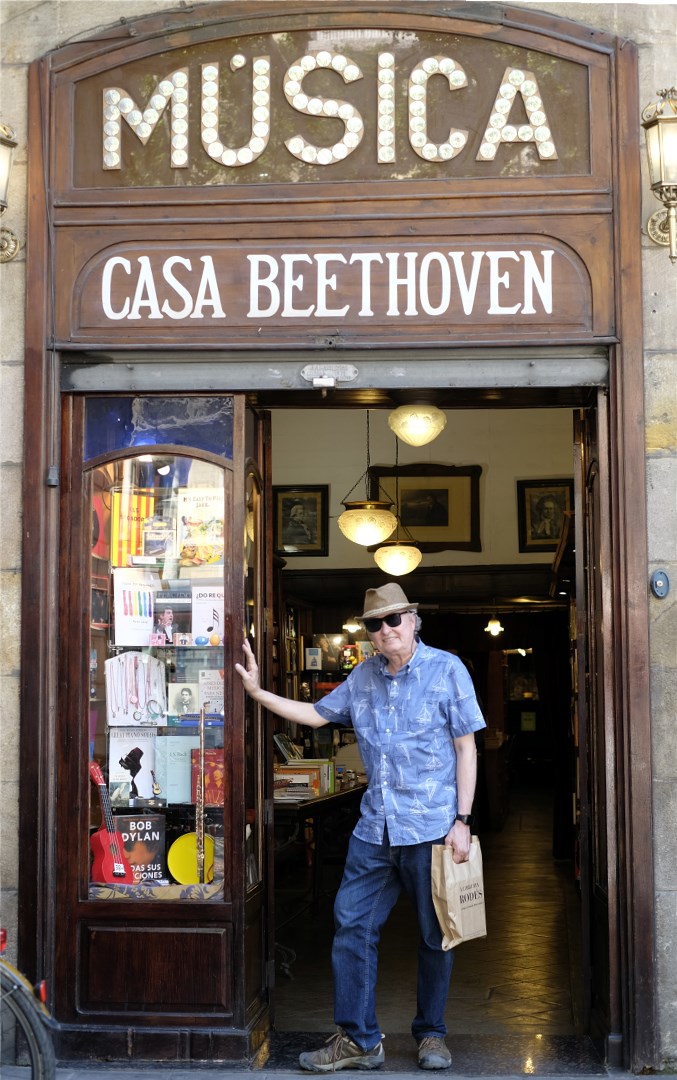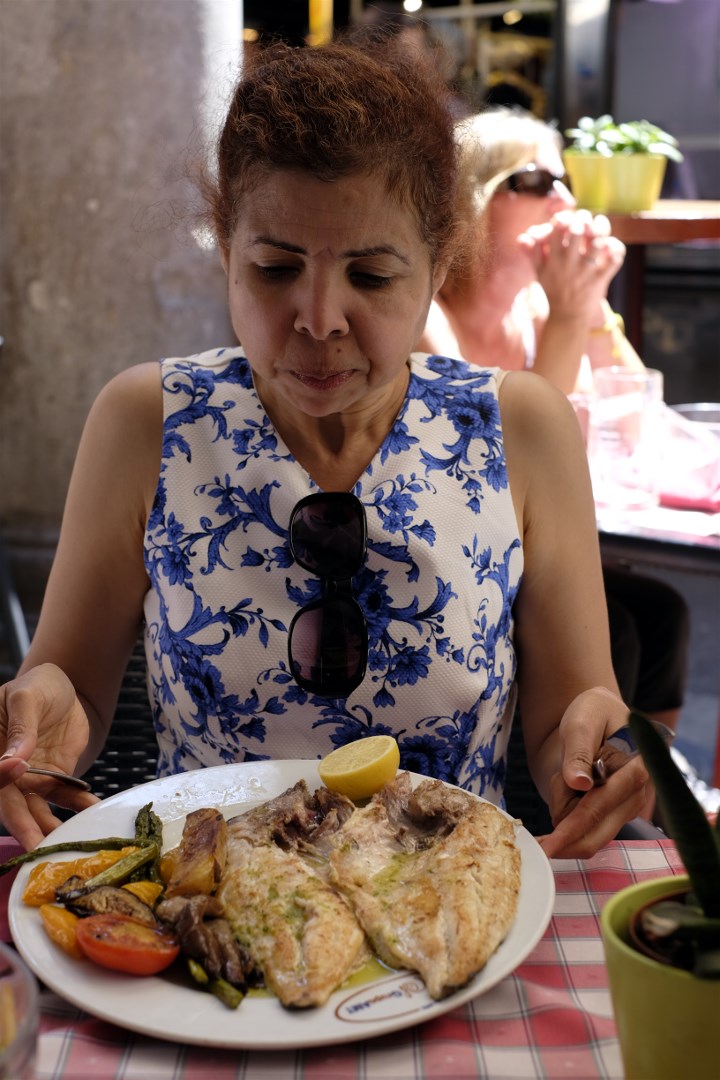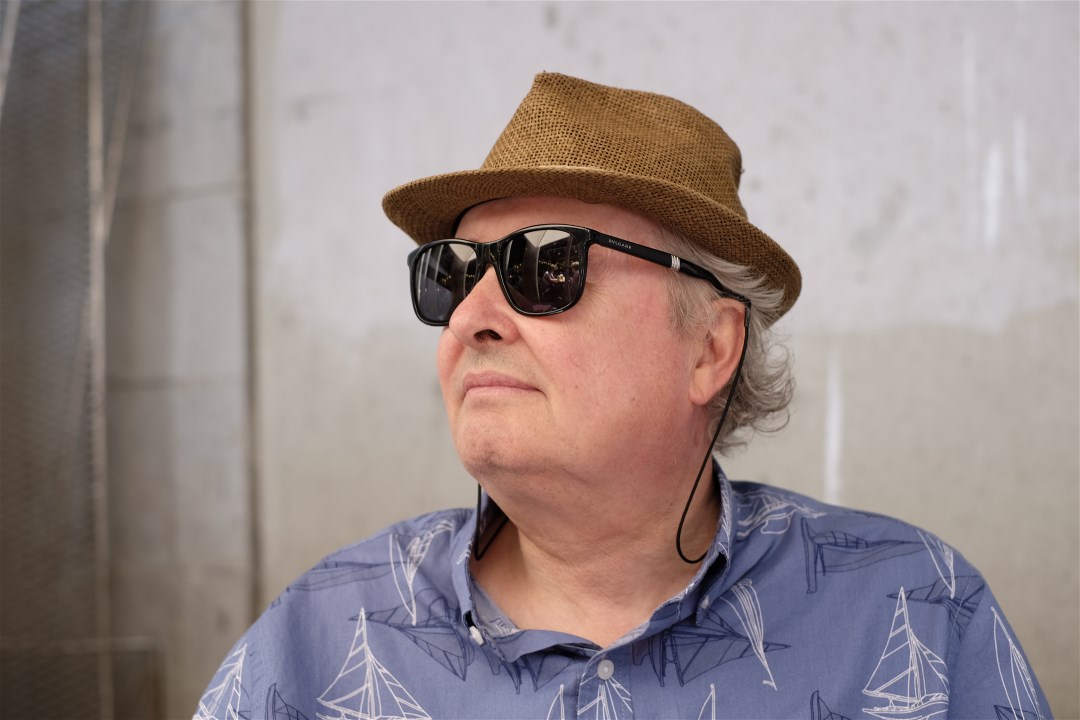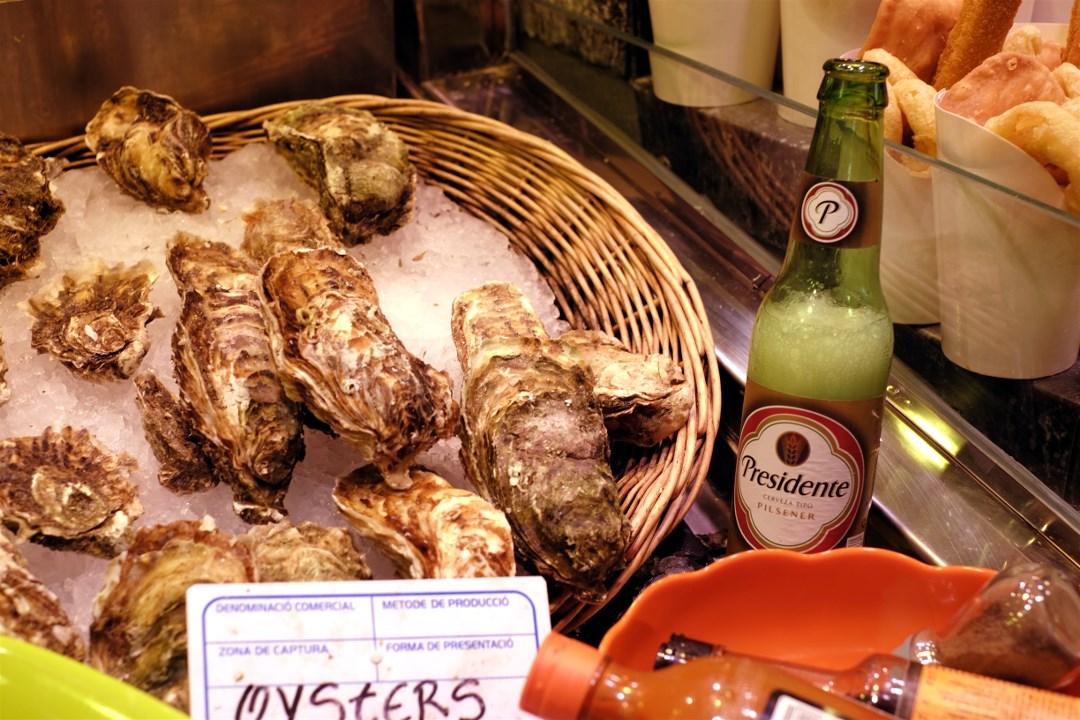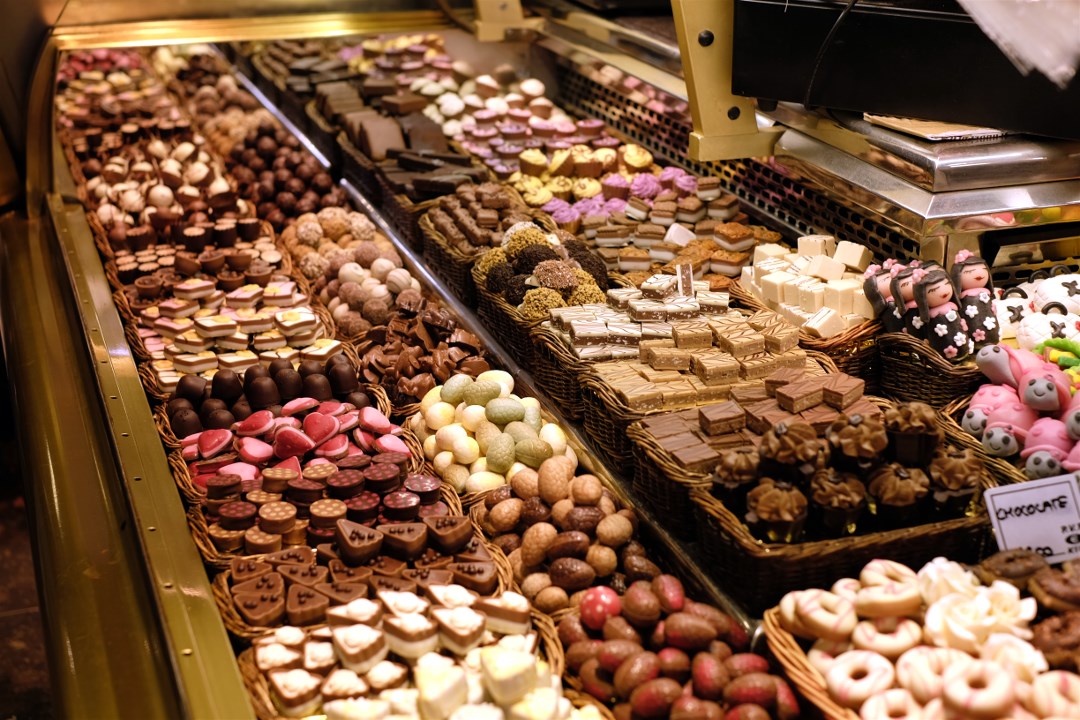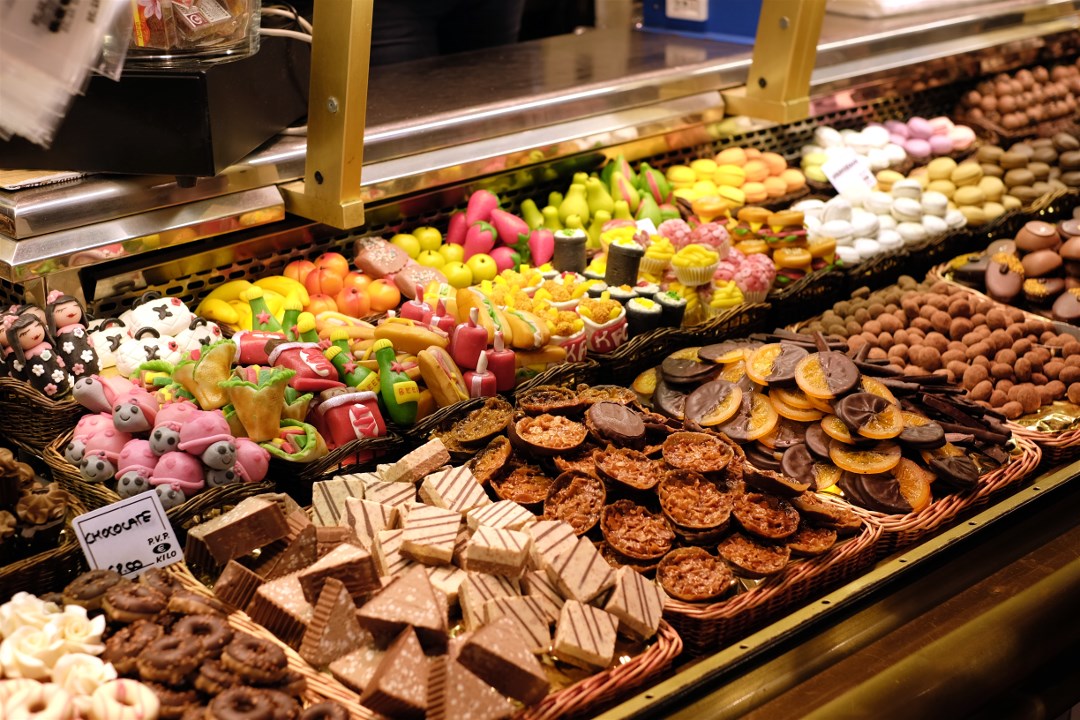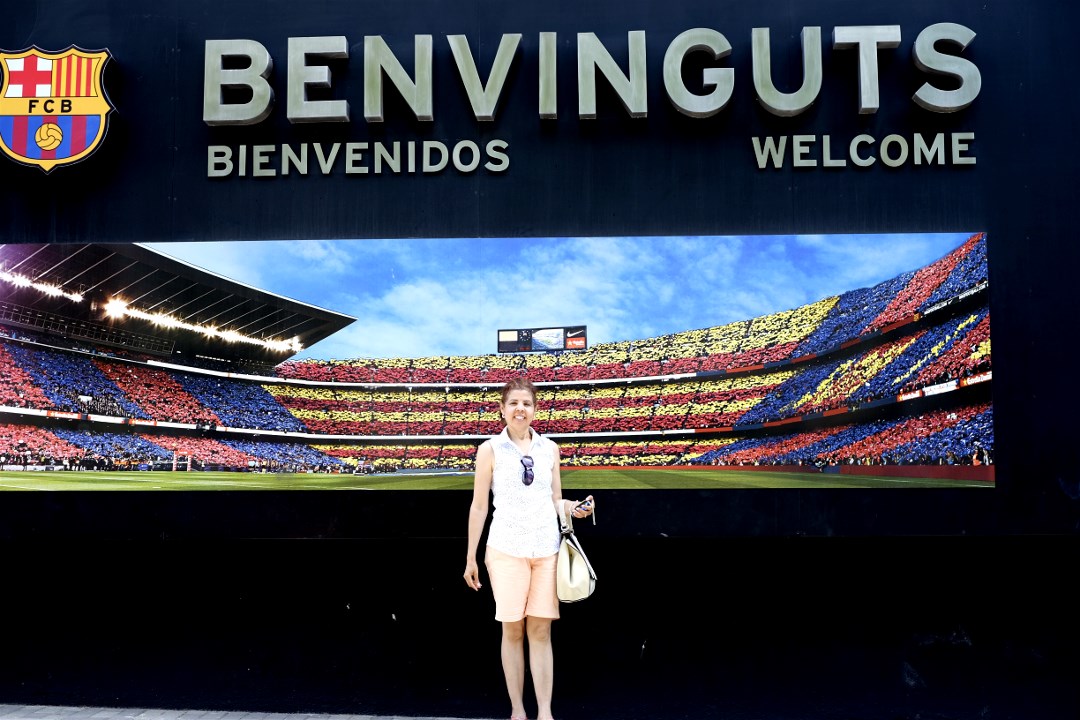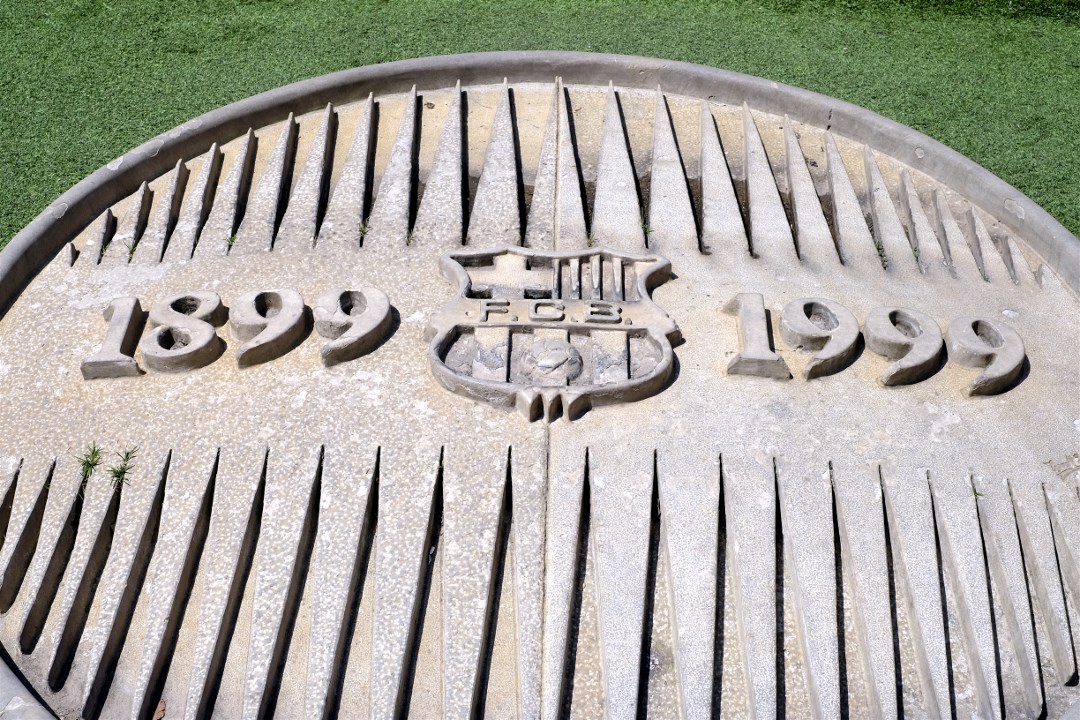 This Saint is featured in Barcelona - She protects the team apparently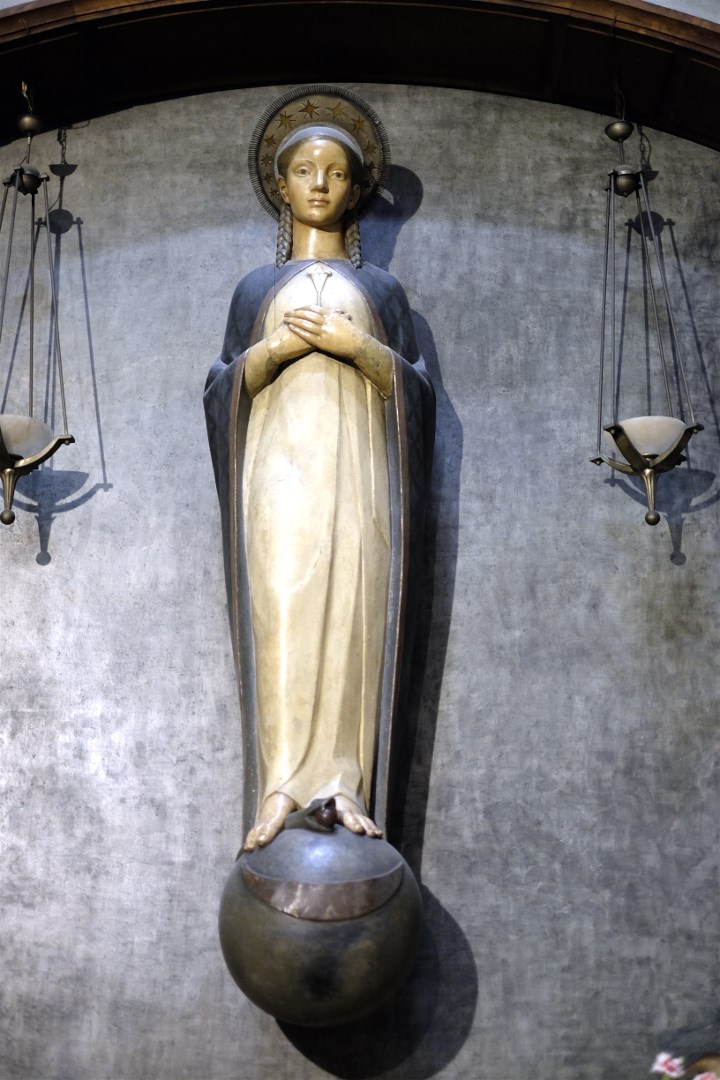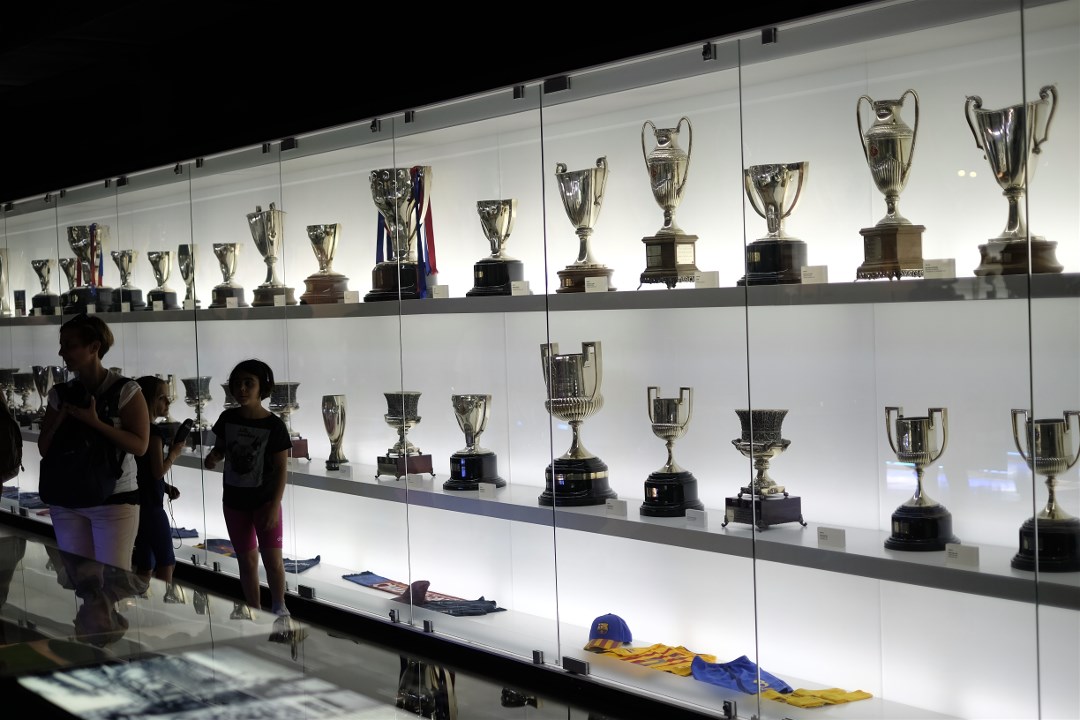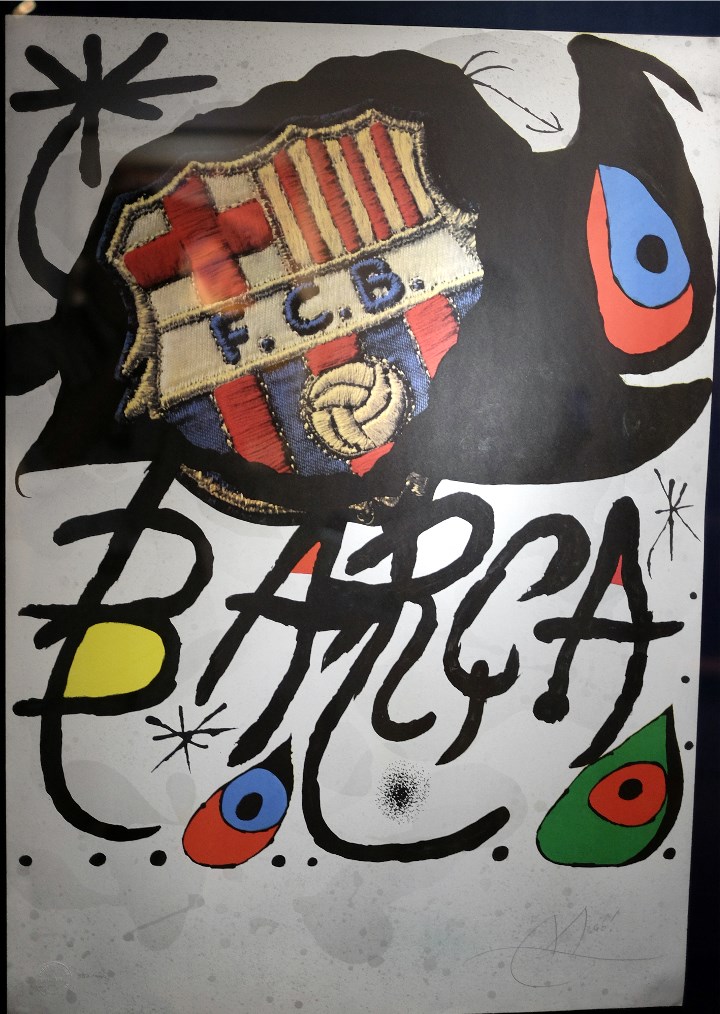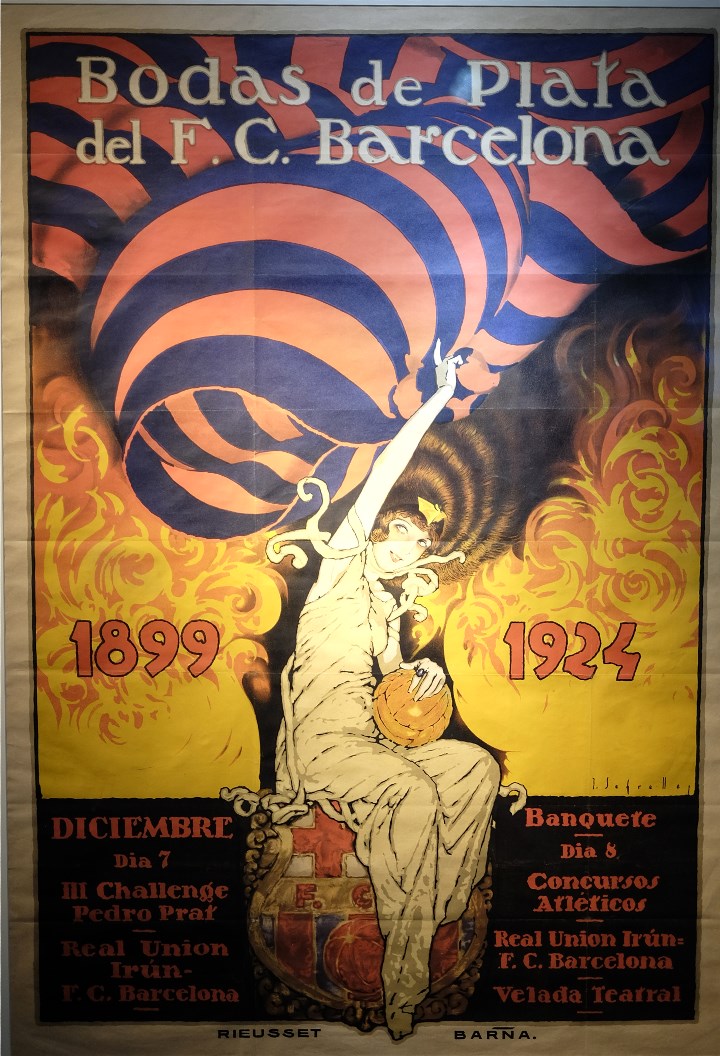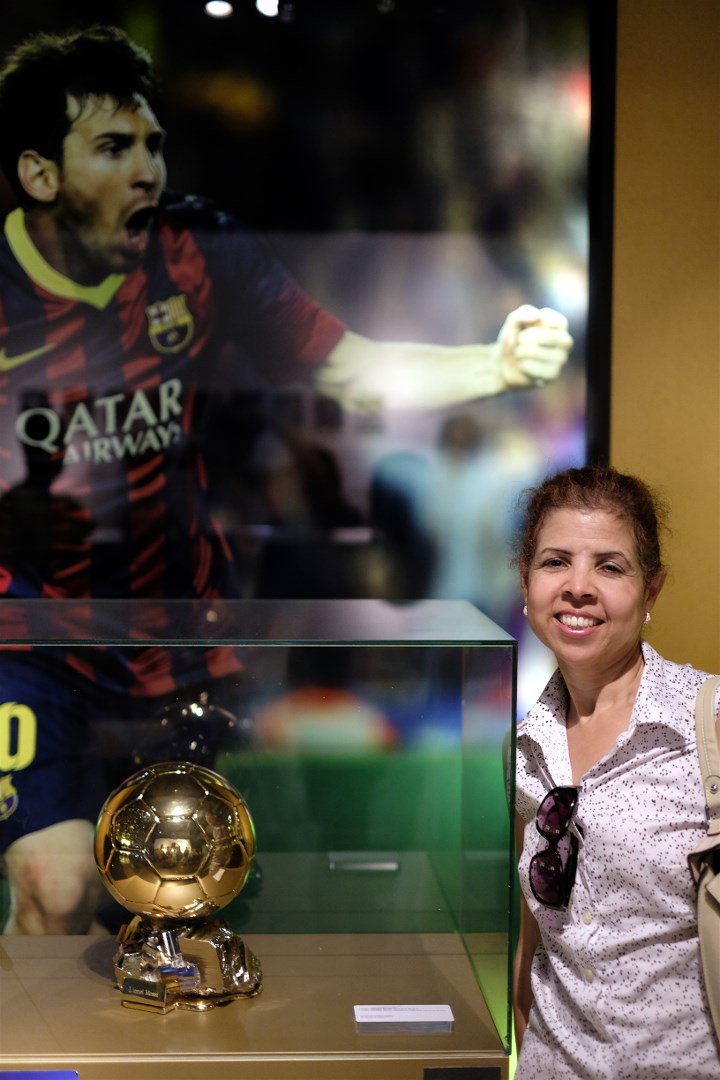 Wow the field is Big!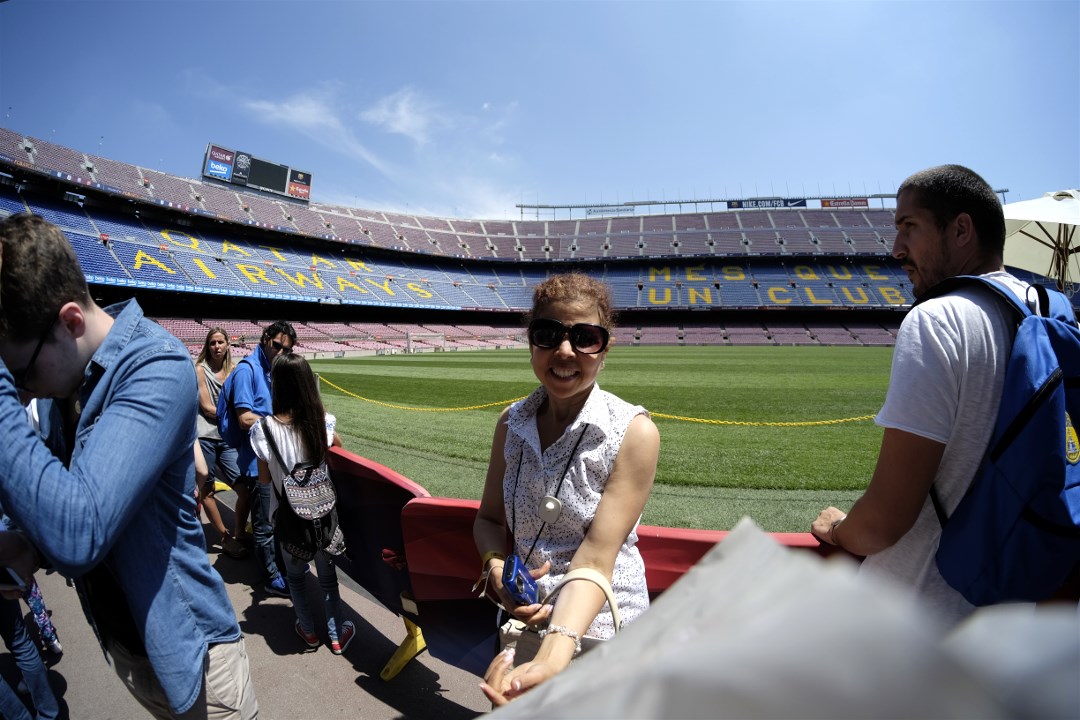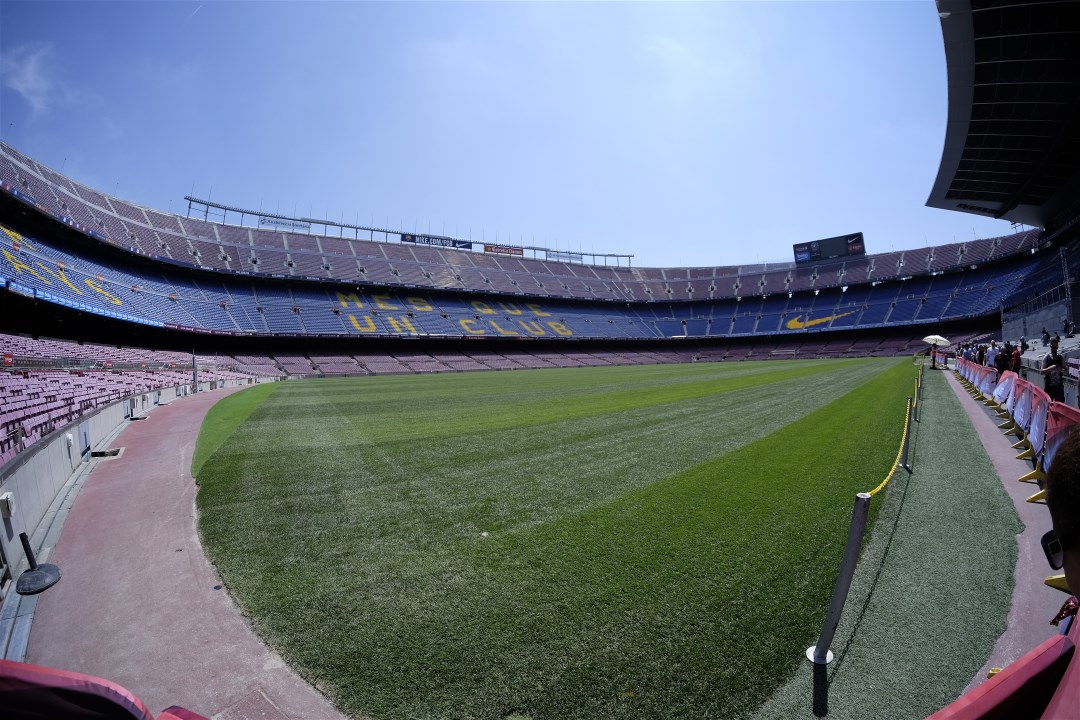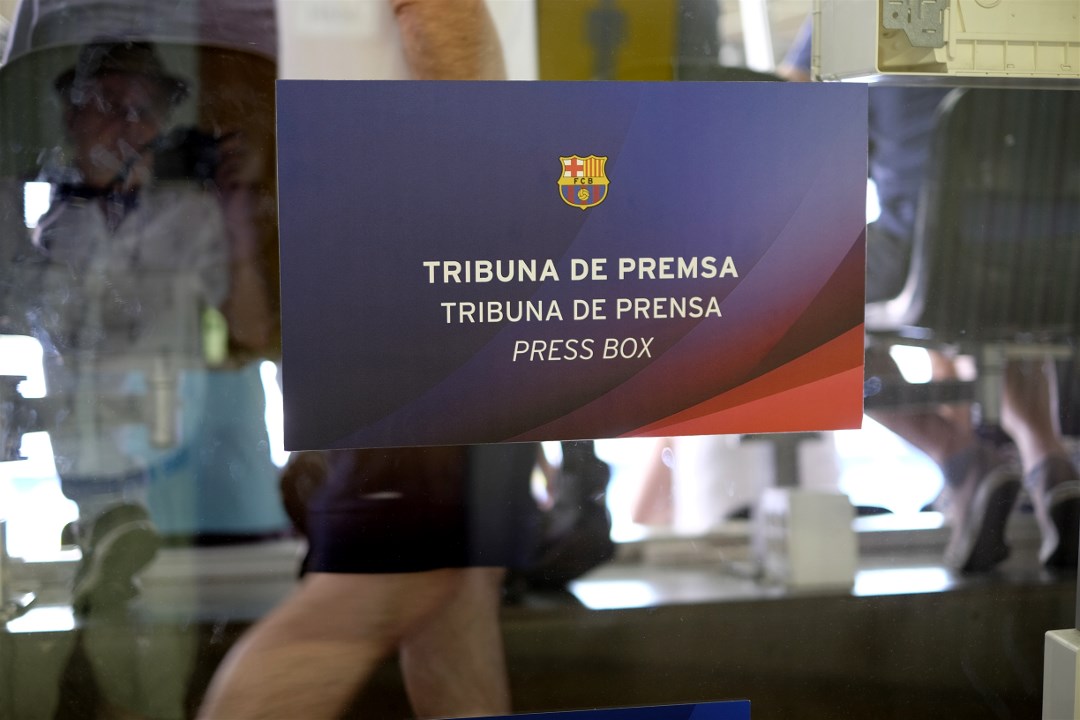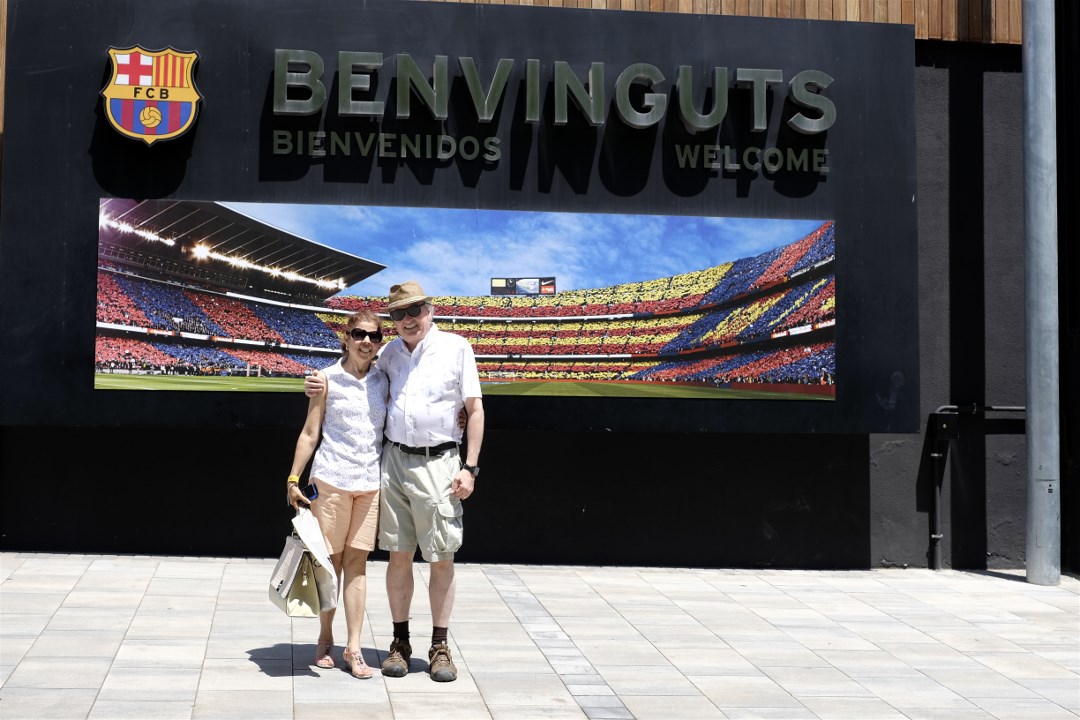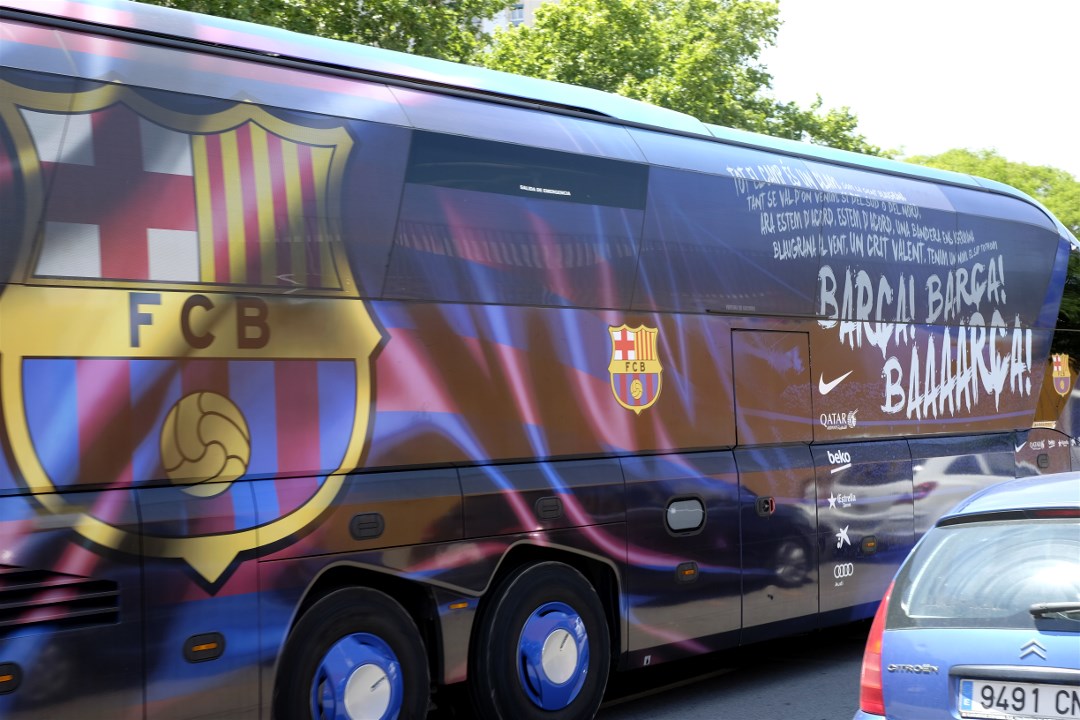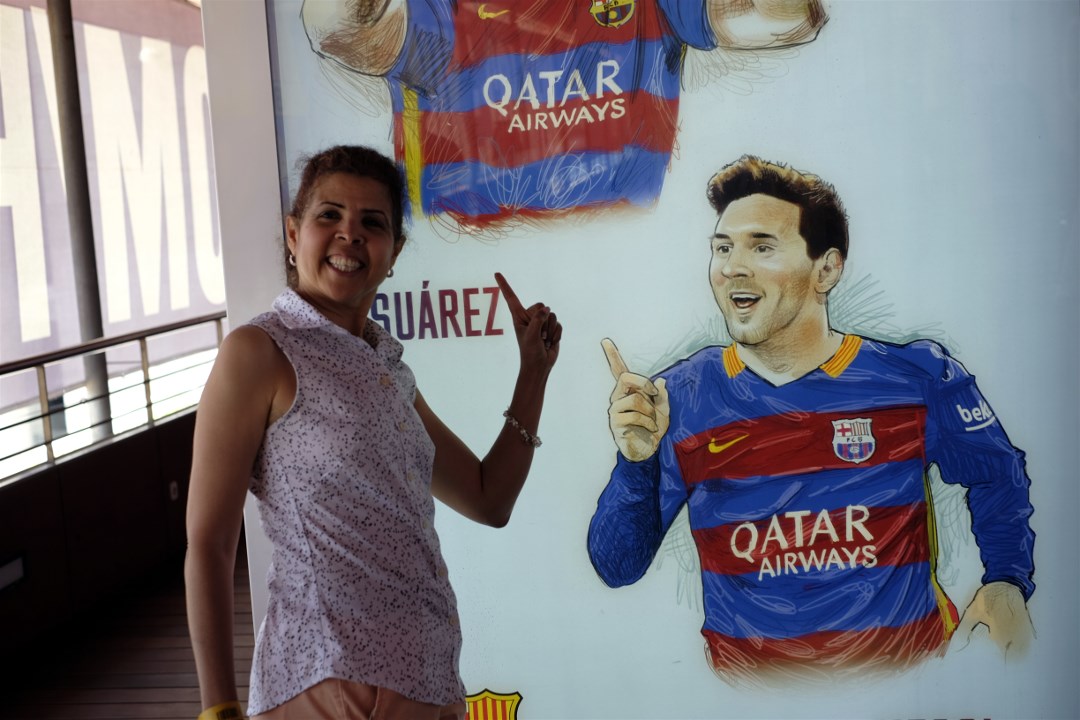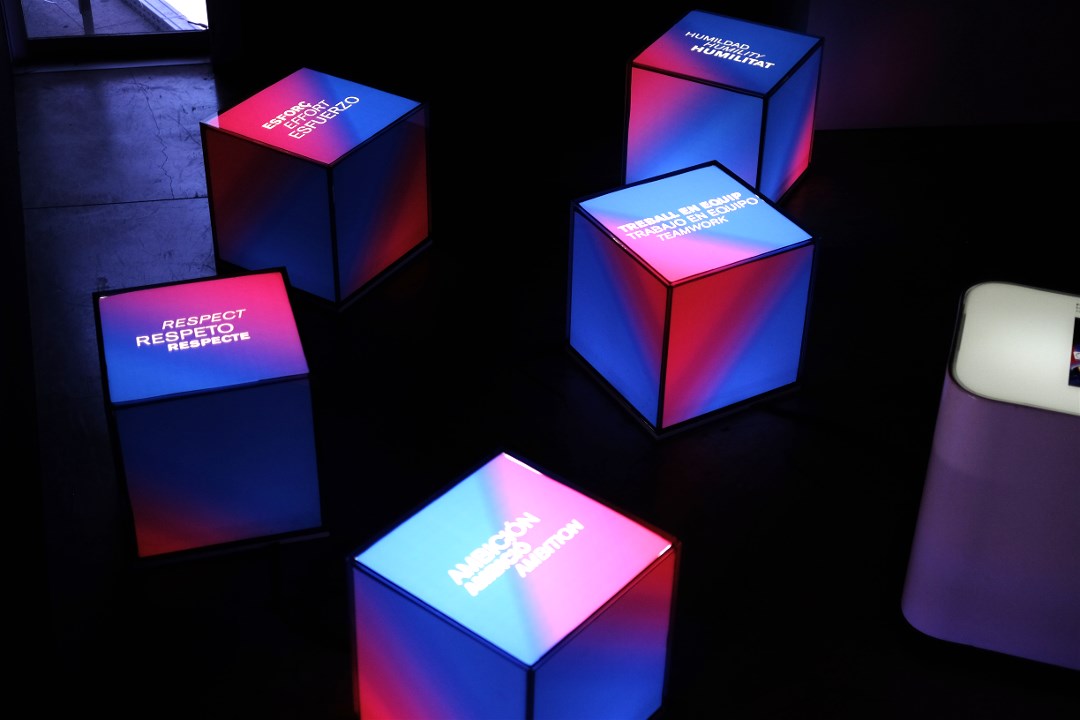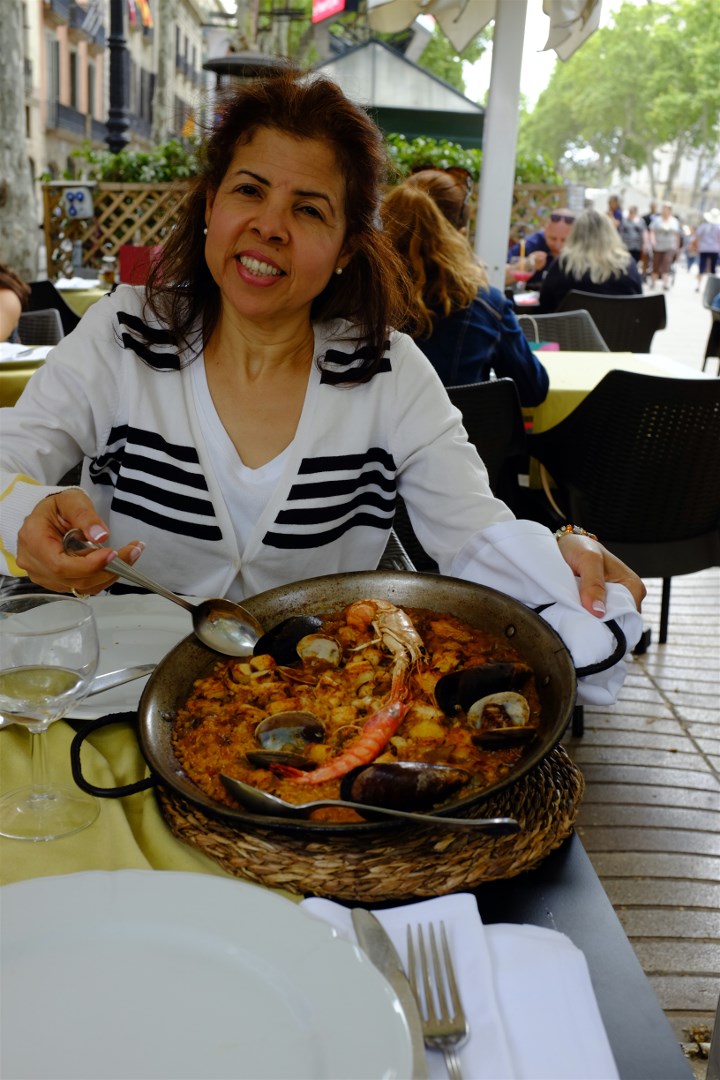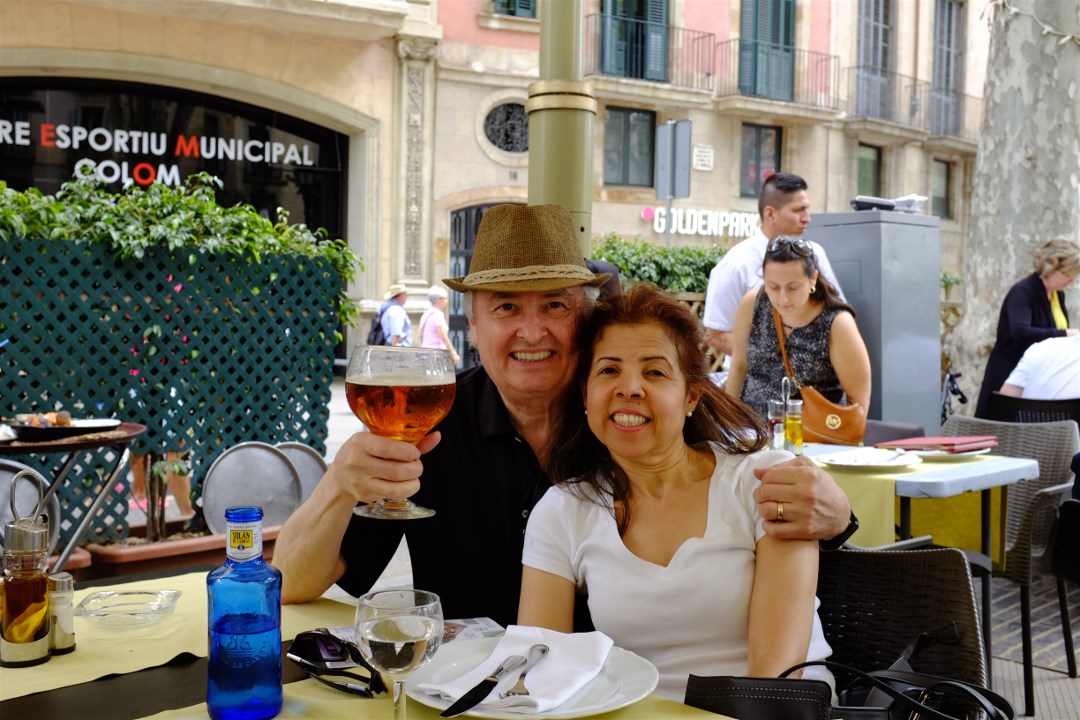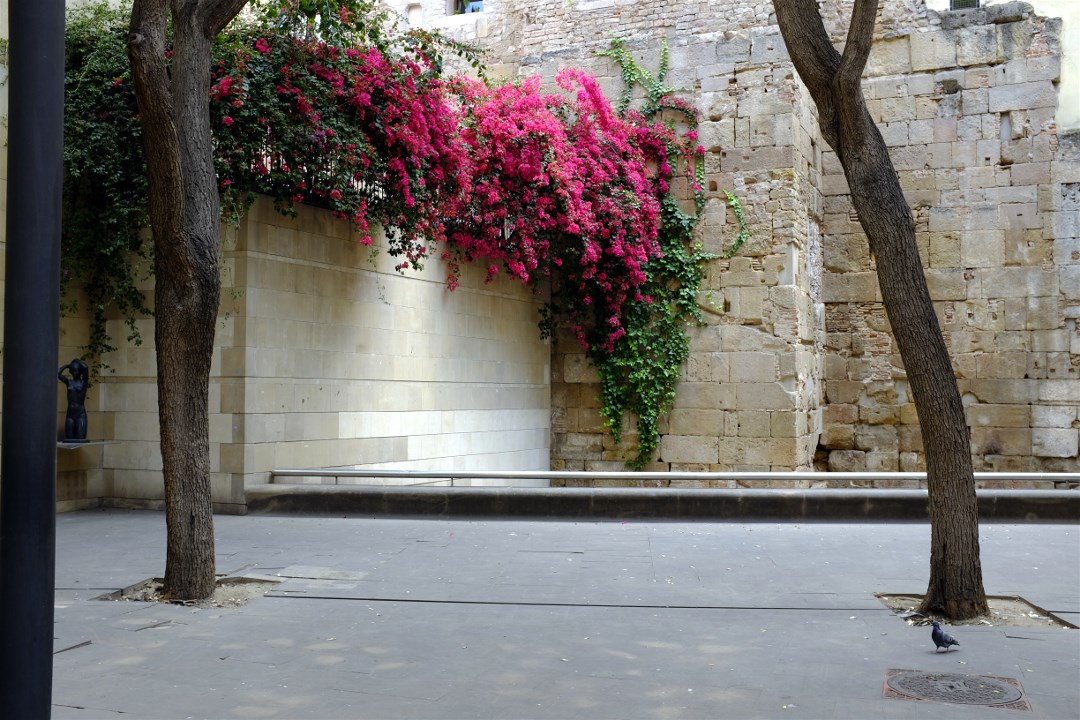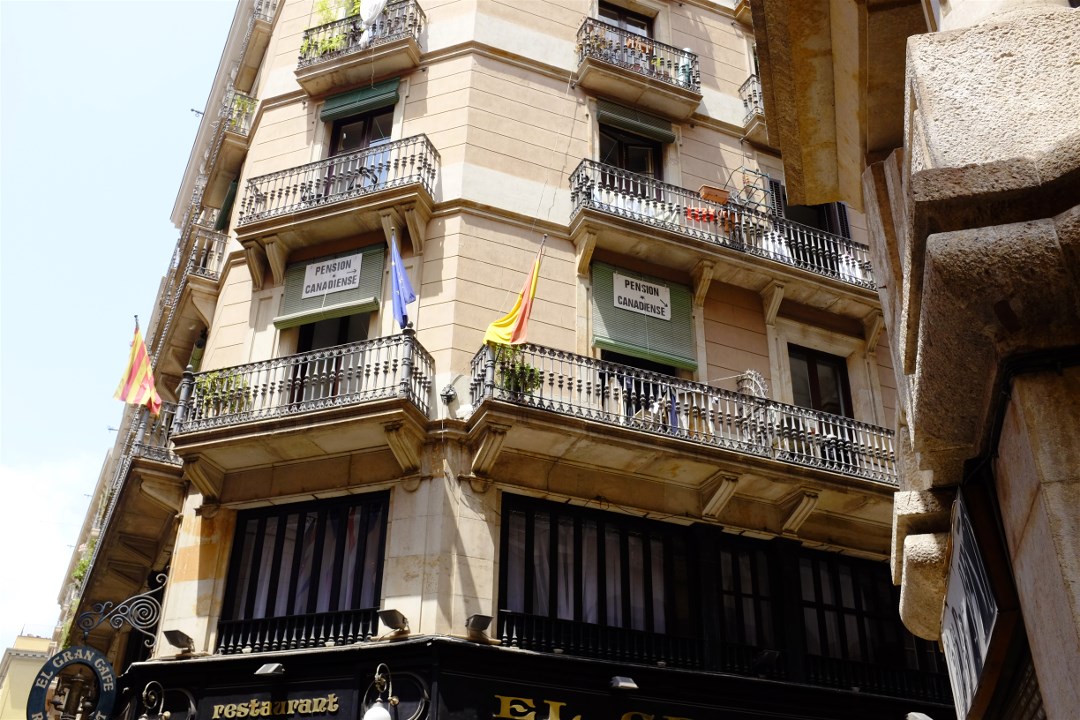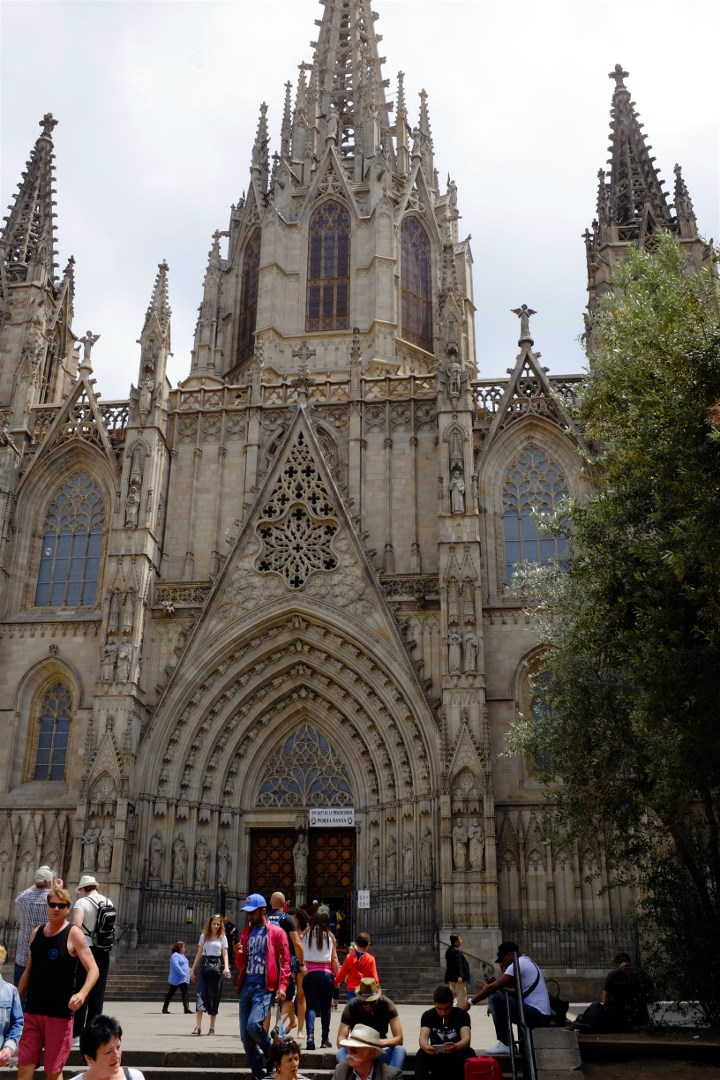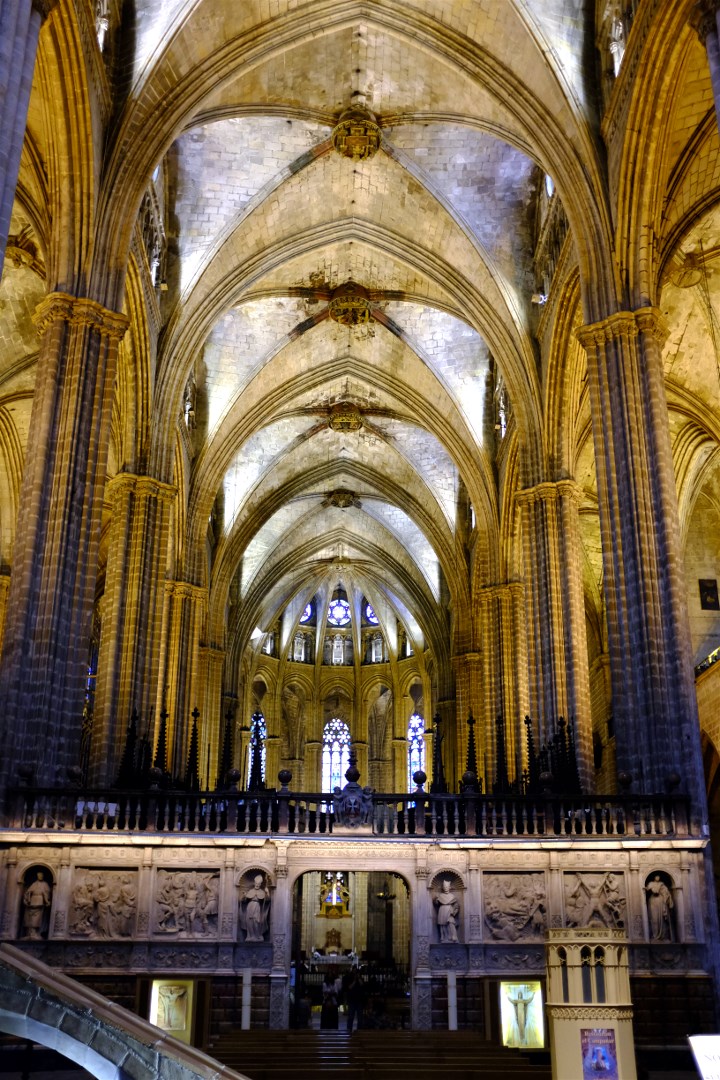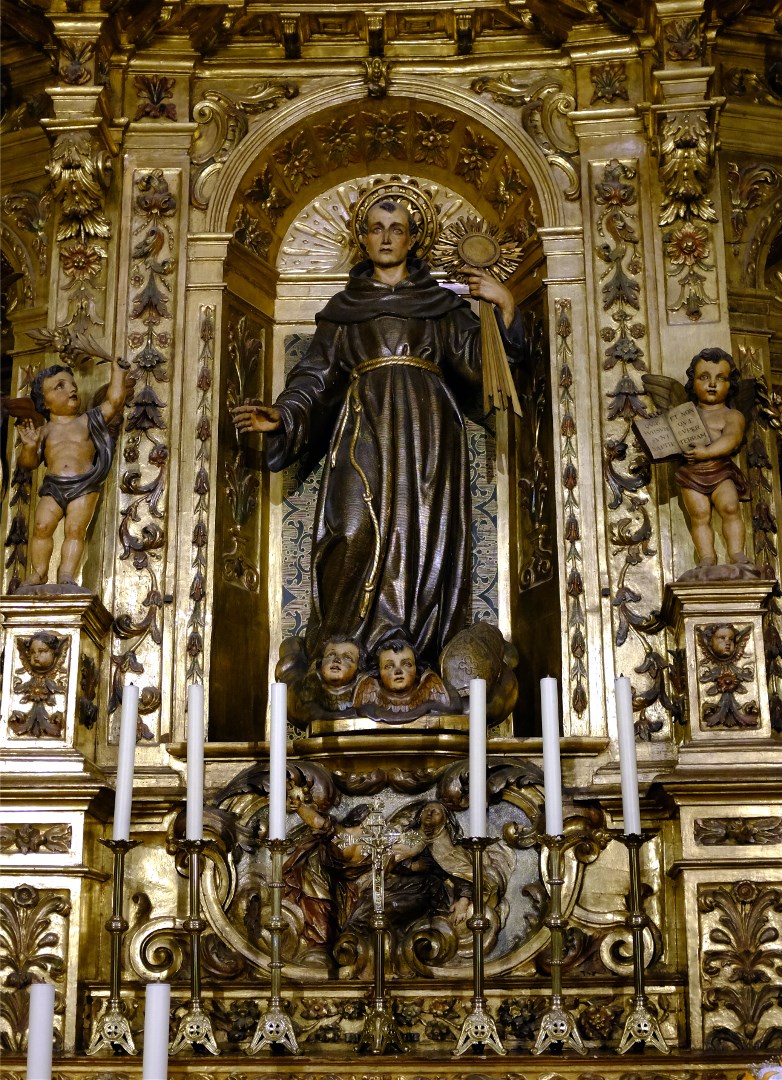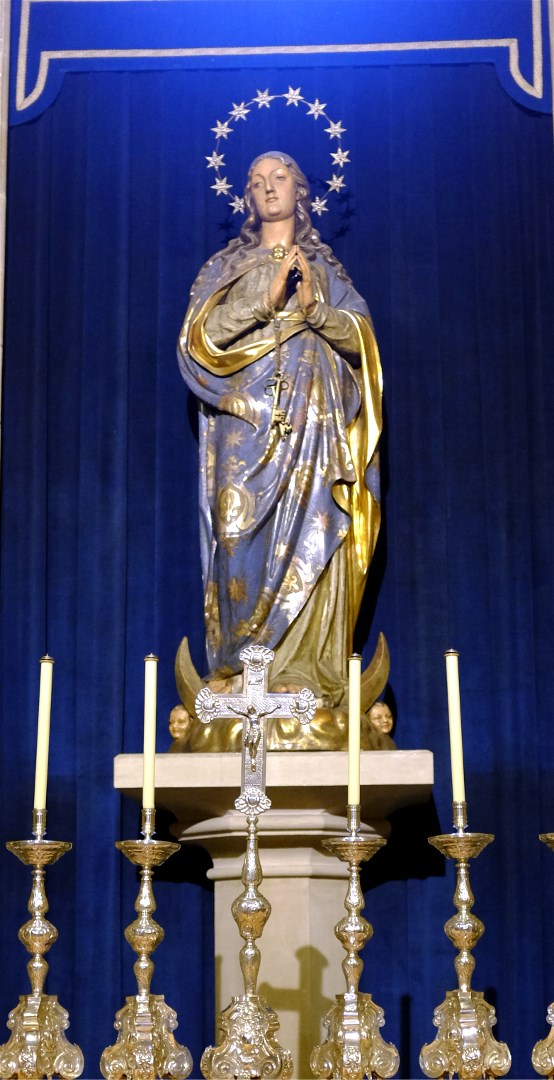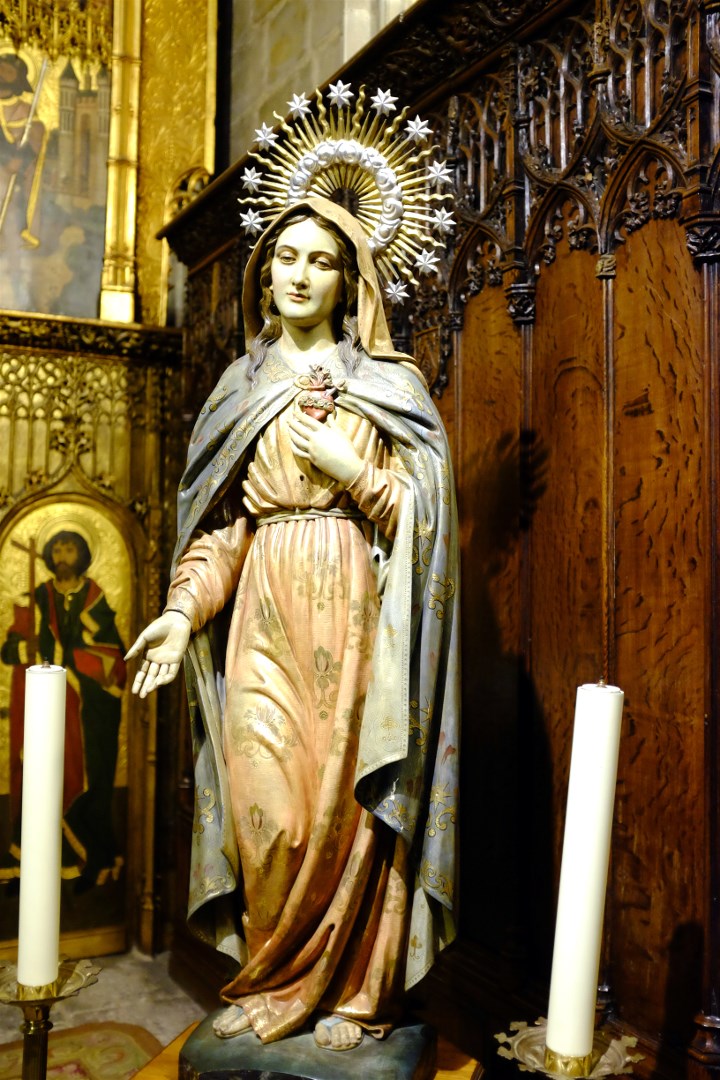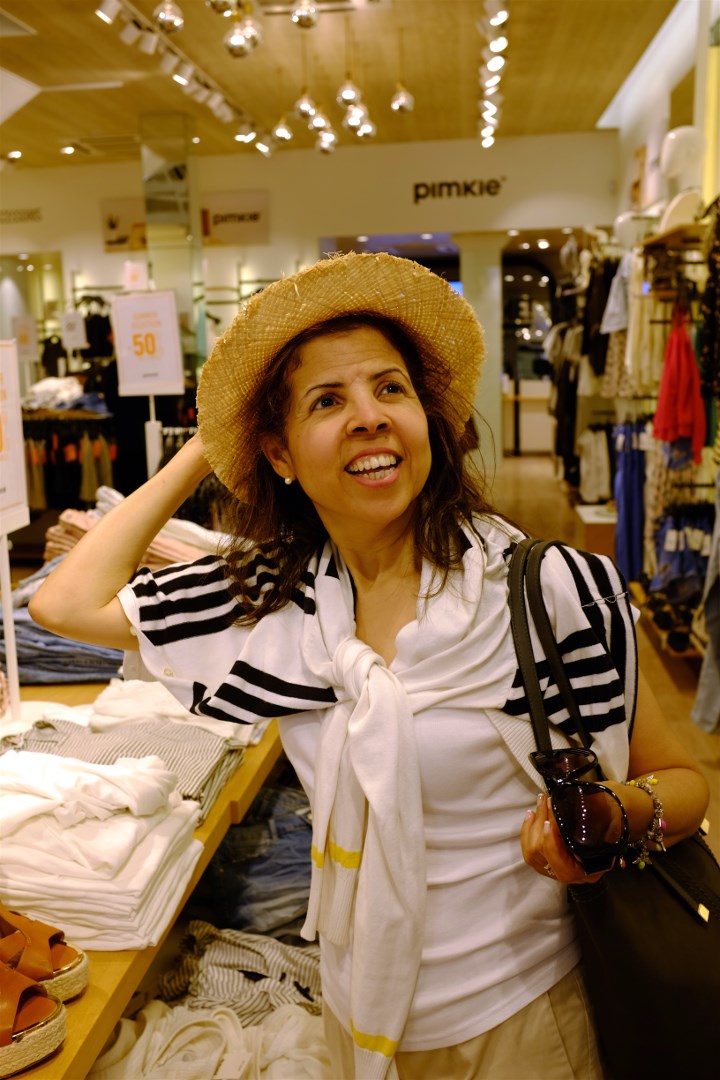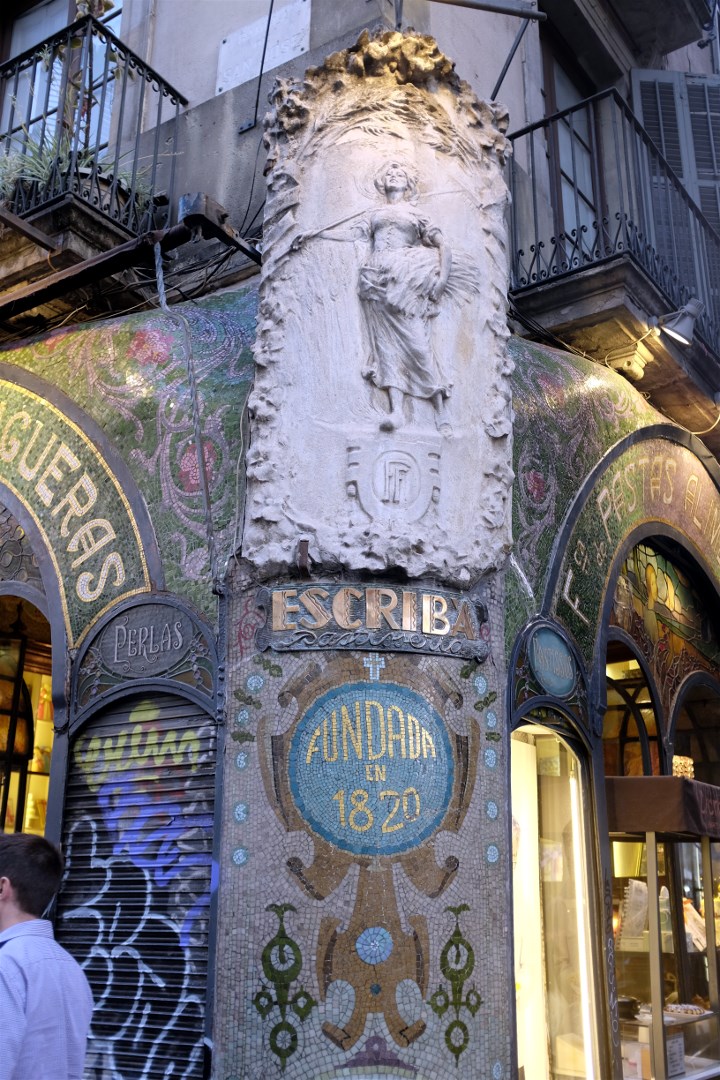 What is the girl with the red umbrella doing in an erotic museum?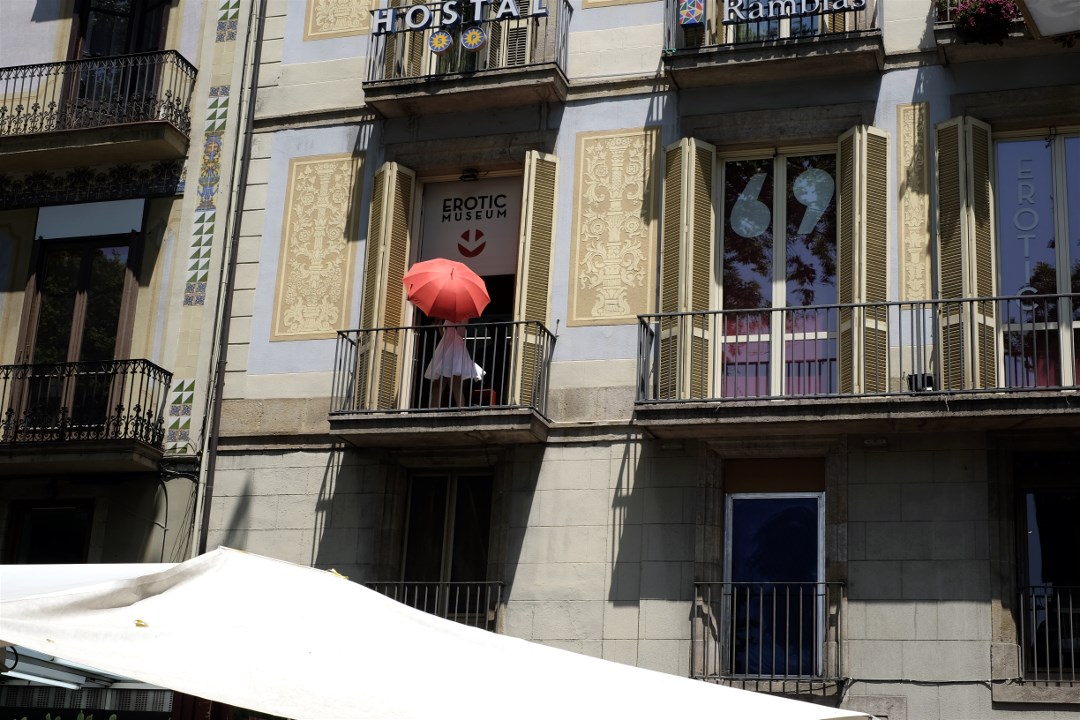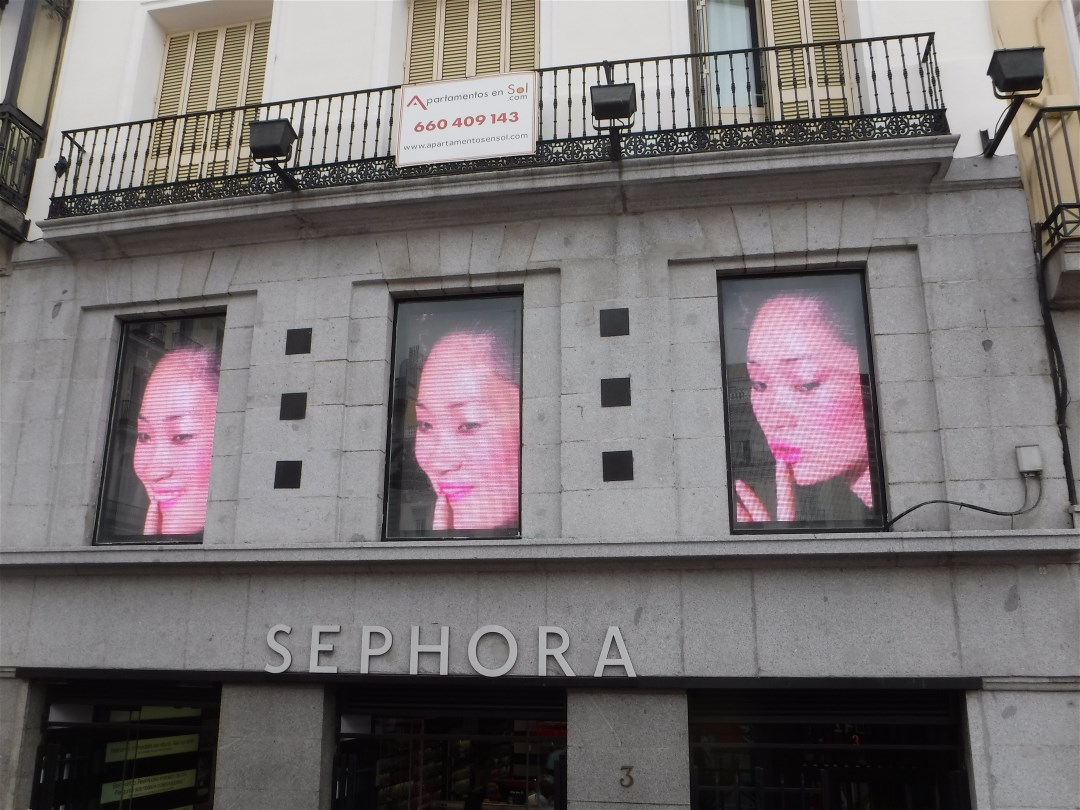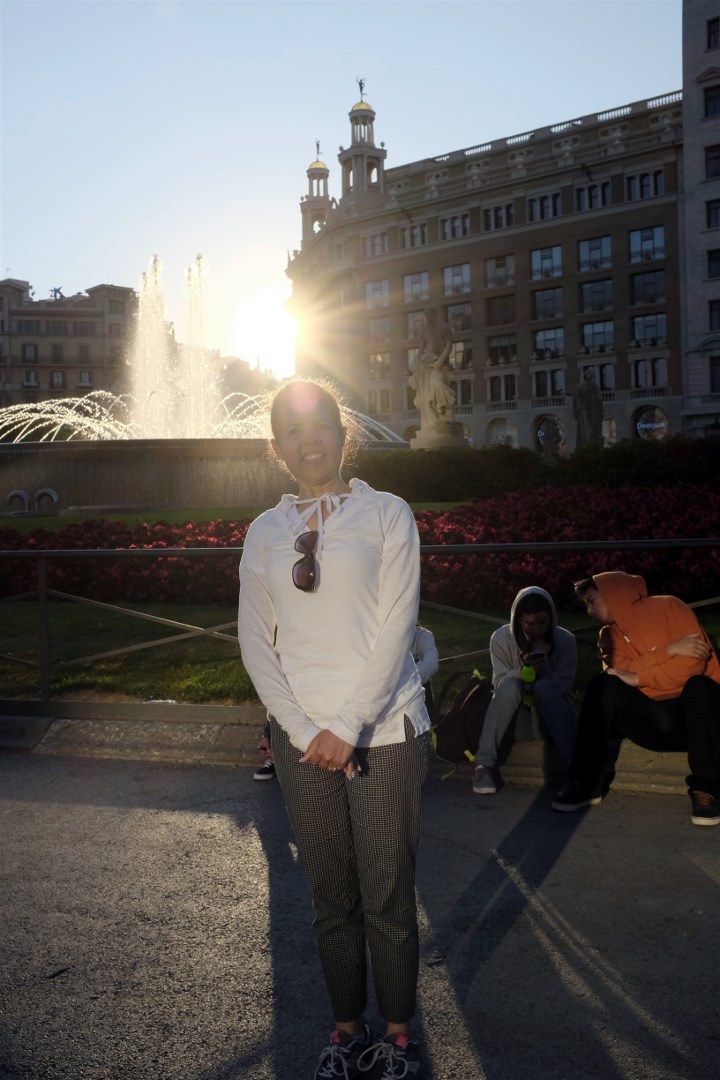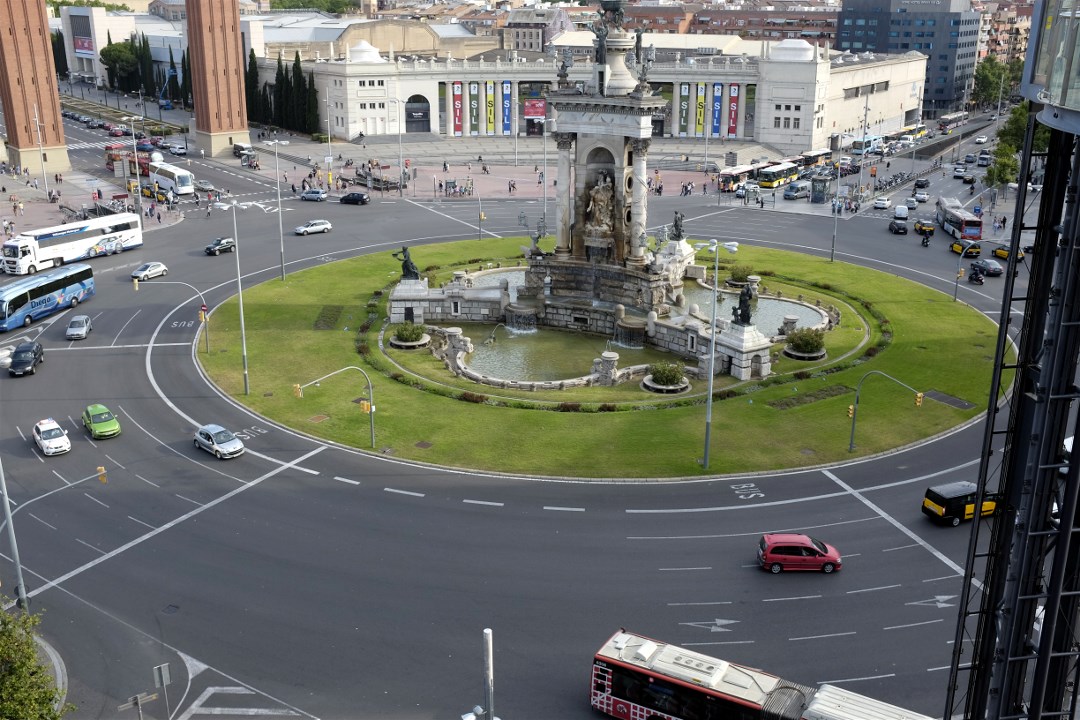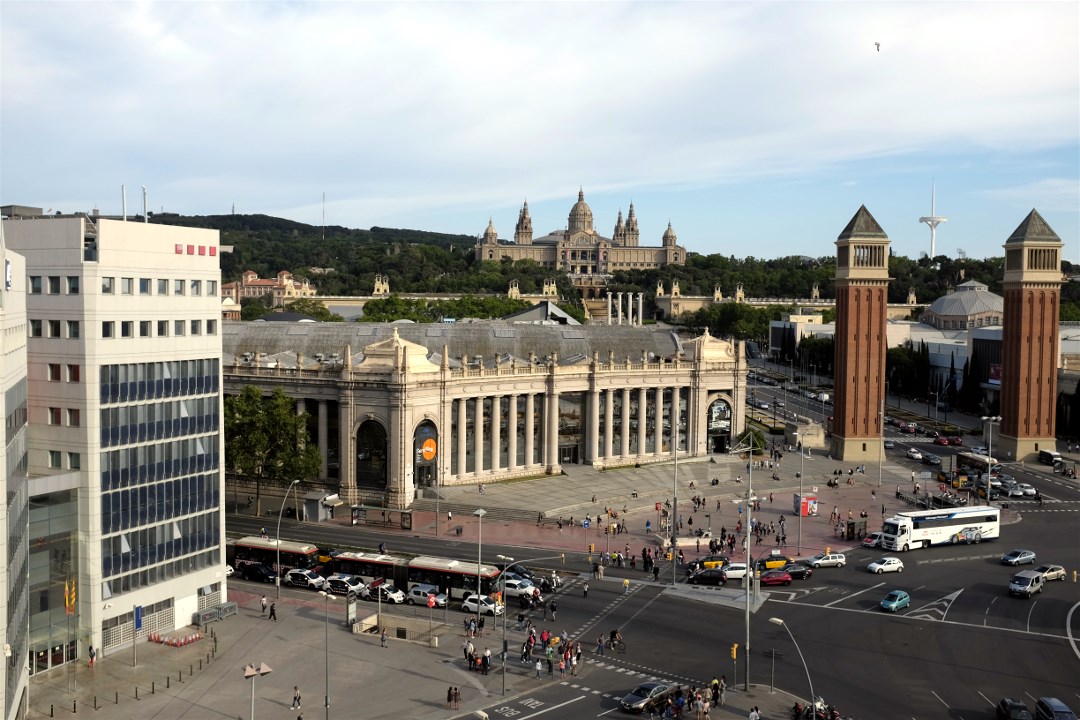 Former Bullfighting Arena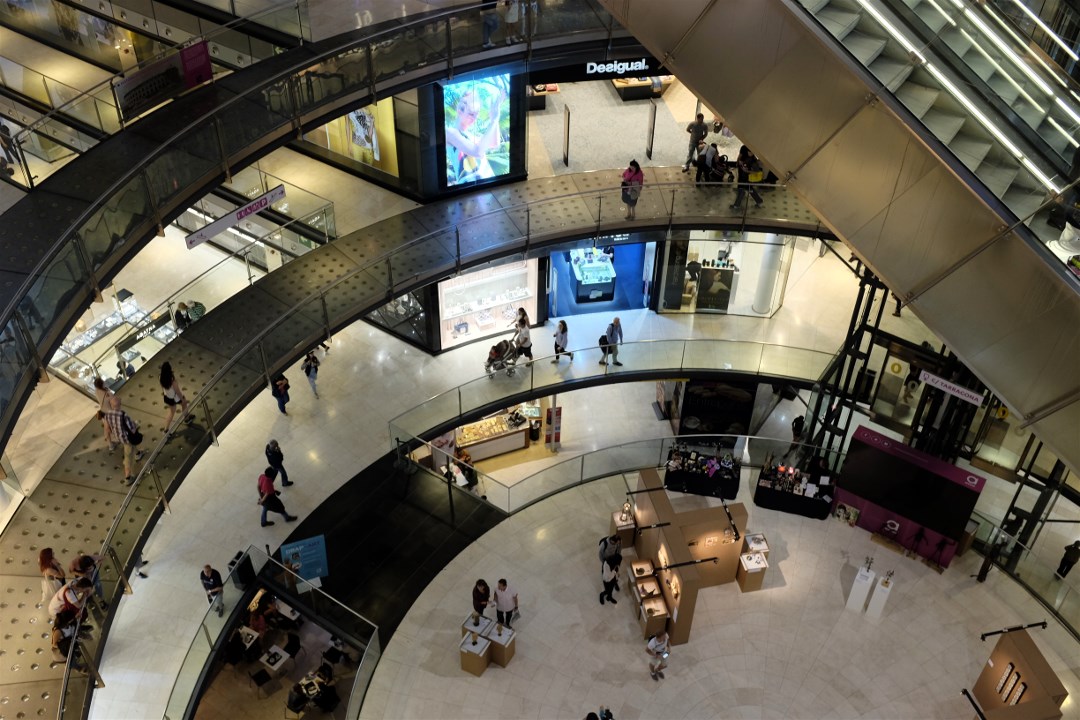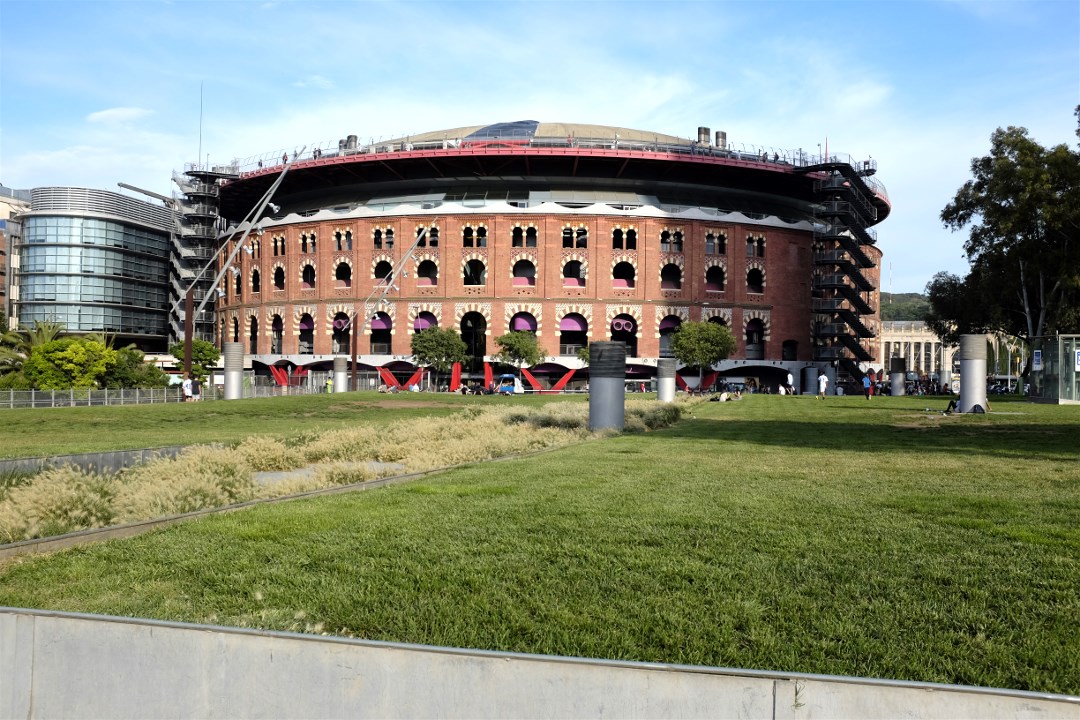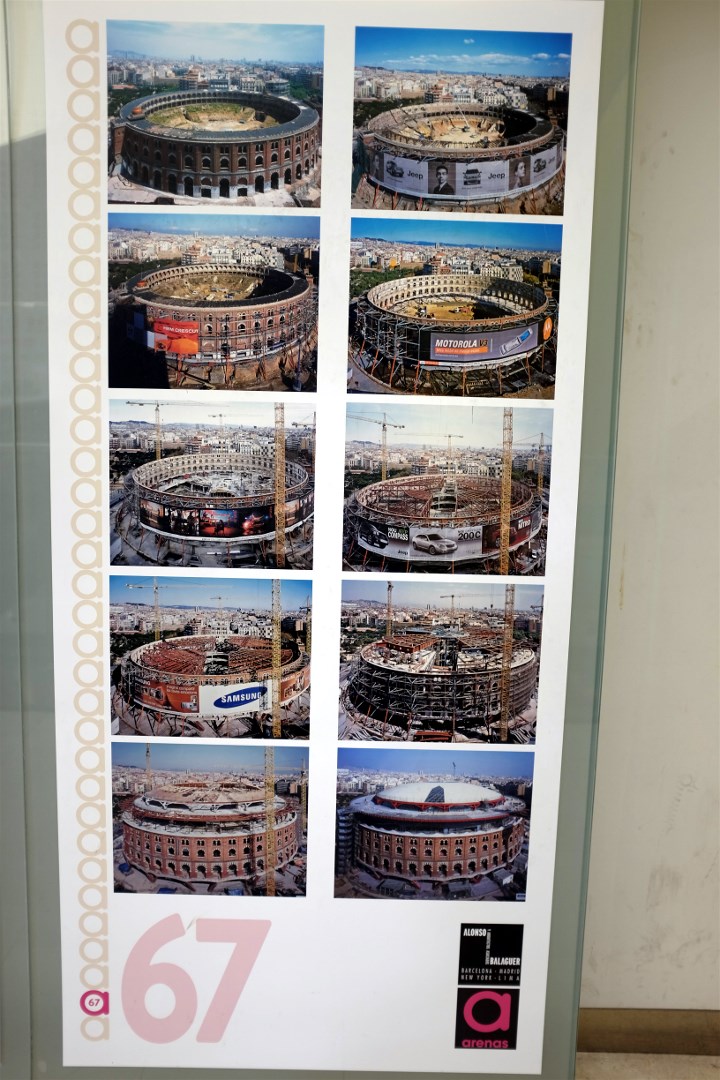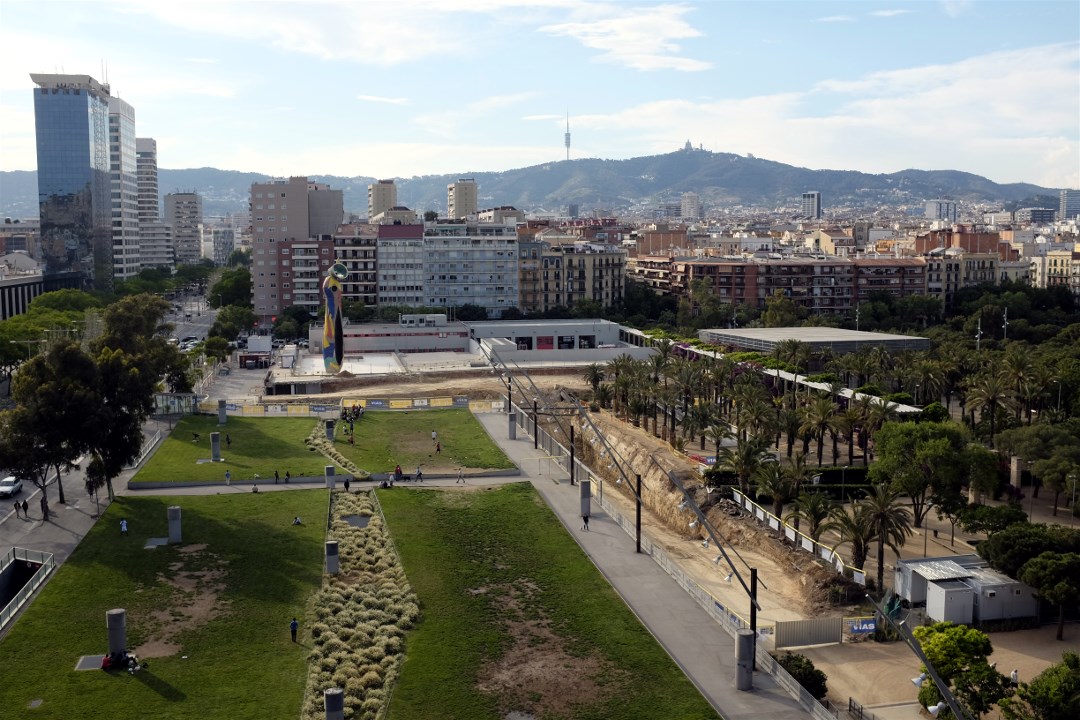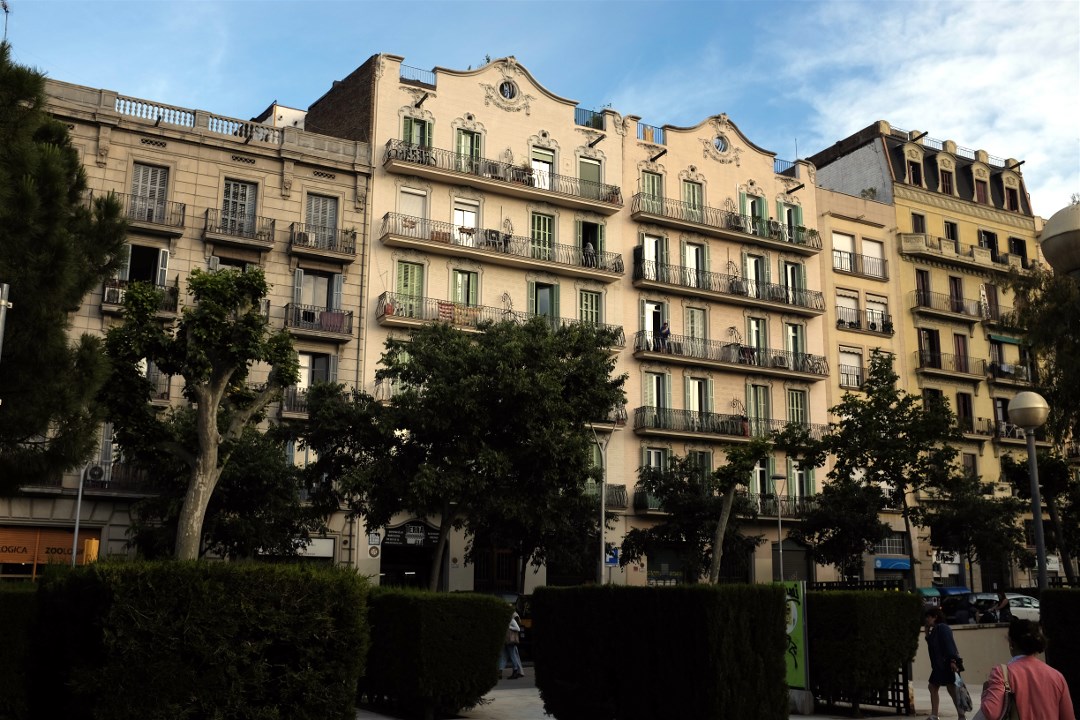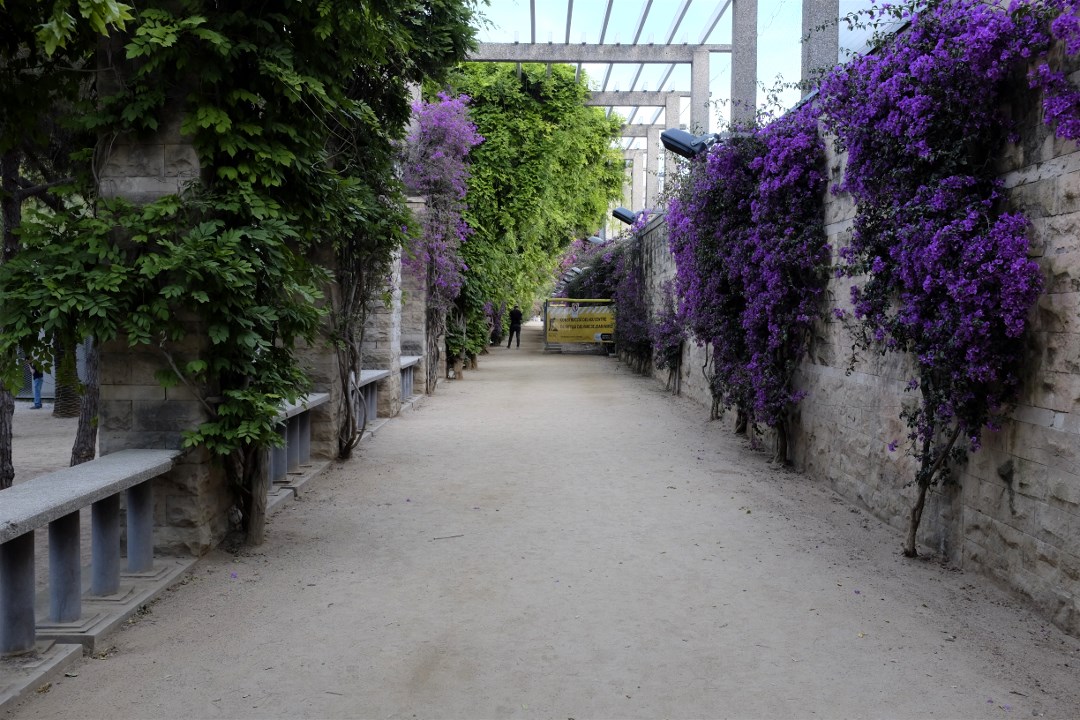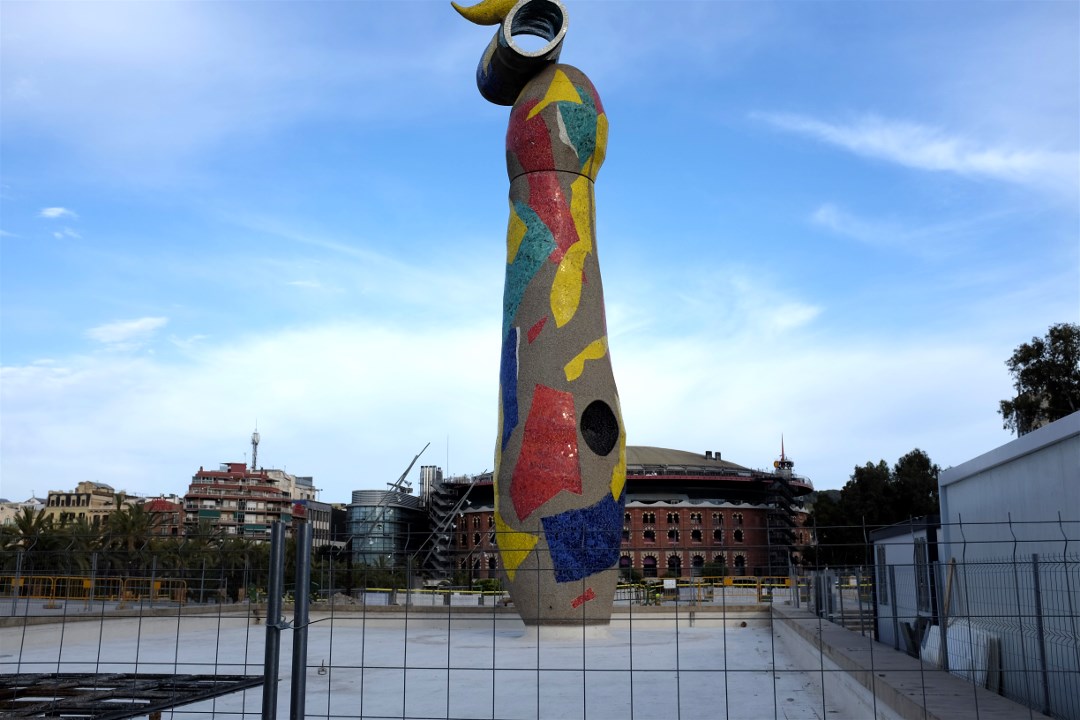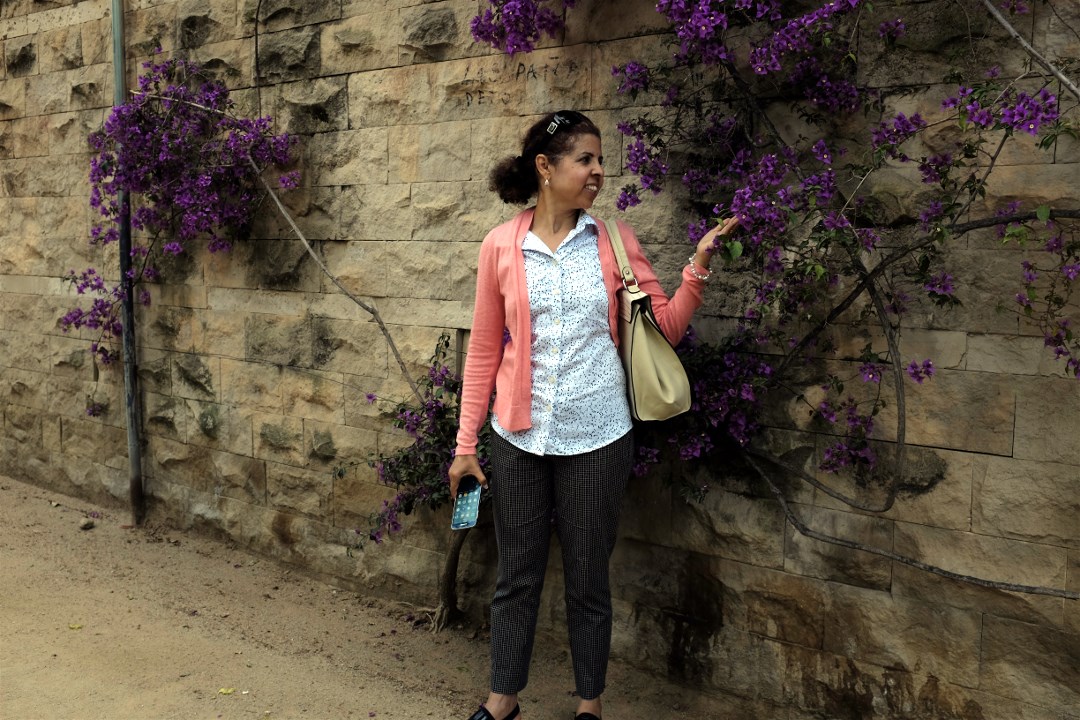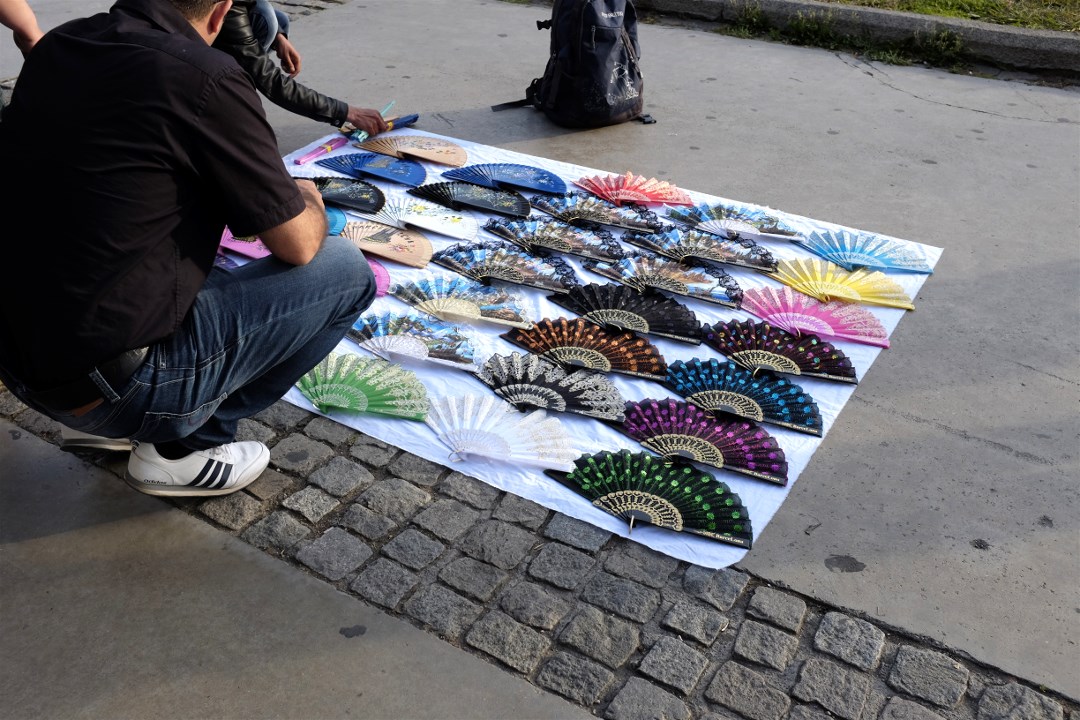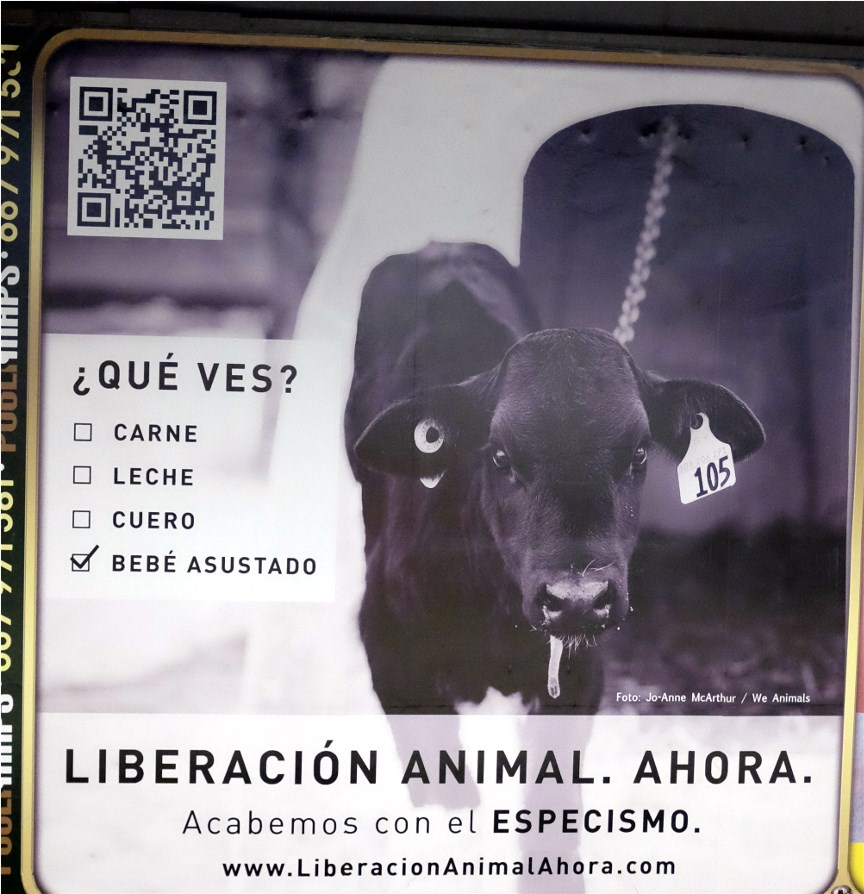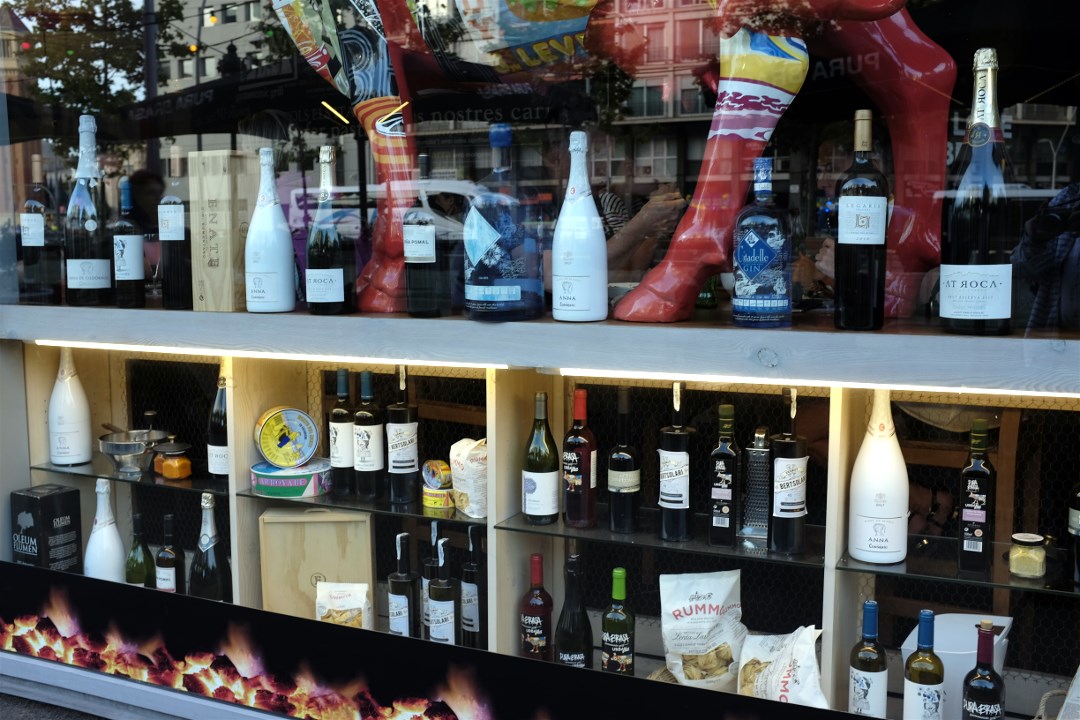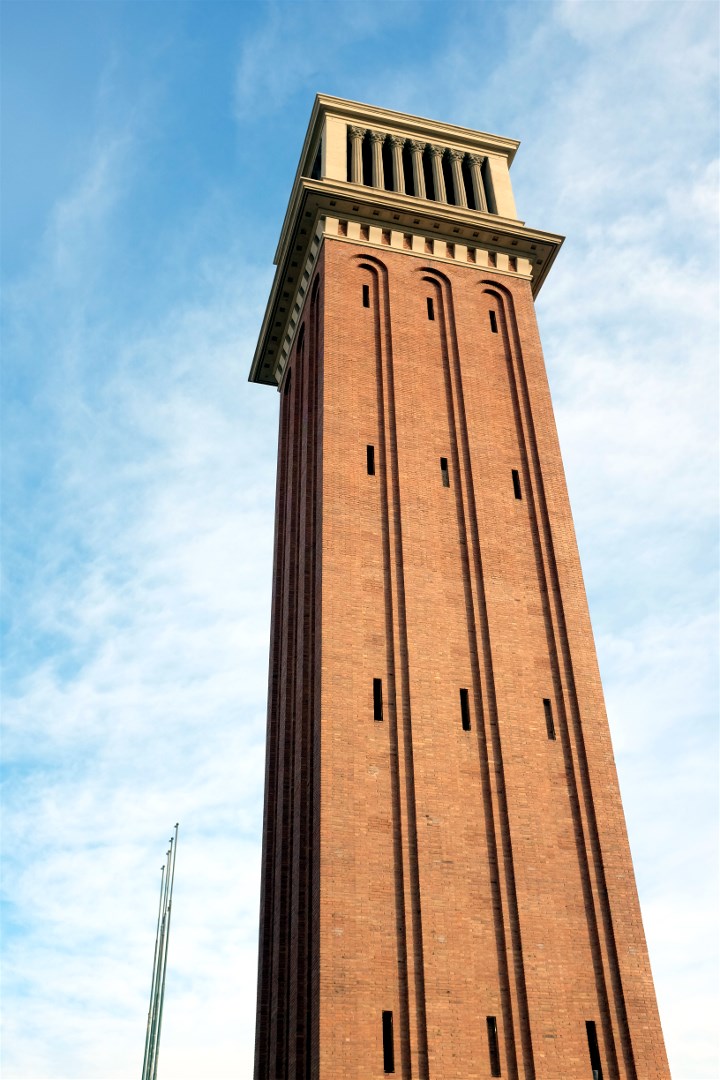 Waiting for the Show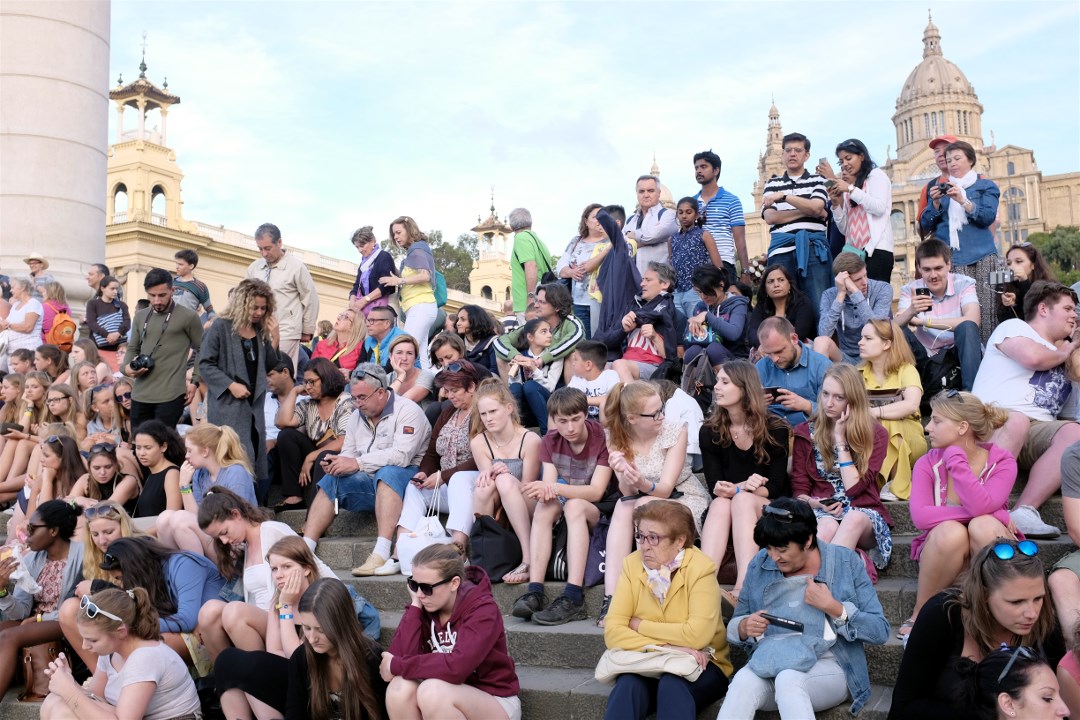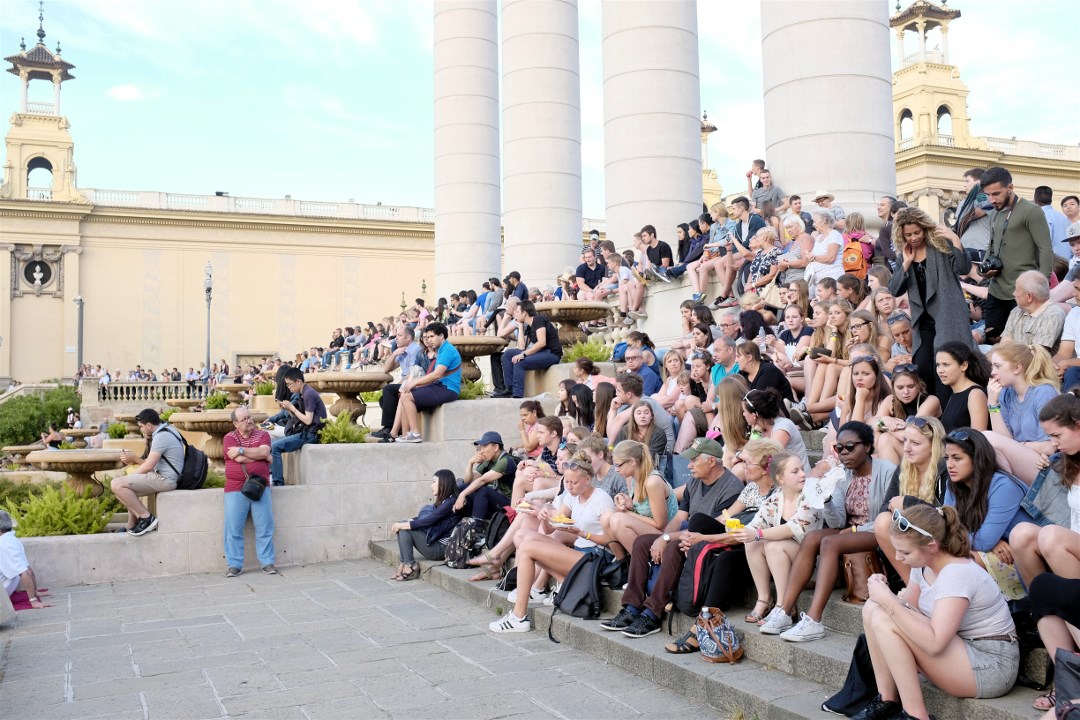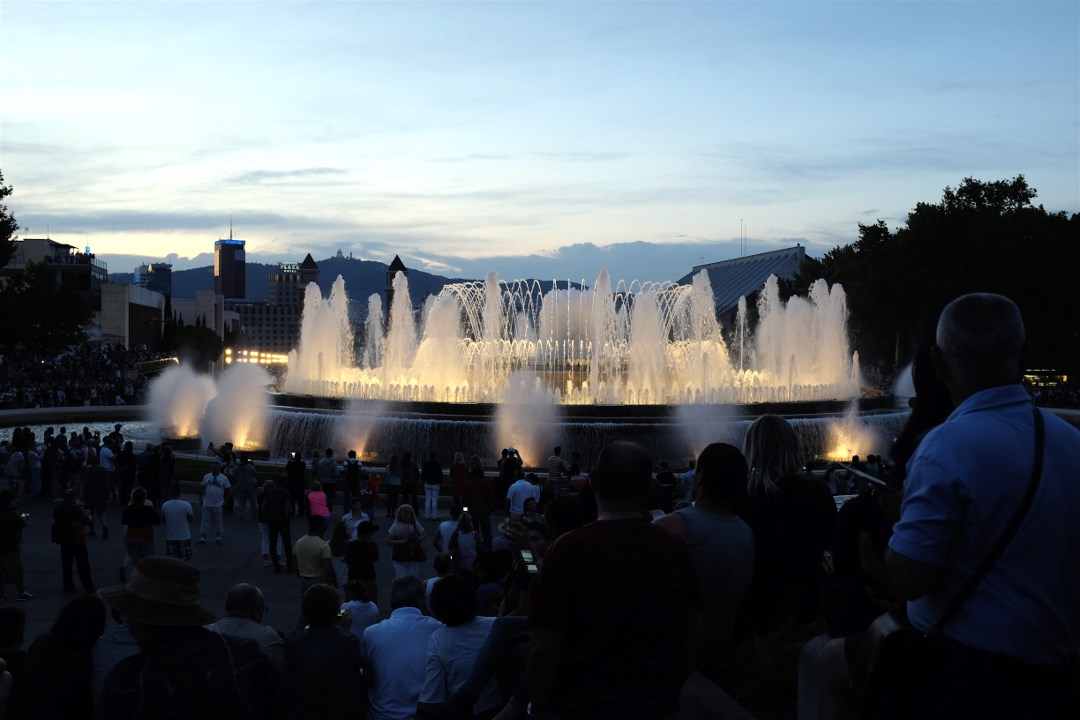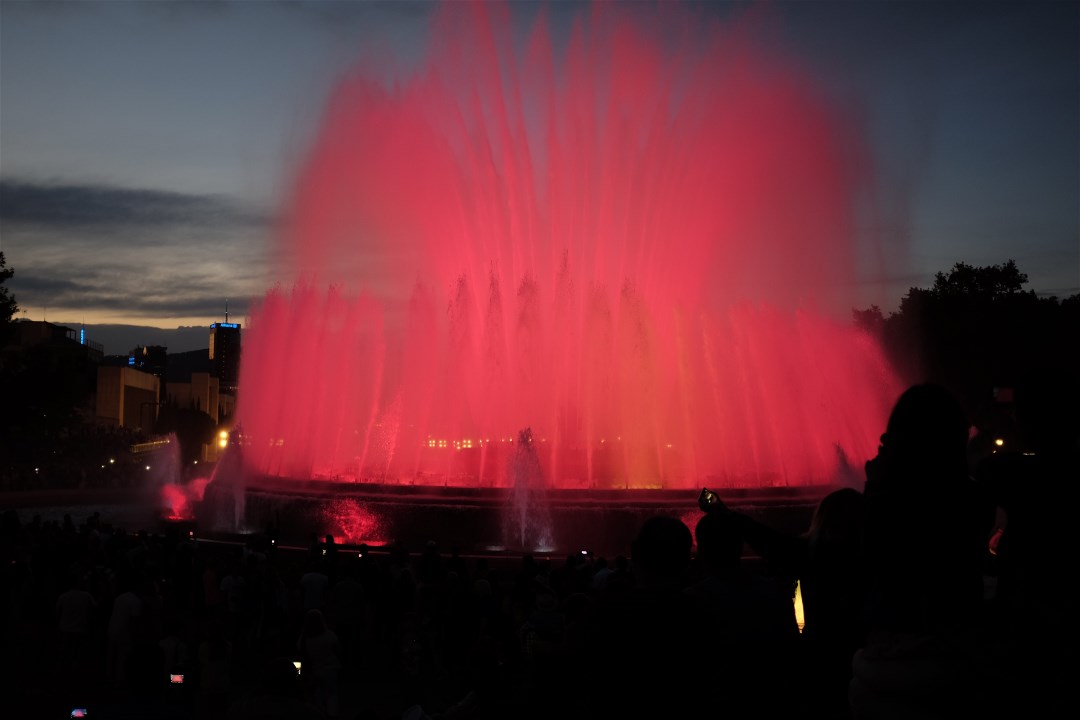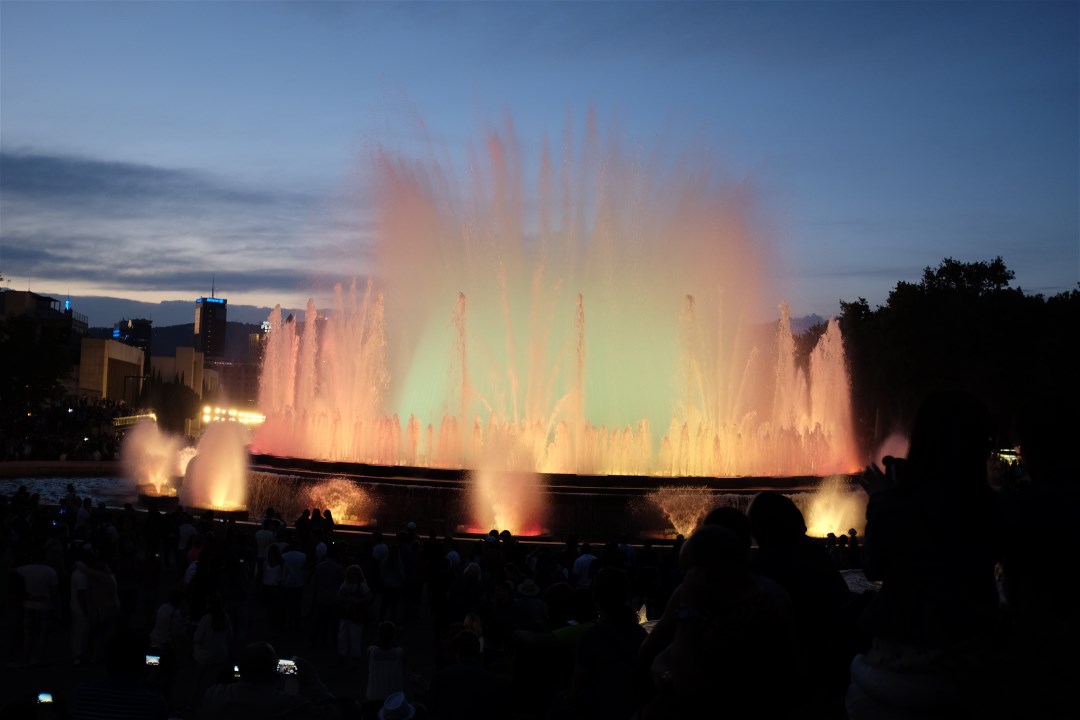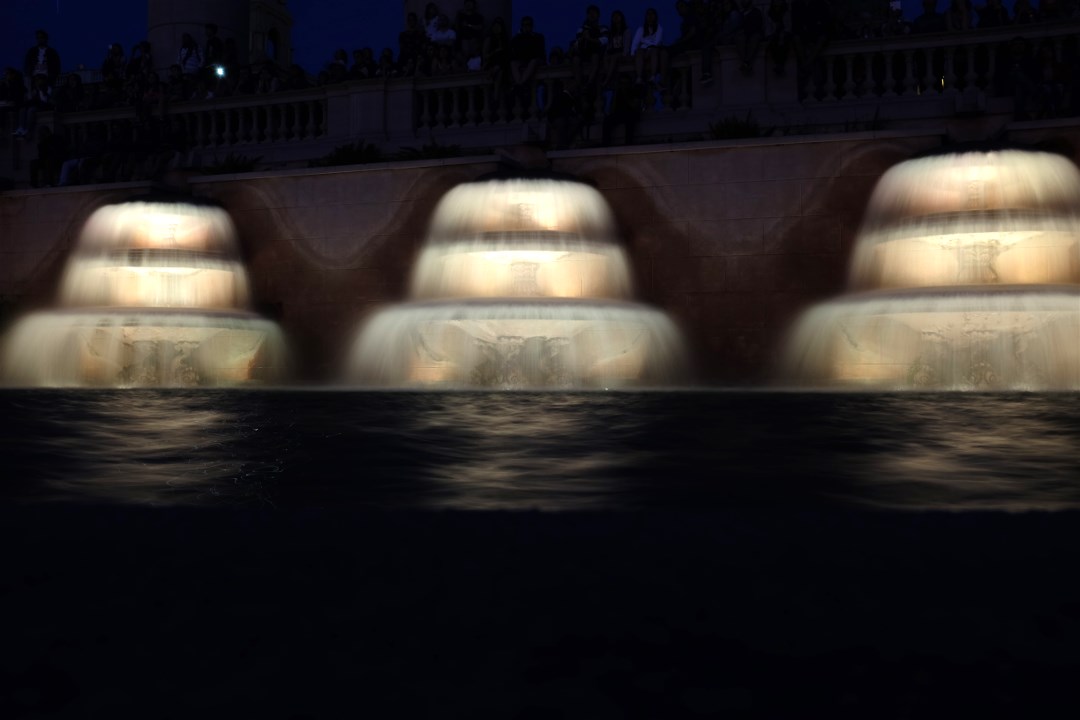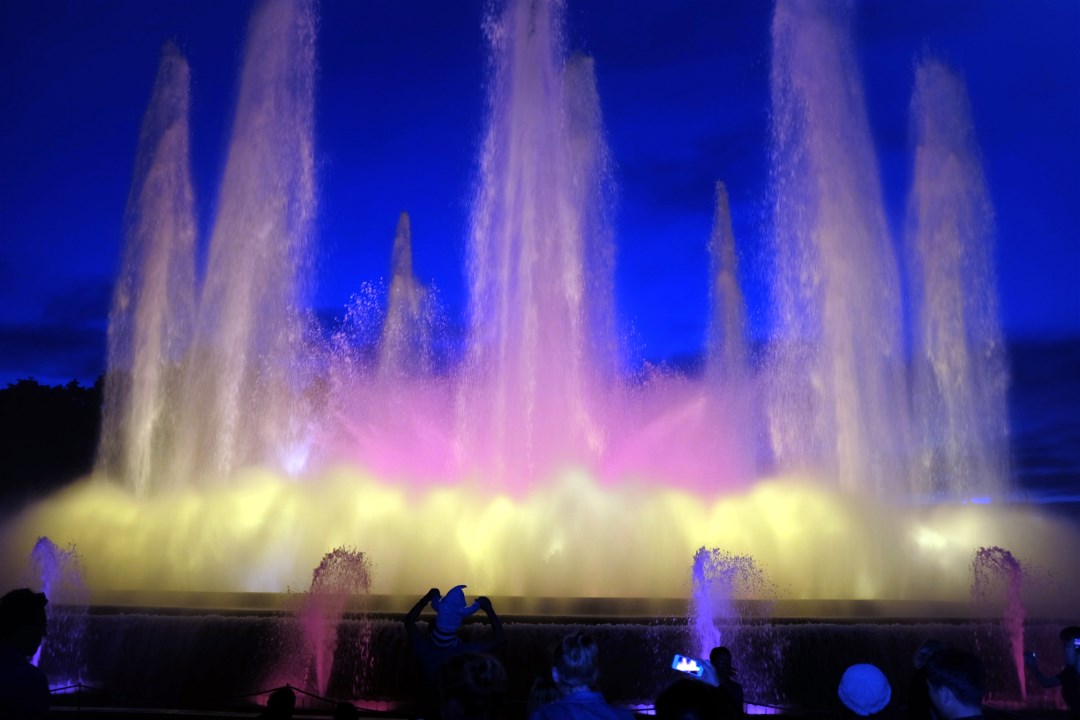 A note on the photos. Most were taken with one of three Fuji cameras, the X Pro 1, The X100 and a small waterproof pocket camera. Two or three were taken with Samsung cell phone. I used a Samyung fish eye lens for inside some churches (to get the ceilings) and two or three Fuji prime lenses for the X Pro. battery life was great and the low light clarity was brilliant. I used a monopod once in the evening but for the most part these were all hand held snap shots. Post production was limited to a reduction of resolution to 72dpi for the web and a few contrats level adjustments here and there. basically the images are out of the box with no photoshop.
Regards. If you made it to the bottom of the page I hope you enjoyed the show. Mike.

Link to the index of the Poetry Blog:
Illios: Illustrated Poetry of Love and Other Afflictions


Mikesjournal magazine is protected by copyright and publishes from time to time
www.Mikesjournal.com - Home Page

Greatest Hits
Some of the most popular images
Click on the little boy with the gun to go to greatest hits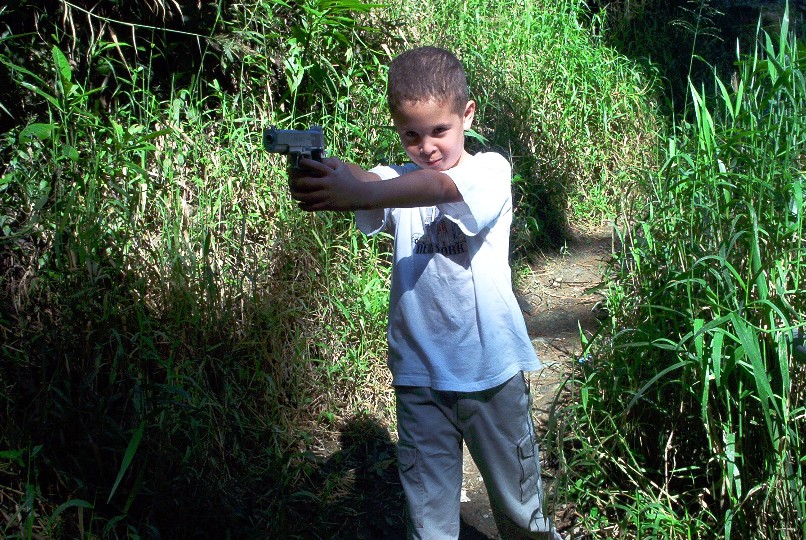 "Playing with Guns" - Google Image Search #1 out of 2,200,000
As of August 2008 subject to change

The images appearing in Mikesjournal are freely available for educational and other non-commercial purposes
However they are subject to copyright
If you would like to use a picture just send an e-mail with a link to the image you need and the intended use.
Mikesjournal will contact you within 24 hours.
Contact Mikesjournal: Mike@Mikesjournal.com