Picture of the Day November 5, 2008 (Month of November 2008)
www.Mikesjournal.com (Home Page)
Dry Red Leaves
(Your Fall is the Heart of Our Winter)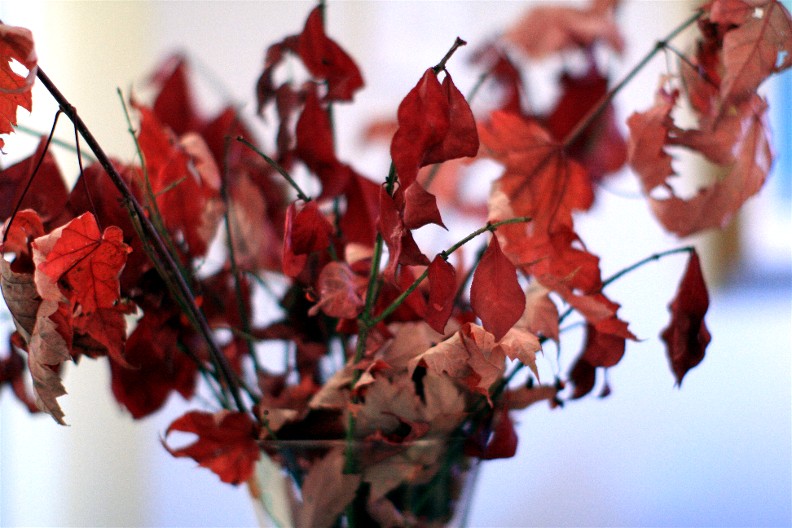 Canon 40D 50mm prime - 1/100 @F1.2 ISO 800 Hand held

Your Fall is the Heart of Our Winter

Your fall

Is the heart of our winter

Your fall from grace

Put us in this place

Frozen

I look west to the sun

It darkens

You look east to the moon

It hearkens

Tears have turned to ice.

Link to the index of the Poetry Blog:
Poems of Love and Other Afflictions

E-mail: Mike@Mikesjournal.com
All photos published in Mikesjournal are subject to copyright laws
Free usage available for educational and non-commercial purposes.
Contact Mike at the e-mail above.

Now Available!
Mikesjournal Magazine Volume # 7
Faces of the Dominican Republic
Photography, Artwork and Poetry
To get your copy and sample pages click here
(click for look at some of the original photos)
New poems, a short story
and photographs in the Dominican Republic
Limited time offer
To receive your free copy send an e-mail with mailing address

First 250 copies individually signed and numbered - Free - First Come First Served
Mikesjournal magazine is protected by copyright and publishes from time to time