Picture of the Day
14 July 2010

One of the Very Early Kings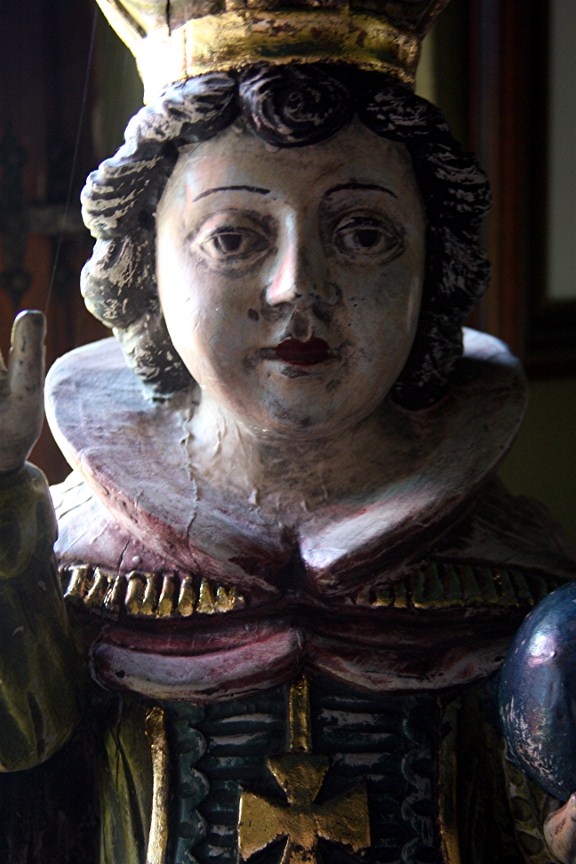 Mikesjournal Chronicles #437
The Gold Tooth King spoke with the fortune teller. It was good news and bad news he received.
"Your desire will be the end of you. That which you hold dear will fade. That which you love will fade. In the end she will leave you and your heart will ache like a rotten tooth."
"And the good news then?"
"Oh, that is the good news. The rest is bitterness and despair"
The gypsy told the Gold Tooth King when they last met not to kiss because he was under the spell of a witch. The Gold Tooth King did not obey. He kissed the witch on the lips and her spell turned him into a lovesick fool. The witches' spirit passed from her mouth to his mouth and was now trapped inside him, aching to return. His spirit entered the witch and was now inside her nourishing and comforting her.
He became an empty shell of pain with a necklace of gold teeth and the inability to taste."
The Gold Tooth King sent the gypsy away, put ads in newspapers to look for another seer.

Hope you enjoyed this image
Mikesjournal - A New Picture Every Day (more or less)
Since January 1, 2006

For the Latest Picture - Click Here

We also Publish Mikesjournal Magazine

Print Version MJ 9

The Illustrated Poetry of Love and Other Afflictions
For your convenience now
Available on Amazon.com
Click on the link above or just go to Amazon and type "Illustrated Poetry of Love"
in their search engine we should be at the top.
Or Buy Direct - Cheaper and we ship within 24 hours
Visit the Store - Click Here

Most recent poem: Waiting for My Muse in the Chelsea Hotel December 21, 2009

E-mail: Mike@Mikesjournal.com

All photos published in Mikesjournal are subject to copyright laws

Free usage available for educational and non-commercial purposes.

Contact Mike at the e-mail above.

Visit our Greatest Hits Home Page 1000 Faces Project
Alphabetical Index to the Poetry of Mikesjournal
Mikesjournal magazine is protected by copyright and publishes from time to time

Sorry about

Lian Shan Bo & Zhu Ying Tai in America #8

All the free copies are gone

Reprints available $10 or equivalent

(includes postage)

Proceeds to fund this blog and allow

Free distribution of the images

for educational and non profit uses

Mikesjournal Magazine is protected by copyright and publishes from time to time
www.Mikesjournal.com - Home Page